Greece is the pearl of Mediterranean, the place generations of foreigners from Lord Byron to Graves to Fowles have fallen in love with. From philosophy to feta, from history to yoghurt, from poetry to honey they provided the example to follow. Their priests preserve the pristine faith; their fighters defeated Mussolini; their Helen is the epitome of female beauty. They also make lousy wine called retsina and listen to loud dreadful music called bouzouki so we would temper our Hellenophilia.
Now they have given us another example to follow: how to beat banksters at their own game. The spectacular victory of the Syriza government in Greece at the national referendum was quite unexpected: the polls wavered between an indecisive result and straightforward support of the EU plans around 51:49. However, the Greeks strongly confirmed the mandate of the government. The main problem was and remains the Syriza's resolve and determination.
The ruling party took an unnecessary risk while calling for referendum, for they had already won the elections under their own slogans just a few months ago. This implied their wobbliness, as if they would prefer to lose and pass the hot potato to somebody else. Moreover, they did not try to win the referendum: no campaign for NO, no media coverage of demos for NO. Did they wish to lose or to win with a slightest possible margin? Possibly. The Greek people rejected the stratagem and called upon them to proceed.
Now it is the business of the government to organise a smooth and fast Grexit from the Eurozone and switch to the new Drachma. A really decisive government would leave the EU and NATO, turning the tables completely. Refusing the bailout is good but not enough.
The Greeks were right to reject paying the debts, for these debts were forced upon them by the giant vampire squid, Goldman Sachs, in words of Matt Taibbi. "The first thing you need to know about Goldman Sachs is that it's everywhere. The world's most powerful investment bank is a great vampire squid wrapped around the face of humanity, relentlessly jamming its blood funnel into anything that smells like money". As we now know, Goldman Sachs (you do not have to be an anti-Semite to hate them) cooked the book,s falsely pretending Greece had a high credit rating though they knew of its huge debts. When the debts snowballed, they pulled the rug and collapsed Greece's rating, bailing out banks at the expense of the European taxpayer.
Out of €320 billion, Greece received and used about €20 billion, while the principal sum went to the banksters. Greece could not pay it off: after five years of trying, the country is in worse shape and in deeper debt than it ever was. Austerity has destroyed lives and infrastructure. The bankers planned to sell all Greek assets: harbours, railways, lands; and you can envisage yourself who would buy it. The negotiations between the EU, IMF and Greece were dishonest, explains Ashoka Modyin widely read and technical essay. That's why the Greeks elected the far-left party Syriza and its far-right counterpart INIL to break the rules of the rigged game.
Greece is a small country and it could not take on the whole EU banking and political establishment on its own. Fortunately, there is a country able and willing to help. That is its sister in faith, Russia. Greece for Russia is like Italy for Catholics, like England for the US: the source of culture and religion. The Greek priests had brought their faith to what was to become Russia. Greece and Russia share the same Byzantine legacy. Arnold Toynbee, the British scholar of history, spoke of few European civilisations, some abortive (Far Western and Scandinavian), and two fully developed: Western European, based on the Church of Rome, and Orthodox Christian, based on the Church of Constantinople. Russia and Greece belong to the last one.
The EU is a reincarnation of the Roman Empire and that of Charlemagne. It is at home in France and Germany, but completely foreign for Swedes and Greeks, for Letts and Bulgars, for Ukrainians and Russians. It has over-extended itself and brought huge calamities upon its people and on their neighbours.
Mind you, this is not the first time the people of the West have colonised the Orthodox Christian East: in 1204, they smashed the Byzantine Empire and established their kingdoms and duchies, eventually erased by the Turks. After Greece was restored in 1821, it went back under the Western tutelage, and remained there. In 1945, the Greeks made a heroic effort to liaise with Russia, but Churchill employed the defeated German troops to smash the Greek independence movement and installed his agents in Athens. Soviet Russia did not object much, as under the Yalta agreement Greece was going to the West, while Poland was going to the East. Now the West has both Poland and Greece. The Greeks were frog-marched to NATO and to EU, and they would have remained forever captive but for the bankers' greed.
Russia is the only part of the Byzantine world that remained independent and adhered to its faith. Russia is a natural partner for Greece and its Balkan neighbours. Now Russia can help Greece: by buying its wine, cheese and olives that do not sell well in the West, by sending pilgrims to venerate shrines under its cruel blue sky, by encouraging its industries, by giving its youth a meaning of life beyond caring for German tourists. And the Greeks are fond of Russians, so their sympathies are mutual.
The Syriza party, and its partner ANEL were famous (some would correct it to 'notorious') for their pro-Russian sympathies. However, since they were elected, they began a game of playing Brussels against Moscow, like a young tease who encourages two suitors to keep both in her thrall. The Greek expert and London Lawyer Alexander Merkoulis listed the Russian attempts to help Greece. They offered five billion euros to build a gas pipeline to Greece, and Greece would be able to sell gas to Europe. Miller of Gazprom went to Athens with prepared documents, and came back empty-handed.
Tsipras promised to come to Moscow for the May 9 celebrations, and failed to show up at the last moment. He agreed to extend anti-Russia sanctions while sitting at the St Petersburg forum. This undermined Russian trust. "The Russians must be getting increasingly fed up with someone who repeatedly takes them to the Church door – and then at the last moment runs away", said Merkoulis.
It appears that the Ukraine story has repeated itself. Russia offered huge credits to the Ukraine in 2013, it could buy its industrial output, invigorate its industry and agriculture, but the then President Yanukovych did not dare. He ended in exile, his country ruined; it will take them 20 years to regain the positions they had in 2013, say the EU experts.
Greece is not likely to go for a civil war: they had it in 1945, but the old wounds may reopen. The most pro-Russian area of 1945 insurgency – the Isle of Crete – heavily (75%) voted against the EU in the recent referendum. The Syriza government will try to renegotiate with the IMF and the EU by bluffing them with the Russian alternative. Even if they will get relief, their economy is not likely to come back to normal.
The problem is not Greece, the problem is the EU. This body has a triple purpose. It is (1) a union of bankers against people, (2) a harness with which the US can drive colonised Europe, and (3) a tool for de-industrialisation and de-education of this most developed continent. Under the EU, masses of beggars from Romania and African refugees descend on the North. Under the EU, once-industrial Latvia and Hungary became basket-cases, their high tech moved elsewhere. Under the EU, the social welfare system has been dismantled, while sexual education of children and gender games have gone into a high drive. That is why nations – from Sweden to Italy, from England to Spain – call to break up the union.
Greece would be better off out of the EU. Everybody would. Distressingly, its Minister of Finance Yanis Varoufakis, a stubborn negotiator, a son of 1945 fighter, who could lead his country to freedom, has been dismissed following the referendum. Alexis Tsipras will try to negotiate himself, and he is a smooth operator, say the Greeks.
There is just one problem, that of guts and their lack thereof. Too many leaders hesitate and contemplate instead of acting. We mentioned Yanukovych, but this is a long list of names, beginning with Allende, a man of peace killed in a coup. The leaders that stood up to the vampire squids – from Nasser to Putin – were branded "a new Hitler", but actually managed better. The US always dares: to conquer Panama and Granada, to attack Afghanistan and Iraq, and this daring is a secret of its success.
Still it is too early for despair. The referendum was a victory, and a victory can do wonders even to wet and wobbling leaders. It would be a shame to cast the pearl of Greece to the banker swine.
Water and air are the most important resources on the planet. Breathing clean air seems to be accepted as a noble goal and the cost attributed to its improvement is usually universally accepted. However, the same cannot be said about access to fresh water as big business interests often argues. Many corporate interests contend that private ownership of public water out- weighs the rights of actual property owners. Corporate agriculture is quite different from traditional family farming. Yet, the factory farms that have taken over agribusiness demonstrate little regard for preserving a viable water supply.
Tilling the back forty is no longer the face of farming. Adding concern to an already parched situation is the California delta's water mysteriously missing amid drought, news has come to light.
"Delta farmers don't deny using as much water as they need. But they say they're not stealing it because their history of living at the water's edge gives them that right. Still, they have been asked to report how much water they're pumping and to prove their legal rights to it.

At issue is California's century-old water rights system that has been based on self-reporting and little oversight, historically giving senior water rights holders the ability to use as much water as they need, even in drought. Gov. Jerry Brown has said that if drought continues this system built into California's legal framework will probably need to be examined."
So what is all this water extraction being used for? Manuel Ramirez from K&M Press is an exporter in the Imperial Valley is quoted by the BBC in the account, California drought: Why farmers are 'exporting water' to China.
"The last few years there has been an increase in exports to China. We started five years back and the demand for alfalfa hay has increased," he says.

"It's cost effective. We have abundance of water here which allows us to grow hay for the foreign market."

Japan, Korea and the United Arab Emirates all buy Californian hay. The price is now so high that many local dairy farmers and cattle ranchers can't afford the cost when the rains fail and their usual supplies are insufficient."
California Food Facts – Production & Crops lists the state's leading export crop as almonds. Widely described in Mother Jones is the amount of water needed to produce a list of crops. A single almond requires 1.1 gallons of water. The lunacy of exporting a product that consumes such a high water usage is typical of an environment that has ignored the wasteful use of water resources for decades.
Even more alarming is contained in the CBS news report, Farmers May Sell Water Meant For Growing Crops During California's Drought.
"Instead of growing crops, some California farmers will sell their water to other farms during the fourth year of the state's drought.

Not all farmers will use their allocated amount of water this year, and several irrigation districts will allow farmers to sell their extra water."
The practice of selling water may seem on the surface a free market transaction. Nonetheless, the dubious corporatist claim on a vanishing water supply defies rational policy. Now that California Governor Jerry Brown Orders Statewide Water Restrictions, and issued a decree, "The order calls on local water agencies to implement tiered water pricing that charges higher rates as more water is used and requires agricultural users to report more water use information to state regulators", fails to rein in big agriculture.
Of course as with setting an enlightened public policy, especially when addressing an emergency, not all the blame should be placed on farming. Notwithstanding, their abuses, the underlying failure in allowing exporting crops that use up our domestic water reserves is the key failure in the Governor Brown executive order.
The National Geographic quotes from a Governor Brown statement:
"Some have questioned the production of so much food for export during a water shortage. Even as many farmers struggle to meet their crops' demand for water in drought-stricken California, every year they also send billions of virtual gallons to other countries—in the form of the food and animal feed grown with that water.

The United States exports about 82 trillion gallons of water a year–more than twice as much virtual water as any other country. That's largely because American farms are a big supplier of the global food chain."
California is currently getting media attention. But when compared to global conditions, Water Usage & Privatization, makes some astounding warnings.
"About 90 percent of the world's freshwater stocks currently remain under public control, but privatization is becoming more common as revenue-strapped governments increasingly cannot afford to maintain and repair crumbling municipal water purification and delivery systems often built decades ago. Historically, however, in places where privatization has been established, it has proven to be another cause of—rather than a solution to—chronic water shortage problems. That is, because corporations are (by their nature) more concerned with making money than serving people's and communities' best interests, water privatization has led to corruption, lack of corporate accountability, loss of local agency, weakened water quality standards, and steep rate hikes that eliminate poor people's access to water."
Government oppression is always a prime concern with public policy. Still, the greed of corporatist farming plays a destructive role when water usage is misused with flagrant disregard for the public welfare. As long as state and local office holders ignore balance and prudent measures to curb flushing freshwater down a wasteful hole, the prospects of a prosperous civilized society will be brought into question.
However long weather conditions remain that diminishes replenishment in ground water, the need to act now becomes more important. As expected corporatist interests will fight every inch to keep control of every drop. The globalists warming cultists will spin their fear agenda, but will do little to confront the destructive practices of the "Free Trade" sellout. The proper role of lawful government is absent. Heed this example of the special interests control of our future, through    their influence of bad public policy.
Memorial Day is when we commemorate our war dead. Like the Fourth of July, Memorial Day is being turned into a celebration of war.
Those who lose family members and dear friends to war don't want the deaths to have been in vain. Consequently, wars become glorious deeds performed by noble soldiers fighting for truth, justice, and the American way. Patriotic speeches tell us how much we owe to those who gave their lives so that America could remain free.
The speeches are well-intentioned, but the speeches create a false reality that supports ever more wars. None of America's wars had anything to do with keeping America free. To the contrary, the wars swept away our civil liberties, making us unfree.
President Lincoln issued an executive order for the arrest and imprisonment of northern newspaper reporters and editors. He shut down 300 northern newspapers and held 14,000 political prisoners. Lincoln arrested war critic US Representative Clement Vallandigham from Ohio and exiled him to the Confederacy. President Woodrow Wilson used WWI to suppress free speech, and President Franklin D. Roosevelt used WWII to intern 120,000 US citizens of Japanese descent on the grounds that race made them suspect. Professor Samuel Walker concluded that President George W. Bush used the "war on terror" for an across the board assault on US civil liberty, making the Bush regime the greatest danger American liberty has ever faced.
Lincoln forever destroyed states' rights, but the suspension of habeas corpus and free speech that went hand in hand with America's three largest wars was lifted at war's end. However, President George W. Bush's repeal of the Constitution has been expanded by President Obama and codified by Congress and executive orders into law. Far from defending our liberties, our soldiers who died in "the war on terror" died so that the president can indefinitely detain US citizens without due process of law and murder US citizens on suspicion alone without any accountability to law or the Constitution.
The conclusion is unavoidable that America's wars have not protected our liberty but, instead, destroyed liberty. As Alexander Solzhenitsyn said, "A state of war only serves as an excuse for domestic tyranny."
Southern secession did pose a threat to Washington's empire, but not to the American people.Neither the Germans of WWI vintage nor the Germans and Japanese of WWII vintage posed any threat to the US. As historians have made completely clear, Germany did not start WWI and did not go to war for the purpose of territorial expansion. Japan's ambitions were in Asia. Hitler did not want war with England and France. Hitler's territorial ambitions were mainly to restore German provinces stripped from Germany as WWI booty in violation of President Wilson's guarantees. Any other German ambitions were to the East. Neither country had any plans to invade the US. Japan attacked the US fleet at Pearl Harbor hoping to remove an obstacle to its activities in Asia, not as a precursor to an invasion of America.
Certainly the countries ravaged by Bush and Obama in the 21st century–Iraq, Afghanistan, Libya, Somalia, Syria, Pakistan, and Yemen posed no military threat to the US. Indeed, these were wars used by a tyrannical executive branch to establish the basis of the Stasi State that now exists in the US.
The truth is hard to bear, but the facts are clear. America's wars have been fought in order to advance Washington's power, the profits of bankers and armaments industries, and the fortunes of US companies. Marine General Smedley Butler said, " I served in all commissioned ranks from a second Lieutenant to a Major General. And during that time, I spent most of my time being a high-class muscle man for Big Business, for Wall Street, and for the bankers. In short, I was a racketeer for capitalism."
It is more or less impossible to commemorate the war dead without glorifying them, and it is impossible to glorify them without glorifying their wars.
For the entirety of the 21st century the US has been at war, not war against massed armies or threats to American freedom, but wars against civilians, against women, children, and village elders, and wars against our own liberty. Elites with a vested interest in these wars tell us that the wars will have to go on for another 20 to 30 years before we defeat "the terrorist threat."
This, of course, is nonsense. There was no terrorist threat until Washington began trying to create terrorists by military attacks, justified by lies, on Muslim populations.
Washington succeeded with its war lies to the point that Washington's audacity and hubris have outgrown Washington's judgment.
By overthrowing the democratically elected government in Ukraine, Washington has brought the United States into confrontation with Russia. This is a confrontation that could end badly, perhaps for Washington and perhaps for the entire world.
If Gaddafi and Assad would not roll over for Washington, why does Washington think Russia will? Russia is not Libya or Syria. Washington is the bully who having beat up the kindergarden kid, now thinks he can take on the college linebacker.
The Bush and Obama regimes have destroyed America's reputation with their incessant lies and violence against other peoples. The world sees Washington as the prime threat.
Worldwide polls consistently show that people around the world regard the US and Israel as the two countries that pose the greatest threat to peace. http://www.ibtimes.com/gallup-poll-biggest-threat-world-peace-america-1525008 and
http://www.jewishfederations.org/european-poll-israel-biggest-threat-to-world-peace.aspx
The countries that Washington's propaganda declares to be "rogue states" and the "axis of evil," such as Iran and North Korea, are far down the list when the peoples in the world are consulted. It could not be more clear that the world does not believe Washington's self-serving propaganda. The world sees the US and Israel as the rogue states.
The US and Israel are the only two countries in the world that are in the grip of ideologies. The US is in the grip of the Neoconservative ideology which has declared the US to be the "exceptional, indispensable country" chosen by history to exercise hegemony over all others. This ideology is buttressed by the Brzezinski and Wolfowitz doctrines that are the basis of US foreign policy.
The Israeli government is in the grip of the Zionist ideology that declares a "greater Israel" from the Nile to the Euphrates. Many Israelis themselves do not accept this ideology, but it is the ideology of the "settlers" and those who control the Israeli government.
Ideologies are important causes of war. Just as the Hitlerian ideology of German superiority is mirrored in the Neoconservative ideology of US superiority, the Communist ideology that the working class is superior to the capitalist class is mirrored in the Zionist ideology that Israelis are superior to Palestinians. Zionists have never heard of squatters' rights and claim that recent Jewish immigrants into Palestine–invaders really–have the right to land occupied by others for millenniums.
Washington's and Israel's doctrines of superiority over others do not sit very well with the "others." When Obama declared in a speech that Americans are the exceptional people, Russia's President Putin responded, "God created us all equal."
To the detriment of its population, the Israeli government has made endless enemies. Israel has effectively isolated itself in the world. Israel's continued existence depends entirely on the willingness and ability of Washington to protect Israel. This means that Israel's power is derivative of Washington's power.
Washington's power is a different story. As the only economy standing after WWII, the US dollar became the world money. This role for the dollar has given Washington financial hegemony over the world, the main source of Washington's power. As other countries rise, Washington's hegemony is imperiled.
To prevent other countries from rising, Washington invokes the Brzezinski and Wolfowitz doctrines. To be brief, the Brzezinski doctrine says that in order to remain the only superpower, Washington must control the Eurasian land mass. Brzezinski is willing for this to occur peacefully by suborning the Russian government into Washington's empire. "A loosely confederated Russia . . . a decentralized Russia would be less susceptible to imperial mobilization." In other words, break up Russia into associations of semi-autonomous states whose politicians can be suborned by Washington's money.
Brzezinski propounded "a geo-strategy for Eurasia." In Brzezinski's strategy, China and "a confederated Russia" are part of a "transcontinental security framework," managed by Washington in order to perpetuate the role of the US as the world's only superpower.
I once asked my colleague, Brzezinski, that if everyone was allied with us, who were we organized against? My question surprised him, because I think that Brzezinski remains caught up in Cold War strategy even after the demise of the Soviet Union. In Cold War thinking it was important to have the upper hand or else be at risk of being eliminated as a player. The importance of prevailing became all consuming, and this consuming drive survived the Soviet collapse. Prevailing over others is the only foreign policy that Washington knows.
The mindset that America must prevail set the stage for the Neoconservatives and their 21st century wars, which, with Washington's overthrow of the democratically elected government of Ukraine, has resulted in a crisis that has brought Washington into direct conflict with Russia.
I know the strategic institutes that serve Washington. I was the occupant of the William E.Simon Chair in Political Economy, Center for Strategic and International Studies, for a dozen years. The idea is prevalent that Washington must prevail over Russia in Ukraine or Washington will lose prestige and its superpower status.
The idea of prevailing always leads to war once one power thinks it has prevailed.
The path to war is reinforced by the Wolfowitz Doctrine. Paul Wolfowitz, the neoconservative intellectual who formulated US military and foreign policy doctrine, wrote among many similar passages:
"Our first objective is to prevent the re-emergence of a new rival, either on the territory of the former Soviet Union or elsewhere [China], that poses a threat on the order of that posed formerly by the Soviet Union. This is a dominant consideration underlying the new regional defense strategy and requires that we endeavor to prevent any hostile power from dominating a region whose resources would, under consolidated control, be sufficient to generate global power."
In the Wolfowitz Doctrine, any other strong country is defined as a threat and a power hostile to the US regardless of how willing that country is to get along with the US for mutual benefit.
The difference between Brzezinski and the Neoconservatives is that Brzezinski wants to suborn Russia and China by including them in the empire as important elements whose voices would be heard, If only for diplomatic reasons, whereas the Neoconservatives are prepared to rely on military force combined with internal subversion orchestrated with US financed NGOs and even terrorist organizations.
Neither the US nor Israel is embarrassed by their worldwide reputations as the two countries that pose the greatest threat. In fact, both countries are proud to be recognized as the greatest threats. The foreign policy of both countries is devoid of any diplomacy. US and Israeli foreign policy rests on violence alone. Washington tells countries to do as Washington says or be "bombed into the stone age." Israel declares all Palestinians, even women and children, to be "terrorists," and proceeds to shoot them down in the streets, claiming that Israel is merely protecting itself against terrorists. Israel, which does not recognize the existence of Palestine as a country, covers up its crimes with the claim that Palestinians do not accept the existence of Israel.
"We don't need no stinking diplomacy. We got power."
This is the attitude that guarantees war, and that is where the US is taking the world. The prime minister of Britain, the chancellor of Germany, and the president of France are Washington's enablers. They provide the cover for Washington. Instead of war crimes, Washington has "coalitions of the willing" and military invasions that bring "democracy and women's rights" to non-compliant countries.
China gets much the same treatment. A country with four times the US population but a smaller prison population, China is constantly criticized by Washington as an "authoritarian state." China is accused of human rights abuses while US police brutalize the US population.
The problem for humanity is that Russia and China are not Libya and Iraq. These two countries possess strategic nuclear weapons. Their land mass greatly exceeds that of the US. The US, which was unable to successfully occupy Baghdad or Afghanistan, has no prospect of prevailing against Russia and China in conventional warfare. Washington will push the nuclear button. What else can we expect from a government devoid of morality?
The world has never experienced rogue states comparable to Washington and Israel. Both governments are prepared to murder anyone and everyone. Look at the crisis that Washington has created in Ukraine and the dangers thereof. On May 23, 2014, Russia's President Putin spoke to the St. Petersburg International Economic Forum, a three-day gathering of delegations from 62 countries and CEOs from 146 of the largest Western corporations.
Putin did not speak of the billions of dollars in trade deals that were being formalized. Instead Putin spoke of the crisis that Washington had brought to Russia, and he criticized Europe for being Washington's vassals for supporting Washington's propaganda against Russia and Washington's interference in vital Russian interests.
Putin was diplomatic in his language, but the message that powerful economic interests from the US and Europe received is that it will lead to trouble if Washington and European governments continue to ignore Russia's concerns and continue to act as if they can interfere in Russia's vital interests as if Russia did not exist.
The heads of these large corporations will carry this message back to Washington and European capitals. Putin made it clear that the lack of dialogue with Russia could lead to the West making the mistake of putting Ukraine in NATO and establishing missile bases on Russia's border with Ukraine. Putin has learned that Russia cannot rely on good will from the West, and Putin made it clear, short of issuing a threat, that Western military bases in Ukraine are unacceptable.
Washington will continue to ignore Russia. However, European capitals will have to decide whether Washington is pushing them into conflict with Russia that is against European interests. Thus, Putin is testing European politicians to determine if there is sufficient intelligence and independence in Europe for a rapprochement.
If Washington in its overbearing arrogance and hubris forces Putin to write off the West, the Russian/Chinese strategic alliance, which is forming to counteract Washington's hostile policy of surrounding both countries with military bases, will harden into preparation for the inevitable war.
The survivors, if any, can thank the Neoconservatives, the Wolfowitz doctrine, and the Brzezinski strategy for the destruction of life on earth.
The American public contains a large number of misinformed people who think they know everything. These people have been programmed by US and Israeli propaganda to equate Islam with political ideology. They believe that Islam, a religion, is instead a militarist doctrine that calls for the overthrow of Western civilization, as if anything remains of Western civilization.
Many believe this propaganda even in the face of complete proof that the Sunnis and Shi'ites hate one another far more than they hate their Western oppressors and occupiers. The US has departed Iraq, but the carnage today is as high or higher than during the US invasion and occupation. The daily death tolls from the Sunni/Shi'ite conflict are extraordinary. A religion this disunited poses no threat to anyone except Islamists themselves. Washington successfully used Islamist disunity to overthrow Gaddafi, and is currently using Islamist disunity in an effort to overthrow the government of Syria. Islamists cannot even unite to defend themselves against Western aggression. There is no prospect of Islamists uniting in order to overthrow the West.
Even if Islam could do so, it would be pointless for Islam to overthrow the West. The West has overthrown itself. In the US the Constitution has been murdered by the Bush and Obama regimes. Nothing remains. As the US is the Constitution, what was once the United States no longer exists. A different entity has taken its place.
Europe died with the European Union, which requires the termination of sovereignty of all member countries. A few unaccountable bureaucrats in Brussels have become superior to the wills of the French, German, British, Italian, Dutch, Spanish, Greek, and Portuguese peoples.
Western civilization is a skeleton. It still stands, barely, but there is no life in it. The blood of liberty has departed. Western peoples look at their governments and see nothing but enemies. Why else has Washington militarized local police forces, equipping them as if they were occupying armies? Why else has Homeland Security, the Department of Agriculture, and even the Postal Service and Social Security Administration ordered billions of rounds of ammunition and even submachine guns? What is this taxpayer-paid-for arsenal for if not to suppress US citizens?
As the prominent trends forecaster Gerald Celente spells out in the current Trends Journal, "uprisings span four corners of the globe." Throughout Europe angry, desperate and outraged peoples march against EU financial policies that are driving the peoples into the ground. Despite all of Washington's efforts with its well funded fifth columns known as NGOs to destabilize Russia and China, both the Russian and Chinese governments have far more support from their people than do the US and Europe.
In the 20th century Russia and China learned what tyranny is, and they have rejected it.
In the US tyranny has entered under the guise of the "war on terror," a hoax used to scare the sheeple into abandoning their civil liberties, thus freeing Washington from accountability to law and permitting Washington to erect a militarist police state. Ever since WWII Washington has used its financial hegemony and the "Soviet threat," now converted into the "Russian threat," to absorb Europe into Washington's empire.
Putin is hoping that the interests of European countries will prevail over subservience to Washington. This is Putin's current bet. This is the reason Putin remains unprovoked by Washington's provocations in Ukraine.
If Europe fails Russia, Putin and China will prepare for the war that Washington's drive for hegemony makes inevitable.
Paul Craig Roberts was Assistant Secretary of the Treasury for Economic Policy and associate editor of the Wall Street Journal. He was columnist for Business Week, Scripps Howard News Service, and Creators Syndicate. He has had many university appointments. His internet columns have attracted a worldwide following. His latest books are, The Failure of Laissez Faire Capitalism and How America Was Lost. http://www.paulcraigroberts.org/
The phrase "conspiracy theorist" is a derogatory smear phrase thrown at someone in an attempt to paint them as a lunatic. It's a tactic frequently used by modern-day thought police in a desperate attempt to demand "Don't go there!"
But let's step back for a rational moment and ask the commonsense question: Are there really NO conspiracies in our world?
The Attorney General of South Carolina would surely disagree with such a blanket statement. After all, he sued five pharmaceutical companies for conducting a price-fixing conspiracy to defraud the state of Medicaid money.
Similarly, in 2008, a federal judge ruled that three pharmaceutical companies artificially marked up their prices in order to defraud Medicare.
In fact, dozens of U.S. states have filed suit against pharmaceutical companies for actions that are conspiracies: conspiracy to engage in price fixing, conspiracy to bribe doctors, conspiracy to defraud the state and so on.
The massive drug company GlaxoSmithKline, even more, plead guilty to a massive criminal fraud case involving a global conspiracy to bribe doctors into prescribing more GSK drugs.
And this is just the tip of the iceberg. A deeper look into the criminality of just the drug industry alone reveals a widespread pattern of conspiratorial behavior to defraud the public and commit felony crimes in the name of "medicine."
What is a conspiracy, exactly?
As any state or federal prosecutor will gladly tell you, a "conspiracy" is simply when two or more people plot to commit an act of deceit (or a crime).
Thus, when three hoodlums plan to rob the local Quickie Mart, they are engaged in a "conspiracy" and will likely be charged with a "conspiracy to commit armed robbery" in addition to the different crime of "armed robbery." The fact that they planned it with several friends makes it a "conspiracy" worthy of additional felony charges, you see. When these charges are brought up in court, the judge doesn't look at the prosecutor and say, "You are a conspiracy theorist!" That would be absurd.
The idea, then, that there is no such thing as a conspiracy is flatly ludicrous. And people who condemn others as being "conspiracy theorists" only make themselves look mentally impaired.
To live in our modern world which is full of collusion and conspiracy — and yet somehow DENY the existence of any conspiracies at all — is an admission of a damaged brain. Of course there are conspiracies, and when people analyze those conspiracies, they are "theorizing" about what happened. This is, in fact, precisely the job that police detectives and FBI agents carry out almost daily.
Most police detectives are, in reality, "conspiracy investigators" and analysts.
There are endless examples of real conspiracies
Auto manufacturers routinely conspire to cover up mechanical defects that put customer lives at risk. Even National Public Radio lays out the full timeline of the General Motors conspiracy to hide the problem with its faulty ignition switches.
Last year, food corporations conspired with the Grocery Manufacturers of America (the GMA) tocommit money laundering crimes in Washington state in order to funnel money into a campaign to defeat GMO labeling there.
The FDA conspired with a drug manufacturer to keep a deadly diabetes drug called Rezulin on the market in the USA even after safety regulators pulled the product in Europe.
Similarly, the corrupt, criminal-minded operators of mainstream science journals conspired in a particularly evil way to railroad Dr. Andrew Wakefield with provably false accusations about the nature of his research into the side effects of vaccines. The GMO Seralini study has been similarly railroaded by a genuine conspiracy of evil, corrupt science journal editors who routinely conspire to suppress all the science they don't want to be seen by the public. Fortunately, 150 other scientists have come to support Seralini with a global condemnation of the obviously contrived scientific censorship.
We live in a world of such deception and collusion that, frankly stated, it's hard to find a large institution (such as medicine, agriculture or the war industry) which isn't involved in some sort of conspiracy at some level.
What is a "conspiracy theorist?
The pejorative "conspiracy theorist" is meant to demean and ridicule skeptics of official stories.
Most so-called "conspiracy theorists" are really skeptics, by definition. They're skeptical of what the government tells them. They're skeptical of the claim that drug companies are really only interested in helping humankind and have no desire to make money. They're skeptical that food corporations are telling them the truth about what's in their food. And they're also skeptical of anything coming out of Washington D.C., regardless of which party happens to be in power at the time.
People who are not skeptics of "official stories" tend to be dull-minded. To believe everything these institutions tell you is a sign of mental retardation. To ask questions, on the other hand, is a sign of higher intelligence and wisdom.
Skeptics of official stories, it turns out, also have the support of history on their side. How many times has it later been revealed that the American people were lied to by the very institutions we were supposed to trust?
For example, it is an historical fact that 98 million Americans were injected with hidden cancer viruses which were later found in polio vaccines strongly recommended by the CDC. In an effort to cover that up and rewrite history, the CDC later scrubbed all accounts of that history from its website, pretending it never happened.
That's more than a cover-up; it's an Orwellian-style conspiracy to selectively rewrite history and deny Americans any memory of a monumental, deadly error made by the CDC in collusion with the vaccine industry.
According to two former Merck virologists, that company conspired to fake the results of its vaccine tests by spiking test samples with animal antibodies, thereby falsely distorting the results to make the vaccine appear effective. The two virologists filed a False Claims Act with the federal government detailing the conspiracy, saying:
Merck also added animal antibodies to blood samples to achieve more favorable test results, though it knew that the human immune system would never produce such antibodies, and that the antibodies created a laboratory testing scenario that "did not in any way correspond to, correlate with, or represent real life … virus neutralization in vaccinated people…"
Conspiracies of money and big banks
Every month, the Federal Reserve conspires to steal a portion of your wealth through "quantitative easing" — an irresponsible money creation scheme that devalues all the currency already in circulation (i.e. the money in your bank account).
The money the Fed creates is, not surprisingly, handed over to the big Wall Street banks — the same banks that received a jaw-dropping $29 trillion in "bailout money" since the near-collapse of U.S. banking in late 2008.
Why did this bailout money go to the banks instead of the American people? Because powerful people sat in dark rooms and colluded to send the money to the most influential banks. A conspiracy, in other words, by definition.
Had that same amount of money been equally distributed across the U.S. population, the Fed would have distributed nearly $100,000 to each and every citizen in America; man, woman and child. But instead of enriching the population, the banking bailout burdened the population with the debt now owed to the Fed by future taxpayers.
Every $1 trillion created by the Fed, after all, is $1 trillion "loaned" to the U.S. Treasury which must somehow be repaid. In truth, the minute you start to investigate how money is created, why the Federal Reserve is a private banking cartel and why the big banks get all the bailout money, you run head-first into genuine conspiracies almost from the outset. When you look up the word "conspiracy" in a dictionary, it should probably say, "See Banking and Finance."
Our world is full of conspiracies because it's full of people who deceive
The reason conspiracies are real is because humanity is a race capable of extreme deception. As long as there are people whose actions are based in greed, jealousy and a desire to dominate others, there will be real conspiracies plotted and operating across every sector of society.
The correct term for "conspiracy theorist" should really be "conspiracy analyst." Most of the people who are skeptical of official stories are, in fact, analyzing conspiracies in an attempt to understand what really happened and what took place behind closed doors.
A highly-recommended book the delves into this matter in more detail is the five-star-rated masterpiece Official Stories: Counter-Arguments for a Culture in Need by Liam Scheff.
This book will open the minds of those who still have the cognitive capability remaining to grasp it. (Sadly, the injection of mercury into babies in the form of vaccines has damaged so many brains across America that many people are now cognitively incapable of rational thought.)
And remember: the next time someone flings the phrase "conspiracy theorist" in your direction, simply know that they are effectively wearing a DUNCE hat on their heads by admitting they have failed to acknowledge that true conspiracies are rather commonplace.
That's not merely a theory, either: it's a statement of fact.
Source: Mike Adams |Natural News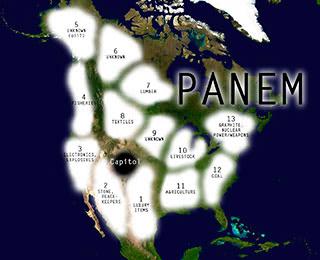 One of the most popular films of 2012 was The Hunger Games which portrayed a post-apocalyptic nation called Panem in which a super-rich, super-pampered, super-callous 'elite' lived in high-tech luxury while the rest of the population daily battled to survive in abject poverty locked away behind prison fences in intensively-populated 'people zones'. Panem comes from the Latin phrase 'panem et circenses' or 'bread and circuses' — a term derived from Rome and meaning to give the people diversions and distractions to hide what is being done to them. Exactly what is happening today.
The Totalitarian Tiptoes to just such a world are happening all around us, although most people can't see this because they don't connect the dots. People tend to live in their own 'little world' and focus on only a few subjects and interests. This gives them a distorted view of what is happening because they are so busy concentrating on the strands that they cannot see the tapestry. The world of The Hunger Games is already well on the way to fruition unless humanity has a fundamental reassessment of reality.
The foundations, structure and 'must haves' of a Hunger Games society are detailed in a plan being imposed through the United Nations called Agenda 21 which encompasses two related themes of 'sustainable development' and 'biodiversity'. Sustainable development — as in don't use more than can be replaced — sounds sensible enough at first until you realize what this and biodiversity really mean in the context of the conspiracy.
Agenda 21 was established at the United Nations Conference on Environment and Development in Rio de Janerio, Brazil, in 1992, hosted by Maurice Strong, a Canadian oil and business billionaire and long-time front man for the Rothschilds and Rockefellers. Strong has been a leader of their exploit-the-environment-to-scam-the-people programme which is now in full flow. Strong is a member of the Club of Rome, the environmental Hidden Hand in the Round Table network that includes the Bilderberg Group, Trilateral Commission and Council on Foreign Relations.
Strong said in support of Agenda 21:
'Isn't the only hope for this planet that the industrialised civilization collapse? Isn't it our responsibility to bring that about?'
This is a man who became mega-rich through the oil industry. He now lives in billionaire luxury in China where carbon-emitting industry is booming and he is a director of the Chicago Climate Exchange (largest shareholder, Goldman Sachs), which is 'the world's first and North America's only legally-binding greenhouse-gas emission registry reduction-system for emission sources and offset projects in North America and Brazil'.
The Exchange was established with funding from the Joyce Foundation where Barack Obama was once a director. Strong and Al Gore make money through the Carbon Exchange and other means from the lies they promote about climate change and the solutions they propose. Kate Johnston wrote on the Globalresearch.cawebsite:
'The same men that sold us the myth of man-made global warming are the same men that sold us the "solution" of a Carbon Tax and Emissions Trading Scheme and now they're profiting off their lucrative investments which are based on lies.' (See "The Climate Change Hoax").
Strong fled to China in 2006 after being accused of corruption with respect to the UN oil for food program.
Climate change propaganda is a No-Problem-Reaction-Solution technique to justify Agenda 21 and its stable-mate the Biodiversity Treaty. This is an internationally-binding document involving nearly 200 countries. The United States signed the treaty, but it was not ratified by the Senate after people like ecologist and ecosystem scientist Dr. Michael Coffman exposed its true consequences and implications. He said that he realized during the 1980s and 1990s that the plan was to use the excuse of protecting the environment to confiscate half the land of the United States.
Similar plans exist for every other country. America may not have ratified the treaty, but it is being implemented by the day. Agenda 21 demands the central global control of all land; all private property; all water sources and distribution; all other resources which includes people in its definition; all energy supplies and distribution and all food production and distribution.
Agenda 21 is called 'the agenda for the 21st century' and that refers to global fascism / communism. This is a summary of what Agenda 21 / Sustainable Development / Biodiversity is seeking to impose:
An end to national sovereignty
State planning and management of all land resources, ecosystems, deserts, forests, mountains, oceans and fresh water; agriculture; rural development; biotechnology; and ensuring 'equity' (equal slavery)
The State to 'define the role' of business and financial resources
Abolition of private property (it's not 'sustainable')
'Restructuring' the family unit
Children raised by the State
People told what their job will be
Major restrictions on movement
Creation of 'human settlement zones'
Mass resettlement as people are forced to vacate land where they currently live
Dumbing down education (achieved)
Mass global depopulation in pursuit of all the above
This horrific plan is being coordinated through the United Nations, the stalking horse for world dictatorship, via a non-governmental network once called the International Council of Local Environmental Initiatives ICLEI), and now known as Local Governments for Sustainability although still using the shortened name ICLEI. The United Nations is now opening 'embassies' around the world called 'UN Houses' under the guise of raising awareness of UN activities, but not the activities that people really need to know about. They have opened one in Hunter Square, Edinburgh, Scotland, for example.
Local Governments for Sustainability (ICLEI) and other organisations are integrating the plan into every village, town, city and region and it is already becoming widespread across the world. The organisational infrastructure of Agenda 21 is already fantastic and involves government agencies, non-governmental organisations (NGOs), think-tanks, trusts, foundations, 'training' (mind control) operations and 'initiatives' which have been building the infrastructure for what they call 'the post-industrial, post-democratic' society while the public go about their daily business oblivious of the prison being built all around them by the hour.
Harvey Ruvin, a vice-chairman of ICLEI, was asked how Agenda 21 would affect liberties with regard to the US Constitution and Bill of Rights, private property and freedom of speech. He replied:
'Individual rights must take a back-seat to the collective.'
The arrogance of these people is breathtaking. The extraordinary network supporting ICLEI and Agenda 21 includes the Rockefeller-sponsored America 2050; United Cities and Local Governments (UCLG); Metropolis; World Economic Forum; United Nations Framework Convention on Climate Change; United Nations International Strategy for Disaster Reduction; World Bank; Clinton Climate Initiative; Climate Group (Tony Blair); World Conservation Union (IUCN); Renewable Energy and Energy Efficiency Partnership; Global Footprint Network; Renewable Energy and Energy Efficiency Partnership; Global Footprint Network; International Centre for Sustainable Cities; Earthquakes and Megacities Initiative and the Stakeholder Forum. These and so many others are working to the same end — Agenda 21 and total human enslavement worldwide, although most of those involved will have no idea that they are building a global prison for themselves and their families.
Another of these front organisations is the World Business Council for Sustainable Development which includes the hideously anti-people Monsanto. Destroying food-growing land, contaminating the countryside with toxins and replacing proper food with deadly and soil-destroying genetically-modified organisms is Monsanto's contribution to 'sustainability'. Agenda 21 is operating in more than 600 towns, cities and counties in the United States and expanding by the day.
A member of the Agenda 21 committees in Santa Cruz, California, in the mid-1990s said that the proposals he heard were so crazy that he laughed at them because they could never happen. These included that 'Mother Earth's surface was not to be scratched'; humans should be concentrated in settlement zones; education should focus on the environment as a central organising principle and all aspects of life covered by Agenda 21, but all of these crazy plans are now being introduced. It's all happy, feely, smiling faces and how we care, when the truth is that Agenda 21 is a vicious, brutal, heartless strategy to impose a global Orwellian state.
Agenda 21 manipulators either create or hijack some local organisation or other, many of them in locations with large populations, and they have their (controlled) leadership to agree the Agenda 21 blueprint for their community together with any uninformed, unwitting idiots who can be sold a human nightmare as saving the planet. This allows them to claim that decisions were made after 'public participation' when that would have been the last thing they wanted, and 99 percent of the 'community' has never heard of Agenda 21 let alone had their say on it. They want no democracy which is why these people talk privately, sometimes even publicly, about the post-democratic, post-industrial society.
They want to control every man, woman and child on the planet — everyone and everywhere and every resource, water source and piece of land. To do this they need a global structure of fascist control that goes right down into every local community with the jackboots at local level enforcing the will of the global centre. This is why there is so much emphasis on local authorities and town and city authorities in Agenda 21.
There is a 'training organisation' called Common Purpose (common purpose, common consensus, everyone the same) which has been paid very large amounts of money by governments and local authorities, police forces and other institutions of state to 'train the leaders' of the post-democratic, post-industrial society. Common Purpose was heavily represented in the Leveson 'inquiry' leading to new media laws in Britain. It is not a training programme; it is a programming programme and turns out unquestioning zombie administrators who serve the god of Agenda 21 and the associated European Union. The theme of 'common' also applies to the ever greater standardisation of laws and regulations and constant reference to 'international law'. This is the unfolding global dictatorship of Agenda 21. What do you need to be a global dictator? Laws that everyone on the planet must obey — international law and the standardisation of global regulation.
You can see The Hunger Games connection when you look at the official Biodiversity wish-for map of the United States in Figure 1. The red areas are designated for no human use and most of the rest of America is confiscated for little and highly-regulated use. The mass of the population would be concentrated in high-rise, densely-packed 'human settlement zones' and denied access to something like 80 percent of present day America. It is without question the world of The Hunger Games with a globally-enforced top-down hierarchy that has a world government using its world army and police force to impose its will at regional and local levels (sectors). The Rockefeller-funded America 2050 has produced a map of the new United States divided into eleven 'megaregions' and includes parts of Canada (Figure 2). Seattle, Portland and Vancouver, British Columbia, become the megaregion known as 'Cascadia' and this regional system comes under the collective name of 'megalopolis' which is Greek for large city or great city. America, Canada and Mexico are due to merge to form the North American Union in line with the European Union blueprint.
The European Union is planned to be broken up into regions and the same structure is in development all over the world. The map of the new Europe has regions from different countries linked up with regions in other countries to end any vestige of national sovereignty or even national existence (Figure 3). This is a global plan with its fierce central control hidden behind its lower elements such as the European Union and local government. What is planned would clearly require a fantastic reduction of the global population and this is indeed what Agenda 21 / Sustainable Development / Biodiversity demand.
The e-book Agenda 21: Your Life In Their Hands can be downloaded here.
reference:
Icke, David. The Perception Deception. Ryde: David Icke Books, 2013.
Julian Websdale is an independent researcher in the fields of esoteric science and metaphysics, and a self-initiate of the Western Esoteric Tradition. His interest in these subjects began in 1988. Julian was born in England, received his education as an electronic and computer engineer from the University of Bolton, served in a Vaishnava monastery during 2010, and has travelled to over 21 countries. Julian is also a member of the Palestinian Solidarity Campaign.
Source: Julian Websdale  |  Waking Times | War Is Crime
"The grimmest dictatorship is the dictatorship of the prevailing orthodoxy" – George Galloway
In a relativism culture of social permissiveness, the non-judgmental attitude, held out as the suitable standard for conduct, has become the politically correct behavior. One might think that anything goes under this mindset. However, the exact opposite practice and enforcement, under the most rigid conditions, is championed as necessary for enlighten and tolerant liberalists. The proliferation of demands that hate speech is the new capital crime, actually is counter iterative in building a civil society. This orthodoxy of the fanatical, proudly presents this illuminated and required deportment, as obligatory for all citizens.
So what exactly is hate for the neo-Jacobins? Obviously, whatever the "Society of the Friends of the LIVING Constitution" deems it to be, because under the color of law, the self-proclaimed pure of heart, are justified to off the heads of anyone who dares speak out in inappropriate terms. Remember "thinking progress" for the greater good, must be imposed on anyone who dare defies the wisdom of the gatekeepers for the collective.
Racism has to go, unless practiced by Negros against whites, or is the mere mention of such a term a slight to African-Americans? Once upon a time cries of anti-Semitism would be heard if Donald Sterling was made a pariah after the NAACP did an about face after awarding him for promoting civil rights. Not in today's world, such a distasteful zealot no longer has the protection of his tribe from the scrutiny of the thought police. The almost total condemnation of his recently private remarks has the entire sports world clambering for his forced sale of the LA Clippers.
Such broad-minded fans in a league that made homies multimillionaires and took them out of the hood, must not be dis. No wonder the attraction of not just the NBA, but sports in general, have serious minded buffs of the Wide World of Sports looking for, "The Thrill of Victory…" in other arenas. Why not demonstrate that sporting enthusiasm and jock celebrity worship, by starting a grassroots campaign to install America's favorite redneck, Phil Robertson and his Duck Dynasty clan, as the new ownership of the team.Surely, good standing Democrats should have no problem supporting a bunch of good old boys from the South. Frances Rice writes in the National Black Republicans Association site that, KKK Terrorist Arm of the Democratic Party. "This ugly fact about the Democrat Party is detailed in the book, A Short History of Reconstruction, (Harper & Row Publishers, Inc., 1990) by Dr. Eric Foner, the renowned liberal historian who is the DeWitt Clinton Professor of History at Columbia University. Dr. Foner in his book explores the history of the origins of Ku Klux Klan and provides a chilling account of the atrocities committed by Democrats against Republicans, black and white."
Carole Emberton, an associate professor of history at the University at Buffalo adds:
"The party lines of the 1860s/1870s are not the party lines of today. Although the names stayed the same, the platforms of the two parties reversed each other in the mid-20th century, due in large part to white 'Dixiecrats' flight out of the Democratic Party and into the Republican Party after the passage of the Civil Rights Act of 1964. By then, the Democratic Party had become the party of 'reform,' supporting a variety of 'liberal' causes, including civil rights, women's rights, etc. whereas this had been the banner of the Republican Party in the nineteenth century."

Fast forward to today's conductor Eric Holder, of selective bigoted racism, when describing "his people", who "seem to get a pass on hate crime charges when they select whites for their blood sport", one needs to question who the real haters are. David Risselada provides a valid assessment in the essay, Hate Crimes Legislation . . . Racial Identity Politics and the Institutional Racism of the Left.
"The institutional racism that is built in our society is the responsibility of the left. Throughout history it has been the democrats who have supported segregation and slavery while continuously voting against civil rights legislation. Today, they attempt to hide their history through racial identity politics, and the creation of a system where inequality is the new equality. By creating laws based on racial preferences, the left is telling minorities that they believe they are not as capable as white men and therefore need their programs in order to stand a chance in the racist United States of America. This does little but reinforce hatred while attempting to justify black on white violence."
Once upon a time and in a place long ago, the Democratic Party defended the rights of the individual to associate with individuals of their choosing and speak their minds openly and without concern of censor. Since the conversion to ecumenical orthodoxy, the authoritarians that gave you the New Deal and the Great Society have a long record of creating their own hatred of Free Speech. The example of the New York Times vicious attack on Cliven Bundy illustrates another trumped-up incident ripe to exploit.The New American, author William F. Jasper makes the point:
"Much of what Mr. Bundy is saying closely parallels what even many black leaders, authors and intellectuals — such as Prof. Walter Williams, Rev. C.L. Bryant, Rev. Jesse Lee Peterson, Bill Cosby, Alveda King, Star Parker, and Alan Keyes — have been saying. But Cliven Bundy's "sin" is that he is an elderly white man who is unschooled in traversing the minefield of political correctness — and he was careless in failing to make important distinctions and clarifications. He "sinned" by being born when he was born, and failing to keep up with the constantly changing terminology for ethnic designations. He still uses the terms "Negro," "colored people," and "Mexican," instead of "black/ African American" or "Hispanic/Latino" — but then, race activists still argue amongst themselves concerning the "proper" ethnic label to apply to their lineage and group identity."
When Senator Ed Markey, D-Mass., introduces legislation called the "Hate Crime Reporting Act of 2014," it is another partisan concerted attempt to silence voices and views entirely protected under the First Amendment, by monitoring radio, television and Internet speech. Can one say arbitrary and capricious, or will Big Brother now prey on any convenient and moving target to label anyone as a hate monger, that does not conform to the "PC" orthodoxy?
The excellent video from Ben Swann identifies in New "Hate Crime" Bill Will Attempt To Control Speech On Internet, Radio and TV, that the real objective is to censor the internet.
Well, this development should concern any student of inquiry, but the real world often fosters political threats that seem to be so implausible, if they were not true. The case of the arrest of Paul Weston should alarm everyone. In the Michael Coren interview or Mr. Weston, the vanguard of British lunacy once again blazes new trails in the annals of hate speech. If quoting Winston Churchill is now a crime, what does that make Winnie?The British Bulldog is his own words:
"How dreadful are the curses which Mohammedanism lays on its votaries! Besides the fanatical frenzy, which is as dangerous in a man as hydrophobia in a dog, there is this fearful fatalistic apathy. The effects are apparent in many countries. Improvident habits, slovenly systems of agriculture, sluggish methods of commerce, and insecurity of property exist wherever the followers of the Prophet rule or live. A degraded sensualism deprives this life of its grace and refinement; the next of its dignity and sanctity. The fact that in Mohammedan law every woman must belong to some man as his absolute property — either as a child, a wife, or a concubine — must delay the final extinction of slavery until the faith of Islam has ceased to be a great power among men. Thousands become the brave and loyal soldiers of the faith: all know how to die but the influence of the religion paralyses the social development of those who follow it. No stronger retrograde force exists in the world. Far from being moribund, Mohammedanism is a militant and proselytizing faith. It has already spread throughout Central Africa, raising fearless warriors at every step; and were it not that Christianity is sheltered in the strong arms of science, the science against which it had vainly struggled, the civilisation of modern Europe might fall, as fell the civilisation of ancient Rome."
Move over denial ridden Americans; the English have a talent in leading the civilized world in false guilt. For the rest of humankind, they are perceptive enough to admit that the normal human condition acknowledges Discrimination as a Virtue.
"Discrimination has been characterized as racism. Quite to the contrary, discrimination is an ally in the struggle to end bigotry and injustice. When Liberty is suppressed in a quest for equality; hatred and revulsion breeds, for different groups, cultures and ideologies. All attempts to force equal treatment are futile, even when severe penalties are imposed."
Condemning a person, solely by his beliefs, bias and predisposition – that fanatical frenzy will surely bring about the fall of our cherished tradition of Free Speech. For those who fear Sharia Law, you had better be more concerned about the progressive despots, who are the model for imposed intolerance through a government, which hates everyone that refuses their Groupthink.
"An ecosystem, you can always intervene and change something in it, but there's no way of knowing what all the downstream effects will be or how it might affect the environment. We have such a miserably poor understanding of how the organism develops from its DNA that I would be surprised if we don't get one rude shock after another." Professor Richard Lewontin, Professor of Genetics, Harvard University
Specific plants evolve with DNA to withstand drought, rainforest conditions, severe temperatures and different soils. A cactus thrives in the desert, but would die in a rainforest. A tropical fern expands in the rainforest, but dies in a desert. Each plant's DNA evolved to allow it to grow within a specific eco-system.
When GMO plants grow within a specific eco-system, their DNA bastardizes the normal DNA of native plants. Specific genes mutate and become "Frankensteinized" by the genetically manipulated plants. Thus, we human alter the Natural World via the planet. We change the way bees operate or cannot operate with a GMO plant. Whereby a ladybug thrived, it now dies. What proliferated on ladybugs dies without their specific food source—and on down the line.
Carey Biron at Inter Press Service said, "A third of U.S. organic farmers have experienced problems in their fields due to the nearby use of genetically modified crops, and over half of those growers have had loads of grain rejected because of unwitting GMO contamination.
"Of U.S. farmers that took part in a new survey, the results of which were released on Monday, more than 80 percent reported being concerned over the impact of genetically modified (GM) crops on their farms, with some 60 percent saying they're "very concerned.""
"USDA has been extremely lax and, in our opinion, that's due to the excessive influence of the biotech industry in political circles." — Organic farmer Oren Holle
Again, we see ground level folks pointing fingers at our Congressional critters in Washington, DC. Money flat-out buys their votes to stop any GMO labeling or discussion.
"The USDA said they didn't have this data, but all they had to do was ask," Oren Holle, a farmer in the Midwestern state of Kansas and president of the Organic Farmers' Agency for Relationship Marketing (OFARM), which assisted in the new study's production. "Our very strong feeling is that the introduction and propagation of the genetically modified products that are coming out under patent at this point have not had the regulatory oversight that they should have, and need to involve a far broader section of stakeholders. USDA has been extremely lax and, in our opinion, that's due to the excessive influence of the biotech industry in political circles."
Misplaced Responsibility
While just one percent of corn and seven percent of soybeans grown in the U.S. came from GM seeds during the mid-1990s, by last year both of those numbers had risen to above 90 percent.
Biron said, "In the new study, nearly half of the farmers polled said they did not believe that GM and non-GM crops could ever "coexist", while more than two-thirds said that "good stewardship" is insufficient to address contamination."
"The USDA's focus on coexistence and crop insurance is misplaced," Wenonah Hauter, executive director of Food & Water Watch, said Monday, referring to an AC21 recommendation that GM contamination problems be dealt with through a federal insurance scheme set up to lessen the impact of natural disasters.
"The department must recognize the harm that is already being done to organic and non-GMO farmers and put the responsibility squarely where it belongs – with the biotech companies … Now USDA can no longer claim ignorance about this problem."
Old Playbook
"There's been a lot of new technology introduced in agriculture over the past 50 years. But there's always been a point of law that, whatever happens on my side of the fence, I'm still responsible for how it might affect my neighbor," Holle notes. "GMOs take away that neighbor-to-neighbor relationship, however, as the ways in which unintended presence occurs is a completely different set of concerns from other new technologies. For that reason, they need a completely different set of rules."
Enormous money to be made by biotech companies at our expense
"At least 35 other species of genetically engineered fish are currently under development," Friends of the Earth, an advocacy group, stated Monday. The "decision on this genetically engineered salmon application will set a precedent for other genetically engineered fish and animals … to enter the global food market."
"The introduction of genetically modified foods (GMO) tampers with the essence of life in an experiment with an unknown outcome and no real way to undue the damage. The FDA purposely does not require labeling of GMO food, since no one who understands the issue would ever purchase it. This makes it all the more difficult to locate healthful food."  Byron J. Richards, The Leptin Diet: How Fit Is Your Fat?
This series exposes the outright fraud against peoples' lives and the contempt for American citizens (and citizens of the world who eat our grains) with the injection of Genetically Modified Organism foods by the highest representatives in our U.S. Congress.
Call it a "financial cartel" that allows GMOs to be fed to our citizenry, but worse, for the love of money, those power elites accelerate the destruction of our Natural World.
We humans grow too clever and too arrogant to understand the long-term penalties we heap on Mother Nature until she finds no other answers but to claw back at us, i.e., cancers, disease and more aberrant environmental disasters to come.
Every crop in America, Canada, Australia and much of the third world where GMO advocates like ADM and Monsanto can force their "Frankensteinization" on farmers—they push it.
Even with all the evidence piling up, those same elites hammer any opposition into the ground.  They "bribe" the FDA officials to not label any GMO foods so you don't know what you're eating.
We destroy our own bodies by our actions, but we also obliterate the Natural World and its inhabitants.
Today around the world, trillions of bees suffer "colony collapse" via GMO crops.  Nature cannot figure out how to deal with plants that suffer genetic modification or DNA change-ups.
GMO foods represent a pitcher throwing an orange to the catcher in a Major League Baseball game.  Within several pitches, the orange wouldn't hold its form from the violent treatment.  If the batter connected with the orange, it would splatter all over the field.  Result: the game couldn't continue.  The players could not play and the spectators would go home.
But in GMO production, the consequences cannot be seen as quickly, however those "errors" against Mother Nature will surface well into the future.
Ethan Huff, science writer for Natural News said,  "A pair of studies recently published in the journal Science raises dire warnings about the continued decline of crop-pollinating insects all over the world, and what this means for the future of the world's food supply. Both studies highlight the fact that wild pollinators like bumblebees, butterflies, and beetles are basically disappearing, and that industrial agriculture, which includes genetically-modified organisms (GMOs), are a major factor causing this insect genocide.
"At least half a dozen other studies published in the last couple of years have arrived at similarly disturbing findings. They do, however, shed further light on how the situation has progressed throughout the decades, pointing to corporate monoculture practices, shrinking forests and wild lands, and general changes in physical landscapes as some of the primary culprits in promoting this ruinous trend."
We not only change the DNA of our fellow planetary travelers, but we destroy their habitat.  We seem to think no consequences will befall us.
"The earth does not belong to man, man belongs to the earth. All things are connected like the blood that unites us all. Man did not weave the web of life, he is merely a strand in it. Whatever he does to the web, he does to himself."
― Chief Seattle
Last week, I interviewed with Ross Kaminsky at www.KOA.com in Denver, Colorado. Mind you, this young man, about 30, sounded brilliant and highly articulate.  I liked him.   I spoke about America adding 100 million immigrants and a total of 138 million people by 2050—a scant 36 years from now.  I brought facts and compelling information to the show.  I attempted to show him and the public the ramifications of adding 138 million people—and that, we could not sustain such numbers and our environment.
He sat across from me saying, "We don't have a population problem. We have plenty of water and oil.  The oceans can absorb all our carbon footprint."
I said, "You're speaking with assumptions as if they were facts.  You make statements based on belief where I make them based on facts from my research."
He dumbfounded me with his arrogance that we can keep adding endless people with no consequences. He wanted everyone to live a free life.  I countered with the fact that as our population numbers rise, our freedoms decline along with balance in our Natural World.  That fact cannot be disputed.
I explained how our oceans suffer acidification and that reefs die with carbon footprint and how marine life cannot endure the onslaught.
He wouldn't hear of it.  Mind you, this young man, traveled on six continents like I have traveled.  He lives in denial and defends it. Along with him, the majority of the American public feels the same.
We see the same denial with our leaders who advocate for GMOs in plants and fish—in the face of facts.
"In one of the studies, researchers from Montana State University (MSU) compared insect data collected in the late 1800s to similar data collected in the same test location in the 1970s," said Huff. "They then compiled current data from the same area to compare to both of these other two data sets, upon which they discovered that the number of unique wild bee species had dropped by nearly half.
"What is perhaps more disturbing, however, is the fact that researchers observed modern bees to be generally interacting less with plants than they used to in previous generations. According to the data, the overall number of interactions between bees and plants has also dropped by roughly half, indicating a serious problem as far as the general food supply is concerned, as about 75 percent of global food crops rely on pollination by animals."
Managed honeybees do not pollinate crops as well as wild honeybees
The second study troubles me further:  having found that pollinating insects in general, which include a wide range of insects and other animals, continue vanishing from their normal habitats and foraging areas.
"Based on field trials conducted in 20 different countries, wild insects are clearly on the decline everywhere, and managed honeybee colonies established to replace them in many areas are failing to pick up where the wild honeybees left off," said Huff.
"In landscapes with lower diversity and lower abundance of wild insects, the crops had less fruits," explains Lucas Garibaldi, author of the second study. "Wild insects pollinated way more efficiently: Flowers produced twice as many fruits after being visited by wild insects and were more consistent in their production than when visited by honeybees."
"Some "leaders" blame climate destabilization and other outside factors for this mysterious decline in crop pollinators," said Huff. "But the major elephant in the room, and the one that the mainstream media is desperately trying to avoid, is GMOs and the chemical-based technologies used to grow them. As we have covered time and time again, neonicotinoids and other pesticide and herbicide products are responsible for weakening and killing off bees and other crop pollinators, particularly in North America where GMOs are most widely cultivated."
"The proof is obvious that one of the major reasons of the bees' decline is by the ingestion of GMO proteins," explains a report by Brit Amos from Global Research about the decline of bee colonies. "The truth is that organic farming is relatively untouched as the bee crisis is concerned. Organic farming maintains the diversity of the eco-system and preserves the quality of the foods produced."
The more I research into what we and our children face with our "disfiguring" the Natural World with our poisons and GMO assault, the more sickened I am in my mind and heart.  Since I lack any power or influence, someone like Bill Gates or Warren Buffet needs to fund campaigns to stop GMO production.  After all, it's their kids, too, who must live in this world.
All of this GMO nightmare stems from too many people needing food for survival with too many elites willing to sacrifice the Natural World in order to make endless billions of dollars to live in big homes, drive expensive cars and fly Lear Jets.
You can learn more: http://www.naturalnews.com/039582_pollinators_gmos_food_supply.html#ixzz2zSIQSIhn
Go to www.responsibletechnology.org to get involved and learn how to avoid GMOs. Look for Non-GMO Shopping Guide.
Start buying non-GMO today.
Help stop the genetic engineering of our food supply.
You may become involved:
By mail: Institute For Responsible Technology, P.O. Box 469, Fairfield, IA 52556 Online: www.responsibletechnology.org by phone:(641) 209-1765
Read the book—Genetic Roulette: The Documented Health Risk of Genetically Engineered Foods by Jeffrey M. Smith.
So, what do we have here? In Libya, in Syria, and elsewhere the United States has been on the same side as the al-Qaeda types. But not in Ukraine. That's the good news. The bad news is that in Ukraine the United States is on the same side as the neo-Nazi types, who – taking time off from parading around with their swastika-like symbols and calling for the death of Jews, Russians and Communists – on May 2 burned down a trade-union building in Odessa, killing scores of people and sending hundreds to hospital; many of the victims were beaten or shot when they tried to flee the flames and smoke; ambulances were blocked from reaching the wounded. Try and find an American mainstream media entity that has made a serious attempt to capture the horror.
And how did this latest example of American foreign-policy exceptionalism come to be? One starting point that can be considered is what former Secretary of Defense and CIA Director Robert Gates says in his recently published memoir: "When the Soviet Union was collapsing in late 1991, [Defense Secretary Dick Cheney] wanted to see the dismemberment not only of the Soviet Union and the Russian empire but of Russia itself, so it could never again be a threat to the rest of the world." That can serve as an early marker for the new cold war while the corpse of the old one was still warm. Soon thereafter, NATO began to surround Russia with military bases, missile sites, and NATO members, while yearning for perhaps the most important part needed to complete the circle – Ukraine.
In February of this year, US State Department officials, undiplomatically, joined anti-government protesters in the capital city of Kiev, handing out encouragement and food, from which emanated the infamous leaked audio tape between the US ambassador to Ukraine, Geoffrey Pyatt, and the State Department's Victoria Nuland, former US ambassador to NATO and former State Department spokesperson for Hillary Clinton. Their conversation dealt with who should be running the new Ukraine government after the government of Viktor Yanukovich was overthrown; their most favored for this position being one Arseniy Yatsenuk.
My dear, and recently departed, Washington friend, John Judge, liked to say that if you want to call him a "conspiracy theorist" you have to call others "coincidence theorists". Thus it was by the most remarkable of coincidences that Arseniy Yatsenuk did indeed become the new prime minister. He could very soon be found in private meetings and public press conferences with the president of the United States and the Secretary-General of NATO, as well as meeting with the soon-to-be new owners of Ukraine, the World Bank and the International Monetary Fund, preparing to impose their standard financial shock therapy. The current protestors in Ukraine don't need PHDs in economics to know what this portends. They know about the impoverishment of Greece, Spain, et al. They also despise the new regime for its overthrow of their democratically-elected government, whatever its shortcomings. But the American media obscures these motivations by almost always referring to them simply as "pro-Russian".
An exception, albeit rather unemphasized, was the April 17 Washington Post which reported from Donetsk that many of the eastern Ukrainians whom the author interviewed said the unrest in their region was driven by fear of "economic hardship" and the IMF austerity plan that will make their lives even harder: "At a most dangerous and delicate time, just as it battles Moscow for hearts and minds across the east, the pro-Western government is set to initiate a shock therapy of economic measures to meet the demands of an emergency bailout from the International Monetary Fund."
Arseniy Yatsenuk, it should be noted, has something called the Arseniy Yatsenuk Foundation. If you go to the foundation's website you will see the logos of the foundation's "partners".  Among these partners we find NATO, the National Endowment for Democracy, the US State Department, Chatham House (Royal Institute of International Affairs in the UK), the German Marshall Fund (a think tank founded by the German government in honor of the US Marshall Plan), as well as a couple of international banks. Is any comment needed?
Getting away with supporting al-Qaeda and Nazi types may be giving US officials the idea that they can say or do anything they want in their foreign policy. In a May 2 press conference, President Obama, referring to Ukraine and the NATO Treaty, said: "We're united in our unwavering Article 5 commitment to the security of our NATO allies". (Article 5 states: "The Parties agree that an armed attack against one or more of them … shall be considered an attack against them all.") Did the president forget that Ukraine is not (yet) a member of NATO? And in the same press conference, the president referred to the "duly elected government in Kyiv (Kiev)", when in fact it had come to power via a coup and then proceeded to establish a new regime in which the vice-premier, minister of defense, minister of agriculture, and minister of environment, all belonged to far-right neo-Nazi parties.
The pure awfulness of the Ukrainian right-wingers can scarcely be exaggerated. In early March, the leader of Pravy Sektor (Right Sector) called upon his comrades, the infamous Chechnyan terrorists, to carry out further terrorist actions in Russia.
There may be one important difference between the old Cold War and the new one. The American people, as well as the world, can not be as easily brainwashed as they were during the earlier period.
Over the course of a decade, in doing the research for my first books and articles on US foreign policy, one of the oddities to me of the Cold War was how often the Soviet Union seemed to know what the United States was really up to, even if the American people didn't. Every once in a while in the 1950s to 70s a careful reader would notice a two- or three-inch story in the New York Times on the bottom of some distant inside page, reporting that Pravda or Izvestia had claimed that a recent coup or political assassination in Africa or Asia or Latin America had been the work of the CIA; theTimes might add that a US State Department official had labeled the story as "absurd". And that was that; no further details were provided; and none were needed, for how many American readers gave it a second thought? It was just more commie propaganda. Who did they think they were fooling? This ignorance/complicity on the part of the mainstream media allowed the United States to get away with all manner of international crimes and mischief.
It was only in the 1980s when I began to do the serious research that resulted in my first book, which later became Killing Hope, that I was able to fill in the details and realize that the United States had indeed masterminded that particular coup or assassination, and many other coups and assassinations, not to mention countless bombings, chemical and biological warfare, perversion of elections, drug dealings, kidnapings, and much more that had not appeared in the American mainstream media or schoolbooks. (And a significant portion of which was apparently unknown to the Soviets as well.)
But there have been countless revelations about US crimes in the past two decades. Many Americans and much of the rest of the planet have become educated. They're much more skeptical of American proclamations and the fawning media.
President Obama recently declared: "The strong condemnation that it's received from around the world indicates the degree to which Russia is on the wrong side of history on this."  Marvelous … coming from the man who partners with jihadists and Nazis and has waged war against seven nations. In the past half century is there any country whose foreign policy has received more bitter condemnation than the United States? If the United States is not on the wrong side of history, it may be only in the history books published by the United States.
Barack Obama, like virtually all Americans, likely believes that the Soviet Union, with perhaps the sole exception of the Second World War, was consistently on the wrong side of history in its foreign policy as well as at home. Yet, in a survey conducted by an independent Russian polling center this past January, and reported in the Washington Post in April, 86 percent of respondents older than 55 expressed regret for the Soviet Union's collapse; 37 percent of those aged 25 to 39 did so. (Similar poll results have been reported regularly since the demise of the Soviet Union. This is fromUSA Today in 1999: "When the Berlin Wall crumbled, East Germans imagined a life of freedom where consumer goods were abundant and hardships would fade. Ten years later, a remarkable 51% say they were happier with communism.")
Or as the new Russian proverb put it: "Everything the Communists said about Communism was a lie, but everything they said about capitalism turned out to be the truth."
A week before the above Post report in April the newspaper printed an article about happiness around the world, which contains the following charming lines: "Worldwide polls show that life seems better to older people – except in Russia." … "Essentially, life under President Vladimir Putin is one continuous downward spiral into despair." … "What's going on in Russia is deep unhappiness." … "In Russia, the only thing to look forward to is death's sweet embrace."
No, I don't think it was meant to be any kind of satire. It appears to be a scientific study, complete with graphs, but it reads like something straight out of the 1950s.
The views Americans hold of themselves and other societies are not necessarily more distorted than the views found amongst people elsewhere in the world, but the Americans' distortion can lead to much more harm. Most Americans and members of Congress have convinced themselves that the US/NATO encirclement of Russia is benign – we are, after all, the Good Guys – and they don't understand why Russia can't see this.
The first Cold War, from Washington's point of view, was often designated as one of "containment", referring to the US policy of preventing the spread of communism around the world, trying to blockthe very idea of communism or socialism. There's still some leftover from that – see Venezuela and Cuba, for example – but the new Cold War can be seen more in terms of a military strategy. Washington thinks in terms of who could pose a barrier to the ever-expanding empire adding to its bases and other military necessities.
Whatever the rationale, it's imperative that the United States suppress any lingering desire to bring Ukraine (and Georgia) into the NATO alliance. Nothing is more likely to bring large numbers of Russian boots onto the Ukrainian ground than the idea that Washington wants to have NATO troops right on the Russian border and in spitting distance of the country's historic Black Sea naval base in Crimea.
The myth of Soviet expansionism
One still comes across references in the mainstream media to Russian "expansionism" and "the Soviet empire", in addition to that old favorite "the evil empire". These terms stem largely from erstwhile Soviet control of Eastern European states. But was the creation of these satellites following World War II an act of imperialism or expansionism? Or did the decisive impetus lie elsewhere?
Within the space of less than 25 years, Western powers had invaded Russia three times – the two world wars and the "Intervention" of 1918-20 – inflicting some 40 million casualties in the two wars alone. To carry out these invasions, the West had used Eastern Europe as a highway. Should it be any cause for wonder that after World War II the Soviets wanted to close this highway down? In almost any other context, Americans would have no problem in seeing this as an act of self defense. But in the context of the Cold War such thinking could not find a home in mainstream discourse.
The Baltic states of the Soviet Union – Estonia, Latvia, and Lithuania – were not part of the highway and were frequently in the news because of their demands for more autonomy from Moscow, a story "natural" for the American media. These articles invariably reminded the reader that the "once independent" Baltic states were invaded in 1939 by the Soviet Union, incorporated as republics of the USSR, and had been "occupied" ever since. Another case of brutal Russian imperialism. Period. History etched in stone.
The three countries, it happens, were part of the Russian empire from 1721 up to the Russian Revolution of 1917, in the midst of World War I. When the war ended in November 1918, and the Germans had been defeated, the victorious Allied nations (US, Great Britain, France, et al.) permitted/encouraged the German forces to remain in the Baltics for a full year to crush the spread of Bolshevism there; this, with ample military assistance from the Allied nations. In each of the three republics, the Germans installed collaborators in power who declared their independence from the new Bolshevik state which, by this time, was so devastated by the World War, the revolution, and the civil war prolonged by the Allies' intervention, that it had no choice but to accept the fait accompli. The rest of the fledgling Soviet Union had to be saved.
To at least win some propaganda points from this unfortunate state of affairs, the Soviets announced that they were relinquishing the Baltic republics "voluntarily" in line with their principles of anti-imperialism and self-determination. But is should not be surprising that the Soviets continued to regard the Baltics as a rightful part of their nation or that they waited until they were powerful enough to reclaim the territory.
Then we had Afghanistan. Surely this was an imperialist grab. But the Soviet Union had lived next door to Afghanistan for more than 60 years without gobbling it up. And when the Russians invaded in 1979, the key motivation was the United States involvement in a movement, largely Islamic, to topple the Afghan government, which was friendly to Moscow. The Soviets could not have been expected to tolerate a pro-US, anti-communist government on its border any more than the United States could have been expected to tolerate a pro-Soviet, communist government in Mexico.
Moreover, if the rebel movement took power it likely would have set up a fundamentalist Islamic government, which would have been in a position to proselytize the numerous Muslims in the Soviet border republics.
Notes
See RT.com (formerly Russia Today) for many stories, images and videos
Robert Gates, Duty (2014), p.97
If this site has gone missing again, a saved version can be found here.
Voice of Russia radio station, Moscow, April 18, 2014; also see Answer Coalition, "Who's who in Ukraine's new [semi-fascist] government", March 11, 2014
RT.com, news report March 5, 2014
CBS News, March 3, 2014
Washington Post, April 11, 2014
USA Today (Virginia), Oct. 11, 1999, page 1
Washington Post print edition, April 2, 2014; online here
In "The attack on biblical creation in UK schools continues," Phil Robinson reports that in the dechristianized U.K. unrelenting attacks against special creation (Genesis account) display a level of aggressive intolerance that is hard to stomach, coming as they do from self-proclaimed scientifically-enlightened 'voices of reason.'  Some schools have already banned the teaching of special creation in favor of evolutionary science.   (creation.com, Mar. 9, 2014)
Other shrill 'voices of reason' go so far as to connect special creation to mental illness and child abuse. During a radio interview in Australia famous physicist and atheist propagandist Lawrence Krauss said that while in the United States recently, he stated that "teaching creationism is child abuse and I think it is." (Prayer News, a publication of Creation Ministries, Apr. 2014)
Throughout the West and here in America a slash-and-burn operation conducted against the Genesis account, particularly its' literal and historical elements, is justified by the false idea that evolution is science, thus intolerance of special creation is often presented as a 'science versus religion' or 'faith versus reason' issue.   So successful has this war of attrition been that younger generations of Westerners and Americans have been disconnected from both Western history and its' founding Christian-based worldview, thus like seedlings recently popped up from the soil are unconcerned that special creation, where the ultimate source of life, being and unalienable rights are found, has nearly been displaced by anti-human pagan conceptions positing billions of years of evolutionary transformism from lower kinds of things to higher and higher kinds of things— even non-human kinds of things:
"For us, the best way to create new ('artificial') life forms and intelligence is to allow them to emerge through evolution, as nature does, only in much shorter timeframes and with much greater efficiency and variety."

"For conscious evolution to be successful, we need to observe and understand the actual workings of nature, in all its dynamism, to the point of profound reverence, or 'worship.' This is what I call extreme nature-worshipping… From the perspective of extreme nature-worshipping, the real significance of Darwin's evolutionary theory is not that humans descended from lower species, but that we can continue to evolve."(Cosmic Beings: Transhumanist Deism in Ted Chu's Cosmic View, Institute for Ethics & Emerging Technology, Giulio Prisco)
The vicious name-calling, seething resentment toward and censorship of the six day creation account and of all who profess and teach it should raise the eyebrows of any rational thinking person.  If evolution really is a fact of science then why the irrational name-calling, ridicule, scorn, shunning, resentment, intolerance and demonization?
The answer is that the zealous worshipper of evolution is the Spirit of our age that emerged out of the Renaissance whose answer to the Lord Jesus Christ is the Cross (crucify Him) and whose fulfillment will be the Wicked One. (2 Thess. 2:1-8)
From the Renaissance to our own time the Spirit has been transgressing, blaspheming, and departing that it need not obey His voice.   Like a dog returning to its own vomit, the Spirit has returned to its first love: the cult of demons in the Godless universe of matter, psychic energy, and animated forces where time is changed, past history rendered meaningless, and the liberated Spirit imbibes the cup of wrath, an intoxicating mixture of Babylonian Mysteries, incantations, spiritism, Gnosticism, sorcery, witchcraft, Hermetic magic, Kabbalah, reincarnation, astrology, and other devilish occult traditions.
The Book of Revelation pinpoints Babylon as the post-flood center of an occult pagan Mystery religion based on advaitic monism, science of magic transformism, exalted priesthood, gnosis, secret initiations, psychic-powers, familiar spirits, androgyny, sexual perversions, and other evils.
Babylon embraced the Great Lie. Its inhabitants claimed the title, "I AM." The root source of this evil religion and its occult power was the Great Dragon himself….Lucifer:
"…. the Great Lie (is) the foundation stone of Hinduism, Buddhism, Sufism, Jainism, Sikhism, Taoism, the Kabala, the Greek Hermetic, Eleusinian and Gnostic beliefs, Neo-Platonism, all the occult creeds from Theosophy and the Masonic orders to the Rosicrucian's (and) the New Age movement. The Great Lie is…the belief that man is God, that his true identity is the immortal self…that as God, he will never die (and) Sin and depravity are…illusions since this inner divinity is at man's core." (The Great Lie, Tal Brooke, SCP Journal, Vol. 29:2-29:3, 2005)
Though the Spirit of our age claims the title "I AM" it nevertheless follows after and falls down before other fascinating men: theoreticians of evolutionary science, nature philosophy and evolutionary pagan theology. These charismatic Pied Pipers are possessed of surpassing powers of persuasion and inflexible determination of will to which the Spirit assigns more honor than to anything else.
The Spirit has usurped the throne of the Word Incarnate (John 1:1) because He is not good, not just or benevolent but a devil, an evil Tyrant Who, with His infliction of suffering in this life and eternal punishment in the next must be deposed. (Psalm 2:2-3)
Blaming our Lord for their own sins the proud, self-righteous Spirit of rebellion, hypocrisy and negation says to Him, "…you are not my father."  My father is the god of forces, therefore:

"I am I, I come out of myself, and in choice and action I make myself." (Daniel Bell, quoted by Herbert Schlossberg in "Idols for Destruction," p. 43)
In the final analysis, the Spirit of our age is the "striving human will" seeking desperately to launch itself,
"…into minor godhood in an evolving cosmos through the mechanisms of directed spiritual evolution, spiritualized science and spirit contact." The 'new' spirituality now presents itself as the "rightful replacement for the Revealed Word (and) proclaims its spiritual liberation from the worldview that informs Christianity and its freedom from (the) personal and wholly other God.  But this new way of self-salvation (is) little more than the refurbishing of an ancient spiritual mistake."  (The Making of the New Spirituality: the Eclipse of the Western Religious Tradition, James A. Herrick, p. 279)
"As it was in the days of Noah…" 
The ominous signs of this age are obvious, said the English theologian G.H. Pember (1837-1910) in his book, "The Antichrist Babylon and the Coming Kingdom."  Just as it was during the pre-flood generations, open intercourse with demons (spiritism) is now common throughout Christendom and even in Russia.   In France it is the national pastime.   The apostles of the powers of darkness are everywhere proclaiming their scientific and evolutionary theories demonstrating that the world created itself and had no need of a Creator (p. 60) while the miseries which have resulted from sin,
"….are blasphemously charged upon the Almighty, Who so loved the world as to give His son for it (but is now) impiously forbidden to curb and discipline the rebels who owe their existence to the breath of His mouth.  And when we see such men as John Stuart Mill (and) John Morley, the late Chief Secretary for Ireland…guiding their fellows to defiant insubordination, we can scarcely wonder that Bradlaugh…said, 'This world might have been happy, had not the shadow of God fallen upon it." (pp. 35-36, 1888)
Rise of Occult Evolutionary Science 
In the impeccably researched, "The Making of the New Spirituality," James Herrick observes that the scientific tradition in Renaissance Europe developed around three basic approaches: the organic, the mechanical and the magical.   It was magical and/or occult science that provided the greatest impetus for scientific exploration. (p. 45)
C.S. Lewis underscores this point in "The Abolition of Man:"
"You will even find people who write about the sixteenth century as if Magic were a medieval survival and Science the new thing that came in to sweep it away. Those who have studied the period know better. There was very little magic in the Middle Ages: the sixteenth and seventeenth centuries are the high noon of magic. The serious magical endeavour and the serious scientific endeavour are twins: one was sickly and died, the other strong and throve. But they were twins. They were born of the same impulse. I allow that some (certainly not all) of the early scientists were actuated by a pure love of knowledge. But if we consider the temper of that age as a whole we can discern the impulse of which I speak."
In "God and the Knowledge of Reality," the Catholic philosopher and historian, Thomas Molnar (1921–2010), reveals the 'temper of that age' as a spirit of rebellion against the Christian God, and this is why occult science and evolutionary thinking provided the greatest impetus. During the Renaissance, certain Christian theologians, mystics and scholars such as Emanuel Swedenborg had discovered Hermetic magic and occult Jewish Kabbalah texts which they studied and translated resulting in Hermetic Kabbalah. Then like Pico della Mirandola, they argued that occult hermetic science – the divine technology or Magic Way of reaching divine status and powers through ritual procedures (spiritual evolution) is the best proof of the divinity of Christ. In other words said Molnar,
"…..by the time of the Renaissance the esoteric texts of the first centuries A.D. had acquired in scholarly and humanist circles an unparalleled prestige, confronting as equals the texts held sacred by the church. In Pico's estimation, 'nulla est scientia que nos magis certificet de divinitate Christ quam magia et Cabala' (there is no science that would prove for us Christ's divinity better than magic and the Cabala.)" (pp. 78-79)
Hermetic magic and Jewish Kabbalah are ancient Mystery Religion traditions, as affirmed by G. H. Pember in his classic work, "Earth's Earliest Ages."   Pember thoroughly examines the role of fallen angels in connection with the magic (occult transformism) they taught to pre-flood generations and compares them to the explosion of spiritism (open intercourse with evil spirits), astrology, the Mysteries and other occult traditions sweeping over Christendom.
Pember writes that the Mysteries are no longer veiled in mystery but boldly presented by the powerful occult brotherhood that emerged out of the Renaissance as the fruit of modern science, especially evolutionary philosophy, which the brotherhood assert was included in the instructions given,
"…to the initiates of the Hermetic, Orphic, Eleusinian, and Cabbalistic mysteries, and were familiar to Chaldean Magi, Egyptian Priests, Hindu Occultists, Essenes, Therapeutae Gnostics, and Theurgic Neo-Platonists." (Pember, pp.243-244)
Hermetic Magic

Hermeticism is an ancient Egyptian secret magic tradition based on a set of fourteen books known
collectively as the Corpus Hermeticum attributed to a mysterious figure known as Hermes Trismegistus. Implied in Hermeticism is an evolutionary process of magical transformism (spiritual evolution) moving from one kind of lower thing to another kind of higher thing:
"Human beings are themselves the product of a long spiritual evolutionary process that moves from 'creeping things' to fish, mammals, birds and then people.  Humans can—through occult knowledge and extraordinary ability—continue this evolutionary process and become daemons, then gods, and finally planets or stars." (The Making of the New Spirituality: The Eclipse of the Western Religious Tradition, James A. Herrick, p. 40)
With respect to Hermes identity, researchers of antiquity are divided.  Some believe Hermes was a mythical figure.  Others argue he was Ham or his son Cush.  The historian Samuel Shuckford argues that Hermes was Pathrusim, king of Thebais, the son of Mizraim, the son of Ham.   His Egyptian name was Tyoth or Thoth.  (The Sacred and Profane History of the World Connected, 1808)
In any case, it was Thoth-Hermes who instructed his brothers in the arts and science magic of alchemy or transmutation of a lower kind of thing into a higher kind of thing. For example, after a lengthy transformative process out of the eternally existing divine abyss (primordial matter), the self-created Sun-God Ra boasted that he "came into being from primordial matter."  He made all the forms under which he "appeared by means of the god-soul" which he raised up out of Nu, primordial matter. (The Long War Against God, Dr. Henry Morris, p. 243)
Occult Kabalah
"The Kabalah is the key to the occult sciences; and the Gnostics were born of the Kabalists." (Occult Mason Albert Pike, Morals and Dogma, p. 626)
Like its' Hermetic counterpart, Kabala implies a process of evolutionary transformism:
"…the older Enoch book (gives) a fuller insight into the "Merkabah" and "Bereshit" lore of the ancients than the "Hekalot," which present but fragments, while the central figure of the Cabala, Meṭaṭron-Enoch, is seen in ch. lxx.-lxxi. in a process of transformation." (Cabala, Jewish Encyclopedia)
According to Helena Blavatsky, one of the key architects of Luciferian New Age pantheism, Kabalah derived,
"…. from the older secret doctrines concerning divine things and cosmogony, which were combined into a theology after the time of the captivity of the Jews in Babylon. All the works that fall under the esoteric category are termed Kabalistic." (Blavatsky, Theosophical Glossary, p. 168)
The godless cosmogony of Kabala teaches the gradual condensation or evolutionary progression of a primal substance into visible matter.  This is a fundamental,
"… doctrine of the Cabala (and) is the ancient Semitic conception of the 'primal ocean,' known to the Babylonians as 'Apsu' and called by the Gnostics βύθος =  (Anz, 'Die Frage nach dem Ursprung des Gnostizismus,' p. 98).
The Chaldean occult science and pagan Mystery Religion was embraced by apostate Jews during their captivity in Babylon and delivered to subsequent generations of initiates by word of mouth. According to Blavatsky, these initiates of the Chaldean tradition in the centuries before Christ were known as Tanaim:
"The kabalist is a student of 'secret science', one who interprets the hidden meaning of the
Scriptures with the help of the symbolical Kabala… The Tanaim were the first kabalists among the Jews; they appeared at Jerusalem about the beginning of the third century before the Christian era… This secret doctrine is identical with the Persian wisdom, or 'magic'." (Ibid. p.167)
The Essenes were also associated with the Kabala. The Jewish Encyclopedia describes the cabalistic practices of the Essenes, which were Judaized elements of Eastern mystical traditions:
"So, too, were the Essenes familiar with the idea of the journey to heaven…and they were also masters of angelology. The practice of magic and incantation, the angelology and demonology, were borrowed from Babylonia, Persia, and Egypt; but these foreign elements were Judaized in the process, and took the form of the mystical adoration of the name of God and of speculations regarding the mysterious power of the Hebrew alphabet …, 'the name of God creates and destroys worlds', to become, finally, foundations of the philosophy of the 'Sefer Yetzirah."  (Cabala, Jewish Encyclopedia)
According to Blavatsky the Essenes were pagan priests of the Greek goddess, Diana of Ephesus, where the Tanaim had established a college for instruction in the Chaldean mystery religion:
"Essenes… had many Buddhistic ideas and practices; and it is noteworthy that the priests of the Great Mother at Ephesus, Diana-Bhavani with many breasts, were also denominated… It was at Ephesus where was the great College of the Essenes and all the lore the Tanaim had brought from the Chaldees… Essenes, believed in reincarnation." (Theosophical Glossary, pp. 113-14; The Secret Doctrine, Vol. II, p. 111n)
Eventually Alexandria, Egypt became the epicenter of cosmological and pagan religious ideas as well as the intellectual meeting point between Greek Mystery Religion/Hermetic magic initiates and nature sages and guardians of Kabala.  After the fall of Jerusalem, Alexandria was the center from which occult pagan Jews would disguise their mystery tradition in Christian terminology and attempt to penetrate the fledgling Church with heresy.
One of the primary tactics employed by Cabbalist pagan Jews for this purpose is the same one employed by their modern evolutionary Gnostic pagan counterparts.   It involves the reduction of the Genesis account, particularly the first three books, to allegory and myth, a ploy that eliminates the physical Adam from which all people descended and the sin that he transferred to the rest of the human race. This strikes directly at the heart of the Gospel: the need for the 'last Adam' to provide for us an escape from the wrath of God against sin incurred by the first Adam.  In this way, not only is the work of Christ on the cross rendered superfluous, meaning the heart of the faith is ripped out, but God is made responsible for sin and evil. (1 Peter 3:18-22; 1 John 2:22)
Long ago, the teachings of some of the early Church Fathers regarding the apostasy toward the end of the church age predicted the reappearance of this evil tactic. The fathers categorized it a Gnostic pagan heresy.
In "Heresies 6.10″ Hippolytus writes that the Gnostic pagan Simon Magus feigned faith and allegorized much of Scripture, especially Genesis, to support his evolutionary Hermetic and Gnostic occult pantheist teachings.   Church Fathers Ireneaus, Tertullian and Clement of Alexandria reveal that Gnostic cult leader Marcion rejected the Old Testament, taught that the God of the Old Testament and his prophets are evil, made God the author of sin and removed all references that Christ was Creator (John 1:1)   (Ireneaus, "Against Heresies 1.26, 5.1," Tertullian "Against Marcion 2.17," Clement of Alexandria, "Against Heresies 4.29)
In conclusion, the Babylonian Mystery Religion is the mother of evolutionary Cabala, Gnosticism and all other occult pagan traditions:
"….especially does Gnosticism testify to the antiquity of the Cabala. Of Chaldean origin… Gnosticism was Jewish in character long before it became Christian… Gnosticism—that is, the cabalistic 'Hokmah' (wisdom)—seems to have been the first attempt on the part of the Jewish sages to give the empirical mystic lore, with the help of Platonic and Pythagorean or Stoic ideas, a speculative turn; hence the danger of heresy…of which the systems of Philo, an adept in Cabala…show many pitfalls…Jewish gnosticism unquestionably antedates Christianity, for Biblical exegesis had already reached an age of five hundred years by the first century C.E.  Judaism had been in close contact with Babylonian-Persian ideas for at least that length of time, and for nearly as long a period with Hellenistic ideas. Magic, also, which,…was a not unimportant part of the doctrines and manifestations of gnosticism, largely occupied Jewish thinkers. There is, in general, no circle of ideas to which elements of gnosticism have been traced, and with which the Jews were not acquainted."  (Cabala, Jewish Encyclopedia)
Building  the New Tower of Babylon
In the essay, "The Paganization of Biblical Studies," Dr. Peter Jones, director of truthxchange and adjunct professor of Westminster Seminary CA., writes that the books of the evolutionary Gnostic pagan Presbyterian heretic Lloyd Geering, Emeritus Professor of Religious Studies at Victoria University, are promoted by the most powerful element of the Spirit of our age—the international occult New Age Luciferian elite-pagans—as programmatic templates for the future utopian pagan community from the point of view of Christian apostasy and socialism undergirded by evolutionary pantheist orthodoxy.
According to Geering, the world's future culture will be post-Christian, global, religiously pagan and evolutionary.  This agenda is remarkably similar to that of Teilhard de Chardins' disciple, the ex-Roman Catholic Thomas Berry in his book, "The Great Work" which is also being implemented through texts of the UN's global programs.
The rising New World Order will be post-Christian because evolution proves that human beings, as they evolved out of primordial matter, created language, then symbols, then religious explanations and God Himself.  Therefore tomorrow's culture will be pluralistic, syncretistic, relativistic and poly-gendered because evolution integrates all scientific, cultural, religious, economic and human gender into one worldwide anthill thus when the global society emerges from the evolutionary process,
"…it will require humanity to develop a new consciousness and a new form of spirituality" because "the new story which has become basic to the global world begins with a new word or idea…evolution." (ibid, Jones)
Like its' mother, Mystery Babylon, the scientifically-enlightened 'new' global religion of evolutionary transformism is occult pantheist advaita monism, which means that as an ancient impersonal god-force is within the cosmos, earth, human beings, rats, weeds, tumble bugs, cancer and everything else then all things are essentially 'one.'  Since the god-force is within all things it is within the demonically 'illumined' consciousness of every spiritually evolved initiate and adept.
This being the case, by means of trance states, brain-altering drugs, transcendental meditation, visualization, channeling, Zen Buddhism, Kundalini yoga, tantra, and other occult ways, the initiate can channel the god-force within thereby becoming a little god who controls matter because he controls mind. The physical world then, is an illusion because reality is inside the divine mind of the god-man.
This way of thinking is captured by Orwell in his book, "Nineteen Eighty-Four" in which negation of the physical world is an integral part of the social and political philosophy of Big Brother and his despotic Party. At one stage in the book, Winston stumbles upon the shocking realization that in the end the Party would announce that two plus two made five because the logic of Big Brothers' position required it since the existence of external reality was denied by his philosophy.  Thus when the Thought Police agent O'Brien tortures Winston for politically incorrect "wrong thought" he states,
"We control matter because we control the mind.  Reality is inside the skull.  You will learn by degrees, Winston.  There is nothing that we could not do.  Invisibility, levitation—anything.  I could float off this floor like a soap bubble if I wish to….You must get rid of these nineteenth-century ideas about the laws of Nature.  We make the laws of Nature." (Orwell, "The New Spirituality and its Hallmarks, Alan Morrison, SCP Journal, Vol. 30:4-31:1, 2007, p. 19)
Evolving Toward Catastrophe
In "The Aquarian Conspiracy," a book that has been called 'the New Age Bible,' Marilyn Ferguson (1938-2008) admits that the 'new age' evolutionary pantheism and occult technologies being employed throughout America were at one time the private domain of ancient initiates.   In fact, as Constance Cumbey reveals in her thoroughly researched book, "The Hidden Dangers of the Rainbow," many New Age historians claim their occult religion and techniques originated in Atlantis and afterward were preserved in the ancient land of Babylon,
"…and surrounding Plains of Shinar and from there disseminated throughout the earth, including Taoist doctrines of China, Mayan-Aztec teachings of Mexico and Central/South America; Great Spirit teachings of the American Indians, Hindu/Buddhist teachings of Asia, etc." (pp. 250-251)
After the Flood, said Shuckford, while the faithful Noah remained in the East and established the worship of the true God, eighty years after the Flood his rebellious son Ham and his sons together with other family members departed and eventually settled in the plains of Shinar where they resolved to build a tower, a monument to their own pride, vanity, ambition and rebellion against God. (ibid, p.94)
It was Noah's son Ham, according to ancient Church Father Clement, who  'preserved' and revived the Mystery Religion of 'Atlantis' and its attendant evils:
"Fallen angels taught men the use of magical incantations that would force demons to obey man. After the flood Ham the son of Noah…discovered this and taught it to his sons.  This became ingrained into the Egyptians, Persians, and Babylonians.  Ham died shortly after the fall of the Tower of Babel.  Nimrod, called Ninus by the Greeks, was handed this knowledge and by it caused men to go away from the worship of God and go into diverse and erratic superstitions and they began to be governed by the signs in the stars and motions of the planets." (Recognitions of Clement 4.26-29)
In his well-researched book, "Ancient Post-Flood History," Ken Johnson, Th.D., reports that the sons of Ham persuaded the people to accept that the true God was merely an impersonal creative force within all of nature, making man the highest form of life/god.  Through the power of persuasion, Ham and his sons revived magical evolutionary transformism, pantheism and idolatry. (pp. 47-48)
Eventually Ham was deified and worshipped by later pagans as the gods Cronus and Jupiter:
"Ham is represented by many writers as a very wicked, immodest, and profligate creature: Berosus (i) makes him a magician, and to be the same with Zoroast or Zoroastres, and speaks of him as the public corrupter of mankind; and says that he taught men to live as before the flood, to lie with mothers, sisters, daughters, males and brutes, and creatures of all sorts; and that he actually did so himself, and therefore was cast out by his father Janus, or Noah, and got the name of "Chem", the infamous and immodest…" Upon seeing his father's nakedness Ham,  "told his two brethren without; he went out of the tent after he had pleased himself with the sight… and in a wanton, ludicrous, and scoffing manner, related what he had seen: some of the Jewish Rabbins (k), as Jarchi relates, say that Canaan first saw it, and told his father of it; and some say (l), that he or Ham committed an unnatural crime with him; and others (m), that he castrated him; and hence, it is supposed, came the stories of Jupiter castrating his father Saturn, and Chronus his father Uranus."    Genesis 9:22 Gill's Exposition
History did not begin after billions of years of evolution when primitive hominids swung down from the trees and discovered how to scratch crude symbols onto rocks.    Nor did it begin after the Flood.  At least 2,000 years of human existence preceded the Flood, meaning that when Noah and his family entered the ark they carried at least one hundred years of pre-flood memories, traditions, technology, and superior knowledge. Their world view was shaped by the historical Adam and Eve and the generations of their offspring.   Thus Noah and his family brought with them not only the knowledge of the personal God, Special Creation, fall of man, the Deluge, sacrifice to God for the propitiation of sin, the arts of weapon-making and warfare, knowledge of letters, symbols, math, architecture, science, cosmetics, and agriculture  but knowledge of  first-hand encounters with Watchers, their occult teachings, the Nephilim, and primeval pantheism tied to magic, spiritism, herbal abortifacients, human and animal sacrifice, drinking of blood, males marrying males and even beasts, and many other evils.
In affirmation, the eminent researcher of antiquity James Bailey said:
"…human history can now be hesitantly traced back as an unbroken narrative to 4000 B.C….the picture emerging…is one of the Fall of Man in historic terms as well as his rise; it is a picture…more of degradation than of success; it is a picture of monotheism breaking down into polytheism and of the struggle to return to monotheism.  The establishment view of the history of religion gradually progressing from animism to polytheism (then) to monotheism is the reverse of facts." ("The God-Kings and the Titans: The New World Ascendancy in Ancient Times 1973, p. 296)
Four thousand years before Christ were the antediluvian generations and the Watchers in the post-flood world, making the billions of years of evolutionary transformism a fabulous fable.  It is neither 'new' (Ecclesiastes 1: 9-11) nor scientific except in the sense of pre-flood and post-flood occult science and attendant traditions revised and revamped for our own time, as Geering unhappily discovered.
Dr. Jones writes that Geering was surprised when he found out that the 'New Spirituality' has "links with pre-monotheistic…nature religions," leading Jones to wryly comment that in an odd turn of events,
"….contemporary spiritual' evolution goes backwards!  Biblical theism disturbed evolutionary progress.  The clocks have to be put back (for we are in the presence of) a powerful pagan/Gnostic theological agenda, claiming to be spanking new, objective and scientific, but as old as the hills."
Clocks have to be turned back, all the way back to the days of Noah in the pre-flood world where evolution is closely connected to the devil's lie that man is a being who though presently limited in time and space is nevertheless capable of achieving a great leap of being and magically evolving into a much more powerful god-like being in the future.
As the scientifically endarkened Gnostic pagan Spirit of our age simultaneously worships on the altar of 'self' as it self-righteously peers down its' long, pointy nose and contemptuously sniffs and sneers at the remnant of backwards, unscientific, anti-evolution  faithful, in reality it is the entirely deluded pagan Spirit that is on a collision course with a modern version of the pre-flood world catastrophe—-and we know how badly that ended.
"If manufacturers are so sure there is nothing wrong with genetically modified foods, pesticides and cloned meats, they should have no problems labeling them as such. "After all, cancer will kill one in every two men and one in every three women now alive," reports Samuel Epstein, chairman of the Cancer Prevention Coalition. Like our ancestors, we act in ways that will bemuse future societies. The military-industrial complex lubricates the mass-agriculture system with fossil fuels. Tons of heavy metals and other hazardous waste is sprayed on American agricultural soil." – Adam Leith Gollne, The Fruit Hunters: A Story of Nature, Adventure, Commerce and Obsession
During WWII, chemical companies like Chevron manufactured Mustard gas to kill enemies by disrupting troops' nervous systems.  They changed their focus to continue their profits. They decided that crops growing in the fields of America needed poisons to stop the insects that nurtured them like bees, wasps and bats—all pollinators that make crops multiply and thrive.
They campaigned with "higher crop yields" and paid off a lot of U.S. Congressmen who "okayed" the poisons via legislation.  Chevron and other companies amassed a fortune with DDT and other nerve gases that crippled mosquitoes, flies and gnats, but quickly killed birds, rodents, hawks, eagles and countless other species living on the ground floor of Earth.
Why did those companies do that? Answer: billions upon billions of dollars.  You could call them financial terrorists because that's how they must be defined.  They kill anyone for a few billion bucks.
Today, every single American faces cancers affecting himself, herself or a friend.  I lost four friends to cancer last year and two already this year with one more hanging on for another 30 days.  A doctor cut cancer out of my sister (melanoma) and me 19 years ago.  Terror gripped me until I cleared that drama.  To this day, I eat only organic, only filtered water, only non-GMOs, live in the country and eat nothing in a can, package or box.
The fact remains:  The American Cancer Society solicits funds to eradicate cancer, but they will not "touch" the fact that we poison our foods to such an extent that our bodies respond with aberrant cell behavior, i.e., cancers in all their forms.
Every fruit and vegetable suffers chemical sprays that become part of the produce that enters your stores and you buy it. And, you eat it.
Jeffrey Smith, www.organicconsumers.org, said, "Did you know GMO plants such as soybean, corn, cottonseed and canola have had foreign genes forced into their DNA. And the inserted genes come from species, such as bacteria and viruses that have never been in the human food supply.
"Did you know genetically modified organisms (GMOs) are not safe? They have been linked to thousands of toxic and allergenic reactions, thousands of sick, sterile and dead livestock, and damage to virtually every organ and system studied in lab animals."
Why isn't the FDA protecting us?
"In 1992, the Food and Drug Administration claimed that they had no information showing that GMO foods were substantially different from conventionally grown foods and therefore were safe to eat," said Smith.  "But internal memos made public by a lawsuit reveal that their position was staged by political appointees under orders from the White House to promote GMOs.  FDA scientists, on the other hand, warned that GMOs can create unpredictable, hard-to-detect side effects, including allergies, toxins, new diseases, and nutritional problems.
"They urged long-term safety studies, but were ignored. The FDA does not require any safety evaluations for GMOs. Instead, biotech companies, who have been found guilty of hiding toxic effects of their chemical products, are now in charge of determining whether their GMO foods are safe." (The FDA official in charge of creating this policy was Michael Taylor, Monsanto's former attorney and later their vice president.)
From everything I have studied, the worst men of humanity run Monsanto and ADM.  They create synthetic sugars like Aspartame, High Fructose Corn Syrup and other chemicals that you see in "Diet Coke" and in your sugar packets at every lunch counter and restaurant in America.   Top scientists implicated Aspartame as a precursor to Lupus and Fibromyalgia along with a growing list of deleterious human conditions.
Same with the tobacco barons:  do you think they care that 450,000 Americans die of tobacco-induced lung cancer annually for the past 50 years?  Answer: they laugh during their golf games.
While GMO barons live in luxury, Lear jets and country mansions, Americans suffer diseases by the millions.  And, we die for it by the millions.
Widespread, unpredictable changes of GMOs
During GMO "Frankensteinization", natural genes suffer deletion or become permanently turned on or off, and hundreds may change their levels of expression.
In addition:
*The inserted gene is often rearranged.
*It may transfer from the food into our body's cells or into the DNA of bacteria inside us
*The GMO protein produced by the gene may have unintended properties or effects.
Why do they do it?
The primary reason companies genetically engineer plants: to make them tolerant to their brand of herbicide. The four major GMO plants, soy, corn, canola, and cotton, are designed to survive an otherwise deadly dose of weed killer like Round-up or Weed-B-Gone. The second GM trait: built-in pesticide.
In other words, kill the insects that allow the world to thrive.  It becomes more insane the more I research this series.
GM food supplement caused deadly epidemic
In the 1980s, a contaminated brand of a food supplement called L-tryptophan killed about 100 Americans and caused sickness and disability in another 5,000-10,000 people. If GMO foods on the market cause common diseases or if their effects appear only after long-term exposure, we may not be able to identify the source of the problem for decades.  No one monitors GMO-related problems and no long-term animal studies. Heavily invested biotech corporations gamble away the health of our nation for profit.
Go to www.responsibletechnology.org to get involved and learn how to avoid GMOs. Look for Non-GMO Shopping Guide.
Start buying non-GMO today.
Help stop the genetic engineering of our food supply.
You may become involved:
By mail: Institute For Responsible Technology, P.O. Box 469, Fairfield, IA 52556 Online: www.responsibletechnology.org by phone:(641) 209-1765
Read the book—Genetic Roulette: The Documented Health Risk of Genetically Engineered Foods by Jeffrey M. Smith.
According to The Salt Lake Tribune, "It's time for Western states to take control of federal lands within their borders, lawmakers and county commissioners from Western states said at Utah's Capitol on Friday.
"More than 50 political leaders from nine states convened for the first time to talk about their joint goal: wresting control of oil-,timber-and mineral-rich lands away from the feds.
"'It's simply time,' said Rep. Ken Ivory, R-West Jordan, who organized the Legislative Summit on the Transfer for Public Lands along with Montana state Sen. Jennifer Fielder. 'The urgency is now.'
"Utah House Speaker Becky Lockhart, R-Provo, was flanked by a dozen participants, including her counterparts from Idaho and Montana, during a press conference after the daylong closed-door summit. U.S. Sen. Mike Lee addressed the group over lunch, Ivory said. New Mexico, Arizona, Nevada, Wyoming, Oregon and Washington also were represented.
"The summit was in the works before this month's tense standoff between Nevada rancher Cliven Bundy and the Bureau of Land Management over cattle grazing, Lockhart said.
"'What's happened in Nevada is really just a symptom of a much larger problem,' Lockhart said."
See the report here:
Western Lawmakers Gather In Utah To Talk Federal Land Takeover
Now we are getting somewhere!
The western states have been used as both playground and sugar stick for big-government politicians since before most of the western states became states. Compare the percentage of State land owned by the federal government in the western states to that of the eastern states.
Here is the percentage of land owned by the federal government in seven eastern states:
Illinois: 1.8%
Ohio: 1.7%
Alabama: 1.6%
Maine: 1.1%
New York: 0.8%
Rhode Island: 0.4%
Connecticut: 0.4%
By contrast, here is the percentage of land owned by the federal government in seven western states:
Wyoming: 42.3%
California: 45.3%
Arizona: 48.1%
Idaho: 50.2%
Oregon: 53.1%
Utah: 57.4%
Nevada: 84.5%
The situation with the Bundys in Nevada highlights the heavy-handed tactics that the federal government employs against anyone who dares to challenge the manner in which the feds are attempting to kick hard-working, productive citizens off of federal lands. Remember that ranchers and farmers such as Cliven Bundy were promised access to these federal lands in perpetuity back in the nineteenth century when all of these land deals were being negotiated between the states and the federal government. Beyond that, ownership of the land by the federal government was supposed to preserve and protect the land for the people, not for the federal government.
A few years ago, there were dozens of successful and prosperous ranchers in the area around the Bundys. But since the BLM was given legislative mandates when Congress enacted the Federal Land Policy and Management Act (FLPMA) in 1976, Cliven Bundy is now the only rancher in the area still standing.
The BLM has grown into a totalitarian monster.
Today, the BLM regulates hunting, fishing, camping, hiking, boating, hang gliding, shooting, off-highway vehicle driving, mountain biking, bird watching, and visiting natural and historical sites. The BLM also regulates logging, mining, fracking and other activities. What ranchers such as Cliven Bundy are going through loggers and miners are also experiencing. In fact, it is no hyperbole to say that, for all intents and purposes, the ranching, logging, and mining industries in the western states are being systematically regulated out of existence.
And in the case of Cliven Bundy, it is not about saving the Desert Tortoise or grazing fees or anything of the sort. It is all about letting fat-cat politicians such as Harry Reid negotiate lucrative solar energy deals with Communist China. Hey, folks: if the land doesn't belong to Cliven Bundy, it doesn't belong to Harry Reid, either!
The BLM's evil twin sister is the Environmental Protection Agency (EPA), which was established in 1970. These two federal agencies have become the Wicked Witch of the East and Wicked Witch of the West in what used to be a beautiful land paved with yellow brick roads.
I dare say that if the eastern states were enduring the haranguing and harassment that the western states are enduring, the BLM would have been brought under control years ago. Absent national unity from eastern states on the matter, it is time for the western states to take matters into their own hands.
The legislative action being contemplated by the above-mentioned State legislators who assembled in Salt Lake City last Friday is a terrific first step. It is absolutely time for the western states to use their eminent domain authority to reclaim the lands within their borders that are currently owned by Washington, D.C. With the exception of National Parks, states should serve notice that they are taking back the land owned by the federal government–land that should never have been ceded to the central government to begin with.
The second problem that the siege against Cliven Bundy illustrates is the unconstitutional police powers assumed by federal agencies such as the BLM. Originally, the only federal agency that was lawfully allowed to make arrests on behalf of the U.S. government was the U.S. Marshals Service, which was created back in 1789–the year that the U.S. Constitution was ratified. Today, there are scores of alphabet agencies of the federal government who carry a badge and a gun and are allowed to enforce law at bayonet point. And the vast majority of these agencies are acting on assumed authority–authority not granted them constitutionally. Among these, there is no greater culprit than the BLM.
"You don't send the Seventh Cavalry to collect a bill, and that's exactly what happened," Pat Buchanan told Sean Hannity on his radio show last Monday.
Buchanan went on to say, "And when they put all those forces out there-that's what attracted all the others, the history of what happened at Waco, Ruby Ridge. And so these folks came to that rancher's defense. But the initial problem here is [the] sending of all the force of arms out there to that ranch, which was a provocation to which these folks responded."
See the report here:
Pat Buchanan Sums Up Nevada Ranch Standoff: Sending 'Seventh Cavalry To Collect A Bill'
The Tenth Amendment to the U.S. Constitution states, "The powers not delegated to the United States by the Constitution, nor prohibited by it to the States, are reserved to the States respectively, or to the people."
The Constitution delegates only three crimes to the federal government: treason, piracy, and counterfeiting. That's it. No other crimes are mentioned. That means that all other crimes are the purview of the states–including local and State police, sheriff's deputies, and citizen militias and posses.
Of course, the problem is the Congress (and Court) in Washington, D.C., has used the "Necessary and Proper Clause" of Article. I. Section. 8. to justify all sorts of federal law enforcement enactments.
The result of this unconstitutional federal expansion of police powers is we now have scores of federal agencies that are using unchecked and unbridled power–power that is turning the United States into a giant police state.
The states must push back!
Not only must states reclaim millions of acres of land within their borders that are now controlled by the federal government, they must also pass legislation requiring federal bureaucracies such as the BLM to obtain the consent of county sheriffs in order to execute arrest warrants. States must make it clear in unmistakable terms that only the U.S. Marshals Service may execute federal warrants within their states; otherwise, only the county sheriff is authorized to execute arrest warrants within their states.
Furthermore, the U.S. Congress needs to disarm the countless federal bureaucracies that are currently terrorizing the American people. In truth, very few federal agencies need to carry guns. The politicians in Washington, D.C., love to try to disarm the American people, but the ones they should be disarming are most of the federal alphabet agencies.
Why do employees of the federal Department of Education need to carry guns? Why do postal employees need to carry guns? Why do agents of the BLM need to carry guns? Why do employees at NASA need to carry guns? Why do employees of the EPA need to carry guns? Why do employees at NOAA need to carry guns? Why do employees of the National Weather Service need to carry guns? Why do employees of the Social Security Administration need to carry guns? Why do employees at the Department of Agriculture need to carry guns? Why do employees of the National Marine Fisheries Service need to carry guns?
Ladies and gentlemen, law enforcement is mostly the responsibility of State and local governments. Why are so many federal bureaucracies carrying guns? Agencies of the federal government are not soldiers; and they are not even policemen. Furthermore, the American people are not the enemy!
Pat Buchanan is right: had not BLM agents marched onto the Bundy ranch like Nazi Stormtroopers, none of the events that are still playing out in the Nevada desert would have taken place. The memory of Waco and Ruby Ridge are still very vivid in the collective memory of the people of the United States. If anything burns deep in our collective conscience, it is that THERE MUST NEVER AGAIN BE ANOTHER WACO OR RUBY RIDGE. And that is exactly why those Americans have put themselves between the federal government and the Bundy family down in Bunkerville, Nevada.
The events in Salt Lake City, Utah, conducted by dozens of legislators from the western states last Friday were as monumental as the events in Bunkerville, Nevada, conducted by the citizen militia the previous Saturday.
Free and independent states and "We the People" have always been the guardians of liberty in this land. And if freedom is going to be preserved for our posterity, it is going to take the combined effort of both the individual sovereign states and individual citizens to arise and stand in the gap once again. It would also seem that the rise has already begun. Praise God! The only thing missing now is the patriot pulpit.
P.S. I have been inundated with requests from pastors and laymen alike to help them establish non-501c3, unaffiliated, unorganized, unincorporated churches. I have heard their pleas; and I have a very important announcement regarding this matter coming in the very near future. Stay tuned.
As the US and EU apply sanctions on Russia over its annexation' of Crimea, JP Sottile reveals the corporate annexation of Ukraine. For Cargill, Chevron, Monsanto, there's a gold mine of profits to be made from agri-business and energy exploitation.
On 12th January 2014, a reported 50,000 "pro-Western" Ukrainiansdescended upon Kiev's Independence Square to protest against the government of President Viktor Yanukovych.
Stoked in part by an attack on opposition leader Yuriy Lutsenko, the protest marked the beginning of the end of Yanukovych's four year-long government.
That same day, the Financial Timesreported a major deal for US agribusiness titan Cargill.
Business confidence never faltered
Despite the turmoil within Ukrainian politics after Yanukovych rejected a major trade deal with the European Union just seven weeks earlier, Cargill was confident enough about the future to fork over $200 million to buy a stake in Ukraine's UkrLandFarming.
According to the Financial Times, UkrLandFarming is the world's eighth-largest land cultivator and second biggest egg producer. And those aren't the only eggs in Cargill's increasingly ample basket.
On 13th December 2013, Cargill announced the purchase of a stake in a Black Sea grain terminal at Novorossiysk on Russia's Black Sea coast.
The port — to the east of Russia's strategically and historically important Crimean naval base — gives them a major entry-point to Russian markets and adds them to the list of Big Ag companies investing in ports around the Black Sea, both in Russia and Ukraine.
Cargill has been in Ukraine for over two decades, investing in grain elevators and acquiring a major Ukrainian animal feed company in 2011. And, based on its investment in UkrLandFarming, Cargill was decidedly confident amidst the post-EU deal chaos.
It's a stark juxtaposition to the alarm bells ringing out from the US media, bellicose politicians on Capitol Hill and perplexed policymakers in the White House.
Instability?… What Instablility?
It's even starker when compared to the anxiety expressed by Morgan Williams, President and CEO of the US-Ukraine Business Council — which, according to its website, has been"promoting US-Ukraine business relations since 1995."
Williams was interviewed by the International Business Times on March 13 and, despite Cargill's demonstrated willingness to spend, he said, "The instability has forced businesses to just go about their daily business and not make future plans for investment, expansion and hiring more employees."
In fact, Williams, who does double-duty as Director of Government Affairs at the private equity firm SigmaBleyzer, claimed, "Business plans have been at a standstill."
Apparently, he wasn't aware of Cargill's investment, which is odd given the fact that he could've simply called Van A. Yeutter, Vice President for Corporate Affairs at Cargill, and asked him about his company's quite active business plan.
There is little doubt Williams has the phone number because Mr. Yuetter serves on the Executive Committee of the selfsame US-Ukraine Business Council. It's quite a cozy investment club, too.
According to his SigmaBleyzer profile, Williams "started his work regarding Ukraine in 1992″ and has since advised American agribusinesses "investing in the former Soviet Union." As an experienced fixer for Big Ag, he must be fairly friendly with the folks on the Executive Committee.
Big Ag Luminaries — Monsanto, Eli Lilly, Dupont, John Deere…
And what a committee it is — it's a veritable who's who of Big Ag. Among the luminaries working tirelessly and no doubt selflessly for a better, freer Ukraine are:
Melissa Agustin, Director, International Government Affairs & Trade for Monsanto;
Brigitte Dias Ferreira, Counsel, International Affairs for John Deere;
Steven Nadherny, Director, Institutional Relations for agriculture equipment-makerCNH Industrial;
Jeff Rowe, Regional Director for DuPont Pioneer;
John F. Steele, Director, International Affairs for Eli Lilly & Company.
And, of course, Cargill's Van A. Yeutter. But Cargill isn't alone in their warm feelings toward Ukraine. As Reuters reported in May 2013, Monsanto — the largest seed company in the world — plans to build a $140 million "non-GM (genetically modified) corn seed plant in Ukraine."
And right after the decision on the EU trade deal, Jesus Madrazo, Monsanto's Vice President for Corporate Engagement, reaffirmed his company's "commitment to Ukraine"and "the importance of creating a favorable environment that encourages innovation and fosters the continued development of agriculture."
Monsanto's strategy includes a little "hearts and minds" public relations, too. On the heels of Mr. Madrazo's reaffirmation, Monsanto announced "a social development program titled 'Grain Basket of the Future' to help rural villagers in the country improve their quality of life."
The initiative will dole out grants of up to $25,000 to develop programs providing"educational opportunities, community empowerment, or small business development."
Immense Economic Importance
The well-crafted moniker 'Grain Basket of the Future' is telling because, once upon a time, Ukraine was known as 'the breadbasket' of the Soviet Union. The CIA ranks Soviet-era Ukraine second only to Mother Russia as the "most economically important component of the former Soviet Union."
In many ways, the farmland of Ukraine was the backbone of the USSR. Its fertile black soil generated over a quarter of the USSR's agriculture. It exported substantial quantities of food to other republics and its farms generated four times the output of the next-ranking republic.
Although Ukraine's agricultural output plummeted in the first decade after the break-up of the Soviet Union, the farming sector has been growing spectacularly in recent years.
While Europe struggled to shake-off the Great Recession, Ukraine's agriculture sector grew 13.7% in 2013.
Ukraine's agriculture economy is hot. Russia's is not. Hampered by the effects of climate change and 25 million hectares of uncultivated agricultural land, Russia lags behind its former breadbasket.
According to the Centre for Eastern Studies, Ukraine's agricultural exports rose from $4.3 billion in 2005 to $17.9 billion in 2012 and, harkening the heyday of the USSR, farming currently accounts for 25% of its total exports. Ukraine is also the world's third-largest exporter of wheat and of corn. And corn is not just food. It is also ethanol.
Feeding Europe
But people gotta eat — particularly in Europe. As Frank Holmes of US Global Investorsassessed in 2011, Ukraine is poised to become Europe's butcher. Meat is difficult to ship, but Ukraine is perfectly located to satiate Europe's hunger.
Just two days after Cargill bought into UkrLandFarming, Global Meat News reported a huge forecasted spike in "all kinds" of Ukrainian meat exports, with an increase of 8.1% overall and staggering 71.4% spike in pork exports.
No wonder Eli Lilly is represented on the US-Ukraine Business Council's Executive Committee. Its Elanco Animal Health unit is a major manufacturer of feed supplements.
And it is also notable that Monsanto's planned seed plant is non-GMO, perhaps anticipating an emerging GMO-unfriendly European market and Europe's growing appetite for organic foods. When it comes to Big Ag's profitable future in Europe, the stakes couldn't be higher.
A Long String of Russian Losses
For Russia and its hampered farming economy, it's another in a long string of losses to US encroachment — from NATO expansion into Eastern Europe to US military presence to its south and onto a major shale gas development deal recently signed by Chevron in Ukraine.
So, why was Big Ag so bullish on Ukraine, even in the face of so much uncertainty and the predictable reaction by Russia?
The answer is that the seeds of Ukraine's turn from Russia have been sown for the last two decades by the persistent Cold War alliance between corporations and foreign policy. It's a version of the 'Deep State' that is usually associated with the oil and defense industries, but also exists in America's other heavily subsidized industry — agriculture.
Morgan Williams is at the nexus of Big Ag's alliance with US foreign policy. To wit,SigmaBleyzer touts Mr. Williams' work with "various agencies of the US government, members of Congress, congressional committees, the Embassy of Ukraine to the US, international financial institutions, think tanks and other organizations on US-Ukraine business, trade, investment and economic development issues."
Freedom — For US Business
As President of the US-Ukraine Business Council, Williams has access to Council cohort — David Kramer, President of Freedom House. Officially a non-governmental organization, it has been linked with overt and covert 'democracy' efforts in places where the door isn't open to American interests — aka US corporations.
Freedom House, the National Endowment for Democracy and National Democratic Institute helped fund and support the Ukrainian 'Orange Revolution' in 2004. Freedom House is funded directly by the US Government, the National Endowment for Democracy and the US Department of State.
David Kramer is a former Deputy Assistant Secretary of State for European and Eurasian Affairs and, according to his Freedom House bio page, formerly a Senior Fellow at the Project for the New American Century.
Nuland's $5 Billion For Ukrainian 'Democracy'
That puts Kramer and, by one degree of separation, Big Ag fixer Morgan Williams in the company of PNAC co-founder Robert Kagan who, as coincidence would have it, is married to Victoria "F*ck the EU" Nuland, the current Assistant Secretary of State for European and Eurasian Affairs.
Interestingly enough, Ms. Nuland spoke to the US-Ukrainian Foundation last 13th December, extolling the virtues of the Euromaidan movement as the embodiment of "the principles and values that are the cornerstones for all free democracies."
Nuland also told the group that the United States had invested more than $5 billion in support of Ukraine's "European aspirations" — meaning pulling Ukraine away from Russia. She made her remarks on a dais featuring a backdrop emblazoned with a Chevron logo.
Also, her colleague and phone call buddy US Ambassador to Ukraine Geoffrey Pyatt helped Chevron cook up their 50-year shale gas deal right in Russia's kitchen.
Coca-Cola, Exxon-Mobil, Raytheon
Although Chevron sponsored that event, it is not listed as a supporter of the Foundation. But the Foundation does list the Coca-Cola Company, ExxonMobil and Raytheon as major sponsors. And, to close the circle of influence, the US-Ukraine Business Council is also listed as a supporter.
Which brings the story back to Big Ag's fixer — Morgan Williams.
Although he was glum about the current state of investment in Ukraine, he's gotta wear shades when he looks into the future. He told the International Business Times:
"The potential here for agriculture / agribusiness is amazing … Production here could double. The world needs the food Ukraine could produce in the future. Ukraine's agriculture could be a real gold mine."
Of course, his priority is to ensure that the bread of well-connected businesses gets lavishly buttered in Russia's former breadbasket. And there is no better connected group of Ukraine-interested corporations than American agribusiness.
Given the extent of US official involvement in Ukrainian politics — including the interesting fact that Ambassador Pyatt pledged US assistance to the new government in investigating and rooting-out corruption — Cargill's seemingly risky investment strategy probably wasn't that risky, after all.
J P Sottile is a freelance journalist, radio co-host, documentary filmmaker and former broadcast news producer in Washington, D.C. His weekly show, Inside the Headlines w/ The Newsvandal, co-hosted by James Moore, airs every Friday on KRUU-FM in Fairfield, Iowa. He blogs at Newsvandal.com.
Source: JP Sottile | Ecologist
As you may know, I bicycled for a year in South America, top to bottom.  I enjoyed the Amazon jungle, the wildlife and especially the insect life.  I took pictures of tens of thousands of butterflies dancing on an endless canopy of flowers.  Many of my columns deal with saving the natural world such as an international 25-cent deposit-return law for all plastic, glass and metal containers.  We must keep plastics from destroying our fellow creatures—especially in our oceans.
Today, I appeal to you to use the links provided to send the chemical giant Monsanto a letter to demand they stop marketing "Round-up" ; "Weed-b-gone" and other poisons that threaten the extinction of the Monarch butterfly.
Monarch butterflies vanish faster with each passing year — and all signs point to Monsanto as the main culprit.
Major press outlets worldwide reported last month that Monarchs face "grave danger", with their population reaching the lowest numbers ever recorded. Now, an independent study linked the monarch's decline with Monsanto's "Round-up" herbicide.
One of the most beautiful phenomena in the natural world — the annual mass migration of 60 million monarchs from Canada to Mexico – stands on the verge of being a relic of history. We need to fight this now, before it's too late for the butterflies.
Join me and tell Monsanto to pull its butterfly-killing herbicide before it's too late.
"This corporate giant knows what it's doing," said a spokesperson for Sum of Us. "But Monsanto says we should balance the butterfly's survival with what it calls "productive agriculture"(read: Monsanto's bottom line equals money not nature.).
Tell Monsanto to pull its butterfly-killing herbicide before it's too late.
The annual mass migration of 60 million Monarchs from Canada to Mexico represents one of the most beautiful phenomena in the natural world. I know because on one of my many cycle trips along the coast of California, I saw millions of Monarchs hanging from trees during their rest stops.
But Monarchs stand on the verge of being a relic of history, and a key link in our food chain.
"The monarch butterfly is in a serious, decades-long decline," said the spokesperson.  "The World Wildlife Fund reported that this winter, the monarchs are only occupying an area of 1.7 acres in Mexico, down from 45 acres in 1996. An evolutionary strategy based on eating a common weed seemed smart — until Monsanto came along. Just one state along the monarchs' migration route, Iowa, is reported to have lost 98 percent of its milkweed."
Monsanto products like Roundup dominate the agricultural market worldwide. This corporate giant sells matching genetically-engineered plants resistant to its pesticides — and encourages factory farms to douse fields with gallons of Monsanto's herbicides.
"But sprayed over vast areas, these poisons effect the entire ecosystem," a spokesperson said. "Monsanto's Roundup wipes out the monarchs' primary food source — a plant called milkweed. Scientists have linked the monarch's rapid population decline to the spread of Monsanto's pesticides. Losing these butterflies means wiping out insects, birds and small mammals that rely on the monarch and its place in the food chain."
Take a few minutes to visit the website and send in your letter to Monsanto. Tell Monsanto to save the monarchs by pulling its ecosystem-threatening herbicide.
Every second wasted nails another spike into the butterfly's coffin leading to extinction. Let's harness that awareness to save the monarchs from Monsanto!
The events in Ukraine since November 2013 are so astonishing as almost to defy belief.
An legitimately-elected (said by all international monitors) Ukrainian President, Viktor Yanukovich, has been driven from office, forced to flee as a war criminal after more than three months of violent protest and terrorist killings by so-called opposition.
His "crime" according to protest leaders was that he rejected an EU offer of a vaguely-defined associate EU membership that offered little to Ukraine in favor of a concrete deal with Russia that gave immediate €15 billion debt relief and a huge reduction in Russian gas import prices. Washington at that point went into high gear and the result today is catastrophe.
A secretive neo-nazi military organization reported linked to NATO played a decisive role in targeted sniper attacks and violence that led to the collapse of the elected government.
But the West is not finished with destroying Ukraine. Now comes the IMF with severe conditionalities as prerequisite to any Western financial help.
After the famous leaked phone call of US Assistant Secretary of State Victoria Nuland (photo, left) with the US Ambassador in Kiev, where she discussed the details of who she wanted in a new coalition government in Kiev, and where she rejected the EU solutions with her "Fuck the EU" comment,[1] the EU went it alone. Germany's Foreign Minister, Frank-Walter Steinmeier proposed that he and his French counterpart, Laurent Fabius, fly to Kiev and try to reach a resolution of the violence before escalation. Polish Foreign Minister, Radoslaw Sikorski was asked to join. The talks in Kiev included the EU delegation, Yanukovich, the three opposition leaders and a Russian representative. The USA was not invited.[2]
The EU intervention without Washington was extraordinary and reveals the deeping division between the two in recent months. In effect it was the EU saying to the US State Department, "F*** the US," we will end this ourselves.
After hard talks, all major parties including the majority of protesters, agreed to new presidential elections in December, return to the 2004 Constitution and release of Julia Tymoshenko from prison. The compromise appeared to end the months long chaos and give a way out for all major players.
The diplomatic compromise lasted less than twelve hours. Then all hell broke loose.
Snipers began shooting into the crowd on February 22 in Maidan or Independence Square. Panic ensued and riot police retreated in panic according to eyewitnesses. The opposition leaderVitali Klitschko withdrew from the deal, no reason given. Yanukovich fled Kiev.[3]
The question unanswered until now is who deployed the snipers? According to veteran US intelligence sources, the snipers came from an ultra-right-wing military organization known as Ukrainian National Assembly – Ukrainian People's Self-Defense (UNA-UNSO).
Strange Ukraine 'Nationalists'
The leader of UNA-UNSO, Andriy Shkil, ten years ago became an adviser to Julia Tymoshenko. UNA-UNSO, during the US-instigated 2003-2004 "Orange Revolution", backed pro-NATO candidate Viktor Yushchenko against his pro-Russian opponent, Yanukovich. UNA-UNSO members provided security for the supporters of Yushchenko and Julia Tymoshenko on Independence Square in Kiev in 2003-4.[4]
UNA-UNSO is also reported to have close ties to the German National Democratic Party (NDP).[5]
Ever since the dissolution of the Soviet Union in 1991 the crack-para-military UNA-UNSO members have been behind every revolt against Russian influence. The one connecting thread in their violent campaigns is always anti-Russia. The organization, according to veteran US intelligence sources, is part of a secret NATO "GLADIO" organization, and not a Ukraine nationalist group as portrayed in western media. [6]
According to these sources, UNA-UNSO have been involved (confirmed officially) in the Lithuanian events in the Winter of 1991, the Soviet Coup d'etat in Summer 1991, the war for the Pridnister Republic 1992, the anti-Moscow Abkhazia War 1993, the Chechen War, the US-organized Kosovo Campaign Against the Serbs, and the August 8 2008 war in Georgia. According to these reports, UNA-UNSO para-military have been involved in every NATO dirty war in the post-cold war period, always fighting on behalf of NATO. "These people are the dangerous mercenaries used all over the world to fight NATO's dirty war, and to frame Russia because this group pretends to be Russian special forces. THESE ARE THE BAD GUYS, forget about the window dressing nationalists, these are the men behind the sniper rifles," these sources insist.[7]
If true that UNA-UNSO is not "Ukrainian" opposition, but rather a highly secret NATO force using Ukraine as base, it would suggest that the EU peace compromise with the moderates was likely sabotaged by the one major player excluded from the Kiev 21 February diplomatic talks—Victoria Nuland's State Department.[8] Both Nuland and right-wing Republican US Senator John McCainhave had contact with the leader of the Ukrainian opposition Svoboda Party, whose leader is openly anti-semitic and defends the deeds of a World War II Ukrainian SS-Galicia Division head.[9] The party was registered in 1995, initially calling itself the "Social National Party of Ukraine" and using a swastika style logo. Svoboda is the electoral front for neo-nazi organizations in Ukraine such as UNA-UNSO.[10]
One further indication that Nuland's hand is shaping latest Ukraine events is the fact that the new Ukrainian Parliament is expected to nominate Nuland's choice, Arseny Yatsenyuk, from Tymoshenko's party, to be interim head of the new Cabinet.
Whatever the final truth, clear is that Washington has prepared a new economic rape of Ukraine using its control over the International Monetary Fund (IMF).
IMF plunder of Ukraine Crown Jewels
Now that the "opposition" has driven a duly-elected president into exile somewhere unknown, and dissolved the national riot police, Berkut, Washington has demanded that Ukraine submit to onerous IMF conditionalities.
In negotiations last October, the IMF demanded that Ukraine double prices for gas and electricity to industry and homes, that they lift a ban on private sale of Ukraine's rich agriculture lands, make a major overhaul of their economic holdings, devalue the currency, slash state funds for school children and the elderly to "balance the budget." In return Ukraine would get a paltry $4 billion.
Before the ouster of the Moscow-leaning Yanukovich government last week, Moscow was prepared to buy some $15 billion of Ukraine debt and to slash its gas prices by fully one-third. Now, understandably, Russia is unlikely to give that support. The economic cooperation between Ukraine and Moscow was something Washington was determined to sabotage at all costs.
This drama is far from over. The stakes involve the very future of Russia, the EU-Russian relations, and the global power of Washington, or at least that faction in Washington that sees further wars as the prime instrument of policy.
Writer F. William Engdahl is a geopolitical analyst and the author of  "Full Spectrum Dominance: Totalitarian Democracy in the New World Order".
Endnotes:
[1] F. William Engdahl, US-Außenministerium in flagranti über Regimewechsel in der Ukraine ertappt, Kopp Online.de, February 8, 2014, accessed in http://info.kopp-verlag.de/hintergruende/enthuellungen/f-william-engdahl/us-aussenministerium-in-flagranti-ueber-regimewechsel-in-der-ukraine-ertappt.html
[2] Bertrand Benoit, Laurence Norman and Stephen Fidler , European Ministers Brokered Ukraine Political Compromise: German, French, Polish Foreign Ministers Flew to Kiev, The Wall Street Journal, February 21, 2014, accessed in   http://online.wsj.com/news/articles/SB10001424052702303636404579397351862903542?mg=reno64-wsj&url=http%3A%2F%2Fonline.wsj.com%2Farticle%2FSB10001424052702303636404579397351862903542.html
[3] Jessica Best, Ukraine protests Snipers firing live rounds at demonstrators as fresh violence erupts despite truce, The Mirror UK, February 20, 2014, accessed inhttp://www.mirror.co.uk/news/world-news/ukraine-protests-snipers-firing-live-3164828
[4] Aleksandar Vasovic , Far right group flexes during Ukraine revolution, Associated Press,  January 3, 2005, Accessed in http://community.seattletimes.nwsource.com/archive/?date=20050103&slug=ukraine03
[5] Wikipedia, Ukrainian National Assembly  Ukrainian National Self Defence, Wikipedia, the free encyclopedia, accessed inhttp://en.wikipedia.org/wiki/Ukrainian_National_Assembly_%E2%80%93_Ukrainian_National_Self_Defence
[6] Source report, Who Has Ukraine Weapons, February 27, 2014, private to author.
[7] Ibid.
[8] Max Blumenthal, Is the US backing neo-Nazis in Ukraine?, AlterNet February 25, 2014, accessed in
http://www.salon.com/2014/02/25/is_the_us_backing_neo_nazis_in_ukraine_partner/
[9] Channel 4 News, Far right group at heart of Ukraine protests meet US senator, 16 December 2013, accessed in
http://www.channel4.com/news/ukraine-mccain-far-right-svoboda-anti-semitic-protests
[10] Ibid
Source: F. William Engdahl | 21st Century Wire
The big currency reset. It's not a case of 'if' – it's a case ofwhen.
Don't expect your provincial Secretary of Treasury or Chancellor Exchequer to warn you about what is coming around the corner, because they are either too stupid to know, or too busy covering their own backsides.
To understand where we are, it's very important to understand how we got here (another point which bureaucrats and backers do not want the general populace to know).
A quick history lesson then…
The Opposite of Emerging is Submerging
Lulled and distracted by the antics of developed country central banks and emerging economy central banks – to constantly "pump-up the jam" and flood the economy with paper casino chips from either Fort Knox or Mount Gox, the real tectonic shift of the global economy since 2008 has been more or less ignored by financial gurus and sages. It is taken as "normal" that deflation, ordisinflation is operating in the developed economies, but now we can see that rip-roaring inflation operating in the emerging economies.
Supposedly, this is 'Muddle Through', but since 2008 the North-South paradigm has all but dissolved – the developed OECD economies are locked in a death embrace with the Emerging economies. The developed economies are now locked into chronic globalization – exporting monetary inflation while importing cheap industrial goods, services and resources.
Since 2008 the always-promised 'world shift' of the economy from west to east, and from north to south has happened, but the net result is a shock. Pretending "we didn't know" is comforting, but ultimately stupid.
This is an unstable equilibrium, or an interregnum – even a sideshow, because the current global economic context and process is the exact opposite of sustainable. Harm to both North and South is now the main impact of the post-2008 process of overreach and intense fiat paper shuffling. Listing the consequences and causes of this overreach is not easy and always open to argument, but possibly the best summary is to suggest that since 2008, 'Ricardo's comparative advantage' paradigm has been inverted. Economic and above all monetary globalization is now the path to ruin and poverty. From win-win to lose-lose. The worse it gets, expect the architects of ruin – establishment politicians, central bankers and financial pundits, to retreat into even deeper denial.
The Production Bubble That Triggers the Collapse
Another simple way to argue the global economy has overreached is that industrial and economic production capacity in the Emerging economies (EMs), starting with the BRICs, is now massively over-sized. This means the EMs can and will saturate the post-industrial, deflating North with industrial supply at every stage and opportunity as technology, design and product development throw up a new market openings everywhere. Examples like the car and cellphone, fashion wear and off-shore call center industries are relatively "classic". All of these are already saturated with capacity – but the EMs are still adding more. Previous historical "classic examples" of this process for example included the ship building industry, but the scale paradigm has been woefully ignored.
Since 2008, the process has intensified, creating an increasingly certain outlook for a forced and fiat end to the willingness of the EMs to accept the fiat currency endlessly printed to finance the deflating, de-industrializing DMs (developed economies).
This will not necessarily be a politicized process, of the type hinted at by India's central bank governor (see http://finance.fortune.cnn.com/tag/raghuram-rajan/), due to the rapidity and scale of the crisis, but instead trigger the collapse of the current global fiat monetary orderdictated by national economic self-defence and survival in the EMs.
The economic jump start of the Ricardo model, which has run riot for the last quarter-century, and went into over-drived from 2008 – will be abandoned.
Deflation/Inflation: Two Sides of the Same Bitcoin
Ricardo's original model held sunny Portugual as a producer of cork and sherry, while rainy England could produce wine casks from its oak forests and wool from its sheep flocks. The money used in a basically resource-based exchange using then-rapidly growing maritime transport capabilities was held to be stable and gold-linked (or based). Later on, low-cost labor resources were built into Ricardo's paradigm called "comparative advantage". The EMs since the 1980s have played the role of resource providers while the DMs were the solvent market suppliers.
While there was a clear limit on cork, wine, oak casks and woolens supply and demand, this does not really apply to modern global fiat money and modern industrial technology. These are high gain positive feedback processes which only stop when they hit a brick wall.
The Ricardo comparative advantage model does not apply to post-1980′s globalization and super economies – like those of China and India, where industrial technology has raced ahead of infrastructure development. This is simply a bomb waiting to explode, alongside the industrial capacity growth, the EMs engaged massive growth of credit, mushroom growth urbanization, neglect of the agriculture and food sector, and turning a blind eye to rampant or even "structural" corruption. Inflation was the sure and certain result.
The results do not stop there. While inflation took off inside the EMs, with their economies producing more than they can consume, and exporting to the DMs which consume more than they produce, the EMs are also exported deflation to the developed market economies. At the same time, the emerging market economies mined out their capital bases to maintain their breakneck growth of industrial capacity.
On an almost daily basis now, the EMs are all shifting to current account deficit with the inevitable consequences of national currency devaluation, further inflation, and of course – higher interest rates.
Win-Win to Lose-Lose: Global Fiat Currency Crisis
The post-1980′s economic globalization paradigm can be called an initial 'Win-Win' model which eventually morphed to Lose-Lose.
The industrial nations of the DMs, which formerly benefited from the resource nations of the EMs under the previous 'Ricardo-type' model, are now mired in debt and de-industrialization, making it impossible for them to "grow their way out of crisis". The EMs on their present industrial expansion path can only grow themselves into rapidly-deepening crisis.
The "money-in-the-middle" especially concerns the US dollar and its subsidiary partner, theeuro, both of which are vastly overvalued fiat currencies – but against what? Almost inevitably, this will feature a big rebound for gold, playing the starring role of in this latest episode of "Canary in the Monetary Coal Mine". From a personal standpoint, or national (for those who have any), physical gold and silver could end up providing solid protection against the exposure of a monetary reset.
Conversely, commodities are unlikely to profit on an enduring sustained basis, due to economic restructuring, re-centering and contraction being almost certain.
Commenting on the IMF's latest report on global capital flows since 1980, Reuters on 30 January said that while the IMF estimates net capital inflows to emerging economies as $7 trillion or more only since 2005, this was a "legacy trend" hinged on the EMs running a much higher GDP growth differential above the DMs than present. The IMF report noted that for 2014, economic growth in the BRICs will go on declining, and for Russia and Brazil, they will be less even than the GDP growth of the US and Britain. While the IMF's economists do not allow themselves to project break-of-series change to the global economy, the process of what Gordon T. Long calls "Global collateral impairment" can easily default as the net result of apparently 'unrelated and complex' runaway processes.
This collateral impairment will inevitably trigger multi-national currency protection measures, a situation already clear in countries like Turkey, India, Argentina and other EMs.
For DMs in the North, plans are likely already underway. Will the reset feature a brand new reserve currency, or the introduction a fledgling single global, or virtual currency? If so, what will it be backed by (or maybe it won't). It's hard to know right now, but a shift of that magnitude could provide for the introduction of something new in the mix.
It's a case of problem, reaction, solution, and one can assume that this Hegelian equation has already been mapped out on the back of a napkin in an executive dining floor of the one of the world leading central banks, possibly written using Christine Lagarde's lip stick.
As a result, sacrificing GDP growth to protect the national money in the EMs will be inevitable. In turn, this will send a severe shock wave North to the DMs ,which have surfed on the latter-day version of the Ricardo paradigm for the last 30 years, and are now left unable to adapt.
The basic conclusion is that a global monetary reset is now overdue.
There will be shock waves, and haircuts too.
Brace yourself for impact, because it's coming.
Source: Andrew McKillop | 21st Century Wire