(1) It is simply a lie that Israel's slaughter in Gaza is a response to an "unprovoked attack" by Hamas. Not only is it a lie, it is a transparent, brazen lie, whose falsehood is glaringly apparent to anyone who had given even a cursory look at coverage of the Israeli government's response to the murder of three Israeli teenagers in June.
At that time, we were told in many news reports about an Israeli "crackdown" in Gaza, including mass arrests, military operations and, finally, the killing of six Hamas members. It was after these operations and these killings — which were clear breaches of a ceasefire which Hamas had been honoring for 19 months — that Hamas began its retaliation against Israel's unprovoked attacks.
(And no, the murder of the teenagers was not a "provocation" by Hamas, which disclaimed all connection to the crime. It was almost certainly carried out a rogue clan which has often — conveniently — staged provocations whenever it seems that some small movement toward peace might be made, and has been a thorn in Hamas' side for a long time. What's more, as Max Blumenthal reported, the Israeli government knew the teenagers had been murdered almost immediately, and who the likely culprits were; but the Netanyahu regime chose to wage a worldwide campaign of mendacity — and torment the boys' parents — by claiming they might still be alive, and launching "search" missions for them.)
These are all undisputed facts. The narrative that dominates the Washington media and political discourse — "plucky Israel attacked without motive by demonic foes" — is, again, an obvious lie. But that has not stopped it from being repeated endlessly, all across the political spectrum and in every form of media, day after day after day.
It is impossible that Barack Obama does not know these undisputed facts. Standing at the apex of history's most all-pervasive intelligence system — and receiving daily digests of news reports on volatile areas like the Middle East — he of all people knows that the Hamas rocket fire was a response to an Israeli military action, an Israeli violation of a long ceasefire.
It is also impossible that a majority, if not all, of the 100 U.S. Senators who voted to endorse the Israeli slaughter in Gaza — including stalwart "progressives" like Al Franken and "socialist" Bernie Sanders — did not know the truth when they cast their ballots. It is impossible that the editors and reporters of the nation's leading media organizations do not know these facts — which they themselves reported only a few weeks ago.
Yet day after day after day, from the commanding heights of our "culture" (if the debased goon show of our public discourse deserves such a word), the Big Lie thunders forth. What's more, Obama is putting his money (or rather, our money) where his mendacious mouth is, tacking $225 million for Israel's "Iron Dome" missile defense system into a bill ostensibly meant to deal with the influx of child immigrants. Obama and the Senate Democrats are making political pawns out of these children — most of whom are fleeing Central American hellholes created in no small part by decades of bipartisan military and political backing for repressive oligarchs. (Including, of course, Obama's support for an oligarch-militarist "regime change" coup in Honduras early in his presidency.) With the new money for Israel's military, the Democrats hope to sucker the Republicans into voting for the emergency immigration bill (from which they cut $1 billion — hey, you don't want to coddle those kids!), or else put them in a political bind if the immigrant-hating GOP votes against the bill: "You aren't supporting plucky little Israel!"
A very cynical ploy, yes, but no matter: even if it fails and the children are left to languish, some other way will be found to get the money to Israel and, most importantly, show the world that America fully supports the massacre — more than 800 Palestinians killed so far, including whole families, refugees at a UN shelter, patients in hospitals and other prime military targets.
Eight hundred dead — and Obama gives the IDF a $225 million bounty. Maybe when the death count reaches a thousand, he'll buy Netanyahu a pony or something.
2.
James Marc Leas lays out the timeline leading up to the operation in this succinct marshaling of the facts in CounterPunch. You should read the whole thing, but here are a few excerpts:
The July 8 ITIC report also divulged why Hamas launched its first rocket fire at Israel in more than 19 months on July 7: On that night Israeli forces had bombed and killed 6 Hamas members in Gaza. The ITIC report includes a picture of the six Hamas members. Thus, a report from an authoritative Israeli source described the provocation for the resumption of rocket fire: Hamas rocket fire began only after Israeli forces had engaged in nearly a month of military operations in violation of the ceasefire agreement and had killed 6 Hamas members in Gaza. …
The facts show that Israeli forces had to work quite hard to get Hamas to end its cease-fire. The killing of the six Hamas members was not an isolated event. Israeli forces and settlers had gone wild on the West Bank starting on June 12 after the kidnaping of three Israeli teens. Israeli forces had also attacked 60 targets in Gaza during those three weeks of June. Then, on the night of July 7, 2014, the Israeli Air Force had attacked approximately 50 more "terrorist targets" in the Gaza Strip, as described in the ITIC report.
Human Rights Watch (HRW) reported on July 3:
Israel's military operations in the West Bank following the abduction and killing of three Israeli teenagers have amounted to collective punishment. The military operations included unlawful use of force, arbitrary arrests, and illegal home demolitions. … Giving more details, several of the weekly reports from the Palestine Center for Human Rights (PCHR) indicate that Israeli forces and settlers killed 11 Palestinians and wounded 51 during 369 incursions into the West Bank between June 12 and July 2 and that Israeli forces raided hundreds of houses on the West Bank each week.
110 bombing raids, a military incursion, 17 killings, mass arrests — all before Hamas fired a single rocket. This is what Obama — and every single member of the United States Senate — call an "unprovoked attack." They say it with a straight face — nay, with long, somber, pious faces — but they know it's a lie.
3.
But let us imagine, just for a moment, that their deceitful narrative was true. What if Hamas just woke up one fine, clear peaceful morning and said, "Hey, let's start firing missiles at Israel, fellas! Won't that be a hoot?" The fact is that even in that scenario, it would not be an "unprovoked attack," but a legitimate act of self-defense.
How do we know this? Because one of Israel's most honored statesmen told us so. As Jonathan Schwarz notes, Abba Eban, one of the founding fathers of Israel, used his renowned eloquence to defend Israel in the UN from charges of aggression for striking first in the 1967 Six-Day War. Rising to address the global body — where he had once served as vice-president of the General Assembly — Eban put forth his case. The surprise attack was justified, he said, because Egypt had blockaded an Israeli port:
The blockade is by definition an act of war, imposed and enforced through armed violence. Never in history have blockade and peace existed side by side. From May 24 onward, the question who started the war or who fired the first shot became momentously irrelevant. There is no difference in civil law between murdering a man by slow strangulation or killing him by a shot in the bead. From the moment at which the blockade was imposed, active hostilities had commenced and Israel owed Egypt nothing of her Charter rights. If a foreign power sought to close Odessa or Copenhagen or Marseilles or New York harbour by the use of force, what would happen? Would there be any discussion about who had fired the first shot? Would anyone ask whether aggression had begun?
As Schwarz points out — and which the entirety of the American political-media establishment perpetually fails to point out — Gaza has been subject to a stringent and ruinous blockade by Israel since 2007. As noted here the other day:
Israel has imprisoned the people of Gaza in a stateless limbo while carefully controlling almost every aspect of their lives, including what medicines they can have, what manufacturing and building materials they are allowed and even, at times, how much food they are allowed to eat to keep the population weakened but just above malnutrition levels. This brutal regimen in daily life is of course punctuated with regular night raids, bombings,  kidnappings, "disappearings" and almost weekly civilians deaths at the hands of Israeli overseers. This has gone on year after year.
Eban said Israel was justified in retaliating with military force when Egypt had blockaded a port for a few weeks. How much more justified would the Palestinians be in retaliating against a total blockade — by land, sea and air — that has lasted almost eight years?
I don't agree with lobbing missiles into cities. I believe it's wrong. But I also realize that I have the great luxury of pondering these moral and legal and philosophical questions at my leisure, in comfort and safety. I haven't seen my family half-starved, my children's growth stunted, my friends and relatives blown to bits. I haven't been trapped in stateless limbo, with no passport, no freedom, no opportunity, under threat of violent death or arbitrary arrest every moment of my life. I don't know what I would do if that was my reality. I don't know what I'd do if I saw my loved ones suffer that way, year after year. I might somehow hold on to the ideal of non-violent resistance — or I very well might not.
But I do know that by the terms of the world's great and good — who speak portentously of the "laws of war" and analyze in great detail the "justifications" for violent conflict — the Palestinians have a right to resist the "slow strangulation" of the blockade … and the "shot in the head" (and the missile in the crib) that they are now being subjected to. By Abba Eban's own reasoning, from the very first day of the Israeli blockade of Gaza, "the question who started the war or who fired the first shot became momentously irrelevant."
Source: http://chris-floyd.com
Anyone watching the nightly news in America these days has surely seen some of those in-your-worst-nightmare videos showing hair-raising images of the fire-breathing minions of ISIS as they invade Syria and Iraq — blazing across bone-dry deserts in brand new Toyota trucks, brandishing AK-47s and looking like something out of a Hounds of Hell horror movie.  And we all shudder involuntarily, imagining the chaos and terror being spread by these horrible men-in-black, waving pirate flags and screaming for blood.
And we can also probably imagine, far back in the most primitive lobes of our brains, what it would be like to see these very same nightmarish denizens screaming down Route 66, heading toward us too, driving straight for our own town, positively drooling over the thought of beheading us in our sleep and raping our sons and daughters.
But then we come to our senses and realize that this sort of thing can never happen here in America.  This sort of nightmare only plays out in the Middle East (hopefully).
But forget about all that.  Instead, let's just focus in on the ISIS terrorists and pirates themselves, now safely out there in the Iraqi desert, aka "those terrible rough beasts, their hour come round at last, slouching toward Baghdad to be born, their gaze blank and pitiless as the sun," to paraphrase William Butler Yeats.
And then let's ask ourselves next, "While happily out there terrorizing and raping the countryside, just what the freak do these guys eat and drink?  And where in the freak do they find a 7-11 or a Raley's way out there in the desert?  And when the freak do they even have time to cook and do dishes or pee?"  And don't even tell me that they are the Devil's minions and thus live only on air.  And where are their burn barrels and port-a-potties?  And where are their grab-and-go bins full of "Meal, Ready-to-Eat," menu number 15, beef enchilada, made by the Ameriqual Packaging Company, Evansville, Indiana 47710?
Surely even these devilish super-fiends must have an occasional craving for toilet paper?  Or even perhaps the occasional shower?
So exactly who is providing ISIS with its supply line?
Don't even dare tell me that ISIS doesn't have one.
These aren't ghosts or krakens or the mythological First Beasts referred to in the Book of Revelations.  These are just ordinary human schmucks like the rest of us, who still put on their terrorist Halloween costumes one leg at a time.  The Devil's minions still have to eat.  And pee.  And they still have to get their shiny new Toyota trucks from an automobile showroom somewhere — one obviously not located in Hell.  And they still have to use earthly rocket-launchers, not ones supplied by Lucifer himself.
Plus sacking and looting can only get these pirates so far before they run out of booty.  And even if they now have billions of $$$ in plundered oil, they still have to sell it to someone.  OPEC they are not.
So where do all these tons and tons of food and weapons and terrorist-chic outfits and port-a-potties all come from?   Your guess is as good as mine.  And I am guessing, based on all that I have read and seen lately, that all these goodies are being supplied by American, Israeli and Saudi oligarchs and neo-cons.  And probably at us taxpayers' expense too. http://www.globalresearch.ca/us-sponsored-terrorism-in-iraq-and-constructive-chaos-in-the-middle-east/5387653
These terrible terrorist ISIS operations appear to be all a part of the American, Israeli and Saudi neo-con oligarchs' continuing (and very successful) "Land for Blood" program — wherein neo-cons get all the land and the men, women and children of the Middle East get to bleed.  http://www.globalresearch.ca/isis-made-in-usa-iraq-geopolitical-arsonists-seek-to-burn-region/5387475
Of course I can't prove most of this without breaking and entering NASDAQ and CIA vaults.  Hoping for transparency is like flogging a dead horse.  Just ask Edward Snowden about that one.  But there still is a pattern here, one that started in Vietnam, worked its way through East Timor, Kuwait, Iraq and Guatemala, and is now surfacing again in Ukraine, Syria, Libya and Gazahttp://write2rest.blogspot.com/2012/12/andre-vltcheks-indonesia-archipelago-of.html.  Leopards don't change their spots.
"What the devil…" you might say at this point.  And you would be right.
PS:  And speaking of tracking supply lines, what about all those other supply lines — all those abundant supply lines that should have been pouring out goodies all this time, streaming them out to the average American, Israeli/Palestinian and Saudi citizen like you and me?  What happened to those?
Those supply lines are all pretty much toast.
Just think of all the trillions of dollars that have been spent on all these damned, useless, murderous and unnecessary "wars" that the oligarchs ruling our countries in the past 15-odd years have indulged themselves in — enough dollars to fix all of our infrastructures, pave all of our roads, create jobs for all of us like there was no tomorrow, educate all of our children for free up to a doctoral degree, make sure we all have top-notch healthcare, and dress every single man, woman and child in America, Arabia and Israel/Palestine with at least one pair of Jimmy Choo shoes!
Just because we don't dress up like Freddy Kruger, don't play at being the Devil's disciples and don't eat live human hearts on national TV doesn't mean that we don't need supply lines too.
All these amazing opportunities for you and me have been wasted.  All that money is now gone with the wind, lost, wasted, never to return.  That ship has sailed.
"But Jane," you might ask next, "does this mean that America, Israel/Palestine and Saudi Arabia are currently being ruled by selfish, immoral and blood-thirsty idiots?"  Well, yeah.
And here's another hard truth:  American, Israeli and Saudi neo-con supply lines are also limited too.  They just can't keep goosing us for our life-blood forever.  Eventually the oligarchs will run out of MREs, cruise missiles and port-a-potties too.  Theirs is not an endless supply line either.
Sooner or later, we average Americans, Israelis and Saudi Arabians are going to be empty and broken like the victims of so many vampires.  What then?  How will the neo-cons keep their war machines supplied once We the People are drained of our life's blood?
How much money can these three countries spend on weapons and Iron Domes that don't work and drones and bullets and missiles that cost a half-million dollars each (Israeli neo-cons just fired off 1,500 of them at the poor trapped citizens of Gaza) before the economies of these three countries are broken like rag dolls?  Oops, too late.  We are almost already there.
PPS:  And here's another supply line to track:  Whoever is supplying the United Nations has also clearly purchased its soul as well — lock, stock and barrel.  For instance, this whole devastation of the civilian population of Gaza?  Women and children being slaughtered for their land — and not a peep from the UN in their defense.  Not even one word.  That's just shameful.
According to journalist Robert Fisk, "The people who lived in Sederot in early 1948 were not Israelis, but Palestinian Arabs.  Their village was called Huj.  Nor were they enemies of Israel.  Two years earlier, these same Arabs had actually hidden Jewish Haganah fighters from the British Army.  But when the Israeli army turned up at Huj on 31 May 1948, they expelled all the Arab villagers – to the Gaza Strip!  Refugees, they became.  David Ben Gurion (Israel's first Prime Minister) called it an 'unjust and unjustified action'.  Too bad.  The  Palestinians of Huj were never allowed back.  And today, well over 6,000 descendants of the Palestinians from Huj – now Sederot – live in the squalor of Gaza…." http://www.independent.co.uk/voices/the-true-gaza-backstory-that-the-israelis-arent-telling-this-week-9596120.html
The UN is currently as incapable of stopping wars now as the old League of Nations had been back in the day — because the UN's very reason for being has been bought off by American and Israeli oligarchs.  It is now as dead as the old League of Nations.  The only real difference is that the UN has yet to lie down.
Imagine the following scenario.
It is mid-afternoon on the Wednesday just before Thanksgiving. Some jerk walks into the Atlanta airport, gets his boarding pass and makes his way to the mini-North Korea known as TSA. He hands the blueshirt his boarding pass and driver's license. He then reaches into his carry-on bag, presses a button and – KABOOOOOOM!!!!!! – kills 2000 people.
At the same moment, two other jerks are doing the exact same thing at O'Hare and DFW as part of a co-ordinated attack. And not only have more people just died than died on 9/11, but America's three largest aviation hubs have just experienced massive destruction and air travel everywhere has been severely interrupted.
TSA could not prevent this, just like they could not prevent the fatal shooting of a TSA agent at LAX last year. Terrorism need not happen at 35,000 feet. Indeed, extremely few terror attacks have anything to do with aviation.
TSA does not keep you safe. Period.
However, the American people persist in the notion that it does. And they will tolerate endless violations of their civil liberties and physical bodies in the name of Schutz und Sicherheit.
It all started shortly after 9/11 with the passing of the Patriot Act, which ushered in numerous violations on our Fourth Amendment protections against unlawful search and seizure. And most people supported it because, after all, we had to "go after the terrorists." And, hey, we had to give up our liberty for a time until the crisis passed.
I have to confess that I acquiesced in this for a very short time. I, like so many millions of others, was caught up in the passions of the moment.
But then I started asking: now that the camel's nose is under the tent, what else are they going to do? And, more importantly, how much more will the American people accept?
It appears that there is no limit here.
Will we routinely accept the violation of our physical bodies in the name of safety and security? It turns out that we have.
Just consider the passivity with which most people accept "porn, perversion and pedophilia" – I wish I knew who said that first – in the name of "transportation safety". When you look at a nude photograph of a minor, it is child pornography. If someone else feels you up without your consent, it is sexual assault. (And if anyone did this to me under any other circumstances, it would take about one nanosecond for me to put the wretched little pervert's teeth on the ground.)
The Nazis didn't do it. No communist regime ever did it. Yet, in the "land of the free", being felt up in order to prove one's innocence is now a condition of travel.
And just look at these tax-mainlining Uncle Ernies.
And if you will let the authorities photograph you naked and feel you up, why wouldn't you let them violate you even further?
Would you let them catheterize you, like these central Utah police did when looking for marijuana?
Would you let them draw your blood? Read what is happening in Tennessee, Texas and Oregon.
Would you submit to cavity searches, such as those performed in Milwaukee and in Deming, New Mexico?
Would you let them slit your throat and kill you? Police did just this on a drug bust in Huntsville, Alabama. And just as TSA has never caught a terrorist, the cops in this case found no drugs.
"But …… but …… but, they were looking for terrorists and drugs."
The wars on drugs and terror are just like any other type of federal overreach. Both come clothed in somebody's good intention. Both are sold to us in the name of some Higher Good. They always grow bigger and uglier with time. And they always create bigger problems than those they were intended to solve.
Do you want to live in a society when the authorities can invade your body at will and with impunity? Do you want to live in a society where you are constantly required to prove your innocence? A government that will force you to prove your innocence is infinitely more dangerous than any drug or terrorist.
Even more dangerous is a populace that feels protected by such a government. Obama is too good for such a people.
By every objective standard, Abenomics has been a complete flop. Household spending has plunged, wages have dropped for 23 months in a row, inflation is on the rise, the number of workers who can only find part-time jobs has ballooned to 38 percent, and most economists now expect 2nd quarter GDP to shrink to minus 4 percent or worse. So where's the silver lining?
There isn't one. It's all hype. In fact, the only part of Prime Minister's Shinzo Abe's economic strategy that has succeeded has been the public relations campaign, which has bamboozled the Japanese people into believing that pumping trillions of yen into financial assets will lead to widespread prosperity. Good luck with that. We can see how well that worked in the US where stock prices have nearly tripled in the last five years, but the real economy is still flat on its back. So why would quantitative easing (QE) work in Japan when it hasn't worked in the US?
It hasn't, and it won't. The whole thing is a farce. But political leaders like Prime Minister Shinzo Abe and their central bank lackeys continue to promote this absurd flimflam because it boosts profits for their constituents. That's what this nonsense is all about; trying to find new ways to enrich the parasite class during a "self induced" long-term slump. The only problem is that everyone else is worse off than before, mainly because the silver spoon slackers at the top of the heap are getting a bigger and bigger share of the pie. That just leaves a few crumbs for everyone else, which is why economic activity has slowed to a crawl. It's because the people who typically spend money and rev up the economy, have no money to spend. It's that simple. Check out this blurb from the Testosterone Pit:
"The Abe administration is doing everything in the book to bolster the fortunes of Japan Inc.: offering tax cuts, more public works, and stimulus packages, snatching the Olympics by hook or crook, and cranking up inflation. In April, prices for all items soared 3.4% from a year earlier, and goods prices a confiscatory 5.2%. Yet wages were stuck in the mire, and adjusted for inflation, they plunged…

Then came the consumption tax hike, a broad-based tax that impacts consumers and businesses across the economy. The months before the effective date of April 1, consumers and businesses binged to save that extra 3% in taxes on big-ticket items, and businesses rang up sales faster than they could count." Japan Inc.'s Worst Quarterly Outlook Since The 2011 Earthquake, Testosterone Pit
How do you like that? So, with the economy already on the ropes, class warrior Abe decided to squeeze working people even more by pushing through a regressive sales tax that put household spending into a nosedive. (Get a load of this ski-jump chart of household spending)
But while Abe has been raising taxes on the workerbees, he's cutting them for his crooked corporate buddies. As part of his dubious "growth strategy" the Japanese PM has promised to slash corporate taxes from 35 percent to 29 percent, a move that will reduce revenues and increase Japan's humongous public debt even more. (Japan's debt is already a gargantuan 240 percent of GDP.) Many analysts think that Abe's move could trigger a panic in the bond market if investors start to think he's not serious about addressing the debt. Even so, that's a risk that Abe's willing to take as long as it saves his cheesy corporate friends a few shekels.
Of course the best way to pay down the debt, is through economic growth. But that can't be done when wages are either stagnant or dropping as they are in Japan. Check this out from mni market news:
"Base wages, the key to a recovery in cash earnings, fell 0.2% on year, marking the 23rd consecutive decrease…. In real terms, total wages slumped 3.1% in April, showing the annual inflation rate above 1% is hurting household income in the absence of substantial wage growth and in light of the sales tax hike to 8% from 5% on April 1″. (Japan Apr Total Wages Post 2nd Straight Rise; Base Wages Down, MNI Market News)
The economy can't grow when demand is weak, and demand is perennially weak in Japan because wages and incomes are shriveling. That means less personal consumption, less economic activity, and smaller GDP. Recently, the situation has gotten worse due to the Bank of Japan's money printing operations which have increased inflation which has reduced worker's buying power. Check this out form the Japan Times:
"Consumer prices climbed in May at their fastest pace in 32 years, swelled by the hike in the consumption tax and higher utility charges that are squeezing Japanese budgets as wage gains remain limited.

Consumer prices excluding fresh food but not energy, rose 3.4 percent from a year earlier, the Statistics Bureau said Friday…Household spending subsequently sank 8 percent, more than the forecast fall of 2.3 percent, separate data showed…

All 14 major gas and electricity companies raised prices from May to the highest level since the current pricing system began in May 2009, according to the Asahi Shimbun. Tokyo Electric Power Co. announced a price hike of 5.3 percent in May for households, reflecting the higher tax, rising energy costs and other factors." (Prices climb most in 32 years as wages limp along, Japan Times)
So, with prices rising and wages stagnant, Japan is experiencing what most analysts anticipated when Abe first announced his plan to hike the sales tax, that is, household spending has dropped precipitously increasing the likelihood of another recession. Abe decided that pushing more of the government's operating costs onto working people was more important than the health of the economy.
Naturally, Abe's policies have had a catastrophic effect on the working poor. As we noted earlier, the number of part-time workers in Japan has grown dramatically over the last few years. According to Reuters,
"part-time, temporary and other non-regular workers who typically make less than half the average pay has jumped 70 percent from 1997 to 19.7 million today — 38 percent of the labor force."

Abenomics has made life considerably harder for these people due to the higher taxes, soaring prices, and reduced welfare benefits. The data show that Japan's poverty rate is "the sixth-worst among the 34 OECD countries" while "child poverty in working, single-parent households is by far the worst at over 50 percent, making Japan the only country where having a job does not reduce the poverty rate for that group." (Japan's working poor left behind by Abenomics, Reuters)
Abe's attack on working people has intensified in the last few weeks as he's unveiled parts of his "third arrow" of structural reforms. Along with cutting corporate taxes, Abe wants to take the Government Pension Investment Fund (GPIF), "the world's deepest pot of savings", and shove it in the stock market. George W. Bush wanted to do the same thing with Social Security but abandoned the idea after Lehman Brothers collapsed and the economy tanked. Now Abe is pushing the same loony plan which will put the long-term security of Japan's elderly at risk just to boost profits for his voracious plutocrat friends.
Abe also wants to eliminate overtime pay, make it easier for corporate bosses to fire workers, and allow foreign workers to care for children and the elderly in a series of "special economic zones". All of the so called "reforms" are just ways of extracting more wealth from labor by loosening regulations. None of them have anything to do with increasing productivity, boosting capital investment or sparking more innovation. They're all about wringing every last dime out of the people who are already so broke they can barley keep their heads above water.
On top of it all, Abe's easy money policies have ignited the same flurry of "irrational exuberance" they have in the US. As Marketwatch notes, "A greater number of investors are demanding increased dividends and share buybacks than (ever) before."
Stock buybacks are a particularly execrable activity that pumps up stock prices without adding anything to productivity. It's pure-unalloyed asset inflation prompted by insanely loose monetary policies. Here's more from Marketwatch:
"Japanese companies … are sitting on a record amount of cash: about $3 trillion at the end of March …

A number of large Japanese companies, including Toyota, NTT Docomo and Mitsubishi Corp., have announced plans for big stock buybacks, which improve shareholder returns by increasing the value of the remaining shares outstanding." (In Japan, dividends, buybacks take the stage, Marketwatch)
Yipee! Shareholders are getting richer on Abe's idiot programs. Too bad they'll be gone when the bubble bursts and the system plunges back into crisis.
What a screwball system.
Abenomics has nothing to do with prosperity, growth or even deflation. That's all BS. The policy is designed to do exactly what it does, generate hefty profits for slacker speculators and corporate muck-a-mucks while everyone else faces higher prices, lower wages and a dimmer future.
If that's not class warfare, then what is it?
On July 17th Neil Young & Crazy Horse will perform at Hayarkon Park, Tel Aviv, a park built on the ruins of the Palestinian village Al Mirr, a land and people, destroyed and buried amidst unspeakable violence, but not forgotten. 
Neil Young is a Canadian singer, songwriter, guitarist and author of WAGING HEAVY PEACE
Crazy Horse is an American band best known for their association with Young beginning in 1969.
Crazy Horse has been co-credited on 11 studio albums and numerous live albums billed as by "Neil Young and Crazy Horse".
In Waging Heavy Peace, Neil Young's 2012 autobiography, Young documents his life and career shifting from the past to present and from career to personal experiences.
On page 346, Neil Young wrote:
Somewhere along the line I had suggested the name Crazy Horse after the great Indian chief and the guys liked it. Neil Young with Crazy Horse. Not 'and'…I liked that I was with them. Like we were together, not separate.
On page 137, Neil Young wrote:
When music is your life, there is a key that gets you to the core. I am so grateful that I still have Crazy Horse…they are my window to the cosmic world where the music lives and breathes. I can find myself there and go to the special area of my soul…

Just getting there is the key thing, and Crazy Horse is my way of getting there…

Am I too cosmic about this? I think not…

Do not doubt me in my sincerity, for it is that which has brought us to each other now.
In 2005, a coalition of over 170 Palestinian civil society organizations launched a campaign calling the international community to boycott Israel culturally, academically, and commercially  UNTIL Israel recognizes the indigenous Palestinian people's right to self-determination, UNTIL Israel fully complies with international law and finally honors the UNIVERSAL DECLARATION of HUMAN RIGHTS upon which the Establishment of their very Statehood was contingent upon!
 Article 1.
All human beings are born free and equal in dignity and rights.They are endowed with reason and conscience and should act towards one another in a spirit of brotherhood.

On the day of the termination of the British mandate and on the strength of the United Nations General Assembly declare The State of Israel will be based on freedom, justice and peace as envisaged by the prophets of Israel: it will ensure complete equality of social and political rights to all its inhabitants irrespective of religion it will guarantee freedom of religion [and] conscience and will be faithful to the Charter of the United Nations.- May 14, 1948. The Declaration of the Establishment of Israel
In November 2006, Father Manuel, the parish Priest at the Latin Church and school in Gaza warned the world:
Gaza cannot sleep! The people are suffering unbelievably. They are hungry, thirsty, have no electricity or clean water. They are suffering constant bombardments and sonic booms from low flying aircraft. They need food: bread and water. Children and babies are hungry…people have no money to buy food. The price of food has doubled and tripled due to the situation. We cannot drink water from the ground here as it is salty and not hygienic. People must buy water to drink. They have no income, no opportunities to get food and water from outside and no opportunities to secure money inside of Gaza. They have no hope.

Without electricity children are afraid. No light at night. No oil or candles…Thirsty children are crying, afraid and desperate…Many children have been violently thrown from their beds at night from the sonic booms. Many arms and legs have been broken. These planes fly low over Gaza and then reach the speed of sound. This shakes the ground and creates shock waves like an earthquake that causes people to be thrown from their bed. I, myself weigh 120 kilos and was almost thrown from my bed due to the shock wave produced by a low flying jet that made a sonic boom.

Gaza cannot sleep…the cries of hungry children, the sullen faces of broken men and women who are just sitting in their hungry emptiness with no light, no hope, no love. These actions are War Crimes!
Because this American cannot improve on this Letter to Neil Young from the Palestinian Students' Campaign for the Academic Boycott of Israel University Teachers' Association it follows in full here:
16.03.2014
Besieged Gaza, Palestine
Dear Neil
We are Palestinian students and youth from the besieged Gaza Strip; we write to you now on a night engulfed by huge explosions ripping through our houses and neighborhoods again, more common than the thunder and hard rain also filling the night air.
And now we hear you plan on playing your inspiring music to a packed house in Hayarkon Park, Tel Aviv, a park built on the ruins of the Palestinian village Al Mirr, a land and people, destroyed and buried amidst unspeakable violence, but not forgotten. The residents of that Palestinian village and hundreds of other villages forcibly emptied by the nascent Israeli army, were either killed or denied return, denied the chance to even visit or commemorate the lives they once had. (1)
While the world turns its back, we hope that you don't turn yours, that you heed the call of over 170 Palestinian civil society organizations, for boycott, divestment and sanctions against the Israeli regime until it abides by international law and stops denying us the right to live as any other human beings would expect.
Just as you didn't perform in Apartheid South Africa, just as you stood up against racism in the US South, just as you have so admirably supported indigenous rights in Canada against the drilling for Tar Sands, we ask you to support indigenous, displaced people wherever they may be, including we Palestinians. The words of the Native American and Indigenous Studies Association in their recent move to boycott the Israeli regime echo the struggle for indigenous rights in America. (2)
As this letter is penned the sound of more Israeli bombing reverberates around the tight refugee camps and narrow alleys where we live.
The camps are in complete darkness as the electricity has been cut.
The Israeli siege and previous bombing of our only power-plant has lead to huge fuel shortages, leaving us with just 6 hours of electricity each day.
This is just one night, but it is comparable to many other nights in Gaza, many worse nights.
We are used to facing the wrath of Israeli Merkhava tanks, drones, shellings, bombs and snipers that have brutally murdered and maimed our people for decades, for the crime of being born Palestinians, the wrong "ethnic group" for the Israeli regime who since it was established has done everything to wipe us off the map.
Listening to music is difficult in these circumstances, despite our passion for it. We have our own big range of music we love to play and Debka dance. But we have few instruments. Israel's air, land and sea blockade of all our borders has meant for years musical instruments were banned from entry to Gaza.[3]
Other items denied to us were coriander, nutmeg, ginger, dried fruit, fresh meat, lentils, pasta, chocolate, fishing rods, cattle, toys, donkey, workbooks and newspapers. Dov Weisglass, an advisor to former Prime Minister Ehud Olmert, explicitly outlined their intentions to collectively punish our population, "The idea is to put the Palestinians on a diet, but not to make them die of hunger", he announced, in contravention of article 33 of the Geneva Conventions and condemned by all major human rights organizations. (4]
The violence behind Israel's military occupation of our land is relentless and this week is no different. It began with Israeli border police shooting and killing a 38 year old Palestinian judge Raed Zeitar, the other bus passengers forced to sit and watch as he bled to death. Then 18-year-old Saji Darwish, Humanities student at Birzeit university, was shot in the head in Beitin, near Ramallah. Thousands attended his funeral the following day.
Tuesday saw four more murdered in the West Bank and Gaza.
On Wednesday Israeli authorities approved the construction of 387 housing units in the illegal settlement of Ramat Shlomo, denying the Palestinian towns of Beit Hanina and Shuafat the possibility to expand. And today a three-month old baby Ahmed Ammar Abu Nahal died of enlarged heart and liver as a result of the closure of Gaza crossings, a closure that has also left our hospitals bereft of medical supplies.
And right now we sit paralyzed in our homes as the bombs fall on us in Gaza.
Who knows when the current attacks will end.
Permanently etched on our minds are the rivers of blood that ran through the Gaza streets when for over 3 weeks in 2009 over 1400 were killed including over 330 children, with white phosphorous and other chemical weapons used in civilian areas and contaminating our land with a rise in cancers as a result.
More recently 170 more were killed in the weeklong attacks in late November 2012.
How many more sleeping in their beds now will face the same fate in the coming days, weeks and months? The trauma, fear and uncertainty never goes away.
Over two thirds of the Palestinians here in Gaza are UN registered refugees.
Over half of us are children.
We or our descendants were dispossessed entirely and forcibly removed from our homes.
The extent of this ethnic cleansing was such that one in three refugees worldwide is a Palestinian.
Expulsions of Palestinians continue today especially in Jerusalem and the West Bank, places that we in Gaza are no longer able to visit.
For what crime? The crime of being born Palestinian.
The Israeli regime denies us the freedom to come to enjoy your music, we live our lives surrounded by Navy Gunships along the sea, jeeps and wall tower snipers along the land frontier, and skies filled with the kind of aircraft unleashing yet more devastating attacks tonight.
The Gaza Strip has been made an outdoor prison, a reality beyond which most youth can never imagine, because most can never leave.
Others are hearing us and the world is beginning to wake up.
Many of your contemporaries are taking a stand including Carlos Santana, Roger Waters, Annie Lennox, Elvis Costello and the late, great Pete Seeger and Gil Scott Heron, who said he wouldn't play in Israel "until everyone is welcome there". (5)
As Israeli Apartheid week kicked off in South Africa this week, an event that has taken place in over 150 different locations worldwide, Archbishop Desmond Tutu called for the world to support the Boycott Divestment and Sanctions of Israel, just as many other Anti Apartheid heroes from South Africa have affirmed. Tutu said in his statement on Monday, "I have witnessed the systemic humiliation of Palestinian men, women and children by members of the Israeli security forces. Their humiliation is familiar to all black South Africans who were corralled and harassed and insulted and assaulted by the security forces of the apartheid government." (6)
Long before he died, Nelson Mandela demanded that we should have the self determination of any other people. "We know too well that our freedom is incomplete without the freedom of the Palestinians", he said.
Will you sing "living with war" to an audience most of which will have served or are serving in the Israeli army that during the day were bombing our families, or manning the hundreds of checkpoints that make simple journeys daily acts of humiliation?
While we in Gaza can never return to our homes that lay buried around the areas in which you will be travelling freely, will you sing, "A hundred voices from a hundred lands, need someone to listen.  People are dying here and there."
On the struggle to support First Nations rights in Canada and environmental protection you said: "If you have a conscience, you can`t go through your day without realizing what`s going on, and questioning it, and going, "Is this right?"(7)
This is the question to mull over as here in Gaza a short period of silence has descended after the bombs rained down on us yet again tonight Show the courage to say that this system of violent discrimination and racial segregation is unacceptable in Palestine, just as you showed it to be unacceptable in the American South, unacceptable in Apartheid South Africa and unacceptable for the Indigenous of the Americas.
Stand on the right side of history and stand with us, and don't entertain apartheid Israel this July.
Palestinian Students' Campaign for the Academic Boycott of Israel University Teachers' Association
###
How about Neil Young & Crazy Horse entertain Tel Aviv and wage some heavy peace by broadcasting this image on the stage at Hayarkon Park on July 17?

References:
(1) http://cosmos.ucc.ie/cs1064/jabowen/IPSC/php/place.php?plid=1985
(2) http://electronicintifada.net/blogs/ali-abunimah/major-indigenous-studies-group-endorses-israel-boycott
(3) http://www.gazagateway.org/tag/musical-instruments/
(4) http://www.guardian.co.uk/world/2006/apr/16/israel#sthash.EtPIzrik.dpuf
(5) http://www.usacbi.org/2010/04/gil-scott-heron-announces-cancellation-of-tel-aviv-concert-artist-won%E2%80%99t-play-in-israel-%E2%80%9Cuntil-everyone-is-welcome-there%E2%80%9D/
(6) http://www.haaretz.com/news/diplomacy-defense/1.578872
(7) http://edition.cnn.com/TRANSCRIPTS/0604/18/sbt.01.html
It's no longer easy to be a faithful Christian in America, says Dr. Robert P. George, chairman of the U.S. Commission on International Religious Freedom.  Our culture increasingly condemns Christian beliefs as bigoted and hateful: 
 
"They despise us if we refuse to call good evil and evil good." (American Christians Should Prepare to Be Despised, Official Tells National Prayer Breakfast, Rob Kerby, ChristianHeadlines.com, May 15, 2014) 
 
The Princeton University professor and author told Washington, D.C.'s 10th annual National Catholic Prayer Breakfast that American culture no longer favors faithful Christians. For example, he asked attendees to consider, 
 
"….the derision that comes from being pro-life and pro-traditional marriage (they) threaten us with consequences if we refuse to call what is good, evil, and what is evil, good. They demand us to conform our thinking to their orthodoxy, or else say nothing at all…"  
 
Dr. George told the prayer breakfast: 
 
"The intimidation to remain silent is insidious and growing…what American Christians are facing is the 21st century version of the question, 'Am I ashamed of the Gospel?"   
 
If anything, some evolutionary theologians and their gullible Christian flocks, both evolutionary theist and progressive creationist, are at least as hostile if not more so toward faithful defenders of the miracle of Special Creation than are their evolutionary atheist and occult pantheist counterparts: Luciferians, god-men, goddesses, shaman, Satanists, witches, necromancers, and astrologers. 
 
The usual diatribe thrown against altogether despised creationists goes something like this:  
 
Since Darwin introduced the theory of evolution some Christians have been uncomfortable with the idea that all species (i.e., reptiles, birds, bugs, dogs, apes, humans) share a common ancestry moving from primordial matter to creeping things, crawling things, swimming things, knuckle-dragging things to man under the direction of the God of evolution.   Thus the Earth was not created instantaneously as St. Augustine held or created in six days as most early Church Fathers affirmed. Nor was Adam created by the One God in three Persons as a living soul embodied in flesh, fully person, fully man right from the beginning.   Adam and Eve, if they even existed were emergent products of evolution, their closest relative soulless hominids.  Thus the events described in Genesis are not meant to convey the miraculous creation ex nihilo but the scientific 'reality' that the universe has an impotent creator that made and ignited a Cosmic Egg (Big Bang) which generated matter and energy. Then after billions of years of God-directed evolution eventuating in the suffering and death of millions of life-forms (God's fault, btw) man inexplicably fell from grace even though God is the guilty party, the real cause of death and suffering.  
 
According to this counter-intuitive Gnostic-laced tale of nonsense, evolutionary science, not God's Revelation, is a reality in nature explainable by reason and empirical observation and faithful Christians who deny this are in denial of reality.  Faithful Christians who actually affirm the Revelation of God and Special Creation are guilty of defending the backwards, anti-scientific, anti-evolution 'fundamentalist' interpretation of the book of Genesis thus are not only a cause of embarrassment to fashionably-correct, scientifically enlightened Christians, but are also guilty of harming Christianity. (Creationism Harms Christianity, sacerdotus.wordpress.com) 
 
However, it isn't faithful Christians who are 'embarrassments' but rather intellectually arrogant evolution-obsessed theologians.  These wolves in sheep clothing mesmerize and persuade susceptible Christian sheep to uncritically accept dangerous esoteric ideas like evolution.
 
 With respect to Darwin's theory, Darwin is not its' inventor. He received the idea from his nature-worshipping pagan grandfather Erasmus Darwin, an important name in European Masonic anti-Christian Church organizations engaged in destructive revolutionary activism. Erasmus mentored his grandson Charles: 
 
"Dr. Erasmus Darwin (1731-1802) was the first man in England to suggest those ideas which were later to be embodied in the Darwinian theory by his grandson, Charles Darwin (1809-1882) who wrote in 1859 Origin of Species." (Scarlet and the Beast, Vol. II, John Daniel, p. 34) 
 
According to anthropologist Henry Fairfield Osborn, longtime director of the American Museum of Natural History, ancient pagans are the inventers of modern evolutionism. In the introduction to his history of evolutionism Osborn wrote:
 
 "When I began the search for anticipations of the evolutionary theory….I was led back to the Greek natural philosophers and I was astonished to find how many of the pronounced and basic features of the Darwinian theory were anticipated even as far back as the seventh century B.C." (Osborn, From the Greeks to Darwin, p. xi) 
 
By its' nature evolutionism belongs to the category of naturalism (all that exists is nature or cosmos), making it antithetical, or in fierce opposition to the infinite Triune God, the supernatural dimension and special creation.  The personal Triune God is outside of His creation—the natural dimension of space, time, matter and energy—thus He is not subject to the laws of science: 
 
"….science has no satisfactory answer to the question of the origin of life on the earth. Perhaps the appearance of life on the earth is a miracle. Scientists are reluctant to accept that view, but their choices are limited: either life was created on the earth by the will of a being outside the grasp of scientific understanding, or it evolved on our planet spontaneously, through chemical reactions occurring in nonliving matter lying on the surface of the planet. The first theory places the question of the origin of life beyond the reach of scientific inquiry. It is a statement of faith in the power of a Supreme Being not subject to the laws of science. The second theory is also an act of faith. The act of faith consists in assuming that the scientific view of the origin of life is correct, without having concrete evidence to support that belief." (Until the Sun Dies, Robert Jastrow, Ph.D. Theoretical Physics, pp. 62-63, 1977) 
 
Only by conceptually murdering the supernatural Triune God and replacing Him with a 'god' within the natural dimension (naturalism), thus subject to scientific inquiry, can intellectually arrogant theologians presume to speak for god, claiming that he made and exploded a Cosmic Egg and directs evolutionary transformism together with the rest of their twisted theology dressed in Christian clothing.
 
 As an idea evolution is like an onion consisting of multitudinous layers of esoteric meaning.  Darwin's theory occupies two or three layers. The many other layers already existed prior to Erasmus going back to the Renaissance and before that to ancient Chaldea and India thence to ancient Greece and Rome where evolution is always and everywhere connected to reincarnation and spiritual evolution (transformism).    
 
On ancient pagan conceptions of reincarnation and spiritual evolution early Church Father Gregory of Nyssa said: 
 
"[I]f one should search carefully, he will find that their doctrine is of necessity brought down to this. They tell us that one of their sages said that he, being one and the same person, was born a man, and afterward assumed the form of a woman, and flew about with the birds, and grew as a bush, and obtained the life of an aquatic creature—and he who said these things of himself did not, so far as I can judge, go far from the truth, for such doctrines as this—of saying that one should pass through many changes—are really fitting for the chatter of frogs or jackdaws or the stupidity of fishes or the insensibility of trees" (The Making of Man 28:3; A.D. 379).  
 
Evolution appeared in Christendom during the Renaissance when certain Christian theologians, mystics and scholars such as Emanuel Swedenborg had discovered Chaldean astrology, Hermetic magic, occult Jewish Kabbalah, Eastern mystical traditions and the ancient ways of 'going within' (contacting spirits).  All of this was accompanied by conceptions of reincarnation and spiritual evolution.  They studied these ancient occult traditions which they translated resulting in Hermetic Kabbalah. Then like Pico della Mirandola, they argued that occult hermetic science – the divine technology or Magic Way of reaching divine status and powers through ritual procedures and spiritual evolution is the best proof of the divinity of Christ.  (God and the Knowledge of Reality, Thomas Molnar, pp. 78-79) 
 
Father Richard John Neuhaus pulls all of these occult traditions together in his analysis of modern evolutionary scientism as a revitalization of ancient spiritual traditions closely connected to elemental spirits. In his book, "American Babylon," Neuhaus argues that astrological elemental spirits (powers and principalities) have been recast as, 
 
"…evolutionary dynamics, life forces, or laws of nature." Though described as laws rather than spirits, these elemental "forces"…. work their inexorable ways in cold indifference to reason, to will, to love, and to hope. In short, it is suggested that the elemental spirits are in charge and that human freedom is a delusion." (p. 226)
 
 Despite that modern evolutionary theologians validate their esoteric projects as empirical or observational science in reality observational science is their enemy.   For instance, evolutionary theology alleges that hominids are supposed to be our ancestors, the so-called transitional life-forms linking modern humans to the common ancestor of all life.    
 
However, the hominid claim has fallen flat on its' face, said Carl Wieland. In "Making Sense of Apeman Claims," Wieland reports that a consistent pattern has emerged in direct opposition to the evolutionary story.  Over the decades, each new fossil find has been falling quite naturally into one of only three major groups.    And two of these, Neanderthal and Homo erectus turn out to be strikingly similar, in fact, Neanderthals are "clearly human descendants of Adam." (Creation, Vol. 36, No. 3, 2014, p. 38)
 
 Although the third category generates the most excitement among evolution-worshippers it turns out to be an extinct non-human primate group, anatomically not between apes and humans.    
 
Sequencing of Neanderthal DNA clearly shows interbreeding with modern populations, particularly those from Eastern Europe, meaning that Neanderthals are not a separate species, despite evolutionary claims that they split off from the human lineage 500,000 years ago.  This evidence is a major blow to evolutionary theist and "progressive" or "old-earth creationist notions." (p. 38). 
 
It is because evolutionary 'old-earth' theologians reject what God said in favor of what man said, their starting point is fallible secular dating, hence they, 
 
"….must regard Neanderthals as pre-Adamic soulless nonhumans despite all the archaeological evidences of their humanity.   But DNA now makes this completely dead in the water, having children together means they must be the same created kind."  (pp. 38-39) 
 
Among the scientifically affirmed finds showing that Neanderthals were human are: 
 
1. Stone tools and specialized bone tools for leatherworking. 
 
2. The controlled use of fire, including heating birch bark peelings to make special pitch to haft wooden shafts onto stone tools. 
 
3.  Perfectly balanced, finely crafted wooden hunting javelins. 
 
4. Jewelry 
 
5. Evidence of body decorations and cosmetics. 
 
6. Burying their dead with ornaments. 
 
7. Cooking utensils and the use of herbs in food. 
 
8. Symbolic thinking 
 
9. High-tech 'superglue' 
 
10. A complex structure built 1 mile underground where no daylight penetrates suggests the technology and know-how to transport sustained fire as a source of light that far down. 
 
11. Evidence of dwellings made of timber draped with animal skins 
 
12.  Recent detailed analysis of hyoid bone (associated with the voice box) indicates they could speak, as does recent genetic evidence.  (ibid, Wieland) 
 
"For he spoke and they were made: he commanded and they were created." Psalm 33:9  
 
Either the infinite personal One God in three Persons spoke or He did not. If He did, then Jesus is God in the flesh, the Creator and Living Word (John 1: 1-5) the Light that came into the world (John 3: 1-9) who perfectly fulfills all prophecy from the antediluvian world to the post-flood world: 
 
"And he said: I am the God of thy father, the God of Abraham, the God of Isaac, and the God of Jacob. Moses hid his face: for he durst not look at God."     Exodus 3:6 
 
If the One God in three Persons spoke then what He revealed to Moses with respect to the miracle of creation is thesis (True Truth), making evolution antithesis (the lie).  The faith of the Christian Church and of the average Christian has had, and still has, its foundation as much in the literal and historic elements of Genesis, the book of beginnings revealed 'mouth to mouth' by the Angel to Moses, as in that of the person and deity of Jesus Christ.  
 
The Return of an Ancient Heresy  
 
The primary tactic employed by defiant, intellectually proud theologians eager to accommodate Scripture and the Church to modern science and pagan evolutionary thinking is predictable. It is the argument that evolution is entirely compatible with the Bible when Genesis, especially the first three chapters, is viewed in its entirety in a non-literal, non-historical context. This is not a heresy unique to modern times. The early Church Fathers dealt with this heresy as well, counting it among the heretical tendencies of apostate Jewish Cabbalists, Origenists and Gnostic pagans such as Simon Magus. 
 
Fourth-century Fathers such as John Chrysostom, Basil the Great and Ephraim the Syrian, all of whom wrote commentaries on Genesis, specifically warned against treating Genesis as an unhistorical myth or allegory. John Chrysostom strongly warned against paying heed to these heretics, 
 
"…let us stop up our hearing against them, and let us believe the Divine Scripture, and following what is written in it, let us strive to preserve in our souls sound dogmas." (Genesis, Creation, and Early Man, Fr. Seraphim Rose, p. 31)
 
 As St. Cyril of Alexandria wrote, higher theological, spiritual meaning is founded upon humble, simple faith in the literal and historic elements of Genesis as Revealed by God and one cannot apprehend rightly the Scriptures without believing in the historical reality of the events and people they describe. (ibid, Seraphim Rose, p. 40) 
 
In agreement, Vishal Mangalwadi (1949- ), founder-president of BOMI/Revelation Movement observes that the Revelation of God is the only available foundation for truth, freedom and faith in God's gift of reason.  But Western theologians and intellectuals have closed their minds to Revelation, hence Truth, reason and Special Creation.  Because "intelligent" Americans no longer believe in "True Truth" (Francis Schaeffer) they invent stories and use empty god words as substitutes for the infinite, personal Triune God.  Thus Gospel Truth is now 'Gospel Story' and history a series of unfolding stories such as the physical science story (Big Bang) which may or may not include the use of a god-word; the biological science story (evolutionary transformism), the climate science story (global warming or change), and the social science story (gay marriage): 
 
"Doing science" increasingly means peddling politically correct dogma – that is, stories that have evolved into myths. No one really knows if there was only one Big Bang or other bigger bangs as well; whether we live in a universe or multi-verse; whether life evolved on this planet or came from outer space . . . but if you want a tenured position in a university, and if you want your research projects funded, you have to toe politically correct storyline – champion dogma."  (How Did the West's 'Rational Animal' Become Incapable of Using Reason? Mangalwadi) 
 
The abandonment of God's Revelation in favor of story-telling   
 
Christendom and Protestant America did not emerge from the darkness of story-telling and god-words but arose to illustrious heights on the awe-inspiring wings of the Revelation of God, hence the Genesis account of creation ex nihilo, the uniquely Christian definition of man as a person because created in the spiritual image of the infinite One God in three Persons, God's unchanging Moral Law and the Biblical view of man's sinful condition. Their subsequent fall was traced by Richard Weaver in his book, "Ideas Have Consequences" (1945). 
 
Weaver writes that 14th century Western man had made an "evil decision" to abandon his belief in the transcendent Triune God, His Revelation and unchanging universals, thus the position that "there is a source of truth higher than and independent of man…" The consequence of this 'evil decision' is a still unfolding catastrophe reaching fullness in our own time: 
 
"The denial of everything transcending experience means inevitably…the denial of truth. With the denial of objective truth there is no escape from the relativism of 'man is the measure of all things." (The Conservative Intellectual Movement in America, George H. Nash, pp. 32-33) 
 
The substance of 'man is the measure of all things' is idolatry.  The beginning of idolatry is pride (narcissism), which together with selfishness demonstrates preference for one's self instead of the Triune God, His Revelation (hence 'True Truth') and neighbor (and unwanted, inconvenient human life, i.e., babies).  Just as no violation of the Law can occur without one first being an idolater, envy/covetousness and murder are its' final results, for where 'self' is primary then 'self' deserves everything it can get, no matter the cost to other people.   
 
The fall of the West and America is due to the idolatry of darkened souls turned by choice toward evil.  From the antediluvians to our own age, the truth as to this evil said Athanasius, 
 
"….is that it originates, and resides, in the perverted choice of the darkened soul" which, "materialized by forgetting God" and engrossed in lower things, "makes them into gods," and thereby "descends into a hopeless depth of delusion and superstition," whereby "they ceased to think that anything existed beyond what is seen, or that anything was good save things temporal and bodily; so turning away and forgetting that she was in the image of the good God, she no longer… sees God the Word after whose likeness she is made; but having departed from herself, imagines and feigns what is not (and then) advancing further in evil, they came to celebrate as gods the elements and the principles of which bodies are composed…."(Against the Heathen, New Advent) 
 
Having descended into delusion and superstition darkened souls imagined that "all that exists" is the natural dimension, meaning the universe of matter, animated powers, forces, and deterministic laws, all of which they celebrated and attributed miraculous powers to just as modern evolution worshippers do, whether secular or theological: 
 
"There is an energy in the world, a spark, an electricity that everything is plugged into. The Greeks called it zoe, the mystics call it 'Spirit,' and Obi-Wan called it 'the Force'…..This energy, spark, and electricity that pulses through all of creation sustains it, fuels it, and keeps it growing. Growing, evolving, reproducing…" (Love Wins, Rob Bell, pgs. 144-145) 
 
Evolutionary scientism is not observational science in search of how things really work in this world but rather a disastrous occult science tradition whose taproot stretches back to Babylon and before that the pre-flood world.   The 'Christian' teachers and defenders of this demonic heresy are guilty of leading unwitting sheep astray, possibly to their doom, and of besmirching and defaming faithful defenders of special creation as backwards, anti-science, anti-evolution destroyers of the faith.   However, in reality creationists are the defenders of thesis (True Truth) against the damnable incursion of antithesis (occultism) into the good news, the Gospel of Christ. 
 
 In this light, what are vicious attacks against Special Creation as well as those against the sanctity of human life, and traditional one man one woman marriage but evil wills offended by and resentful of Higher Authority, True Truth, 'other' (unwanted, inconvenient human life) and moral restrictions and limitations? 
 
"For whoever shall be ashamed of me and of my words, of him shall the Son of man be ashamed, when he shall come in his own glory, and in his Father's, and of the holy angels."    Luke 9:26 
 
Who are the intolerant ones, the highly offended because ashamed of our Lord and his words?  Who are the selfish, intellectually arrogant story-tellers whose embarrassing doctrine of change (evolution) is "really fitting for the chatter of frogs or jackdaws or the stupidity of fishes or the insensibility of trees"'?   
 
Hint:  Not Creationists or any of the faithful. 
Not What the Neocons Planned…
One need not be prescient to understand the unfolding "Jihadi Spring" is fueling the plans and perhaps destiny of ascendant Islamists in this region with the increasing help of in-country nationalists, including remnants of the Iraqi Baath Party. This, according to more than a dozen ardent supporters of The Islamic State in Iraq and the Levant (ISIS), known locally as DAASH whose representatives allowed this observer over the past six months to interview some of its supporters to discuss what they found inaccurate in a piece I wrote about DAASH actions in Raqqa, Syria. In that article I claimed that DAASH was selling Syria's archeological treasures, just as they are selling Syria's oil and in some instances, food warehouse contents, to the highest foreign bidder. There is no paucity of the latter.
The final "S" in the acronym "ISIS" relates to the Arabic word "al-Sham" which itself is variously used to refer to the Levant, Syria or even Damascus. But DAASH (ISIS) means the Levant or Eastern Mediterranean including Cyprus, Palestine, Jordan, Syria, and southern Turkey. ISIS has just announced that Raqqa, the only one of 14 Governorates its controls in Syria, is now the "Capital" of their emerging "Caliphate" which so far is a swathe of territory encompassing much of eastern and northern Syria and western and northern Iraq. The Emir is to be their military strategist and leader and successor of Abu Mus'ab Zarqawi, Dr. Abu Bakr al-Baghdadi.
Those interviewed at length include sympathizers, students of politics and of the Islamist 'spring' in Syria and Iraq, as well as a few shadowy claimed jihadist recruiters, some working with a claimed new specialized DAASH unit organized at the beginning of 2013 and which focuses exclusively on destroying the Zionist regime occupying Palestine. DAASH's "Al Quds Unit" (AQU) is currently working to broaden its influence in more than 60 Palestinian camps and gatherings from Gaza, across Occupied Palestine, to Jordan, and Lebanon up to the north of Syria seeking to enlist support as it prepares to liberate Palestine.
DAASH believes, according to one of its claimed academic advisers, that the ummat al-Islamiyah (Islamic community), as a US Foreign Relations staffer, on 6/18/14 advised this observer, that the White House estimates that approximately six million Iraqi Sunni have recently become supportive of the armed action by DAASH. The support excludes its strict, indeed anti-social societal mores and abhorrence of current harsh realities of life in DAASH territory. The Islamist organization believes it currently has massive regional support for it rapidly expanding "revolution of the oppressed." Large numbers in this region do appear to appreciate its recent successes, despite its history of calculated brutality for political purposes.  DAASH urges the public to study its remarkable history that reaches back to 2003 when Abu Mus'ab Zarqawi got out of prison in Jordan and headed to Afghanistan, gained valuable experience from if the trust of Osama Bin Laden, and then crossed over to Iraq to wage jihad against America. DAASH appears to be using sectarian appeals in Iraq and Syria much the same way Zawqawi did when he confronted the ascendant Shia militia following the US invasion and occupation.
DAASH supporters claim that it has been joined by more than a dozen Sunni groups such as one called Men of the Army of the Naqshbandia Order." JRTN as it is known locally, was established in 2007 following the execution of Saadam Hussein and is made up of former Hussein regime loyalists, including intelligence officers and soldiers from his Republican Guards. If its alliance with DAASH holds, JRTN can contribute thousands of fighters with strong social roots in the community. One JRTN interlocutor explained to this observer, "As Sunni Muslims, DAASH can resolve differences between its views of Islam and those of the Ummah. First we need victory and to achieve that we need each other and if our Baathist partners decide to position themselves to be secular guardians of Sunni Arab nationalism that can be discussed   later. The official website of the Naqshbandi Army includes a 1/1/2014 announcement: "To all our brothers and families of the tribes and factions we tell you, you are not alone in this battlefield."

DAASH insists that it has become less active in killing anyone who works for the government of Syria or Iraq including rubbish collectors, a barbaric practice that alienated the Sunni population and that their support is growing as they increasingly provide the essential social services in the forming proto-Caliphate. "Zionists call us masked, sociopathic murderers but we are much more complicated and representative of those seeking justice than they portray us.  Are we more barbaric than the Zionist terrorists who massacred at Dier Yassin, Shatila twice at Qana, and committed dozens of other massacres?  History will judge us after we free Palestine." A few years ago the CIA and others estimated that the Zionist occupation of Palestine will collapse in less than a decade.  DAASH claims it can do the job in 72 months.
With respect to events surrounding its takeover of Mosel and other social media broadcast exhibitions of mass brutality, ISIS claims it was done for a purpose, the same purpose that other state and non-state actors have used over the past two decade and that is for 90% of the world 1.5 billion Muslims (Sunni) to free themselves from the oppression of the 10% (Shia).
Several reasons were given as to why Palestinians should hold out hope for ISIS succeeding in their cause when all other Arab, Muslim, and Western claimed Resistance supporters have been abject failures and invariably end up benefiting the Zionist occupation regime terrorizing Palestine. "All countries in this region are playing the sectarian card just as they have long played the Palestinian card but the difference with ISIS is that we are serious about Palestine and they are not. Tel Aviv will fall as fast as Mosul when the time is right", a DAASH ally explained. Another gentleman insisted, "DAASH will fight where no one else is willing."

ISIS appears uniformly contemptuous of the Zionist regime and its army and also appears eager to fight them in the near future despite expectation that the regime will use nuclear weapons. "Do you think that we do not have access to nuclear devises? The Zionists know that we do and if we ever believe they are about to use theirs we will not hesitate.  After the Zionists are gone, Palestine will have to be decontaminated and rebuilt just like areas where there has been radiation released."
DAASH supporters claim that it reaches out to local notables and tribal leaders and discuss their differences and seek their tribal counsel. DAASH claims that the Roman Catholic Vatican supports its own claims that when they captured Mosul last week they did not harm Christian residents or desecrate churches. In this they are supported by Archbishop Giorgio Lingua, the Apostolic Nuncio (Pope's envoy) in Iraq who this week told the media: "The guerrillas who are in control of Mosul have to date not committed any violent act or damaged the churches there."
It is becoming clear that DAASH has set up well organized local administrations in areas it controls, including an Islamic court system and a local non-hostile police force which support public safety with measures such as closing shops for selling poor products in the souks and supermarkets and on the street, destroying cigarettes and whipping some individuals for disrespecting and insulting their neighbors, confiscating counterfeit medicines in addition to some death sentences for apostasy.
DAASH supporters claim that as soon as they 'liberate" an area  they invest in public works such as the  new souk in Raqqa, installs new power lines and conducts training sessions on how citizens can do-it-yourself  for more self-reliance with fixing infrastructure problems. In addition DAASH claims that it quickly fixes potholes, runs a low fare bus system, has established a 'green' program to build parks and plant trees and flowers, helps farmers with harvests and runs a zakat (alms-giving) organization. Moreover, ISIS has established a number of religious schools for children, including ones for girls where they can memorize  the Koran and receive awards if successful, while also holding 'fun days' for kids including all the ice cream they can eat and inflatable slides. For their older counterparts, ISIS has established training sessions  for new imams and preachers. Schedules for prayers and Koran lessons are posted at mosques. In a more worrisome development, ISIS runs training camps  for "cub scouts" and houses these recruits for 'instruction'. Several social media reports and a few eyewitness accounts appear to confirm that DAASH has developed health and welfare programs, operates bread factories and distributes free fruits and vegetables to needy families, passing the goods out personally as well as setting up a free food kitchen in Raqqa and an adoption agency to place orphans with families in their areas. Unlike the Taliban and some other regimes which exhibit paranoia about vaccination campaigns, DAASH claims to be more 'modern" and actively promotes polio-vaccination in its areas to try stop its spread.
The social services that DAASH provides obviously do not ameliorate the deadly violence it carries out, but does suggest it is well-organized and has caught the interest of the Sunni Muslims who feel besieged by Shia. According to an al-Bagdadi relative, nearly the half a billion dollars that was snatched from Mosul's central bank this month will help to win hearts and minds and correct some of its "bad press". DAASH appears to ascribe to the cliché that half of any war is a rumor. It condemns the project of many satellite channels and claims that they do not objectively report the news but mainly spread rumors with sectarian instigation as the goal. On this point who can refute them?
DAASH supporters deny any interest in training and directing foreign fighters to attack Europe and other places, claiming that their goals are to establish an al-Sham Caliphate and liberate Palestine. With respect to exactly how DAASH intends to liberate Palestine, the Iraqi's and now the Obama administration ar3 in possession of an encyclopedia of information about detailed DAASH plans, and tactics it will confront the Zionist occupiers with,  according to a congressional staffer via email with this observer. Reportedly the employment of large numbers of militarily untrained foreign volunteers as suicide bombers, moving on foot wearing suicide vests, or driving vehicles packed with explosives is just the tip of a deep iceberg of what DAASH is planning.
The trove reportedly came from Iraqi intelligence sources that came upon it less than 48 hours before Mosul fell. Apparently a fellow known as "Abu Hajjar" a captured trusted DAASH messenger broke under Iraqi torture and turned over more than 160 computer flash sticks which contained the most detailed information to date about DAASH. The US intelligence community are still decrypting and analyzing the flash sticks.
Predictably, no sooner that this information reached the US Congress, than Congresswoman and Israeli agent, Ileana Ros-Lehtinen former Chair of the House Foreign Affairs Committee and her partners at AIPAC went to work trying to get ahold copies of the flash sticks and share them with the Israeli Embassy and no doubt the Mossad. The current sense on Capitol Hill is reported to be that the Obama administration in not in the mood to share anything with Israel these days and certainly not with the Netanyahu regime which it loathes.
Time will reveal if DAASH achieves one or both of its objectives.  Many believe if they eject the Zionist regime from Palestine, the expanding Islamist group will set in motion historic currents that in all likelihood will be rather different from the Ehud Omert-Condeleeza Rice fantasy of "a New Middle East."
In any event, it is unlikely that Iraq, Syria, Yemen, Libya, Lebanon, among other countries in this region, are going to look much like what George Bush and Dick Cheney and their still active neocon advisers had in mind when they were beating the drums for a U.S. invasion of Iraq, Libya,  and now Syria and Iran.
While our thoughts and prayers need to go out to all affected by the recent fatal shooting at Reynolds High School in Troutdale, Oregon, let us also beware of government "solutions".
A few observations:
• I graduated from high school in 1979. In those days, you never saw a police officer or "resource officer" on campus. School lock downs were absolutely unthinkable. And you never heard of a school shooting. Indeed, there were a grand total of two school shootings in that academic year.
• Our "psych med" in 1979 was marijuana. The psychotropic medications that have been a common denominator in almost every mass shooting in recent years had not yet been developed.
• "Gun-free schools" did not become federal law until 1990, and were signed into law by a Republican president. All "gun-free" means is "nobody is going to shoot back".
• 77 million students are enrolled in educational institutions in America. In the last 12 months, there have been 46 shootings and 28 fatalities. Switzerland only wishes it could have such a low murder rate.
• There are, on average, 40 murders per day in America. Why are school shootings given so much more media coverage than non-school murders?
• Violent crimes are down significantly in the last two decades. This is largely attributable to the relaxation of laws regarding carrying of weapons. Bad guys are a lot less reckless as they never know who might be packing a gat.
In 2010, about 26,000 people aged 10-24 died of various causes. Only seven of them died in school shootings.
To this day, the bloodiest school massacre ever occurred in Bath, Michigan, in 1927. Andrew Kehoe detonated explosives outside the school killing 44 people and injuring 58 others. No guns were involved. And this was at a time when you could by Tommy Guns in the Sears catalog.
You can turn schools into mini-Alcatrazes and still not protect students and teachers from being killed. You don't have to carry a gun or any other implement of destruction into a building in order to kill a lot of people. Can anyone here say Tim McVeigh?
In the recent aftermath of three bomb threats at Wantagh High School on Long Island, school authorities sealed all lockers and banned backpacks on campus. No this does not protect anyone? Why not? See the above bullet point.
You can also do a lot of damage with a knife. Consider what happened at thiscommunity college near Houston and this high school near Pittsburgh.
• And please don't tell me how the survivors of those killed by gun violence feel about gun control. It is extremely arrogant to speak for other people. In the aftermath of Columbine: Tom Mauser, who lost a son on that horrible day supports more gun control while Darryl Scott, who lost a daughter that horrible day, opposes more gun control. John Green, who lost his daughter in the Tucson supermarket shooting, says "we don't need any more restrictions on our society".
• And yes, I myself have lost two friends to gun violence.
• To paraphrase Mark Twain, there are lies, damned lies and gun control statistics.
Utopia will never happen. There are lots of things I would love to see eradicated from this world. However, whenever you clamor for more laws in order to prevent future tragedies, you entrust your safety and security to the most dangerous, murderous entity in human history: the state.
In the last few months, 47,000 refugee children stormed America's southern border.    They arrived from Central and South America.  The usual onslaught from Mexico's overburdened population continued by the thousands.
In excess of 15 million undocumented Mexican border crossers now call America home.  They feed off America's welfare systems from housing, food, educational and medical care.  They cost taxpayers in excess of $346 billion annually across 15 federal agencies.
Bush, Clinton, Bush II and Obama stopped enforcing our borders 30 years ago.  The word spread like a California wildfire.
Journalist Tom Ashbrook reported:  "The numbers of children surging over the southern US border now – unaccompanied, as young as six – is just staggering.  Forty thousand-plus.  Up 90 percent.  Still growing, flooding in.  Coming up from Central America, Mexico. Coming a thousand miles and more from Honduras.  Scared north by vicious gangs.   And now, piling up in US facilities not designed for an influx of kids."
The third world uses America, Canada, Europe and Australia for a human "escape valve."  Since the third world adds 80 million desperate children annually to already staggering populations in China, India, Bangladesh, Mexico, Indochina and most of Africa—Western countries face shocking migration numbers that will collapse civilizations.
Because of relentless, enormous and endless legal and illegal immigration, America faces an added 300,000,000 (million) more people within this century.
Ironically, Diane Sawyer, Brian Williams, Shepard Smith, Scott Pelley and Wolf Blitzer benignly report the invasion of our country—but they refuse to interview anyone who speaks about the end result of adding 300,000,000 people to America.
This is what it will look like:
"Immigration by the numbers—off the chart" by Roy Beck  www.NumbersUSA.org
http://www.youtube.com/watch?v=muw22wTePqQ
If every American saw this video, they would scream at Congress and Obama to effectively close down mass migration into America.
Instead, powerful forces like the U.S. Chamber of Commerce, Speaker of the House John Boehner and corporations clamor for more immigration in the face of 48 million Americans subsisting on food stamps and tens of millions living off taxpayers with Section 8 housing.
"Late last week, the Obama administration asked Congress for $1.4 billion in extra funding to help house, feed and transport the tens of thousands of children being caught trying to cross the border illegally, and turned to the Defense Department to help temporarily house more than 1,000 of the children," said Chris Sherman, DC journalist.
Every dollar paid out to care for endless legal and illegal immigration must be borrowed from foreign nations.  Our country stands a mind-numbing $18 trillion in debt.
As a country, as a civilization, as a people, we cannot continue on this path of accepting the world's endless refugee line.  If we continue, we face ultimate collapse ourselves.  It's that simple.
Our citizens chose 2.0 children per female since 1970, but the world eschewed birth control to continue adding 80 million annually, net gain.  Now, because of mass starvation of 10,000,000 (million children) annually, they cannot and we cannot solve the overload.
As a world traveler, I can tell you that the line never ends; it only grows exponentially.  Humanity faces hard choices in the 21st century that it continues to avoid, ignore and evade. But not much longer.
"It is abundantly clear that the reason for the uptick …has to do with what's going on in Central American countries," said an administration official on the conference call. "The federal government prepared for this trend," an official said, "but it was larger than we had anticipated."
As we continue accepting millions as the "human population escape valve" of the 21st century, the third world, driven by the Catholic Church, Islamic Church and other ancient religions refuse to advocate for birth control—continues exponentially.
This humanitarian crisis cannot and will not end well for Americans or the migrants.
What needs to be done:
Distribute birth control to third world countries.
Focus on the Catholic and Islamic churches to come to terms with human overpopulation in the 21st century worldwide; demand they come to terms with the 21st century and advocate for birth control.
Guard America's borders to allow no one to breach our country by using our military. Force those countries to deal with their own human overload. Stop encouraging endless immigration.
Reduce all legal immigration into the United States to less than 100,000 annually instead of the current 100,000 every 30 days.
Promote a world conference on human overpopulation and all nations' stake in providing birth control throughout the human family.
Interview top experts who scientifically show the end result if we fail to take destiny into our own hands.
What is that destiny?
If we don't halt population growth with justice and compassion, it will be done for us by nature, brutally and without pity – and will leave a ravaged world.  ~Nobel Laureate Dr. Henry W. Kendall
"The raging monster upon the land is population growth. In its presence, sustainability is but a fragile theoretical construct.  To say, as many do, that the difficulties of nations are not due to people, but to poor ideology and land-use management is sophistic."  Harvard scholar and biologist E.O. Wilson
"Unlimited population growth cannot be sustained; you cannot sustain growth in the rates of consumption of resources. No species can overrun the carrying capacity of a finite land mass. This Law cannot be repealed and is not negotiable." Dr. Albert Bartlett, www.albartlett.org , University of Colorado, USA.
"Most Western elites continue urging the wealthy West not to stem the migrant tide [that adds 80 million net gain annually to the planet], but to absorb our global brothers and sisters until their horrid ordeal has been endured and shared by all—ten billion humans packed onto an ecologically devastated planet." Dr. Otis Graham, Unguarded Gates
To stop the invasion, join for free:  www.CapsWeb.org ; www.NumbersUSA.org ; www.Fairus.org ; www.TheSocialContract.com
During my youth, I grew up as a "Service Brat." My dad served 27 years in the U.S. Marine Corps. I respected God, the Stars and Stripes, America and our presidents without question. I loved my mom's apple pie!
However, credible researches discovered that President Franklin D. Roosevelt "let" Pearl Harbor occur to draw public support to jump the United States into World War II.
Our kids fought the Korean War because somebody in Harry S. Truman's circle decided we needed to stop communism over 10,000 miles from our shores. The best bet on who started the Korean War: a banker, a corporation head or anyone hoping to make enormous gains off mass deaths.
By the time Vietnam conscripted and killed a lot of my friends, as well as my own time in the U.S. Army, I learned about lies, corruption, bankers and the real reason for Vietnam. I learned that presidents lie. They think nothing of sacrificing young men in ridiculous wars such as Lyndon Baines Johnson's onslaught of Southeast Asia. He killed over 2.3 million Vietnamese and 58,319 of our young men. He ruined millions of lives, families and the environment with Agent Orange.
Years later, George W. Bush "created" the Iraq War on his lies and deceptions of "Weapons of Mass Destruction." He destroyed an entire functioning civilization, brought endless death and misery to God knows how many people. We're still fighting and dying in Afghanistan over a year since bin Laden died at the hands of Navy Seals.
Highly decorated U.S. General Smedley Butler, upon retiring, wrote a book that every American should read: War is a Racket. The only people who benefit from war: bankers, munitions manufacturers, clothing and food producers and corporations. They make a lot of money off death of our citizen soldiers.
General Dwight D. Eisenhower warned us about the "Military Industrial Complex" that engineers wars, global tensions and anything to shove our kids into uniform and battles. Congress and presidents shoved our noses into everybody else's business for decades.
We didn't listen to Butler. We "supported" all those wars via massive "advertising" that a "threat" awaited us. Those wars made a lot of CEOs filthy rich.
In 1971, defense expert Daniel Ellsberg presented the Pentagon Papers exposing the incredible corruption and widening of the Vietnam War by Nixon and Johnson before him—all based on lies.
Last week, NBC's Brian Williams interviewed "whistleblower" intelligence officer Edward Snowden about the National Security Agency's incredible spying on American citizens. I watched the entire interview: Snowden showed himself to be incredibly honest, forthright, concerned, all-American, he honors the U.S. Constitution and he is a man of principles. He chronicled his work in the government that opened him to the corruption at the highest offices in our government.
Secretary of State Kerry called Snowden a "Traitor, coward and should come home to face the music."
Daniel Ellsberg responded, "Kerry's remarks are despicable!"
I agree. We need 10,000 Edward Snowden's. In America today, we face incredible corruption in our Congress and Mr. Obama himself. The list grows: Fast and Furious, won't enforce our immigration laws, phony Social Security number, Benghazi killings, suing states from enforcing their own laws, continue to fund 10 year wars when they know they are futile, and on and on. The corruption in Congress runs wide, deep and sickening from 20 and 30 year career Senators and Congressmen swimming in lies, cheating and playing the American people. Insider military trading on the stock market, paid off by corporations to NOT enforce our immigration laws and another 100 crimes against the American people.
"So many things we are told are untrue," said Snowden. "The Iraq War was launched on false premises. We were led by false statements to go into Iraq."
I can stand with Snowden because I know we marched into Vietnam on the same false statements such as the "Gulf of Tonkin Incident."
When he tried to notify superiors, they said, "You should stop asking questions."
I faced the same thing when I served as an officer in the U.S. Army. I learned to never question orders. If I did, command officers ridiculed me. I learned quickly to follow the military protocol.
Snowden said, "I watched the government's dishonesty. What was going on needed to be told to the public. I did nothing to harm the citizens or soldiers of America."
Williams asked, "Why won't you come home and face the music?"
"The Espionage Act states that you cannot have a defense," said Snowden. "The music is not an open court or fair trail."
"Are you blameless," asked Williams.
"The most important idea is that what is right may not be legal," said Snowden.
I can attest to that fact. Once the man or "group" who gained George Bush's ear turned the crank to initiate the Iraq War, no sane, rational or reasoning man could stop it.
"We are seeing an erosion and obstruction of our rights as citizens under the NSA," said Snowden. "I felt that I was/am serving my country and protecting my fellow citizens. Even one of the U.S. Senators said that bulk surveillance is unacceptable. We see senior officials taking powers they don't warrant. In the end, I did the right thing."
I applaud Snowden. If more Snowden's stood up in the face of withering criticism or "following the power elites" that create wars or spy on our own citizens or recklessly endanger our country—none of our kids would have died in Korea, Vietnam, Iraq, Desert Storm or Afghanistan.
Look to career U.S. Senators like Feinstein, Boxer, Reid, Udall, Bennet, McCain, Kyle, Schumer, Levin, Kerry, Durbin, Kennedy, Hatch, Graham and dozens of other senators for their complicity in driving this country into needless wars, not defending our borders, slamming us into $18 trillion debt and putting all of us at risk. For example: the current S744, passed by the Senate last year, guarantees our country spirals into the demographic, cultural and linguistic toilet. Yet, the damned fools passed it. I recall Mark Twain's sage words, "Suppose you are an idiot and suppose you are a member of Congress…ah but I repeat myself."
We should welcome Edward Snowden home as a national hero, and, at the same time shouting out to Secretary of State John Kerry, "You're despicable beyond measure."
"Prior to the 2003 invasion and occupation of Iraq, US and other western oil companies were all but completely shut out of Iraq's oil market. But thanks to the invasion and occupation, the companies are now back inside Iraq and producing oil there for the first time since being forced out of the country in 1973."

– Antonia Juhasz, oil industry analyst,  Al Jazeera.
These are the 'best of times' for the oil giants in Iraq.  Production is up, profits are soaring, and big oil is rolling in dough.  Here's the story from the Wall Street Journal:
"Iraq's oil production surged to its highest level in over 30 years last month, surprising skeptics of the country's efforts to restore its oil industry after decades of war and neglect."  (Wall Street Journal)
Mission accomplished?
You bet.  But for those who still cling to the idea that the US was serious about promoting democracy or removing a vicious dictator or  eliminating WMD or any of the other kooky excuses, consider what we've learned in the last couple weeks. Here's the story from Aljazeera:
"While the US military has formally ended its occupation of Iraq, some of the largest western oil companies, ExxonMobil, BP and Shell, remain.

On November 27, 38 months after Royal Dutch Shell announced its pursuit of a massive gas deal in southern Iraq, the oil giant had its contract signed for a $17bn flared gas deal. Three days later, the US-based energy firm Emerson submitted a bid for a contract to operate at Iraq's giant Zubair oil field, which reportedly holds some eight million barrels of oil.

Earlier this year, Emerson was awarded a contract to provide crude oil metering systems and other technology for a new oil terminal in Basra, currently under construction in the Persian Gulf, and the company is installing control systems in the power stations in Hilla and Kerbala. Iraq's supergiant Rumaila oil field is already being developed by BP, and the other supergiant reserve, Majnoon oil field, is being developed by Royal Dutch Shell. Both fields are in southern Iraq." ("Western oil firms remain as US exits Iraq", Dahr Jamail, Aljazeera.)
If it sounds like the big boys are dividing the spoils among themselves; it's because they are. Exxon, BP, Shell; they're all here. They all have their contracts in hand, and they're all drilling their brains out thanks to the American servicemen and women who gave their lives for some trumped up baloney about WMD. Isn't that what's going on?
Sure it is. And even now–after all the reasons for going to war have been exposed as lies–the farce continues. Nothing has changed. Nothing. There's still no talk of reparations, no official investigation, no indictments, no prosecutions, no trials, no penalties, no nothing. Not even a stinking apology. Just a big "up yours" Iraq. We're way too important to apologize for killing a million of your people and reducing your five thousand year old civilization to a pile of rubble.  Instead, we'll just screw you some more and paper it over with a little public relations, like Obama did a couple weeks ago when he promised to "leave behind a sovereign, stable and self-reliant Iraq, with a representative government that was elected by its people".
Oh yeah. Obama's all about sovereignty and stability, everyone knows that.  That's why Baghdad is the terror capital of the world, because Obama's so committed to security.
These PR blurbs are effective though, they provide the necessary cover for leaving enough troops behind to protect the oil installations and pipelines.  That's the kind of security Obama cares about. Security for the oiligarchs and their stolen property.  Everyone else can fend for themselves, which is why Baghdad is such a bloody mess.  Here's more from Aljazeera:
"Prior to the 2003 invasion and occupation of Iraq, US and other western oil companies were all but completely shut out of Iraq's oil market," oil industry analyst Antonia Juhasz told Al Jazeera. "But thanks to the invasion and occupation, the companies are now back inside Iraq and producing oil there for the first time since being forced out of the country in 1973." (Aljazeera)
Yeah, thanks for that invasion, Mr. Bush. We couldn't have done it without you, guy. Hope you have a great retirement painting pictures of poodles and stuff while people continue to get blown to pieces in the terrorist Hellhole you created. Here's more Al Jazeera:
"Juhasz, author of the books The Tyranny of Oil and The Bush Agenda, said that while US and other western oil companies have not yet received all they had hoped the US-led invasion of Iraq would bring them, "They've certainly done quite well for themselves, landing production contracts for some of the world's largest remaining oil fields under some of the world's most lucrative terms."
Dr Abdulhay Yahya Zalloum, an international oil consultant and economist …(said) he believes western oil companies have successfully acquired the lions' share of Iraq's oil, "but they gave a little piece of the cake for China and some of the other countries and companies to keep them silent". (Aljazeera)
How do you like that? These guys operate just like the Mafia. The Bossman pays off China with a few million barrels, and China keeps its mouth shut. Nice. Everyone gets "their cut" so they don't go blabbing to the media about the ripoff that's taking place in broad daylight. The stench of corruption is overpowering.
And here's something else you won't see in the media. In a White House press release,  the Obama administration announced that they would continue to support Iraq's "efforts to develop the energy sector" in order  to "help boost Iraq's oil production."….
According to Assim Jihad, spokesman for Iraq's ministry of oil, "Iraq has a goal of raising its oil production capacity to 12m bpd by 2017, which would place it in the top echelon of global producers." (Aljazeera)
"12 million barrels-per-day by 2017″?
That makes this the biggest petroleum heist in history. And we're supposed to believe that the oil bigwigs didn't know anything about this before the war? What a crock! I'll bet you even money the CEOs and their lackeys figured out that Saudi Arabia was running out of gas, so they decided to pick up stakes and move their operations to good old Mesopotamia. That's why they put their money on Bush and Cheney, because they knew that two former oil men would do the heavy lifting once they got shoehorned into the White House.  The whole thing was a set-up from the get-go, right down to the 5 shady Supremes who suspended the voting in Florida and crowned Bush emperor in 2000. The whole thing was probably mapped out years in advance.
Big oil runs everything in America. People talk about the power of Wall Street and Israel, but oil is still king. They run it all, and they own it all. And "what they say, goes."  Here's more:
"Juhasz explained that ExxonMobil, BP and Shell were among the oil companies that "played the most aggressive roles in lobbying their governments to ensure that the invasion would result in an Iraq open to foreign oil companies".

They succeeded," she added. "They are all back in." (Aljazeera)
Hooray. Big oil wins again, and all it cost was a million or so Iraqis who got blown to bits air raids or shot up at checkpoints, or beaten to death with a rubber hose at Abu Ghraib or any of the other democracy reeducation centers that dot the countryside. But, hey, look at the bright side: At least production is up, right? Can you see how sick this is? Here's more:
"Under the current circumstances, the possibility of a withdrawal of western oil companies from Iraq appears remote, and the Obama administration continues to pressure Baghdad to pass the Iraq Oil Law." (Aljazeera)
And what is the "Iraq Oil Law", you ask?
It's a way to privatize the oil market using Production Sharing Agreements (PSAs) which disproportionately benefit the corporations.  Obama's a big backer of the law since it means even heftier profits for his thieving  friends.  In other words, the humongous profits they're already skimming off aren't quite good enough. They want more. They want to own the whole shooting match lock, stock and barrel.
This is really an outrage. What other country behaves like this?
No one. No other country in the world goes out and kills a million people, destroys their country, and leaves them to scrape by on next to nothing just so they can pad the bank accounts of voracious plutocrats have more dough than they know what to do with. No one else would even dare to act like that for fear that they'd get bombed into annihilation by the world's biggest bullyboy, the US of A.  Only the US can get away with this type of crap, because the US is a law unto itself.
Iraq was the Cradle of Civilization. Now it's the cradle of shit. The US decimated Iraq; blew it to bits, bombed its industries, its bridges, its schools, its hospitals, leveled its cities, polluted its water, spread diseases everywhere, killed its kids,  pitted brother against brother,   and transformed a vibrant, unique country into a dysfunctional cesspit run by opportunists, gangsters, and fanatics.
And, here's the corker:  No one gives a rip. Face it: No one gives a flying fu** about Iraq. The American people lost interest long ago, the politicians can't be bothered, and the UN is too afraid of the US to lift a finger to help. They'd rather stamp their feet and scold Putin over Crimea than utter a peep about the genocide in Iraq.  That's the state of things today, right?  No accountability for the men who started the war, and no justice for the victims. Just the infrequent (phony) pronouncement of support from the White House or the all-too-frequent sectarian bombing that leaves an untold number of civilians dead or wounded. This is all the US leaves behind; hatred, death and destruction.
Here's a clip from a poem by Iraqi writer who wants readers to take a minute and think about all the suffering the United States has created. The poem is titled "Flying Kites":
"Come and see our overflowing morgues and find our little ones for us…

You may find them in this corner or the other, a little hand poking out, pointing out at you…

Come and search for them in the rubble of your "surgical" air raids, you may find a little leg or a little head…pleading for your attention.

Come and see them amassed in the garbage dumps, scavenging morsels of food…

Come and see  our little ones, under-nourished or dying from disease. Cholera, dysentery, infections…

Come and see, come…."  ("Flying Kites" Layla Anwar)
A million people were killed so a few rich fu**ers could get even richer. That's a hell of a legacy.
It is easy to stand up and cheer for your favorite government activity. It is quite another to acknowledge what it means in the real world.
I almost never try to speak for other people. However, I think it is fairly safe to say that the average military recruit firmly believes that he joins the military so that you and I can live and breathe in freedom. To be sure, he had other reasons for joining, but I think the defense of liberty is a fairly common characteristic.
That is certainly what I thought when I was in Navy boot camp in Orlando, Florida, in 1983. After all, this is what I had been told all my life: sailors, soldiers, airmen and marines defend freedom.
But is this actually what they do?
Consider the following:
This Marine lost both legs in an IED blast in Iraq. He claims he was forced by TSA to remove both prosthetic legs before he could board an airplane in Phoenix.
This Vietnam veteran in Spicewood, Texas, had flashbacks to his combat experience during a marijuana raid at a friend's house. What police claimed was marijuana turned out to be ragweed.
Jared Goering, who served 19 years in the Army, including tours in Iraq and Afghanistan, was kicked off the boardwalk in Wildwood, N.J. for walking with his service dog, Gator.
Emily Yates, who served two tours with the Army in Iraq, was violently arrested by park police in Philadelphia for asking why she couldn't play her banjo under some shade trees.
Dimitrios Karras is a Marine Corps veteran of Iraq and Afghanistan. Read about the ATF raid on his business in National City, California.
Martin Goldberg of Brooklyn is a World War II veteran whose apartment was subject to a drug raid. Later, the cops realized they had raided the wrong apartment. His 83-year-old wife was hospitalized with an irregular heartbeat as a result of the raid.

In 1997, four sailors from the USS Saipan (LHA-2) were falsely accused of the rape and murder of a Norfolk, Virginia, woman. One spent eight-and-one-half years in prison while the other three were sentenced to life in prison. These three were pardoned in 2009. Even though the actual killer is serving a life sentence, four innocent men are still required to register as sex offenders and are still fighting to clear their names.
Charles Loeks was 18 and fresh out of Marine boot camp. On a trip home to Covina, California, he was hanging out with a few friends when he was arrested for resisting arrest and nothing else. He spent 21 days in Los Angeles County jail, even though he had harmed no one.
Carlos Jaramillo is a former Marine combat instructor who lives in Onslow County, North Carolina. Watch what happened when he recorded a sheriff's deputy who arrested him for no apparent reason.
Noel Polanco was an unarmed 22-year-old National Guardsman who was shot and killed by New York City police at a traffic stop near LaGuardia Airport.
John Laigaie, a retired Army master sergeant, was threatened at gunpoint by police while legally carrying a gun in a park in Bellingham, Washington.
Homer Wright is an 80-year-old Army veteran who was charged with felony gun use after he shot a burglar who entered his home in Englewood, Illinois.

Mark Schmidter, a Vietnam veteran who lives in Orlando, is currently serving 145 days in a cage for passing out jurors' rights information on the steps of a local courthouse.
Justin Ross of Ankeny, Iowa, was recently discharged from the Army. Police used a battering ram to enter his home executing a warrant for some items purchased with stolen credit cards. They did not find any of these items.
Saadiq Long is an Air Force veteran who was placed on a TSA no-fly list. He had to battle for months to be removed from this list just so he could fly home from Qatar to visit his ailing mother.
Chuck Benton of Long Grove, Iowa, served 22 years in the Army. He was arrested and charged simply for living in the same house with his son who was growing medical marijuana.
Cody Donovan is a former Marine MP who lives in New Milford, N.J. He was charged with unlawful possession of a weapon after carrying a loaded gun into the Garden State Plaza mall when he attempted to help police apprehend the shooter.

In 1932, 17,000 veterans marched on Washington to demand payment of bonuses they had been promised as a result of their service in World War I. Two were shot and killed by police. 55 were arrested and 135 were injured when the United States Army became an instrument of domestic law enforcement. Two of the chief enforcers were named MacArthur and Patton. Yes, those two.
Mark England, an Army combat medic who saw action in Iraq and Kosovo was beaten and tasered by police at McCarran Airport in Las Vegas.
Air Force Staff Sergeant Matt Pinkerton of Glen Burnie, Maryland, faces second degree murder charges after fatally shooting a home intruder in September.
Leo Hendrick, an army veteran who lives in Northwood, Iowa, faces up to 30 days in jail and a $600 fine for raising chickens in his yard.
Yes, the cops had a search warrant. However that in no way excuses their vandalizing the home of Army veteran Dan Neary of Lakewood, Washington.
These World War II veterans were threatened with arrest for visiting a closed war memorial in Washington, D.C. during the October "shutdown."

These Vietnam veterans actually were arrested for visiting a New York City war memorial after curfew.
Denis Reynoso was a disabled veteran who saw action with the Marines in Iraq. He was shot dead by police in his Lynn, Massachusetts, apartment.
Nick Morgan, an Iraq veteran, was pulled out of a crowd by police in Hempstead, New York, and trampled by their horses.
Gary Shepherd of Broadhead, Kentucky was a Vietnam veteran. He used medical cannabis to relieve the pain in his left arm, which was crippled during the war. Shepherd was shot dead by a SWAT team, after they had threatened to cut down his cannabis plants.
Valente and Manuel Valenzuela of San Antonio produced sufficient documentation to enlist, respectively, in the Army and Marine Corps. Both fought in Vietnam, where Valente won a Bronze Star. Now they are facing deportation to Mexico because of erroneous entries on their birth certificates.
Jerome Murdough, a homeless Marine Corps veteran, died in a jail cell on New York's Rikers Island after being arrested for trespassing. A heating malfunction caused the temperature in the cell to soar to 100 degrees.
Kenneth Chamberlain was a retired Marine and Vietnam veteran living in White Plains, New York. Early one morning he set off his medical alert device. The first responders in this case were not medics, but rather police, who proceeded to kill Mr. Chamberlain.

This group of combat veterans in Colorado organized to help legalize marijuana during the 2012 elections. They claim – and I believe them – that marijuana helps mitigate PTSD. If you support any punishment whatsoever for a combat veteran who heals himself with a plant that grows wild in some form within a few miles of you, I don't care what you tell me. YOU DON'T BELIEVE IN FREEDOM!
Stanley Gibson, a 43-year-old Gulf War veteran was shot dead over a total non-crime by Las Vegas police in December, 2011.
Army Specialist Michael Sharkey returned home from deployment in Afghanistan to find his home in New Port Richey, Florida, unlawfully occupied by two squatters. The local sheriff says that Sharkey has no grounds upon which to evict them.
These veterans say they are being required to prove they are worthy of gun rights. Our rights are gifts from God that are inherent in our very humanity. We never have to prove to anybody that we have them.
Dwight Edwards, a disabled Marine veteran of Afghanistan, says that cops in Queens brutally beat him for no reason.
Army Staff Sgt. C.J. Grisham, who won the Bronze Star with Valor, was forcibly disarmed for no good reason by a policeman while on a hike with his son not far from Fort Hood, Texas.

Brandon Raub, a Marine who was decorated for bravery in Iraq and Afghanistan, was forced to spend a week in a Virginia mental hospital over some "anti-government" Facebook posts. (His interviewer here, John Whitehead, is a constitutional attorney, Vietnam infantry veteran and superlative anti-police state blogger.)
Operation Vigilant Eagle is a project of the Department of Homeland Security that has led to numerous Iraq and Afghanistan veterans "finding themselves under surveillance, threatened with incarceration or involuntary commitment, or arrested, all for daring to voice their concerns about the alarming state of our union and the erosion of our freedoms." Indeed, merely being a "returning veteran" can have you designated as a potential terrorist.

We will never know the whole truth about Navy veteran and former Los Angeles cop Christopher Dorner, who was the subject of a police manhunt and media witch hunt in 2013. He never got the chance to tell his story in court.
Hector Barrios came to America in 1961. He was drafted and served as an infantry soldier in Vietnam. In 1996, he was busted for possessing marijuana, which he used to treat his PTSD. As a result, he was deported to his native Mexico where he died.
Matthew Corrigan of Washington, D.C. was a first sergeant in the Army Reserve and a veteran of Iraq. His home was destroyed in a SWAT rampage because it was reported to the police that Corrigan had a gun.
Jamie Dean was an Army veteran of Afghanistan was diagnosed with PTSD. Upset about his impending deployment to Iraq, Dean had an intense emotional outburst at his Maryland home in December 2006. Even though he neither harmed nor threatened anyone, he was shot and killed by a local SWAT team.


Bennie Coleman, 76, is a retired Marine who lost his Washington, D.C., home because of a $134 tax lien that District authorities had sold to an investor.
Jeremy Usher is a former Navy hospital corpsman who lives in Greeley, Colorado. He faces jail time for using medical marijuana to treat his PTSD.
Brittany Ball, a 23-year-old soldier at Fort Jackson, S.C., was manhandled by a cop at a local bar, even though she had done nothing wrong.
Air Force Airman First Class Michael Davidson was shot in the stomach by police in Opelika, Alabama, at the scene of a traffic accident.
Benjamin Wassell sustained traumatic brain injuries while with the Marines in Iraq. The Buffalo-area resident was the first person charged with illegal gun sales under New York's new SAFE Act.

Erik Scott graduated from West Point in 1994 and served as a tank platoon leader. In 2010, he was gunned down and killed by police as he peacefully walked out of a Las Vegas Costco.
Scott Olsen saw action with the Marines in Iraq. Later, he would join the Occupy Oakland movement. In October, 2011, suffered a fractured skull after being hit in the head with a projectile fired by police.
Derek Hale served honorably with the Marines in Iraq. Although, he had committed no crime, he died after being tasered three times and then shot three times by police in Wilmington, Delaware.
Roderick King, an Iraq war veteran, was arrested in Philadelphia after he and his friends had criticized a cop's driving.
Howard Dean Bailey, a Navy veteran, was deported to his native Jamaica when immigration authorities discovered he had taken a plea bargain in a marijuana case in Norfolk, Virginia.

To be sure, the recently deceased folk singer Pete Seeger could not have been more of a leftist. However, he did serve three years in the Army after being drafted during World War II. He was sentenced to one year in jail after refusing to reveal his political connections to the House Un-American Activities Committee in 1956. He appealed this sentence, citing the First Amendment, and ultimately spent only four hours behind bars.
Larry Kirschenman of Nogales, Arizona, served 22 years in the Army and was decorated for bravery in Vietnam. Learn how he was brutalized by Border Patrol agents when asking why he was subjected to a warrantless search.
We will never know for sure what happened in Army veteran Matthew Stewart's Ogden, Utah, apartment one night in January 2012, as he will never have his day in court. He was in prison awaiting trial on charges of shooting and killing one of the police officers who raided his apartment searching for marijuana. Stewart, whose guilt was never proven, committed suicide in his cell.
Sergio Arreola is a cop in Los Angeles who served with the Marines in Iraq. He was beaten by the police in suburban Pomona for no good reason whatsoever.
This former Army paratrooper is appealing to the New York state legislature to legalize medical marijuana. He has severe multiple sclerosis and is "forced to break the law to have some semblance of a bearable existence."


On May 5, 2011, a Tucson SWAT team approached the home of Jose Guerena, who had served two tours with the Marines in Iraq. Guerena grabbed his AR-15 as is his right, but did not fire. The SWAT team let loose with 71 rounds, 60 of which perforated Guerena's body.
Marty Maiden lived a few blocks from Guerena in Tucson. and saw action with the Army in Afghanistan. He posted a suicidal note on Facebook which prompted a call to the police, who shot him dead.
Steve Lefemine is a West Point graduate who was arrested for protesting against abortion in a "no-demonstration zone" outside the Republican National Convention in New York in 2004. The 2nd Circuit U.S. Circuit Court justified the arrest based on a "compelling state interest in security".

Eileen Erickson's husband Sid served in Vietnam and died of Agent Orange exposure. Erickson is now in the crosshairs of authorities in Venice, California, who want to tear down the tree house Sid built before he died.
Listen to this disabled Navy veteran plead with then-Senate candidate Kelly Ayotte (R-NH) about the benefits of medical marijuana. Listen to the totalitarian response.
John Wrana, a 95-year-old Army Air Corps veteran of World War II, was tasered and then shot to death by police in Forest Park, Illinois. His "crime"? Refusing medical attention.
John Colaprete saw action in Vietnam as a Marine Corps officer. In 1994, his Virginia Beach home and restaurants were the object of paramilitary-style raids by the IRS. The raid was prompted by a false accusation by a former employee. While you need to watch this documentary in its entirety some time, for now just pick it up for a few minutes starting at the 55:40 mark.

Boxing legend Joe Louis was also tyrannized by the IRS. The Brown Bomber enlisted in the Army in 1942 saying "Let us at them Japs." Louis never saw combat, as he was assigned to the Special Services Division. While still a civilian, Louis fought some charity bouts and donated the proceeds to the Navy Relief Society. The IRS, however, viewed these proceeds as taxable income. IRS problems would plague him all his life. Please watch this video starting at the 53:17 mark.
Adam Arroyo is a Hispanic veteran of the Iraq war who lives in Buffalo. Police shot and killed his dog while executing a drug warrant for a black man.
Henry Taylor was a retired Air Force veteran in Louisville, Tennessee, who was shot dead by a local sheriff's deputy while investigating a burglary at a rental property he owned.
This is a fascinating article: When Johnny Comes Marching Home … He Goes to Jail. It is absolutely tragic how we chew up and spit out so many of those we send to "fight for our freedom."

Radio talk host Adam Kokesh won the Navy Commendation Medal as a Marine in Iraq. In recent years, he has been arrested several times for various non-violent protests. His most recent arrest happened after he loaded a shotgun in public in Washington, D.C. on July 4, 2013. On July 10, police violently raided his home and arrested him. He was incarcerated for four months without bond, bail or trial. He is currently on probation for two years. You may not like Kokesh's demeanor or approve of all of his antics, but he has been very courageous when so many of his critics can't be bothered to put down the remote.

James Moore, my brothah from anothah mothah, walked away from a very lucrative engineering position in San Jose to re-enlist in the Army following 9/11. He sustained significant physical injuries as well as PTSD while serving in the Special Forces in Afghanistan. On the afternoon of March 25, 2008, Moore, who had done absolutely nothing wrong, was beaten to the point of flat lining by Denver police.
One of the coolest people I have never met is Antonio Buehler. Buehler graduated from West Point in 1999, earned his Ranger tab, and saw action in Kosovo and Iraq. (He also sports a Stanford MBA.) Early in the morning on January 1, 2012, Buehler was arrested for taking a few pictures of Austin police manhandling a young woman outside a 7-11. Buehler has been arrested four times since. He heads the Peaceful Streets Project, whose members work to expose abuse, brutality and overreach both in Austin and across the nation.

There are no doubt numerous other injustices against veterans that I do not know about. Enough to fill a book. None of these things would have happened if America were a free society. As Kokesh puts it, "The greatest enemies to the Constitution are not to be found in the sands of some far off land but rather right here at home."
I cannot speak to the specific political beliefs of most of the veterans I have mentioned here. Some may be pacifists, while others may make John McCain look like a hippie in Haight-Ashbury. No matter what their individual views may be, the freedom they risked their lives for was flagrantly violated on the streets of the land they fought to protect.
Society endlessly applauds sailors, soldiers, airmen and Marines for "fighting for our freedom". It is in no way disrespectful to say that this is not what they do. No foreign government or terrorist group poses any threat to our liberty. America accounts for about half of the world's military spending. We have 300 ships in our Navy, plus thousands of planes, tanks and nuclear warheads as well as 300 million firearms in private hands. Nobody is going to invade us.
In a constitutional country, which America ceased to be 100 years ago, the job of the military – a vital and most noble one – is to defend the borders, shores and airspace. It cannot protect you from being tyrannized domestically. Indeed, throughout history, armies have been instruments of domestic tyranny. Our Constitution forbids a standing army for just this reason.
Nazi Germany and Soviet Russia had enormous military establishments. How did things work out in these countries?
I am a Christian who believes liberty is a gift from God – Leviticus 25:10; II Corinthians 3:17; Galatians 5:1. To quote Jefferson, liberty is preserved not by military might, but by "eternal vigilance" against one's own government at all levels. It is the grossest form of disrespect to send young men around the world to "fight for freedom" while relinquishing that freedom on the home front.
For several years, America has had the world's highest incarceration rate. Since 2001, Americans have gladly accepted previously unthinkable intrusions on their freedom in the name of "safety" and "security". These include, but are not limited to: warrantless searches and spying, the suspension of habeas corpus, sexual assault as a condition of travel, rampant police brutality, indefinite detention without any semblance of due process, severe restrictions on peaceful protest, massive ammunition purchases by DHS and surveillance drones in our skies watching our every move. Can predator drones be far behind?
And in every election 98 percent of voters put their stamp of approval on perpetuating this monstrosity.
On April 20, 2013, Boston and several surrounding towns got a serious taste of martial law. How many military veterans were on the receiving end of this? Is this what they signed up to fight for?
Stop thinking in clichés. Have a good hard look at everything your media and government tell you. This includes media outlets and parts of the government that you like. Study. Read. Ask questions. And learn that the defense of liberty is not the duty of the military. Rather, it is your duty and mine.
~~~~~~~~~~~~~~~~~~~~~~~~~~~~~~~~~~~~~~~~~~~~~~~~~~~~~~~~~~~~~
Origin of the Master Model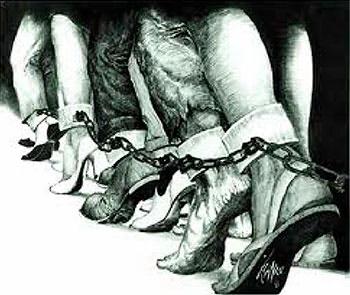 The master plan for world domination we see playing out today was first proposed to the US at the end of World War I. However, there were no takers. People were too war weary. However, when the plan was again proposed at the end of World War II, it was accepted. Consequently, World War II quietly transitioned into the secret "war" to set up what has become known as the "new world order" — an absolute dictatorship over the entire planet.
The United States set up the School of the Americas to train future dictators and terrorists who would be sent out into the world to destroy sovereign nations and place them under US domination by installing puppet governments obedient to the United States. Many conquests were made quietly using clever economic tricks [2]. However, leaders who refused to submit quietly would see their entire country reduced to rubble and the land rendered unlivable by uranium dust scattered by US bombs. The message was clear: Submit to the United States or face total destruction.
A social model based upon the assumption that cleverness and power automatically convey the right to take anything desired from those who are less adept and unable to resist is not a sustainable model for harmonious social interactions. However, this is the chosen model. The mantra for this model, "A man's true worth is measured by the amount of other peoples' happiness that he can possess and destroy" [1], is essentially a call for a class war between the greedy elite and the innocent masses of the world who simply desire a peaceful existence.
Acquisitions
The United States looks at the rest of the world as a "resource". If a country has something — oil, gold, minerals, etc. — that the US covets, it believes it has the right to take those things by whatever means necessary. In many cases the coveted resource is human slave labor. Let's look at some representative examples:
With the cooperation of the dictator, United Fruit Company (US) owned almost half of the country and used the locals as slaves to harvest its Chiquita brand bananas. However, during the period from 1945-1954 new leaders made changes. They helped the poor and set up social security and health care. Then they took land away from United Fruit and gave it to the local people. United fruit complained to the CIA that its business interests were being interfered with by the "communist" government. Any government which shows kindness to the poor and weak is called communist by the US. The US attacked Guatemala — killed the elected leaders and many thousands of citizens — and established a puppet dictatorship which would obey the will of United Fruit. The people were returned to a state of slavery. The CIA trained death squads to make sure the people were crushed into submission.
Strip Mining in Africa [4]
In Africa, the International Monetary Fund — a puppet of the US — destroys a country with strip mining. The original country was self sustaining. People were able to grow lots of food and hunt animals. However, once the land was ruined by US corporations, it was unusable to plant crops and the native animals died. The people had to buy food from other countries with money loaned to them by the IMF which they could never hope to repay. Therefore, a once free and self supporting people were made debt slaves of the IMF. Once all the natural resources have been stolen, the corporations will simply pack up and leave the indigenous people to starve and die.
Countries Used as Trash Dumps [5]
Used computers and associated items are dumped in poor countries where starving barefoot children sift through the mess of hazardous waste and broken obsolete glass computer monitors hoping to find something they can sell to get enough money to stay alive another day. Property stickers show the waste is mainly from the US government and various US state governments.
Corruption of Trusted Sources
Reporters and News Organizations
The masses are conditioned to believe news they receive from establishment sources. In the earlier times, this assumption was often correct. It was considered so important by the founding fathers that freedom of the press was enshrined in the US constitution. However, times have changed.
Walter Cronkite was known as the "trusted voice". No one knew he was also the official announcer at the secret Bohemian Grove meetings. The leaders of the world's news organizations also attend this event. That is why, even though the meetings began over one hundred years ago, until recently no one knew this group even existed. President George W. Bush may have set a new record for bribing journalists to allow their trusted name to be used as the author of material actually written by government propaganda experts. Apparently, everyone has a price and the government, of course, has no problem when it comes to money.
When Ronald Reagan reportedly ordered the death of investigative reporter Jessica Savitch [6], the message to independent journalists was clear: Go against the official party line an you're done!
Today, dedicated journalists face mysterious deaths and strange single car accidents but a few survive long enough to give us a glimpse of truths we would otherwise never know. They are true heroes.
Churches
Churches are everywhere. Unfortunately, legitimate Spiritual teachers are not. People look at churches either as harmless or with some sort of conditioned hypnotic respect. Churches send out "missionaries". However, the "mission" of these missionaries may not be so clear. If you wanted to infiltrate a foreign country, these people would be an ideal asset.
Churches are not Spiritual centers. At best, all they want is your money. At worst, they are Satanic and you are in severe Spiritual danger if you come under their influence and control.
The Catholic Church has been a trusted asset of the US intelligence community for quite some time. Significant information obtained by priests during confessions is routinely passed on to the government.
This agreement predates the internet by many years. Because the church has branches in almost every country, it has great potential for covert activities. For example, if you need to get an operative who is in danger out of a country, they can go to a Catholic church for "confession". Once the door is closed, they can exit through a secret passage, be disguised in robes and spirited safely out of the country. Church secrecy is at least on a par with US secrecy. Also, the Catholic church and the US shadow government share the same Satanic value system and engage in child rape and ritual killings.
Doctors and the Medical Industry
Medicine in the United States is an industry. It is no longer a profession. Its corporate model puts profit above all else. If some patients accidentally benefit they are the lucky ones.
The medical community has a rigid hierarchical structure and effective mechanisms for enforcing secrecy. Essentially, its model closely resembles the military chain of command structure. This makes it a perfect partner for the government in the area of secret human experiments.
For example, when the government was doing radiation experiments on humans, a doctor or someone dressed as a doctor would just walk up to unsuspecting patients and inject them with radioactive material. They were then secretly followed for years to see what would happen. Eventually, some of those who survived were told the truth. Most people used in the MK Ultra and subsequent secret projects were never notified.
Hospitals are set up to protect themselves. Staff may appear to be dedicated, smiling people who truly care about you. However, they are basically prostitutes who are being nice because you are worth money to them. When they make mistakes they have a "loss prevention" department staffed by clever lawyers who are trained to protect the financial interests of the hospital by denying everything and fabricating believable coverups. They are trained to do whatever is necessary. The staff will all agree to support whatever lies are needed. They know their job and their financial future depends upon maintaining strict secrecy.
The only people who receive legitimate medical care are the select elite cleared to accesstop secret medicine. These people always get excellent care because the doctors work for the shadow government and mistakes on their part are simply not tolerated.
Infiltrations
Countries which have the resources to sustain an intelligence community generally try to get operatives (spies) into other countries so they can directly observe activities. When real people gather intelligence, this is called human intelligence or HUMINT. The US, of course, does this too. However, you may not be aware of the extent to which the US also infiltrates itself. The central government really does not trust anyone.
Essentially all local police departments, state offices and state governors have a covert federal agent working close by pretending to be just another employee. Also, every US neighborhood has an informer who reports to the federal government. Large corporations, which tend to behave like "mini governments", need to be infiltrated and kept under observation. Colleges and universities are also monitored.
Here is how this spy network operates: The NSA likes to recruit young kids right out of college. When they are hired and sworn to secrecy they still do not know what their assignment will be. They must agree to do this assignment without first being told what it is.
Some agents, like John Perkins [2], are assigned to work in other countries. However, others are assigned to work inside the US. Their assignment could be to go to some state and apply to join the local police department. They would pretend to be just a regular person looking for a job. They would take the necessary training and spend their life as a local policeman so they could directly observe other local police from the inside and report to the NSA. Since they are actually an employee of the NSA, presumably they get to keep both salaries and, eventually, both retirements. All significant local police forces in the US are infiltrated this way.
Additionally, some agents will be assigned to get a job on the state governor's staff as well as in major local state agencies. A CIA or NSA agent is always on the staff at major colleges and universities. The same goes for major corporations.
Senior level agents are allowed to have special TV receivers in their homes linked to the secret government TV network. This way everyone stays on the same page. The channels on this network actually broadcast the truth. TV channels available to ordinary people contain only government approved propaganda mixed with "bread and circuses" presentations to make sure the sheeple stay asleep and content.
Fronts
The US government is involved in illegal activities internationally and domestically. If it performed these activities overtly in the name of the United States, there would be serious consequences under both international and local laws. To avoid this situation, the US government operates thousands of "front organizations" which appear to be private but are actually shadow operatives of the US.
For example, John Perkins [2] explained that he was recruited, hired and trained by the NSA. He was an NSA agent. However, for his cover as an economic hit man, he "officially" worked for a "private" company called Charles T. Main. This company was a government front to shield the US because the activities the NSA trained Perkins to do were illegal.
This is standard operating procedure for the US as well as other countries and many corporations. It shields them from legal recourse by providing deniability for the crimes they actually direct and commit.
Generally, when the US wants to influence other sovereign countries, it creates harmless looking NGO's which appear to be independent but are actually fronts for covert activities.
Domestically, colleges and universities — especially those with associated medical schools and hospitals — are great places to conceal a variety of covert projects such as the MK Ultra series of human experiments which, reportedly, continue today using new cover names. The US also likes to create non-profit corporations which exist only to provide classified services to the United States. A good example would be the Institutes for Defense Analysis (IDA). The US, reportedly, is its only client.
Programming
Mass media "programming" is actually programming you. It has developed into a subtle form of mind control. Before radio and television, special interests recognized that motion pictures could be used to alter public opinion in their favor. Perhaps, for example, you wanted to attack labor unions. When radio and later television came along providing access to national and international audiences, the temptation to exploit these technologies became irresistible. Originally, the US government recognized this and set up fairness rules to prevent monopolies from taking over the broadcast media and blocking opposing viewpoints. All this ended, unfortunately, when Ronald Regan canceled all the fairness regulations. Today, a handful of powerful corporations own and control essentially all content delivered by radio and television.
Television is the main vehicle for mass indoctrination. It is said that people watching TV actually fall into a light hypnotic trance. The "entertainment" you see on TV does not "just happen to be there". It is very carefully planned and timed to attract and influence targeted audiences. It is said that if some event were to somehow shut down all television broadcasts the government would experience a severe crisis because it would lose control over the minds of the masses.
TV creates sort of a "hive mind" among the masses and keeps everyone coordinated and tuned into the official party line. Without this, people would have no choice but to start thinking for themselves and forming independent opinions. Clearly, this would be a disaster.
The radio broadcast of "War of the Worlds" and the later movie "The Day the Earth Stood Still" are said to be CIA psychological experiments to judge how the general public would react to some type of ET contact.
Today, broadcasting is not just a one way event. Because people react to events and use social media to express these reactions, the effect of specific propaganda can be analyzed in real time. Since the government now intercepts all electronic communications, it is able to see general opinions and then tweak algorithms to maximize the desired effect of propaganda. This ability makes TV a two-way communications system although most people, of course, do not realize this and have no concept of the level of sophistication these technologies have reached.
Information Theory
Information Theory is the name of a relatively new branch of science which became popular in the 1960′s. It covers a broad range of technologies. Basically, it is the science of the flow of information and how that flow can be selectively controlled so that information flows only in desired pathways. As you may have already guessed, governments love this sort of stuff.
ECM
ECM stands for Electronic Counter Measures. In general, these are techniques to disable other electronic devices. Basically, it is electronic warfare. When the secret service is active in an area, for example, they will selectively jam all radio frequencies except for the specific frequencies they are using so that no one else can communicate.
World leaders, who are generally terrified of "threats" materializing from practically anywhere, like to travel with ECM generators running just in case "someone" from "somewhere" was trying to target them for "some reason". Basically, they are paranoid whack jobs.
People familiar with aviation tell the story of how Tony Blair, while traveling to or near a commercial airport, reportedly caused a commercial jet to crash because all the ECM garbage he was transmitting jammed the plane's navigation system. Of course, the British government would never admit this.
Secure Communication With Submarines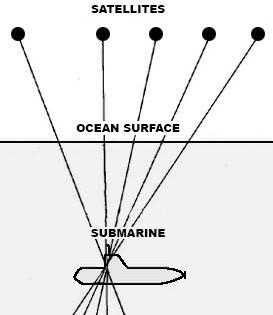 Since submarines were invented, communicating with them has been a problem because conventional radio waves will not travel underwater. Therefore, early submarines had to get close enough to the surface to put up some kind of antenna in the air to send or receive radio messages. Obviously, this could pose a problem if you did not wish to be discovered and located. After all, the motivation to create submarines in the first place was the feeling that they would be able to move about the planet secretly. However, newer technologies now make this impossible.
To solve the problem of reliable secure communication without the need to surface, scientists learned that sea water was essentially transparent to a special type of Argon laser. To set up the current communications network, it was decided to use several satellites with each satellite sending only part of an encrypted communication signal. The complete signal could only be received at a specific point underwater where all the laser beams intersected. Intercepting only one or two beams would prove useless. This communications system is considered to be impossible to intercept.
Quantum Entanglement
Returning to the submarine issue for a moment, before modern communications were perfected, there was a search for some reliable method to send a signal to a submerged submarine that could not be detected. This was considered necessary in a war situation to secretly transmit an attack command. What they originally did was to locate a couple of people who could communicate telepathically. One would be at the command base and the other on the submarine. Doing a bit more research, it was determined that this type of communication is instantaneous and somehow operated outside of time. Radio waves travel at the speed of light.
Quantum entanglement is a process which uses technology to send and receive signals outside of space-time. Now, why would you possibly want to do this? Well, if you had a base or a colony on a planet in some other solar system light years away, you would not want to wait years for messages to be received. Following this thread — and adding some basic common sense — why would you want to dedicate resources to search for habitable planets in distant solar systems when you had already "proven" it would be impossible to ever get there? Could it just be that someone is not coming clean with whole story?
The Separation Barrier
This is a model of the separation barrier which insulates the ruling class from the slave class. It is essentially "intellectual apartheid". The question is, why is it there. It takes considerable effort, money and manpower to maintain this artificial barrier. What is the reasoning behind not having a level playing field for everyone? Why does this idea absolutely terrify the elite? What are they afraid of?
The Pirate Story
This is a summary of a story told years ago on a radio broadcast most likely by Paul Harvey:
Ordinary people were afraid. The Earth was flat so they dare not venture far from home. Periodically, a pirate ship would come. They did not know how it got there or from where it came. It brought treasures they had never seen. The Chief Pirate would encourage the young men to study and specialize in specific skills. He wanted them to become educated but only in one narrow area. The Chief Pirate knew the world was not flat and how to navigate to other lands. However, this knowledge was never discussed. This "top secret" knowledge or the "big picture of the known world" would only be given to the Chief Pirate's son who would inherit his title and someday become the Chief Pirate.
This story is about the origin of the concept we call compartmentalization — the process of controlling the slave masses by only allowing them to know specific bits of the truth while the leaders are allowed to know total truth.
ELITE RULING CLASS
SECURITY CLEARANCES
SECRET POLICE
ASSASSINS
SURVEILLANCE — SIGINT HUMINT COMINT
SPY SATELLITES
SPY DRONES
SMART ELECTRIC METERS
INTERNET SURVEILLANCE
NEIGHBORHOOD SPIES
PLENTIFUL STREET DRUGS
PSYCHIATRIC FORCED DRUGGING
GENETICALLY MODIFIED FOOD
FLUORIDATED WATER
COORDINATED TELEVISION PROPAGANDA
DEGRADED PUBLIC EDUCATION
LOCAL MILITARIZED POLICE
---
SLAVE CLASS
Leaders can only maintain their status if there are slaves. Otherwise, everyone would be equal and operate on a level playing field. This means "leaders" would have to pull their own weight like everyone else. Clearly, this would be intolerable. Leaders love beautiful and exotic things but don't want to do the work needed to create these things. They probably could not even plant a garden much less build the various "ivory towers" where they like to live surrounded by servants. If left on their own they would very likely starve. This is why it is so important to create and maintain the complex separation barrier.
Why don't people who live above the separation barrier ever "come down" and talk to the people below the barrier? Well, other than the obvious fact that they would likely be killed or jailed for espionage or treason, there is another, simpler, reason.
Would you like to spend your days sitting in an open field with kindergarten kids looking for four leaf clovers? Probably not. You have progressed beyond that. The slaves below the separation barrier cannot even imagine the world of those who live above the barrier. In fact, the elite do not even consider the slaves human. They call them "disposable biological units". The United Nations prefers the slang term "the herd". Slaves can be easily bred in quantities needed and programmed to do desired tasks. Then, they can be easily disposed of when no longer useful. That's how they look at you. So, why would they want to make friends with you?
The Mars Example
There is an interesting event playing out today that you may have noticed. This concerns the recruitment and selection of people to be sent to Mars. There are simulation projects where volunteers are locked away to imitate the long voyage to Mars. They are being told that this is a one way trip and they can never hope to return to Earth.
What you are witnessing is the selection process for the "seed people" who will be used to breed the future slave class on Mars. In a situation similar to the period when most believed the Earth was flat and you would fall off if you tried to go to sea, these people are convinced that the only way to get to mars is to ride a rocket on a perilous journey taking years. Because they truly believe this, when they get to Mars, they will teach this crap to their kids along with other misconceptions like it is impossible to go faster than the speed of light and other associated obsolete scientific principles. They will have no
desire to ever return to Earth or go anywhere else because they truly believe it is not possible. They will be contented slaves.
Of course the truth is that there are already secret colonies on Mars. It is not that hard to get there using antigravity and other secret propulsion methods and it is quite likely possible to simply walk through some kind of wormhole device and come out on Mars.
However, the slaves will never know this. Just as it is done on Earth, there will be an artificial separation barrier. The insiders will know the truth and will be physically hidden from the slaves. There will be secret police and other methods — the same as are used on Earth — to make sure no slave ever escapes from the "information prison". Business as usual will continue.
Reinforcement of Ignorance
Governments and their oligarchs love to keep their subjects in a cloud of ignorance. Back in the days when people believed the Earth was flat, the inner circle ruling class knew it was round. Maintaining the deception was convenient because it kept the slaves from developing any desire to travel far from home.
Nothing has changed all that much today. Consider, for example, all the fuss over the missing MH370 plane. You are being played for a sucker. It is impossible for that plane to have "disappeared".
The US DoD spy satellite system reportedly consists of ten constellations of satellites. Each constellation has over seven thousand satellites. They see and record everything that happens on this planet. The floor of the oceans can be seen just as clearly as the land areas. The resolution of the system is better than one square millimeter. Also, everything is recorded so you can go back in time and play past images.

This is a picture of a common electric lamp. Take this lamp and throw it in the ocean — any ocean anywhere on this planet. The spy satellite system will locate it, give you the coordinates and give you a photo at least as good as the one above. That is the capability of the system. So, clearly, it is impossible not to know the location of something as large as a Boeing 777 plane. All the TV publicity is a choreographed play. You are being scammed and you need to wake up and realize this fact.
Murders and Assassinations
To ensure a strong empire, dissent must be crushed. The United States trains assassins and carries out both domestic and foreign murders and assassinations on a regular basis. You may be familiar with the classic movie scenes where a black limousine with tinted windows drives by a target with thugs shooting machine guns. Although this would accomplish the task, it is a bit too obvious in a country that advertises itself to be a free, civilized democracy. Someone might catch on and begin to doubt the party line. Consequently, these things must be done quietly.
Inside the US, murders are reportedly carried out by a group known as "FBI Division Five". Other agencies likely have the responsibility for foreign assassinations. However, the basic techniques used would be similar.
Typically, an agent would wake up every day and connect to the top secret internet to see who he was assigned to kill that day. There would be several options. If it was important to eliminate the target immediately, a fast acting chemical agent would be selected which, for example, would cause the target to die within a few hours of a "natural" heart attack.
However, if time was not critical and the government just wanted the target out of the way, you might want to select one of the cancer causing agents such as those likely used to eliminate Hugo Chavez and Senator Ted Kennedy.
There is also a third possibility. This involves character assassination instead of actual murder. Consider, for example, a person who has gained a lot of public recognition talking about, say, free energy. If you simply kill the person, there could be blowback and talk that he was silenced by the government. In such cases, it is easier to use a chemical agent designed not to kill but, rather, to cause states of mental confusion resulting in obviously strange behavior. This would be coordinated with the government controlled mainstream press to make sure everyone became convinced the person was a nut and would therefore ignore anything said without regard to the truth or validity of the message.
Once the appropriate chemical has been selected, you need to load it into the secret delivery system and locate your target. To find your target you will connect to the top secret internet and pinpoint the location of the target through their cell phone. You can also activate all the cameras and microphones in electronic gadgets connected to the internet associated with the target in case you wish to look around the target's home and hear in real time what is taking place.
Of course, this will not help you locate the target when it is time to actually do the hit. So, you need to get the top secret profile data which will show any predictable habits of the target. Everyone is constantly tracked through their cell phones and profiles are logged and stored. In this case, the profile shows that the target has a favorite restaurant and goes there for lunch every day around 11:30. Now, you know exactly what to do. You go to the restaurant, hang out until you see your target, and get in line behind the target. Now, all you need to do is slightly bump into the target to deliver the chemical. Generally, the targets never even notice.
This mission is now complete. If it is early enough, you can check back in to the top secret system to see who you are supposed to kill next. Just another day. Just a routine job.
Money
Money is an imaginary force. It is used to motivate and control slaves. Real forces effect all life forms. However, only people respond to money. The only reason they do is because they have been artificially programmed to do so.
Money can be created in unlimited quantities by those adept in the use of this force. The physical world is finite, however the world of imagination is not. There is no limit to the quantity of money that can be imagined into existence. Money can also be imagined out of existence.
Let's assume that one day the entire financial system simply disappeared. If you lived in a rural area and had a nice veggie garden, some friendly chickens, collection facilities for rain water and a few photocells for electricity, you would not notice this. The veggies would continue to grow. Rain would periodically fall. The chickens would lay eggs as usual. The sun would continue to shine. However, if you lived in a city environment, you would be devastated.
Before money, people lived in small hunter-gatherer groups. The concept of ownership did not exist. People worked and survived as a group. Men and women were equal. Everyone contributed to the community. Resources were shared equally. The concept of "mine" and "yours" did not exist. Women generally became pregnant only once about every three years although there was no birth control. Later, when the concept of money entered the consciousness, women were seen as having less value because men were paid for work but women were not paid to raise and care for kids. Society has changed, however, the downgraded status of women has not.
Money systems have always been manipulated by clever people. When gold was used as money, people learned they could dilute pure gold with silver or maybe even lead to come up with something that looked like pure gold and had the correct weight but was a fraud. A king suspected he was being scammed but had no way to prove it. He called on the great minds of the time for help. This led to what is known as the Archimedes' principle which is better known today as "specific gravity". This principle made it possible to compare a sample known to be pure gold to a questionable sample and prove the unknown sample was not pure gold. Likely, some clever crook lost his head once this test became known.
There is a general belief that gold is the ultimate reference for all money. However, secrets concerning the exact quantity of gold make this a perilous assumption. Reportedly, the United States stole a tremendous quantity of physical gold from Japan towards the end of World War II. This gold exists off the books. To make matters worse, Japan was not all that concerned. Japan had been using gold bars as ballast on its ships because they were compact and heavy. They thought nothing of throwing the bars overboard as necessary. Japan used platinum as a money reference and the US never got that. This should make one rethink all the hype about the value of gold. It may be a lot more plentiful than we have been led to believe. Also, the secret off the books stashes of gold would allow its relative value to be manipulated at will just like other commodity markets.
The Financial Axis of Evil [3]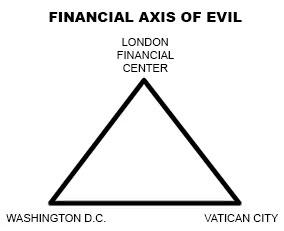 This is the model of the financial axis of evil which rules this planet. It consists of three main branches as shown above. Collectively, they are known as "The Empire of the City". Briefly, here is how this system operates:
The London financial district is in London, Washington D.C. is in the United States and the Vatican is in Italy. However, these three places are not part of the countries where they exist. They are independent "city states" and have their own laws and constitution. They are, effectively, "mini countries" inside of other countries and fly their own flags. The city state of London is a private corporation and pays no taxes to actual London or to Britain. The city state of London is the master power center and is controlled by the Rothschild family which considers itself to be the legal owner of this planet. The Vatican is the largest private land owner in the world and the first true multinational corporation with installations (churches) and secret agents (The Knights of Malta) everywhere. They control through the power of fear of the unknown and practice black magic. Washington D.C. relies upon brute military force. All three closely cooperate combining their specialties of financial trickery, witchcraft and military might. Of course, all three worship Satan as their Master.
Slavery
Slavery is alive and well throughout the world. The US constitution prohibits slavery, however, most americans live in slave-like conditions.
It is said that it will take the average college student until age fifty to pay back their student loan.
The constitutional amendment prohibiting slavery addressed the concept of physically owning another person. However, it did not address the issue of holding another person in bondage as a debt slave. It also did not consider the concept of private for profit prisons who force inmates to work as slaves. These systems exist today and are perfectly legal.
Actually, a recent report from prestigious Princeton University has reclassified the US government as an oligarchy — a country run by and for the rich elite. Former US President Carter has stated that the United States "no longer has a functioning democracy". So much for the Founding Father's dream. Speaking of dreams, check out the free you tube video titled "The American Dream".
Other forms of slavery are illegal but still flourish. Sex slaves are always in demand. Traffickers are sometimes caught but you need to realize that your leaders use sex slaves and also routinely abuse young girls and boys. Sometimes they are also killed during occult rituals. No one ever talks about this and these people are never punished. This has been the normal way of life for Satan worshipers for many years and nothing has changed or is likely to ever change in the future. Stanley Kubrick's last movie, Eyes Wide Shut, covers this subject. Some believe this intense dramatization of how the elite really live may have cost him his life.
People still have some rights left in the United States but other countries are a different story. Qatar is doing construction for the World Cup. The event is not scheduled until the year 2022, however they have already killed 1200 slaves [7] by working them to death. People are lured from poor countries with the promise of jobs and money. When they arrive, their passports are confiscated and they are forced to work until they literally drop dead. If the World Cup is actually held in Qatar in 2022, there will be glamorous TV coverage and no one will remember or care about all the dead slaves. The show must go on.
Qatar, incidentally, sponsors Al Jazeera TV network.
Adaptation Techniques
The status quo of today will never change because the people who created it will never die. Because of top secret medicine, when men like Henry Kissinger, who heads the Bilderberg Group's steering committee, get too feeble to function, they will simply go to one of the secret locations and use the temporal reversal device to regress back to about twenty years old. Their memories will be unaffected. Then they will get new identities and continue on. This process can be repeated indefinitely.
Because you can never change the status quo, your best hope for a lifetime of reasonable quality is to find clever ways to live in this world with as much independence as possible.
One method of adaptation is autonomous and semi-autonomous communities. If the community is registered as a religious institution it is automatically shielded from most government interference by the US constitution. It pays no taxes and can pretty much write its own rules by simply calling whatever it wants to do "religious doctrine". Many small semi-autonomous groups exist where people who share a common set of values find ways to quietly live out their lives pretty much on their own terms. The government does not seem interested in bothering these smaller groups as long as they live peacefully and are not doing anything that the government perceives to be a threat.
The Amish people are a good example of an autonomous group. You would probably not want to live as they do, however, before you completely dismiss them, you may want to look at some definite advantages in their chosen lifestyle.
Remember, these are the people who reject technology. They just might have made the correct choice. Technology, at first, seemed like a good idea. However, now that people are addicted to technology they are also enslaved by technology. Everything they do is monitored and recorded by the government. Privacy no longer exists. It did not have to be this way.
Technology, in itself, is not evil. However, it can be quite evil if you live under a government run by sociopathic control freaks which, unfortunately, you do. In the Amish world, electronic surveillance does not exist because electronic devices do not exist. The constant propaganda from TV has no effect on people who do not have TV. A horse does not report its position to a GPS satellite and is not controlled by a computer.
Also, the people are generally healthy and do not suffer from many diseases common to the mainstream population. They are not being poisoned by fluorinated water or additives found in processed food because they don't use these things. Also, they get lots of physical exercise.
Without totally withdrawing from the world, there are some positive steps you can take. By now you know never to drink fluorinated water or use any personal product containing fluoride such as many brands of toothpaste. To minimize harmful food additives, look for Kosher food which is marked with either the encircled "K" or "U" (Ultra Kosher). These foods have less or no harmful additives. The Jewish community is very protective of its people and the Mossad is widely considered to be the best intelligence service in the world. Therefore, they would have the inside scoop on everything including food and do not want to see their people harmed.
Whatever you decide to do, you definitely do not want to be part of so called mainstream society. These people are doomed. They are sheep (sheeple) slowly walking to the slaughter house. Don't go there!
---
references and credits
[1] DVD "The American Ruling Class". ASIN: B001HM2CE2.
[2] John Perkins. Book: Confessions of an Econemic Hit Man; DVD (free on you tube): "Apology of an Economic Hit Man"; RT interviews.
[3] See the free you tube videos titled "The Red Shield".
[4] DVD: "The Wages of Debt", RT Intl. Also available for purchase.
[5] DVD "Terra Blight", RT Intl. Also available for purchase.
[6] Interview with John Judge of Veterans Against Military Psychiatry.
[7] Also search using the phrase "qatar slaves world cup".
© 2014 W C Vetsch. All rights reserved.
Source: Walter C. Vetsch  |  3108.info | War Is Crime
The phrase "conspiracy theorist" is a derogatory smear phrase thrown at someone in an attempt to paint them as a lunatic. It's a tactic frequently used by modern-day thought police in a desperate attempt to demand "Don't go there!"
But let's step back for a rational moment and ask the commonsense question: Are there really NO conspiracies in our world?
The Attorney General of South Carolina would surely disagree with such a blanket statement. After all, he sued five pharmaceutical companies for conducting a price-fixing conspiracy to defraud the state of Medicaid money.
Similarly, in 2008, a federal judge ruled that three pharmaceutical companies artificially marked up their prices in order to defraud Medicare.
In fact, dozens of U.S. states have filed suit against pharmaceutical companies for actions that are conspiracies: conspiracy to engage in price fixing, conspiracy to bribe doctors, conspiracy to defraud the state and so on.
The massive drug company GlaxoSmithKline, even more, plead guilty to a massive criminal fraud case involving a global conspiracy to bribe doctors into prescribing more GSK drugs.
And this is just the tip of the iceberg. A deeper look into the criminality of just the drug industry alone reveals a widespread pattern of conspiratorial behavior to defraud the public and commit felony crimes in the name of "medicine."
What is a conspiracy, exactly?
As any state or federal prosecutor will gladly tell you, a "conspiracy" is simply when two or more people plot to commit an act of deceit (or a crime).
Thus, when three hoodlums plan to rob the local Quickie Mart, they are engaged in a "conspiracy" and will likely be charged with a "conspiracy to commit armed robbery" in addition to the different crime of "armed robbery." The fact that they planned it with several friends makes it a "conspiracy" worthy of additional felony charges, you see. When these charges are brought up in court, the judge doesn't look at the prosecutor and say, "You are a conspiracy theorist!" That would be absurd.
The idea, then, that there is no such thing as a conspiracy is flatly ludicrous. And people who condemn others as being "conspiracy theorists" only make themselves look mentally impaired.
To live in our modern world which is full of collusion and conspiracy — and yet somehow DENY the existence of any conspiracies at all — is an admission of a damaged brain. Of course there are conspiracies, and when people analyze those conspiracies, they are "theorizing" about what happened. This is, in fact, precisely the job that police detectives and FBI agents carry out almost daily.
Most police detectives are, in reality, "conspiracy investigators" and analysts.
There are endless examples of real conspiracies
Auto manufacturers routinely conspire to cover up mechanical defects that put customer lives at risk. Even National Public Radio lays out the full timeline of the General Motors conspiracy to hide the problem with its faulty ignition switches.
Last year, food corporations conspired with the Grocery Manufacturers of America (the GMA) tocommit money laundering crimes in Washington state in order to funnel money into a campaign to defeat GMO labeling there.
The FDA conspired with a drug manufacturer to keep a deadly diabetes drug called Rezulin on the market in the USA even after safety regulators pulled the product in Europe.
Similarly, the corrupt, criminal-minded operators of mainstream science journals conspired in a particularly evil way to railroad Dr. Andrew Wakefield with provably false accusations about the nature of his research into the side effects of vaccines. The GMO Seralini study has been similarly railroaded by a genuine conspiracy of evil, corrupt science journal editors who routinely conspire to suppress all the science they don't want to be seen by the public. Fortunately, 150 other scientists have come to support Seralini with a global condemnation of the obviously contrived scientific censorship.
We live in a world of such deception and collusion that, frankly stated, it's hard to find a large institution (such as medicine, agriculture or the war industry) which isn't involved in some sort of conspiracy at some level.
What is a "conspiracy theorist?
The pejorative "conspiracy theorist" is meant to demean and ridicule skeptics of official stories.
Most so-called "conspiracy theorists" are really skeptics, by definition. They're skeptical of what the government tells them. They're skeptical of the claim that drug companies are really only interested in helping humankind and have no desire to make money. They're skeptical that food corporations are telling them the truth about what's in their food. And they're also skeptical of anything coming out of Washington D.C., regardless of which party happens to be in power at the time.
People who are not skeptics of "official stories" tend to be dull-minded. To believe everything these institutions tell you is a sign of mental retardation. To ask questions, on the other hand, is a sign of higher intelligence and wisdom.
Skeptics of official stories, it turns out, also have the support of history on their side. How many times has it later been revealed that the American people were lied to by the very institutions we were supposed to trust?
For example, it is an historical fact that 98 million Americans were injected with hidden cancer viruses which were later found in polio vaccines strongly recommended by the CDC. In an effort to cover that up and rewrite history, the CDC later scrubbed all accounts of that history from its website, pretending it never happened.
That's more than a cover-up; it's an Orwellian-style conspiracy to selectively rewrite history and deny Americans any memory of a monumental, deadly error made by the CDC in collusion with the vaccine industry.
According to two former Merck virologists, that company conspired to fake the results of its vaccine tests by spiking test samples with animal antibodies, thereby falsely distorting the results to make the vaccine appear effective. The two virologists filed a False Claims Act with the federal government detailing the conspiracy, saying:
Merck also added animal antibodies to blood samples to achieve more favorable test results, though it knew that the human immune system would never produce such antibodies, and that the antibodies created a laboratory testing scenario that "did not in any way correspond to, correlate with, or represent real life … virus neutralization in vaccinated people…"
Conspiracies of money and big banks
Every month, the Federal Reserve conspires to steal a portion of your wealth through "quantitative easing" — an irresponsible money creation scheme that devalues all the currency already in circulation (i.e. the money in your bank account).
The money the Fed creates is, not surprisingly, handed over to the big Wall Street banks — the same banks that received a jaw-dropping $29 trillion in "bailout money" since the near-collapse of U.S. banking in late 2008.
Why did this bailout money go to the banks instead of the American people? Because powerful people sat in dark rooms and colluded to send the money to the most influential banks. A conspiracy, in other words, by definition.
Had that same amount of money been equally distributed across the U.S. population, the Fed would have distributed nearly $100,000 to each and every citizen in America; man, woman and child. But instead of enriching the population, the banking bailout burdened the population with the debt now owed to the Fed by future taxpayers.
Every $1 trillion created by the Fed, after all, is $1 trillion "loaned" to the U.S. Treasury which must somehow be repaid. In truth, the minute you start to investigate how money is created, why the Federal Reserve is a private banking cartel and why the big banks get all the bailout money, you run head-first into genuine conspiracies almost from the outset. When you look up the word "conspiracy" in a dictionary, it should probably say, "See Banking and Finance."
Our world is full of conspiracies because it's full of people who deceive
The reason conspiracies are real is because humanity is a race capable of extreme deception. As long as there are people whose actions are based in greed, jealousy and a desire to dominate others, there will be real conspiracies plotted and operating across every sector of society.
The correct term for "conspiracy theorist" should really be "conspiracy analyst." Most of the people who are skeptical of official stories are, in fact, analyzing conspiracies in an attempt to understand what really happened and what took place behind closed doors.
A highly-recommended book the delves into this matter in more detail is the five-star-rated masterpiece Official Stories: Counter-Arguments for a Culture in Need by Liam Scheff.
This book will open the minds of those who still have the cognitive capability remaining to grasp it. (Sadly, the injection of mercury into babies in the form of vaccines has damaged so many brains across America that many people are now cognitively incapable of rational thought.)
And remember: the next time someone flings the phrase "conspiracy theorist" in your direction, simply know that they are effectively wearing a DUNCE hat on their heads by admitting they have failed to acknowledge that true conspiracies are rather commonplace.
That's not merely a theory, either: it's a statement of fact.
Source: Mike Adams |Natural News
The Koch's Secret Sauce – The Profit is in the Poisons 
(Sort of like those special spices in your Indian food!)
Of course, it is not likely Charles himself was hunkered down in the secret laboratory under his mansion in Wichita, Kansas.  But he certainly knew the formula.
Koch Truths and Green Fields Renewal will now reveal the actual content of the ugly substance which bubbled out of the broken pipe in Mayflower a little over a year ago. Notice, this information has been carefully sequestered by ExxonMobil.
Believe us, they have their reasons for this.
This sample of Wabasca Heavy was taken at the Suspected Source, (the pump station about 20 miles upstream from the Pegasus pipeline rupture). From there, it was sent by the USCG for analysis in Canada in June 2013, a few months after the Mayflower disaster. This is typical of what was in the pipe just before it ruptured.
Gas Chromatogram of Mayflower Suspected Source  - These are the fingerprints, what ExxonMobil has worked so hard to hide from the public and their victims.
Source: EPA/ ESTS
Above we see a hybrid Dilbit mixture, with virtually identical distribution of heavy hydrocarbon molecules (on the right) as we saw in the Wabasca Heavy sample in Part 1.
But this Secret Sauce has special additions. These new additions include the toxic BTEXs like benzene, a virulent carcinogen, and toluene, a neurotoxin.
And the concentration levels were very, very high in the Secret Sauce.
Would having know about this made a difference in treating the victims? Absolutely.
But then the evidence would also have been presented in court, an eventuality to be avoided at all costs, especially if those costs can be externalized to small children and other victims.
Imagine: you are dressed up for a night on Broadway, but your neighbours are involved in a vicious quarrel, and you have to gun up and deal with the trouble instead of enjoying a show, and a dinner, and perhaps a date. This was Putin's position regarding the Ukrainian turmoil.
The Russians have readjusted their sights, but they do not intend to bring their troops into the two rebel republics, unless dramatic developments should force them.
It is not much fun to be in Kiev these days. The revolutionary excitement is over, and hopes for new faces, the end of corruption and economic improvement have withered. The Maidan street revolt and the subsequent coup just reshuffled the same marked deck of cards, forever rotating in power.
The new acting President has been an acting prime minister, and a KGB (called "SBU" in Ukrainian) supremo. The new acting prime minister has been a foreign minister. The oligarch most likely to be "elected" President in a few days has been a foreign minister, the head of the state bank, and personal treasurer of two coups, in 2004 (installing Yushchenko) and in 2014 (installing himself). His main competitor, Mme Timoshenko, served as a prime minister for years, until electoral defeat in 2010.
These people had brought Ukraine to its present abject state. In 1991, the Ukraine was richer than Russia, today it is three times poorer because of these people's mismanagement and theft. Now they plan an old trick: to take loans in Ukraine's name, pocket the cash and leave the country indebted. They sell state assets to Western companies and ask for NATO to come in and protect the investment.
They play a hard game, brass knuckles and all. The Black Guard, a new SS-like armed force of the neo-nazi Right Sector, prowls the land. They arrest or kill dissidents, activists, journalists. Hundreds of American soldiers, belonging to the "private" company Academi (formerly Blackwater) are spread out in Novorossia, the pro-Russian provinces in the East and South-East. IMF–dictated reforms slashed pensions by half and doubled the housing rents. In the market, US Army rations took the place of local food.
The new Kiev regime had dropped the last pretence of democracy by expelling the Communists from the parliament. This should endear them to the US even more. Expel Communists, apply for NATO, condemn Russia, arrange a gay parade and you may do anything at all, even fry dozens of citizens alive. And so they did.
The harshest repressions were unleashed on industrial Novorossia, as its working class loathes the whole lot of oligarchs and ultra-nationalists. After the blazing inferno of Odessa and a wanton shooting on the streets of Melitopol the two rebellious provinces of Donetsk and Lugansk took up arms and declared their independence from the Kiev regime. They came under fire, but did not surrender. The other six Russian-speaking industrial provinces of Novorossia were quickly cowed. Dnepropetrovsk and Odessa were terrorised by personal army of Mr Kolomoysky; Kharkov was misled by its tricky governor.
Russia did not interfere and did not support the rebellion, to the great distress of Russian nationalists in Ukraine and Russia who mutter about "betrayal". So much for the warlike rhetoric of McCain and Brzezinski.
Putin's respect for others' sovereignty is exasperating. I understand this sounds like a joke, — you hear so much about Putin as a "new Hitler". As a matter of fact, Putin had legal training before joining the Secret Service. He is a stickler for international law. His Russia has interfered with other states much less than France or England, let alone the US. I asked his senior adviser, Mr Alexei Pushkov, why Russia did not try to influence Ukrainian minds while Kiev buzzed with American and European officials. "We think it is wrong to interfere", he replied like a good Sunday schoolboy. It is rather likely Putin's advisors misjudged public sentiment. « The majority of Novorossia's population does not like the new Kiev regime, but being politically passive and conservative, will submit to its rule", they estimated. "The rebels are a small bunch of firebrands without mass support, and they can't be relied upon", was their view. Accordingly, Putin advised the rebels to postpone the referendum indefinitely, a polite way of saying "drop it".
They disregarded his request with considerable sang froid and convincingly voted en masse for secession from a collapsing Ukraine. The turnout was much higher than expected, the support for the move near total. As I was told by a Kremlin insider, this development was not foreseen by Putin's advisers.
Perhaps the advisors had read it right, but three developments had changed the voters' minds and had sent this placid people to the barricades and the voting booths:
1. The first one was the fiery holocaust of Odessa, where the peaceful and carelessly unarmed demonstrating workers were suddenly attacked by regime's thugs (the Ukrainian equivalent of Mubarak's shabab) and corralled into the Trade Unions Headquarters. The building was set on fire, and the far-right pro-regime Black Guard positioned snipers to efficiently pick off would-be escapees. Some fifty, mainly elderly, Russian-speaking workers were burned alive or shot as they rushed for the windows and the doors. This dreadful event was turned into an occasion of merriment and joy by Ukrainian nationalists who referred to their slain compatriots as "fried beetles". (It is being said that this auto-da-fé was organised by the shock troops of Jewish oligarch and strongman Kolomoysky, who coveted the port of Odessa. Despite his cuddly bear appearance, he is pugnacious and violent person, who offered ten thousand dollars for a captive Russian, dead or alive, and proposed a cool million dollars for the head of Mr Tsarev, a Member of Parliament from Donetsk.)
2. The second was the Mariupol attack on May 9, 2014. This day is commemorated as V-day in Russia and Ukraine (while the West celebrates it on May 8). The Kiev regime forbade all V-day celebrations. In Mariupol, the Black Guard attacked the peaceful and weaponless town, burning down the police headquarters and killing local policemen who had refused to suppress the festive march. Afterwards, Black Guard thugs unleashed armoured vehicles on the streets, killing citizens and destroying property.
The West did not voice any protest; Nuland and Merkel weren't horrified by this mass murder, as they were by Yanukovich's timid attempts to control crowds.
The people of these two provinces felt abandoned; they understood that nobody was going to protect and save them but themselves, and went off to vote.
3. The third development was, bizarrely, the Eurovision jury choice of Austrian transvestite Conchita Wurst for a winner of its song contest.
The sound-minded Novorossians decided they want no part of such a Europe.
Actually, the people of Europe do not want it either:
It transpired that the majority of British viewers preferred a Polish duo, Donatan & Cleo, with its We Are Slavic. Donatan is half Russian, and has courted controversy in the past extolling the virtues of pan-Slavism and the achievements of the Red Army, says the Independent.
The politically correct judges of the jury preferred to "celebrate tolerance", the dominant paradigm imposed upon Europe.
This is the second transvestite to win this very political contest; the first one was Israeli singer Dana International.
Such obsession with re-gendering did not go down well with Russians and/or Ukrainians.
The Russians have readjusted their sights, but they do not intend to bring their troops into the two rebel republics, unless dramatic developments should force them.

RUSSIAN PLANS

Imagine: you are dressed up for a night on Broadway, but your neighbours are involved in a vicious quarrel, and you have to gun up and deal with the trouble instead of enjoying a show, and a dinner, and perhaps a date. This was Putin's position regarding the Ukrainian turmoil.
A few months ago, Russia had made a huge effort to become, and to be seen as, a very civilized European state of the first magnitude. This was the message of the Sochi Olympic games: to re-brand, even re-invent Russia, just as Peter the Great once had, as part of the First World; an amazing country of strong European tradition, of Leo Tolstoy and Malevich, of Tchaikovsky and Diaghilev, the land of arts, of daring social reform, of technical achievements, of modernity and beyond — the Russia of Natasha Rostova riding a Sikorsky 'copter. Putin spent $60 billion to broadcast this image.
The old fox Henry Kissinger wisely said:
Putin spent $60 billion on the Olympics. They had opening and closing ceremonies, trying to show Russia as a normal progressive state. So it isn't possible that he, three days later, would voluntarily start an assault on Ukraine. There is no doubt that… at all times he wanted Ukraine in a subordinate position. And at all times, every senior Russian that I've ever met, including dissidents like Solzhenitsyn and Brodsky, looked at Ukraine as part of the Russian heritage. But I don't think he had planned to bring it to a head now.
However, Washington hawks decided to do whatever it takes to keep Russia out in the cold. They were afraid of this image of "a normal progressive state" as such Russia would render NATO irrelevant and undermine European dependence on the US. They were adamant about retaining their hegemony, shattered as it was by the Syrian confrontation. They attacked Russian positions in the Ukraine and arranged a violent coup, installing a viciously anti-Russian regime supported by football fans and neo-Nazis, paid for by Jewish oligarchs and American taxpayers. The victors banned the Russian language and prepared to void treaties with Russia regarding its Crimean naval base at Sebastopol on the Black Sea. This base was to become a great new NATO base, controlling the Black Sea and threatening Russia.
Putin had to deal quickly and so he did, by accepting the Crimean people's request to join Russian Federation. This dealt with the immediate problem of the base, but the problem of Ukraine remained.
The Ukraine is not a foreign entity to Russians, it is the western half of Russia. It was artificially separated from the rest in 1991, at the collapse of the USSR. The people of the two parts are interconnected by family, culture and blood ties; their economies are intricately connected. While a separate viable Ukrainian state is a possibility, an "independent" Ukrainian state hostile to Russia is not viable and can't be tolerated by any Russian ruler. And this for military as well as for cultural reasons: if Hitler had begun the war against Russia from its present border, he would have taken Stalingrad in two days and would have destroyed Russia in a week.
A more pro-active Russian ruler would have sent troops to Kiev a long time ago. Thus did Czar Alexis when the Poles, Cossacks and Tatars argued for it in 17th century. So also did Czar Peter the Great, when the Swedes occupied it in the 18th century. So did Lenin, when the Germans set up the Protectorate of Ukraine (he called its establishment "the obscene peace"). So did Stalin, when the Germans occupied the Ukraine in 1941.
Putin still hopes to settle the problem by peaceful means, relying upon the popular support of the Ukrainian people. Actually, before the Crimean takeover, the majority of Ukrainians (and near all Novorossians) overwhelmingly supported some sort of union with Russia. Otherwise, the Kiev coup would not have been necessary. The forced Crimean takeover seriously undermined Russian appeal. The people of Ukraine did not like it. This was foreseen by the Kremlin, but they had to accept Crimea for a few reasons. Firstly, a loss of Sevastopol naval base to NATO was a too horrible of an alternative to contemplate. Secondly, the Russian people would not understand if Putin were to refuse the suit of the Crimeans.
The Washington hawks still hope to force Putin to intervene militarily, as it would give them the opportunity to isolate Russia, turn it into a monster pariah state, beef up defence spending and set Europe and Russia against each other. They do not care about Ukraine and Ukrainians, but use them as pretext to attain geopolitical goals.
The Europeans would like to fleece Ukraine; to import its men as "illegal" workers and its women as prostitutes, to strip assets, to colonise. They did it with Moldova, a little sister of Ukraine, the most miserable ex-Soviet Republic. As for Russia, the EU would not mind taking it down a notch, so they would not act so grandly. But the EU is not fervent about it. Hence, the difference in attitudes.
Putin would prefer to continue with his modernisation of Russia. The country needs it badly. The infrastructure lags twenty or thirty years behind the West. Tired by this backwardness, young Russians often prefer to move to the West, and this brain drain causes much damage to Russia while enriching the West. Even Google is a result of this brain drain, for Sergey Brin is a Russian immigrant as well. So are hundreds of thousands of Russian scientists and artists manning every Western lab, theatre and orchestra. Political liberalisation is not enough: the young people want good roads, good schools and a quality of life comparable to the West. This is what Putin intends to deliver.
He is doing a fine job of it. Moscow now has free bikes and Wi-Fi in the parks like every Western European city. Trains have been upgraded. Hundreds of thousands of apartments are being built, even more than during the Soviet era. Salaries and pensions have increased seven-to-tenfold in the past decade. Russia is still shabby, but it is on the right track. Putin wants to continue this modernisation.
As for the Ukraine and other ex-Soviet states, Putin would prefer they retain their independence, be friendly and work at a leisurely pace towards integration a la the European Union.
He does not dream of a new empire. He would reject such a proposal, as it would delay his modernisation plans.
If the beastly neocons would not have forced his hand by expelling the legitimate president of Ukraine and installing their puppets, the world might have enjoyed a long spell of peace.
But then the western military alliance under the US leadership would fall into abeyance, US military industries would lose out, and US hegemony would evaporate. Peace is not good for the US military and hegemony-creating media machine. So dreams of peace in our lifetime are likely to remain just dreams.
What will Putin do?
Putin will try to avoid sending in troops as long as possible. He will have to protect the two splinter provinces, but this can be done with remote support, the way the US supports the rebels in Syria, without 'boots on the ground'. Unless serious bloodshed on a large scale should occur, Russian troops will just stand by, staring down the Black Guard and other pro-regime forces.
Putin will try to find an arrangement with the West for sharing authority, influence and economic involvement in the failed state. This can be done through federalisation, or by means of coalition government, or even partition. The Russian-speaking provinces of Novorossia are those of Kharkov (industry), Nikolayev (ship-building), Odessa (harbour), Donetsk and Lugansk (mines and industry), Dnepropetrovsk (missiles and high-tech), Zaporozhe (steel), Kherson (water for Crimea and ship-building), all of them established, built and populated by Russians. They could secede from Ukraine and form an independent Novorossia, a mid-sized state, but still bigger than some neighbouring states. This state could join the Union State of Russia and Belarus, and/or the Customs Union led by Russia. The rump Ukraine could manage as it sees fit until it decides whether or not to join its Slavic sisters in the East. Such a set up would produce two rather cohesive and homogeneous states.
Another possibility (much less likely at this moment) is a three-way division of the failed Ukraine: Novorossia, Ukraine proper, and Galicia&Volyn. In such a case, Novorossia would be strongly pro-Russian, Ukraine would be neutral, and Galicia strongly pro-Western.
The EU could accept this, but the US probably would not agree to any power-sharing in the Ukraine. In the ensuing tug-of-war, one of two winners will emerge. If Europe and the US drift apart, Russia wins. If Russia accepts a pro-Western positioning of practically all of Ukraine, the US wins. The tug-of-war could snap and cause all-out war, with many participants and a possible use of nuclear weapons. This is a game of chicken; the one with stronger nerves and less imagination will remain on the track.
Pro and Contra
It is too early to predict who will win in the forthcoming confrontation. For the Russian president, it is extremely tempting to take all of Ukraine or at least Novorossia, but it is not an easy task, and one likely to cause much hostility from the Western powers. With Ukraine incorporated, Russian recovery from 1991 would be completed, its strength doubled, its security ensured and a grave danger removed. Russia would become great again. People would venerate Putin as Gatherer of Russian Lands.
However, Russian efforts to appear as a modern peaceful progressive state would have been wasted; it would be seen as an aggressor and expelled from international bodies. Sanctions will bite; high tech imports may be banned, as in the Soviet days. The Russian elites are reluctant to jeopardize their good life. The Russian military just recently began its modernization and is not keen to fight yet, perhaps not for another ten years.
But if they feel cornered, if NATO moves into Eastern Ukraine, they will fight all the same.
Some Russian politicians and observers believe that Ukraine is a basket case; its problems would be too expensive to fix. This assessment has a 'sour grapes' aftertaste, but it is widespread. An interesting new voice on the web, The Saker, promotes this view. "Let the EU and the US provide for the Ukrainians, they will come back to Mother Russia when hungry", he says. The problem is, they will not be allowed to reconsider. The junta did not seize power violently in order to lose it at the ballot box.
Besides, Ukraine is not in such bad shape as some people claim. Yes, it would cost trillions to turn it into a Germany or France, but that's not necessary. Ukraine can reach the Russian level of development very quickly –- in union with Russia. Under the EC-IMF-NATO, Ukraine will become a basket case, if it's not already. The same is true for all East European ex-Soviet states: they can modestly prosper with Russia, as Belarus and Finland do, or suffer depopulation, unemployment, poverty with Europe and NATO and against Russia, vide Latvia, Hungary, Moldova, Georgia. It is in Ukrainian interests to join Russia in some framework; Ukrainians understand that; for this reason they will not be allowed to have democratic elections.
Simmering Novorossia has a potential to change the game. If Russian troops don't come in, Novorossian rebels may beat off the Kiev offensive and embark on a counter-offensive to regain the whole of the country, despite Putin's pacifying entreaties. Then, in a full-blown civil war, the Ukraine will hammer out its destiny.
On a personal level, Putin faces a hard choice. Russian nationalists will not forgive him if he surrenders Ukraine without a fight. The US and EU threaten the very life of the Russian president, as their sanctions are hurting Putin's close associates, encouraging them to get rid of or even assassinate the President and improve their relations with the mighty West. War may come at any time, as it came twice during the last century – though Russia tried to avoid it both times. Putin wants to postpone it, at the very least, but not at any price.
His is not an easy choice. As Russia procrastinates, as the US doubles the risks, the world draws nearer to the nuclear abyss. Who will chicken out?
(Language editing by Ken Freeland)