As the US and EU apply sanctions on Russia over its annexation' of Crimea, JP Sottile reveals the corporate annexation of Ukraine. For Cargill, Chevron, Monsanto, there's a gold mine of profits to be made from agri-business and energy exploitation.
On 12th January 2014, a reported 50,000 "pro-Western" Ukrainiansdescended upon Kiev's Independence Square to protest against the government of President Viktor Yanukovych.
Stoked in part by an attack on opposition leader Yuriy Lutsenko, the protest marked the beginning of the end of Yanukovych's four year-long government.
That same day, the Financial Timesreported a major deal for US agribusiness titan Cargill.
Business confidence never faltered
Despite the turmoil within Ukrainian politics after Yanukovych rejected a major trade deal with the European Union just seven weeks earlier, Cargill was confident enough about the future to fork over $200 million to buy a stake in Ukraine's UkrLandFarming.
According to the Financial Times, UkrLandFarming is the world's eighth-largest land cultivator and second biggest egg producer. And those aren't the only eggs in Cargill's increasingly ample basket.
On 13th December 2013, Cargill announced the purchase of a stake in a Black Sea grain terminal at Novorossiysk on Russia's Black Sea coast.
The port — to the east of Russia's strategically and historically important Crimean naval base — gives them a major entry-point to Russian markets and adds them to the list of Big Ag companies investing in ports around the Black Sea, both in Russia and Ukraine.
Cargill has been in Ukraine for over two decades, investing in grain elevators and acquiring a major Ukrainian animal feed company in 2011. And, based on its investment in UkrLandFarming, Cargill was decidedly confident amidst the post-EU deal chaos.
It's a stark juxtaposition to the alarm bells ringing out from the US media, bellicose politicians on Capitol Hill and perplexed policymakers in the White House.
Instability?… What Instablility?
It's even starker when compared to the anxiety expressed by Morgan Williams, President and CEO of the US-Ukraine Business Council — which, according to its website, has been"promoting US-Ukraine business relations since 1995."
Williams was interviewed by the International Business Times on March 13 and, despite Cargill's demonstrated willingness to spend, he said, "The instability has forced businesses to just go about their daily business and not make future plans for investment, expansion and hiring more employees."
In fact, Williams, who does double-duty as Director of Government Affairs at the private equity firm SigmaBleyzer, claimed, "Business plans have been at a standstill."
Apparently, he wasn't aware of Cargill's investment, which is odd given the fact that he could've simply called Van A. Yeutter, Vice President for Corporate Affairs at Cargill, and asked him about his company's quite active business plan.
There is little doubt Williams has the phone number because Mr. Yuetter serves on the Executive Committee of the selfsame US-Ukraine Business Council. It's quite a cozy investment club, too.
According to his SigmaBleyzer profile, Williams "started his work regarding Ukraine in 1992″ and has since advised American agribusinesses "investing in the former Soviet Union." As an experienced fixer for Big Ag, he must be fairly friendly with the folks on the Executive Committee.
Big Ag Luminaries — Monsanto, Eli Lilly, Dupont, John Deere…
And what a committee it is — it's a veritable who's who of Big Ag. Among the luminaries working tirelessly and no doubt selflessly for a better, freer Ukraine are:
Melissa Agustin, Director, International Government Affairs & Trade for Monsanto;
Brigitte Dias Ferreira, Counsel, International Affairs for John Deere;
Steven Nadherny, Director, Institutional Relations for agriculture equipment-makerCNH Industrial;
Jeff Rowe, Regional Director for DuPont Pioneer;
John F. Steele, Director, International Affairs for Eli Lilly & Company.
And, of course, Cargill's Van A. Yeutter. But Cargill isn't alone in their warm feelings toward Ukraine. As Reuters reported in May 2013, Monsanto — the largest seed company in the world — plans to build a $140 million "non-GM (genetically modified) corn seed plant in Ukraine."
And right after the decision on the EU trade deal, Jesus Madrazo, Monsanto's Vice President for Corporate Engagement, reaffirmed his company's "commitment to Ukraine"and "the importance of creating a favorable environment that encourages innovation and fosters the continued development of agriculture."
Monsanto's strategy includes a little "hearts and minds" public relations, too. On the heels of Mr. Madrazo's reaffirmation, Monsanto announced "a social development program titled 'Grain Basket of the Future' to help rural villagers in the country improve their quality of life."
The initiative will dole out grants of up to $25,000 to develop programs providing"educational opportunities, community empowerment, or small business development."
Immense Economic Importance
The well-crafted moniker 'Grain Basket of the Future' is telling because, once upon a time, Ukraine was known as 'the breadbasket' of the Soviet Union. The CIA ranks Soviet-era Ukraine second only to Mother Russia as the "most economically important component of the former Soviet Union."
In many ways, the farmland of Ukraine was the backbone of the USSR. Its fertile black soil generated over a quarter of the USSR's agriculture. It exported substantial quantities of food to other republics and its farms generated four times the output of the next-ranking republic.
Although Ukraine's agricultural output plummeted in the first decade after the break-up of the Soviet Union, the farming sector has been growing spectacularly in recent years.
While Europe struggled to shake-off the Great Recession, Ukraine's agriculture sector grew 13.7% in 2013.
Ukraine's agriculture economy is hot. Russia's is not. Hampered by the effects of climate change and 25 million hectares of uncultivated agricultural land, Russia lags behind its former breadbasket.
According to the Centre for Eastern Studies, Ukraine's agricultural exports rose from $4.3 billion in 2005 to $17.9 billion in 2012 and, harkening the heyday of the USSR, farming currently accounts for 25% of its total exports. Ukraine is also the world's third-largest exporter of wheat and of corn. And corn is not just food. It is also ethanol.
Feeding Europe
But people gotta eat — particularly in Europe. As Frank Holmes of US Global Investorsassessed in 2011, Ukraine is poised to become Europe's butcher. Meat is difficult to ship, but Ukraine is perfectly located to satiate Europe's hunger.
Just two days after Cargill bought into UkrLandFarming, Global Meat News reported a huge forecasted spike in "all kinds" of Ukrainian meat exports, with an increase of 8.1% overall and staggering 71.4% spike in pork exports.
No wonder Eli Lilly is represented on the US-Ukraine Business Council's Executive Committee. Its Elanco Animal Health unit is a major manufacturer of feed supplements.
And it is also notable that Monsanto's planned seed plant is non-GMO, perhaps anticipating an emerging GMO-unfriendly European market and Europe's growing appetite for organic foods. When it comes to Big Ag's profitable future in Europe, the stakes couldn't be higher.
A Long String of Russian Losses
For Russia and its hampered farming economy, it's another in a long string of losses to US encroachment — from NATO expansion into Eastern Europe to US military presence to its south and onto a major shale gas development deal recently signed by Chevron in Ukraine.
So, why was Big Ag so bullish on Ukraine, even in the face of so much uncertainty and the predictable reaction by Russia?
The answer is that the seeds of Ukraine's turn from Russia have been sown for the last two decades by the persistent Cold War alliance between corporations and foreign policy. It's a version of the 'Deep State' that is usually associated with the oil and defense industries, but also exists in America's other heavily subsidized industry — agriculture.
Morgan Williams is at the nexus of Big Ag's alliance with US foreign policy. To wit,SigmaBleyzer touts Mr. Williams' work with "various agencies of the US government, members of Congress, congressional committees, the Embassy of Ukraine to the US, international financial institutions, think tanks and other organizations on US-Ukraine business, trade, investment and economic development issues."
Freedom — For US Business
As President of the US-Ukraine Business Council, Williams has access to Council cohort — David Kramer, President of Freedom House. Officially a non-governmental organization, it has been linked with overt and covert 'democracy' efforts in places where the door isn't open to American interests — aka US corporations.
Freedom House, the National Endowment for Democracy and National Democratic Institute helped fund and support the Ukrainian 'Orange Revolution' in 2004. Freedom House is funded directly by the US Government, the National Endowment for Democracy and the US Department of State.
David Kramer is a former Deputy Assistant Secretary of State for European and Eurasian Affairs and, according to his Freedom House bio page, formerly a Senior Fellow at the Project for the New American Century.
Nuland's $5 Billion For Ukrainian 'Democracy'
That puts Kramer and, by one degree of separation, Big Ag fixer Morgan Williams in the company of PNAC co-founder Robert Kagan who, as coincidence would have it, is married to Victoria "F*ck the EU" Nuland, the current Assistant Secretary of State for European and Eurasian Affairs.
Interestingly enough, Ms. Nuland spoke to the US-Ukrainian Foundation last 13th December, extolling the virtues of the Euromaidan movement as the embodiment of "the principles and values that are the cornerstones for all free democracies."
Nuland also told the group that the United States had invested more than $5 billion in support of Ukraine's "European aspirations" — meaning pulling Ukraine away from Russia. She made her remarks on a dais featuring a backdrop emblazoned with a Chevron logo.
Also, her colleague and phone call buddy US Ambassador to Ukraine Geoffrey Pyatt helped Chevron cook up their 50-year shale gas deal right in Russia's kitchen.
Coca-Cola, Exxon-Mobil, Raytheon
Although Chevron sponsored that event, it is not listed as a supporter of the Foundation. But the Foundation does list the Coca-Cola Company, ExxonMobil and Raytheon as major sponsors. And, to close the circle of influence, the US-Ukraine Business Council is also listed as a supporter.
Which brings the story back to Big Ag's fixer — Morgan Williams.
Although he was glum about the current state of investment in Ukraine, he's gotta wear shades when he looks into the future. He told the International Business Times:
"The potential here for agriculture / agribusiness is amazing … Production here could double. The world needs the food Ukraine could produce in the future. Ukraine's agriculture could be a real gold mine."
Of course, his priority is to ensure that the bread of well-connected businesses gets lavishly buttered in Russia's former breadbasket. And there is no better connected group of Ukraine-interested corporations than American agribusiness.
Given the extent of US official involvement in Ukrainian politics — including the interesting fact that Ambassador Pyatt pledged US assistance to the new government in investigating and rooting-out corruption — Cargill's seemingly risky investment strategy probably wasn't that risky, after all.
J P Sottile is a freelance journalist, radio co-host, documentary filmmaker and former broadcast news producer in Washington, D.C. His weekly show, Inside the Headlines w/ The Newsvandal, co-hosted by James Moore, airs every Friday on KRUU-FM in Fairfield, Iowa. He blogs at Newsvandal.com.
Source: JP Sottile | Ecologist
Once upon a time, there was an industrial combine in Nazi Germany called IG Farben. It was the largest chemical/pharmaceutical octopus in the world. It owned companies, and it had favorable business agreements with companies from England to Central America to Japan.
As I mentioned in a recent article, the author of The Devil's Chemists, Josiah DuBois, traveled to Guatemala in the early days of World War 2, and returned with the comment that, as far as he could tell, Guatemala was "a wholly owned subsidiary of Farben."
The pharmaceutical empire was and is one of the major forces behind the European Union (EU). It is no accident that these drug corporations wield such power. They aren't only involved in controlling the medical cartel; they are political planners.
This is how and why Big Pharma fits so closely with what is loosely referred to as the New World Order. The aim of enrolling every human in a cradle-to-grave system of disease diagnosis and toxic drug treatment has a larger purpose: to debilitate, to weaken populations.
This is a political goal. It facilitates control.
IG Farben's component companies, at the outbreak of World War 2, were Bayer, BASF, and Hoechst. They were chemical and drug companies. Farben put Hitler over the top in Germany, and the war was designed to lead to a united Europe that would be dominated by the Farben nexus.
The loss of the war didn't derail that plan. It was shifted into an economic blueprint, which became, eventually, the European Union.
The European Commission's first president was Walter Hallstein, the Nazi lawyer who, during the war, had been in charge of post-war legal planning for the new Europe.
As the Rath Foundation reports: In 1939, on the brink of the war, Hallstein had stated, "The creation of the New Law [of the Nazis] is ONLY the task of the law-makers!"
In 1957, with his reputation sanitized, Hallstein spoke the words in this manner: "The European Commission has full and unlimited power for all decisions related to the architecture of this European community."
Post-war, IG Farben was broken up into separate companies, but those companies were following a common agenda. If, for example, you want to know why the endless debate over labeling GMO food rivals the real issue—banning GMO crops altogether—you can look to these Farben allies: Bayer, BASF, and Sanofi, among others.
They are among the leaders in GMO research and production. BASF cooperates withMonsanto on research projects. Sanofi is a leader in GM vaccine research.
The original IG Farben had a dream. Its executives and scientists believed they could eventually produce, synthetically, any compound in a laboratory. They could dominate world industry in this fashion.
The dream never died. Today, they see gene-manipulation as the route to that goal.
I refer you to the explosive book, The Nazi Roots of the Brussels EU, by Paul Anthony Taylor, Aleksandra Niedzwiecki, Dr. Matthias Rath, and August Kowalczyk. You can read it at relay-of-life.com. It is a dagger in the heart of the EU.
At the Rath Foundation, you can also read Joseph Borkin's classic, "The Crime and Punishment of IG Farben."
In 1992, I was deeply engaged in researching the specific devastating effects of medical drugs. Eventually, I concluded that, at the highest levels of power, these drugs weren't destructive by accident. They were intended to cause harm. This was covert chemical warfare against the population of the planet. The Rockefeller-Standard Oil-Farbenconnection was a primary piece of the puzzle.
It was, of course, Rockefeller (and Carnegie) power that forced the birth of pharmaceutical medicine in America, with the publication of the 1910 Flexner Report. The Report was used to excoriate and marginalize Chiropractic, Homeopathy, Naturopathy, and other forms of traditional natural practice, in favor of what would become the modern juggernaut of drug-based treatment.
In an article about the FDA, "Medical Murder in the Matrix," I point out the fact that this federal agency has permitted at least 100,000 deaths of Americans, per year, from the direct effects of drugs it, the FDA, has certified as safe.
The FDA knows these death figures. "Unintended" and "accidental" can no longer be applied to this ongoing holocaust.
The same can be held true for the pharmaceutical industry itself.
People are exceedingly reluctant to come to this obvious conclusion. They prefer to hem and haw and invent excuses or deny the facts.
To understand the dimensions and history of the ongoing chemical warfare against the population, in the form of medical drugs (and of course pesticides), one must factor in the original octopus, IG Farben.
World War 2 never ended. It simply shifted its strategies.
And just as one can trace extensive collaboration between major American corporations and the Nazi war machine, during the military phase of the war, today you see American corporations wreaking destructive havoc on the American people, as Dow, DuPont, Monsanto and others "work their magic for a better life."
In any fascist system, the bulk of the people working inside the system, including scientists, refuse to believe the evidence of what is happening before their own eyes. They insist they are doing good. They believe they are on the right side. They see greater top-down control as necessary and correct. They adduce reasonable explanations for inflicted harm and death.
This is how and why conspiracies can exist. Only a few people, at the very top, need to know the true motives.
Everyone else tells themselves fairy tales. This deep-seated obsession is an integral part of mind control, and ultimately it is self-inflicted.
The self-created victim calculates: "I would rather stay in my dream than wake up to a nightmare."
Yes, but acknowledging the nightmare is a step on the road to liberation.
In centuries past, empires conquered foreign lands and made colonies out of them. When that era ended, a less overt style of military and economic conquest was initiated. But there is something most people don't realize.
When richer nations now go into poorer nations, the so-called incidental goal of bringing "life-saving" medical care with them is a front and a pose.
One of the chief goals of the conquerors is, in fact, pharmaceutical. Changing the habits of populations, so they come to rely on these drugs is high on the to-do list. It rings up profit, of course, for the pharmaceutical empire, and it also poisons the poor into even greater desolation than they are already experiencing. They become even easier to control.
On top of that, the actual untreated causes of the routine desolation—starvation, generation-to-generation malnutrition, contaminated water supplies, lack of general sanitation, overcrowding, and previously stolen agricultural land—are shoved on the back burner of the global media.
Suddenly, we learn that various germ-caused diseases are the real scourges of these countries, and help is coming (slowly), in the form of drugs that kill the germs, along with the medical heroes who will deliver these drugs.
This is a cover story. It's a preposterous lie. In the conditions of desolation mentioned above, it doesn't matter what germs are present, and trying to attack them is futile and absurd.
The general desolation weakens and destroys immune systems. At that point, what would normally be completely harmless germs, any germs, can sweep through an area and cause death and severe illness, because the routine processes of the immune system, which would immediately neutralize the germs, are disabled.
The "medical intervention" is meant to defer, for yet another day, the remedying of the actual problems that keep causing disease—and the medical drugs create new and lethal toxicity, leading to more deaths.
This is the standard op of the modern pharmaceutical empire. To know it is proceeding apace, all you have to do is see foreign doctors getting off planes in Third World countries, or read about some drug giant that is undertaking a humanitarian program of supplying medicines and vaccines to "people in desperate need of them."
The author of two explosive collections, THE MATRIX REVEALED and EXIT FROM THE MATRIX, Jon Rappoport was a candidate for a US Congressional seat in the 29th District of California. He maintains a consulting practice for private clients, the purpose of which is the expansion of personal creative power. Nominated for a Pulitzer Prize, he has worked as an investigative reporter for 30 years, writing articles on politics, medicine, and health for CBS Healthwatch, LA Weekly, Spin Magazine, Stern, and other newspapers and magazines in the US and Europe. Jon has delivered lectures and seminars on global politics, health, logic, and creative power to audiences around the world. You can sign up for his free emails at www.nomorefakenews.com
Source: Jon Rappoport  |  No More Fake News
As you may know, I bicycled for a year in South America, top to bottom.  I enjoyed the Amazon jungle, the wildlife and especially the insect life.  I took pictures of tens of thousands of butterflies dancing on an endless canopy of flowers.  Many of my columns deal with saving the natural world such as an international 25-cent deposit-return law for all plastic, glass and metal containers.  We must keep plastics from destroying our fellow creatures—especially in our oceans.
Today, I appeal to you to use the links provided to send the chemical giant Monsanto a letter to demand they stop marketing "Round-up" ; "Weed-b-gone" and other poisons that threaten the extinction of the Monarch butterfly.
Monarch butterflies vanish faster with each passing year — and all signs point to Monsanto as the main culprit.
Major press outlets worldwide reported last month that Monarchs face "grave danger", with their population reaching the lowest numbers ever recorded. Now, an independent study linked the monarch's decline with Monsanto's "Round-up" herbicide.
One of the most beautiful phenomena in the natural world — the annual mass migration of 60 million monarchs from Canada to Mexico – stands on the verge of being a relic of history. We need to fight this now, before it's too late for the butterflies.
Join me and tell Monsanto to pull its butterfly-killing herbicide before it's too late.
"This corporate giant knows what it's doing," said a spokesperson for Sum of Us. "But Monsanto says we should balance the butterfly's survival with what it calls "productive agriculture"(read: Monsanto's bottom line equals money not nature.).
Tell Monsanto to pull its butterfly-killing herbicide before it's too late.
The annual mass migration of 60 million Monarchs from Canada to Mexico represents one of the most beautiful phenomena in the natural world. I know because on one of my many cycle trips along the coast of California, I saw millions of Monarchs hanging from trees during their rest stops.
But Monarchs stand on the verge of being a relic of history, and a key link in our food chain.
"The monarch butterfly is in a serious, decades-long decline," said the spokesperson.  "The World Wildlife Fund reported that this winter, the monarchs are only occupying an area of 1.7 acres in Mexico, down from 45 acres in 1996. An evolutionary strategy based on eating a common weed seemed smart — until Monsanto came along. Just one state along the monarchs' migration route, Iowa, is reported to have lost 98 percent of its milkweed."
Monsanto products like Roundup dominate the agricultural market worldwide. This corporate giant sells matching genetically-engineered plants resistant to its pesticides – and encourages factory farms to douse fields with gallons of Monsanto's herbicides.
"But sprayed over vast areas, these poisons effect the entire ecosystem," a spokesperson said. "Monsanto's Roundup wipes out the monarchs' primary food source – a plant called milkweed. Scientists have linked the monarch's rapid population decline to the spread of Monsanto's pesticides. Losing these butterflies means wiping out insects, birds and small mammals that rely on the monarch and its place in the food chain."
Take a few minutes to visit the website and send in your letter to Monsanto. Tell Monsanto to save the monarchs by pulling its ecosystem-threatening herbicide.
Every second wasted nails another spike into the butterfly's coffin leading to extinction. Let's harness that awareness to save the monarchs from Monsanto!
I recently interviewed Daniel Estulin the author of what will be the newest best seller,TransEvolution: The Coming Age of Human Deconstruction.
Estulin wrote the book based largely on a Bilderberg white paper which was smuggled to him by a Bilderberg insider. The document was filled with information which spelled the end of the human race as we know it.
Hollywood Prepares the American Public for the Inevitable
Hollywood has made millions on movies like The Terminator, Blade Runner, and RoboCob, just to name a few. In fact, Robocop is being re-released in the next several weeks. Estulin states that cyborgs or man-machines are the future in a post-human world. Yes, you read that correctly, we could soon find ourselves living in a post-human world.
You may be familiar with the new TV series on FOX called Almost Human where one of the main characters is a cyborg cop. We could see such an interaction between nonhuman and morphed humans in the near future (i.e. Robocop).
Rules for Thee but Not for Me
In the future of transevolution we will be witnessing a literal fountain of youth, which will result from becoming a cyborg as it will soon be possible to purchase immortality in the future. However, everyone except the super elite will be banned from purchasing this literal fountain of youth.
Your existence, my common brethren, will be similar to what movie goers saw in the Summer of 2013 in the movie, Man of Steel. In the opening 30 minutes of the movie, it was revealed that every resident of Krypton had certain genes "turned on" and certain genes "turned off". And everyone from Krypton, except for Superman, had been artificially bred for specific purposes. This is what humanity is quickly moving towards and unless you are the elite, you will be bred, dumbed down if needed, to serve a purpose for the global elite.
The Purpose for the Destruction of the Global Economy
Estulin mentioned that the wholesale destruction of the world's economy is not an accident, nor is it a miscalculation or the result of political shenanigans. This destruction is being done on purpose, absolutely on purpose. Estulin revealed that his Bilderberg insider told him that the slave masters on this planet want to collapse the economy, force people into the stack and pack cities of mega millions and then exterminate most of humanity.
Estulin and I explored the methods that the super elite may use to exterminate 90% of all people on this planet. We both agreed that starvation is the most likely candidate. Starvation is a clean method of killing, it is quick and it would leave the planet in good shape for the global elite to establish their paradise on Earth.
Some of my readers and listeners have asked me about why I am so opposed to Agenda 21 and devote so much time fighting against it? To these and all others, I answer that forcing humanity to forsake rural and suburban living and move into the soon-to-be death traps of these mega cities, is very consistent with the tenets of Agenda 21 (i.e. Earth First).
Monsanto: The Great Satan of Food Production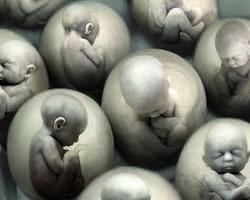 I recently interviewed my good friend, Barbara Peterson, who presented evidence which demonstrated that the super elite are in the process of attacking not just humans with GMO's which will eventually kill you, the GMO's are also sterilizing our food supply. And then, as if by magic, Peterson and I took calls on my show from farmers all across the country, who confirmed the sterilization of both crops and farm animals was well under way.
Let's give credit where credit is due. Monsanto is not alone in this conspiracy against humanity. In Chapter two of his book, Estulin, details how huge corporations like Monsanto, Cargill, and Archer Daniels are plotting to set up mass starvation on the planet. These corporate names became household names and they have become an "interlocked self perpetuating syndicate that will decide who eats and who doesn't, who lives and who dies."
Why are mega corporations, such as these and a small socio-political elite, allowed to own our food and control the very basis of humanity? The simple answer is, because they can.
Studies have shown that rats that are fed with genetically modified organisms (GMO), like potatoes, showed structural changes in their white blood cells making them more vulnerable to infection and disease, which could indicate a greater future risk of developing cancer, when compared to other rats fed non-GMO potatoes. Estulin's research indicates that GMO food was the creation of the Rockefeller Foundation, who are members of the Bilderberg Group. This all part of the plan for total control of mankind. As an aside, Barbara Peterson noted in my interview with her that McDonalds fries will soon all be made of GMO's.
Genetic Engineering
Genetic engineering is about taking control of nature, redesigning it and rebuilding it. The phrase "playing God" comes up in almost every conversation about genetic engineering. This is no longer the stuff of science fiction. Nothing good comes from genetic engineering as this generation of children will be the last generation which will be human in the sense that we define humanity today.
Estulin documented how insects are being weaponized for combat through chipping as a result of recent DARPA projects. Humans will soon be chipped, not necessarily for warfare, but for the purpose of transformation into something hideous which will serve the whims of the global elite.
The National Security State
Presently, all the communication happening on the planet right now can be monitored in real time and it is being done to control us, to dumb us down, to brainwash, to influence, and to predict our future behavior. The super elite is doing this so that we don't get in the way of important people by doing too much thinking on our own. A simple example of this fact is in evidence in an ever-increasing number of airports as facial scanning techniques are designed to reveal to security individuals who are angry, malevolent, etc. This technology is right here, right now!
Estulin mentions Nazi Germany, in his book, numerous times throughout the book, Estulin drew a similarity between the mass control the Nazis had in comparison to the control the super elite has over the human race right now. Presently, America is the 21st century fulfillment of what Hitler, Stalin and Mao as they attempted to initiate their genocidal regimes.
Off World Escape Plan If Things Get Ugly
According to USA Today,
"NASA recently revealed that their Mars robotic rover has found signs that a vast and hospitable lake once spread over the now-desolate surface, a potential home to past life for centuries or more."
With this new discovery that life may be possible on Mars, the elite could easily, through nanotechnology subsequently build a homestead there! There are many private corporations on the planet who are ready to go to Mars within five years. Some speculate that billionaire, Robert Bigelow, is ready now.
Apparently, if the elite cannot exterminate humanity in the clean and neat ways that they have designed, it may be necessary to temporarily move off world while the job is completed in more "messy" ways. According to some, this is their "Plan B".
A Cowardly New World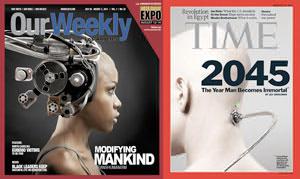 Unlike Huxley, I have seen nothing brave about this new world. Nanotechnology is a powerful new technology for taking apart and reconstructing nature at the atomic level. Scientists are acting like God to manipulate life through the use of this technology. I can only imagine all the horrible things nanotechnology can do to the human race.
Nothing good with regard to nanotechnology can or will come from this blatant insanity. The plans of the global elite constitute an abomination before God.
Right now, the elite are employing their "Promethean plans" which will change the world and will transform the very essence of humanity. Again, this is happening Now!!!
Let's make no mistake about it, the super elite are attempting to become more powerful than God. The super elite controls the human race in every imaginable possible way. Just the term, "conspiracy theorist", was invented by the global elite as a marginalizing tool to keep the public from believing in conspiracy theories that will enslave humanity.
Absolutely nothing that happens in our world is an accident; it's all part of this grand plan. Because of this, there is no hope for humanity if we do not rise up and defeat Agenda 21 and force a change in the leadership of the world, and it must be done RIGHT NOW, before the personal control mechanisms of this new system are locked into place.
My fellow human beings, we do not have five years. You sit idly by on the sidelines at the risk of not only your life but the lives of your children and grandchildren, born or not yet born. Soon, we will be saying "Welcome to Krypton", as humanity becomes the weak puppets in the theatre of life created by the super elite.
Source: Dave Hodges  |  The Common Sense Show
The corporate media would have us believe that the nation is in the midst of an economic recovery.
In the shadow of the approaching mid-term elections, the president cites the number of jobs created and speaks optimistically about America's economic future. The future is indeed bright, but only if you are among the wealthiest one percent of the population.
For instance, since the 2007 recession, the greatest crisis of capitalism in 75 years, corporate profits have risen, CEO salaries and bonuses are at record levels and the stock market is soaring. By contrast, workers' wages have stagnated for more than four decades, benefits are either few or non-existent, and workers are encumbered with debt that forces them to perform multiple jobs— if they can find them—in order to survive.
Jobs that offer long-term security and a living wage are scarce even for those with university degrees. Adjusted for inflation, today's workers are worse off than they were in the late 1960s.
Whose economic recovery is this?
According to economic forecaster Gerald Celente, 90 percent of the jobs created in 2013 were part-time, most of them paying low wages and providing no benefits. Student loan debt exceeds $1.1 trillion, a number that surpasses the combined credit card liability of the nation.
These debts cannot be discharged through bankruptcy. The big banks and corporations that finance political campaigns have no such restrictions placed upon them.
Even the unemployment figures are deceiving. According to the latest government data, unemployment is at 6.7 percent. In reality, that number is probably closer to 17 or 18 percent, according to economist Richard Wolff.
The government does not count people whose unemployment benefits have expired or those who have given up looking for work. A cashier working 10 hours a week at Food Lion is counted as fully employed.
We have students, many of them burdened with immense debt, entering a job market that makes it difficult for them to earn a decent living. This is the economic minefield that workers across America must navigate. A little truth might help them find their way and comprehend why this is happening.
One of the many reasons we face such a bleak economic future is the implementation of Free Trade Agreements (FTAs).
In 1992, the North American Free Trade Agreement (NAFTA) was implemented between the governments of the United States, Canada and Mexico. NAFTA was fast-tracked through Congress by President H.W. Bush and signed into law by President Clinton. NAFTA was promoted in the commercial media as an engine for job creation in the United States, an assertion that is contradicted by the facts. According to Wolff, more than 700,000 jobs fled the country as the result of NAFTA, many of them providing middle class incomes and benefits.
Those jobs are never coming back. It is not just the number of jobs created that matter, it is the quality of those jobs that is a predictor of economic success.
Furthermore, the mass movement of U.S. corporations to Mexico wrecked the already struggling Mexican economy, particularly its sustainable, locally-based businesses. The situation initiated a mass migration of immigrant Mexican workers to the U.S. in search of better-paying jobs than were available to them in the homeland. Multinational corporations seeking a source of cheap labor and a climate of deregulation are the primary benefactors. The quantifiable effect that NAFTA has had on the U.S. workers is staggering job loss, reduced wages and increasing economic disparity.
Now, with the backing of corporate lobbyists, yet another FTA—the Trans-Pacific Partnership (TPP)—is being fast-tracked through Congress. Both Democrats and Republicans are enthusiastically backing the legislation.
The Electronic Frontier Foundation describes the process: "The Trans-Pacific Partnership is a secretive, multi-national trade agreement that threatens to extend restrictive intellectual property (IP) laws across the globe and rewrite international rules on its enforcement." TPP is currently being negotiated between nine to 12 nations.
If enacted, TPP will permit privately-owned corporations to have hegemony over the governments of sovereign nations. For instance, if the state of West Virginia were to ban the use of genetically modified soybeans, Monsanto Corporation could either overturn the decision or extort billions of dollars in remuneration from their projected loss of profits. FTAs belligerently put corporate profits before the legitimate needs of the people and the welfare of the biosphere.
The implications for students and working class people will be profoundly detrimental.
Hundreds of thousands of jobs will flee the country, wages will fall yet again, autonomy will be lost, and the job market will resemble the wreckage of the Hesperus. FTAs are the means by which the power elite are turning the U.S. into a Third World economy.
The 13th Amendment to the Constitution abolished slavery.  This means that if you are a slave today, it's either illegal, or you have voluntarily accepted your servitude.
Neither slavery nor involuntary servitude, except as a punishment for crime whereof the party shall have been duly convicted, shall exist within the United States, or any place subject to their jurisdiction.
You have a Constitutionally protected right to be free. If you aren't free, then revolution is your duty.
Many people believe that revolution requires that they lead a march, stand in front of a crowd with a bullhorn, or form a militia. They feel like it's a job for the Alex Joneses, the Adam Kokeshes,  the James Wesley Rawleses, and the Bradley Mannings of the world.
They're wrong.  You don't have to be a person with thousands of followers on Twitter and Facebook .  You don't have to be a person with a military leadership position on  your resume. You need not get yourself arrested on the steps of the White House, got to prison forever for telling the truth about your unit in the army, or stare down a bunch of scary-looking thugs in jack boots.
But you do have to do something.
You can't just sit there and complain unless you are really just another armchair Rambo.
The way you lead your life every single day can be an act of revolution.  By refusing to concede your natural rights, quietly and resolutely, you are performing an act of revolution. Walking the walk doesn't always require civil disobedience or militia membership (although those actions definitely have their places).  It requires your consistent determination not to be infringed upon.
It doesn't matter if you are a soccer mom from the suburbs, a college student in a dormitory, a church-going dad and husband, or a person who has found themselves homeless through the ongoing economic crisis – by living resolutely, you are performing an act of revolution.
Don't get me wrong – we need the Alexes, the Adams, the militias, the Bradleys, and the JWRs.  We need the people who stand in protest.  We need those who expose wrongdoing.  We need the organizers, the shouters, the big personalities, the quiet strong types, and the leaders. But these are not the only ways to revolt.  If every single person was off organizing their own rally, there'd be no one left to march in it.
What it is imperative upon us to do is to find our compass and follow it.  We must make ourselves immune to control by not needing what "they" hand out.  We have to be armored against the way everyone else lives and choose our own paths.  We must stubbornly refuse to participate in the hoop-jumping that is everyday life in North America.  By all of us who believe in liberty doing this, we form an army of stubborn non-participants in the status quo.
Here's an example. It's a small thing, a battle that today only affected my daughter and me.  My daughter is not vaccinated.  She attends a public school where the kids must be vaccinated, or hoops must be jumped through. I filled out the initial forms stating that I had an objection of conscience to vaccines.  I was contacted by a representative of the school system who suggested that I sign instead the form that stated a religious objection, because that was "easier".  I refused, because my objection is NOT one of religion, and I felt like that was a cop-out. I knew that I was within my rights to have an objection of conscience, and I felt that it was important to make a point that might make it easier for the next parent.  I was then told that I'd have to pay $25 and get a statement notarized to allow her exemption on my basis.  I said I'd be happy to get a statement notarized, but not at my expense. I pointed out that nowhere does our local law state that I should have to pay any money for my child to NOT do something.  Lo and behold, after 5 months of politely going back and forth,  being escalated through numerous different superiors of superiors in the school board and public health system, my daughter is still unvaccinated, I have not spent $25, and she was not suspended from school.  The point I'm making is not about vaccines, but about not stepping back from your rights, for your convenience or for the convenience of others. This requires that you read the relevant laws and understand them.  It requires a certain degree of persistence and a willingness to be a pain in the butt.
There are valid reasons for revolution.
One of the benchmarks of tyranny is the dizzying arrays of laws on the books, with more and more added every single day.  It is humanly impossible not to break multiple laws every single day.  Regulations are revenue builders and/or control mechanisms. If the "authorities" can ALWAYS find a law that you've broken, then they can ALWAYS give a "reason" for punishing you.  Punishment might include incarceration, hefty fines, or the removal of some privilege (like taking away your driver's license or not allowing your child to go to school).
If the laws be so voluminous that they cannot be read, or so incoherent that they cannot be understood; if they be repealed or revised before they are promulgated, or undergo such incessant changes that no man, who knows what the law is to-day, can guess what it will be to-morrow. Law is defined to be a rule of action; but how can that be a rule, which is little known, and less fixed? - James Madison, Federalist Papers 62
The police state is growing at a dizzying rate, and often the news makes it look like we live in Nazi Germany. It is now or never.  Like cockroaches, "they" – the thugs in jackboots and their masters – multiply in the dark, and will soon overtake us if we don't put a stop to it right now.  They want to take our guns because that would make our resistance more difficult.  They keep buying up ammo and now have more than enough to kill every man, woman, and child in America multiple times. The NDAA means that any person can be indefinitely detained. There has been a sustained attack on the Bill of Rights and one by one our rights are being submerged beneath the desires of those who would demand our submission.
How can you be an everyday revolutionary?
The most revolutionary act is to be self-sufficient and in need of nothing that the government can provide for you in exchange for some small liberty.  When there is nothing that you require enough to submit, then bullying you becomes much more difficult.
This list of suggestions is by no means comprehensive.  Please, add your own random acts of resistance in the comments below.
Question absolutely everything you hear on the news.  Always be a skeptic. All major media goes back to just a few conglomerates.  The "news" is now all a propaganda ploy to help the rich get richer and the powerful remain in power.  The media can make or break a candidate with unholy zeal in less than a week.  These people and others like them are the ones that decide what "we the people" get to see.  If they feel like a candidate or a news item might upset the status quo, they black it out by refusing to cover it.
Call out the media. Let everyone know that the mainstream media is the enemy of the people.  When you see coverage that is clearly biased, take a moment to call out the media about it.  Take the time to comment on mainstream media websites and point out the unbalanced coverage.  If you use social media, share this information and post on the media outlet's social media pages as well.
Get out of the banking system. By opting to "unbank" or "underbank" there is a limit to what can be easily stolen from you.  When you have physical control of your financial assets, you are not at as high a risk of losing those assets, and therefore, less likely to be dependent on "the system."
Turn your savings into precious metals or tangible assets. On the same note as unbanking, you definitely don't want to rely on a 401K or savings account to provide for you in your old age. Ask the people of Cyprus how well that worked out for them.  Diversify with assets you can touch. Purchase tangible goods like land, food, ammo, and seeds. Once you are well supplied, move on to precious metals to preserve your wealth.
Educate others. At the (very high) risk of people thinking you're crazy, it's important to let people know WHY you do what you do. If you are an anti-Monsanto activist, teach others about the dangers of GMOs.  If you object to a municipal policy, speak at a town meeting or send a letter to the editor of your local paper.  By ranting incoherently or by keeping your mouth shut, you influence no one. By providing provable facts, you can open minds and awaken others to tyranny.
Get others involved in the fight.  For example, if you are fighting with the city council that wants to rip out the vegetables growing in your front yard, let  your friends and neighbors know, post a notice at the grocery store, and write a letter to the editor.  When injustice occurs, use the power of social media to spread awareness. Often a public outcry is what is necessary to get the "authorities" to back down.  Look at the case of Brandon Raub, the veteran who was kidnapped and taken to a mental hospital for things he posted on Facebook. Raub was not charged, but he was detained in the psych ward involuntarily. His friends and family immediately mobilized and spread the videos of his arrest all over the internet.  It snowballed and alternative media picked it up – soon Raub was released, and all because of a grass roots and social media campaign to bring the injustice to light.
Grow your own food. Every single seed that you plant is a revolutionary act. Every bit of food that you don't have to purchase from the grocery store is a battle cry for your personal independence.  When you educate yourself (and others) about  Big Food, Big Agri, and the food safety sell-outs at the FDA, you will clearly see that we are alone in our fight for healthy, nutritious foods.  Refuse to tolerate these attacks on our health and our lifestyles. Refuse to be held subject to Agenda 21′s version of "sustainability".
Take control of your health. It is imperative that you not blindly trust in the medical establishment.  Many members of this establishment are merely prostitutes for their pimp, Big Pharma.  Millions of children are given powerful psychotropic drugs to help them fit into the neat little classroom boxes, and the numbers are growing every day.  Americans spent 34.2 BILLION dollars on psychiatric drugs in 2010. (Source) Big Pharma is an enormously profitable industry that only pays off if they can convince you that you're sick.  Learn about the toxic injections and medications, weight the risks and benefits, and always look for second and third opinions before making a medical decision.  Maintain your health by avoiding toxins, exercising, and ditching your bad habits to reduce the number of doctor's visits that are necessary.
Refuse to comply. If you know your natural rights, which are guaranteed under the Constitution and its Amendments, then it makes it much harder for "authorities" to bully you.  You don't have to let them search your home without a warrant, you don't have to answer questions, and you don't have to comply with laws that are in conflict with the Constitution.
Learn. Every day, spend time learning. This shouldn't stop once our formal education ends. Fill your mind with history, with current events, with constitutional law, and information about the natural world.  Learn about health, study economics, research things that interest you, and unravel the complicated conspiracies that are afoot.  To pursue unbiased knowledge is to free your mind from the prison of propaganda and indoctrination.
Don't consume chemicals that cause you to be dumbed down. Avoid chemical-laden food with brain-killing neurotoxins like MSG and aspartame.  Don't drink fluoridated water.
Embrace your right to bear arms. Be responsible for your own safety and security.
Don't be in debt.  No one can be free if they are in debt. If you are in debt, you are forced to work in whatever conditions are present, for whatever amount is offered, complying with whatever criteria is necessary to keep your job.  in order to either pay your debt or face penalties. As well, the high interest rates that you pay only serve to make the bankers more wealthy.  Instead of borrowing, save until you can afford something or realize that if you could actually afford it, you wouldn't need to borrow money to have it.
Be prepared for disaster. Have enough food, water, and supplies to take care of your family in the event of a natural disaster. Don't expect FEMA to take care of you.
Be involved in your children's education. For some, this means homeschooling or unschooling, and for others this means being on top of what they are learning in a formal school setting. Join the PTA and actively volunteer if your child goes to school.  Be an advocate for your child and insist that the teachers teach. If your child goes to school, supplement this at home with discourse about current events and outings that help them learn about the world around them.
Be the squeaky wheel. If you see something wrong, don't just ignore it. Say something about it, and keep saying something until it changes.  Whether this is some process that infringes on your privacy, a job requirement that impedes your health, or another injustice, pursue it relentlessly. Ask questions publically, write letters, and use social media to bring pressure to encourage a change.
Reduce your consumer spending. Spending less helps to starve the beast by reducing the sales taxes you pay and withdrawing your financial support to big conglomerates. If we vote with our dollars, eventually there will, of a necessity, be a paradigm shift that returns us to simpler days, when families that were willing to work hard could make a living without selling their souls to the corporate monoliths. A low-consumption lifestyle reduces your financial dependency, which allows for more freedom.
Ditch popular culture. If reality TV isn't a tool for dumbing people down, I don't know what it is.  My daughter recently begged to watch an episode of a popular reality TV show that "everyone" was watching.  She managed about 15 minutes of it and then said, "This is the stupidest thing I've ever seen."  She decided to read a book instead.  Popular entertainment is a media tool used to change our perspectives about our personal values, and to tell us how to think and feel about issues.
Buy locally.  Support local small businesses to help others who are fighting for independence from the system.  You might pay a little bit more than you would at your big box store, but the only people benefiting from your purchases made at the corporate stores are those with the 7 figure annual bonuses.
Develop multiple streams of income.  Don't put all of your eggs in one basket.  Figure out several ways to bring in income.  Not only does this free you from being a wage slave, but it allows you to hire friends or family members.  You are less entangled in the system and not subject to corporate whims.  If one business fails, or becomes subject to regulations that make it no longer worthwhile, you are not forced to comply just to keep a roof over your head.
Say thanks, but no thanks.  There is no such thing as a benevolent hand out.  Nearly anything offered for free (particularly by a government entity) has strings attached.  Maybe there is a handy-dandy registration form that you need to fill out. You might be influenced to vote a certain way just to keep the freebies coming. You might have to pee in a cup every two weeks. Perhaps one day you'll need to have a microchip embedded in your hand.  Either way, by accepting handouts from those in "authority", you become beholden to them or you need them, and someone who is free is neither beholden nor needy.
Don't take the easy road.  The PTB like to seduce people with simplicity.  "If you just sign this paper, it will be much easier," they say.  "This chip is for your convenience," they tell you.  "By giving up this, it lets us take care of you and you will be much safer."  The easy road only gets you to Slave Street a whole lot faster.  Take the difficult road and be responsible for yourself.  Don't take shortcuts that compromise your beliefs. Go to court to fight a ticket, read the laws and defend yourself, and know that anything you give up, you will never get back.
According to the Declaration of Independence,  "Governments are instituted among Men, deriving their just powers from the consent of the governed."
That means that you don't have to accept the unjust laws. That means you don't have to quietly take it, muttering under your breath that it isn't right, but not daring to raise your voice.  That means that "they" are only in control of you if you allow it.
There are nearly 316 million people in the United States. (source)
Only 3% of the population fought in the Revolutionary War, and 10% actively supported them.
If 9,480,000 people quietly and peacefully revolted by withdrawing their consent to be governed by tyrants we could not be silenced.
If 31,600,000 people supported those revolting, we could not be stopped.
The government might  be watching us, but we can watch them right back.  Make the way you live your life a revolutionary act.
Source: The Organic Prepper
Two rather interesting things have happened to me lately.  First, I had one of my teeth pulled this week — totally not a fun experience.  And, second, while still oozing pain and eating Hydrocodone and climbing the walls, I started reading a book about plants by Michael Pollan, entitled "The Botany of Desire".  So now I have suddenly become an expert on both pain-killers and gardens.
Having one's tooth pulled is like, er, pulling teeth.  It really hurts.  So from now on I plan to brush and floss constantly and do whatever it takes to keep my remaining teeth healthy and clean.  Someone recommended gargling with Bombay Sapphire twice a day.  I'd try even that.
Even though the student doctor who pulled my tooth at the UCSF School of Dentistry was an angel of mercy combined with Dr. McDreamy, having one's tooth extracted is never pretty.  I kept reciting that mantra "Challenges make me stronger" in the dental chair and silently doing jin shin jyutzu – but even that didn't work.  I'm a wimp.  And not only that but once the tooth was out, they wouldn't even give it back to me to give to the Tooth Fairy.  Rats.
Then, once finally back home and safely collapsed into bed, I took some of those "opioid" pain-killers they gave me — and dreamed that I was an escaped convict running a funeral parlor in my childhood hometown (Millbrae) and hiding under my daughter Ashley's bed (probably from NSA).  Forget that.  No more weird Kubla-Khan dreams for me.  I'm sticking with aspirin.
Now I'm wishing there was something I could do to replace my poor sweet little lost tooth, but there doesn't seem to be anything.  Getting a dental implant is expensive — $3,000 per tooth, even done by a dental student.  Who can afford that?  Not me.  So now I've got a big gap in my teeth.  How ugly is that!  However, I won't be alone for long.  Two-thirds of America will soon be joining me in being gap-toothed as well unless affordable dental insurance becomes available reasonably soon.  But if not, then we'll all be totally ugly together, not just me.  America goes third-world.  Who would have thought.
I also have a postage-stamp sized garden attached to my apartment, which grows nothing.  According to Michael Pollan, this shouldn't be happening — unless there has been some really heavy-duty weed killer sprayed there at one time.  Yes, there was.  But not by me.  So, apparently, what I need now is all new dirt.  And at the rate that American agribusiness keeps using millions of tons of herbicides and pesticides each year, all of America will soon be needing all new dirt too.
"Actually, it's not the heavy use of herbicides and pesticides that is causing the most problems on huge agribusiness farms," to summarize one of Pollan's chapters on the potato, "but rather the monoculture nature of their crops.  Organic farmers can vary and rotate what they plant and thus stave off insect and fungal infestations — but if your main customer for potatoes is McDonalds, then you have to plant Burbank russets and only Burbank russets all of the time.  So it is Americans themselves that are causing the major use of [stuff] like Roundup and Roundup-Ready GMOs."
So if I promise to plant a huge variety of everything in my garden, from fingerling potatoes to roses to dandelions, then will at least SOMETHING finally grow?
And will I also be able to grow a new tooth?
Aside from Michael Pollan, why else have my thoughts been turning to gardening lately?  In the middle of freaking January?  Because this winter has been the sunniest one in Berkeley that I have ever seen.  It's like freaking summer here now, like July, every day — even going beyond April or May.  www.weather.com even declared Berkeley a drought area the other day.  Time to bust out the seeds.
Michael Pollan also wrote about cannabis in his book on plants.  "Marijuana doesn't make you forgetful of everything.  It just makes you forget [stuff] that's not important."  Interesting.  I always forget names.  So I guess names aren't all that important or necessary for me to remember.  Whew.  I'm off the hook then.  Am not getting senile dementia after all, just sorting out my priorities.
And maybe that's why Alzheimer sufferers forget so much mental stuff too — they might be shutting down everything that won't immediately help them to cope with this devastating disease (yes, I know that Alzheimers also rots its victims' brains — but isn't that just one more good reason for them to shut said brains down?)
With regard to raising the minimum wage here in soon-to-be-toothless America, wouldn't it make more sense to just cut the rate of inflation instead?  Starting by eliminating the Federal Reserve and its tendencies to print meaningless Monopoly money and to finance Endless War?  And, while we're at it, let's stop giving out billions in "food stamps" to corporate welfare queens like Bank of America, BP, WalMart, Halliburton and Monsanto.  Works for me.  And can we also please bring our millions of jobs back from overseas too?
Back in 1963, I made $1.75 an hour while working in the post office on weekends and during summers.  With this money plus some help from my parents (yes, they could also afford to help me back then), I was able to graduate from San Jose State College without requiring any student loans.  And in 1966, when I got a big salary-bump to $3.50 an hour for working the stamp window instead of sorting mail, I was able put myself through graduate school at UC Berkeley, just by working during summer vacations.  Can you even imagine staying alive and not homeless in Berkeley today on that kind of salary — let alone paying for your tuition at Cal as well.
What has happened to all of America's jobs and wealth since the 1960s, back when we were the richest country in the world?  That's a no-brainer.  It's all flown away into the pockets of Wall Street mega-bankers, the numbered Cayman accounts of war profiteers and the fat wallets of all those corporate welfare queens who currently own and run our government.
While it's always a good idea to raise America's minimum wage a few dollars, it's also important to stop runaway inflation — and to also start lowering a certain type of maximum wage as well:  The maximum amount that rich guys can steal from us before they get sent to jail.And we need to put some teeth into these new regulations too.
A poll last year showed that trust in the mainstream media is increasing, which should worry all of us who value truth, integrity and press freedom. Why? Here are 10 disturbing things everyone needs to know about the global media giants who control our supply of information, wielding immense power over the people- and even over the government.
1. Mainstream media exists solely to make profit

What´s the purpose of the mainstream media? Saying that the press exists to inform, educate or entertain is like saying Apple corporation´s primary function is to make technology which will enrich our lives. Actually, the mass media industry is the same as any other in a capitalist society: it exists to make profit. Medialens, a British campaigning site which critiques mainstream (or corporate) journalism, quotedbusiness journalist Marjorie Kelly as saying that all corporations, including those dealing with media, exist only to maximize returns to their shareholders. This is, she said,  ´the law of the land…universally accepted as a kind of divine, unchallengeable truth´. Without pleasing shareholders and a board of directors, mass media enterprises simply would not exist. And once you understand this, you´ll never watch the news in the same way again.
2. Advertisers dictate content
So how does the pursuit of profit affect the news we consume? Media corporations make the vast majority (typically around 75%) of their profit from advertising, meaning it´s advertisers themselves that dictate content- not journalists, and certainly not consumers. Imagine you are editor of a successful newspaper or TV channel with high circulation or viewing figures. You attract revenue from big brands and multinational corporations such as BP, Monsanto and UAE airlines. How could you then tackle important topics such as climate change, GM food or disastrous oil spills in a way that is both honest to your audience and favorable to your clients? The simple answer is you can´t. This might explain why Andrew Ross Sorkin of the New York Times-  sponsored by Goldman Sachs-  is so keen todefend the crooked corporation. Andrew Marr, a political correspondent for the BBC, sums up the dilemma in his autobiography: ´The biggest question is whether advertising limits and reshapes the news agenda. It does, of course. It's hard to make the sums add up when you are kicking the people who write the cheques.´ Enough said…
3. Billionaire tycoons & media monopolies threaten real journalism


The monopolization of the press (fewer individuals or organizations controlling increasing shares of the mass media) is growingyear by year, and this is a grave danger to press ethics and diversity. Media mogul RupertMurdoch´s  neo-liberal personal politics are reflected in his 175 newspapers and endorsed by pundits (see Fox news) on the 123 TV channels he owns in the USA alone. Anyone who isn´t worried by this one man´s view of the world being consumed by millions of people across the globe- from the USA to the UK, New Zealand to Asia, Europe to Australia- isn´t thinking hard enough about the consequences. It´s a grotesquely all-encompassing monopoly, leaving no doubt that Murdoch is one of the most powerful men in the world. But as the News International phone hacking scandal  showed, he´s certainly not the most honorable or ethical. Neither is AlexanderLebedev, a former KGB spy and politician who bought British newspaper The Independent  in 2010.  With Lebedev´s fingers in so many pies (the billionaire oligarch is into everything from investment banking to airlines), can we really expect news coverage from this once well-respected publication to continue in the same vein? Obviously not: the paper had always carried a banner on its front page declaring itself  ´free from party political bias, free from proprietorial influence´, but interestingly this was dropped in September 2011.
4. Corporate press is in bed with the government

Aside from the obvious, one of the most disturbing facts to emerge from Murdoch´s News International phone hacking scandal (background information here ) was the exposure of shady connections  between top government officials and press tycoons. During the scandal, and throughout the subsequent Leveson inquiry into British press ethics (or lack of them), we learned of secret meetings, threatsby Murdoch to politicians who didn´t do as he wanted, and that Prime Minister David Cameron has a very close friendship with The Sun´s then editor-in-chief (and CEO of News International) Rebekah Brooks. How can journalists do their job of holding politicians to account when they are vacationing together or rubbing shoulders at private dinner parties? Clearly, they don´t intend to. But the support works both ways- Cameron´s government tried to help Murdoch´s son win a bid for BSkyB, while bizarrely,  warmongering ex Prime Minister Tony Blair is godfather to Murdoch´s daughter Grace. As well as ensuring an overwhelming bias in news coverage and election campaigns, flooding newspapers with cheap and easy articles from unquestioned government sources, and gagging writers from criticizing those in power, these secret connections also account for much of the corporate media´s incessant peddling of the patriotism lie-  especially in the lead-up to attacks on other countries. Here´s an interestinganalysis of The New York Times´s coverage of the current Syria situation for example, demonstrating how corporate journalists are failing to reflect public feeling on the issue of a full-scale attack on Assad by the US and its allies. 

5. Important stories are overshadowed by trivia

You could be forgiven for assuming that the most interesting part of Edward Snowden´s status as a whistleblower was his plane ride from Hong Kong to Russia, or his lengthy stint waiting in Moscow airport for someone- anyone- to offer him asylum. Because with the exception of The Guardian who published the leaks (read them in fullhere), the media has generally preferred not to focus on Snowden´s damning revelations about freedom and tyranny, but rather on banaltrivia – his personality and background, whether his girlfriend misses him, whether he is actually a Chinese spy, and ahhh, didn´t he remind us all of Where´s Waldo as he flitted across the globe as a wanted fugitive? The same could be said of Bradley Manning´s gender re-assignment, which conveniently overshadowed the enormous injustice of his sentence. And what of Julian Assange? His profile on the globally-respected BBC is dedicated almost entirely to a subtle smearing of character, rather than detailing Wikileaks´s profound impact on our view of the world. In every case, the principal stories are forgotten as our attention, lost in a sea of trivia, is expertly diverted from the real issues at hand: those which invariably, the government wants us to forget.
6. Mainstream media doesn´t ask questions

´Check your sources, check your facts´ are golden rules in journalism 101, but you wouldn´t guess that from reading the mainstream press or watching corporate TV channels. At the time of writing, Obama is beating the war drums over Syria. Following accusations by the US and Britain that Assad was responsible for a nerve gas attack on his own civilians last month, most mainstream newspapers- like the afore-mentioned New York Times- have failed to demand evidence or call for restraint on a full-scale attack. But there are several good reasons why journalists should question the official story. Firstly, British right-wing newspaper The Daily Mail actually ran a news piece back in January this year, publishing leaked emails from a British arms company showing the US was planning a false flag chemical attack on Syria´s civilians. They would then blame it on Assad to gain public support for a subsequent full-scale invasion. The article was hastily deleted but a cached version still exists. Other recent evidence lends support to the unthinkable. It has emerged that the chemicals used to make the nerve gas were indeed shipped from Britain, and German intelligenceinsists Assad was not responsible for the chemical attack. Meanwhile, a hacktivist has come forward with alleged evidence of US intelligence agencies´ involvement in the massacre (download it for yourself here ), with a growing body of evidence suggesting this vile plot was hatched by Western powers. Never overlook the corporate media´s ties to big business and big government before accepting what you are told- because if journalism is dead, you have a right and a duty to ask your own questions.
7. Corporate journalists hate real journalists

Sirota rightly points out the irony of this: ´Here we have a reporter expressing excitement at the prospect of the government executing the publisher of information that became the basis for some of the most important journalism in the last decade.´ Sirota goes on to note various examples of what he calls the ´Journalists against Journalism club´, and gives severalexamples of how The Guardian columnist Glenn Greenwald has been attacked by the corporate press for publishing Snowden´s leaks. The New York Times' Andrew Ross Sorkin called for Greenwald's arrest, while NBC's David Gregory´s declared that Greenwald has ´aided and abetted Snowden´. As for the question of whether journalists can indeed be outspoken, Sirota accurately notes that it all depends on whether their opinions serve or challenge the status quo, and goes on to list the hypocrisy of Greenwald´s critics in depth: ´Grunwald has saber-rattling opinions that proudly support the government's drone strikes and surveillance. Sorkin's opinions promote Wall Street's interests. (The Washington Post´s David) Broder had opinions that supported, among other things, the government's corporate-serving "free" trade agenda. (The Washington Post´s Bob) Woodward has opinions backing an ever-bigger Pentagon budget that enriches defense contractors. (The Atlantic´s Jeffrey) Goldberg promotes the Military-Industrial Complex's generally pro-war opinions. (The New York Times´s Thomas) Friedman is all of them combined, promoting both "free" trade and "suck on this" militarism. Because these voices loyally promote the unstated assumptions that serve the power structure and that dominate American politics, all of their particular opinions aren't even typically portrayed as opinions; they are usually portrayed as noncontroversial objectivity.´
8. Bad news sells, good news is censored, and celebrity gossip trumps important issues

It´s sad but true: bad news really does sell more newspapers. But why? Are we really so pessimistic? Do we relish the suffering of others? Are we secretly glad that something terrible happened to someone else, not us? Reading the corporate press as an alien visiting Earth you might assume so. Generally, news coverage is sensationalist and depressing as hell, with so many pages dedicated to murder, rape and pedophilia and yet none to the billions of good deeds and amazingly inspirational movements taking place every minute of every day all over the planet. But the reasons we consume bad news are perfectly logical. In times of harmony and peace, people simply don´t feel the need to educate themselves as much as they do in times of crises. That´s good news for anyone beginning to despair that humans are apathetic, hateful and dumb, and it could even be argued that this sobering and simple fact is a great incentive for the mass media industry to do something worthwhile. They could start offering the positive and hopeful angle for a change. They could use dark periods of increased public interest to convey a message of peace and justice. They could reflect humanity´s desire for solutions and our urgent concerns for the environment. They could act as the voice of a global population who has had enough of violence and lies to campaign for transparency, equality, freedom, truth, and real democracy. Would that sell newspapers? I think so. They could even hold a few politicians to account on behalf of the people, wouldn´t that be something? But for the foreseeable future, it´s likely the corporate press will just distract our attention with another picture of Rhianna´s butt, another rumor about Justin Bieber´s coke habit, or another article about Kim Kardashian (who is she again?) wearing perspex heels with swollen ankles while pregnant. Who cares about the missing$21 trillion, what was she thinking?
9. Whoever controls language controls the population

Have you read George Orwell´s classic novel1984 yet? It´s become a clichéd reference in today´s dystopia, that´s true, but with good reason. There are many- too many- parallels between Orwell´s dark imaginary future and our current reality, but one important part of his vision concerned language. Orwell coined the word ´Newspeak´  to describe a simplistic version of the English language with the aim of limiting free thought on issues that would challenge the status quo (creativity, peace, and individualism for example). The concept of Newspeak includes what Orwell called ´DoubleThink´-  how language is made ambiguous or even inverted to convey the opposite of what is true. In his book, the Ministry of War is known as the Ministry of Love, for example, while the Ministry of Truth deals with propaganda and entertainment. Sound familiar yet? Another book that delves into this topic deeper is Unspeak, a must-read for anyone interested in language and power and specifically how words are distorted for political ends. Terms such as ´peace keeping missiles´, ´extremists´ and ´no-fly zones´, weapons being referred to as ´assets´, or misleading business euphemisms such as ´downsizing´ for redundancy and ´sunset´ for termination- these, and hundreds of other examples, demonstrate how powerful language can be. In a world of growing corporate media monopolization, those who wield this power can manipulate words and therefore public reaction, to encourage compliance, uphold the status quo, or provoke fear.
10. Freedom of the press no longer exists

The only press that is currently free (at least for now) is the independent publication with no corporate advertisers, board of directors, shareholders or CEOs. Details of how the state has redefined journalism are noted here and are mentioned in #7, but the best recent example would be the government´s treatment of The Guardian over its publication of the Snowden leaks. As a side note, it´s possible this paper plays us as well as any other- The Guardian Media Group isn´t small fry, after all. But on the other hand- bearing in mind points 1 to 9- why should we find it hard to believe that after the NSA files were published, editor Alan Rusbridge wastold by the powers that be ´you´ve had your fun, now return the files´, that government officials stormed his newsroom and smashed up hard drives, or that Greenwald´s partner David Miranda wasdetained for 9 hours in a London airport under the Terrorism Act as he delivered documents related to the columnist´s story? Journalism, Alan Rusbridge lamented, ´may be facing a kind of existential threat.´ As CBS Evening News anchor Dan Rather wrote: 'We have few princes and earls today, but we surely have their modern-day equivalents in the very wealthy who seek to manage the news, make unsavory facts disappear and elect representatives who are in service to their own economic and social agenda… The "free press" is no longer a check on power. It has instead become part of the power apparatus itself.'
Sophie is a staff writer for True Activist and a freelance feature writer for various publications on society, activism and other topics. You can read more of her stuff here.
Source: True Activist
Something is far beyond contaminated and glow-fishy about the Fukushima meltdown. For two years it has been discussed and swarming with expertise, but with no limiting or actual efforts to stop the radiological contaminants from being released into the Pacific and all other connected oceans, the largest food and oxygen sources on the planet. Yet, surfers are surfing, swimmers are swimming, children are playing on beaches, and restaurants all over the earth are eating Pacific fish and also contaminated Atlantic fish according to multiple reports.
Also never actually disclosed or addressed is that perhaps as many as 1500 nukes have been tested in the world's oceans, which also might have produced "contamination" since nuclear pollution doesn't ever really go away. So, at this juncture I ask myself, where is the left hand and what might it be doing? Politics, as we know, has new meaning in the global world of corporate-political elites. Their political intentions were always based in deceptions from the earliest planning stages to today, for one hundred if not two hundred years. The UN Agenda 21 blueprint has never been fully disclosed in truth or in the open.
The 47 U.S. Biosphere Reserves are still completely under the veil for 90% of American people who have still never heard of them; same with the World Heritage Sites, and they are totally in the dark regarding the 620+ global reserves. Stratospheric Aerial Geoengineering and Solar Radiation Management (chemtrailing) are only just now kind of/sort of acknowledged as "possibly" damaging the planet for 35 years or more as well as the super-secret global HAARP facilities, which happen to super-heat the atmosphere, while aerial spraying traps the "warming" on the ground beneath the artificial, metallized, and very noxious and debilitating clouds and haze that laid across the skies, globally. And suddenly, we have another global crisis, publicized, with people sick, dying badly, and with sea life really, really sick and dying, and with worsening news and contamination pouring into the Pacific every day. Instead, a handful of "experts" are studying, having meetings and press conferences, pondering, coordinating thoughts and ideas, kicking the dirt, etc., etc. What we are witnessing is political theater.
The problem is we, too, are getting sicker and sicker. Fukushima is, after all, not just an oceanic problem. Radioactive ocean water evaporates and rains down…on everything…over the entire planet, and it just so happens that the nano-particulates of aluminum, barium, strontium and other concoctions sprayed from jets and commercial planes, globally, also rain down, blow in the wind…nano-sized mind you…which means their ingredients are wholly and completely unavoidable. Even your N95 masks, coats, gloves, hats and safety glasses cannot protect you, and these nano-particles are in your homes, your cars, all over your children, stores, pets, possessions, lawns, trees, forests, in all watershed systems, and all over the nation and world's crop fields (think Monsanto "aluminum resistant" seeds). Consider well the over 1400 global seed vaults.
I fear we are experiencing a double-whammy. I am also thinking that a "global" crisis or crises are forthcoming, which will put "global" power centers front and center and in full-force all over the entire world. I equally think that global health may be collapsing as we speak, as global nature is demonstrating. Billions of fish and sea creatures dying, billions of birds, hundreds of trillions of insects and amphibians, and even large sea and forest mammals, far larger than human beings, are dying all around the world…and badly.
Hundreds of millions of forested acres are burning, annually and globally, while global aquifers are being privatized and locked down from most of humanity. Depopulation was always part and parcel of the original plan by globalism's authors, and certainly a mass die-off of humanity cannot appear as genocide or democide in a mass-media whistleblowing world, not when the orchestrators are so terribly few, but a left-right punch from global catastrophic "events", especially ones we choose to ignore with our best ignorance, could be our undoing. When we choose to ignore Fukushima and allow governments to ignore mass-extinction "events", and when we steadfastly refuse to acknowledge that we are sprayed like insects for 35+ years, seeing it above our heads for days and weeks on end, because we "don't want to think about it," well…maybe we prove what elites have always believed, that we are "useless", "ignorant", "costly", and "too common" for their many bottom lines. As history has demonstrated century after century after century, when there are too many poor people, human culling occurs, which means they are murdered.
I fear history, once again, is upon us. When whales, dolphins, deer and trillions of other animals and mammals and plants are biting the dust and all at the same time, we're next…especially because we eat these plants and animals, actually resulting in a third-whammy to humankind. Truth is, folks, we are being in-toxic-acted from every direction humanly possible. What is happening to the world is not an accident. We are getting hit from all angles.
Source: Nancy Levant
Corporate monopolies are not new, but ownership of patented grain seeds connotes that the control of the food supply is in the grasp of a private company. US supreme court rules in favor of Monsanto, "that a farmer in Indiana violated the intellectual property rights of the agricultural biotechnology titan Monsanto when he regrew the company's genetically modified and herbicide-resistant soybean seeds by planting second-generation seeds."
Dave Murphy, Executive Director and founder of Food Democracy Now, explains the ultimate outcome.
"Today, the Supreme Court unanimously affirmed the corporate takeover of our food supply, in a huge win for Monsanto, and a major loss for America's farmers and consumers. Monsanto has long engaged in an effort to subvert family farmers that do not use their genetically-engineered seeds and the Court has now handed corporations even more control over what our families eat."
The stats on the prevailing position of this threat, compiled in U.S. and Monsanto Dominate Global Market for GM Seeds, are alarming. If that is not enough, the video The World According to Monsanto along with the Documentary, provides the evidence that has long gone ignored.
"There's nothing they are leaving untouched: the mustard, the okra, the bringe oil, the rice, the cauliflower. Once they have established the norm: that seed can be owned as their property, royalties can be collected. We will depend on them for every seed we grow of every crop we grow. If they control seed, they control food, they know it – it's strategic. It's more powerful than bombs. It's more powerful than guns."
America lives in the dark ages when it comes to ingesting the poison from GMO designer crops. Ellen Brown provides the proof in, Monsanto, the TPP and Global Food Dominance.
"Sixty to seventy percent of the foods in US supermarkets are now genetically modified. By contrast, in at least 26 other countries—including Switzerland, Australia, Austria, China, India, France, Germany, Hungary, Luxembourg, Greece, Bulgaria, Poland, Italy, Mexico and Russia—GMOs are totally or partially banned; and significant restrictions on GMOs exist in about sixty other countries."
Collusion among the courts, regulators, agency administrators, lobbyists (Monsanto Hires Former Sen. Blanche Lincoln As Lobbyist), politicians and the free trade interests, to facilitate the adoption of a biological genetic frankenstein diet is evident in, Why Monsanto Always Wins by Mike Ludwig.
"The recent approval of Monsanto's Roundup Ready alfalfa is one of most divisive controversies in American agriculture, but in 2003, it was simply the topic at hand in a string of emails between the US Department of Agriculture (USDA) and Monsanto. In the emails, federal regulators and Monsanto officials shared edits to a list of the USDA's questions about Monsanto's original petition to fully legalize the alfalfa. Later emails show a USDA regulator accepted Monsanto's help with drafting the initial environmental assessment (EA) of the alfalfa and planned to "cut and paste" parts of Monsanto's revised petition right into the government's assessment."
How many times will the merger of corporatist influence with governmental cooperation put the public at risk, before this insidious process is recognized as systemic corruption?
Whatever else you think of former Congressman Dennis Kucinich, he has the guts to confront "The Influence And Corruption Of The Political Process By Monsanto", in a hard hitting video. No wonder he was gerrymandered out of office.Ms. Brown continues and injects political influence into the equation that will virtually guarantee Monsanto's profits as they feed poisonous food to the consumer.
"The chief agricultural negotiator for the US is the former Monsanto lobbyist, Islam Siddique. If ratified the TPP would impose punishing regulations that give multinational corporations unprecedented right to demand taxpayer compensation for policies that corporations deem a barrier to their profits.. . . They are carefully crafting the TPP to insure that citizens of the involved countries have no control over food safety, what they will be eating, where it is grown, the conditions under which food is grown and the use of herbicides and pesticides."
The fraud perpetrated in The Seeds Of Suicide: How Monsanto Destroys Farming, is an affront to the Creator, even his children are blind to the consequences of designing seeds that require a license to plant.
"Patents on seed are illegitimate because putting a toxic gene into a plant cell is not "creating" or "inventing" a plant. These are seeds of deception — the deception that Monsanto is the creator of seeds and life; the deception that while Monsanto sues farmers and traps them in debt, it pretends to be working for farmers' welfare, and the deception that GMOs feed the world."
The article, Genetic Modified Foods – Senate Bill S510, examines the highest of all stakes.
"Control of the food chain is a concern that crosses all ideological perspectives. The most essential of all human rights is the effective ability of access and ingestion of nutrients that are necessary to sustain life. Forced feeding of toxicants, as the only foodstuff available to the masses, is a true crime against humanity."
F. William Engdahl in an interview with RT, 'Monsanto is the metaphor for genetic manipulation, food chain control', nicely sums up the complicity in creating a NWO food supply.
RT: Why is the US government so keen to protect the interests of Monsanto?

WE: I think this is the strategic interest of the US agribusiness lobby, the lobby of Bush senior as president in 1992. Monsanto went to the White House and had a closed-door meeting with Bush, and got him to agree to make sure there are no government tests whatsoever on the health and safety of GMO products before they were released to the commercial public. That was called the doctrine of 'substantial equivalence'– it's a fraudulent doctrine if you just analyze the name, it's by no means scientifically rigorous.
The Globalist objective to reduce the earthly population coincides with Monsanto's strategy to strangle the food supply. The world their 'substantial equivalence' envisions has no equality among humans. The roundup has begun and the survivors will be few.
By our apathy, our unawareness and our complete disregard as to what our U.S. Congress thrusts upon our country—we face enormous obstacles to our continued existence as a country let alone an intact civilization.
Within 37 years, at current immigration rates, we face adding 100 million more people—enough to add another 20 of our most populated cities.  The enormity of the water, food, energy, housing, education and sustainability of that many people boggles the mind.  Simple fact: none of us will be able to live at the level of wealth, waste and pollution we currently enjoy, or should I say destroy!
Hear this: it's not if we add 100 million people, but a definite fact of an added 100 million people—if we don't rescind the 1965 Immigration Reform Act and the 1986 Immigration Amnesty and if we don't stop the final passage of the S744 Amnesty Bill that will return to Congress in 2014.
This 100 million immigrant-number constitutes something SO ominous, SO egregious and SO monumental that it will spiral our nation into its death throes as described in this series.
Do you care about your children's future?  Do you care about the environment in which they will live?  Do you care about the quality of life and standard of living that you bequeath to future generations?  Here's what it will look like if you fail to tack action:
"Immigration by the numbers—off the chart" by Roy Beck
This 10 minute demonstration shows Americans the results of unending mass immigration on the quality of life and sustainability for future generations: in a few words, "Mind boggling!"  www.NumbersUSA.org
http://www.youtube.com/watch?v=muw22wTePqQ
Have you written emails and made phone calls to the 20 contacts I have offered in preceding parts to this series?  If not, why not?  If not now, when?  The fact remains that the current immigration laws from 1965 and 1986 continue the onslaught of 1 million legal immigrants annually, their children and chain-migrated relatives without pause.
In a Constitutional Republic, only YOU can force change.  Only your participation creates discussion and debate. Only your actions change the future.
I am not researching and writing this series to be read and forgotten. I write it in order to give you the power to take collective action.
President Teddy Roosevelt said, "In any moment of decision, the best thing you can do is the right thing. The worst thing you can do is nothing."
Poisoning our world
With 316 million Americans along with 20 million illegal alien migrants, our country faces enormous consequences on multiple fronts as described by this series.
But they may all pale in comparison to the poisoning of our world.  If we continue adding people and hit the projected 438 million by 2050—a scant 37 years from now—that encompasses another 138 million people—all using poisons and chemicals.
At 80,000 chemicals now being injected into the air, land and water 24/7—-just imagine the cancer rates by mid century.  Every family, every person in America will be affected by cancer, Parkinson's Disease, Lupus, Autism and other diseases caused by chemicals wrecking our nervous systems.
The Fukushima radioactive injection of billions possibly trillions of gallons of contaminated water circulates to all oceans around our planet.  It poisons all marine life and affects all oceanic eco-systems.  You might call it "Planetary genocide" when the final story surfaces in the coming decades.
"Planetary Genocide": Fukushima One Year Later: The Poisoning of Planet Earth By Dr. Ilya Sandra Perlingieri
Perlingieri said, "With various half-lives –some eons-long– of numerous radioactive components, the human race and every other living creature on our planet is on its way to extinction, due to the known sterilization effects of radiation. Here is a short list of the half-life of five of the radioactive isotopes that are and will continue to poison all of our children, and us, ad infinitum, in the air we breathe, the food we eat, and the water we drink and in which we bathe:
Cesium 137: 30 years
Plutonium 239: 24,000 years
Strontium 90: 29 years [mimics calcium in the body]
Uranium 235: 700-million years
Iodine 131: 8 days [absorbed into the thyroid and gives heavy radiation dose. Also goes into the soil, passed onto us through cow's milk.]
"In a report released just a few week's ago, the milk tested in the San Francisco area still had radioactive levels of Cesium 134 and Cesium 137. According to even a compromised EPA, these are now at "150 percent of their maximum contaminant level."
Think about another 100 million people added to the USA spraying, injecting and disbursing Round-up, Weed-be-Gone, Tilex, crop pesticides, herbicides, fungicides and thousands of other chemicals that pile-up ultimately within our bodies.
Monsanto poisoning our world
Genetically modified organisms are made by manipulation of extremely deadly viruses & bacteria (such as E. coli) that have been engineered to be immune to antibiotics. Monsanto spends millions of dollars each year in order to "sugar" coat the facts of what GMOs actually are and more importantly, how they are made. This video explains the scientific facts on how Monsanto manufactures their GMOs (Genetically Modified Organisms) by simply removing all the corporate propaganda, the "smoke & mirrors" if you will. This video will educate you:
https://www.youtube.com/watch?v=FAVzcxc5cjU
Aspartame created and sold by Monsanto, a synthetic sugar used in every "diet soda" and "sugar-free" food, has been implicated in lupus, fibromyalgia and brain cancers.  Yet, the American public buys "diet soda" like milk with no clue as to the diseases it causes.  The enclosed video gives you an idea of Aspartame's deadly consequences.
https://www.youtube.com/watch?v=8dmAV4JjV0A
When you tally the 80,000 chemicals injected into our air, land, water, food and homes—no wonder one in three of us will be affected by cancers in our lifetimes.
Multiply another 100 million immigrants added to the USA in 37 years, and what do we as a country face?  Answer: a multiplication of all those problems by 100 million more people.
Whether you add up the medical costs, the crowding, the contaminated water supplies, the acid rain contaminating our soils and dozens of other consequences—we face a growing poisoned civilization and all the people living in it.
Do you sit by and watch it happen to your kids or do you take action?  Answer: take action! Force the immigration issue to the highest media sources by writing them.
Control oil and you control nations," said US Secretary of State Henry Kissinger in the 1970s.  "Control food and you control the people."
Global food control has nearly been achieved, by reducing seed diversity with GMO (genetically modified) seeds that are distributed by only a few transnational corporations. But this agenda has been implemented at grave cost to our health; and if the Trans-Pacific Partnership (TPP) passes, control over not just our food but our health, our environment and our financial system will be in the hands of transnational corporations.
Profits Before Populations
Genetic engineering has made proprietary control possible over the seeds on which the world's food supply depends. According to an Acres USA interview of plant pathologist Don Huber, Professor Emeritus at Purdue University, two modified traits account for practically all of the genetically modified crops grown in the world today. One involves insect resistance. The other, more disturbing modification involves insensitivity to glyphosate-based herbicides (plant-killing chemicals). Often known as Roundup after the best-selling Monsanto product of that name, glyphosate poisons everything in its path except plants genetically modified to resist it.
Glyphosate-based herbicides are now the most commonly used herbicides in the world. Glyphosate is an essential partner to the GMOs that are the principal business of the burgeoning biotech industry. Glyphosate is a "broad-spectrum" herbicide that destroys indiscriminately, not by killing unwanted plants directly but by tying up access to critical nutrients.
Because of the insidious way in which it works, it has been sold as a relatively benign replacement for the devastating earlier dioxin-based herbicides. But a barrage of experimental data has now shown glyphosate and the GMO foods incorporating it to pose serious dangers to health. Compounding the risk is the toxicity of "inert" ingredients used to make glyphosate more potent. Researchers have found, for example, that the surfactant POEA can kill human cells, particularly embryonic, placental and umbilical cord cells. But these risks have been conveniently ignored.
The widespread use of GMO foods and glyphosate herbicides helps explain the anomaly that the US spends over twice as much per capita on healthcare as the average developed country, yet it is rated far down the scale of the world's healthiest populations. The World Health Organization has ranked the US LAST out of 17 developed nations for overall health.
Sixty to seventy percent of the foods in US supermarkets are now genetically modified. By contrast, in at least 26 other countries—including Switzerland, Australia, Austria, China, India, France, Germany, Hungary, Luxembourg, Greece, Bulgaria, Poland, Italy, Mexico and Russia—GMOs are totally or partially banned; and significant restrictions on GMOs exist in about sixty other countries.
A ban on GMO and glyphosate use might go far toward improving the health of Americans. But the Trans-Pacific Partnership, a global trade agreement for which the Obama Administration has sought Fast Track status, would block that sort of cause-focused approach to the healthcare crisis.
Roundup's Insidious Effects
Roundup-resistant crops escape being killed by glyphosate, but they do not avoid absorbing it into their tissues. Herbicide-tolerant crops have substantially higher levels of herbicide residues than other crops. In fact, many countries have had to increase their legally allowable levels—by up to 50 times—in order to accommodate the introduction of GM crops. In the European Union, residues in food are set to rise 100-150 times if a new proposal by Monsanto is approved. Meanwhile, herbicide-tolerant "super-weeds" have adapted to the chemical, requiring even more toxic doses and new toxic chemicals to kill the plant.
Human enzymes are affected by glyphosate just as plant enzymes are: the chemical blocks the uptake of manganese and other essential minerals. Without those minerals, we cannot properly metabolize our food. That helps explain the rampant epidemic of obesity in the United States. People eat and eat in an attempt to acquire the nutrients that are simply not available in their food.
According to researchers Samsell and Seneff in Biosemiotic Entropy: Disorder, Disease, and Mortality (April 2013):
Glyphosate's inhibition of cytochrome P450 (CYP) enzymes is an overlooked component of its toxicity to mammals. CYP enzymes play crucial roles in biology . . . . Negative impact on the body is insidious and manifests slowly over time as inflammation damages cellular systems throughout the body. Consequences are most of the diseases and conditions associated with a Western diet, which include gastrointestinal disorders, obesity, diabetes, heart disease, depression, autism, infertility, cancer and Alzheimer's disease.
More than 40 diseases have been linked to glyphosate use, and more keep appearing. In September 2013, the National University of Rio Cuarto, Argentina, published research finding that glyphosate enhances the growth of fungi that produce aflatoxin B1, one of the most carcinogenic of substances. A doctor from Chaco, Argentina, told Associated Press, "We've gone from a pretty healthy population to one with a high rate of cancer, birth defects and illnesses seldom seen before." Fungi growths have increased significantly in US corn crops.
Glyphosate has also done serious damage to the environment. According to an October 2012 report by the Institute of Science in Society:
Agribusiness claims that glyphosate and glyphosate-tolerant crops will improve crop yields, increase farmers' profits and benefit the environment by reducing pesticide use. Exactly the opposite is the case. . . . [T]he evidence indicates that glyphosate herbicides and glyphosate-tolerant crops have had wide-ranging detrimental effects, including glyphosate resistant super weeds, virulent plant (and new livestock) pathogens, reduced crop health and yield, harm to off-target species from insects to amphibians and livestock, as well as reduced soil fertility.
Politics Trumps Science
In light of these adverse findings, why have Washington and the European Commission continued to endorse glyphosate as safe? Critics point to lax regulations, heavy influence from corporate lobbyists, and a political agenda that has more to do with power and control than protecting the health of the people.
In the ground-breaking 2007 book Seeds of Destruction: The Hidden Agenda of Genetic Manipulation, William Engdahl states that global food control and depopulation became US strategic policy under Rockefeller protégé Henry Kissinger. Along with oil geopolitics, they were to be the new "solution" to the threats to US global power and continued US access to cheap raw materials from the developing world. In line with that agenda, the government has shown extreme partisanship in favor of the biotech agribusiness industry, opting for a system in which the industry "voluntarily" polices itself. Bio-engineered foods are treated as "natural food additives," not needing any special testing.
Jeffrey M. Smith, Executive Director of the Institute for Responsible Technology, confirms that US Food and Drug Administration policy allows biotech companies to determine if their own foods are safe. Submission of data is completely voluntary. He concludes:
In the critical arena of food safety research, the biotech industry is without accountability, standards, or peer-review. They've got bad science down to a science.
Whether or not depopulation is an intentional part of the agenda,widespread use of GMO and glyphosate is having that result. The endocrine-disrupting properties of glyphosate have been linked to infertility, miscarriage, birth defects and arrested sexual development. In Russian experiments, animals fed GM soy were sterile by the third generation. Vast amounts of farmland soil are also being systematically ruined by the killing of beneficial microorganisms that allow plant roots to uptake soil nutrients.
In Gary Null's eye-opening documentary Seeds of Death: Unveiling the Lies of GMOs, Dr. Bruce Lipton warns, "We are leading the world into the sixth mass extinction of life on this planet. . . . Human behavior is undermining the web of life."
The TPP and International Corporate Control
As the devastating conclusions of these and other researchers awaken people globally to the dangers of Roundup and GMO foods, transnational corporations are working feverishly with the Obama administration to fast-track the Trans-Pacific Partnership, a trade agreement that would strip governments of the power to regulate transnational corporate activities. Negotiations have been kept secret from Congress but not from corporate advisors, 600 of whom have been consulted and know the details. According to Barbara Chicherio in Nation of Change:
The Trans Pacific Partnership (TPP) has the potential to become the biggest regional Free Trade Agreement in history. . . .

The chief agricultural negotiator for the US is the former Monsanto lobbyist, Islam Siddique.  If ratified the TPP would impose punishing regulations that give multinational corporations unprecedented right to demand taxpayer compensation for policies that corporations deem a barrier to their profits.

. . . They are carefully crafting the TPP to insure that citizens of the involved countries have no control over food safety, what they will be eating, where it is grown, the conditions under which food is grown and the use of herbicides and pesticides.
Food safety is only one of many rights and protections liable to fall to this super-weapon of international corporate control. In an April 2013 interview on The Real News Network, Kevin Zeese called the TPP "NAFTA on steroids" and "a global corporate coup." He warned:
No matter what issue you care about—whether its wages, jobs, protecting the environment . . . this issue is going to adversely affect it . . . .

If a country takes a step to try to regulate the financial industry or set up a public bank to represent the public interest, it can be sued . . . .
Return to Nature: Not Too Late
There is a safer, saner, more earth-friendly way to feed nations. While Monsanto and US regulators are forcing GM crops on American families, Russian families are showing what can be done with permaculture methods on simple garden plots. In 2011, 40% of Russia's food was grown on dachas (cottage gardens or allotments). Dacha gardens produced over 80% of the country's fruit and berries, over 66% of the vegetables, almost 80% of the potatoes and nearly 50% of the nation's milk, much of it consumed raw. According to Vladimir Megre, author of the best-selling Ringing Cedars Series:
Essentially, what Russian gardeners do is demonstrate that gardeners can feed the world – and you do not need any GMOs, industrial farms, or any other technological gimmicks to guarantee everybody's got enough food to eat. Bear in mind that Russia only has 110 days of growing season per year – so in the US, for example, gardeners' output could be substantially greater. Today, however, the area taken up by lawns in the US is two times greater than that of Russia's gardens – and it produces nothing but a multi-billion-dollar lawn care industry.
In the US, only about 0.6 percent of the total agricultural area is devoted to organic farming. This area needs to be vastly expanded if we are to avoid "the sixth mass extinction." But first, we need to urge our representatives to stop Fast Track, vote no on the TPP, and pursue a global phase-out of glyphosate-based herbicides and GMO foods. Our health, our finances and our environment are at stake.
Ellen Brown is an attorney, president of the Public Banking Institute, and author of twelve books, including the best-selling Web of Debt. In The Public Bank Solution, her latest book, she explores successful public banking models historically and globally. Her blog articles are at EllenBrown.com.
Source: Ellen Brown | CounterPunch
No doubt you have heard about the War on Drugs, the War on Terror and the War on Happiness. However, you may not be familiar with the War on God, possibly because it would be an unpopular war to discuss publicly. By the "War on God" (definition) we mean the collection of strategies, methods and techniques which have the combined effect of preventing or seriously hampering the efforts of individuals to seek or achieve legitimate Spiritual enlightenment and the Soul's eventual return to God.
The War on God is an ancient war. While the United States and other countries play an active role in this war today, they definitely did not initiate the war. If you want to use the Christian bible as a reference, you could argue that the War on God began shortly after man was created and rejected God in favor of Satan. Clearly, in some form, the War on God has existed throughout human history.
Today, the United States has effectively broken off diplomatic relations with God. The oligarchs who run the country never physically die and so their souls stay on Earth. Apparently, the United States actually believes that its technology, occult knowledge and black magic skills place it in a position which is superior to God.
We know from whistleblowers like David Morehouse that the United States sponsors and trains a cult of psychics to carry out psychic espionage (remote viewing) and also assassinations using psychic black magic techniques. According to clips of his various interviews on YouTube, it was the training in psychic assassinations which caused Morehouse to become disillusioned, quit the secret program and blow the whistle on the operation. Other countries may well operate similar programs but the details will remain unknown until someone defects and exposes them.
The leaders of the United States have always worshiped Satan. The United States was founded by a cult of Satanists known as the Masons and remains under control of that cult today. By rebranding their cult as a nation state, the cult created the appearance of legitimacy. Cult secrets simply transitioned to state secrets. Cult threats to kill anyone telling their secrets transitioned to the crimes of treason and espionage.
Nothing really changed except for the rebranding from a cult to a government. Today, essentially all members of the CIA, NSA and NASA are Masons. All US presidents have been Masons with the two exceptions of Abraham Lincoln and John Kennedy who were both assassinated.
The term "national security" refers to the security of the cult and not to the security of the general population. The Masonic motto is "If you are not one of us, you are nothing". The cult exists only to enrich itself.
The Masons study and practice the occult. Serious study begins after they take a formal oath of allegiance to Satan at the 30th degree initiation. Basic occult knowledge is neutral and everyone who advances Spiritually learns it. However, Masons seek this knowledge to gain power and control over others as opposed to knowledge for personal advancement. This choice, commonly called the Left Hand Path, places them in opposition to the will of God.
If the Satanists simply wanted to sell their Souls to Satan and mind their own business, one could argue that they had that right because they had free choice. However, the situation is not that simple. The Satanic oligarchs did freely choose to worship Satan. However, they also desire a comfortable life. They don't want to do any "grunt" work. Therefore, they have enslaved the remainder of humanity and are holding their Souls prisoner on this planet to service their needs. Therefore, if you, as an innocent Soul, ever plan to escape from this place and return to God, it is in your interest to investigate and gain an understanding of this war so that you will have an opportunity to Spiritually evolve. Otherwise, your Soul will remain a prisoner here — lifetime after lifetime — serving the Satanic overlords essentially forever.
Earth Based Religions
The phrase Earth Based Religions (definition) refers to religious schools which seek and use knowledge, including occult knowledge, to enhance their experiences during their human lifetimes as opposed to using the same knowledge to foster Spiritual development with the ultimate goal of achieving a stable non-physical Spiritual existence.
Although Pagan religions are usually grouped into this category, a more careful examination would reveal that essentially all mainstream religions are Earth based religions. Mainstream religions make constant references to God and Heaven but never explain exactly what they are talking about. Their books concentrate on historical narratives concerning how people in the past lived and coped with the basic problems of human physical existence. They never give details of any level of Spiritual existence or even any specific hints about what life beyond death will be.
Let's try an example. Suppose you have never seen a motor vehicle. You have heard vague stories that they exist, but that is all. Then, suddenly, you find yourself behind the wheel of a car on a high speed road like the US interstate system or the A roads in Britain. What would you guess would be your chance of survival? Try less than zero.
Now suppose you physically die. Suddenly, you find yourself in your Astral body. However, no one ever told you that you have an Astral body. It does not operate under the same rules as a physical body does. It is a very pliant and nimble body. It can travel in time to the past or future, access any plane and subplane in the Astral universe and research the absolute accurate and incorruptible records system known as the Akashic Records to name just a few. But, as in the previous example, you never learned how to "drive" it.
You would have done fine on the highway if you had gradually learned to drive a motor vehicle. You would do fine after death if you had some experience and training with your Astral body. However, no one ever taught you. What practical use is any religion that constantly rants about Heaven but offers no practical advice about your life after this life?
This information may have been a guarded secret in the past, but those days are gone. You can research this information to your heart's content on the internet, locate legitimate Spiritual groups and learn from those who can leave their physical body and explore the non-physical dimensions. But, don't expect any help from a mainstream church.
You might do well to recall the famous quote attributed to Jesus, "The truth will set you free". Mainstream churches are large, rich institutions. They did not get that way by "setting people free". They got that way by terrifying their followers with ridiculous horror stories of what will happen to them if they do not obey their crazy doctrines, stay with them and give them all their money.
Gnostic and other "non-traditional" religions may be Spiritual based as opposed to Earth based. Jesus always reminded everyone that he represented a kingdom "not of this world". If we had accurate records of his true lectures we would no doubt find practical instructions and information about this "other world". We don't have this information because any practical Spiritual teachings he might have given were censored out to create the simplified — but Spiritually sterile — mainstream religions we have today. They are simple to comprehend and follow but will not lead you anywhere except another physical lifetime somewhere on Earth.
Life Before Technology
Before technology life was simple. Although existence was hard, the opportunity for Spiritual experiences was greater than today. Consider, for example, all the empty time you would have as, say, a sheep herder. Nothing to do except make sure the sheep kept moving. In this situation, there was ample opportunity for the mind to wander and perhaps contemplate and glimpse other realities.
Also, and perhaps most important, no electric grid existed on the planet. Electric fields appear as solid "matter" in the Astral dimension and so can affect Astral experiences — generally in a negative way. Artificially created electromagnetic waves which blanket the planet today also have subtle and generally negative effects on living creatures.
Pagan groups generally conduct occult rituals outdoors and away from high population areas. When buildings are used, it is desirable that they be made only of wood and assembled without any metal (nails) and, of course, have no electrical wires.
Both good and evil existed before technology as they always have. It was possible to use psychological propaganda to influence and control susceptible masses of people. However, the positive and negative forces were more in balance. It was not possible for a single group to successfully dominate the planet.
Drugs existed in the form of various plants. Adepts learned how to use them to help or harm others. People with developed psychic abilities existed as they always have and white and black occult schools existed. Legitimate Spiritual masters existed.
Some techniques that thrived have essentially become extinct because the population of the planet has devolved. It is next to impossible to successfully teach Tantra (sex yoga), because today's generation is incapable of the required level of self control. Classic Tibetan yoga techniques are still taught in isolated areas, but the masters — for good reason — will no longer consider trusting outsiders.
Information Control Techniques
Information control is essential for protecting the integrity of a compartment. People are held as slaves by constructing an information box which holds the slaves in an information prison. As long as the "walls" of the compartment remain impenetrable, the compartment — or belief system — will be stable and no slave will escape.
Considerable energy is required to achieve this. Those assigned to protect the walls obviously know that the compartment is an intellectual illusion. Therefore, they must be sworn to secrecy and intimidated in such a way that they will not compromise the integrity of the compartment. It only takes one "leak" to initiate a chain of events which could collapse the compartment and so allow the slaves to escape.
Consider, for example, the Snowden leaks. One person sharing knowledge has totally destroyed the illusion of privacy that most people had accepted as fact. It will not be possible to reconstruct this illusion. The compartment has collapsed.
Similar principles apply in the Spiritual spectrum. Because of the characteristics of the human bodies in use on this planet, most people do not retain any conscious memory of events before they were born. This is not universally true. Life forms on many other planets retain the memories of previous existences. Because humans generally do not have this recall, they are easily enslaved and can be conditioned to believe most anything.
To maintain a state of Spiritual ignorance it is important to institute methods which will prevent people from realizing that they are actually Souls experiencing a constructed illusion. People somehow reaching this state, sometimes referred to as "self realization", will no longer respond to establishment propaganda and are generally considered a threat to the current social order.
The easiest and most direct method to achieve a stable slave population is simply not to talk about anything even vaguely esoteric. For example, how often have you heard the words astral, chakra or aura mentioned on a mainstream TV channel?
Most people will then likely "remain asleep" throughout their entire lifetime and will be no problem. Unfortunately, people have a natural desire — even though it may be an unconscious desire — to Spiritually evolve. It is, after all, the true purpose of human existence.
When someone tries to break away from the contrived illusions more direct methods are needed to return the slave to a state of ignorance. Today, various methods which cause brain damage — generally performed by psychiatrists — are used to negate any success in Spiritual evolution and return the slave to a state of vacant contentment.
Diversions and Techniques Promoting Inaction
The simplest and most effective diversionary technique is to promote scientific atheismand darwinian evolutionary philosophy as established fact. If you can get someone to buy into this philosophy, their fate is sealed. Even if they experience some contact with another dimension, such as an out-of-body experience, they will follow their programming, dismiss the experience as a delusion and refuse to investigate further. When they die, they will be totally lost and confused, flounder around on some lower Astral plane and eventually reincarnate just as Spiritually ignorant as before.
A side effect of accepting scientific atheism, which totally cripples Spiritual progress, is the acceptance of suicide as a way out of life's problems. Suicide becomes a learned reaction. Consequently, when the Soul is sent back into another physical lifetime, it is likely to commit suicide again when faced with some unpleasant event. It never learns, and this cycle can repeat essentially indefinitely. Dealing with this is one of the most difficult problems faced by the administrators who work on the Astral planes.
For those who want more than scientific atheism, there is mainstream garden variety religion. Mainstream Christianity has developed a clever stonewalling technique that has worked to promote inaction for thousands of years. This technique is centered upon the argument that no one can make any progress until Jesus returns to show the way. In the meantime, people should just do nothing and wait. The effect of this is essentially the same as scientific atheism. No Spiritual progress is made.
Schemes designed to waste time are common. One really off the wall example is the decision in Syria to prohibit vacuum cleaners and standard flat brooms in homes. "Witch type" brooms consisting of a circular straw bundle are allowed. Surely there must be a good reason to keep these terrorist weapons out of the reach of the typical Syrian housewife. The official reason is to make basic housework as difficult and time consuming as possible so as to prevent the woman from having any free idle time which, if allowed, could lead to the emergence of "immoral thoughts". Perfectly logical!
In the western world, complex bureaucracies seem to be deliberately designed to make the path to whatever you want as difficult as possible. Here the apparent motive is to prevent the acquisition of enough free time for any independent thought process. There are just not enough hours in a day to allow for any quiet contemplation of anything.
"Blank time" is always reported as a factor in the development of Spiritual figures. Time alone in the wilderness, time spent meditating alone in some isolated cave or at least periods of dedicated quiet time somewhere figure prominently in historical accounts of these people.
You may know or have heard of kids who spend all their waking hours playing interactive role model video games with other kids on the internet. They eat meals by the computer and never leave except to briefly sleep before returning to the all important game. Their entire life is spent in an imaginary reality. You may want to consider that your "real" life may not be all that different. You play a role. Your attributes are fixed by what society expects based upon that role. You can't change, because others would notice. Your concept of the world beyond your little world is determined by what you see on TV. Daily, you receive your "fix" of carefully choreographed "programming" which appears unusually coherent because, as you may not know or fully comprehend, everything on TV is controlled by a few corporations and all of them are loyal to the official government party line. If you somehow had the opportunity to break from this structured "game" you play from day to day — say, the opportunity to visit other countries and see other cultures — you would likely realize that your existence has not been that much different from the kid addicted to a computer game. You would find that the actual "real" world had very little relationship to the world you had been conditioned to believe existed.
Chemical Control Techniques
"With the use of chemical brain-control agents it may be possible to control the individual and the masses and to do this unobtrusively and without the active cooperation of the victims — not a question for the future — it is here".
This is a quote from the book by Edgar Cayce titled Edgar Cayce on Atlantis. There are references to Dr. Robert Galbraith Heath, and this book bears a copyright date of 1968. The book cites an interview that Heath gave to a newspaper called The Virginia Lighthouse and cites the above statement made by him on November 20, 1966. Heath founded the Department of Psychiatry and Neurology at Tulane University, New Orleans, in 1949 and remained its Chairman until 1980.
During this period, Tulane University actively participated in the CIA mind control project known as MK Ultra [1]. Also, during this period, Tulane became an active member of the secret Institute for Defense Analyses, or IDA, a corporation whose only client is the US government. Heath reportedly performed many experiments there involving electrical stimulation of the brain via surgically implanted electrodes. This work was reportedly partially financed by the CIA and the US military. Heath is now "officially" [11] deceased.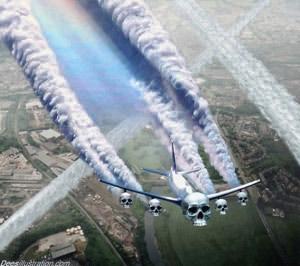 You have been drugged since you were conceived — before you were even born. Your mother was drugged. Soon after birth, you were injected with mercury containing vaccines. And the systematic process of poisoning you never stopped.
By some estimates at least eighty percent of the food in the average supermarket is poison either because it is genetically modified or laced with pesticides and other additives. Even the air is poison now because of geoengineering chemicals sprayed into the upper atmosphere.
It should be noted that things are different in the separate but parallel world of the elite. The Max Keiser show [12] discussed the secret gardens in Japan. These gardens are surrounded by high walls and guarded by the military. They produce the food for the ruling elite. Every plant in the garden has its own health certificate certifying that is pure, healthy and not genetically modified. Obviously, every developed country must have a similar secret supply chain of legitimate food for its ruling class. Certainly the elite know better than anyone that the food supply for the ordinary people is poison. They're not fools. They wouldn't touch the stuff.
Vaccines used for the elite are prepared without the mercury and other toxic additives found in vaccines given to the ordinary people.
Various agents — mainly from plants — have always existed which could be used by those aware of them to harm others or control people by altering their state of consciousness. However, only recently has it become practical to wreck the health of essentially everyone on the planet at the same time. Genetic modification of plants and other life forms used for food has made this possible. Now, quietly, people throughout the world can be sterilized, crippled with serious health problems or even killed by altering the genetic makeup of the food supply. Ordinary people remain generally ignorant of the fact that this awesome power exists and is presently being used against them.
Mind control has become a science. You can't major in it in college because this science is essentially entirely secret. The United States and other countries have spent the equivalent of billions of US dollars investigating and perfecting mind control.
Many secret research projects using unsuspecting or perhaps kidnapped people — some of whom were killed — have been conducted in the past and continue today. We only know about a very few of these projects such as MK Ultra, MK Naomi and Project Other. Even in these projects, specific details are sketchy. From these experiments, practical techniques for creating manchurian candidates and implanting created false personalities and identities have been developed and are in common use today within the secret communities.
Everyone has likely been the victim of some degree of mind control to some extent. Chemical weapons designed to mentally cripple people and render them drooling idiots are freely sold as prescription drugs in drugstores and are available to doctors to use as they please.
The lives of many kids are destroyed by these "drugs" because they have no ability to resist and their parents are ignorant and believe doctors can "do no harm". Actually, today's doctors are agents of the state. Many have top secret clearances and embrace classic Nazi philosophies such as eugenics. Their function is to watch you and make sure you "die appropriately" so as not to burden society. Anything they learn about you and anything you tell them is freely available to anyone in the intelligence community who is curious about you.
Only members of the super elite who are entitled to access top secret medicine will receive legitimate supportive medical care. Ordinary people will be deliberately allowed to die even though doctors with top secret clearances know of effective treatments which would cure them but which are classified and reserved for the chosen elite.
There is no such thing as an incurable disease any more. All the cures have been discovered. If you die, it is because you are not considered important enough to live and not because the cure does not exist.
Common sense should suggest to you that the lives of the elite have statistically different characteristics. For example, members of congress do not live sheltered lives. They work in close quarters and travel extensively both locally and internationally. They are always hanging out with prostitutes as well as playing with the young congressional pages.
Washington D.C. is reported to have more brothels than fast food joints. Strangely, however, these people do not get sick. Have you ever heard that congress had to shut down because everyone was coming down with some infection. It happens in other close populations, so what would make them exempt?
Understanding Astral Damage
Living things have an Astral component. For example, when you cut a leaf and then see the complete leaf on a Kirlian photo you are viewing the Astral component which was unaffected by cutting the physical component because it does not exist in the physical dimension.
Over one hundred years ago, practical techniques for viewing the human Aura were developed by Walter J. Kilner [4]. The original technique used dicyanin dye and a later technique used special glasses. You can't find either one today. In his research, Kilner was able to demonstrate that defects in the human Aura appeared before some corresponding disease manifested in the physical body.
Therefore, he was able to detect and prevent an adverse physical condition before it ever physically materialized. So, you ask, why don't we have this marvelous medical technique available today? Well, we do. It is in use in top secret medicine. However, only the approved elite now have access to it. The information has been removed from public knowledge and classified.
In conventional allopathic medicine, which is based upon scientific atheism and sold to the general public, there is officially no such thing as an Astral body. Conventional medicine denies the existence of anything beyond the physical dimension. Since the Astral body officially does not exist, it is not recognized as a crime to deliberately harm it.
Damage to the Astral body can be compared to damage to the physical body. If you punch holes in the physical body by cutting it, shooting bullets at it or whatever, blood runs out and germs get in. If you cause enough damage, the body dies. Astral bodies do not die, but can suffer critical energy losses. Similar to physical bodies, punching holes in the Astral body allows essential energy to escape and harmful energies to enter.
There are many events which can harm your Astral body. It is in your interest to understand these events because your Astral body will be your primary body when your physical body dies. If it has been damaged, you will be at a severe disadvantage. The chosen elite have perfect Auras because they can use the Aura balancing machines available to them at any top secret medicine provider. However, you cannot.
Also, the ruling elite seem to take some delight in causing harm to the "ordinary" people. Consequently, many drugs, food additives, GMO foods and industrial chemicals found in the environment cause Astral damage. Chemicals recognized as poisons and banned in other countries can be freely added to foods given to ordinary people in the US.
Obviously, there must exist a secret supply chain of safe food and water which is available to the chosen since they know of the contamination and certainly would not want to harm themselves or their friends.
There are ways to closely duplicate the secret techniques available only to the elite. If you can see auras or can find a reputable psychic who can, you can approximate the techniques developed by Kilner and available to everyone over a hundred years ago. Although the secret aura balancing machines are more accurate, a competent psychic healer can do the same thing. Actually, since psychics have always existed, similar techniques have been available throughout the ages to those who were aware.
Fluoride
The concept of adding fluoride to drinking water for the purpose of mind control is said to have originated in the 1930′s as a result of collaboration between German and Russian scientists [2]. Sodium fluoride was originally used and was found to cause a "mild lobotomy" in people who consumed small quantities. The effects were considered to be non reversible after one year of continuous use of the tainted water. Hitler added sodium fluoride to the water in his concentration camps to make the prisoners docile and cooperative as they waited for death.
Sodium fluoride (NaF) is used today in personal products like toothpaste. To poison the water supply of an entire country with sodium fluoride would be expensive. However, it just so happens that there is a waste product created during the manufacture of phosphate fertilizers, Fluorosilicic acid (H2SiF6), which is classified as hazardous waste and would be expensive to dispose of under EPA guidelines.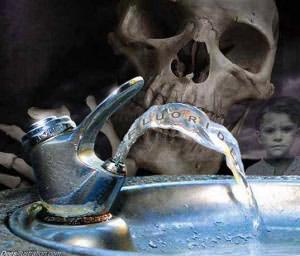 There is lots of this stuff available. This is the poison added to the public water supply in the US and some other countries. It is actually economical for industry because they don't have to pay for hazardous waste disposal. They just pump it into the public water supply.
In the human body, fluoride has an affinity for the pineal gland in the brain. The pineal gland is associated with the "third eye". Everyone has this third eye, but few are aware of it or know how to activate and use it.
Although the pineal gland is part of the physical body, the associated third eye is part of the Astral body and so is invisible in the physical dimension. The third eye allows you to see and communicate with the non-physical dimensions while fully awake and functioning in the physical dimension. So, you could see and carry on a conversation with someone in the physical dimension while invisibly also viewing and communicating with some entity on another plane of existence.
The standard Christian bible refers to the third eye with the phrase, "If thy eye be single thy whole body will be filled with light". However, only students of mysticism would recognize the true meaning of this quote.
Obviously, having this ability would be a threat to the security of any totalitarian society. Poisoning with fluoride destroys this ability and so solves that problem. Literature is available if you wish more detailed information. Simply search using the phrase "fluoride third eye".
On the chance that fluoride in the water is not sufficient to destroy any psychic abilities you may have, there are more aggressive ways to get fluoride into your brain. Here are some structural models of popular psychiatric drugs:
Notice that the element Fluorine (symbolized by its standard chemical symbol "F") figures prominently in all these compounds.
These drugs are used to cause "chemical lobotomy". By blocking communication channels with the higher levels of the human brain, they effectively convert the victim into a lower form of animal. Lower animals do not have the frontal lobes possessed by humans. That is what makes humans special. Disabling the frontal lobes effectively transforms a natural human being into, basically, a docile and obedient house pet which can be trained like a dog.
Incidentally, Fluorine also figures prominently in Sarin nerve gas.
For a more in depth study search YouTube for the free documentary Flouridegate — An American Tragedy by David Kennedy.
They All Drink From the Same Trough
If you casually look out upon the institutions of the world, it may appear to you that they are independent, discrete entities. However, they are not. They are all components of a collective which has successfully hidden its existence and true nature from the general population for generations.
Let's begin with the media in the US. Although it may appear to you that there are thousands of independent sources reporting "news", 90% of all media is controlled by six corporations. They are General Electric, News-Corp, Disney, Viacom, Time-Warner and CBS.
In the US, people believe they are protected from tyranny by the concept of "separation of powers" — that the executive, legislative and judicial branches of government are staffed by independent thinkers who "check and balance" each other. This is also a deception.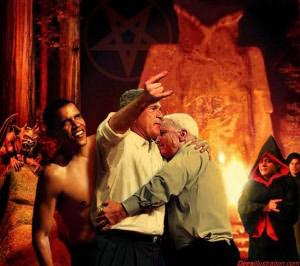 Once a year, at the end of July, there is a secret gathering on private property in the redwood forest of California called the Bohemian Grove. Although this annual meeting has been going on for over one hundred years, it is only during the last several years that outsiders have begun to learn of its existence. The only reason they have is because of the internet and independent journalism. Leaders from the mainstream media are all members of this secret club and so never even report its existence.
Who else goes to this annual secret "party"? Well, for want of a better name, we will call them the "Trusted Satanists". They are the leaders of all the major corporations, banks and representatives from all the major branches of the US government as well as foreign governments.
Although these men outwardly support the concept of capitalism for the masses, this elite group, among themselves, are perhaps best described as "rich socialists". Only men are allowed. For recreation, a stable of prostitutes — both male and female — are kept nearby off-site. The male prostitutes could theoretically enter the Grove.
The "party" begins with a Satanic ritual called "Cremation of Care" (i.e., "we don't care") which features the burning of a coffin at the base of a huge statue of an owl. Walter Cronkite reportedly was the official announcer at the grove until his death.
A secretly filmed video of this event is available on YouTube. It is supposed to be a "simulated" child sacrifice. However, since the CIA, FBI and NSA attend the ritual, who is going to complain on the chance it is a real sacrifice of a human child? After all, they are all trusted Satanists.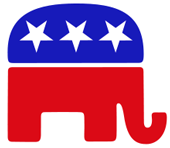 Most attendees from the United States are members of the Republican party. This is completely predictable in view of the fact that the US Republican party flaunts its affiliation with the "dark side" by prominently using the inverted star symbol on its official logo.
During the two week period, corporate leaders, the "independent" government regulators who supposedly keep corporations honest, the leaders from the executive, legislative and judicial branches of US government who are supposed to be "checking and balancing" each other, as well as the media moguls who we "trust" to report the truth, are all running around naked in the woods — pissing on the trees, playing with each other, and the male prostitutes as well as the off-site female prostitutes, and "having discussions".
Well, what are they "having discussions" about? They are discussing what they plan to do with "their world". The Manhattan Project to develop the first atomic bomb was reportedly planned at one of these discussions years ago. What about you? What about your future? What about any expectation of happiness you may have? Well, you see, you "don't need to know". Remember, "If you are not one of us, you are nothing".
Blueprints For the New World
Overview
If this link [7] is still active, it would be in your interest to read through it. This document is a transcript of a speech given by one of the insiders in the year 1969. He boldly states,"Everything is in place and no one can stop us now".
The article details how people ("people" means the slave class who are "nothing"; recall: "If you are not one of us, you are nothing") will just have to get used to changes such needing permission to have children, accepting mandated euthanasia as the law and total surveillance. Essentially all goals are now achieved, although some still remain guarded secrets.
The 1960′s was the period when physical death was eliminated. Of course, this "privilege" is only available to the select Satanic oligarchs. Effective cures for all diseases were also developed. The speaker [7] states that the cures are on file in the Rockefeller Institute. Of course, most are classified and only available to the chosen elite.
Infrastructure
The PBS documentary, Top Secret America [8], presents a good overview of the secret world of the elite. You may think no one is paying attention to the infrastructure in America because streets are in disrepair and bridges are falling down. However, you would be wrong. A tremendous amount of money is being spent on infrastructure in America — for the chosen elite. You will never see it and you will have no need for the decaying bridges and streets because you won't be around to use them. You, as well as 90+ percent of the current population, will be killed in the "Great Culling".
The new infrastructure is quite elaborate as the documentary explains. It consists of thousands of buildings which have a few stories visible above ground but which then extend for 90+ stories underground. All amenities are available within these secret structures which are basically self-sufficient.
It is important for the buildings to reach deep underground so that the lower levels can connect to the secret underground transport network. This network is global and provides safe high speed transport for the elite. Whenever the network crosses a tectonic plate, massive amounts of silicone are used to allow the transport tunnel to flex as needed. The network has access points in all countries. However, these points remain secret in countries which have yet to be subdued and co-opted into the new world order.
NWO Enabling Documents
The treaty known as the Trans-Pacific Partnership appears to be the formal enabling document for the new world. The actual document is secret and only high level corporate executives and politicians are allowed to see it.
Even after the treaty goes into force, its contents will remain secret. Because, in the United States, treaties must be openly debated in congress, the treaty is being called an "agreement" to circumvent the law and keep its contents secret. However, some details have become known.
Although the planet is officially divided into "sovereign" countries, it is overlaid with a network of transnational corporations. This network basically forms a parallel government which encircles the globe. The Trans-Pacific Partnership is designed to cause any country which signs on to surrender its national sovereignty to a secret committee composed of corporate executives. This committee can then alter the constitution and laws of any country which has accepted the treaty as suits their whim. There will be no appeal against this.
Under the treaty, there will be only one purpose to human life. That purpose will be to maximize the profits of the cabal of transnational corporations which will now be essentially a single global corporation in absolute control of the world. This effectively institutionalizes the new world order.
What does this mean for you? Well, to begin with, there can be no retirement. Paying for retirement would negatively impact corporate profits. So, if you can't work, you will be killed. Taking care of sick people would also drain corporate profits. It would be more profitable just to kill the sick and replace them with young, healthy slaves. Disabilities — forget it — disabled kids will never make it out of the womb alive.
Reeducation
To come into compliance with the philosophy of the new world, people will need to be reeducated. Military instruction documents [6] are already teaching that the Founding Fathers of the United States were extremists and anyone who thinks like them would not be suited for today's military.
Well, what did these radical extremists think?
"We hold these truths to be self-evident, that all men are created equal, that they are endowed by their Creator with certain unalienable Rights, that among these are Life, Liberty and the pursuit of Happiness."
Obviously, these principles are not compatible with the new world. The idea of a "Creator" conflicts with the official doctrine of Evolution. We can't have that. People must accept that they and the universe they live in is simply an "accident".
People are already realizing that Liberty and Happiness are gone. They know now that they live under constant surveillance and their lives get worse year after year. How about the right to Life? Can't have that. People need to be reeducated to believe that it is their "duty to die" when they are no longer useful to the state (which is now the global corporation).
Of course, the global elite will live physically forever but ordinary people will not know this.
If a world where people are conditioned to want to die and do not want kids but just sleep around for fun sounds vaguely familiar to you, you might recall that this is the future society described in Huxley's classic novel, Brave New World.
Population Modification
Please refer to [9] as a reference source. Today's "great thinkers" seem to be coming into agreement that most people are unnecessary and need to be exterminated for the convenience of the elite. Bill Gates, who has now been accepted into the super exclusive Bilderberg group, has reportedly taken the task of exterminating the third world population by giving them "free" vaccinations which will render them sterile.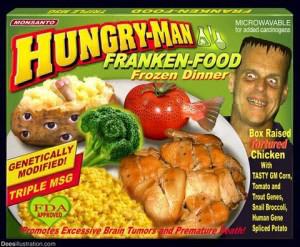 Lots of groups are working on secret sterilization methods. European tests of Monsanto's GM soybeans on hamsters showed the animals became sterile by the third generation [12]. A new gene known as Epicyte [9] is planned to be added to GM corn which will cause immediate sterilization.
Additionally, people are being "eased into" accepting the concept of "after birth abortion". Intellectuals are trying to get people to accept the argument that living human children under three or perhaps even five years old are really "not people but advanced feotuses". Since abortion is already legal, a simple change in the definition of "feotus" would allow young kids to be killed at will for any reason.
Another "new thought" gradually being programmed into the young is the pleasure of the "childless lifestyle". This propaganda seeks to convince people that having kids is too much trouble and they will be happier if they just get sterilized and then run around having lots of sex purely for fun.
These "evolutionary" population control techniques are already in effect. However, the elite likely are not willing to wait several generations to get rid of those they do not need. This brings us to the more direct method commonly called "The Great Culling" which will allow the elite to kill off most of the world's population quickly.
The most likely method will be the release of new designer viruses for which no one will have any natural immunity. Of course, the elite will all get the classified antidote. Preparations for the disposal of the bodies is already complete and stockpiles of plastic coffins — each designed to hold three bodies and manufactured under government contract by Halliburton — have been photographed and documented. Everything is now in place awaiting the "go" command.
Designer Children
Some types of designer children have already been approved for "production". Britain has approved three parent babies [10] and China has proposed a process to artificially fertilize most of a woman's eggs and then examine them to determine which is likely to produce a child with the highest IQ. This will be the only selected egg because Chinese women are only allowed to have one child and must then be sterilized.
In the new world where the only purpose of people will be to do slave labor to serve the elite corporate masters, the concept of allowing the existence of children conceived naturally clearly cannot be allowed. There would be an unexceptable chance for some kind of error that could result, for example, in the creation of a being capable of independent thought who might challenge the establishment.
A man's true worth is measured by the amount of other people's happiness that he can possess and destroy
This is a quote from the docudrama The American Ruling Class [5]. It is worthy of discussion because it is so prophetic.
The Satanic oligarchs who run this world basically exist and thrive on the misery of others. It is not enough just to use and abuse you — they want to consume your Soul. Your misery and suffering is, essentially, their "food". It is the source of their energy.
Ordinary innocent Souls are sustained by the life energy which flows from the Creator. However, since the oligarchs hate God, this energy flow is not available to them. So, they essentially survive by consuming the life energy of the innocent Souls they have captured and enslaved.
Ordinary people do not naturally choose to spend their lives in a state of constant war. They have to be somehow coerced into this behavior. Otherwise, they would likely seek a quiet, peaceful life. The atrocities the US and other warmonger nations force their citizens to commit are so contrary to basic human nature that the US loses more soldiers to suicide than it does to the enemy. The once innocent soldiers find that they simply cannot continue to live with what they have become and the memories of the horrors they have caused to others. The Satanic rulers who create wars, of course, have no problem with this.
Promotions within the inner circles of power are based upon how much evil one has done. The more harm you cause to others the greater your respect. You may have noticed that the stock market, which is a measure of the success of the elite, shows gains during periods when the average person is suffering and losses during periods when, somehow, life for the ordinary person seems to improve. The stock market set a new all time high, for example, during the Vietnam War when innocent young kids were being drafted and slaughtered in Vietnam while peaceful protesters at Penn State were executed by government forces for daring to dissent.
Why You Should Care
On the low Astral planes you will find people — Souls — who are totally lost and confused and seem to move in slow motion. They do not realize they have died. These "people" are not there because they tore up the Bible or burned the Koran or some other offensive act. They are there simply because it is the best they can do. They are using all of the Spiritual energy they have just to maintain this miserable existence. Whatever activities they engaged in while alive had no Spiritual merit and had no effect on developing or increasing their Spiritual energy level. Since the opportunity to do this ended when they died, they will remain strung out in this condition until they reincarnate again at which point they will have another chance to choose activities which enhance Spiritual energies.
You should care because the things you do and the things you fail to do during your brief life here will affect your existence for millions of years in the future.
The other dimensions operate under exact scientific rules just like this dimension. However, the rules are not the same. Because alternate sources of information are available today — mainly because of the internet — it is in your interest to at least investigate the available literature on Spirituality, energy raising techniques and various first-hand reports from people who have successfully visited the neighboring dimensions.
Source:  Walter C. Vetsch   |   3108.info  |  War Is Crime
The government has just shut down? What a wonderful opportunity to re-set, to start again.
Shut down the military? Save six trillion dollars in just a few years, balance the budget immediately, get weaponized tanks out of our cities and stop killing people abroad? Absolutely.
Shut down the nuclear killing fields? No more deformed babies born in Kosovo and Iraq and Libya and Gaza and Afghanistan? No more possible Chernobyls and Fukashimas here in America? No more deadly stockpiles of nuclear waste being generated daily that will last long after the human race is toast? I'm so there.
Shut down the CIA? We'd have world peace within the year! No more rendition and torture camps, no more destabilization of countries with oil? I want that. Badly.
Shut down the NSA? No more spying on our phones and computers? George Orwell would heave a sigh of relief from his grave — and I certainly would too.
Shut down all those perqs to RepubliDem Congressmen? Why not. They have never earned their keep anyway.
Shut down all those subsidies to agribusiness, Monsanto, the Koch brothers' lumber empire, etc.? Bring back the small farmer and the Lorax? Just imagine that. Wonderful.
Shut down the subsidies to Big Pharma? So we could once again afford to buy our medicine without going to Canada? I'm certainly willing to give that a try.
Shut down Homeland Security? Stop wasting money checking our junk and irradiating us at airports and making us paranoid and spending our money to run a police state? Whoopie!
Shut down the FBI and all those other agencies that didn't protect JFK and aren't protecting you and me but rather the corporate mega-state? And spend all their time putting citizen-protestors in jail for years and pursuing whistle-blowers but let Wall Street mega-criminals go? I have no problem with that.
Shut down MediCare? Just try it. You'll have an army of irate old folks in wheelchairs and walkers descending on Washington with canes in our hands and blood in our eye!
Shut down Social Security? That we earned over time with our bare hands? Do you really want hundreds of thousands of truly-pissed-off senior citizens morphing into full-rebellion mode? The Greatest Generation brought down the Third Reich. And it can bring down the Fourth Reich too.
Just as soon as we find our false teeth.
As long as you are plugged into the computer program that is running your reality, you can't escape its hold over your life. You are literally programming and reprogramming yourself, without your conscious will, to toe the line of some very sneaky potentates who would like for you to forget just how powerful a being you truly are.
As long as you are subservient to the status quo — the belief that you must slave away for the monarchy, namely the Rockefeller/Vatican/Gates/J.P. Morgan/World Bank delusionists, then you will not ever truly know that you can change your reality in the blink of an eye. The world in its current state is not meant to be your experience of life, yet playing the computer game that has been set before you keeps you disillusioned and deluded. It's time to wake up. Following are 5 of the practically infinite ways by which the powers that be keep you thinking you are small, helpless and powerless, when in fact, you are Infinite in scope:
1. They are hypnotizing you with their agenda. If you participate in the mainstream media — watching its television programs, sitting in front of its Hollywood movies, or even leaving the tube on as you go to sleep, then you are programming your brain with the entirely 'wrong' frequency. Of course, it's a choice. There really is no wrong or right — we can continue to portray minorities, women and any person who isn't rich and white as less intelligent or capable, or portray endless scenes of violence and bigotry, hate and racism, but we have to ask ourselves what purpose this truly serves. It seems if we are fighting against one another, because of the color of our skin, our religious or cultural backgrounds, our sexual preferences or our gender, then we can't really focus on the true 'enemy', which is really only like Oz behind a curtain.
CBS and ABC both have officials that have top positions in the Obama administration. Monsanto and several large Big Ag, Big Pharma, and Big Oil corporations have cronies in almost every leg of the mainstream media. These people don't report the truth. They promote their own greedy agendas. With just a little crack in the looking glass, you can see that there is another reality. David Icke's The People's Voice Network is just such an example. It's literally time for a different program. Cut your addiction to mainstream media. They are keeping you enslaved to a decaying paradigm.
2. They are poisoning the enlightenment right out of you. Big Corporations are poisoning your water with fluoride, heavy metals and endless other toxins. Big Ag is poisoning your food with GMO crops. Big Pharma is supplying you with drugs that actually make your food-induced cancer or heart disease worse, as well as dumbing down entire generations with autism, while quietly paying out families for the damage that MMR vaccinations have caused. The secret of the Matrix is that these addictive patterns — high fructose corn syrup, McDonald's Happy Meals and nutrition-less foods — do more than make you fat and sick. They literally block your ability to have an enlightened experience of the world — explicitly one which allows you to see outside the Matrix. These companies provide the pain and then feed you the pain-killers, which are really just another way to kill you. You are not a depressed, dark, lonely individual. You are a creature of light and hope, love and prosperity beyond your current imagining. Don't let them drug you into oblivion. Eat wholesome foods, detox your pineal gland — the seat of enlightenment — and participate in age-old natural healing. It is not only for your physical well being, but for your spiritual ascension — and a great and final unplugging from the Matrix.
3. They use religion to perpetuate a lie. This is a hot button for many people. The truth is that use of religion alone is one of the easiest ways that they can divide and conquer. Every religion has at its core, a message of truth and LOVE, not the bastardized, quantified, you-need-me-to-get-to-God message that so many people mistakenly proselytize to the masses in order to keep them in check. The leaders of great religious movements know that we can only survive together as one. There are sites around the world that teach an integrated, accepting approach to realizing the Great Mystery of which we are all a part. Thanksgiving Square, for example, has been visited by the Dalai Lama, Catholic nuns including Mother Theresa, Zen Monks, famous Hindu yogis, Muslim and Christian spiritual leaders, and so forth. It is time to elevate our spirituality to one of inclusiveness instead of segregation and division. Realizing this is a great way to shun the Matrix lie that there is only one pathway to God.
4. They indoctrinate you early in public school. Henry Louis Mencken puts it so perfectly:
"The aim of public school is not to spread enlightenment at all; it is simply to reduce as many individuals as possible to the same safe level, to breed a standard citizenry [slaves to the Matrix], to put down dissent and originality."
There are numberless geniuses who were able to skip a 'cursory' education and, instead, used their own curiosity and creativity to guide them through the material world. Michael Faraday opened a famous bookshop without any formal education, but he also experimented with electricity, magnetism and other sciences on his own. William Herschel, a musical composer with no formal education in astrophysics, discovered the planet Uranus and was only later called an 'astronomer' for his discovery. Don't let them tell you what you can know or limit your genius. This is another tactic to keep you enslaved to the Matrix. Teach your children to think for themselves and seriously question whether they need to attend public school at all.
5. They convince you that this is the only 'REALity.' You can create a world that does not poison its people, pollute its oceans, rivers and streams, air and soil. You can create a world where people do not engage in endless wars and genocides. You can create a world where a few greedy bastards don't run the whole show. You have the choice to run another program. It starts with waking up to the reality that has been forced upon you so that you can choose differently.
Kurt Vonnegut once said in Mother Night:
"We are what we pretend to be, so we must be careful what we pretend to be."
You are just pretending this reality right now. You can just as easily choose another. As long as you have the belief that you are stuck in this version of reality, you will be. They reinforce this belief in every way they possibly can. Though our minds have a hard time conceiving of Infinity, it exists. Start expanding it to new levels, and suspend your disbelief. This will help you to untie your bondage ropes to the Matrix.
"How often have I said to you that when you have eliminated the impossible, whatever remains, however improbable, must be the truth?" — Sir Arthur Conan Doyle.
Source: Christina Sarich  |  Waking Times
Many pesticides have been found to cause grave danger to our bees, and with the recent colony collapses in Oregon, it's time to take a hard look at what we would be missing without bee pollination.
In just the last ten years, over 40% of the bee colonies in the US have suffered Colony Collapse Disorder (CCD). Bees either become so disoriented they can't find their way back to their hives and die away from home, or fly back poison-drunk and die at the foot of their queen. There are many arguments as to what is causing CCD, but the most logical and likely culprit is the increased usage of pesticides by the likes of Monsanto and others.
A study by the European Food Safety Authority (EFSA) has labeled one pesticide, called clothianidin, as completely unacceptable for use, and banned it from use entirely. Meanwhile, the U.S. uses the same pesticide on more than a third of its crops – nearly 143 million acres. Two more pesticides linked to bee death are imidacloprid, and thiamethoxam. These are also used extensively in the US, while elsewhere, they have been taken out of circulation.
Recently, the FDA also seized Terrence Ingram's bees, a naturalist who had been studying bees for over 30 years, and had a  colony that was resistant to Monsanto's Round Up. Ingram's prized hives, along with their queens, were destroyed by the FDA, and Ingram was given no warning that his bees would be demolished.
List of Crop Plants Pollinated by Bees
While we don't need bees to pollinate every single crop, here is just a brief list of some of the foods we would lose if all our bees continue to perish:
Apples
Mangos
Rambutan
Kiwi Fruit
Plums
Peaches
Nectarines
Guava
Rose Hips
Pomegranites
Pears
Black and Red Currants
Alfalfa
Okra
Strawberries
Onions
Cashews
Cactus
Prickly Pear
Apricots
Allspice
Avocados
Passion Fruit
Lima Beans
Kidney Beans
Adzuki Beans
Green Beans
Orchid Plants
Custard Apples
Cherries
Celery
Coffee
Walnut
Cotton
Lychee
Flax
Acerola – used in Vitamin C supplements
Macadamia Nuts
Sunflower Oil
Goa beans
Lemons
Buckwheat
Figs
Fennel
Limes
Quince
Carrots
Persimmons
Palm Oil
Loquat
Durian
Cucumber
Hazelnut
Cantaloupe
Tangelos
Coriander
Caraway
Chestnut
Watermelon
Star Apples
Coconut
Tangerines
Boysenberries
Starfruit
Brazil Nuts
 Beets
Mustard Seed
Rapeseed
Broccoli
Cauliflower
Cabbage
Brussels Sprouts
Bok Choy (Chinese Cabbage)
Turnips
Congo Beans
Sword beans
Chili peppers, red peppers, bell peppers, green peppers
Papaya
Safflower
Sesame
Eggplant
Raspberries
Elderberries
Blackberries
Clover
Tamarind
Cocoa
Black Eyed Peas
Vanilla
Cranberries
Tomatoes
Grapes
If one of your favorites is on this list, you should consider becoming a bee activist.
Source: Natural Society