Whether to require labeling on GMO foods should be the easiest and simplest of decisions. If health and safety is really a mandate of federal agencies, 'where is the beef' in their policies? Come on people, banning such modifications is not even remotely being considered, so why will the government not lead the way and allow the public to be reasonably informed with full disclosure of exactly the makeup and alterations to the very essence of the food we eat.
Advocates stressing caution provide Top 10 Reasons to Label Genetically Engineered Foods. Where are the warning labels that sheer common sense demands?
The Convention on Biodiversity recognizes that genetic engineering is a threat to amount and variety of life on the planet.
Scientists reviewing data from Monsanto's own studies "have proven that genetically engineered foods are neither sufficiently healthy or proper to be commercialized."
Biotech's scattershot technique of spraying plant cells with a buckshot of foreign genes that hit chromosomes in random spots would trigger the expression of new allergens and change the character of plant proteins.
Milk and dairy products from cows injected with genetically engineered growth hormones ARE different from conventional and organic milk and dairy products.
The third generation of hamsters fed genetically engineered soy suffered slower growth, a high mortality rate, and a bizarre birth defect: fur growing in their mouths. Many also lost the ability to have pups.
Animals fed genetically engineered feed ARE different from animals fed conventional and organic feed.
A single serving of genetically engineered soy can result in horizontal gene transfer, where the bacteria in the human gut adopts the soy's DNA.
Genetically engineered foods ARE different from conventional and organic foods.
Genetically engineered foods have not been tested to determine whether they are safe for human consumption.
Almost all non-organic processed food and animal products in the U.S. today contain ingredients that come from genetically engineered crops or from animals given genetically engineered feed, vaccines or growth hormones.
Health concerns are on the minds of responsible consumers, especially since Obamacare rationing lowers the quality of care. Proponents of limited government are cautious to expand regulations and bureaucratic regulation. However, how can a consumer accept the risk when meaningful labeling is absent?
If you think you are diligent in avoiding selecting such genetically engineered food with your shopping, think again because, What Are We Eating?
"We Currently Eat Genetically Engineered Food, But Don't Know It.
A genetically engineered food is a plant or meat product that has had its DNA artificially altered in a laboratory by genes from other plants, animals, viruses, or bacteria, in order to produce foreign compounds in that food. This type of genetic alteration is not found in nature, and is experimental. The correct scientific term is "transgenics," and is also often referred to as (GE) genetically engineered.
Example: Genetically Modified corn has been engineered in a laboratory to produce pesticides in its own tissue. GMO Corn is regulated by the Environmental Protection Agency as an Insecticide, but is sold unlabeled. [EPA Pesticides ]"
So what is the nutrimental value of this laboratory designed foods? Should there be open transparency so that full disclosure can evaluate exactly what comprises this new source of sustenance?  If you listen to the Center for Science in the Public Interest (CSPI), think again. CSPI Refuses to Debate Consumers Union on Labeling of GMO Foods presents suspect reasoning.
"Gregory Jaffe, CSPI's director of Biotechnology told a reporter last year  — "we don't feel it should be mandated on labels that foods are produced with GM crops."
"You could argue for example that non-GMO label claims are misleading since they falsely imply that food made without GE ingredients is safer or superior in some other way," Jaffe said."
Attempts to equate natural foods with a genetically engineered menu are no surprise. That bistro of fine dining, Monsanto falls back on the select club of government authorities and medical experts of chemically toxic healers to justify the limits on warnings of known risks. In Labeling Food and Ingredients Developed from GM Seed, establishment science protects the corporate benefactors of the designer disease and drug treatment cycle.
"Within the United States, the Food and Drug Administration (FDA) oversees food labeling. FDA guidance requires labeling of food products containing ingredients from GM seed if there is a meaningful difference between that food and its conventional counterpart. The American Medical Association (AMA) supports FDA's approach and approved a formal statement asserting that there is no scientific justification for special labeling of foods containing GM ingredients."
Skyrocketing cancer associated with processed foods promises to be dwarfed by the hidden consequences of GMO experimentations. Yet, the government simply ignores their mission of promoting public health.
Overcoming this threat is no easy process. When Labeling of Genetically Modified Foods provides a list of pros and cons for mandatory labeling, their negative reasons fall short of reassuring that a GMO food system is safe. Their argument follows a familiar pattern, Caveat Emptor "Let the buyer beware".
"Mandatory labeling would extend much further and would require, at a minimum, that all food products containing any GM ingredient (above a certain threshold for trace amounts) to indicate that fact. Stronger mandatory labeling requirements could include identification of each specific GM ingredient and its level of content in the product. Mandatory labeling requires further regulatory interventions including monitoring and enforcement. Under a mandatory labeling system, all consumers—both those that are concerned about the GM ingredients and those that are not—help bear the costs associated with being able to verify that foods do or do not use GM ingredients."
Since our health is ultimately our own responsibility, having reliable labeling on all GMO foodstuffs should be a prudent requirement to enhance public knowledge. Taking actions like those listed in 10 Things You Can Do to Stop GMOs, should not necessitate a full scale crisis. Putting people before corporate profits needs to become the standard every consumer deserves.
Centralization is dehumanizing the world!  As the frightening specter of global governance looms like a dark cloud over the scant freedom our world has enjoyed the status of the individual and his options are under siege.
Recent decades have seen giant corporations gobble each other up reducing competition and eroding the diversity consumers formerly enjoyed.  Decision makers are remote from the public making any kind of complaint extremely difficult.  Retail business no longer considers the individual important.  Their markets are vast and their concern is for segments.
Ten massive corporations now control the world food supply: Nestle, Pepsico, General Mills, Kelloggs, Associated British Foods, Mondelez (Formerly Kraft Foods), Mars, Danone, Unilever, and Coca Cola.  See the Chart here. http://theeconomiccollapseblog.com/wp-content/uploads/2014/07/10-Corporations-Control-What-We-Eat.png
The concentration of power is frightening.   Over 80 percent of Beef is controlled by four companies http://www.hcn.org/issues/43.5/cattlemen-struggle-against-giant-meatpackers-and-economic-squeezes/the-big-four-meatpackers-1 , four companies control over 60 percent of the Pork market, and chicken producers are similarly concentrated.  Half of seed production is owned by four companies and Monsanto with over 85 percent has a lock on corn and soybeans. Read more here. http://www.chaionline.org/en/compassion/reality/reality_food_controls.htm
Trade Agreements have opened world food markets allowing producers to ship food around the world.  The volume is so large and the types so diverse that proper inspection is almost impossible.
Bramble men of the new world order are not concerned with people.  Their interest is in a Babelian Tower of power.  As this power structure is being formed they control people with propaganda that includes lies, distortions, false flag attacks, sexual deviations, and ubiquitous competitive sports.
New enemies and new terrors are constantly being invented and as these new bogeymen are trotted out new incursions on individual freedoms are astride.
We are regaled with the idea that the world has shrunk and that world government is a necessity to control the world's corporate behemoths.  Transportation and communications have become faster and more efficient but the world's nations are still distant from each other.  World trade and world government has been planned and is being imposed on the world over the heads of the people.
The Bramble men are remote and mysterious.  Like the tiny airplanes that spray unknown substances in our skies they are so far above the results of their decisions that they are never confronted.
When the traditional family is designated as the primary form of government wide spread tyranny is impossible.  The preservation of freedom is a simple matter:  De-centralize power by vesting it in fathers as heads of families and require obedience to God's Law.  Close all of the Socialistic government agencies rescind the volumes of federal law and begin anew. The solution is simple but it requires the hand of God in the affairs of men.
We need to produce powerful resistance to business mergers and buyouts with particular emphasis on the giant corporations. Multinational corporations that own numerous independent companies should be required to return them to independent status and future mergers and buyouts should be contested.  De-centralization is a bitter enemy to tyranny.
Government power must be returned to states and towns with federal responsibilities restricted to the defense of the nation.  International meddling should be stopped and our Founders recommendation to avoid such involvement obeyed.
Libertarians have produced some excellent rhetoric but they have failed to unite under a workable plan.  Criticizing the progress of the Babelian state is only useful for educational purposes; it does nothing to stop its progress.
Decisions that affect local communities should be adjudicated by the heads of individual families. This is the ultimate de-centralization.  Voting should be restricted to fathers.  We must take back our cities and towns.
The family is now in shambles with arrogant humanists showcasing their inability to conduct their lives in a rational manner by supporting the cognitive dissonance of multi-culturalism, abortion and homosexual marriage.  When anarchy is allowed to reign in our most brilliant minds insanity quickly overtakes the nation.
The Libertarian call for strictly limited government and maximum freedom is on target but libertarians have too much faith in human intellect and lack the righteous, immutable yardstick that sustains a free society.  If the distorted intellects of human beings are the source of a new legal structure tyranny will again progress.  God and His Law must be paramount.  Men will always resort to tyrannical policies if left to their own devices.
The long standing premise that humanity must be ruled by an elite group of superior individuals is a fallacy that contains a molecule of truth.  Humanity cannot rule itself.  Democracy is a failed form of government.  However, failed as it is, it cannot be corrected by imposing the will of gentry that is no better at ruling than the mob they intend to rule.  Man was not created to govern himself and the ONLY way to enjoy maximum freedom is to live under the merciful rule of the God of Abraham, Isaac, and Jacob.
John Lennon's song "Power to the People" is truer than its author realized.  Power must be returned to the people but only when the people are restrained by the perfect commandments of the One True God; those that are not are as dangerous as our current tormentors
The Bramble men hate Christianity because Christianity encodes freedom for the individual. Their objective is control while God's objective is individual freedom. Christianity de-centralizes while despots centralize.  This is the core of the battle.
The God of Abraham, Isaac, and Jacob is unchanging.  He did not alter His intentions when He sent His Son to die for the sins of His chosen people.  He is a merciful God whose intention was to save His people in spite of their disobedience.  When His mercy was rejected the original covenant was broken and a new covenant was made with Christians.  Henceforth the ONLY path to God is through His son, our Savior, Jesus.
Christians, God's saved and chosen people, are now vested with a responsibility to obey God's Law and work to bring His creation under His dominion by obedience. When we point to sin we must provide God's remedy.  Sin is disobedience.  The remedy is always obedience to His commandments.
Humans cannot create freedom on their own.  Man's proclivity to sin distorts his ability to find righteousness and truth.  His redemption is in the Word of God which contains a description of the actions that will turn away His judgment and bring His blessing.
Work against centralization.  Support de-centralization
Attitudes toward medical ailments and treatment vary widely, usually based upon the degree of trust in the type of health care practice that a patient believes to be the best healing method. The AMA is an advocacy association that promotes the validity of medical therapy heavily based upon manufactured designer drugs. The establishment corporatist scientists have a tendency to claim a corner on proof. However, they often expound on their accepted view using selective memory. Facts can stand in the way of implementing the master plan when the "so called" humanitarian benefits remain elusive or worse, detrimental.
Primum non nocere as stated in The Hippocratic Oath is the original casualty in the practice of NWO health care.
The high priestess of orthodox medicine, Centers for Disease Control and Prevention publishes on their site, Possible Side-effects from Vaccines, and provides the obligatory disclaimer.
"Remember, vaccines are continually monitored for safety, and like any medication, vaccines can cause side effects. However, a decision not to immunize a child also involves risk and could put the child and others who come into contact with him or her at risk of contracting a potentially deadly disease."
A far more factual viewpoint is presented on Weigh the Risks of Vaccination.
"A common assumption is that vaccines' benefits outweigh the risks.  But given evidence that the increase in the number of vaccines since the late 1980's may be linked to corresponding increases in many chronic childhood health conditions, do the benefits outweigh the risks of the current USA vaccination schedule? To answer this question, we undertook a theoretical analysis to calculate the risk from diseases to an unvaccinated child in the first 5 years of life, and then compare that to the risk of vaccine-injury in the first 5 years of life if that child is vaccinated per the USA schedule.  To make a valid comparison of disease risks to the unvaccinated child, we sought to calculate risk of injury from disease in two cases:  1) the risk in a highly vaccinated population and 2) the risk in a population with low vaccination. Where there is current evidence in the USA of herd immunity for a disease, this effect is considered in the highly vaccinated case (see A SmartVax Discussion on Herd Immunity). To perform the analysis, we made several assumptions about how to calculate risk (see Assumptions for Weigh The Risks Analysis) including a decision to focus on only four of the childhood chronic health conditions that may be vaccine-induced: Asthma, Autism, ADHD, and Allergies."
The results from studies that conflict with the myths that are central to the pharmacology industry cannot be allowed to go "mainstream" and influence the public. Generating money is a foremost ingredient in the profit pill paradigm. Notwithstanding, a far more sinister objective lingers in the bowels of the medical eugenics labs.
Christina England writes in the essay, Bill Gates' Polio Vaccine Program Eradicates Children, Not Polio.
"In the depths of cyberspace lurks a press release written by the CDC, confirming that the OPV, or oral polio vaccination, given to millions of children throughout the developing world, is causing them to develop vaccine-induced polio. Instead of banning the vaccination, as one would expect, the CDC has decided in its wisdom that the best way to tackle the problem is to maintain a high rate of vaccination in all countries!"
The report, Depopulation: Gates pushes nanoparticle vaccine, Giant leap against mankind links to some disturbing information.
"Depopulation might take a giant leap if a Helmholtz Centre for Infection Research (HCI) proposal in "Grand Challenges Explorations" is granted as it will have a million Gates Foundation US dollars to develop a nanoparticle vaccine on contact with human perspiration according to a written statement released Wednesday. Bill Gates, who has stated in a TED presentation that vaccines are a favored method of depopulation, is promoting this project touted as a way to save lives, but raising concerns about negative eugenics and violation of the human right to self-determination including right to informed consent."
The video, Bill Gates Admits Vaccines Are Used for Human Depopulation reveals the ultimate objective of the vaccine strategy.
Alas, karma comes home to roost for the master programmer of the vaccine dispenser. Wonder how long it will take for the magic seeds from Monsanto to strangle the international courts?
India Holds Bill Gates Accountable For His Vaccine Crimes, "A recent report published by Health Impact News has reported that the Gates Foundation has found itself facing a pending lawsuit, due to an investigation that is being carried out by the Supreme Courts of India."
Health Impact News stated:
"While fraud and corruption are revealed on almost a daily basis now in the vaccine industry, the U.S. mainstream media continues to largely ignore such stories. Outside the U.S., however, the vaccine empires are beginning to crumble, and English versions of the news in mainstream media outlets are available via the Internet.

One such country is India, where the Bill & Melinda Gates Foundation and their vaccine empire are under fire, including a pending lawsuit currently being investigated by the India Supreme Court."
Is it not ironic that the guru of internet infections wants to be the anti-virus specialist? Being in charge of reducing the animal kingdom must have its attraction for Bilderberg surgeons of the human matrix. While one of those nasty facts is that the bulk of the mankind idiots do not understand the nature of the global struggle, it is a monumental immoral leap to devise an injected answer to implement an angel of death solution, to eliminate ignorance in order to protect the self-appointed and purported enlightened.
Jon Rappoport authors the article; we come to vaccines and depopulation experiments which should be read in its entirety.
"You have to understand that every promoted so-called "pandemic" is an extended sales pitch for vaccines.

And not just a vaccine against the "killer germ" of the moment. We're talking about a psyop to condition the population to vaccines in general.

There is much available literature on vaccines used for depopulation experiments. The research is ongoing. Undoubtedly, we only know a fraction of what is happening behind closed laboratory doors."
Mr. Rappoport's zinger that you will not hear about on MSNBC.
"Depopulation has several objectives. Along one vector, it is an elite strategy designed to get rid of large numbers of people, in key areas of the world, where local revolutions would interfere with outside corporations staging a complete takeover of fertile land and rich natural resources.

An astonishing journal paper. November, 1993. FASEB Journal , volume 7, pp.1381-1385. Authors—Stephan Dirnhofer et al. Dirnhofer was a member of the Institute for Biomedical Aging Research of the Austrian Academy of Sciences.

A quote from the paper: "Our study provides insights into possible modes of action of the birth control vaccine promoted by the Task Force on Birth Control Vaccines of the WHO (World Health Organization)."
A birth control vaccine?
Yes.
A vaccine whose purpose is to achieve non-pregnancy where it ordinarily could occur. This particular vaccine was apparently just one of several anti-fertility vaccines the Task Force was promoting."
This essay is a thorough summary of the health scares and the comprehensive program to reduce the useless eaters. What an accommodating medical system that breeds the artful practice of implementing the pro-choice termination outcome, when actual choice is never given.
Martin S. Pernick, PhD addresses Eugenics and Public Health in American History, which provides U.S. legal precedent and standard for mandatory compliance.
"Forcible sterilization of the unfit like-wise drew on both the values and the example of infection control laws. The main legal precedent cited in Buck v Bell, the 1927 Supreme Court decision upholding involuntary eugenic sterilization, was Jacobson v Massachusetts, the 1905 case allowing mandatory smallpox vaccination. As Justice Oliver Wendell Holmes explained in Buck v Bell, 'The principle that sustains compulsory vaccination is broad enough to cover cutting the Fallopian."

In making this connection, the Court identified three key values that compulsory sterilization shared with vaccination laws. First, preventing disease was better than coping with its consequences. Second, the collective well-being of society could outweigh the interests of individuals who posed an alleged health menace. And third, state power could compel compliance with health measures when persuasion alone appeared inadequate."
Maybe this criterion is lost in the Ebola panic by the CDC and the Obama administration. However, the underpinning that vaccine treatment are automatically the health miracle that infectious diseases medicine would have you believe mostly goes unchallenged within the political establishment.
The huge windfall profit to the pharmaceutical labs that claim to have a cure for the Ebola epidemic may in fact be a side show. More likely the psyops exercise may well be part of an experimental trial run to prepare the public for the eventual compulsory shots directives.
If vaccines carry substantial risks under normal treatment, just what should the compliant sheeple expect when a true global militaritized pandemic is released by the NWO elites?
With election time almost upon us, here's a rather sobering thought:  By spending as little as a mere two billion dollars, anyone with that amount of money can now afford to buy an entire American election — Congress, the White House, governorships and all.
"But Jane," you might ask, "why would anyone even want to do that?"  Why?  Just look at all the immense amount of loot you can score with just this tiny investment.  Access to national park land, bank deregulation, profits from weapons production, corporate monopoly status, pro-pollution laws, judges' rulings in your favor…need I go on?
For instance, eleven trillion dollars has been recently spent on escalating and pursuing fake wars.  So if you "invest" in American elections and still only receive, say, just ten percent of those eleven trillion singles for your weapons-manufacturing services or whatever the heck else companies like Halliburton do, you still have just grown your measly two-billion-buck investment at least a thousand times over.  Forever War really pays off!
Or if you are guys like Obama, Bush and Cheney — and can't resist playing with war toys?  Then you get to buy your very own wars!  Lots and lots of wars.  You get to play with actual life-sized GI Joe dolls and call yourself "Commander in Chief".  You get to bomb Libya and Ukraine and Iraq and Syria.  What fun!  Two billion dollars can buy you a hecka lot of war toys — eleven trillion dollars worth to be exact.
Or let's say that your net worth is approximately 100 billion dollars, like, say, the Koch brothers' worth is.  You spend less than three percent of that money on buying elections — and voila!  You too get over a thousand percent return on every dollar you spend.  What kind of crazy-good investment is that!
Or let's say you are a member of the notorious WalMart family, worth hundreds of billions of dollars.  You spend just a few paltry billion on election buyouts — and suddenly us taxpayers are paying for all of your employees' healthcare.  And we're throwing food stamps into the bargain too.  Brilliant idea!
Or what if you own a giant coal company, oil company, car company, power company or some other major polluter?  Common sense tells us voters that we need to cut down on polluting the atmosphere so as to avoid drastic climate change that even now threatens to kill off the whole human race.
We could have been using solar power all this time for instance — and also cleaned up our rivers and even eliminated the need for fossil fuel.  But no.  For a few (billion) dollars more at election time, you can potentially doom the entire human race.  America, are we having fun yet?
Or let's say for instance that you are AIPAC, that Israeli political action committee.  Spend just two billion dollars to buy every election in America — up to and including the dog catcher?  What a deal!  And since Israel is already receiving three billion dollars every year from America, guaranteed, voted by Congress, you don't even have to risk using your own moolah.  You can use ours.  Fabulous investment.  http://www.counterpunch.org/2014/09/12/how-the-west-created-the-islamic-state/
Plus you also get permission to bomb Gaza, take over the West Bank, design America's stupid "Bomb Syria" policy, have red-carpet access to the entire Middle East (as in red carpets of blood) and get away with committing all kinds of other violations of the Nuremberg precedents and Geneva war crime conventions too.  
According to Middle East expert Paul Larudee, "Israeli prime minister Benjamin Netanyahu infamously bragged that 'America is a thing you can move very easily'."  Apparently all you need is just two billion bucks.   Hell, Attila the Hun never even had that kind of power.  Or even Josef Stalin.  All he ever got out his American investments was the freaking Cold War.
But don't worry, Josef!  The Cold War is about to heat up again, thanks to AIPAC.  Hell, now AIPAC is even an unofficial member of NATO (and apparently its most influential member too).  And, as such, Israeli war hawks seem hell-bent on fomenting World War III.  Does the American public really want to go there?  I think not.
Or you could invest your capital in running America's prison-industrial complex?  Just think of all the cheap labor you'll get!  For much less than two billion in folding money, you don't even have to ship your goods over from China any more.  Plus you get to have them stamped "Made in America" too.  Definitely a win-win for you.
Or what if you are Monsanto or Big Pharma or Bank of America or CitiCorp or Goldman Sachs or General Electric?  For far less than two billion dollars, you can get rid of unions, create your own monopolies, write your own "regulations", appoint your own "regulators" and rake in the profits.  And if you are Big Media, our publicly-owned airwaves now belong to you.  Think Rupert Murdock.  Or net neutrality up in smoke.  Think AT&T.  Boo-yah!
Yep, America is for sale for really cheap these days.  The total assets of the United States of America is currently 188 trillion dollars.  And just think.  For just a mere two billion simoleons, all that can be yours!  Buy a little false advertizing, do a bit of voter-suppression, get your hands on a few electronic voting machines, tell a few lies on Fox News and CNN and, boom shake the room, you can own all of that.  All $188,000,000,000,000.00 worth.  "Worth playing for?"  Yeah.
My country these days has become like some aging cheap whore, selling herself on street corners to the first two-bit John who comes along and offers her a couple of dollars.
America these days isn't even a high-priced call girl any more.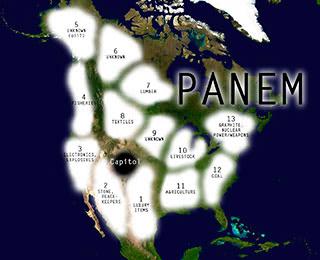 One of the most popular films of 2012 was The Hunger Games which portrayed a post-apocalyptic nation called Panem in which a super-rich, super-pampered, super-callous 'elite' lived in high-tech luxury while the rest of the population daily battled to survive in abject poverty locked away behind prison fences in intensively-populated 'people zones'. Panem comes from the Latin phrase 'panem et circenses' or 'bread and circuses' — a term derived from Rome and meaning to give the people diversions and distractions to hide what is being done to them. Exactly what is happening today.
The Totalitarian Tiptoes to just such a world are happening all around us, although most people can't see this because they don't connect the dots. People tend to live in their own 'little world' and focus on only a few subjects and interests. This gives them a distorted view of what is happening because they are so busy concentrating on the strands that they cannot see the tapestry. The world of The Hunger Games is already well on the way to fruition unless humanity has a fundamental reassessment of reality.
The foundations, structure and 'must haves' of a Hunger Games society are detailed in a plan being imposed through the United Nations called Agenda 21 which encompasses two related themes of 'sustainable development' and 'biodiversity'. Sustainable development — as in don't use more than can be replaced — sounds sensible enough at first until you realize what this and biodiversity really mean in the context of the conspiracy.
Agenda 21 was established at the United Nations Conference on Environment and Development in Rio de Janerio, Brazil, in 1992, hosted by Maurice Strong, a Canadian oil and business billionaire and long-time front man for the Rothschilds and Rockefellers. Strong has been a leader of their exploit-the-environment-to-scam-the-people programme which is now in full flow. Strong is a member of the Club of Rome, the environmental Hidden Hand in the Round Table network that includes the Bilderberg Group, Trilateral Commission and Council on Foreign Relations.
Strong said in support of Agenda 21:
'Isn't the only hope for this planet that the industrialised civilization collapse? Isn't it our responsibility to bring that about?'
This is a man who became mega-rich through the oil industry. He now lives in billionaire luxury in China where carbon-emitting industry is booming and he is a director of the Chicago Climate Exchange (largest shareholder, Goldman Sachs), which is 'the world's first and North America's only legally-binding greenhouse-gas emission registry reduction-system for emission sources and offset projects in North America and Brazil'.
The Exchange was established with funding from the Joyce Foundation where Barack Obama was once a director. Strong and Al Gore make money through the Carbon Exchange and other means from the lies they promote about climate change and the solutions they propose. Kate Johnston wrote on the Globalresearch.cawebsite:
'The same men that sold us the myth of man-made global warming are the same men that sold us the "solution" of a Carbon Tax and Emissions Trading Scheme and now they're profiting off their lucrative investments which are based on lies.' (See "The Climate Change Hoax").
Strong fled to China in 2006 after being accused of corruption with respect to the UN oil for food program.
Climate change propaganda is a No-Problem-Reaction-Solution technique to justify Agenda 21 and its stable-mate the Biodiversity Treaty. This is an internationally-binding document involving nearly 200 countries. The United States signed the treaty, but it was not ratified by the Senate after people like ecologist and ecosystem scientist Dr. Michael Coffman exposed its true consequences and implications. He said that he realized during the 1980s and 1990s that the plan was to use the excuse of protecting the environment to confiscate half the land of the United States.
Similar plans exist for every other country. America may not have ratified the treaty, but it is being implemented by the day. Agenda 21 demands the central global control of all land; all private property; all water sources and distribution; all other resources which includes people in its definition; all energy supplies and distribution and all food production and distribution.
Agenda 21 is called 'the agenda for the 21st century' and that refers to global fascism / communism. This is a summary of what Agenda 21 / Sustainable Development / Biodiversity is seeking to impose:
An end to national sovereignty
State planning and management of all land resources, ecosystems, deserts, forests, mountains, oceans and fresh water; agriculture; rural development; biotechnology; and ensuring 'equity' (equal slavery)
The State to 'define the role' of business and financial resources
Abolition of private property (it's not 'sustainable')
'Restructuring' the family unit
Children raised by the State
People told what their job will be
Major restrictions on movement
Creation of 'human settlement zones'
Mass resettlement as people are forced to vacate land where they currently live
Dumbing down education (achieved)
Mass global depopulation in pursuit of all the above
This horrific plan is being coordinated through the United Nations, the stalking horse for world dictatorship, via a non-governmental network once called the International Council of Local Environmental Initiatives ICLEI), and now known as Local Governments for Sustainability although still using the shortened name ICLEI. The United Nations is now opening 'embassies' around the world called 'UN Houses' under the guise of raising awareness of UN activities, but not the activities that people really need to know about. They have opened one in Hunter Square, Edinburgh, Scotland, for example.
Local Governments for Sustainability (ICLEI) and other organisations are integrating the plan into every village, town, city and region and it is already becoming widespread across the world. The organisational infrastructure of Agenda 21 is already fantastic and involves government agencies, non-governmental organisations (NGOs), think-tanks, trusts, foundations, 'training' (mind control) operations and 'initiatives' which have been building the infrastructure for what they call 'the post-industrial, post-democratic' society while the public go about their daily business oblivious of the prison being built all around them by the hour.
Harvey Ruvin, a vice-chairman of ICLEI, was asked how Agenda 21 would affect liberties with regard to the US Constitution and Bill of Rights, private property and freedom of speech. He replied:
'Individual rights must take a back-seat to the collective.'
The arrogance of these people is breathtaking. The extraordinary network supporting ICLEI and Agenda 21 includes the Rockefeller-sponsored America 2050; United Cities and Local Governments (UCLG); Metropolis; World Economic Forum; United Nations Framework Convention on Climate Change; United Nations International Strategy for Disaster Reduction; World Bank; Clinton Climate Initiative; Climate Group (Tony Blair); World Conservation Union (IUCN); Renewable Energy and Energy Efficiency Partnership; Global Footprint Network; Renewable Energy and Energy Efficiency Partnership; Global Footprint Network; International Centre for Sustainable Cities; Earthquakes and Megacities Initiative and the Stakeholder Forum. These and so many others are working to the same end — Agenda 21 and total human enslavement worldwide, although most of those involved will have no idea that they are building a global prison for themselves and their families.
Another of these front organisations is the World Business Council for Sustainable Development which includes the hideously anti-people Monsanto. Destroying food-growing land, contaminating the countryside with toxins and replacing proper food with deadly and soil-destroying genetically-modified organisms is Monsanto's contribution to 'sustainability'. Agenda 21 is operating in more than 600 towns, cities and counties in the United States and expanding by the day.
A member of the Agenda 21 committees in Santa Cruz, California, in the mid-1990s said that the proposals he heard were so crazy that he laughed at them because they could never happen. These included that 'Mother Earth's surface was not to be scratched'; humans should be concentrated in settlement zones; education should focus on the environment as a central organising principle and all aspects of life covered by Agenda 21, but all of these crazy plans are now being introduced. It's all happy, feely, smiling faces and how we care, when the truth is that Agenda 21 is a vicious, brutal, heartless strategy to impose a global Orwellian state.
Agenda 21 manipulators either create or hijack some local organisation or other, many of them in locations with large populations, and they have their (controlled) leadership to agree the Agenda 21 blueprint for their community together with any uninformed, unwitting idiots who can be sold a human nightmare as saving the planet. This allows them to claim that decisions were made after 'public participation' when that would have been the last thing they wanted, and 99 percent of the 'community' has never heard of Agenda 21 let alone had their say on it. They want no democracy which is why these people talk privately, sometimes even publicly, about the post-democratic, post-industrial society.
They want to control every man, woman and child on the planet — everyone and everywhere and every resource, water source and piece of land. To do this they need a global structure of fascist control that goes right down into every local community with the jackboots at local level enforcing the will of the global centre. This is why there is so much emphasis on local authorities and town and city authorities in Agenda 21.
There is a 'training organisation' called Common Purpose (common purpose, common consensus, everyone the same) which has been paid very large amounts of money by governments and local authorities, police forces and other institutions of state to 'train the leaders' of the post-democratic, post-industrial society. Common Purpose was heavily represented in the Leveson 'inquiry' leading to new media laws in Britain. It is not a training programme; it is a programming programme and turns out unquestioning zombie administrators who serve the god of Agenda 21 and the associated European Union. The theme of 'common' also applies to the ever greater standardisation of laws and regulations and constant reference to 'international law'. This is the unfolding global dictatorship of Agenda 21. What do you need to be a global dictator? Laws that everyone on the planet must obey — international law and the standardisation of global regulation.
You can see The Hunger Games connection when you look at the official Biodiversity wish-for map of the United States in Figure 1. The red areas are designated for no human use and most of the rest of America is confiscated for little and highly-regulated use. The mass of the population would be concentrated in high-rise, densely-packed 'human settlement zones' and denied access to something like 80 percent of present day America. It is without question the world of The Hunger Games with a globally-enforced top-down hierarchy that has a world government using its world army and police force to impose its will at regional and local levels (sectors). The Rockefeller-funded America 2050 has produced a map of the new United States divided into eleven 'megaregions' and includes parts of Canada (Figure 2). Seattle, Portland and Vancouver, British Columbia, become the megaregion known as 'Cascadia' and this regional system comes under the collective name of 'megalopolis' which is Greek for large city or great city. America, Canada and Mexico are due to merge to form the North American Union in line with the European Union blueprint.
The European Union is planned to be broken up into regions and the same structure is in development all over the world. The map of the new Europe has regions from different countries linked up with regions in other countries to end any vestige of national sovereignty or even national existence (Figure 3). This is a global plan with its fierce central control hidden behind its lower elements such as the European Union and local government. What is planned would clearly require a fantastic reduction of the global population and this is indeed what Agenda 21 / Sustainable Development / Biodiversity demand.
The e-book Agenda 21: Your Life In Their Hands can be downloaded here.
reference:
Icke, David. The Perception Deception. Ryde: David Icke Books, 2013.
Julian Websdale is an independent researcher in the fields of esoteric science and metaphysics, and a self-initiate of the Western Esoteric Tradition. His interest in these subjects began in 1988. Julian was born in England, received his education as an electronic and computer engineer from the University of Bolton, served in a Vaishnava monastery during 2010, and has travelled to over 21 countries. Julian is also a member of the Palestinian Solidarity Campaign.
Source: Julian Websdale  |  Waking Times | War Is Crime
"The introduction of genetically modified foods (GMO) tampers with the essence of life in an experiment with an unknown outcome and no real way to undue the damage. The FDA purposely does not require labeling of GMO food, since no one who understands the issue would ever purchase it. This makes it all the more difficult to locate healthful food."  Byron J. Richards, The Leptin Diet: How Fit Is Your Fat?
This series exposes the outright fraud against peoples' lives and the contempt for American citizens (and citizens of the world who eat our grains) with the injection of Genetically Modified Organism foods by the highest representatives in our U.S. Congress.
Call it a "financial cartel" that allows GMOs to be fed to our citizenry, but worse, for the love of money, those power elites accelerate the destruction of our Natural World.
We humans grow too clever and too arrogant to understand the long-term penalties we heap on Mother Nature until she finds no other answers but to claw back at us, i.e., cancers, disease and more aberrant environmental disasters to come.
Every crop in America, Canada, Australia and much of the third world where GMO advocates like ADM and Monsanto can force their "Frankensteinization" on farmers—they push it.
Even with all the evidence piling up, those same elites hammer any opposition into the ground.  They "bribe" the FDA officials to not label any GMO foods so you don't know what you're eating.
We destroy our own bodies by our actions, but we also obliterate the Natural World and its inhabitants.
Today around the world, trillions of bees suffer "colony collapse" via GMO crops.  Nature cannot figure out how to deal with plants that suffer genetic modification or DNA change-ups.
GMO foods represent a pitcher throwing an orange to the catcher in a Major League Baseball game.  Within several pitches, the orange wouldn't hold its form from the violent treatment.  If the batter connected with the orange, it would splatter all over the field.  Result: the game couldn't continue.  The players could not play and the spectators would go home.
But in GMO production, the consequences cannot be seen as quickly, however those "errors" against Mother Nature will surface well into the future.
Ethan Huff, science writer for Natural News said,  "A pair of studies recently published in the journal Science raises dire warnings about the continued decline of crop-pollinating insects all over the world, and what this means for the future of the world's food supply. Both studies highlight the fact that wild pollinators like bumblebees, butterflies, and beetles are basically disappearing, and that industrial agriculture, which includes genetically-modified organisms (GMOs), are a major factor causing this insect genocide.
"At least half a dozen other studies published in the last couple of years have arrived at similarly disturbing findings. They do, however, shed further light on how the situation has progressed throughout the decades, pointing to corporate monoculture practices, shrinking forests and wild lands, and general changes in physical landscapes as some of the primary culprits in promoting this ruinous trend."
We not only change the DNA of our fellow planetary travelers, but we destroy their habitat.  We seem to think no consequences will befall us.
"The earth does not belong to man, man belongs to the earth. All things are connected like the blood that unites us all. Man did not weave the web of life, he is merely a strand in it. Whatever he does to the web, he does to himself."
― Chief Seattle
Last week, I interviewed with Ross Kaminsky at www.KOA.com in Denver, Colorado. Mind you, this young man, about 30, sounded brilliant and highly articulate.  I liked him.   I spoke about America adding 100 million immigrants and a total of 138 million people by 2050—a scant 36 years from now.  I brought facts and compelling information to the show.  I attempted to show him and the public the ramifications of adding 138 million people—and that, we could not sustain such numbers and our environment.
He sat across from me saying, "We don't have a population problem. We have plenty of water and oil.  The oceans can absorb all our carbon footprint."
I said, "You're speaking with assumptions as if they were facts.  You make statements based on belief where I make them based on facts from my research."
He dumbfounded me with his arrogance that we can keep adding endless people with no consequences. He wanted everyone to live a free life.  I countered with the fact that as our population numbers rise, our freedoms decline along with balance in our Natural World.  That fact cannot be disputed.
I explained how our oceans suffer acidification and that reefs die with carbon footprint and how marine life cannot endure the onslaught.
He wouldn't hear of it.  Mind you, this young man, traveled on six continents like I have traveled.  He lives in denial and defends it. Along with him, the majority of the American public feels the same.
We see the same denial with our leaders who advocate for GMOs in plants and fish—in the face of facts.
"In one of the studies, researchers from Montana State University (MSU) compared insect data collected in the late 1800s to similar data collected in the same test location in the 1970s," said Huff. "They then compiled current data from the same area to compare to both of these other two data sets, upon which they discovered that the number of unique wild bee species had dropped by nearly half.
"What is perhaps more disturbing, however, is the fact that researchers observed modern bees to be generally interacting less with plants than they used to in previous generations. According to the data, the overall number of interactions between bees and plants has also dropped by roughly half, indicating a serious problem as far as the general food supply is concerned, as about 75 percent of global food crops rely on pollination by animals."
Managed honeybees do not pollinate crops as well as wild honeybees
The second study troubles me further:  having found that pollinating insects in general, which include a wide range of insects and other animals, continue vanishing from their normal habitats and foraging areas.
"Based on field trials conducted in 20 different countries, wild insects are clearly on the decline everywhere, and managed honeybee colonies established to replace them in many areas are failing to pick up where the wild honeybees left off," said Huff.
"In landscapes with lower diversity and lower abundance of wild insects, the crops had less fruits," explains Lucas Garibaldi, author of the second study. "Wild insects pollinated way more efficiently: Flowers produced twice as many fruits after being visited by wild insects and were more consistent in their production than when visited by honeybees."
"Some "leaders" blame climate destabilization and other outside factors for this mysterious decline in crop pollinators," said Huff. "But the major elephant in the room, and the one that the mainstream media is desperately trying to avoid, is GMOs and the chemical-based technologies used to grow them. As we have covered time and time again, neonicotinoids and other pesticide and herbicide products are responsible for weakening and killing off bees and other crop pollinators, particularly in North America where GMOs are most widely cultivated."
"The proof is obvious that one of the major reasons of the bees' decline is by the ingestion of GMO proteins," explains a report by Brit Amos from Global Research about the decline of bee colonies. "The truth is that organic farming is relatively untouched as the bee crisis is concerned. Organic farming maintains the diversity of the eco-system and preserves the quality of the foods produced."
The more I research into what we and our children face with our "disfiguring" the Natural World with our poisons and GMO assault, the more sickened I am in my mind and heart.  Since I lack any power or influence, someone like Bill Gates or Warren Buffet needs to fund campaigns to stop GMO production.  After all, it's their kids, too, who must live in this world.
All of this GMO nightmare stems from too many people needing food for survival with too many elites willing to sacrifice the Natural World in order to make endless billions of dollars to live in big homes, drive expensive cars and fly Lear Jets.
You can learn more: http://www.naturalnews.com/039582_pollinators_gmos_food_supply.html#ixzz2zSIQSIhn
Go to www.responsibletechnology.org to get involved and learn how to avoid GMOs. Look for Non-GMO Shopping Guide.
Start buying non-GMO today.
Help stop the genetic engineering of our food supply.
You may become involved:
By mail: Institute For Responsible Technology, P.O. Box 469, Fairfield, IA 52556 Online: www.responsibletechnology.org by phone:(641) 209-1765
Read the book—Genetic Roulette: The Documented Health Risk of Genetically Engineered Foods by Jeffrey M. Smith.
"If manufacturers are so sure there is nothing wrong with genetically modified foods, pesticides and cloned meats, they should have no problems labeling them as such. "After all, cancer will kill one in every two men and one in every three women now alive," reports Samuel Epstein, chairman of the Cancer Prevention Coalition. Like our ancestors, we act in ways that will bemuse future societies. The military-industrial complex lubricates the mass-agriculture system with fossil fuels. Tons of heavy metals and other hazardous waste is sprayed on American agricultural soil." – Adam Leith Gollne, The Fruit Hunters: A Story of Nature, Adventure, Commerce and Obsession
During WWII, chemical companies like Chevron manufactured Mustard gas to kill enemies by disrupting troops' nervous systems.  They changed their focus to continue their profits. They decided that crops growing in the fields of America needed poisons to stop the insects that nurtured them like bees, wasps and bats—all pollinators that make crops multiply and thrive.
They campaigned with "higher crop yields" and paid off a lot of U.S. Congressmen who "okayed" the poisons via legislation.  Chevron and other companies amassed a fortune with DDT and other nerve gases that crippled mosquitoes, flies and gnats, but quickly killed birds, rodents, hawks, eagles and countless other species living on the ground floor of Earth.
Why did those companies do that? Answer: billions upon billions of dollars.  You could call them financial terrorists because that's how they must be defined.  They kill anyone for a few billion bucks.
Today, every single American faces cancers affecting himself, herself or a friend.  I lost four friends to cancer last year and two already this year with one more hanging on for another 30 days.  A doctor cut cancer out of my sister (melanoma) and me 19 years ago.  Terror gripped me until I cleared that drama.  To this day, I eat only organic, only filtered water, only non-GMOs, live in the country and eat nothing in a can, package or box.
The fact remains:  The American Cancer Society solicits funds to eradicate cancer, but they will not "touch" the fact that we poison our foods to such an extent that our bodies respond with aberrant cell behavior, i.e., cancers in all their forms.
Every fruit and vegetable suffers chemical sprays that become part of the produce that enters your stores and you buy it. And, you eat it.
Jeffrey Smith, www.organicconsumers.org, said, "Did you know GMO plants such as soybean, corn, cottonseed and canola have had foreign genes forced into their DNA. And the inserted genes come from species, such as bacteria and viruses that have never been in the human food supply.
"Did you know genetically modified organisms (GMOs) are not safe? They have been linked to thousands of toxic and allergenic reactions, thousands of sick, sterile and dead livestock, and damage to virtually every organ and system studied in lab animals."
Why isn't the FDA protecting us?
"In 1992, the Food and Drug Administration claimed that they had no information showing that GMO foods were substantially different from conventionally grown foods and therefore were safe to eat," said Smith.  "But internal memos made public by a lawsuit reveal that their position was staged by political appointees under orders from the White House to promote GMOs.  FDA scientists, on the other hand, warned that GMOs can create unpredictable, hard-to-detect side effects, including allergies, toxins, new diseases, and nutritional problems.
"They urged long-term safety studies, but were ignored. The FDA does not require any safety evaluations for GMOs. Instead, biotech companies, who have been found guilty of hiding toxic effects of their chemical products, are now in charge of determining whether their GMO foods are safe." (The FDA official in charge of creating this policy was Michael Taylor, Monsanto's former attorney and later their vice president.)
From everything I have studied, the worst men of humanity run Monsanto and ADM.  They create synthetic sugars like Aspartame, High Fructose Corn Syrup and other chemicals that you see in "Diet Coke" and in your sugar packets at every lunch counter and restaurant in America.   Top scientists implicated Aspartame as a precursor to Lupus and Fibromyalgia along with a growing list of deleterious human conditions.
Same with the tobacco barons:  do you think they care that 450,000 Americans die of tobacco-induced lung cancer annually for the past 50 years?  Answer: they laugh during their golf games.
While GMO barons live in luxury, Lear jets and country mansions, Americans suffer diseases by the millions.  And, we die for it by the millions.
Widespread, unpredictable changes of GMOs
During GMO "Frankensteinization", natural genes suffer deletion or become permanently turned on or off, and hundreds may change their levels of expression.
In addition:
*The inserted gene is often rearranged.
*It may transfer from the food into our body's cells or into the DNA of bacteria inside us
*The GMO protein produced by the gene may have unintended properties or effects.
Why do they do it?
The primary reason companies genetically engineer plants: to make them tolerant to their brand of herbicide. The four major GMO plants, soy, corn, canola, and cotton, are designed to survive an otherwise deadly dose of weed killer like Round-up or Weed-B-Gone. The second GM trait: built-in pesticide.
In other words, kill the insects that allow the world to thrive.  It becomes more insane the more I research this series.
GM food supplement caused deadly epidemic
In the 1980s, a contaminated brand of a food supplement called L-tryptophan killed about 100 Americans and caused sickness and disability in another 5,000-10,000 people. If GMO foods on the market cause common diseases or if their effects appear only after long-term exposure, we may not be able to identify the source of the problem for decades.  No one monitors GMO-related problems and no long-term animal studies. Heavily invested biotech corporations gamble away the health of our nation for profit.
Go to www.responsibletechnology.org to get involved and learn how to avoid GMOs. Look for Non-GMO Shopping Guide.
Start buying non-GMO today.
Help stop the genetic engineering of our food supply.
You may become involved:
By mail: Institute For Responsible Technology, P.O. Box 469, Fairfield, IA 52556 Online: www.responsibletechnology.org by phone:(641) 209-1765
Read the book—Genetic Roulette: The Documented Health Risk of Genetically Engineered Foods by Jeffrey M. Smith.
Part 1: Changing the DNA structure of the Mother Nature…
In the 20st century, the human mob re-arranged rivers, deserts, rainforests and the oceans to suit its voracious appetite for dominance over the Natural World. Stemming from that 100-year epic onslaught, we humans created communities around the globe featuring 10 million, 20 million to 36 million people piled up in mega-cities around the world.
We contaminated rivers with our poisons, the air with our fossil fuel exhaust and clear cut rainforests by the millions of acres. Our onslaught of the Natural World continues with 80 to 100 species of our fellow travelers losing their existence 24/7 to our encroachment upon their habitat. (Source: Norman Myers, Oxford University)
One of our most prolific acts continues on the bees and other pollinators around the world. In the past 50 years, we poisoned every crop with hundreds of chemical herbicides, pesticides and chemical fertilizers, which, in turn, caused trillions of bees to suffer "Colony Collapse" throughout the world. Without the bees, which I wrote about earlier this year, our species cannot feed itself.
To add insult to injury, in the 21st century, in order to feed our 7.2 billion in numbers, we began tinkering with the structural DNA of plants and animals.
Today, our scientists change the DNA patterns of fish and plants in order to make them bigger, grow faster and yield more harvest: genetically modified organisms.
But we forgot to ask Mother Nature if our meddling in her business would cause any harm. Amazingly, we allow governments, scientists on the payroll of companies like ADM and Monsanto, to tell us that such activities work to make our lives better with no harm to the natural world.
With my research on GMOs connecting their horrific harm to the Natural World and ultimately to we humans, this series will show you the "GMO Frankenstein" being foisted upon us by ugly businessmen in high places to could care less about you, your family or the rest of the species sharing this planet with us.
My intention in writing this series: to educate you to the incredible damage GMO foods cause you along with your family and more important: the horrific destruction to the Natural World.
If you look at human cancers spreading like wildfire across America and the world and every physical ailment we face in America, along the accelerating damage to bees, other pollinators and to the fish in our oceans—you will become appalled at this onslaught and its final consequences.
Investigative reporter Jeremy Siefert said, "When people first hear about just the basic facts concerning Genetically Modified Organisms (GMOs or Genetically Engineered Foods) – the DNA of seeds altered with genes from other organisms like bacteria so food crops can withstand herbicides that will kill all other plants, patented by giant chemical companies and found in 80% of processed foods – the standard response is "Oh, my God." For some, it's just an exclamation, but for others, it's the beginnings of a prayer. There's a mixture of horror and disbelief, as if finding out we're living inside a very strange sci-fi novel. Beyond that, it's the sting of humiliation from being ignorant about something so big, mixed with the anger that comes from feeling like you've been duped.
"Even without understanding what a GMO is or why it matters, most of us believe as citizens of a supposedly free and democratic society that we have the right to know if GMOs are in the food we eat. The fact we don't know, and that our right to know has been taken away by corporate greed and government collusion, should upset and mobilize people. When all the food and seed and water and air is owned and patented by giant multinational corporations, will we even protest? Do we have the wakefulness and willpower to take that first step and stand up for this basic right?" (Source: www.fairworldproject.org)
What I discovered in my research: ADM and Monsanto do not want you to know, along with high government officials, the deleterious effects on the Natural World that GMO food production causes in the long run. These mega-giant corporations "own" regulatory agencies, government officials (bribes or dandy trips to anywhere in the world), and other complicit chemical companies around the world.
Be warned, you will not like the kind of treachery being foisted upon you by your U.S. Congress and officials who should present a moral and ethical stance against GMOs, but fail us because of one item: money.
Thus, as we move through this series, you may choose to save yourself and your family by buying "Certified Organic Foods" along with "Certified Non-Genetically Modified Organism" foods that give you the nutrients of Mother Nature without the "Frankenization" of your food supply and of the planet's natural systems. Additionally, Monsanto and other HUGE corporations work every angle to stop any "GMO" labeling of their poisonous foods. Why do you think the do that?
If this information educates you enough, you may take action provided in the organizations and leaders trying to rid the world of GMOs. Help them and ultimately, you will help your family.
Otherwise, if these "monsters" of Monsanto and ADM get their way, they will cripple this world, all living creatures and the structural systems that allow all life on Earth to remain in balance and allow us all to thrive.
As the US and EU apply sanctions on Russia over its annexation' of Crimea, JP Sottile reveals the corporate annexation of Ukraine. For Cargill, Chevron, Monsanto, there's a gold mine of profits to be made from agri-business and energy exploitation.
On 12th January 2014, a reported 50,000 "pro-Western" Ukrainiansdescended upon Kiev's Independence Square to protest against the government of President Viktor Yanukovych.
Stoked in part by an attack on opposition leader Yuriy Lutsenko, the protest marked the beginning of the end of Yanukovych's four year-long government.
That same day, the Financial Timesreported a major deal for US agribusiness titan Cargill.
Business confidence never faltered
Despite the turmoil within Ukrainian politics after Yanukovych rejected a major trade deal with the European Union just seven weeks earlier, Cargill was confident enough about the future to fork over $200 million to buy a stake in Ukraine's UkrLandFarming.
According to the Financial Times, UkrLandFarming is the world's eighth-largest land cultivator and second biggest egg producer. And those aren't the only eggs in Cargill's increasingly ample basket.
On 13th December 2013, Cargill announced the purchase of a stake in a Black Sea grain terminal at Novorossiysk on Russia's Black Sea coast.
The port — to the east of Russia's strategically and historically important Crimean naval base — gives them a major entry-point to Russian markets and adds them to the list of Big Ag companies investing in ports around the Black Sea, both in Russia and Ukraine.
Cargill has been in Ukraine for over two decades, investing in grain elevators and acquiring a major Ukrainian animal feed company in 2011. And, based on its investment in UkrLandFarming, Cargill was decidedly confident amidst the post-EU deal chaos.
It's a stark juxtaposition to the alarm bells ringing out from the US media, bellicose politicians on Capitol Hill and perplexed policymakers in the White House.
Instability?… What Instablility?
It's even starker when compared to the anxiety expressed by Morgan Williams, President and CEO of the US-Ukraine Business Council — which, according to its website, has been"promoting US-Ukraine business relations since 1995."
Williams was interviewed by the International Business Times on March 13 and, despite Cargill's demonstrated willingness to spend, he said, "The instability has forced businesses to just go about their daily business and not make future plans for investment, expansion and hiring more employees."
In fact, Williams, who does double-duty as Director of Government Affairs at the private equity firm SigmaBleyzer, claimed, "Business plans have been at a standstill."
Apparently, he wasn't aware of Cargill's investment, which is odd given the fact that he could've simply called Van A. Yeutter, Vice President for Corporate Affairs at Cargill, and asked him about his company's quite active business plan.
There is little doubt Williams has the phone number because Mr. Yuetter serves on the Executive Committee of the selfsame US-Ukraine Business Council. It's quite a cozy investment club, too.
According to his SigmaBleyzer profile, Williams "started his work regarding Ukraine in 1992″ and has since advised American agribusinesses "investing in the former Soviet Union." As an experienced fixer for Big Ag, he must be fairly friendly with the folks on the Executive Committee.
Big Ag Luminaries — Monsanto, Eli Lilly, Dupont, John Deere…
And what a committee it is — it's a veritable who's who of Big Ag. Among the luminaries working tirelessly and no doubt selflessly for a better, freer Ukraine are:
Melissa Agustin, Director, International Government Affairs & Trade for Monsanto;
Brigitte Dias Ferreira, Counsel, International Affairs for John Deere;
Steven Nadherny, Director, Institutional Relations for agriculture equipment-makerCNH Industrial;
Jeff Rowe, Regional Director for DuPont Pioneer;
John F. Steele, Director, International Affairs for Eli Lilly & Company.
And, of course, Cargill's Van A. Yeutter. But Cargill isn't alone in their warm feelings toward Ukraine. As Reuters reported in May 2013, Monsanto — the largest seed company in the world — plans to build a $140 million "non-GM (genetically modified) corn seed plant in Ukraine."
And right after the decision on the EU trade deal, Jesus Madrazo, Monsanto's Vice President for Corporate Engagement, reaffirmed his company's "commitment to Ukraine"and "the importance of creating a favorable environment that encourages innovation and fosters the continued development of agriculture."
Monsanto's strategy includes a little "hearts and minds" public relations, too. On the heels of Mr. Madrazo's reaffirmation, Monsanto announced "a social development program titled 'Grain Basket of the Future' to help rural villagers in the country improve their quality of life."
The initiative will dole out grants of up to $25,000 to develop programs providing"educational opportunities, community empowerment, or small business development."
Immense Economic Importance
The well-crafted moniker 'Grain Basket of the Future' is telling because, once upon a time, Ukraine was known as 'the breadbasket' of the Soviet Union. The CIA ranks Soviet-era Ukraine second only to Mother Russia as the "most economically important component of the former Soviet Union."
In many ways, the farmland of Ukraine was the backbone of the USSR. Its fertile black soil generated over a quarter of the USSR's agriculture. It exported substantial quantities of food to other republics and its farms generated four times the output of the next-ranking republic.
Although Ukraine's agricultural output plummeted in the first decade after the break-up of the Soviet Union, the farming sector has been growing spectacularly in recent years.
While Europe struggled to shake-off the Great Recession, Ukraine's agriculture sector grew 13.7% in 2013.
Ukraine's agriculture economy is hot. Russia's is not. Hampered by the effects of climate change and 25 million hectares of uncultivated agricultural land, Russia lags behind its former breadbasket.
According to the Centre for Eastern Studies, Ukraine's agricultural exports rose from $4.3 billion in 2005 to $17.9 billion in 2012 and, harkening the heyday of the USSR, farming currently accounts for 25% of its total exports. Ukraine is also the world's third-largest exporter of wheat and of corn. And corn is not just food. It is also ethanol.
Feeding Europe
But people gotta eat — particularly in Europe. As Frank Holmes of US Global Investorsassessed in 2011, Ukraine is poised to become Europe's butcher. Meat is difficult to ship, but Ukraine is perfectly located to satiate Europe's hunger.
Just two days after Cargill bought into UkrLandFarming, Global Meat News reported a huge forecasted spike in "all kinds" of Ukrainian meat exports, with an increase of 8.1% overall and staggering 71.4% spike in pork exports.
No wonder Eli Lilly is represented on the US-Ukraine Business Council's Executive Committee. Its Elanco Animal Health unit is a major manufacturer of feed supplements.
And it is also notable that Monsanto's planned seed plant is non-GMO, perhaps anticipating an emerging GMO-unfriendly European market and Europe's growing appetite for organic foods. When it comes to Big Ag's profitable future in Europe, the stakes couldn't be higher.
A Long String of Russian Losses
For Russia and its hampered farming economy, it's another in a long string of losses to US encroachment — from NATO expansion into Eastern Europe to US military presence to its south and onto a major shale gas development deal recently signed by Chevron in Ukraine.
So, why was Big Ag so bullish on Ukraine, even in the face of so much uncertainty and the predictable reaction by Russia?
The answer is that the seeds of Ukraine's turn from Russia have been sown for the last two decades by the persistent Cold War alliance between corporations and foreign policy. It's a version of the 'Deep State' that is usually associated with the oil and defense industries, but also exists in America's other heavily subsidized industry — agriculture.
Morgan Williams is at the nexus of Big Ag's alliance with US foreign policy. To wit,SigmaBleyzer touts Mr. Williams' work with "various agencies of the US government, members of Congress, congressional committees, the Embassy of Ukraine to the US, international financial institutions, think tanks and other organizations on US-Ukraine business, trade, investment and economic development issues."
Freedom — For US Business
As President of the US-Ukraine Business Council, Williams has access to Council cohort — David Kramer, President of Freedom House. Officially a non-governmental organization, it has been linked with overt and covert 'democracy' efforts in places where the door isn't open to American interests — aka US corporations.
Freedom House, the National Endowment for Democracy and National Democratic Institute helped fund and support the Ukrainian 'Orange Revolution' in 2004. Freedom House is funded directly by the US Government, the National Endowment for Democracy and the US Department of State.
David Kramer is a former Deputy Assistant Secretary of State for European and Eurasian Affairs and, according to his Freedom House bio page, formerly a Senior Fellow at the Project for the New American Century.
Nuland's $5 Billion For Ukrainian 'Democracy'
That puts Kramer and, by one degree of separation, Big Ag fixer Morgan Williams in the company of PNAC co-founder Robert Kagan who, as coincidence would have it, is married to Victoria "F*ck the EU" Nuland, the current Assistant Secretary of State for European and Eurasian Affairs.
Interestingly enough, Ms. Nuland spoke to the US-Ukrainian Foundation last 13th December, extolling the virtues of the Euromaidan movement as the embodiment of "the principles and values that are the cornerstones for all free democracies."
Nuland also told the group that the United States had invested more than $5 billion in support of Ukraine's "European aspirations" — meaning pulling Ukraine away from Russia. She made her remarks on a dais featuring a backdrop emblazoned with a Chevron logo.
Also, her colleague and phone call buddy US Ambassador to Ukraine Geoffrey Pyatt helped Chevron cook up their 50-year shale gas deal right in Russia's kitchen.
Coca-Cola, Exxon-Mobil, Raytheon
Although Chevron sponsored that event, it is not listed as a supporter of the Foundation. But the Foundation does list the Coca-Cola Company, ExxonMobil and Raytheon as major sponsors. And, to close the circle of influence, the US-Ukraine Business Council is also listed as a supporter.
Which brings the story back to Big Ag's fixer — Morgan Williams.
Although he was glum about the current state of investment in Ukraine, he's gotta wear shades when he looks into the future. He told the International Business Times:
"The potential here for agriculture / agribusiness is amazing … Production here could double. The world needs the food Ukraine could produce in the future. Ukraine's agriculture could be a real gold mine."
Of course, his priority is to ensure that the bread of well-connected businesses gets lavishly buttered in Russia's former breadbasket. And there is no better connected group of Ukraine-interested corporations than American agribusiness.
Given the extent of US official involvement in Ukrainian politics — including the interesting fact that Ambassador Pyatt pledged US assistance to the new government in investigating and rooting-out corruption — Cargill's seemingly risky investment strategy probably wasn't that risky, after all.
J P Sottile is a freelance journalist, radio co-host, documentary filmmaker and former broadcast news producer in Washington, D.C. His weekly show, Inside the Headlines w/ The Newsvandal, co-hosted by James Moore, airs every Friday on KRUU-FM in Fairfield, Iowa. He blogs at Newsvandal.com.
Source: JP Sottile | Ecologist
Once upon a time, there was an industrial combine in Nazi Germany called IG Farben. It was the largest chemical/pharmaceutical octopus in the world. It owned companies, and it had favorable business agreements with companies from England to Central America to Japan.
As I mentioned in a recent article, the author of The Devil's Chemists, Josiah DuBois, traveled to Guatemala in the early days of World War 2, and returned with the comment that, as far as he could tell, Guatemala was "a wholly owned subsidiary of Farben."
The pharmaceutical empire was and is one of the major forces behind the European Union (EU). It is no accident that these drug corporations wield such power. They aren't only involved in controlling the medical cartel; they are political planners.
This is how and why Big Pharma fits so closely with what is loosely referred to as the New World Order. The aim of enrolling every human in a cradle-to-grave system of disease diagnosis and toxic drug treatment has a larger purpose: to debilitate, to weaken populations.
This is a political goal. It facilitates control.
IG Farben's component companies, at the outbreak of World War 2, were Bayer, BASF, and Hoechst. They were chemical and drug companies. Farben put Hitler over the top in Germany, and the war was designed to lead to a united Europe that would be dominated by the Farben nexus.
The loss of the war didn't derail that plan. It was shifted into an economic blueprint, which became, eventually, the European Union.
The European Commission's first president was Walter Hallstein, the Nazi lawyer who, during the war, had been in charge of post-war legal planning for the new Europe.
As the Rath Foundation reports: In 1939, on the brink of the war, Hallstein had stated, "The creation of the New Law [of the Nazis] is ONLY the task of the law-makers!"
In 1957, with his reputation sanitized, Hallstein spoke the words in this manner: "The European Commission has full and unlimited power for all decisions related to the architecture of this European community."
Post-war, IG Farben was broken up into separate companies, but those companies were following a common agenda. If, for example, you want to know why the endless debate over labeling GMO food rivals the real issue—banning GMO crops altogether—you can look to these Farben allies: Bayer, BASF, and Sanofi, among others.
They are among the leaders in GMO research and production. BASF cooperates withMonsanto on research projects. Sanofi is a leader in GM vaccine research.
The original IG Farben had a dream. Its executives and scientists believed they could eventually produce, synthetically, any compound in a laboratory. They could dominate world industry in this fashion.
The dream never died. Today, they see gene-manipulation as the route to that goal.
I refer you to the explosive book, The Nazi Roots of the Brussels EU, by Paul Anthony Taylor, Aleksandra Niedzwiecki, Dr. Matthias Rath, and August Kowalczyk. You can read it at relay-of-life.com. It is a dagger in the heart of the EU.
At the Rath Foundation, you can also read Joseph Borkin's classic, "The Crime and Punishment of IG Farben."
In 1992, I was deeply engaged in researching the specific devastating effects of medical drugs. Eventually, I concluded that, at the highest levels of power, these drugs weren't destructive by accident. They were intended to cause harm. This was covert chemical warfare against the population of the planet. The Rockefeller-Standard Oil-Farbenconnection was a primary piece of the puzzle.
It was, of course, Rockefeller (and Carnegie) power that forced the birth of pharmaceutical medicine in America, with the publication of the 1910 Flexner Report. The Report was used to excoriate and marginalize Chiropractic, Homeopathy, Naturopathy, and other forms of traditional natural practice, in favor of what would become the modern juggernaut of drug-based treatment.
In an article about the FDA, "Medical Murder in the Matrix," I point out the fact that this federal agency has permitted at least 100,000 deaths of Americans, per year, from the direct effects of drugs it, the FDA, has certified as safe.
The FDA knows these death figures. "Unintended" and "accidental" can no longer be applied to this ongoing holocaust.
The same can be held true for the pharmaceutical industry itself.
People are exceedingly reluctant to come to this obvious conclusion. They prefer to hem and haw and invent excuses or deny the facts.
To understand the dimensions and history of the ongoing chemical warfare against the population, in the form of medical drugs (and of course pesticides), one must factor in the original octopus, IG Farben.
World War 2 never ended. It simply shifted its strategies.
And just as one can trace extensive collaboration between major American corporations and the Nazi war machine, during the military phase of the war, today you see American corporations wreaking destructive havoc on the American people, as Dow, DuPont, Monsanto and others "work their magic for a better life."
In any fascist system, the bulk of the people working inside the system, including scientists, refuse to believe the evidence of what is happening before their own eyes. They insist they are doing good. They believe they are on the right side. They see greater top-down control as necessary and correct. They adduce reasonable explanations for inflicted harm and death.
This is how and why conspiracies can exist. Only a few people, at the very top, need to know the true motives.
Everyone else tells themselves fairy tales. This deep-seated obsession is an integral part of mind control, and ultimately it is self-inflicted.
The self-created victim calculates: "I would rather stay in my dream than wake up to a nightmare."
Yes, but acknowledging the nightmare is a step on the road to liberation.
In centuries past, empires conquered foreign lands and made colonies out of them. When that era ended, a less overt style of military and economic conquest was initiated. But there is something most people don't realize.
When richer nations now go into poorer nations, the so-called incidental goal of bringing "life-saving" medical care with them is a front and a pose.
One of the chief goals of the conquerors is, in fact, pharmaceutical. Changing the habits of populations, so they come to rely on these drugs is high on the to-do list. It rings up profit, of course, for the pharmaceutical empire, and it also poisons the poor into even greater desolation than they are already experiencing. They become even easier to control.
On top of that, the actual untreated causes of the routine desolation—starvation, generation-to-generation malnutrition, contaminated water supplies, lack of general sanitation, overcrowding, and previously stolen agricultural land—are shoved on the back burner of the global media.
Suddenly, we learn that various germ-caused diseases are the real scourges of these countries, and help is coming (slowly), in the form of drugs that kill the germs, along with the medical heroes who will deliver these drugs.
This is a cover story. It's a preposterous lie. In the conditions of desolation mentioned above, it doesn't matter what germs are present, and trying to attack them is futile and absurd.
The general desolation weakens and destroys immune systems. At that point, what would normally be completely harmless germs, any germs, can sweep through an area and cause death and severe illness, because the routine processes of the immune system, which would immediately neutralize the germs, are disabled.
The "medical intervention" is meant to defer, for yet another day, the remedying of the actual problems that keep causing disease—and the medical drugs create new and lethal toxicity, leading to more deaths.
This is the standard op of the modern pharmaceutical empire. To know it is proceeding apace, all you have to do is see foreign doctors getting off planes in Third World countries, or read about some drug giant that is undertaking a humanitarian program of supplying medicines and vaccines to "people in desperate need of them."
The author of two explosive collections, THE MATRIX REVEALED and EXIT FROM THE MATRIX, Jon Rappoport was a candidate for a US Congressional seat in the 29th District of California. He maintains a consulting practice for private clients, the purpose of which is the expansion of personal creative power. Nominated for a Pulitzer Prize, he has worked as an investigative reporter for 30 years, writing articles on politics, medicine, and health for CBS Healthwatch, LA Weekly, Spin Magazine, Stern, and other newspapers and magazines in the US and Europe. Jon has delivered lectures and seminars on global politics, health, logic, and creative power to audiences around the world. You can sign up for his free emails at www.nomorefakenews.com
Source: Jon Rappoport  |  No More Fake News
As you may know, I bicycled for a year in South America, top to bottom.  I enjoyed the Amazon jungle, the wildlife and especially the insect life.  I took pictures of tens of thousands of butterflies dancing on an endless canopy of flowers.  Many of my columns deal with saving the natural world such as an international 25-cent deposit-return law for all plastic, glass and metal containers.  We must keep plastics from destroying our fellow creatures—especially in our oceans.
Today, I appeal to you to use the links provided to send the chemical giant Monsanto a letter to demand they stop marketing "Round-up" ; "Weed-b-gone" and other poisons that threaten the extinction of the Monarch butterfly.
Monarch butterflies vanish faster with each passing year — and all signs point to Monsanto as the main culprit.
Major press outlets worldwide reported last month that Monarchs face "grave danger", with their population reaching the lowest numbers ever recorded. Now, an independent study linked the monarch's decline with Monsanto's "Round-up" herbicide.
One of the most beautiful phenomena in the natural world — the annual mass migration of 60 million monarchs from Canada to Mexico – stands on the verge of being a relic of history. We need to fight this now, before it's too late for the butterflies.
Join me and tell Monsanto to pull its butterfly-killing herbicide before it's too late.
"This corporate giant knows what it's doing," said a spokesperson for Sum of Us. "But Monsanto says we should balance the butterfly's survival with what it calls "productive agriculture"(read: Monsanto's bottom line equals money not nature.).
Tell Monsanto to pull its butterfly-killing herbicide before it's too late.
The annual mass migration of 60 million Monarchs from Canada to Mexico represents one of the most beautiful phenomena in the natural world. I know because on one of my many cycle trips along the coast of California, I saw millions of Monarchs hanging from trees during their rest stops.
But Monarchs stand on the verge of being a relic of history, and a key link in our food chain.
"The monarch butterfly is in a serious, decades-long decline," said the spokesperson.  "The World Wildlife Fund reported that this winter, the monarchs are only occupying an area of 1.7 acres in Mexico, down from 45 acres in 1996. An evolutionary strategy based on eating a common weed seemed smart — until Monsanto came along. Just one state along the monarchs' migration route, Iowa, is reported to have lost 98 percent of its milkweed."
Monsanto products like Roundup dominate the agricultural market worldwide. This corporate giant sells matching genetically-engineered plants resistant to its pesticides — and encourages factory farms to douse fields with gallons of Monsanto's herbicides.
"But sprayed over vast areas, these poisons effect the entire ecosystem," a spokesperson said. "Monsanto's Roundup wipes out the monarchs' primary food source — a plant called milkweed. Scientists have linked the monarch's rapid population decline to the spread of Monsanto's pesticides. Losing these butterflies means wiping out insects, birds and small mammals that rely on the monarch and its place in the food chain."
Take a few minutes to visit the website and send in your letter to Monsanto. Tell Monsanto to save the monarchs by pulling its ecosystem-threatening herbicide.
Every second wasted nails another spike into the butterfly's coffin leading to extinction. Let's harness that awareness to save the monarchs from Monsanto!
I recently interviewed Daniel Estulin the author of what will be the newest best seller,TransEvolution: The Coming Age of Human Deconstruction.
Estulin wrote the book based largely on a Bilderberg white paper which was smuggled to him by a Bilderberg insider. The document was filled with information which spelled the end of the human race as we know it.
Hollywood Prepares the American Public for the Inevitable
Hollywood has made millions on movies like The Terminator, Blade Runner, and RoboCob, just to name a few. In fact, Robocop is being re-released in the next several weeks. Estulin states that cyborgs or man-machines are the future in a post-human world. Yes, you read that correctly, we could soon find ourselves living in a post-human world.
You may be familiar with the new TV series on FOX called Almost Human where one of the main characters is a cyborg cop. We could see such an interaction between nonhuman and morphed humans in the near future (i.e. Robocop).
Rules for Thee but Not for Me
In the future of transevolution we will be witnessing a literal fountain of youth, which will result from becoming a cyborg as it will soon be possible to purchase immortality in the future. However, everyone except the super elite will be banned from purchasing this literal fountain of youth.
Your existence, my common brethren, will be similar to what movie goers saw in the Summer of 2013 in the movie, Man of Steel. In the opening 30 minutes of the movie, it was revealed that every resident of Krypton had certain genes "turned on" and certain genes "turned off". And everyone from Krypton, except for Superman, had been artificially bred for specific purposes. This is what humanity is quickly moving towards and unless you are the elite, you will be bred, dumbed down if needed, to serve a purpose for the global elite.
The Purpose for the Destruction of the Global Economy
Estulin mentioned that the wholesale destruction of the world's economy is not an accident, nor is it a miscalculation or the result of political shenanigans. This destruction is being done on purpose, absolutely on purpose. Estulin revealed that his Bilderberg insider told him that the slave masters on this planet want to collapse the economy, force people into the stack and pack cities of mega millions and then exterminate most of humanity.
Estulin and I explored the methods that the super elite may use to exterminate 90% of all people on this planet. We both agreed that starvation is the most likely candidate. Starvation is a clean method of killing, it is quick and it would leave the planet in good shape for the global elite to establish their paradise on Earth.
Some of my readers and listeners have asked me about why I am so opposed to Agenda 21 and devote so much time fighting against it? To these and all others, I answer that forcing humanity to forsake rural and suburban living and move into the soon-to-be death traps of these mega cities, is very consistent with the tenets of Agenda 21 (i.e. Earth First).
Monsanto: The Great Satan of Food Production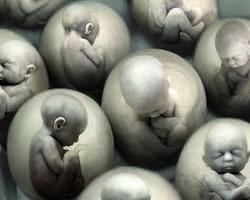 I recently interviewed my good friend, Barbara Peterson, who presented evidence which demonstrated that the super elite are in the process of attacking not just humans with GMO's which will eventually kill you, the GMO's are also sterilizing our food supply. And then, as if by magic, Peterson and I took calls on my show from farmers all across the country, who confirmed the sterilization of both crops and farm animals was well under way.
Let's give credit where credit is due. Monsanto is not alone in this conspiracy against humanity. In Chapter two of his book, Estulin, details how huge corporations like Monsanto, Cargill, and Archer Daniels are plotting to set up mass starvation on the planet. These corporate names became household names and they have become an "interlocked self perpetuating syndicate that will decide who eats and who doesn't, who lives and who dies."
Why are mega corporations, such as these and a small socio-political elite, allowed to own our food and control the very basis of humanity? The simple answer is, because they can.
Studies have shown that rats that are fed with genetically modified organisms (GMO), like potatoes, showed structural changes in their white blood cells making them more vulnerable to infection and disease, which could indicate a greater future risk of developing cancer, when compared to other rats fed non-GMO potatoes. Estulin's research indicates that GMO food was the creation of the Rockefeller Foundation, who are members of the Bilderberg Group. This all part of the plan for total control of mankind. As an aside, Barbara Peterson noted in my interview with her that McDonalds fries will soon all be made of GMO's.
Genetic Engineering
Genetic engineering is about taking control of nature, redesigning it and rebuilding it. The phrase "playing God" comes up in almost every conversation about genetic engineering. This is no longer the stuff of science fiction. Nothing good comes from genetic engineering as this generation of children will be the last generation which will be human in the sense that we define humanity today.
Estulin documented how insects are being weaponized for combat through chipping as a result of recent DARPA projects. Humans will soon be chipped, not necessarily for warfare, but for the purpose of transformation into something hideous which will serve the whims of the global elite.
The National Security State
Presently, all the communication happening on the planet right now can be monitored in real time and it is being done to control us, to dumb us down, to brainwash, to influence, and to predict our future behavior. The super elite is doing this so that we don't get in the way of important people by doing too much thinking on our own. A simple example of this fact is in evidence in an ever-increasing number of airports as facial scanning techniques are designed to reveal to security individuals who are angry, malevolent, etc. This technology is right here, right now!
Estulin mentions Nazi Germany, in his book, numerous times throughout the book, Estulin drew a similarity between the mass control the Nazis had in comparison to the control the super elite has over the human race right now. Presently, America is the 21st century fulfillment of what Hitler, Stalin and Mao as they attempted to initiate their genocidal regimes.
Off World Escape Plan If Things Get Ugly
According to USA Today,
"NASA recently revealed that their Mars robotic rover has found signs that a vast and hospitable lake once spread over the now-desolate surface, a potential home to past life for centuries or more."
With this new discovery that life may be possible on Mars, the elite could easily, through nanotechnology subsequently build a homestead there! There are many private corporations on the planet who are ready to go to Mars within five years. Some speculate that billionaire, Robert Bigelow, is ready now.
Apparently, if the elite cannot exterminate humanity in the clean and neat ways that they have designed, it may be necessary to temporarily move off world while the job is completed in more "messy" ways. According to some, this is their "Plan B".
A Cowardly New World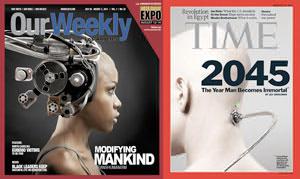 Unlike Huxley, I have seen nothing brave about this new world. Nanotechnology is a powerful new technology for taking apart and reconstructing nature at the atomic level. Scientists are acting like God to manipulate life through the use of this technology. I can only imagine all the horrible things nanotechnology can do to the human race.
Nothing good with regard to nanotechnology can or will come from this blatant insanity. The plans of the global elite constitute an abomination before God.
Right now, the elite are employing their "Promethean plans" which will change the world and will transform the very essence of humanity. Again, this is happening Now!!!
Let's make no mistake about it, the super elite are attempting to become more powerful than God. The super elite controls the human race in every imaginable possible way. Just the term, "conspiracy theorist", was invented by the global elite as a marginalizing tool to keep the public from believing in conspiracy theories that will enslave humanity.
Absolutely nothing that happens in our world is an accident; it's all part of this grand plan. Because of this, there is no hope for humanity if we do not rise up and defeat Agenda 21 and force a change in the leadership of the world, and it must be done RIGHT NOW, before the personal control mechanisms of this new system are locked into place.
My fellow human beings, we do not have five years. You sit idly by on the sidelines at the risk of not only your life but the lives of your children and grandchildren, born or not yet born. Soon, we will be saying "Welcome to Krypton", as humanity becomes the weak puppets in the theatre of life created by the super elite.
Source: Dave Hodges  |  The Common Sense Show
The corporate media would have us believe that the nation is in the midst of an economic recovery.
In the shadow of the approaching mid-term elections, the president cites the number of jobs created and speaks optimistically about America's economic future. The future is indeed bright, but only if you are among the wealthiest one percent of the population.
For instance, since the 2007 recession, the greatest crisis of capitalism in 75 years, corporate profits have risen, CEO salaries and bonuses are at record levels and the stock market is soaring. By contrast, workers' wages have stagnated for more than four decades, benefits are either few or non-existent, and workers are encumbered with debt that forces them to perform multiple jobs— if they can find them—in order to survive.
Jobs that offer long-term security and a living wage are scarce even for those with university degrees. Adjusted for inflation, today's workers are worse off than they were in the late 1960s.
Whose economic recovery is this?
According to economic forecaster Gerald Celente, 90 percent of the jobs created in 2013 were part-time, most of them paying low wages and providing no benefits. Student loan debt exceeds $1.1 trillion, a number that surpasses the combined credit card liability of the nation.
These debts cannot be discharged through bankruptcy. The big banks and corporations that finance political campaigns have no such restrictions placed upon them.
Even the unemployment figures are deceiving. According to the latest government data, unemployment is at 6.7 percent. In reality, that number is probably closer to 17 or 18 percent, according to economist Richard Wolff.
The government does not count people whose unemployment benefits have expired or those who have given up looking for work. A cashier working 10 hours a week at Food Lion is counted as fully employed.
We have students, many of them burdened with immense debt, entering a job market that makes it difficult for them to earn a decent living. This is the economic minefield that workers across America must navigate. A little truth might help them find their way and comprehend why this is happening.
One of the many reasons we face such a bleak economic future is the implementation of Free Trade Agreements (FTAs).
In 1992, the North American Free Trade Agreement (NAFTA) was implemented between the governments of the United States, Canada and Mexico. NAFTA was fast-tracked through Congress by President H.W. Bush and signed into law by President Clinton. NAFTA was promoted in the commercial media as an engine for job creation in the United States, an assertion that is contradicted by the facts. According to Wolff, more than 700,000 jobs fled the country as the result of NAFTA, many of them providing middle class incomes and benefits.
Those jobs are never coming back. It is not just the number of jobs created that matter, it is the quality of those jobs that is a predictor of economic success.
Furthermore, the mass movement of U.S. corporations to Mexico wrecked the already struggling Mexican economy, particularly its sustainable, locally-based businesses. The situation initiated a mass migration of immigrant Mexican workers to the U.S. in search of better-paying jobs than were available to them in the homeland. Multinational corporations seeking a source of cheap labor and a climate of deregulation are the primary benefactors. The quantifiable effect that NAFTA has had on the U.S. workers is staggering job loss, reduced wages and increasing economic disparity.
Now, with the backing of corporate lobbyists, yet another FTA—the Trans-Pacific Partnership (TPP)—is being fast-tracked through Congress. Both Democrats and Republicans are enthusiastically backing the legislation.
The Electronic Frontier Foundation describes the process: "The Trans-Pacific Partnership is a secretive, multi-national trade agreement that threatens to extend restrictive intellectual property (IP) laws across the globe and rewrite international rules on its enforcement." TPP is currently being negotiated between nine to 12 nations.
If enacted, TPP will permit privately-owned corporations to have hegemony over the governments of sovereign nations. For instance, if the state of West Virginia were to ban the use of genetically modified soybeans, Monsanto Corporation could either overturn the decision or extort billions of dollars in remuneration from their projected loss of profits. FTAs belligerently put corporate profits before the legitimate needs of the people and the welfare of the biosphere.
The implications for students and working class people will be profoundly detrimental.
Hundreds of thousands of jobs will flee the country, wages will fall yet again, autonomy will be lost, and the job market will resemble the wreckage of the Hesperus. FTAs are the means by which the power elite are turning the U.S. into a Third World economy.
The 13th Amendment to the Constitution abolished slavery.  This means that if you are a slave today, it's either illegal, or you have voluntarily accepted your servitude.
Neither slavery nor involuntary servitude, except as a punishment for crime whereof the party shall have been duly convicted, shall exist within the United States, or any place subject to their jurisdiction.
You have a Constitutionally protected right to be free. If you aren't free, then revolution is your duty.
Many people believe that revolution requires that they lead a march, stand in front of a crowd with a bullhorn, or form a militia. They feel like it's a job for the Alex Joneses, the Adam Kokeshes,  the James Wesley Rawleses, and the Bradley Mannings of the world.
They're wrong.  You don't have to be a person with thousands of followers on Twitter and Facebook .  You don't have to be a person with a military leadership position on  your resume. You need not get yourself arrested on the steps of the White House, got to prison forever for telling the truth about your unit in the army, or stare down a bunch of scary-looking thugs in jack boots.
But you do have to do something.
You can't just sit there and complain unless you are really just another armchair Rambo.
The way you lead your life every single day can be an act of revolution.  By refusing to concede your natural rights, quietly and resolutely, you are performing an act of revolution. Walking the walk doesn't always require civil disobedience or militia membership (although those actions definitely have their places).  It requires your consistent determination not to be infringed upon.
It doesn't matter if you are a soccer mom from the suburbs, a college student in a dormitory, a church-going dad and husband, or a person who has found themselves homeless through the ongoing economic crisis – by living resolutely, you are performing an act of revolution.
Don't get me wrong – we need the Alexes, the Adams, the militias, the Bradleys, and the JWRs.  We need the people who stand in protest.  We need those who expose wrongdoing.  We need the organizers, the shouters, the big personalities, the quiet strong types, and the leaders. But these are not the only ways to revolt.  If every single person was off organizing their own rally, there'd be no one left to march in it.
What it is imperative upon us to do is to find our compass and follow it.  We must make ourselves immune to control by not needing what "they" hand out.  We have to be armored against the way everyone else lives and choose our own paths.  We must stubbornly refuse to participate in the hoop-jumping that is everyday life in North America.  By all of us who believe in liberty doing this, we form an army of stubborn non-participants in the status quo.
Here's an example. It's a small thing, a battle that today only affected my daughter and me.  My daughter is not vaccinated.  She attends a public school where the kids must be vaccinated, or hoops must be jumped through. I filled out the initial forms stating that I had an objection of conscience to vaccines.  I was contacted by a representative of the school system who suggested that I sign instead the form that stated a religious objection, because that was "easier".  I refused, because my objection is NOT one of religion, and I felt like that was a cop-out. I knew that I was within my rights to have an objection of conscience, and I felt that it was important to make a point that might make it easier for the next parent.  I was then told that I'd have to pay $25 and get a statement notarized to allow her exemption on my basis.  I said I'd be happy to get a statement notarized, but not at my expense. I pointed out that nowhere does our local law state that I should have to pay any money for my child to NOT do something.  Lo and behold, after 5 months of politely going back and forth,  being escalated through numerous different superiors of superiors in the school board and public health system, my daughter is still unvaccinated, I have not spent $25, and she was not suspended from school.  The point I'm making is not about vaccines, but about not stepping back from your rights, for your convenience or for the convenience of others. This requires that you read the relevant laws and understand them.  It requires a certain degree of persistence and a willingness to be a pain in the butt.
There are valid reasons for revolution.
One of the benchmarks of tyranny is the dizzying arrays of laws on the books, with more and more added every single day.  It is humanly impossible not to break multiple laws every single day.  Regulations are revenue builders and/or control mechanisms. If the "authorities" can ALWAYS find a law that you've broken, then they can ALWAYS give a "reason" for punishing you.  Punishment might include incarceration, hefty fines, or the removal of some privilege (like taking away your driver's license or not allowing your child to go to school).
If the laws be so voluminous that they cannot be read, or so incoherent that they cannot be understood; if they be repealed or revised before they are promulgated, or undergo such incessant changes that no man, who knows what the law is to-day, can guess what it will be to-morrow. Law is defined to be a rule of action; but how can that be a rule, which is little known, and less fixed? – James Madison, Federalist Papers 62
The police state is growing at a dizzying rate, and often the news makes it look like we live in Nazi Germany. It is now or never.  Like cockroaches, "they" – the thugs in jackboots and their masters – multiply in the dark, and will soon overtake us if we don't put a stop to it right now.  They want to take our guns because that would make our resistance more difficult.  They keep buying up ammo and now have more than enough to kill every man, woman, and child in America multiple times. The NDAA means that any person can be indefinitely detained. There has been a sustained attack on the Bill of Rights and one by one our rights are being submerged beneath the desires of those who would demand our submission.
How can you be an everyday revolutionary?
The most revolutionary act is to be self-sufficient and in need of nothing that the government can provide for you in exchange for some small liberty.  When there is nothing that you require enough to submit, then bullying you becomes much more difficult.
This list of suggestions is by no means comprehensive.  Please, add your own random acts of resistance in the comments below.
Question absolutely everything you hear on the news.  Always be a skeptic. All major media goes back to just a few conglomerates.  The "news" is now all a propaganda ploy to help the rich get richer and the powerful remain in power.  The media can make or break a candidate with unholy zeal in less than a week.  These people and others like them are the ones that decide what "we the people" get to see.  If they feel like a candidate or a news item might upset the status quo, they black it out by refusing to cover it.
Call out the media. Let everyone know that the mainstream media is the enemy of the people.  When you see coverage that is clearly biased, take a moment to call out the media about it.  Take the time to comment on mainstream media websites and point out the unbalanced coverage.  If you use social media, share this information and post on the media outlet's social media pages as well.
Get out of the banking system. By opting to "unbank" or "underbank" there is a limit to what can be easily stolen from you.  When you have physical control of your financial assets, you are not at as high a risk of losing those assets, and therefore, less likely to be dependent on "the system."
Turn your savings into precious metals or tangible assets. On the same note as unbanking, you definitely don't want to rely on a 401K or savings account to provide for you in your old age. Ask the people of Cyprus how well that worked out for them.  Diversify with assets you can touch. Purchase tangible goods like land, food, ammo, and seeds. Once you are well supplied, move on to precious metals to preserve your wealth.
Educate others. At the (very high) risk of people thinking you're crazy, it's important to let people know WHY you do what you do. If you are an anti-Monsanto activist, teach others about the dangers of GMOs.  If you object to a municipal policy, speak at a town meeting or send a letter to the editor of your local paper.  By ranting incoherently or by keeping your mouth shut, you influence no one. By providing provable facts, you can open minds and awaken others to tyranny.
Get others involved in the fight.  For example, if you are fighting with the city council that wants to rip out the vegetables growing in your front yard, let  your friends and neighbors know, post a notice at the grocery store, and write a letter to the editor.  When injustice occurs, use the power of social media to spread awareness. Often a public outcry is what is necessary to get the "authorities" to back down.  Look at the case of Brandon Raub, the veteran who was kidnapped and taken to a mental hospital for things he posted on Facebook. Raub was not charged, but he was detained in the psych ward involuntarily. His friends and family immediately mobilized and spread the videos of his arrest all over the internet.  It snowballed and alternative media picked it up – soon Raub was released, and all because of a grass roots and social media campaign to bring the injustice to light.
Grow your own food. Every single seed that you plant is a revolutionary act. Every bit of food that you don't have to purchase from the grocery store is a battle cry for your personal independence.  When you educate yourself (and others) about  Big Food, Big Agri, and the food safety sell-outs at the FDA, you will clearly see that we are alone in our fight for healthy, nutritious foods.  Refuse to tolerate these attacks on our health and our lifestyles. Refuse to be held subject to Agenda 21′s version of "sustainability".
Take control of your health. It is imperative that you not blindly trust in the medical establishment.  Many members of this establishment are merely prostitutes for their pimp, Big Pharma.  Millions of children are given powerful psychotropic drugs to help them fit into the neat little classroom boxes, and the numbers are growing every day.  Americans spent 34.2 BILLION dollars on psychiatric drugs in 2010. (Source) Big Pharma is an enormously profitable industry that only pays off if they can convince you that you're sick.  Learn about the toxic injections and medications, weight the risks and benefits, and always look for second and third opinions before making a medical decision.  Maintain your health by avoiding toxins, exercising, and ditching your bad habits to reduce the number of doctor's visits that are necessary.
Refuse to comply. If you know your natural rights, which are guaranteed under the Constitution and its Amendments, then it makes it much harder for "authorities" to bully you.  You don't have to let them search your home without a warrant, you don't have to answer questions, and you don't have to comply with laws that are in conflict with the Constitution.
Learn. Every day, spend time learning. This shouldn't stop once our formal education ends. Fill your mind with history, with current events, with constitutional law, and information about the natural world.  Learn about health, study economics, research things that interest you, and unravel the complicated conspiracies that are afoot.  To pursue unbiased knowledge is to free your mind from the prison of propaganda and indoctrination.
Don't consume chemicals that cause you to be dumbed down. Avoid chemical-laden food with brain-killing neurotoxins like MSG and aspartame.  Don't drink fluoridated water.
Embrace your right to bear arms. Be responsible for your own safety and security.
Don't be in debt.  No one can be free if they are in debt. If you are in debt, you are forced to work in whatever conditions are present, for whatever amount is offered, complying with whatever criteria is necessary to keep your job.  in order to either pay your debt or face penalties. As well, the high interest rates that you pay only serve to make the bankers more wealthy.  Instead of borrowing, save until you can afford something or realize that if you could actually afford it, you wouldn't need to borrow money to have it.
Be prepared for disaster. Have enough food, water, and supplies to take care of your family in the event of a natural disaster. Don't expect FEMA to take care of you.
Be involved in your children's education. For some, this means homeschooling or unschooling, and for others this means being on top of what they are learning in a formal school setting. Join the PTA and actively volunteer if your child goes to school.  Be an advocate for your child and insist that the teachers teach. If your child goes to school, supplement this at home with discourse about current events and outings that help them learn about the world around them.
Be the squeaky wheel. If you see something wrong, don't just ignore it. Say something about it, and keep saying something until it changes.  Whether this is some process that infringes on your privacy, a job requirement that impedes your health, or another injustice, pursue it relentlessly. Ask questions publically, write letters, and use social media to bring pressure to encourage a change.
Reduce your consumer spending. Spending less helps to starve the beast by reducing the sales taxes you pay and withdrawing your financial support to big conglomerates. If we vote with our dollars, eventually there will, of a necessity, be a paradigm shift that returns us to simpler days, when families that were willing to work hard could make a living without selling their souls to the corporate monoliths. A low-consumption lifestyle reduces your financial dependency, which allows for more freedom.
Ditch popular culture. If reality TV isn't a tool for dumbing people down, I don't know what it is.  My daughter recently begged to watch an episode of a popular reality TV show that "everyone" was watching.  She managed about 15 minutes of it and then said, "This is the stupidest thing I've ever seen."  She decided to read a book instead.  Popular entertainment is a media tool used to change our perspectives about our personal values, and to tell us how to think and feel about issues.
Buy locally.  Support local small businesses to help others who are fighting for independence from the system.  You might pay a little bit more than you would at your big box store, but the only people benefiting from your purchases made at the corporate stores are those with the 7 figure annual bonuses.
Develop multiple streams of income.  Don't put all of your eggs in one basket.  Figure out several ways to bring in income.  Not only does this free you from being a wage slave, but it allows you to hire friends or family members.  You are less entangled in the system and not subject to corporate whims.  If one business fails, or becomes subject to regulations that make it no longer worthwhile, you are not forced to comply just to keep a roof over your head.
Say thanks, but no thanks.  There is no such thing as a benevolent hand out.  Nearly anything offered for free (particularly by a government entity) has strings attached.  Maybe there is a handy-dandy registration form that you need to fill out. You might be influenced to vote a certain way just to keep the freebies coming. You might have to pee in a cup every two weeks. Perhaps one day you'll need to have a microchip embedded in your hand.  Either way, by accepting handouts from those in "authority", you become beholden to them or you need them, and someone who is free is neither beholden nor needy.
Don't take the easy road.  The PTB like to seduce people with simplicity.  "If you just sign this paper, it will be much easier," they say.  "This chip is for your convenience," they tell you.  "By giving up this, it lets us take care of you and you will be much safer."  The easy road only gets you to Slave Street a whole lot faster.  Take the difficult road and be responsible for yourself.  Don't take shortcuts that compromise your beliefs. Go to court to fight a ticket, read the laws and defend yourself, and know that anything you give up, you will never get back.
According to the Declaration of Independence,  "Governments are instituted among Men, deriving their just powers from the consent of the governed."
That means that you don't have to accept the unjust laws. That means you don't have to quietly take it, muttering under your breath that it isn't right, but not daring to raise your voice.  That means that "they" are only in control of you if you allow it.
There are nearly 316 million people in the United States. (source)
Only 3% of the population fought in the Revolutionary War, and 10% actively supported them.
If 9,480,000 people quietly and peacefully revolted by withdrawing their consent to be governed by tyrants we could not be silenced.
If 31,600,000 people supported those revolting, we could not be stopped.
The government might  be watching us, but we can watch them right back.  Make the way you live your life a revolutionary act.
Source: The Organic Prepper
Two rather interesting things have happened to me lately.  First, I had one of my teeth pulled this week — totally not a fun experience.  And, second, while still oozing pain and eating Hydrocodone and climbing the walls, I started reading a book about plants by Michael Pollan, entitled "The Botany of Desire".  So now I have suddenly become an expert on both pain-killers and gardens.
Having one's tooth pulled is like, er, pulling teeth.  It really hurts.  So from now on I plan to brush and floss constantly and do whatever it takes to keep my remaining teeth healthy and clean.  Someone recommended gargling with Bombay Sapphire twice a day.  I'd try even that.
Even though the student doctor who pulled my tooth at the UCSF School of Dentistry was an angel of mercy combined with Dr. McDreamy, having one's tooth extracted is never pretty.  I kept reciting that mantra "Challenges make me stronger" in the dental chair and silently doing jin shin jyutzu — but even that didn't work.  I'm a wimp.  And not only that but once the tooth was out, they wouldn't even give it back to me to give to the Tooth Fairy.  Rats.
Then, once finally back home and safely collapsed into bed, I took some of those "opioid" pain-killers they gave me — and dreamed that I was an escaped convict running a funeral parlor in my childhood hometown (Millbrae) and hiding under my daughter Ashley's bed (probably from NSA).  Forget that.  No more weird Kubla-Khan dreams for me.  I'm sticking with aspirin.
Now I'm wishing there was something I could do to replace my poor sweet little lost tooth, but there doesn't seem to be anything.  Getting a dental implant is expensive — $3,000 per tooth, even done by a dental student.  Who can afford that?  Not me.  So now I've got a big gap in my teeth.  How ugly is that!  However, I won't be alone for long.  Two-thirds of America will soon be joining me in being gap-toothed as well unless affordable dental insurance becomes available reasonably soon.  But if not, then we'll all be totally ugly together, not just me.  America goes third-world.  Who would have thought.
I also have a postage-stamp sized garden attached to my apartment, which grows nothing.  According to Michael Pollan, this shouldn't be happening — unless there has been some really heavy-duty weed killer sprayed there at one time.  Yes, there was.  But not by me.  So, apparently, what I need now is all new dirt.  And at the rate that American agribusiness keeps using millions of tons of herbicides and pesticides each year, all of America will soon be needing all new dirt too.
"Actually, it's not the heavy use of herbicides and pesticides that is causing the most problems on huge agribusiness farms," to summarize one of Pollan's chapters on the potato, "but rather the monoculture nature of their crops.  Organic farmers can vary and rotate what they plant and thus stave off insect and fungal infestations — but if your main customer for potatoes is McDonalds, then you have to plant Burbank russets and only Burbank russets all of the time.  So it is Americans themselves that are causing the major use of [stuff] like Roundup and Roundup-Ready GMOs."
So if I promise to plant a huge variety of everything in my garden, from fingerling potatoes to roses to dandelions, then will at least SOMETHING finally grow?
And will I also be able to grow a new tooth?
Aside from Michael Pollan, why else have my thoughts been turning to gardening lately?  In the middle of freaking January?  Because this winter has been the sunniest one in Berkeley that I have ever seen.  It's like freaking summer here now, like July, every day — even going beyond April or May.  www.weather.com even declared Berkeley a drought area the other day.  Time to bust out the seeds.
Michael Pollan also wrote about cannabis in his book on plants.  "Marijuana doesn't make you forgetful of everything.  It just makes you forget [stuff] that's not important."  Interesting.  I always forget names.  So I guess names aren't all that important or necessary for me to remember.  Whew.  I'm off the hook then.  Am not getting senile dementia after all, just sorting out my priorities.
And maybe that's why Alzheimer sufferers forget so much mental stuff too — they might be shutting down everything that won't immediately help them to cope with this devastating disease (yes, I know that Alzheimers also rots its victims' brains — but isn't that just one more good reason for them to shut said brains down?)
With regard to raising the minimum wage here in soon-to-be-toothless America, wouldn't it make more sense to just cut the rate of inflation instead?  Starting by eliminating the Federal Reserve and its tendencies to print meaningless Monopoly money and to finance Endless War?  And, while we're at it, let's stop giving out billions in "food stamps" to corporate welfare queens like Bank of America, BP, WalMart, Halliburton and Monsanto.  Works for me.  And can we also please bring our millions of jobs back from overseas too?
Back in 1963, I made $1.75 an hour while working in the post office on weekends and during summers.  With this money plus some help from my parents (yes, they could also afford to help me back then), I was able to graduate from San Jose State College without requiring any student loans.  And in 1966, when I got a big salary-bump to $3.50 an hour for working the stamp window instead of sorting mail, I was able put myself through graduate school at UC Berkeley, just by working during summer vacations.  Can you even imagine staying alive and not homeless in Berkeley today on that kind of salary — let alone paying for your tuition at Cal as well.
What has happened to all of America's jobs and wealth since the 1960s, back when we were the richest country in the world?  That's a no-brainer.  It's all flown away into the pockets of Wall Street mega-bankers, the numbered Cayman accounts of war profiteers and the fat wallets of all those corporate welfare queens who currently own and run our government.
While it's always a good idea to raise America's minimum wage a few dollars, it's also important to stop runaway inflation — and to also start lowering a certain type of maximum wage as well:  The maximum amount that rich guys can steal from us before they get sent to jail.And we need to put some teeth into these new regulations too.
A poll last year showed that trust in the mainstream media is increasing, which should worry all of us who value truth, integrity and press freedom. Why? Here are 10 disturbing things everyone needs to know about the global media giants who control our supply of information, wielding immense power over the people- and even over the government.
1. Mainstream media exists solely to make profit

What´s the purpose of the mainstream media? Saying that the press exists to inform, educate or entertain is like saying Apple corporation´s primary function is to make technology which will enrich our lives. Actually, the mass media industry is the same as any other in a capitalist society: it exists to make profit. Medialens, a British campaigning site which critiques mainstream (or corporate) journalism, quotedbusiness journalist Marjorie Kelly as saying that all corporations, including those dealing with media, exist only to maximize returns to their shareholders. This is, she said,  ´the law of the land…universally accepted as a kind of divine, unchallengeable truth´. Without pleasing shareholders and a board of directors, mass media enterprises simply would not exist. And once you understand this, you´ll never watch the news in the same way again.
2. Advertisers dictate content
So how does the pursuit of profit affect the news we consume? Media corporations make the vast majority (typically around 75%) of their profit from advertising, meaning it´s advertisers themselves that dictate content- not journalists, and certainly not consumers. Imagine you are editor of a successful newspaper or TV channel with high circulation or viewing figures. You attract revenue from big brands and multinational corporations such as BP, Monsanto and UAE airlines. How could you then tackle important topics such as climate change, GM food or disastrous oil spills in a way that is both honest to your audience and favorable to your clients? The simple answer is you can´t. This might explain why Andrew Ross Sorkin of the New York Times-  sponsored by Goldman Sachs-  is so keen todefend the crooked corporation. Andrew Marr, a political correspondent for the BBC, sums up the dilemma in his autobiography: ´The biggest question is whether advertising limits and reshapes the news agenda. It does, of course. It's hard to make the sums add up when you are kicking the people who write the cheques.´ Enough said…
3. Billionaire tycoons & media monopolies threaten real journalism


The monopolization of the press (fewer individuals or organizations controlling increasing shares of the mass media) is growingyear by year, and this is a grave danger to press ethics and diversity. Media mogul RupertMurdoch´s  neo-liberal personal politics are reflected in his 175 newspapers and endorsed by pundits (see Fox news) on the 123 TV channels he owns in the USA alone. Anyone who isn´t worried by this one man´s view of the world being consumed by millions of people across the globe- from the USA to the UK, New Zealand to Asia, Europe to Australia- isn´t thinking hard enough about the consequences. It´s a grotesquely all-encompassing monopoly, leaving no doubt that Murdoch is one of the most powerful men in the world. But as the News International phone hacking scandal  showed, he´s certainly not the most honorable or ethical. Neither is AlexanderLebedev, a former KGB spy and politician who bought British newspaper The Independent  in 2010.  With Lebedev´s fingers in so many pies (the billionaire oligarch is into everything from investment banking to airlines), can we really expect news coverage from this once well-respected publication to continue in the same vein? Obviously not: the paper had always carried a banner on its front page declaring itself  ´free from party political bias, free from proprietorial influence´, but interestingly this was dropped in September 2011.
4. Corporate press is in bed with the government

Aside from the obvious, one of the most disturbing facts to emerge from Murdoch´s News International phone hacking scandal (background information here ) was the exposure of shady connections  between top government officials and press tycoons. During the scandal, and throughout the subsequent Leveson inquiry into British press ethics (or lack of them), we learned of secret meetings, threatsby Murdoch to politicians who didn´t do as he wanted, and that Prime Minister David Cameron has a very close friendship with The Sun´s then editor-in-chief (and CEO of News International) Rebekah Brooks. How can journalists do their job of holding politicians to account when they are vacationing together or rubbing shoulders at private dinner parties? Clearly, they don´t intend to. But the support works both ways- Cameron´s government tried to help Murdoch´s son win a bid for BSkyB, while bizarrely,  warmongering ex Prime Minister Tony Blair is godfather to Murdoch´s daughter Grace. As well as ensuring an overwhelming bias in news coverage and election campaigns, flooding newspapers with cheap and easy articles from unquestioned government sources, and gagging writers from criticizing those in power, these secret connections also account for much of the corporate media´s incessant peddling of the patriotism lie–  especially in the lead-up to attacks on other countries. Here´s an interestinganalysis of The New York Times´s coverage of the current Syria situation for example, demonstrating how corporate journalists are failing to reflect public feeling on the issue of a full-scale attack on Assad by the US and its allies. 

5. Important stories are overshadowed by trivia

You could be forgiven for assuming that the most interesting part of Edward Snowden´s status as a whistleblower was his plane ride from Hong Kong to Russia, or his lengthy stint waiting in Moscow airport for someone- anyone– to offer him asylum. Because with the exception of The Guardian who published the leaks (read them in fullhere), the media has generally preferred not to focus on Snowden´s damning revelations about freedom and tyranny, but rather on banaltrivia – his personality and background, whether his girlfriend misses him, whether he is actually a Chinese spy, and ahhh, didn´t he remind us all of Where´s Waldo as he flitted across the globe as a wanted fugitive? The same could be said of Bradley Manning´s gender re-assignment, which conveniently overshadowed the enormous injustice of his sentence. And what of Julian Assange? His profile on the globally-respected BBC is dedicated almost entirely to a subtle smearing of character, rather than detailing Wikileaks´s profound impact on our view of the world. In every case, the principal stories are forgotten as our attention, lost in a sea of trivia, is expertly diverted from the real issues at hand: those which invariably, the government wants us to forget.
6. Mainstream media doesn´t ask questions

´Check your sources, check your facts´ are golden rules in journalism 101, but you wouldn´t guess that from reading the mainstream press or watching corporate TV channels. At the time of writing, Obama is beating the war drums over Syria. Following accusations by the US and Britain that Assad was responsible for a nerve gas attack on his own civilians last month, most mainstream newspapers- like the afore-mentioned New York Times– have failed to demand evidence or call for restraint on a full-scale attack. But there are several good reasons why journalists should question the official story. Firstly, British right-wing newspaper The Daily Mail actually ran a news piece back in January this year, publishing leaked emails from a British arms company showing the US was planning a false flag chemical attack on Syria´s civilians. They would then blame it on Assad to gain public support for a subsequent full-scale invasion. The article was hastily deleted but a cached version still exists. Other recent evidence lends support to the unthinkable. It has emerged that the chemicals used to make the nerve gas were indeed shipped from Britain, and German intelligenceinsists Assad was not responsible for the chemical attack. Meanwhile, a hacktivist has come forward with alleged evidence of US intelligence agencies´ involvement in the massacre (download it for yourself here ), with a growing body of evidence suggesting this vile plot was hatched by Western powers. Never overlook the corporate media´s ties to big business and big government before accepting what you are told- because if journalism is dead, you have a right and a duty to ask your own questions.
7. Corporate journalists hate real journalists

Sirota rightly points out the irony of this: ´Here we have a reporter expressing excitement at the prospect of the government executing the publisher of information that became the basis for some of the most important journalism in the last decade.´ Sirota goes on to note various examples of what he calls the ´Journalists against Journalism club´, and gives severalexamples of how The Guardian columnist Glenn Greenwald has been attacked by the corporate press for publishing Snowden´s leaks. The New York Times' Andrew Ross Sorkin called for Greenwald's arrest, while NBC's David Gregory´s declared that Greenwald has ´aided and abetted Snowden´. As for the question of whether journalists can indeed be outspoken, Sirota accurately notes that it all depends on whether their opinions serve or challenge the status quo, and goes on to list the hypocrisy of Greenwald´s critics in depth: ´Grunwald has saber-rattling opinions that proudly support the government's drone strikes and surveillance. Sorkin's opinions promote Wall Street's interests. (The Washington Post´s David) Broder had opinions that supported, among other things, the government's corporate-serving "free" trade agenda. (The Washington Post´s Bob) Woodward has opinions backing an ever-bigger Pentagon budget that enriches defense contractors. (The Atlantic´s Jeffrey) Goldberg promotes the Military-Industrial Complex's generally pro-war opinions. (The New York Times´s Thomas) Friedman is all of them combined, promoting both "free" trade and "suck on this" militarism. Because these voices loyally promote the unstated assumptions that serve the power structure and that dominate American politics, all of their particular opinions aren't even typically portrayed as opinions; they are usually portrayed as noncontroversial objectivity.´
8. Bad news sells, good news is censored, and celebrity gossip trumps important issues

It´s sad but true: bad news really does sell more newspapers. But why? Are we really so pessimistic? Do we relish the suffering of others? Are we secretly glad that something terrible happened to someone else, not us? Reading the corporate press as an alien visiting Earth you might assume so. Generally, news coverage is sensationalist and depressing as hell, with so many pages dedicated to murder, rape and pedophilia and yet none to the billions of good deeds and amazingly inspirational movements taking place every minute of every day all over the planet. But the reasons we consume bad news are perfectly logical. In times of harmony and peace, people simply don´t feel the need to educate themselves as much as they do in times of crises. That´s good news for anyone beginning to despair that humans are apathetic, hateful and dumb, and it could even be argued that this sobering and simple fact is a great incentive for the mass media industry to do something worthwhile. They could start offering the positive and hopeful angle for a change. They could use dark periods of increased public interest to convey a message of peace and justice. They could reflect humanity´s desire for solutions and our urgent concerns for the environment. They could act as the voice of a global population who has had enough of violence and lies to campaign for transparency, equality, freedom, truth, and real democracy. Would that sell newspapers? I think so. They could even hold a few politicians to account on behalf of the people, wouldn´t that be something? But for the foreseeable future, it´s likely the corporate press will just distract our attention with another picture of Rhianna´s butt, another rumor about Justin Bieber´s coke habit, or another article about Kim Kardashian (who is she again?) wearing perspex heels with swollen ankles while pregnant. Who cares about the missing$21 trillion, what was she thinking?
9. Whoever controls language controls the population

Have you read George Orwell´s classic novel1984 yet? It´s become a clichéd reference in today´s dystopia, that´s true, but with good reason. There are many- too many- parallels between Orwell´s dark imaginary future and our current reality, but one important part of his vision concerned language. Orwell coined the word ´Newspeak´  to describe a simplistic version of the English language with the aim of limiting free thought on issues that would challenge the status quo (creativity, peace, and individualism for example). The concept of Newspeak includes what Orwell called ´DoubleThink´-  how language is made ambiguous or even inverted to convey the opposite of what is true. In his book, the Ministry of War is known as the Ministry of Love, for example, while the Ministry of Truth deals with propaganda and entertainment. Sound familiar yet? Another book that delves into this topic deeper is Unspeak, a must-read for anyone interested in language and power and specifically how words are distorted for political ends. Terms such as ´peace keeping missiles´, ´extremists´ and ´no-fly zones´, weapons being referred to as ´assets´, or misleading business euphemisms such as ´downsizing´ for redundancy and ´sunset´ for termination- these, and hundreds of other examples, demonstrate how powerful language can be. In a world of growing corporate media monopolization, those who wield this power can manipulate words and therefore public reaction, to encourage compliance, uphold the status quo, or provoke fear.
10. Freedom of the press no longer exists

The only press that is currently free (at least for now) is the independent publication with no corporate advertisers, board of directors, shareholders or CEOs. Details of how the state has redefined journalism are noted here and are mentioned in #7, but the best recent example would be the government´s treatment of The Guardian over its publication of the Snowden leaks. As a side note, it´s possible this paper plays us as well as any other- The Guardian Media Group isn´t small fry, after all. But on the other hand- bearing in mind points 1 to 9- why should we find it hard to believe that after the NSA files were published, editor Alan Rusbridge wastold by the powers that be ´you´ve had your fun, now return the files´, that government officials stormed his newsroom and smashed up hard drives, or that Greenwald´s partner David Miranda wasdetained for 9 hours in a London airport under the Terrorism Act as he delivered documents related to the columnist´s story? Journalism, Alan Rusbridge lamented, ´may be facing a kind of existential threat.´ As CBS Evening News anchor Dan Rather wrote: 'We have few princes and earls today, but we surely have their modern-day equivalents in the very wealthy who seek to manage the news, make unsavory facts disappear and elect representatives who are in service to their own economic and social agenda… The "free press" is no longer a check on power. It has instead become part of the power apparatus itself.'
Sophie is a staff writer for True Activist and a freelance feature writer for various publications on society, activism and other topics. You can read more of her stuff here.
Source: True Activist