Be careful of what you wish for…
Despite appearing to have a few slightly-differing opinions on just a handful of petty foreign-policy details such as how many meaningless negotiation-bones they should throw at Iran, or how many meaningless knock-off hand-slappings they should throw at Zionist neo-colonials, the routinely cooperative, agreeable and in-sync actual actions of President Obama, Congress, Wall Street and War Street clearly speak for themselves.
Judging by their actions alone, we can immediately tell that Obama, Congress, Wall Street and War Street are clearly in strong, almost-total agreement regarding their basic foreign-policy vision for America.  Hey, goodie for them.
However, unfortunately for the rest of us Americans who are actually having to pay for these actions, Obama & Company's strong vision for America also includes doing everything that they possibly can to start World War III.  Ouch!
When it comes to his domestic policy, President Obama has occasionally actually tried to be helpful to his fellow Americans — as compared to John McCain's domestic policy, for instance.  Had McCain been elected in 2008 instead of Obama, he would have tried to financially eviscerate almost every single American in our middle class — if said evisceration would have given even just one more penny of our tax dollars to Wall Street and War Street instead of to us.
However, compared to Obama & Company's current (both overt and covert) foreign policies, McCain's 2008 foreign-policy platform appears to have been almost a walk in the park.
Right now, Obama & Company's actual, action-based foreign policies seem to include:
But none of these things are cool things to do and all of them can rapidly lead to circumstances far beyond Obama & Company's (and our) control — up to and including World War III, to be fought both abroad and at home!
Not since 1864 has America known war on its shores.  Except for 9-11, the occasional violent suppression of civil rights marches and a few gun battles here and there involving bad guys and/or police, it's been pretty calm around here for the last one hundred years.
However.
If Obama & Company keeps on pushing their current foreign-policy agendas as hard in the future as they are doing right now in Syria, Ukraine, Yemen, Palestine, Afghanistan, Mexico, Honduras, Africa, Iraq, etc., and rattling their sabres like they were McCain, GWB and Dick Cheney combined, then we may start to know war on our own native soil a whole lot better than we would ever want to.
But perhaps at this point you might be asking yourself, "What is the problem with you, Jane?  First, there's never going to be another war here in America.  And, second, even if the denizens of War Street do make a huge profit and even if 50% of American children do go without schools or shoes as a result, won't it all still be worth it — to see America continue to be the world's top dog?"
 
You just keep on telling yourself that — but only if you don't really mind butchering a few million (or billion) innocent women and children (and subsequently rot in Hell) to get to the top.
Plus not only do we now have to worry about military wars coming to our shores, apparently we now have to worry about economic wars arriving here too!  My friend Judy just e-mailed me a whole laundry-list of stuff that is also wrong with Obama & Company's foreign-policy vision — from a financial perspective.  Here is just one small item on that list:
"I myself believe," wrote Judy, "that the new multinational corporations don't care about the US any more than they care about any other country.  They have proved again and again to us that, for them, it is always and only about making money.  And, bearing that reality in mind, consider that on the one hand China's new banking initiatives could shut down the US empire if or when — and I would say when — the balance of resources shifts away from the dollar.  That is what a lot of these military attacks on Russia and China have been about.  But on the other hand, however, most likely it will be no problem at all for the multinationals to pivot their markets and financial bases to Asia — leaving America financially high and dry."
But with the above-described humungous financial calamity also lapping at our shores, it probably won't even matter whether America wins World War III — or not.
 
America's current domestic and foreign policies clearly suck eggs.  But why?  Because these policies far-too-closely resemble my own definition of fascism/corporatism/ despotism, which is:  "Instead of a country spending its government's money to better the lives of all of its citizens equally, said government's money is only poured into the coffers of an 'elite' few."
And speaking of false flags, here are the five signs to look for:
Horrific images are over-used to shock the public
Drills for a similar attack appear on the same day in the same area.
Eyewitness accounts do not match the official story
Conflicting evidence is not repeated by the media
And while we're still on the subject of false flags, excuse me for stating the obvious here — but with so many false flags in the American spy-craft industry having come to light again and again recently, how come 9-11 alone has become the sacrosanct hands-off Lady Madonna that can never ever be properly investigated or even mentioned in the same breath as the words "false" and "flag"?
Also with regard to false flags, let us now paraphrase philosopher Harry G. Frankfurt. "How can we ever truly gauge what dangers we are in — if we are lied to about their existence, their causes and their effects?"  For this reason alone, truth is vital to every society — and history has demonstrated again and again that societies based on lies are basically doomed.
How can we Americans use good judgment in order to keep ourselves safe when we are constantly bombarded with lies about Iraq, Syria, Ebola, voting-machine data, Ukraine, weapons lobbies, our post offices, Big Pharma, GMO crops, net neutrality, nuclear safety, what really happened in Palestine, that banks are too big to fail, that Jesus hated poor people — and goodness knows what all else!  We can't even get a clear story about whether or not there is still gold in Fort Knox.  And the New York Times, our most vital "newspaper of record," is constantly getting caught out for their lies.
According to Frankfurt, unless we can reinvent ourselves as a more truthful society ASAP, then we are doomed.
"The interventions of US imperialism, with the direct collaboration of the Saudi monarchy, have plunged the entire Middle East into chaos and bloodshed—from the destruction of Iraq, to the transformation of Libya into a militia-ravaged "failed state," to the ongoing carnage inflicted upon Syria … This predatory imperialist offensive threatens to ignite a region-wide conflagration, even as Washington deliberately ratchets up military tensions with both Russia and China. The threat of these separate conflicts coalescing into a third world war grows by the day."
— Bill Van Auken, Obama's criminal war against Yemen, WSWS

"Will the reactionary rulers of Saudi Arabia manage to break the legitimate hopes and enthusiastic dreams burning in the hearts of thousands of young people of the Arabian Peninsula? Never!"
— Gamal Abd al-Nasser, President of Egypt 1956 to 1970
In its ongoing effort to prevent the rise of "any popularly supported government in the region", the US has joined Saudi Arabia's savage war of annihilation against Yemen's northern tribal rebels, the Houthis. The Pentagon has expedited the delivery of bombs, ammunition and guidance systems to assist the Saudi-led campaign and is providing logistical support to maximize the impact of its bombing raids. The US has also set up a "joint fusion center", provided "aerial re-fueling platforms" and "advanced US-made weaponry" with the explicit intention of suppressing a militant group that overthrew the US-backed puppet government in the capital of Sanaa in the fall of 2014. The level of coordination between the makeshift Arab coalition (The Gulf Cooperation Council or GCC) and the US suggests that Washington is not only fully aware that food depots, water facilities, refugee camps and critical civilian infrastructure are being deliberately targeted and destroyed, but that the White House has given the green light to actions that will inevitably lead to widespread famine and social collapse. Here's a little background from an article in The National:
"Yemen Economic Corporation, one of Yemen's largest food storage centres, was destroyed by three coalition missile strikes in Hodeidah last Tuesday, according to the Houthi-controlled defence ministry. The corporation had enough food for the entire country. The government's military food storage centre in Hodeidah was also targeted and destroyed on Tuesday, according to the defence ministry.

Also in Hodeidah, country's second largest dairy plant was hit by five Saudi missiles on Wednesday, killing at least 29 people, mostly employees, and injuring dozens of others." (Yemeni civilians struggle to get by amid conflict, The National)
This is from Channel News Asia:
DUBAI: Warships from the Saudi-led coalition have blocked a vessel carrying more than 47,000 tonnes of wheat from entering a Yemeni port, demanding United Nations guarantees that the cargo would not go to military personnel, shipping sources said on Thursday." (Saudi-led coalition bars wheat ship from entering Yemen port – sources, Channel News Asia)
This is from WSWS:
"Airstrikes as well as fighting on the ground has knocked out electrical infrastructure, cutting off power in many urban areas and stopping the operation of crucial pumps that supply Yemen's cities with drinking water. "We're worried that this system will break down shortly; Aden is a dry, hot place, and without water people will really suffer," UNICEF representative Harneis told reporters…

The no-fly zone and blockade enforced by Saudi Arabia and its coalition partners has effectively blocked the delivery of medical aid and supplies for the last two weeks, exacerbating the developing crisis." WSWS
Live reports on the ground confirm that food depots have been bombed across the country; " in Asr (west) hit as well as Urdhi complex (center) & Noqum (east).
This is how America fights its wars, by precipitating massive humanitarian crises that help it to achieve its political objectives. If that isn't terrorism, then what is?
Here's more from the Washington Post:
"As tons of desperately needed medical supplies await clearance to be flown into Yemen, aid workers warned Tuesday of an unfolding humanitarian crisis, saying at least 560 people, including dozens of children, have been killed, mostly in a Saudi-led air campaign and battles between Shiite rebels and forces loyal to the embattled president. More than 1,700 people have been wounded and another 100,000 have fled their homes as fighting intensified over the past three weeks, the World Health Organization said." (560 dead amid fears of humanitarian collapse in Yemen, Washington Post)
The Saudis launched this latest aggression invoking the thinnest of pretexts, that it wanted to "restore the legitimate government" and protect the "Yemeni constitution and elections." As CNN's Ali Alahmed sardonically quipped:
"The need to protect constitutions and elections is a rather strange message from the representative of an absolute monarchy … The kingdom's real motives seem clear if one looks at Saudi monarchy's history of not allowing regional competition of any kind, while consistently combating efforts to build democratic governments that empower the people…

The Saudi goal is simple: Prevent the rise of any popularly supported government in the region that seeks self-determination. And the excuse of "resisting Iran's influence," meanwhile, appears to be nothing but sectarian bluster." (What Saudi Arabia wants in Yemen, CNN)
While we agree with Alahmed's basic thesis, we think the rule applies more to the United States than Saudi Arabia. After all, it's the US that has gone from one country to the next, toppling governments, installing puppets, and spreading anarchy wherever it goes. Whatever role the Saudis might have played in Washington's grand plan to redraw the map of the Middle East and project US tentacles into Eurasia, it is quite small by comparison. It's the US that refuses to allow an independent government to emerge in a region that it's committed to control. And it's the US that is facilitating the attacks on innocent Yemenis by providing the bombs, weaponry and logistical support to the reactionary Saudi leadership. Check this out from Gregory Johnson at Buzzfeed:
"A consensus appears to be building in Riyadh, Cairo, and Islamabad toward inserting ground troops into the conflict in Yemen. One Egyptian military official told BuzzFeed News the decision had already been made. "Ground forces will enter the war," the official said on condition of anonymity in order to discuss classified military operations.

The timing of such a move, which would be a significant escalation in the Saudi-led air campaign in Yemen, is still being discussed. But the Egyptian military source said it could happen as soon as "two or three days." (Ground Forces Seen Joining Bloody War In Yemen, Buzzfeed)
So after two weeks of nonstop bombing, the coalition is now planning to intensify the conflict by putting boots on the ground. But that will only prolong the hostilities and plunge the country deeper into crisis. It will also increase the risk of Houthi retaliation, which appears to already be taking place. According to Al Arabiya English, fighting broke out in the Southern Saudi city of Narjan on April 11. (#BREAKING Asiri: Houthi militias are amassing close to the Saudi-Yemeni border… #BREAKING: Asiri: clashes reported near the Saudi city of Najran)
While no one expects the Houthis to invade their northern neighbor, there are some analysts who think the monarchy has taken on more than it can chew and will eventually suffer blowback from its incursion. One such critic is Sayed Hassan Nasrallah, Secretary General of the Lebanese paramilitary organization Hezbollah. In a recent interview, Nasrallah suggested that the Houthis have the means to curtail vital energy supplies, strike a blow against Saudi Arabia, and send financial markets tumbling at the same time. Here's an excerpt from the interview:
"There is now a demand on the Yemeni leaders… who have not taken the decision to close (the strategic Strait) of Bab al-Mandeb, which they could do at any time. (It is only 20 kilometres-large, they are quite capable of it.) And they could also hit targets inside Saudi Arabia with missiles, or even enter the interior of Saudi Arabia, although they have not yet made this decision, so far … There is currently a Yemeni popular demand: "Let us go to Saudi Arabia." Leadership thus far has not taken such a decision. I wanted to indicate this."…

Nasrallah again: "I am absolutely certain that Saudi Arabia will undergo a major defeat. And its defeat will impact its internal situation, the royal family … and the entire region." ("Hassan Nasrallah: The war in Yemen announces the end of the House of Saud", The Vineyard of the Saker)

So the Houthis could close the Bab Al Mandeb straits and prevent millions of barrels of oil from getting to market? That changes the calculus entirely. How would that effect Washington's plan to crash Russia's economy with plunging oil prices? How would it impact global stock markets which are already jittery over the Fed's projected rate hikes? What effect would it have on al Nusra, ISIS and other Al Qaeda-linked groups that would then seek to launch similar attacks against critical energy infrastructure as the best way to achieve their aims?

There are things the Houthis can do to discourage Saudi aggression. They can take matters into their own hands and strike where it hurts most. Washington is so convinced of its own invincibility, that no one has even thought of this. Without the slightest hesitation, the Obama troupe has embroiled a key ally in bloody conflagration that could backfire and seriously undermine US interests in the region. Saudi Arabia is the cornerstone of US power in the Middle East, but it is also its Achilles heel. By supporting the attack on the Houthis instead of seeking a political solution, Washington has strengthened Al Qaeda on the Arabian Peninsula (AQAP) which poses the greatest single threat to the monarchy. As Nasrallah notes: "they (the US and SA) protect Al Qaeda and Daesh in Yemen, and more, they drop them weapons by air. This is an achievement? This goes against the interests of Saudi Arabia."
Indeed, it does. Al Qaeda has much greater ability to infiltrate Saudi Arabia and either launch terrorist attacks or foment popular revolution. The Houthis present no such security threat, they're only interest is to maintain their own sovereignty, borders, and independent foreign policy. A 2003 article in the Atlantic by CIA Bureau Chief Robert Baer titled "The Fall of the House of Saud" provides a window into Riyadh's vulnerabilities and draws the ominous conclusion that the kingdom's days are numbered. Here's a clip from the article:
"Saudi oil is controlled by an increasingly bankrupt, criminal, dysfunctional, and out-of-touch royal family that is hated by the people it rules and by the nations that surround its kingdom…

Signs of impending disaster are everywhere, but the House of Saud has chosen to pray that the moment of reckoning will not come soon—and the United States has chosen to look away. So nothing changes: the royal family continues to exhaust the Saudi treasury, buying more and more arms and funneling more and more "charity" money to the jihadists, all in a desperate and self-destructive effort to protect itself.

The most vulnerable point and the most spectacular target in the Saudi oil system is the Abqaiq complex—the world's largest oil-processing facility, which sits about twenty-four miles inland from the northern end of the Gulf of Bahrain. All petroleum originating in the south is pumped to Abqaiq for processing. For the first two months after a moderate to severe attack on Abqaiq, production there would slow from an average of 6.8 million barrels a day to one million barrels, a loss equivalent to one third of America's daily consumption of crude oil. For seven months following the attack, daily production would remain as much as four million barrels below normal—a reduction roughly equal to what all of the opec partners were able to effect during their 1973 embargo…

I served for twenty-one years with the CIA's Directorate of Operations in the Middle East, and during all my years there I accepted on faith my government's easy assumption that the money the House of Saud was dumping into weaponry and national security meant that the family's armed forces and bodyguards could keep its members—and their oil—safe … I no longer believe this … sometime soon, one way or another, the House of Saud is coming down." (The Fall of the House of Saud, Robert Baer, The Atlantic)
Neither the United States nor Saudi Arabia have any right to interfere in Yemen's internal affairs or to install their own political puppets to head the government. That is the right of the Yemeni people. And while the current process of regime change might be messy and violent, the Houthi rebels better represent the interests of the indigenous population than anyone in Riyadh or Washington. The Saudi-US war is merely aimed at controlling the outcome so Yemen remains within the imperial grip. As Nasrallah says, "The real goal of the war is to retain control and domination of Yemen (but) the Yemeni people will not put up with this aggression and humiliation. They will fight to defend their dignity, their existence, their families, and their territory. And they will be victorious."
"We shall have world government, whether or not we like it. The question is only whether world government will be achieved by consent or by conquest"   Paul Warburg at U. S, Senate Committee on Foreign Relations, February 17, 1950.
"The tumultuous noise of the nations, their rejoicings and lamentation, the pleadings of their prayer, the groans of their despair, the cry of their imprecations, their wrath, their love, their hate!" Henry Wadsworth Longfellow, Introduction, "Christus: A  Mystery"
The world that is presented to every current inhabitant is a world of extensive diversity; a vast array of different languages, cultures, and values.  No living creature had anything to do with creating this tiny planet or with the vast universe that surrounds it.  All are temporary residents of space they do not and cannot entirely understand.
Amy Chua is a brilliant, American born, Chinese woman; educated at Harvard, employed for a time at Duke and now a Law Professor at Yale. Her husband, Jeff Rubenfeld, is also a Law Professor at the same institution..  She has authored four books: "World on Fire", "Day of Empire", "Battle Hymn of the Tiger Mother", and, "The Triple Package".
Her writing is legible and wears well.  Each book provides interesting, and extensive coverage.  The books are distinctly different but they have a strong common theme.
The subtitle of the 2002 book, "World on Fire", is "How exporting Free Market Democracy Breeds Ethnic hatred and Global Instability".  The book describes in detail nation after nation that is dominated by a small minority who live in luxury off the labor of poor, uneducated minions that have no hope of progress.  Invariably the massive poor minority hates the wealthy owners who are often not indigenous to the nation.
Chua contends that Democracy exacerbates the problem.  She writes, "—in the numerous countries around the world with a market dominated minority, the simultaneous pursuit of free markets and democracy has led not to widespread peace and prosperity, but to confiscation, autocracy, and mass slaughter.  Outside the industrialized West, these have been the wages of globalization."  (Pg. 125)
In 2007 "Day of Empire" used detailed descriptions of historic empires to promote the theory that tolerance was the glue that allowed empires to flourish and remain intact.  In 344 pages the book begins by delving into the Persian Empire, 559 – 330 BC, it continues through the Chinese Qin (212 BC) andTang (618-907 AD) dynasties and records the Great Mongol Empire during the 13th and 14th centuries AD, then  Rome, the Dutch, the British and finally the United States of America, a "hyperpower".  In each tyranny Chua carefully describes tolerance as the glue that held the empire together and intolerance as responsible for its demise..
In 2011 she published "Battle Hymn of the Tiger Mother", a description of her determination to produce exceptionalism in her two daughters.  Her methods reminded me of Vince Lombardi's quintessential coaching career at Green Bay.  She insisted on excellence and would not accept failure.  Her daughters hated her during the process but loved her for the result.  Reviews of the content in this book were often negative.
In 2013 came "The Triple Package" an attempt to define the components of success in the United States.  Chua and her husband came up with the following traits: a superiority complex, insecurity, and impulse control. They listed the following ethnic groups that have enjoyed success: Chinese, Jewish, Indian, Iranian, Lebanese, Nigerians, Cuban exiles, and Mormons.
Race and power flow through all of Chua's writing.  She assents to globalism but her books belie its implementation by describing racial, cultural, and social distinctions that run deep and are intransigent.  Over and over again they document the universal existence of predator classes that tyrannize the masses and exploit them for their own benefit.  The injustices that allow alien overlords to exploit an entire race often result in a resentment-filled overthrow that is brutal, anarchic and an affront to humanity itself.
In "World on Fire" Chua describes the Rwanda genocide.  The Tutsis though they were only 14 percent of the population were the ruling class.  Though the two races married, lived side by side and the Hutus were allowed to achieve Tutsi status there was resentment when a Tutsi become king. Then the Belgian colonists, as a method of control, declared the Tutsis superior to the Hutus and began providing Tutsis with better educations and promoting them to positions of authority over the Hutu.  Eventually the Hutus were forced into permanent servitude.
Buoyed by the rhetoric of political leaders in the spring and summer of 1994, the Hutus rose up and in just a hundred days used machetes to hack to death some eight hundred thousand Tutsi.  Chua quotes Philip Gourevitch, "Neighbors hacked neighbors to death in their homes, and colleagues hacked colleagues to death in their workplaces.  Doctors killed their patients, and schoolteachers killed their pupils.  Within days, the Tutsi population of many villages was all but eliminated…." (Pg. 169)
The Chinese in the Philippines, the Jews in Russia, the Indians and Lebanese in Africa, and so on, "World on Fire" documents the exploitation of nations and their citizens often by better educated foreigners who siphon off both labor and resources.  She believes that free market democracy, the medium of globalism, exacerbates this travesty.
In The Day of Empire the fascinating detailed description of past empires is used as a backdrop to assess the ability of the United States of America to create a world empire.  The book is critical of the Iraq War and dubious that USA will be able to find a "glue" that will allow large scale hegemony.
The collapse of the Soviet Union could have made the world ready for U. S. leadership but, "Instead, the ironic result of the United States "democratic world dominance" has been rampant, raging anti-Americanism.  Today, America faces billions of people around the world, most of them poor, who know that the American Dollar is the world's dominant currency, that English is the world's dominant language, that American corporations are the most powerful and visible in the world, and that American brands are the most pervasive and coveted.…  In short, large numbers of people all over the world feel dominated by – but no connection or allegiance to – the United States." (Pg. 328)
"The Triple Package" digs out the motivations that produce success in the United States.  Chua's husband, Jeb Rosenfeld, is Jewish and her two daughters are being raised in the religion of Judaism.  Although both the Chinese and Jewish races are dominant and both are adroit at becoming market dominant minorities in other nations Chua makes the Jews the standard by using them to describe other tyrannical races:  i.e. Indians as the "Jews of East Africa".  (Pg. 115)
Dominance is an underlying theme in all four of Chua's books.  She is conflicted by her excellent description of the intense resentment that results from the numerous market dominated minorities and her support for Globalization which takes the form of a critique of the U. S. go-it-alone policy and questions its decisions.  She seems to want dominance to succeed while her research shows that it is failing.  In the Acknowledgements at the beginning of "World on Fire" Chua cites Strobe Talbot as a contributor to the book.  In 1992, Talbot was quoted by Time Magazine, "In the next century, nations as we know it will be obsolete; all states will recognize a single, global authority. National sovereignty wasn't such a great idea after all."
In the "Battle Hymn of the Tiger Mother", Chua describes the stout discipline she used to produce top one percent children.  While she wants her girls to be cream her writing shows sympathy for the milk.
On Page 189 of "World on Fire" Chua writes, "Take the United States.  While some ethnic minorities have outperformed others, the United States economy is absolutely not controlled by any ethnic minority.  On the contrary, if any group can be said to dominate our economy, it is the White majority.
Jeb Rosenfeld's "genius and kindness" (cited in the Acknowledgements for "World on Fire") has over whelmed Chua's research.  Jews may not be the wealthiest Americans but they are by far the most powerful.  It is power, not wealth per se that allows minority market dominance and Jewish power in United States comes through almost total dominance of the press, media, and publishing.  Add total control of the Federal Reserve, the World Bank, Goldman Sachs, and other commercial banks; plus dominance over scores of major corporations and hegemony over many of our institutions of higher learning and you have market dominant minority of distinction.
Without Jewish backing no one can be elected to the U. S. Presidency or to the House or Senate.  From the book reviews aired on C-Span it seems that eighty percent of the books published in the United States are by Jewish authors. Now even C-Span's iconic Brian Lamb's guest interviews seem to favor Jewish authors.
There are two major factors that allow Jews to sustain a successful market dominate minority in the United States:  One, motion pictures and the media have allow them to create ample amounts of sympathy by dramatizing the Holocaust, and two, they enjoy the total support of hundreds of thousands of severely deluded Dispensational Christians.
It is ironic that Chua denies Jewish dominance in one book and acknowledges it in another ("The Triple Package").
Several years ago my wife and I had a very enjoyable min-vacation in San Francisco.  One of the highlight of our visit was riding the city bus through China Town.  This section of the city houses one of the largest and most authentic Chinese settlements in the nation…Our hotel was new, well appointed, and comfortable.  It was Chinese owned.  I remember saying to my wife that in another decade or so the Chinese will dominate the city – maybe they already do.
We have several market dominate minorities in the United States.  The Jews have been here longest and have accumulated major hegemony.  Indians have cornered the motel business, and the ubiquitous gasoline stations and convenience stores.  The Chinese are quietly successful and their wealth is seldom publicized.  Iranian Muslims are newcomers but they are already making waves in Michigan.  Mexicans have become the majority population in parts of the West and are talking annexation. Whites and Blacks who have lived here longest are destined to minority status.
Chua's extensive research provides ample evidence that Globalism is in trouble.  Various races around the Globe seek to maintain their own culture.  They want to live in their own unique ways and enjoy their possessions as they see fit.  They do not want to be dictated to or tyrannized.  They may accept foreigners but they quickly resent state tyranny and non-indigenous dominance.
Chua gropes for solutions and lists some possibilities:  Redistribution through tax and transfer programs, give the poor legally defendable property rights,         give or provide a way for the underprivileged to own stock in international corporations, and finally, government intervention with affirmative action programs.
She describes reality with extensive research to support her conclusions.  I concur with her summations but contend with her intent.  She is a globalist and her search for ways to bring the world's array of languages and cultures under the globalist tent is the same spirit that is creating the malevolent resentment her research describes.
Most of the world's cultures are made up of people that want to be left alone.  Many are satisfied with lives that sophisticated Westerners would consider deprived but, nevertheless, still want to solve their own problems.  United States is promoting globalism and democracy by force and Chua is on target when she describes the resentment it causes.
Missing in all of the books is the fact that Globalism is being foisted on the world by a global dominate minority which is creating a global resentment larger and more virulent than the national problem she describes. Chua writes, "If global free market democracy is to be peaceably sustainable, then the problem of market dominant minorities, however unsettling, must be confronted head on." (Pg. 164 "World on Fire") It is globalism itself that should be confronted head on.  Since Chua's research clearly shows the fervent desire of most of the world's population to live without outside interference, globalism will not come peacefully.  Many of the world's nations will fight foreign domination.
In "Systematic Theology" R. J. Rushdoony quotes George Orwell, "We know that no one ever seizes power with the intention of relinquishing it.  Power is not a means; it is an end.  One does not establish a dictatorship in order to safeguard a revolution; one makes the revolution in order to establish the dictatorship"….. (RJR writes) "Fallen men are bramble men; their expression of the will to power varies only in terms of the courage and opportunities. Fallen man thus becomes more unproductive as he becomes more powerful in his role over others."   Pg. 1032
If the Global Dominate Minority would begin to use their God-given grey matter to study the Law God gave to His sin ridden people they would understand that the problems of the world can be alleviated without force in any nation that freely accepts and enforces it.  Eugenics is a dirty word in most civilized society but there are rumors that the Global Dominate Minority thinks in that realm.
Humanistic eugenics is evil but the eugenics incorporated into God's Law is a righteous method of creating a peaceful society.  Freedom is impossible in anarchic societies.  Our Founders understood that the government they set up was designed for an obedient people; that wide spread disobedience would quickly destroy freedom.
We are not created equal and there will always be those that are smarter and stronger.  The Bible even contains instructions on how to periodically reset the playing field.  God's Law is wiser than man's law – peace in our world waits for men to realize it.
"False centers will not hold.  Things fly apart, confusion reigns, and only taxes hold the state together.  Powers now do lie within oppressor's hands, and men are cold toward virtue, prone to sin and treason." R. J. Rushdoony, "The Luxury of Words", Pg. 127
Eleven years ago I wrote a column for the print edition of Chronicles under this title. Tom Piatak's grim reminder of the continued destructive presence of this cabal in what passes for the commentariat in today's America has prompted me to dig into my old files and recap for our readers the historical and ideological roots of neoconservatism. The 2004 diagnosis, reproduced here in an abbreviated form, still stands.
The neoconservatives are often depicted as former Trotskyites who have morphed into a new, closely related life form. It is pointed out that many early neocons—including The Public Interest founder Irving Kristol and coeditor Nathan Glazer, Sidney Hook, and Albert Wohlstetter—belonged to the anti-Stalinist far left in the late 1930s and early 1940s, and that their successors, including Joshua Muravchik and Carl Gershman, came to neoconservatism through the Socialist Party at a time when it was Trotskyite in outlook and politics. As early as 1963 Richard Hofstadter commented on the progression of many ex-Communists from the paranoid left to the paranoid right, clinging all the while to the fundamentally Manichean psychology that underlies both. [Half a century] later the dominant strain of neoconservatism is declared to be a mixture of geopolitical militarism and "inverted socialist internationalism."
Blanket depictions of neoconservatives as redesigned Trotskyites need to be corrected in favor of a more nuanced analysis. In several important respects the neoconservative world outlook has diverged from the Trotskyite one and acquired some striking similarities with Stalinism and German National Socialism. Today's neoconservatives share with Stalin and Hitler an ideology of nationalist socialism and internationalist imperialism. The similarities deserve closer scrutiny and may contribute to a better understanding of the most influential group in the U.S. foreign policy-making community.
Certain important differences remain, notably the neoconservatives' hostility not only to Nazi race-theory but even to the most benign understanding of national or ethnic coherence. On the surface, there are also glaring differences in economics. However, the neoconservative glorification of the free market is mere rhetoric, designed to placate the businessmen who fund them, than reality. In fact, the neoconservatives favor not free enterprise but a kind of state capitalism—within the context of the global apparatus of the World Bank and the IMF—that Hitler would have appreciated.
Some form of gradual but irreversible and desirable withering away of the state is a key tenet of the Trotskyite theoretical outlook. The neoconservatives, by contrast, are statists par excellence. Their core belief—that society can be managed by the state in both its political and economic life—is equally at odds with the traditional conservative outlook and with the non-Stalinist Left. In this important respect the neoconservatives are much closer to Stalinism and National Socialism.
They do not want to abolish the state; they want to control it—especially if the state they control is capable of controlling all others. They are not "patriotic" in any conventional sense of the term and do not identify themselves with the real and historic America but see the United States merely as the host organism for the exercise of their Will to Power. Whereas the American political tradition has been fixated on the dangers of centralized state power, on the desirability of limited government and non-intervention in foreign affairs, the neoconservatives exalt and worship state power, and want America to become a hyper-state in order to be an effective global hegemon. Even when they support local government it is on the grounds that it is more efficient and responsive to the demands of the Empire, not on constitutional grounds.
The neoconservative view of America as a hybrid, "imagined" nation had an ardent supporter eight decades ago: in Mein Kampf Adolf Hitler argued for a new, tightly centralized Germany by invoking the example of the United States and the triumph of the Union over states' rights. He concluded that "National Socialism, as a matter of principle, must lay claim to the right to force its principles on the whole German nation without consideration of previous federated state boundaries."
Hitler was going to make a new Germany the way he imagined it, or else destroy it. In the same vein the Weekly Standard writers are "patriots" only insofar as the America they imagine is a pliable tool of their global design. Their relentless pursuit of an American Empire overseas is coupled by their deliberate domestic transformation of the United States' federal government into a Leviathan unbound by constitutional restraints. The lines they inserted into President Bush's State of the Union address [in January 2004] aptly summarized their Messianic obsessions: the call of history has come to the right country, we exercise power without conquest, and sacrifice for the liberty of strangers, we know that freedom is the right of every person and the future of every nation: "The liberty we prize is not America's gift to the world, it is God's gift to humanity."
Such megalomania is light years away from a patriotic appreciation of one's nation. A psychotic quest for power and dominance is the driving force, and the "nationalist" discourse its justification. The reality is visible in ultimate distress: Towards the end of the Second World War Josef Goebbels welcomed the Allied bombing for its destruction of the old bourgeois cuckoo-clock and marzipan Germany of the feudal principalities. Driven by the same impulse, Bill Kristol's "national greatness" psychosis seeks to sweep away the old localized, decentralized America of bingo parlors and little league games.
Most heirs of the Trotskyite Left are internationalists and one-world globalists, whereas all neoconservatives are unabashed imperialists. The former advocate "multilateralism," in the form of an emerging "international community" controlled by the United Nations or through a gradual transfer of sovereign prerogatives to regional groupings exemplified by the European Union. By contrast the neoconservative urge for uninhibited physical control of other lands and peoples bears resemblance to the New European Order of [the early 1940's], or to the "Socialist Community" that succeeded it in Eastern Europe. Even when they demand wars to export democracy, the term "democracy" is used as an ideological concept. It does not signify broad participation of informed citizens in the business of governance, but it denotes the desirable social and political content of ostensibly popular decisions . . .
Whereas the Trotskyite Left is predominantly anti-militarist, the neoconservatives are enthusiastically militarist in a manner reminiscent of German and Soviet totalitarianism. Their strategic doctrine, promulgated into official policy [in September 2002], calls for an indefinite and massive military build-up unconnected to any identifiable military threat to the United States. Their scribes demand 'citizen involvement,' in effect, militarization of the populace, but the traditional 'citizen soldier' concept is reversed . . .
The neoconservative mindset is apocalyptic (which is a Nazi and Stalinist trait), rather than utopian (which characterizes the Trotskyite Left). The replacement of the Soviet threat with the more amorphous "terrorism" reflects the doomsday revolutionary mentality that can never rest. New missions and new wars will have to be engineered, and pretexts manufactured, with the same subtlety that characterized the "attack" on the German radio station at Gleiwitz on August 31, 1939. Even the tools for the enforcement of domestic acquiescence are not dissimilar: the Patriot Act followed 9-11 as smoothly as the suspension of the Weimar constitution followed the Reichstag fire. Echoing the revolutionary dynamism and the historicist Messianism equally common to fascists and communists, Michael Ledeen wrote that "creative destruction" is America's eternal mission, both at home and abroad, and the reason America's "enemies" hate it: "They cannot feel secure so long as we are there, for our very existence—our existence, not our politics—threatens their legitimacy. They must attack us in order to survive, just as we must destroy them to advance our historic mission."
The neoconservatives' mendacity apparent in the misrepresentation of the Iraqi crisis to the American people recalls the Goebbelsian "hypodermic needle approach" to communication, in which the communicator's objective was to "inject" his ideas into the minds of the target population . . . [which] is echoed in our time by the Straussian dictum that perpetual deception of the citizens by those in power is necessary because they need to be led, and they need to be told what is good for them. On this, at least, Trotsky, Stalin, and Hitler would all agree. (As Hitler had said, "The receptive powers of the masses are very restricted, and their understanding is feeble.") In the Straussian-neoconservative mindset, those who are fit to rule are those who realize there is no morality and that there is only one natural right, the right of the superior to rule over the inferior.
That mindset is America's enemy. It is the greatest threat to the constitutional order, identity, and way of life of the United States, in existence today. Its adherents have only modified the paradigm of dialectical materialism in order to continue pursuing the same eschatological dream, the End of History devoid of God. They are in pursuit of Power for its own sake—thus sinning against God and man—and the end of that insane quest will be the same as the end of the Soviet empire and of the Thousand-Year Reich.
In last month's Anti-Empire Report I brought you the latest adventure of US State Department Spokesperson Jen Psaki trying to defend the indefensible. She said then: "As a matter of longstanding policy, the United States does not support political transitions by non-constitutional means," which prompted me to inform my readers: "If you know how to contact Ms. Psaki, tell her to have a look at my list of more than 50 governments the United States has attempted to overthrow since the end of the Second World War."
On March 13 her regular attack on all things Russian included this exchange with Associated Presswriter Matthew Lee:
Lee: On this issue, did you get any more about this request to the Vietnamese on Cam Ranh Bay and not allowing the Russians to – and not wanting them to allow – you not wanting them to refuel Russian planes there?

Psaki: Well, just to be clear – and maybe I wasn't as clear yesterday, so let me try to do this again – it's – our concern is about activities they might conduct in the region, and the question is: Why are they in the region? It's not about specifically refueling or telling the Vietnamese not to allow them to refuel. [emphasis added]

Lee: So there hasn't been a request to stop refueling them, or there has?

Psaki: It's more about concerns. It's not as much about Vietnam as much as it – as it is about concerns about what activities they would be in the region for.

Lee: Okay. Well, you – I mean, there are U.S. planes flying over there all the time.

Psaki: Sure, there are.

Lee: So you don't want Russian planes flying there, but it's okay for U.S. planes to fly there? I mean, I just – it gets to the point where you – the suggestion is that everything the Russians are doing all the time everywhere is somehow nefarious and designed to provoke. But you can't – but you don't seem to be able to understand or accept that American planes flying all over the place, including in that area, is annoying to the Chinese, for one, but also for the Russians. But the suggestion is always that the American flights are good and beneficial and don't cause tension, and that other people's flights do cause tension. So can you explain what the basis is for your concern that the Russian flights there in the Southeast Asia area are – raise tensions?

Psaki: There just aren't more details I can go into.
Cold War 2.0, part II
On Saturday, the Obama administration released a series of satellite images that it said showed the Russian army had joined the rebels in a full-scale assault to surround troops in the area around the city. Russia has denied that it is a party to the conflict, and it was impossible to verify the three grainy black-and-white satellite images posted to Twitter by the U.S. ambassador to Ukraine, Geoffrey Pyatt.
According to the United States, the images, commissioned from the private Digital Globe satellite company, showed artillery systems and multiple-rocket launchers Thursday in the area near Debaltseve.
"We are confident these are Russian military, not separatist, systems," Pyatt tweeted. (Washington Post, February 15, 2015)
When the time comes to list the ways in which the United States gradually sunk into the quicksand, slowly metamorphosing into a Third-World state, Washington's campaign of 2014-15 to convince the world that Russia had repeatedly invaded Ukraine will deserve to be near the top of the list. Numerous examples like the above can be given. If I were still the jingoistic nationalist I was raised to be I think I would feel somewhat embarrassed now by the blatant obviousness of it all.
For a short visual history of the decline and fall of the American Empire, see the video "Imperial Decay" by Class War Films (8:50 minutes).
During Cold War 1.0 the American media loved to poke fun at the Soviet media for failing to match the glorious standards of the Western press. One of the most common putdowns was about the two main Russian newspapers – Pravda (meaning "truth" in Russian) and Izvestia (meaning "news"). We were told, endlessly, that there was "no truth in Pravda and no news in Izvestia."
As cynical as I've been for years about the American mainstream media's treatment of ODE (Officially Designated Enemies), current news coverage of Russia exceeds my worst expectations. I'm astonished every day at the obvious disregard of any kind of objectivity or fairness concerning Russia. Perhaps the most important example of this bias is the failure to remind their audience that the US and NATO have surrounded Russia – with Washington's coup in Ukraine as the latest example – and that Moscow, for some odd reason, feels threatened by this. (Look for the map online of NATO bases and Russia, with a caption like: "Why did you place your country in the middle of our bases?")
Cold War 2.0, part III
Following the murder of Russian opposition leader, and former Deputy Prime Minister, Boris Nemtsov in Moscow on February 27, the West had a field day. Ranging from strong innuendo to outright accusation of murder, the Western media and politicians did not miss an opportunity to treat Vladimir Putin as a football practice dummy.
The European Parliament adopted a resolution urging an international investigation into Nemtsov's death and suggested that the Organization for Security and Cooperation in Europe, the European Council, and the United Nations could play a role in the probe.
US Senators John McCain and Lindsey Graham introduced a Senate Resolution condemning the Nemtsov murder. The Resolution also called on President Obama and the international community to pursue an independent investigation into the murder and redouble efforts to advance free speech, human rights, and the rule of law in Russia. In addition, it urged Obama to continue to sanction human rights violators in the Russian Federation and to increase US support to human rights activists in Russia.
So it went … all over the West.
Meanwhile, in the same time period in Ukraine, outside of the pro-Russian area in the southeast, the following was reported:
January 29: Former Chairman of the local government of the Kharkov region, Alexey Kolesnik, hanged himself.
February 24: Stanislav Melnik, a member of the opposition party (Partia Regionov), shot himself.
February 25: The Mayor of Melitopol, Sergey Valter, hanged himself a few hours before his trial.
February 26: Alexander Bordiuga, deputy director of the Melitopol police, was found dead in his garage.
February 26: Alexander Peklushenko, former member of the Ukrainian parliament, and former mayor of Zaporizhi, was found shot to death.
February 28: Mikhail Chechetov, former member of parliament, member of the opposition party (Partia Regionov), "fell" from the window of his 17th floor apartment in Kiev.
March 14: The 32-year-old prosecutor in Odessa, Sergey Melnichuk, "fell" to his death from the 9th floor.
The Partia Regionov directly accused the Ukrainian government in the deaths of their party members and appealed to the West to react to these events. "We appeal to the European Union, PACE [Parliamentary Assembly of the Council of Europe], and European and international human rights organizations to immediately react to the situation in Ukraine, and give a legal assessment of the criminal actions of the Ukrainian government, which cynically murders its political opponents."
We cannot conclude from the above that the Ukrainian government was responsible for all, or even any, of these deaths. But neither can we conclude that the Russian government was responsible for the death of Boris Nemtsov, the American media and politicians notwithstanding. A search of the mammoth Nexus news database found no mention of any of the Ukrainian deceased except for the last one above, Sergey Melnichuk, but this clearly is not the same person. It thus appears that none of the deaths on the above list was ascribed to the Western-allied Ukrainian government.
Where are the demands for international investigations of any of the deaths? In the United States or in Europe? Where is Senator McCain?
Torture via sanctions
Discussions on constraining Iran's nuclear program have been going on for well over a year between Iran and the P5+1 (the five nuclear powers of the United Nations Security Council plus Germany), led by the United States. Throughout this period a significant stumbling block to reaching an agreement has been the pronouncements of Yukiya Amano, director general of the International Atomic Energy Agency (IAEA). The IAEA is the United Nations' nuclear watchdog, and its inspections are considered a key safeguard against countries using civilian nuclear energy technology to produce weapons. Amano has consistently accused Iran of failing to reply fully and substantially to queries about "possible military dimensions" of present and past nuclear activities, or failing to provide sufficient access to nuclear facilities.
Failure by Iran to comply fully with IAEA demands undermine Tehran's efforts to win the lifting of crippling UN, US and other sanctions, which currently prohibit foreign companies from doing business with Iran and deny access to the global financial system. Media coverage of the negotiations regularly emphasize Amano's claims of Iran's insufficient responses to IAEA's demands. It is thus worth inquiring just who is this man Amano.
In 2009 Japanese diplomat Yukiya Amano became the head of the IAEA. What the Western media routinely fail to remind its audience is that a US embassy cable of October 2009 (released by Wikileaks in 2010) said Amano "took pains to emphasize his support for U.S. strategic objectives for the Agency. Amano reminded the [American] ambassador on several occasions that … he was solidly in the U.S. court on every key strategic decision, from high-level personnel appointments to the handling of Iran's alleged nuclear weapons program."
Even if Iran makes a superior effort to satisfy IAEA and Washington's demands on all issues, it would remain questionable to what extent and how rapidly the sanctions would be removed, particularly under a Republican-controlled Congress. Iran specialist and author Gareth Porter recently wrote that "the United States and its allies have made no effort to hide the fact that they intend to maintain the 'sanctions architecture' in place for many years after the implementation of the agreement has begun. Last November, administration officials explained that US sanctions would only be removed after the International Atomic Energy Agency had verified that 'Tehran is abiding by the terms of a deal over an extended period of time' in order to 'maintain leverage on Iran to honour the accord'."
To appreciate the extraordinary degree of pressure and extortion the United States can impose upon another country we should consider the case of Libya in the decade-plus following the destruction of PanAm Flight 103 in 1988 over Scotland. To force Libya to "accept responsibility" for the crime, Washington imposed heavy sanctions on the Gaddafi regime, including a ban on international flights to Libya and payment of billions of dollars to the families of the victims. Libya eventually did "accept responsibility" for the crime, although it was innocent. As difficult as this may be to believe, it's true. Read my account of it here.
Even after Libya accepted responsibility it still took years for the US to wipe out the sanctions, and it's not clear that at the time of Gaddafi's death in 2011 all of them had been removed. Once a nation becomes an Officially Designated Enemy of the empire the methods of torture can be exquisite and endless. Cuba is presently negotiating the end of US sanctions against Havana. They will need to be extremely careful.
"Like others of his ilk – such as David Horowitz and Christopher Hitchens – he learned too much in college and too little since." Sam Smith
I've never been too impressed by what college a person went to, or even if they attended college at all. Gore Vidal did not attend any college; neither did H. L. Mencken; nor did Edward Snowden, who has demonstrated a highly articulate and educated mind. Among the many other notables who skipped a college education are George Bernard Shaw, Ernest Hemingway, and Johann Wolfgang von Goethe.
Then we have graduates from Ivy League colleges like George W. Bush, Barack Obama, and Tom Cotton. I don't have to present the case for Bush's less-than educated mind; we're all only too familiar with its beauty. But Obama has matched Georgie Boy for stupidity and inanity time and time again. My favorite, which he's used on at least five occasions, is his reply to questions about why his administration has not prosecuted Bush, Cheney, et al for torture and other war crimes: "I prefer to look forward rather than backwards". Picture a defendant before a judge asking to be found innocent on such grounds. It simply makes laws, law enforcement, crime, justice, and facts irrelevant. Picture Chelsea Manning and other whistle blowers using this argument. Picture the reaction to this by Barack Obama, who has become the leading persecutor of whistleblowers in American history.
Is there anyone left who still thinks that Barack Obama is some kind of improvement intellectually over George W. Bush? Probably two types still think so: (1) Those to whom color matters a lot; (2) Those who are very impressed by the ability to put together grammatically correct sentences.
And now we have Mr. Cotton, Senator from Arkansas and graduate of Harvard undergraduate and law schools. He'll be entertaining us for years to come with gems like his remark on "Face the Nation" (March 15): "Moreover, we have to stand up to Iran's attempts to drive for regional dominance. They already control Tehran and, increasingly, they control Damascus and Beirut and Baghdad. And now, Sana'a as well."
Heavens, Iran controls Tehran! Who knew? Next thing we'll hear is that Russia controls Moscow! Sarah Palin, move over. Our boy Cotton is ready for Saturday Night Live.
Notes
Washington Post, February 15, 2015, "Amid doubts, truce in Ukraine appears to take hold"
RT, March 12, 2015, "EU lawmakers demand international investigation into Nemtsov's death"
John McCain website, Press Release, "Senators John Mccain And Lindsey Graham Introduce Resolution Condemning Murder Of Russian Opposition Leader Boris Nemtsov"
Research for this section was done by a person who was raised in the Soviet Union and now lives in the United States.
Middle East Eye, March 27, 2015, "Sanctions and the fate of the nuclear talks"
Andrew Kreig, founder of the Justice Integrity Project, is not the first to point out the inconvenient truths surrounding the 1964 report of the Warren Commission. His continuing series of articles on the details contain a series of shocks which bring into high relief the falsehoods sold to the public by the major media. His book, Presidential Puppetry, has built out a picture of events both compelling and frightening.
Kreig has been thorough, building a monumental data base which, along with following the action, examines the impact of the assassination on American politics, those who report the news, and the many incidents following the death of JFK and continue to take place today.
Today most Americans, according to the polls, believe the Warren Commission Report mislead the public. The question of what happened on November 22, 1963 remains a hot topic, with between 1,000 and 2,000 books written on the subject.
People still care what happened. They still want to know; they still don't.
Bill O'Reilly was an ambitious young reporter when he lied about having been on George de Mohrenschildt's porch when the shots were fired which killed the man who was a friend of Lee Harvey Oswald. It was a dramatic claim disproved by audio tapes of only within the last several years.
Mohrenschildt was supposedly about to testify before congress that Oswald did not kill the President. Thereafter local authorities ruled the death a suicide. The chief counsel for the Congressional investigation, then ongoing, was replaced by one who deferred to the CIA. Bill O'Reilly also wrote a book, the best seller, Killing Kennedy. It accepts the facts as laid out by the Warren Commission.
From that day to now Kreig claims many parts of our lives have been impacted and the course of our history altered.
Now we know Oswald could not have acted alone. New forensic evidence indicates Kennedy was shot at least once from the front, twice from the back.
In 1963 Americans were more trusting of government. Americans, dissatisfied with what they get in print and on television seek news and facts online. Mislead on many issues a reaction has been building. This is one of the reasons the ratings for the Main Stream Media have been dropping.
Blow back is, "an unforeseen and unwanted effect, result, or set of repercussions." Sometimes it is a long time coming, but it always arrives.
"In order to survive and preserve its leading role on the international stage, the US desperately needs to plunge Eurasia into chaos, (and) to cut economic ties between Europe and Asia-Pacific Region … Russia is the only (country) within this potential zone of instability that is capable of resistance. It is the only state that is ready to confront the Americans. Undermining Russia's political will for resistance… is a vitally important task for America."

-Nikolai Starikov, Western Financial System Is Driving It to War, Russia Insider

"Our first objective is to prevent the re-emergence of a new rival, either on the territory of the former Soviet Union or elsewhere, that poses a threat on the order of that posed formerly by the Soviet Union. This is a dominant consideration underlying the new regional defense strategy and requires that we endeavor to prevent any hostile power from dominating a region whose resources would, under consolidated control, be sufficient to generate global power."

-The Wolfowitz Doctrine, the original version of the Defense Planning Guidance, authored by Under Secretary of Defense Paul Wolfowitz, leaked to the New York Times on March 7, 1992
The United States does not want a war with Russia, it simply feels that it has no choice. If the State Department hadn't initiated a coup in Ukraine to topple the elected president, Viktor Yanukovych, then the US could not have inserted itself between Russia and the EU, thus, disrupting vital trade routes which were strengthening nations on both continents. The economic integration of Asia and Europe–including plans for high-speed rail from China ("The New Silk Road") to the EU–poses a clear and present danger for the US whose share of global GDP continues to shrink and whose significance in the world economy continues to decline. For the United States to ignore this new rival (EU-Russia) would be the equivalent of throwing in the towel and accepting a future in which the US would face a gradual but persistent erosion of its power and influence in world affairs. No one in Washington is prepared to let that happen, which is why the US launched its proxy-war in Ukraine.
The US wants to separate the continents, "prevent the emergence of a new rival", install a tollbooth between Europe and Asia, and establish itself as the guarantor of regional security. To that end, the US is rebuilding the Iron Curtain along a thousand mile stretch from the Baltic Sea to the Black Sea. Tanks, armored vehicles and artillery are being sent to the region to reinforce a buffer zone around Europe in order to isolate Russia and to create a staging ground for future US aggression. Reports of heavy equipment and weapons deployment appear in the media on nearly a daily basis although the news is typically omitted in the US press. A quick review of some of the recent headlines will help readers to grasp the scale of the conflict that is cropping up below the radar:
"US, Bulgaria to hold Balkans military drills", "NATO Begins Exercises In Black Sea", "Army to send even more troops, tanks to Europe", "Poland requests greater US military presence", "U.S. Army sending armored convoy 1,100 miles through Europe", "Over 120 US tanks, armored vehicles arrive in Latvia", "US, Poland to Conduct Missile Exercise in March – Pentagon"
Get the picture? There's a war going on, a war between the United States and Russia.
Notice how most of the headlines emphasize US involvement, not NATO. In other words, the provocations against Russia originate from Washington not Europe. This is an important point. The EU has supported US-led economic sanctions, but it's not nearly as supportive of the military build up along the perimeter. That's Washington's idea and the cost is borne by the US alone. Naturally, moving tanks, armored vehicles and artillery around the world is an expensive project, but the US is more than willing to make the sacrifice if it helps to achieve its objectives.
And what are Washington's objectives?
Interestingly, even political analysts on the far right seem to agree about that point. For example, check out this quote from STRATFOR CEO George Friedman who summed it up in a recent presentation he delivered at The Chicago Council on Foreign Affairs. He said:
"The primordial interest of the United States, over which for centuries we have fought wars–the First, the Second and Cold Wars–has been the relationship between Germany and Russia, because united there, they're the only force that could threaten us. And to make sure that that doesn't happen." … George Friedman at The Chicago Council on Foreign Affairs, Time 1:40 to 1:57)
Bingo. Ukraine has nothing to do with sovereignty, democracy or (alleged) Russian aggression. That's all propaganda. It's about power. It's about imperial expansion. It's about spheres of influence. It's about staving off irreversible economic decline. It's all part of the smash-mouth, scorched earth, take-no-prisoners geopolitical world in which we live, not the fake Disneyworld created by the western media. The US State Department and CIA toppled the elected-government in Ukraine and ordered the new junta regime to launch a desperate war of annihilation against its own people in the East, because, well, because they felt they had no other option. Had Putin's ambitious plan to create a free trade zone between Lisbon to Vladivostok gone forward, then where would that leave the United States? Out in the cold, that's where. The US would become an isolated island of dwindling significance whose massive account deficits and ballooning national debt would pave the way for years of brutal restructuring, declining standards of living, runaway inflation and burgeoning social unrest. Does anyone really believe that Washington would let that to happen when it has a "brand-spanking" trillion dollar war machine at its disposal?
Heck, no. Besides, Washington believes it has a historic right to rule the world, which is what one would expect when the sense of entitlement and hubris reach their terminal phase. Now check out this clip from an article by economist Jack Rasmus at CounterPunch:
"Behind the sanctions is the USA objective of driving Russia out of the European economy. Europe was becoming too integrated and dependent on Russia. Not only its gas and raw materials, but trade relations and money capital flows were deepening on many fronts between Russia and Europe in general prior to the Ukraine crisis that has provided the cover for the introduction of the sanctions. Russia's growing economic integration with Europe threatened the long term economic interests of US capitalists. Strategically, the US precipitated coup in the Ukraine can be viewed, therefore as a means by which to provoke Russian military intervention, i.e. a necessary event in order to deepen and expand economic sanctions that would ultimately sever the growing economic ties between Europe and Russia long term. That severance in turn would not only ensure US economic interests remain dominant in Europe, but would also open up new opportunities for profit making for US interests in Europe and Ukraine as well…

When the rules of the competition game between capitalists break down altogether, the result is war—i.e. the ultimate form of inter-capitalist competition." (The Global Currency Wars, Jack Rasmus, CounterPunch)
See? Analysts on the right and left agree. Ukraine has nothing to do with sovereignty, democracy or Russian aggression. It's plain-old cutthroat geopolitics, where the last man left standing, wins.
The United States cannot allow Russia reap the benefits of its own vast resources. Oh, no. It has to be chastised, it has to be bullied, it has to be sanctioned, isolated, threatened and intimidated. That's how the system really works. The free market stuff is just horsecrap for the sheeple.
Russia is going to have to deal with chaotic, fratricidal wars on its borders and color-coded regime change turbulence in its capital. It will have to withstand reprisals from its trading partners, attacks on its currency and plots to eviscerate its (oil) revenues. The US will do everything in its power to poison the well, to demonize Putin, to turn Brussels against Moscow, and to sabotage the Russian economy.
Divide and conquer, that's the ticket. Keep them at each others throats at all times. Sunni vs Shia, one ethnic Ukrainian vs the other, Russians vs Europeans. That's Washington's plan, and it's a plan that never fails.
US powerbrokers are convinced that America's economic slide can only be arrested by staking a claim in Central Asia, dismembering Russia, encircling China, and quashing all plans for an economically-integrated EU-Asia. Washington is determined to prevail in this existential conflict, to assert its hegemonic control over the two continents, and to preserve its position as the world's only superpower.
Only Russia can stop the United States and we believe it will.
Even a seasoned cynic sometimes gasps in disbelief. "President Putin misinterprets much of what the U.S. is doing or trying to do," U.S. Secretary of State John Kerry told a press conference in Geneva on March 2. "We are not involved in 'numerous color revolutions' as he asserts. In the case of Ukraine, such assumptions are also wrong. The United States support international law with respect to the sovereignty and integrity of other people."
This is akin to Count Dracula asserting his strict adherence to a vegan diet and his principled respect for the integrity of blood banks worldwide.
Various quasi-NGOs funded by American taxpayers and funneled through organizations such as the National Endowment for Democracy, Freedom House and the National Democratic Institute, not to mention George Soros's Open Society Foundations (partly funded by U.S. and other Western governments), have been actively engaged in dozens of "regime-change" operations for a decade and a half. Their work is conducted in disregard of international law and in violation of the sovereignty and integrity of the people whose governments are thus targeted.
The overthrow of Slobodan Milosevic in Belgrade (October 2000) provided the blueprint, in strict accordance with Gene Sharp's manual. Widespread popular discontent was manipulated by the U.S./Soros funded and trained Otpor! network to bring to power a government subservient to Western political and economic interests. The moderately patriotic yet hapless new president, constitutional lawyer Vojislav Kostunica, was used as a battering ram to bring Milosevic down. Once that goal was achieved, Kostunica was promptly marginalized by Prime Minister Zoran Djindjic and his successors – Serbia's two-term president Boris Tadic in particular – who turned the country into a pliant tool of foreign interests. Wholesale robbery of Serbia's state and public assets promptly followed the 2000 coup, resulting in the Balkan country's comprehensive de-industrialization. Official Belgrade was forced to accept Kosovo's de facto "independence" in the name of the elusive goal of joining the European Union.
Georgia's 2003 "Rose Revolution" was carried out by the Kmara ("Enough") network, a carbon copy of Serbia's "Otpor," including the clenched fist logo. Its activists were trained and advised by the U.S.-affiliated Liberty Institute and funded by the Open Society Institute. It brought to power Mikhel Saakashvili, a corrupt "pro-Western" politician currently wanted by Georgia's government on multiple criminal charges. The coup was largely financed by Soros's network, which spent $42 million in the three months before the coup preparing the overthrow of the government of Eduard Shevardnadze. The most important geopolitical result was Georgia's NATO candidacy, supported by Washington, which is currently stalled but which has the potential to be as perniciously destabilizing as the crisis in Ukraine.
Speaking in Tblisi in June 2005, Soros said: "I am very pleased and proud of the work of the Foundation in preparing Georgian society for what became a Rose Revolution, but the role of the Foundation and me personally has been greatly exaggerated." The new government, as it happens, included Alexander Lomaia, former Secretary of the Georgian Security Council and minister of education and science, who at the time of the coup was Executive Director of the Open Society Georgia Foundation. David Darchiashvili, ex-chairman of the Committee for European Integration in the Georgian parliament, was also an executive director of the Foundation. As former Georgian foreign minister Salomé Zourabichvili wrote in 2008, "all the NGO's which gravitate around the Soros Foundation undeniably carried the revolution… [A]fterwards, the Soros Foundation and the NGOs were integrated into power." Interestingly, the U.S. Ambassador in Georgia at the time of the 2003 regime-change operation, Richard Miles, was the Ambassador in Belgrade at the time of Milosevic's downfall three years earlier.
The march of history continued with the 2004 "Orange Revolution" in Ukraine – that grand rehearsal for the Maidan coup a decade later – and the 2005 "Cedar Revolution" in Lebanon, which was given its name by then-U.S. Under Secretary of State for Global Affairs Paula J. Dobriansky. Also in 2005 the "Tulip Revolution" in Kyrgyzstan had as its chief foreign advisor Givi Targamadze, an official of Georgia's aforementioned Liberty Institute, who at the time chaired Saakashvili's parliamentary committee on defense and security.
In 2006 Congress passed the Iran Freedom and Support Act which provided taxpayer funding for groups opposed to the Iranian government, and then-Under Secretary of State for Political Affairs R. Nicholas Burns said the administration was "taking a page from the playbook" on Ukraine and Georgia. A year later the George W. Bush administration authorized a $400 million covert operation budget to foment unrest in Iran. In 2012 Seymor M. Hersh wrote that the U.S. has provided funding and training to the People's Mojahedin Organization of Iran, a militant group which had been listed by the U.S. State Department as a terrorist organization,
In 2012 President Obama authorized U.S. government agencies to support violent regime change in Syria. By early 2013 the Administration was helping the "moderate" rebels – i.e. jihadists with no overt links to al-Qaeda – to the tune of $250 million, and that figure has been at least doubled since. The result has been disastrous for the Syrian people (Christians in particular), and hugely detrimental to U.S. security interests in the region. The insurgency against Bashar al-Assad has directly contributed to the rise of ISIS, with no end to the latest war in sight.
Last month Venezuelan President Nicolas Maduro gave a televised speech in which he alleged systematic U.S. involvement in destabilization attempts against his government. The U.S. Department of State called his claims "baseless" and "false."  "The United States does not support political transitions by non-constitutional means," read the statement from Department spokesperson, Jen Psaki. Indeed. One of the leaders of the failed anti-Chavez coup d'etat in 2002, Rear Admiral Carlos Molina, has stated that he was acting with US support. Ditto the CIA-supported regime-change operation in Nicaragua in 2009.
As for the Maidan Revolution, crowned by "political transition by non-constitutional means" par excellence, Victoria Nuland readily admitted that its preparation cost the U.S. taxpayers some $5 billion over the preceding decade. The result is the most dangerous geopolitical crisis of the post-Cold War era, systematically engineered and conducted by the regime-changing exceptionalists in Washington D.C. who believe that they are exempt from historical forces and legal restraints that apply to merely mortal countries.
Former U.S. Ambassador in Moscow Michael McFaul boasted to The New York Times a week after taking duty in January 2012 that he would make his "pro-democracy" mark in Moscow "in a very, very aggressive way." Some months earlier, McFaul declared that "even while working closely with Putin on matters of mutual interest, Western leaders must recommit to the objective of creating the conditions for a democratic leader to emerge in the long term." This was a regime-change agenda expressed with brutal bluntness: we need to "de-Putinize" Russia, he declared. It would be interesting to see the U.S. reaction if a similar statement ("We need to to de-Obamanize America!") were to be made by an incoming Russian ambassador in Washington.
In Russia the regime-change program did not work, however. First and foremost, there was no popular support: hundreds of "activists" demonstrating against Putin in 2012 could be turned into "thousands" in Western post-election media reports, but that was still far below the tens, let alone hundreds, of thousands needed to kick-start a regime-change op. Infuriatingly for the planners, Russia simultaneously enacted a law regulating foreign "NGO" activities which was patterned directly on the American Foreign Agents Registration Act (FARA), which regulates activities of the agents of foreign governments in the United States. Enacted in the 1930's to require disclosure of Americans working on behalf of Nazi Germany, and used to control Soviet agents thereafter, FARA requires full public disclosure of those same activities that the U.S. government had tried to fund in Russia. The Federal Election Campaign Act flatly prohibits foreign involvement in American elections – yet it was touted as legitimate when conducted in Russia by Washington's protégés under the guise of promoting democracy.
The regime-change mania will go on and on. It is inseparable from the psychotic belief in one's indispensability and exceptionalism. It is a form of self-defeating grandomania that can only stop with America's long-overdue abandonment of the global hegemony experiment.
And yes, John Kerry is a liar.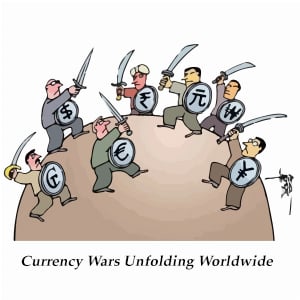 The first two months of 2015 have seen turmoil in the currency markets extend from Russia and Ukraine to the heart of Europe.
"Central Banks Now Open 24/7 Fighting Currency Wars and Deflation," blared a February 12th Bloomberg headline. Against this backdrop, precious metals have been on the rise in terms of all currencies except the Swiss franc and the U.S dollar.
In January, the Swiss National Bank shocked markets by announcing that it would de-link its currency from the euro. The move came one week ahead of the European Central Bank's $1.1 trillion Quantitative Easing announcement. Swiss officials decided it would be too costly to keep accumulating depreciating euros in order to maintain the currency peg. The Swiss franc surged by the most ever in a single day.
With the exception of Switzerland, all other countries in Europe (and many others around the world) are trying to depreciate their currencies.
Since January 1, the following central banks have announced interest rate cuts or other monetary easing measures: European Central Bank, Reserve Bank of Australia, Reserve Bank of New Zealand, Monetary Authority of Singapore, and the central banks of India, Canada, Denmark, and Sweden.
On February 12th, the Swedish Riksbank announced a surprise rate cut from 0% to below 0%. "To ensure that inflation rises towards the target, the Riksbank is prepared to quickly make monetary policy more expansionary, even between the ordinary monetary policy meetings," the world's oldest central bank said in a statement.
Sweden joins the European Central Bank and the central banks of a handful of other countries in pushing benchmark interest rates into negative territory. These central bankers are all aiming to revive inflation. "Investors" who are buying bonds yielding less than nothing (a negative rate) are apparently convinced that central bankers won't succeed in depreciating their currencies.
Insanity! Investors Now Paying for the "Privilege" of Lending to Broke Governments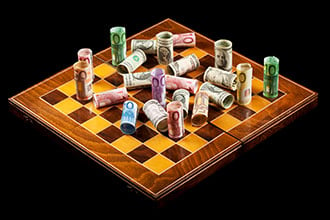 This could go down as one of the oddest, most irrational asset bubbles in history. Trillions of dollars are now tied up in debt instruments that promise to return less than the invested principal. According to a report issued by J.P. Morgan, $3.6 trillion in government bonds around the world now carry negative yields.
It raises the obvious question; why would so many people be willing to accept a negative rate of return?
You'd think that institutional investors would start getting wise to holding gold as a hard-currency alternative to cash instruments that yield less than zero. The fact that gold has no interest rate is actually an advantage in an environment where competing rates are negative! Plus, unlike most of the bonds issued in this upside-down interest rate market, gold has significant appreciation potential.
If inflation rises even modestly to the 2% target of European and U.S. central bankers, then bonds issued at rates of below 2% will all be losers. The two-year Treasury note yields only 0.63%. Even the recent 10-year yield of 1.98% fails to match the Federal Reserve's inflation ambitions.
The fact that gold has no interest rate is actually an advantage in an environment where competing rates are negative!
In this environment of ultra-low nominal yields or even negative real yields, precious metals as a reserve asset look very attractive. Many central bankers around the world agree and are busily accumulating gold. According to a report issued by the World Gold Council in February, governments around the world added 477.2 metric tons of gold to their reserves in 2014. That haul was the second biggest in 50 years.
When inflation fears return to the market, as they eventually will, precious metals will become one of the premier asset classes to hold. Even now, they are performing better than virtually all other world currencies.
The end game of these ongoing currency wars is that all fiat currencies will be debased. And a true flight to quality will accelerate – with assets fleeing depreciating currencies (and debt instruments denominated in them) and piling into gold and silver.
Will the Fed Chicken Out on Rate Hikes?
Of course, right now it's deflation fears that are dominating headlines. But the inflationary policy responses from the European Central Bank and others that have followed the ECB's lead have lifted gold and silver prices markedly in terms of euros and other currencies.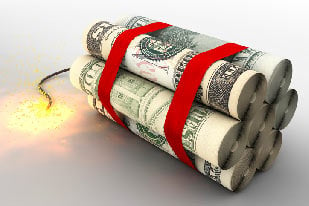 As confidence in European currencies plunges, there's only so much corresponding dollar strength the Federal Reserve is willing to tolerate. There's been much talk of rate hikes coming later this year, and that widespread expectation has been priced into the market. Any rhetorical or policy disappointments from the Fed in the months ahead could cause traders to sell the dollar.
Whether later this year or further down the road, it's only a matter of time before currency turmoil spreads to the United States.
The U.S. has a higher debt-to-GDP ratio than some troubled European countries. It has higher levels of unfunded liabilities (estimated to be in excess of $100 trillion) than any other country. The dollar's status as world reserve currency has allowed the U.S. to become financially overextended. But that vaunted status is slowly deteriorating as Russia, China, and other countries form economic alliances that bypass the dollar.
When these chickens come home to roost, you don't want to be wholly dependent on the U.S. government's promises or its currency. Sizeable holdings in physical precious metals will help make you financially resilient in the face of the spreading global currency crisis.
NATO Lies and Provocations…
"The war has been provoked to destroy the Russian World, to draw Europe into it, and to surround Russia with hostile countries. Unleashing this world war, America is trying to deal with its own internal problems."

– Sergei Glazyev, Advisor to Russian President Vladimir Putin
The fabrications of NATO's top commander in Europe, General Philip Breedlove, have driven a wedge between Germany and the United States that could lead to a collapse of the Atlantic Alliance. According to the German news magazine, Der Spiegel, Breedlove has repeatedly sabotaged Chancellor Angela Merkel's attempts to find a diplomatic solution to the war in Ukraine by spreading "dangerous propaganda" that is misleading the public about Russian "troop advances on the border, (and) the amassing of munitions and alleged columns of Russian tanks." But while the unusually critical article singles out Breedlove for his hyperbolic exaggerations of so-called Russian aggression, the real purpose of the Spiegel piece is to warn Washington that EU leaders will not support a policy of military confrontation with Moscow.
Before we explain what's going on, we need to look at an excerpt from the article. According to Spiegel:
"…for months now, many in the Chancellery simply shake their heads each time NATO, under Breedlove's leadership, goes public with striking announcements about Russian troop or tank movements … it is the tone of Breedlove's announcements that makes Berlin uneasy. False claims and exaggerated accounts, warned a top German official during a recent meeting on Ukraine, have put NATO — and by extension, the entire West — in danger of losing its credibility.

There are plenty of examples….At the beginning of the crisis, General Breedlove announced that the Russians had assembled 40,000 troops on the Ukrainian border and warned that an invasion could take place at any moment. The situation, he said, was "incredibly concerning." But intelligence officials from NATO member states had already excluded the possibility of a Russian invasion. They believed that neither the composition nor the equipment of the troops was consistent with an imminent invasion.

The experts contradicted Breedlove's view in almost every respect. There weren't 40,000 soldiers on the border, they believed, rather there were much less than 30,000 and perhaps even fewer than 20,000. Furthermore, most of the military equipment had not been brought to the border for a possible invasion, but had already been there prior to the beginning of the conflict. Furthermore, there was no evidence of logistical preparation for an invasion, such as a field headquarters.
Breedlove, though, repeatedly made inexact, contradictory or even flat-out inaccurate statements."…

On Nov. 12, during a visit to Sofia, Bulgaria, Breedlove reported that "we have seen columns of Russian equipment — primarily Russian tanks, Russian artillery, Russian air defense systems and Russian combat troops — entering into Ukraine." It was, he noted, "the same thing that OSCE is reporting." But the OSCE had only observed military convoys within eastern Ukraine. OSCE observers had said nothing about troops marching in from Russia.

Breedlove sees no reason to revise his approach. "I stand by all the public statements I have made during the Ukraine crisis," he wrote to SPIEGEL in response to a request for a statement accompanied by a list of his controversial claims."
(Breedlove's Bellicosity: Berlin Alarmed by Aggressive NATO Stance on Ukraine, Der Spiegel)
While it's easy to get swept up in the Spiegel's narrative of a rabid militarist dragging Europe closer to World War 3, the storyline is intentionally misleading. As anyone who's been following the Ukraine fiasco for the last year knows, there's nothing particularly unusual about Breedlove's distortions. Secretary of State John Kerry has made similar claims numerous times as have many others in the major media. The lies about "Russian aggression" are the rule, not the exception. So why has the Spiegel decided to selectively target Breedlove who is no more deceitful than anyone else? What's really going on here?
Clearly, the Spiegel is doing Merkel's work, that is, undermining the credibility of Washington's chief commander in Europe in order to discourage further escalation of the conflict in Ukraine. But while Merkel wants to humiliate Breedlove to show that Germany will not sit on its hands while Washington plunges the region into the abyss; she has also shown considerable restraint in limiting her attack to the General while sparing Kerry and Obama any embarrassment. This is quite an accomplishment given that –as we said earlier–virtually everyone in the political establishment and the media have been lying nonstop about every aspect of the conflict. Merkel doesn't want to discredit these others just yet, although the Spiegel piece infers that she has the power to do so if the "bad behavior" persists.
The Spiegel article is part of a one-two punch designed to force Washington to change its confrontational approach. The second jab appeared late Sunday afternoon when EU Commission President Jean-Claude Juncker announced that Europe needed to field its own army. Here's the story from Reuters:
"The European Union needs its own army to face up to Russia and other threats as well as restore the bloc's foreign policy standing around the world, EU Commission President Jean-Claude Juncker told a German newspaper on Sunday…

"With its own army, Europe could react more credibly to the threat to peace in a member state or in a neighboring state.

"One wouldn't have a European army to deploy it immediately. But a common European army would convey a clear message to Russia that we are serious about defending our European values." (Juncker calls for EU army, says would deter Russia, Reuters)
Can you see what's going on? On the one hand, the Spiegel delivers a hammer-blow to the credibility of NATO's top officer and on the other, the President of the EU Commission blindsides US powerbrokers by announcing a plan to create an independent EU fighting force that will render NATO redundant. These are big developments that have undoubtedly left the Obama troupe reeling. This is a full-blown assault on NATO's role as the primary guarantor of EU regional security. Maybe the European people are gullible enough to accept Junker's absurd claim that an EU army will "send an important message to the world", but you can be damn sure that no one at 1600 Pennsylvania Avenue believes that nonsense. The move is clearly designed to send a message to Washington that Europe is fed up with NATO and wants a change. That means it's "shape up or ship out time" for Breedlove and his ilk.
Ironically, these developments align Merkel with Putin's view of things as stated in his famous Munich speech in 2007 when he said:
"I am convinced that we have reached that decisive moment when we must seriously think about the architecture of global security. And we must proceed by searching for a reasonable balance between the interests of all participants in the international dialogue … The United States, has overstepped its national borders in every way … And of course this is extremely dangerous. It results in the fact that no one feels safe. I want to emphasize this — no one feels safe." (Russian President Vladimir Putin, 43rd Munich Security Conference, 2007)
How can the US possibly cast itself as "steward of the global security system", when its interventions have left a trail of decimated failed states from the southernmost border of Somalia to the northern tip of Ukraine, a chaotic swathe of smoldering ruin and agonizing human suffering that rivals the depredations of the Third Reich.
Europe's security requirements cannot be met by a belligerent, warmongering US-controlled entity that acts solely in Washington's interests. At present, NATO gets 75% of its funding from the US, which is why the alliance is less interested in peacemaking and security than it is in internationalizing its imperial war of aggression across the planet. Prior to the crisis in Ukraine, European leaders didn't see the danger of this idiotic arrangement (even though interventions in Serbia, Libya and Afghanistan should have brought them to their senses) But now that NATO's recklessness could vaporize Europe in a nuclear firestorm, leaders like Merkel and Hollande are starting to change their tune. Keep in mind, the ideal scenario for the US would be a limited war that levels large parts of the European and Asian continents, thus restoring the US to its post WW2 heyday when the "rubblized" world was Washington's oyster. That would be just fine for genocidal maniacs and armchair warriors who rule the globe from the safety of their well-stocked DC bunkers. But for Europe, this is definitely not a winning strategy. Europe doesn't want a war, and it certainly doesn't want to be used as cannon fodder for the greater glory of the dystopian NWO.
Putin advisor, Sergei Glazyev, figured out what Washington was up to long before Kiev launched its wretched "anti terrorism" campaign against federalist rebels in the East. Here's how he summed it up:
"The main task the American puppet masters have set for the (Kiev) junta is to draw Russia into a full-scale war with Ukraine. It is for this purpose that all of these heinous crimes are committed – to force Russia to send troops to Ukraine to protect the civilian population…

The bankruptcy of the US financial system, which is unable to service its foreign debt, the lack of investments to finance a breakthrough to a new technological order and to maintain America's competitiveness, and the potential defeat in the geopolitical competition with China. To resolve these problems, Americans need a new world war." (Sergei Glazyev)
Bingo. The steadily-declining empire, whose share of global GDP continues to shrivel with every passing year, has wanted a war from the get go. That's the only way that the US can reverse its precipitous economic slide and preserve its lofty spot as the world's only superpower. Fortunately, EU leaders are beginning to pull their heads out of the sand long enough to grasp what's going on and change their behavior accordingly.
It's worth noting, that no one in the Merkel administration or anyone else for that matter, has publicly challenged the allegations in the Spiegel article. Why is that, do you think?
Doesn't their silence suggest that they knew all along that all the anti-Putin propaganda hullabaloo was pure bunkum; that "evil" Putin didn't send tanks and soldiers across the border into Ukraine, that Putin didn't shoot down Malaysian Airline 17, that Putin didn't have a political opponent gunned down gangland style just a few hundred yards from the Kremlin? Isn't that what their silence really says?
Of course, it does. The reason no one in power has spoken out is because –as the Spiegel cynically admits–"A mixture of political argumentation and military propaganda is necessary."
"Propaganda is necessary"?
Whoa. Now there's an admission you're not going to see in the media too often. But it's the truth, isn't it? The Euro-leaders have been going along with the lies to keep the public in line. In other words, it's a healthy dose of perception management for the sheeple, but the unvarnished truth for our revered overlords. Sounds about right. Only now these ame elites have decided to share the facts with the lumpen masses. But, why? Why this sudden willingness to share the truth?
It's because they no longer support Washington's policy, that's why. No one in Europe wants the US to arm and train the Ukrainian army. No one wants them to deploy 600 paratroopers to Kiev and increase US logistical support. No one wants further escalation, because no one wants a war with Russia. It's that simple.
For the first time, EU leaders, particularly Merkel, understand that the United States' strategic objectives (the pivot to Asia) do not align with those of the EU, in fact, Washington's geopolitical ambitions pose a serious threat to Europe's security. Regrettably, it's not enough for Merkel to simply understand what is going on. She needs to huddle with her EU colleagues and take positive steps to derail Washington's plan now, otherwise the US will continue its incitements and false flags until Putin is forced to respond. Once that happens, a broader and, perhaps, catastrophic conflagration will be unavoidable.
During the Oscars last Sunday night, winner Patricia Arquette, Boyhood, admonished America to work for women's equal pay. J.K. Simmons, Whiplash, invited Americans to phone their parents and thank them. Michael Keaton, Birdman, told the audience how thankful he felt for his life and his son.
All of the winners and losers spoke eloquently about their fortunes and misfortunes in the American film making business. Ironically, legendary Clint Eastwood's epic film, American Sniper, out-grossed all the other top Oscar winning films combined. The academy ignored his movie.
The movie, Selma, produced by Oprah Winfrey, didn't fare very well. If you remember, back in the era of Dr. Martin Luther King, African-Americans marched from Selma to Montgomery, Alabama to force this nation toward voter rights and Black rights in the American pantheon.
Since that time, America evolved to see African-Americans like Colin Powell become Secretary of State; Clarence Thomas and Thurgood Marshall served on the Supreme Court; Condoleezza Rice became Secretary of State; Barack Obama became president and much more as US Senators, governors, mayors and House of Representatives feature African-Americans from every walk of life.
African-Americans dominate the NBA, NFL and major television shows such as "Scandal" and "How to get away with murder." American Blacks head up Fortune 500 companies.
With all of their success, a black dance group pranced on the stage at the Oscars with a highly racially charged routine depicting their struggles against White America. At one point, they all raised their hands, shouting, "Hands up! Don't shoot!" They referred to 18-year-old Michael Brown in Ferguson, Missouri who lost his life after he robbed a convenience store and charged a police officer.
Six African-American witnesses testified that Brown wrestled the police officer for his gun in the police squad car and they testified that Brown charged the police officer with intent to overpower him. Riots and carnage resulted in burning down a good portion of the city while Al Sharpton and Jesse Jackson charged racism and ruthless police tactics.
In reality, Michael Brown showed up in several videos where he viciously beat an old man senseless and his crime sheet showed a budding criminal who would reach jail or death, whichever came first.
Somehow, major Black leaders lay the blame on White America for all of Black America's problems. Even Barack Obama said that Trayvon Martin, a budding criminal in his own right, could be Obama's son.
Black Americans omit or ignore numerous aspects of Black crime, poverty, illiteracy and prison sentences.
First of all, the latest statistics show that 6,000 Black on Black killings occur annually in the USA via strangling, guns, knifes and beatings. No Black leaders whisper a word about how to solve such horrible numbers. They don't condemn their own actions, but they always condemn Whites.
Second, 73 percent of African-American children arrive out of wedlock and into welfare with a single mother annually. None of the Black community that screams at the Brown and Garner killings, breathes a word about the irresponsible actions of Black teen girls and their boyfriends. They live on welfare provided by the American taxpayer. Is it any wonder that the African-American family devolves into fatherless families, rogue children, violence, illiteracy, shoplifting and cyclical dependency on taxpayers?
Third, figures show that Black American teens quit high school by 50 to 60 percent in our major cities. Millions of African-Americans guarantee their poverty, homelessness, joblessness and fatherless families. They choose their conditions.
Fourth, millions of Black Americans fill our prisons in a response to their choices to deal, consume and transport drugs. Each African-American chooses prison when they choose to break the law.
Fifth, a whopping 48 million Americans failed themselves as to education, personal responsibility and personal accountability as they subsist on food stamps provided by American taxpayers. Millions of Blacks stand in the ranks of those who gain EBT cards (Electronic Benefits Transfers) for food stamps and free housing.
Each person, Black or White, suffering lack of an education and making poor choices, brings a personal tragedy into the fabric of American life. Our inner city projects like Chicago, Detroit, New York City, Atlanta, Houston, Denver and Los Angeles—bear witness that we must change our national priorities.
Instead of massive financial disasters of 13-year wars created and maintained by bankers and the Military Industrial Complex, we need to fund national educational systems that work for our youth. We need all male and all female schools with dress codes to take the sexual intrigues out of the classrooms. We need to teach parents how to parent their children by mandatory classes before marriage. We need to pay teachers and mentors ample money to create discipline and respect for education.
We need to stop endless and massive legal immigration, that injects 1.2 million people annually, who take jobs from our working poor. We need to reduce all immigration to less than 100,000 annually instead of the current 100,000 every 30 days. We must elect Congressional leaders who garrison troops on our Mexican border to stop in excess of 500,000 illegal aliens jumping our borders and into our workforce annually. If not, we cannot and will not solve mass unemployment of Black America. The past five presidents and Congresses did nothing to help Black or White Americans as to jobs. In fact, Congress forces our poorest into more poverty by mass immigration.
We need Black national leaders to lead, guide and inspire African-American youth to participate in the American Way of Life. Whether Black America likes its past or not, it now must deal with living in a highly educated, highly industrialized 21st century country.
We need all the angry Al Sharpton's, all Black entertainers, all sports heroes and political leaders to stand in front of Black audiences and thank their lucky stars for living in America. If Black Americans lived in the unending violence of Africa for a few months, examples—mass murderer Boko Haram, Somalia, Sudan, Congo, millions dying of AIDS, etc., they would change their mantra of "Hands up! Don't Shoot!" to "How lucky I am! Praise the Lord!"
Have Black Americans wondered why all those millions of starving African immigrants clamor to come to America? They die by the millions in Africa from starvation, AIDS, cholera, Malaria, genocide wars and worse.
If we hope to maintain a viable civilization, we all need to buckle down to education, jobs, lawful communities and civil participation. If not, we all face Ferguson, Missouri's in our own towns across the nation, especially in our cities where the cauldrons boil with contempt for law and order. You heard the marches, "Kill cops now!"
Once our nation loses its respect for law and order, we all face what occurs in Africa, the Middle East, Mexico and Paris, France daily. It's not going to be pretty for anyone.
Back in the day, I was always trying to fly off to report on international combat hot-spots like Iraq and Afghanistan — always hoping that if the American people back home read my horror-stories of war, they too would somehow become war-resisters and that my stories of brutal, grim and unjustified death in far-away places might even help escalate a strong anti-war movement here at home, one that would finally stop the heartless killing of women and children by American tanks, rockets and drones.  But now?  Now I'm thinking that I should be doing something even more important than traveling to combat zones far away — that I, like some modern-day Jonah, should actually be going down into the belly of the American beast itself instead.
Plus it's always cheaper to go to North Carolina or Washington DC or St Louis than to go off to Syria, Gaza, Haiti or Ukraine.
The main question that I would be asking in these particular American war zones, however, would be, "What makes America tick?"
What has made us become the most dreaded and hated country in the world — a country that has more weapons and more money to spend on weapons than any other country anywhere, ever?  What gives us the right to call ourselves "patriotic" and "brave" and "democratic" when, in reality, it is America that has killed, maimed, tortured and mutilated millions of people all over the world — and trampled any survivors' chances and their children's chances of ever ever having a decent life again.
Why do Americans support dictators in Ukraine, Palestine, Honduras, Congo, etc. with such enthusiastic glee?  And also why do Americans applaud so loudly when elections here at home are stolen and our infrastructure and school systems die and "Christianity" becomes just another excuse to kill, rape, torture and maim God's children both at home and abroad?
And what makes Americans bitch and complain so much about what ISIS is doing in Iraq and Syria — when what Americans have done there in the past and are doing there right now is so much much much worse?  ISIS fanatics behead hundreds of people.  American troops level whole cities and leave them contaminated with radioactive detritus that will kill children and other living things there for the next 500 years.
Why are Americans so set against preventing nuclear holocausts both at home and abroad?  Why do Americans cheer and get all teary-eyed and proud when our cops turn into robo-cops and spray peaceful protesters with tear gas? And then actually buy tickets to go see women tortured?
"What makes Americans tick?"  I need to know what is going on right here in America before I can possibly understand what the freak is going on in all those American-financed war zones throughout the rest of the world.
So here's my plan.  I'm going to go out and see America first.  Ukraine and Gaza and Baghdad will just have to wait — while I, like Jonah, go deep into the belly of the American beast instead.
Despite all the nightmares I have seen in the last decades, I continue to be an idealist and to dream of a better world, a world that Buddha, Abraham, Moses, Jesus and Mohammad would be proud of.  Most Americans, however, apparently dream of cruelty, torture, injustice and ruling the world vicariously.
We are the protagonists of our own dreams.
Americans (and all other human beings too for that matter) need to finally learn that it is far better to die with love in our hearts than to live with hatred in our eyes, fear in our guts and evil in our souls.
PS:  A Manhattan jury just awarded a $218.5 million verdict against the Palestinian Authority for damages done to Israelis with American citizenship by Palestinian suicide bombers.  Do you know what this means?  A new precedence has just been set.  A new Pandora's box has just been opened.
From now on, relatives of Americans killed in any foreign country, not just Israel, can also use American courts to get recompense for damages done by acts of "terrorism" on American citizens abroad!
For instance, if any Chilean-Americans were killed in the CIA coup against Allende in Chile, their relatives can now sue Henry Kissinger in American courts — but of course they will have to stand in line behind the relatives of any Cambodian-Americans killed by him.
And what about the bunches and groups of Palestinian-Americans, Yemeni-Americans, Iraqi-Americans, Syrian-Americans, Ukrainian-Americans, Vietnamese-Americans, Somali-Americans, Haitian-Americans, etc. who have been killed by American tanks, rockets and drones?
America?  You can no longer pretend to not know what you are doing.  See ya in court!
As the NATO juggernaut directed by a U.S. NeoCon foreign policy marches towards a nuclear confrontation with Russia, the American public is being manipulated to accept that Foggy Bottom knows best. Even under the placid Obama regime, the chicken hawks are able to restart a new cold war that is getting hotter by the moment. The singular opportunity to forge a lasting peace after the fall of the Soviet Union has been squandered by the globalists, who lust after their only superpower status. Well, the time is approaching for payback. Only God can prevent the annihilation from WWIII, since Dr. Strangelove has the code for the nukes and the culture that permeates military planning actually believes that a nuclear war can be won.
This is the context that underpins the cry for citizens to demonstrate their trusting patriotism in an ongoing internationalist regime that seeks a permanent empire.
When George Washington spoke of patriotism as "It may be laid down as a primary position, and the basis of our system, that every Citizen who enjoys the protection of a Free Government, owes not only a proportion of his property, but even of his personal services to the defense of it", it is unimaginable that he would see current administrations as the embodiment of a Free Government, or that citizens have a moral obligation to defend an aggressive interventionist imperia that is endangering the survival of the entire planet.
Honest Conservatives reject Neo Conservatism as a perversion of true national interests. The irony that an internationalist like Teddy Roosevelt would be lionized as a great patriot is attributed to his strong persona, while ignoring the consequences of his entanglement policies. His carrying of a "Big Stick" set the stage for the 21th century of using a blunt club.
What exactly is patriotic about sending generations of youth, to be used as cannon fodder, for the sole purpose and benefit of global elites, who really rule our country?  When TR says: "Patriotism means to stand by the country" has become a meaningless viewpoint, since the control of the government is in foreign hands that have destroyed all semblance of what once existed as OUR Country.
Popular public polls always provide higher support for the President than for legislators in Congress. Because of no small measure, the House and Senate have abdicated their constitutional duties in foreign policy since the Korean War. Leaving to the executive branch the full weight of determining relations with foreign nations has allowed the decisive influence to be concentrated in the State Department establishment.
While the military-industrial-security-complex and the intelligent community agencies are the dominant power behind the globalist policy, the treasonous elites and foreign Banksters who control the strings are the only benefactors after the body count is compiled.
Under this set of circumstances, what actual duty does a loyal American have to do the bidding of a corrupt and illegitimate government? Do you believe that George Washington fought the Revolution to allow the City of London to rule over the foreign policies of our own country?
Even though the last two centuries have decidedly been influenced if not totally compromised by foreign agents, especially those among the Rothschild central banking cabal, the final responsibility for the loss of our country lies with the American people.
Americans have seldom exemplified a burning desire to understand the truth. Most are content to believe that their leaders are good men and women and have the best interests of the nation as their goal. The fact that such a myth bears little resemblance with reality never gets through to the flag flying households that proudly display their Love It or Leave It bumper stickers.
Their uncritical and all consuming Patriotism is a false and destructive sentiment. By allowing the mass media manipulation and distorted historical lessons to be accepted as mainstream culture, the forces of global dominance are able to achieve their worldwide governance.
Now this assessment is disturbing to many people and the bearer of the message risks becoming ostracized from polite society. Yet, such a reaction does not refute the accuracy of the argument.
What can or should a responsible citizen do to prevent the systematic betrayal of our country and the even more important, what can be done to stop the madness of NATO's belligerency?  The Russian Federation under Putin is not the same threat of the Soviet Union of Lenin or Stalin.
The practice of civil disobedience is most closely associated with fringe or radical dissenters. Ever since the demonstrations of burning draft cards and wearing the stars and stripes as bandanas of the Viet Nam era, the silent and moral majority became distrustful of protests. Nonetheless, the public display of discontent has influenced the body politick more than voting between bi-partisan clones of the same established order.
Every rational person instinctively understands that money interests exert the primacy influence over public policy. Laws are administered and enforced according to the legal judiciary that operates, not as an arbitrator or adjudicator for justice, but as a protector of the patrician system.
Defiance has a charm about the image that movies exemplify, but little support when it comes down to popular engagement. The Henry David Thoreau of Philosophy may be discussed in conversation, but is seldom practiced in ordinary life decision. People have surrendered their courage to confront governmental abuses. As the docility of personality becomes the normal standard for the "Political Correct" culture, government is emboldened to discard the public opinion that differs with official policy.
Taking to the street is seen in Europe frequently, even if it not reported on the nightly news. In the Brian Williams version of embellishment, the civilian receptor of perpetual war propaganda is blinded by the non news in order to accept the phony narrative. As the latest "Wag the Dog" episode of this year's "War on Terror" play for the crowd, the ISIL miniseries gets overshadowed in the rating with the Ukraine designer conflict.
Those who believe the sirens sounds from the triplets – Jen Psaki, Marie Harf and "Big NeoCon Mama" Victoria Nuland over at the State Department, are the most pathetic patriot impostors imaginable. Lost in the spin is that the State Department was an eager participant behind the Ukraine coup d'etat.
However, public apathy persists that the notion of spontaneous civil disobedience combustion is totally absent from public consciousness. With the susceptibility of simulated patriotic appeals, the swayable dullards will demand retaliation after the next cover-up deception is triggered.
In a social order where it is impossible to throw out the bums in elections and courts will not follow the constitution, the lonely protestor has few options. Civil disobedience may not be popular in a psychologically induced environment, but denial is never a positive choice when tyranny is the official mode of rule.
With the announcement that Israeli's Benjamin Netanyahu's March 3 speech to Congress, the stakes are dramatically raised to eliminate Syria and Iran as a threat to the greater Zionist state and worse yet, to marginalize Russia and demonize Putin as a devil incarnate.
When the media cheerleaders do their usual genuflections for Bibi's call to arms, the rest of us are being used as bargaining chips to force a total capitulation or face nuclear destruction. If this is not an overwhelming reason to call for our own government to stand down, what would be? Threats from Israel that they will use their nukes against anyone who defies their demands, illustrates, who the real belligerent is in the region.
The upside down nature of the authentic patriotism and what passes as a blank check for brinkmanship madness should be clear to even the least informed. Still, the inevitable responses to those, who demonstrate or employ protest with civil disobedience, are put up as enemies of the state.
These are times for sober reflection. Dispel the manufactured and false flag crisis and concentrate on the bona fide threats that reside within our own shores. Fifth column subversives have assumed key position within the government. Their loyalty to causes or countries other than our own is a core factor in the insecurity that prevails.
If civil disobedience is not your cup of tea, start digging your bomb shelter. The odds that our Congressional Representatives will grow a backbone are remote. Presidents view themselves as the most powerful and supreme leader of the world as opposed to an American servant.
Dissent is the true patriotism when it is focused on eliminating despotism and restoring our foreign policy in keeping with George Washington's Farewell Address. If you really love your country, put an end to the gunboat armadas of the TR mentality and follow the lead of the father of your country.
Americans need to mature and grow-up. The dangerous world we live in was created largely because of the militarized intervention of the imperial U.S. Empire. Drawing lines in the sands of the Middle East is only superseded in pushing Russia to accept Ukraine to become a NATO member.
America's Founding Fathers wisely instituted a federal government with three separate branches with the intention of creating built-in checks and balances designed to protect the liberties of the American people and the independence of the sovereign states. Each branch of government was given authority to check the other branches when they became oppressive or unconstitutional. In addition to the checks and balances built in to the federal government, they assumed that additional checks to power outside the federal government would serve to protect the people's liberties. Namely, our founders expected that free and independent states, a free and independent press, and free and courageous pulpits would further serve as diligent watchdogs of liberty.
However, only the most naïve among us do not recognize that, for all intents and purposes, the governmental checks and balances in Washington, D.C., are virtually non-existent. For the most part, the three branches of the federal government and the two major political parties in Washington simply facilitate the decisions of the existing power base–especially when it comes to the expansion of federal intrusion and oversight.
All of the political wrangling over the differences between Republicans and Democrats notwithstanding, when it comes to increasing the size and scope of the federal government, the two parties inside the Beltway are practically identical twins. And nowhere is this more clearly observed than in all things said to be for the sake of "national security."
With very few exceptions, America's newspapers regurgitate the federal government's solutions for "national security." With very few exceptions, a majority of the talking heads on television from both the left and the right embrace America's military interventionism in the Middle East and the burgeoning Police State currently mushrooming inside the United States. And, again, the banner flying high above all of this warmongering and domestic enslavement is "national security."
For the sake of "national security," the Church, too, enthusiastically embraces a domestic Police State and wars of aggression abroad–especially in the Middle East.
Anything that falls under the rubric of "national security" is enthusiastically embraced by most Republicans and Democrats, conservatives and liberals, and Christians and unbelievers. This almost always translates into more global intervention by the U.S. military and increased power by federal, State, and local police agencies in America's heartland.
The shadows of power that have mostly controlled the federal government (with rare exceptions) since at least the Woodrow Wilson administration are experts at creating Boogeymen for America to hate. And, of course, fighting these Boogeymen serves as a justifiable reason for the federal government to expunge more and more liberties; it's in the interest of "national security." But since 9/11, the American people have been more manipulated since perhaps any other time in our nation's history.
Take a look at this recent report:
"A church hosting a law enforcement appreciation sermon asked its followers to pledge their allegiance to government this weekend, arguing that all state authorities throughout history have been ordained by God.
"According to an anonymous visitor of the Gold Creek Community Church in Mill Creek, Washington, who provided exclusive photos to Infowars, attendees were ordered to submit to the state without question. 'They had police worship today and last week was military worship where they played clips of American Sniper…' the source said. 'They were telling people to basically worship government and worship police no matter what. No mention of police brutality, no mention of the stingray systems grabbing our data…'
"Near the end of the sermon, members of the congregation were asked to raise their right hands and make a pledge, which included the promise to call 911 on 'suspicious' neighbors."
Of course, the justification that the pastor used for this type of state worship was Romans 13. This devilish misinterpretation of Romans 13 has done more to enslave the minds of America's pastors and Christians than anything I can think of. That's why my son and I co-authored the book, "Romans 13: The True Meaning of Submission."
Romans 13: The True Meaning of Submission
In addition, I delivered a four-message series on Romans 13 that is available on DVD. Find it here:
The True Meaning of Romans 13 Series-DVD
The infowars report also included a local television news report on how pastors and churches are conditioning their parishioners to become sheepish slaves of the state under the rubric of Romans 13:
Clergy Response Teams To Help Government Enforce Martial Law
See the infowars report here:
Church Asks Followers To Submit To Government, Call 911 On Suspicious Neighbors
Ladies and gentlemen, this kind of report could have been repeated throughout the entire country of Germany during the rise of the Third Reich.
Of course, many of the pastors who are regurgitating this form of state worship are not conscience of what they are doing. They have been indoctrinated in our nation's seminaries, Bible colleges, Christian universities, etc., to the point that they actually believe they are being both patriotic and spiritual. They are completely blind to the fact that they have become puppets for the New World Order power elite.
Our pastors are in the same boat as many of our military personnel and police officers. They believe that by being willing to submit to any order, no matter how unconstitutional or unrighteous, they are "serving God and country." Remember, without this ongoing "war on terror" overseas, America's growing domestic Police State would come crashing down. A domestic Police State is TOTALLY dependent upon the international "war on terror." And ever since 9/11, the big, bad Boogeymen that are being used to frighten the American people (especially Christians) out of their senses are Muslims–ALL Muslims.
How many times have I heard some well-intentioned (I think they are well-intentioned) Christian say, "There is no such thing as a moderate Muslim." Or, "There is no such thing as a peaceful Muslim." Really?
Why is it that we rarely heard such ludicrous statements before the events of 9/11? There have been millions of Muslims living among us Americans for as long as any of us can remember. There were doubtless thousands of Muslims in the United States at the time of our Revolutionary War. Where was the holy Jihad in this nation? Where were the mass beheadings or genocide against Christians in this country? For the most part, these millions of Muslim Americans have lived peacefully among us for all of our lives. But, now all of a sudden, they are the greatest threat to our country's very existence? Get real.
The warmongers and international nation builders who desire to drown the United States under the deluge of a global New World Order found the perfect Boogeyman in the form of Islam. If the official report on 9/11 is true (almost half of the American people do NOT believe it is true, including this writer), all the perpetrators of the attacks were men from Saudi Arabia. Yet, we couldn't invade Saudi Arabia. We need their oil too much. Besides, the Muslim nation of Saudi Arabia is deemed to be a U.S. ally. And we couldn't attack Iraq on the basis of Saddam Hussein's alleged atrocities alone. The world just wouldn't buy it.
Did Hussein kill hundreds of Muslim Kurds (most Muslim violence is perpetrated against other Muslims) during his regime? Probably so. Does anyone want to know why? THEY WERE TRYING TO OVERTHROW HIS GOVERNMENT. Am I justifying what Hussein did against his enemies? No. But the same people who are so quick to condemn Hussein for defending his government with violence seem to pay no attention to the atrocities committed by George H.W. Bush and Bill Clinton against U.S. citizens who posed absolutely NO THREAT to the government in Washington, D.C.
I am talking about Ruby Ridge, Idaho, when our own federal government accused ONE MAN, Randy Weaver, of threatening the United States government, and it sent federal agents to murder both him and his wife, Vicki. A federal sniper murdered Vicki and shot Randy (he survived his wounds). Federal agents also shot their young son, Sammy, in the back and killed him.  But Vicki was not holding a rocket launcher or hand grenade; she was holding her little baby in her arms.
I recall that the federal government accused a small splinter group of Seventh Day Adventists (the Branch Davidians) of threatening the U.S. government; and it sent federal agents and combat military personnel to burn them out and machine-gun them to death.
Where was the outrage of all of these patriotic Americans and righteous Christians over the atrocities committed by our own government at Ruby Ridge, Idaho, and Waco, Texas? Neither the Weaver family nor the Branch Davidians posed ANY threat to the U.S. government. Heck! They didn't even pose a threat to their neighbors. But our federal government murdered them, nonetheless.
One more thing to think about: the U.S. war in Iraq is estimated to have killed over 500,000 Iraqi children. That is more people (men, women, and children) than were killed when we dropped the atomic bombs on Hiroshima and Nagasaki. Of course, then-Secretary of State Madeleine Albright testified before Congress and said the deaths of all of those Iraqi children were "worth it." (And by the way many of our Christian brethren in the United States are acting, I suppose they think it was worth it, too.)
So, needing something more than just Saddam Hussein's alleged atrocities against the Kurds to justify a full-scale war in the Middle East, we invented a brand new threat: Al Qaeda. Now, the globalists had their Boogeyman. But after more than a decade of war, and with the American people becoming numb to an Al Qaeda threat, they invented a new Boogeyman: ISIS (IS; ISIL, etc.).
Think of it: OVERNIGHT, ISIS has advanced, sophisticated weapons; OVERNIGHT, it has millions of dollars to spend; OVERNIGHT it has become the greatest threat to, not only the security of the Middle East, but the United States of America. In the name of the threat of ISIS, the surveillance state must be expanded in America. In the name of the threat of ISIS, our local and State police must become more and more militarized. In the name of the threat of ISIS, Americans must be willing to surrender more and more of their liberties.
Neither Al Qaeda nor ISIS could have become the powerful force they have become WITHOUT THE DIRECT ASSISTANCE OF DARK OPS AND DIRTY MONEY FROM THE UNITED STATES. It is just not humanly possible.
Am I suggesting that ISIS is not comprised of radical, militant Muslims who are very violent and dangerous people? Of course not! But I am suggesting, no I am saying, that not every Muslim is a radical, violent Jihadist. I am saying that our country is filled with peaceful, non-violent Muslims who pose absolutely NO THREAT to the people of the United States. And I am saying that the kind of hatred and bigotry that many Christians are demonstrating against the Muslim people in general is a sin against Jehovah God and a contradiction of everything our Savior, the Lord Jesus Christ, taught us. And I am further saying that ISIS could not exist without major assistance from the United States and probably Israel.
Ask yourself, since when do revolutionaries broadcast their atrocities for the entire world to see and for the entire world to become enraged against them? Even surrounding Muslim nations are incensed with the conduct of ISIS. A Jordanian government official just recently stated that members of ISIS are NOT Muslims. Many, if not most, of the Muslim states totally reject ISIS as part of the Muslim brotherhood. Why would ISIS seek to alienate its own brethren? Why would it risk becoming the most hated group of people in the world–even the Muslim world?
It's because ISIS is a contrivance of U.S. and Israeli Dark Ops who have created and attracted the most radical, hate-filled people of the region and set them up in opposition to the laws of decency in order to incite the American public into accepting more war and more abridgments of their liberties. And whether these master manipulators realized it would happen the way it has or not (they probably did), their biggest assets have turned out to be zealous Christians who see themselves as fighting their own holy war against the Muslim infidels.
Yet, America's Founding Fathers did not categorize all Muslim people as Jihadists or militant extremists. Yes, Thomas Jefferson had to deal with violent Muslims during his administration. And he did it constitutionally, by the way. He didn't invade Muslim nations with the U.S. military; he invoked the constitutional solution of asking Congress for letters of marque and reprisal. Ron Paul introduced just such a bill after 9/11, but, of course, George W. Bush and Dick Cheney were already determined to invade Iraq. Invasion plans were in place long before the attacks on 9/11.
That Thomas Jefferson didn't hate Muslims or regard all of them as being violent Jihadists is plain. The man that Jefferson admired–and copied from–most, John Locke, insisted that Muslims be tolerated in England. Campaigning for religious freedom in Virginia, Jefferson demanded recognition for the religious rights of the "Mahamdan [Muslim], the Jew and the pagan." In his autobiography, Thomas Jefferson recounted his satisfaction at the passage of his landmark Bill for Establishing Religious Freedom (1786) and the effort by some in the legislature to limit the bill's scope "in proof that they meant to comprehend, within the mantle of its protection, the Jew and the Gentile, the Christian and Mahometan [Muslim]." Jefferson's perception of Muslims as peaceful people generally was shared by other Founding Fathers.
Richard Henry Lee, who made the motion for independence at the Continental Congress, declared, "True freedom embraces the Mahomitan [Muslim] and the Gentoo [Hindu] as well as the Christian religion."
George Washington proposed an exemption for Muslims in Virginia regarding a proposed law that would have demanded citizens to support the Christian religion with their tax dollars. Washington further welcomed "Mohometans" [Muslims] to Mount Vernon. And think of it: Washington didn't have a company of Secret Service agents protecting him, either.
Of course, men of influence throughout the course of Western Civilization have noted the danger posed by violence-prone Muslims. Rightly so. But I remind you that for many decades, white Americans were the targets of Indian savagery. And the warnings against the Indian tribes were numerous and often justified. I also remind you that much savagery was committed AGAINST the Indians by whites. I further remind you that much of the savagery of the Indians was CREATED by the whites by acts of injustice, deceit, and downright barbarism. It was not all one-sided.
Neither is it all one-sided in the Middle East. America's CIA and illegal Dark Ops are often INCITING the Muslim people of the Middle East against us. This is deliberate and intentional. It foments war and hatred–on both sides. And when people are filled with fear, and war, and hatred, it is much easier to strip them of their liberties and manipulate them into accepting usurpations of their freedoms that they would otherwise never be inclined to do.
Think about it: if our government truly believed we were at war with Al Qaeda or ISIS, why would it insist on keeping our southern border wide open? If the "war on terror" were legitimate, securing our border would be the FIRST thing our government would do. That it doesn't proves the duplicitous nature of our so-called "war on terror."
It's time for Americans (and especially Christians) to understand that there is a war alright: it is a war against our liberties, and the primary enemy is the New World Order globalists who are using elements of our own government (as well as other governments) against us.
Frankly, if the United States would GET OUT of the Middle East and GET OUT of the United Nations, most of this international conflict that we are mired in today would go away.
When pastors and churches succumb to the notion of submitting to a domestic Police State, when they succumb to the fear and paranoia created by a "war on terror," and when they succumb to the sins of hate and bigotry against one group of people, they unwittingly become puppets for the New World Order.
A half century ago the infamous and timeworn trope coming from the supporters of the Viet Nam War was all over the airwaves. "Love It or Leave It" was the standard retort from the gung-ho believers to the anti-war activists, who filled the streets with civil disobedience. An entire era of youth came under suspicion, from fathers of that "Greatest Generation" for questioning the purpose and wisdom of American leaders and the military policy that drafted dissenting objectors into coercive service.
Now with the undying "War on Terror" as the trumped up cornerstone of government survival, the same old party line of jingoism rises again to smear any opposition of the all mighty war machine.
The following is written by a student, Alex Bertsch, not back in the 1960's but in this year.
"I can't question the actions of the military without being anti-American. I can't question events like the My Lai Massacre, in which U.S. Army soldiers killed between 347 and 504 unarmed civilians in Vietnam, with virtually no punishment. I am barely allowed to question the Haditha Killings, in which U.S. Marines killed 24 civilians in 2006. Questioning these atrocities would be "un-American."
As the public is being conditioned for the next round of conflicts, the mere idea of conducting an open and frank debate is too dangerous to allow. So when the hullabaloo over the Chris Kyle movie, "American Sniper" exploded, the NeoCons rushed in to prance out their ultranationalism for the NWO age. Just what kind of world has these super patriots of the internationalist imperium bestowed on humanity?
Start with a review of the violent history of our species and especially the involvements from our own country in its short existence.
In the lifetime of the eldest living Americans, the Major Military Operations Since World War II, gives a summary of the largest involvements.
For a more comprehensive analysis of American conflicts, "We're at War!" — And We Have Been Since 1776: 214 Years of American War-Making, provides an exhausted list.
Pick any year since 1776 and there is about a 91% chance that America was involved in some war during that calendar year.
No U.S. president truly qualifies as a peacetime president.  Instead, all U.S. presidents can technically be considered "war presidents."
The U.S. has never gone a decade without war.
The only time the U.S. went five years without war (1935-40) was during the isolationist period of the Great Depression.
If the goal is to build a global empire, all these campaigns fit a pattern of design and intention. But is this the true purpose of our founding as a nation?
When John Milton Hay Secretary of State coined the phrase, "A Splendid Little War" – Whose War Is It?, he must have known that expansion to form an intercontinental realm was put irrepressibly in motion.
"This NeoConservative philosophy is pure Internationalism in its most raw form. It is the antithesis of traditional American policy, and attempts to foster a new imperialism that is totally out of step and discredited by civilized societies. The portrait of the 'Ugly American' is one that needs to be relegated to the scrap heap of embarrassed memories."
Regretfully, the entire last hundred years, billed as the American century, just continued an imperialism that kicked off with the Spanish American War. This foreign policy never made the world safe for some mythical "Democracy", but actually set forth a domination culture of rhetoric and force that fostered the economic corporatist interests, protected by garrison outposts scattered around the world.
So what slight of hand or mental hypnoses keeps the gullible public from facing up to the indisputable facts that all these oversea adventures actually destroy our country's real security?
Libertarian Jacob G. Hornberger makes a striking argument in THE TROOPS ARE DESTROYING OUR COUNTRY that help answers this question. This viewpoint goes directly to de-constructing the silly blind faith that the pudden-head flag waivers keep following with every additional failed overseas venture.
"The mindset that is common to U.S. troops serving overseas is that they are all doing it for America, for us, for our rights and  freedoms, for our safety and security. They'll all tell you that they are doing it because they love their country.
There's one big problem with that mindset, however. The truth is that the troops, through what they're doing over there, are indirectly destroying our country, our rights and freedoms, our safety and security, and our economic well-being.
Once again, the justification is to "keep us safe." Safe from what? From the people over there who are angry over what the troops are doing over there. The more people the troops kill and maim, the angrier people get, the greater the threat of terrorist retaliation, the greater the need to keep us safe, and the greater the infringements on our freedom and well-being.
The troops have convinced themselves that they're over there killing the people who would otherwise be coming over here to kill us. That's ridiculous. If people wanted to come over here to kill us, they could easily circumvent the troops and come over here and kill us."
With the open border approach in effect, the long forgotten Monroe Doctrine exempts the refugees from our hemisphere from colonizing our own land. Such acts of aggression go unpunished, while deploying foreign legions around the rest of the globe is defended as necessary.
Wake up America! Where is the common sense to ignore the pontifications of government authorities and trained seal newspeak propagandists?
Celebrating the gallantry of a Navy Seal psychopath assassin like Chris Kyle defies the most rudimentary sense of moral scrutiny, even if one wants to argue the "just war" theorem. However, if you candidly research the covert connections in the creation, funding and training of the mythical terrorism threats, the conclusion will adopt the undeniable linkage to Western government's hidden hand behind the scenes.
Ken O'Keefe, a former US Marine discusses Washington's major role in either generating or aggravating most of the current crises across the world and allowing groups like the ISIL Takfiri terrorists to foster and grow in the video US can no longer deny its support for ISIL.
Much has been written about how the world has changed after 9-11. The three videos on 911 a saga of deceit and lies goes unanswered because the facts presented has no legitimate counter by the establishment warmongers.
Chicken hawks, like Senator Lindsay Graham that routinely spread their dribble on Faux News are reprehensible. When his patron oracle Senator John McCain spills his vile indignation, the pompous faithful of the permanent warfare society rally round his banner.
The Zero Hedge article asks important questions, 59% Of Americans Support Post-9/11 Torture – Propaganda, Cultural Sickness, Or Both? The way you answer directly reflects your attitude about the supposed "War on Terror". Whatever it takes to keep the homeland safe never includes questioning the factual circumstances that reveal the false flag nature, used for the phony justification to build a domestic police state.
There is no place for the "Truth Movement" in the realm of the NeoCon right-thinking camp. One such Kool-Aid dispenser in the deadly disease of disinformation is Cliff Kincaid. His article, Lies of the 9/11 "Truth" Movement, published in Accuracy in Media is a classic in denial.
"The "inside job" theory of 9/11 is appealing to those holding a Marxist or anti-Semitic view that American foreign policy is secretly manipulated by "imperialist" or "Zionist" agents. On other occasions, the puppet-masters are "global elites" or members of secret clubs. These theories preclude serious thinking about why America is under attack and by whom. Facts and evidence don't matter when a theory about sinister secret agents with no names makes more sense."
Paleo-conservatives are the genuine voice of authentic conservatism. The Love It or Leave It crowds of paper mache sword waving jingoists, who purport to be patriots are committed internationalists in the advancement of an American Empire. Their bellicose and warmongering mindset is no formula for genuine patriotism.
More Liberty Now concludes and asks a question that few dare to confront.
"Love it or leave it" admits that the government is a monopoly that claims ownership of us all. This ultimatum is not compatible with free market beliefs. It advocates settling for mediocrity and a monopoly. Worst of all, it's a false choice since the very government we are urged to love will not allow anyone to leave its jurisdiction. That doesn't fit within any definition of 'patriotic' I'm aware of. Does it fit yours?"
People are so dumb down about true national security since 911 and gleefully boast and demonstrate their pride in stupidity. Hypocrites who refuse to face reality about their government and foreign policy wickedness, while pretending to be champions of American principles are mentally ill betrayers.
Amerika is in a death spiral because denial is the new national anthem, sung to the tune of THE BATTLE HYMN OF THE REPUBLIC, for an American nation that no longer exists.
Clearly this subject has already been covered in the media news cycle ad nauseam but I still can't stop thinking about the "I am Charlie" concept.  Was the idea behind all those people who held up "I am Charlie" posters supposed to be about protecting free speech?  Really?  Then why isn't everyone carrying "I am Julian Assange, Chelsea Manning and Edward Snowden" posters too?   Or demanding that the police stop arresting guys who falsely yell "Fire!" in a crowded theater or deliberately start barroom brawls?
Or if those "I am Charlie" posters are in protest of armed thugs in Paris gunning down civilians in cold blood, then why isn't everyone in Paris also carrying posters proclaiming "I am Iraq" or "I am Syria" or "I am Palestine" or "I am Ukraine" or Libya or Mali or….  You get the picture.
All those people holding up signs protesting the slaughter on Rue Nicolas-Appert might actually think that they too are "Charlie" — and that's fine.  Terrible things happened to the employees of Charlie Hebdo.  No one should ever have to suffer the fate of being shot down in cold blood, and thus the victims deserve to be mourned.  However I myself chose NOT to be Charlie Hebdo, a vicious slimy obscene rag clearly designed to stir up religious tensions in France.
And I also choose not to be any other bigots or terrorist troublemakers who clearly delight in trying to stir up religious tensions in France, crassly using others' religious differences to pave their own way to riches and power — and yet who have the ultimate and offensive hypocrisy and nerve to show up for the French "I am Charlie" marches with innocent smiles on their faces.  "Who us?" they innocently proclaim — after doing everything they possibly can to stir up bigotry against Muslims.
I am NOT Avigdor Liberman
I am NOT Naftali Bennet
And I am definitely NOT Bibi Netanyahu.
These three guys and their cohorts seem to be always at the center of any religious tension or terrorist attack almost anywhere in the world — starting in 1948 when the Stern Gang blew up the King David Hotel and Moshe Dayan's "army" slaughtered Christian and Muslim Palestinians left and right in order to steal their land.  "Every time anyone says that Israel is our only friend in the Middle East, I can't help but think that before Israel, we had no enemies in the Middle East," a Jesuit priest stated back then.  And that's still true today.
Israel's sleazy military-industrial complex then went on to be an uber-cheerleader for America when our own sleazy military-industrial complex bombed Kuwait, Afghanistan, Iraq, Libya, Syria, Yugoslavia, Yemen, Pakistan, Somalia and I forget what all else.  And Israeli neo-cons themselves have bombed Palestine, Egypt, Iran, Iraq, Lebanon and I forget what all else too — not to mention their documented ongoing support for ISIS and Al Qaeda.
If bombs, missiles, white phosphorus, tanks, false-flag operations, F-16s, tear gas or even bottle-rockets are involved, Bibi and these guys are so there!
Millions dead in the Middle East?  I call that terrorism.  And yet Bibi and his minions actually had the chutzpah to march in Paris "against terrorism," according to Paris Match.  Yeah, right.
Yet who benefited from the Charlie Hebdo incident?  Let's see.  According to Paul Craig Roberts, it's the American military-industrial complex that benefited.  "Not France, not Muslims, but US world hegemony.  US hegemony over the world is what the CIA supports.  US world hegemony is the neoconservative-imposed foreign policy of the US."
But as they say in poker, "I'll see Roberts and raise him."  Netanyahu benefited.  Apparently, right before the Charlie Dodo incident was staged, France had just announced that it might be backing off supporting sanctions on Russia.  What?  No immediate prospect of World War III?  No big Israeli weapons sales?  Bibi must have been tres disappointed!
France had also just announced that it was gonna recognize the Palestinian state.   OMG!  That must have totally pissed Netanyahu off.
Also, our Bibi is having trouble finding settlers to occupy his many illegal condos in Palestine's West Bank.  But he just loves French Jews — and hopes to scare them enough to force them to flee to Israel and live rent-free on Palestinian land.  Heck, I like Israel well enough.  Wouldn't mind living there myself.  It's a nice place.  Heck, even the Palestinians used to like living there too.  But it's the Israeli neo-cons' blood-thirsty hypocritical scheming military-industrial-complex-flaunting neo-con national-socialist leaders that I do not respect or cannot like.
And I'm not being anti-Semitic here.  Let's leave all that religious bigotry to Charlie Hebdo.  I am only being a student of American-Israeli neo-con "Realpolitik" (Rāˈälpōliˌtēk/:  A system of politics or principles based on practical rather than moral or ideological considerations).  And Realpolitik has nothing to do with religion.
Good grief, I'm so glad that I'm NOT Netanyahu.
And I also feel nothing but compassion for all the billions of Muslims, Christians and Jews who are being subjected to his vile manipulations.  I also feel nothing but compassion for the hostages in the kosher supermarket who were also victims of Bibi's lust for money and power and to create chaos throughout the world.  Even if it means putting all the world's Jews in danger again.
PS:  What is going to happen next in France?  Or in Israel and the United States too, for that matter.  As my friend RJ suggests, let's follow Norway's heroic example after the dreadful 2011 massacre there and stop spending our patrimony on guns, bombs, war and alienation and start spending that money on integrating our nations' diversity into our national bank of excellent human resources instead.
We've already wasted a hundred trillion dollars on "war" so far, only to discover again and again that violence doesn't ever work.  Not in the Middle East, not in Ukraine, not in Paris, not at the World Trade Center and not in Ferguson either.  Just imagine if we had spent all that money on education, jobs, and integrating our society into a smooth-running democratic machine instead.
To paraphrase Thomas Piketty, "You can't have a political democracy unless you have an economic democracy too."  And "war" has ruined — absolutely ruined — the economic democracy of both Israel and the USA.  And probably France too.