Andrew Kreig, founder of the Justice Integrity Project, is not the first to point out the inconvenient truths surrounding the 1964 report of the Warren Commission. His continuing series of articles on the details contain a series of shocks which bring into high relief the falsehoods sold to the public by the major media. His book, Presidential Puppetry, has built out a picture of events both compelling and frightening.
Kreig has been thorough, building a monumental data base which, along with following the action, examines the impact of the assassination on American politics, those who report the news, and the many incidents following the death of JFK and continue to take place today.
Today most Americans, according to the polls, believe the Warren Commission Report mislead the public. The question of what happened on November 22, 1963 remains a hot topic, with between 1,000 and 2,000 books written on the subject.
People still care what happened. They still want to know; they still don't.
Bill O'Reilly was an ambitious young reporter when he lied about having been on George de Mohrenschildt's porch when the shots were fired which killed the man who was a friend of Lee Harvey Oswald. It was a dramatic claim disproved by audio tapes of only within the last several years.
Mohrenschildt was supposedly about to testify before congress that Oswald did not kill the President. Thereafter local authorities ruled the death a suicide. The chief counsel for the Congressional investigation, then ongoing, was replaced by one who deferred to the CIA. Bill O'Reilly also wrote a book, the best seller, Killing Kennedy. It accepts the facts as laid out by the Warren Commission.
From that day to now Kreig claims many parts of our lives have been impacted and the course of our history altered.
Now we know Oswald could not have acted alone. New forensic evidence indicates Kennedy was shot at least once from the front, twice from the back.
In 1963 Americans were more trusting of government. Americans, dissatisfied with what they get in print and on television seek news and facts online. Mislead on many issues a reaction has been building. This is one of the reasons the ratings for the Main Stream Media have been dropping.
Blow back is, "an unforeseen and unwanted effect, result, or set of repercussions." Sometimes it is a long time coming, but it always arrives.
"In order to survive and preserve its leading role on the international stage, the US desperately needs to plunge Eurasia into chaos, (and) to cut economic ties between Europe and Asia-Pacific Region … Russia is the only (country) within this potential zone of instability that is capable of resistance. It is the only state that is ready to confront the Americans. Undermining Russia's political will for resistance… is a vitally important task for America."

-Nikolai Starikov, Western Financial System Is Driving It to War, Russia Insider

"Our first objective is to prevent the re-emergence of a new rival, either on the territory of the former Soviet Union or elsewhere, that poses a threat on the order of that posed formerly by the Soviet Union. This is a dominant consideration underlying the new regional defense strategy and requires that we endeavor to prevent any hostile power from dominating a region whose resources would, under consolidated control, be sufficient to generate global power."

-The Wolfowitz Doctrine, the original version of the Defense Planning Guidance, authored by Under Secretary of Defense Paul Wolfowitz, leaked to the New York Times on March 7, 1992
The United States does not want a war with Russia, it simply feels that it has no choice. If the State Department hadn't initiated a coup in Ukraine to topple the elected president, Viktor Yanukovych, then the US could not have inserted itself between Russia and the EU, thus, disrupting vital trade routes which were strengthening nations on both continents. The economic integration of Asia and Europe–including plans for high-speed rail from China ("The New Silk Road") to the EU–poses a clear and present danger for the US whose share of global GDP continues to shrink and whose significance in the world economy continues to decline. For the United States to ignore this new rival (EU-Russia) would be the equivalent of throwing in the towel and accepting a future in which the US would face a gradual but persistent erosion of its power and influence in world affairs. No one in Washington is prepared to let that happen, which is why the US launched its proxy-war in Ukraine.
The US wants to separate the continents, "prevent the emergence of a new rival", install a tollbooth between Europe and Asia, and establish itself as the guarantor of regional security. To that end, the US is rebuilding the Iron Curtain along a thousand mile stretch from the Baltic Sea to the Black Sea. Tanks, armored vehicles and artillery are being sent to the region to reinforce a buffer zone around Europe in order to isolate Russia and to create a staging ground for future US aggression. Reports of heavy equipment and weapons deployment appear in the media on nearly a daily basis although the news is typically omitted in the US press. A quick review of some of the recent headlines will help readers to grasp the scale of the conflict that is cropping up below the radar:
"US, Bulgaria to hold Balkans military drills", "NATO Begins Exercises In Black Sea", "Army to send even more troops, tanks to Europe", "Poland requests greater US military presence", "U.S. Army sending armored convoy 1,100 miles through Europe", "Over 120 US tanks, armored vehicles arrive in Latvia", "US, Poland to Conduct Missile Exercise in March – Pentagon"
Get the picture? There's a war going on, a war between the United States and Russia.
Notice how most of the headlines emphasize US involvement, not NATO. In other words, the provocations against Russia originate from Washington not Europe. This is an important point. The EU has supported US-led economic sanctions, but it's not nearly as supportive of the military build up along the perimeter. That's Washington's idea and the cost is borne by the US alone. Naturally, moving tanks, armored vehicles and artillery around the world is an expensive project, but the US is more than willing to make the sacrifice if it helps to achieve its objectives.
And what are Washington's objectives?
Interestingly, even political analysts on the far right seem to agree about that point. For example, check out this quote from STRATFOR CEO George Friedman who summed it up in a recent presentation he delivered at The Chicago Council on Foreign Affairs. He said:
"The primordial interest of the United States, over which for centuries we have fought wars–the First, the Second and Cold Wars–has been the relationship between Germany and Russia, because united there, they're the only force that could threaten us. And to make sure that that doesn't happen." … George Friedman at The Chicago Council on Foreign Affairs, Time 1:40 to 1:57)
Bingo. Ukraine has nothing to do with sovereignty, democracy or (alleged) Russian aggression. That's all propaganda. It's about power. It's about imperial expansion. It's about spheres of influence. It's about staving off irreversible economic decline. It's all part of the smash-mouth, scorched earth, take-no-prisoners geopolitical world in which we live, not the fake Disneyworld created by the western media. The US State Department and CIA toppled the elected-government in Ukraine and ordered the new junta regime to launch a desperate war of annihilation against its own people in the East, because, well, because they felt they had no other option. Had Putin's ambitious plan to create a free trade zone between Lisbon to Vladivostok gone forward, then where would that leave the United States? Out in the cold, that's where. The US would become an isolated island of dwindling significance whose massive account deficits and ballooning national debt would pave the way for years of brutal restructuring, declining standards of living, runaway inflation and burgeoning social unrest. Does anyone really believe that Washington would let that to happen when it has a "brand-spanking" trillion dollar war machine at its disposal?
Heck, no. Besides, Washington believes it has a historic right to rule the world, which is what one would expect when the sense of entitlement and hubris reach their terminal phase. Now check out this clip from an article by economist Jack Rasmus at CounterPunch:
"Behind the sanctions is the USA objective of driving Russia out of the European economy. Europe was becoming too integrated and dependent on Russia. Not only its gas and raw materials, but trade relations and money capital flows were deepening on many fronts between Russia and Europe in general prior to the Ukraine crisis that has provided the cover for the introduction of the sanctions. Russia's growing economic integration with Europe threatened the long term economic interests of US capitalists. Strategically, the US precipitated coup in the Ukraine can be viewed, therefore as a means by which to provoke Russian military intervention, i.e. a necessary event in order to deepen and expand economic sanctions that would ultimately sever the growing economic ties between Europe and Russia long term. That severance in turn would not only ensure US economic interests remain dominant in Europe, but would also open up new opportunities for profit making for US interests in Europe and Ukraine as well…

When the rules of the competition game between capitalists break down altogether, the result is war—i.e. the ultimate form of inter-capitalist competition." (The Global Currency Wars, Jack Rasmus, CounterPunch)
See? Analysts on the right and left agree. Ukraine has nothing to do with sovereignty, democracy or Russian aggression. It's plain-old cutthroat geopolitics, where the last man left standing, wins.
The United States cannot allow Russia reap the benefits of its own vast resources. Oh, no. It has to be chastised, it has to be bullied, it has to be sanctioned, isolated, threatened and intimidated. That's how the system really works. The free market stuff is just horsecrap for the sheeple.
Russia is going to have to deal with chaotic, fratricidal wars on its borders and color-coded regime change turbulence in its capital. It will have to withstand reprisals from its trading partners, attacks on its currency and plots to eviscerate its (oil) revenues. The US will do everything in its power to poison the well, to demonize Putin, to turn Brussels against Moscow, and to sabotage the Russian economy.
Divide and conquer, that's the ticket. Keep them at each others throats at all times. Sunni vs Shia, one ethnic Ukrainian vs the other, Russians vs Europeans. That's Washington's plan, and it's a plan that never fails.
US powerbrokers are convinced that America's economic slide can only be arrested by staking a claim in Central Asia, dismembering Russia, encircling China, and quashing all plans for an economically-integrated EU-Asia. Washington is determined to prevail in this existential conflict, to assert its hegemonic control over the two continents, and to preserve its position as the world's only superpower.
Only Russia can stop the United States and we believe it will.
Even a seasoned cynic sometimes gasps in disbelief. "President Putin misinterprets much of what the U.S. is doing or trying to do," U.S. Secretary of State John Kerry told a press conference in Geneva on March 2. "We are not involved in 'numerous color revolutions' as he asserts. In the case of Ukraine, such assumptions are also wrong. The United States support international law with respect to the sovereignty and integrity of other people."
This is akin to Count Dracula asserting his strict adherence to a vegan diet and his principled respect for the integrity of blood banks worldwide.
Various quasi-NGOs funded by American taxpayers and funneled through organizations such as the National Endowment for Democracy, Freedom House and the National Democratic Institute, not to mention George Soros's Open Society Foundations (partly funded by U.S. and other Western governments), have been actively engaged in dozens of "regime-change" operations for a decade and a half. Their work is conducted in disregard of international law and in violation of the sovereignty and integrity of the people whose governments are thus targeted.
The overthrow of Slobodan Milosevic in Belgrade (October 2000) provided the blueprint, in strict accordance with Gene Sharp's manual. Widespread popular discontent was manipulated by the U.S./Soros funded and trained Otpor! network to bring to power a government subservient to Western political and economic interests. The moderately patriotic yet hapless new president, constitutional lawyer Vojislav Kostunica, was used as a battering ram to bring Milosevic down. Once that goal was achieved, Kostunica was promptly marginalized by Prime Minister Zoran Djindjic and his successors – Serbia's two-term president Boris Tadic in particular – who turned the country into a pliant tool of foreign interests. Wholesale robbery of Serbia's state and public assets promptly followed the 2000 coup, resulting in the Balkan country's comprehensive de-industrialization. Official Belgrade was forced to accept Kosovo's de facto "independence" in the name of the elusive goal of joining the European Union.
Georgia's 2003 "Rose Revolution" was carried out by the Kmara ("Enough") network, a carbon copy of Serbia's "Otpor," including the clenched fist logo. Its activists were trained and advised by the U.S.-affiliated Liberty Institute and funded by the Open Society Institute. It brought to power Mikhel Saakashvili, a corrupt "pro-Western" politician currently wanted by Georgia's government on multiple criminal charges. The coup was largely financed by Soros's network, which spent $42 million in the three months before the coup preparing the overthrow of the government of Eduard Shevardnadze. The most important geopolitical result was Georgia's NATO candidacy, supported by Washington, which is currently stalled but which has the potential to be as perniciously destabilizing as the crisis in Ukraine.
Speaking in Tblisi in June 2005, Soros said: "I am very pleased and proud of the work of the Foundation in preparing Georgian society for what became a Rose Revolution, but the role of the Foundation and me personally has been greatly exaggerated." The new government, as it happens, included Alexander Lomaia, former Secretary of the Georgian Security Council and minister of education and science, who at the time of the coup was Executive Director of the Open Society Georgia Foundation. David Darchiashvili, ex-chairman of the Committee for European Integration in the Georgian parliament, was also an executive director of the Foundation. As former Georgian foreign minister Salomé Zourabichvili wrote in 2008, "all the NGO's which gravitate around the Soros Foundation undeniably carried the revolution… [A]fterwards, the Soros Foundation and the NGOs were integrated into power." Interestingly, the U.S. Ambassador in Georgia at the time of the 2003 regime-change operation, Richard Miles, was the Ambassador in Belgrade at the time of Milosevic's downfall three years earlier.
The march of history continued with the 2004 "Orange Revolution" in Ukraine – that grand rehearsal for the Maidan coup a decade later – and the 2005 "Cedar Revolution" in Lebanon, which was given its name by then-U.S. Under Secretary of State for Global Affairs Paula J. Dobriansky. Also in 2005 the "Tulip Revolution" in Kyrgyzstan had as its chief foreign advisor Givi Targamadze, an official of Georgia's aforementioned Liberty Institute, who at the time chaired Saakashvili's parliamentary committee on defense and security.
In 2006 Congress passed the Iran Freedom and Support Act which provided taxpayer funding for groups opposed to the Iranian government, and then-Under Secretary of State for Political Affairs R. Nicholas Burns said the administration was "taking a page from the playbook" on Ukraine and Georgia. A year later the George W. Bush administration authorized a $400 million covert operation budget to foment unrest in Iran. In 2012 Seymor M. Hersh wrote that the U.S. has provided funding and training to the People's Mojahedin Organization of Iran, a militant group which had been listed by the U.S. State Department as a terrorist organization,
In 2012 President Obama authorized U.S. government agencies to support violent regime change in Syria. By early 2013 the Administration was helping the "moderate" rebels – i.e. jihadists with no overt links to al-Qaeda – to the tune of $250 million, and that figure has been at least doubled since. The result has been disastrous for the Syrian people (Christians in particular), and hugely detrimental to U.S. security interests in the region. The insurgency against Bashar al-Assad has directly contributed to the rise of ISIS, with no end to the latest war in sight.
Last month Venezuelan President Nicolas Maduro gave a televised speech in which he alleged systematic U.S. involvement in destabilization attempts against his government. The U.S. Department of State called his claims "baseless" and "false."  "The United States does not support political transitions by non-constitutional means," read the statement from Department spokesperson, Jen Psaki. Indeed. One of the leaders of the failed anti-Chavez coup d'etat in 2002, Rear Admiral Carlos Molina, has stated that he was acting with US support. Ditto the CIA-supported regime-change operation in Nicaragua in 2009.
As for the Maidan Revolution, crowned by "political transition by non-constitutional means" par excellence, Victoria Nuland readily admitted that its preparation cost the U.S. taxpayers some $5 billion over the preceding decade. The result is the most dangerous geopolitical crisis of the post-Cold War era, systematically engineered and conducted by the regime-changing exceptionalists in Washington D.C. who believe that they are exempt from historical forces and legal restraints that apply to merely mortal countries.
Former U.S. Ambassador in Moscow Michael McFaul boasted to The New York Times a week after taking duty in January 2012 that he would make his "pro-democracy" mark in Moscow "in a very, very aggressive way." Some months earlier, McFaul declared that "even while working closely with Putin on matters of mutual interest, Western leaders must recommit to the objective of creating the conditions for a democratic leader to emerge in the long term." This was a regime-change agenda expressed with brutal bluntness: we need to "de-Putinize" Russia, he declared. It would be interesting to see the U.S. reaction if a similar statement ("We need to to de-Obamanize America!") were to be made by an incoming Russian ambassador in Washington.
In Russia the regime-change program did not work, however. First and foremost, there was no popular support: hundreds of "activists" demonstrating against Putin in 2012 could be turned into "thousands" in Western post-election media reports, but that was still far below the tens, let alone hundreds, of thousands needed to kick-start a regime-change op. Infuriatingly for the planners, Russia simultaneously enacted a law regulating foreign "NGO" activities which was patterned directly on the American Foreign Agents Registration Act (FARA), which regulates activities of the agents of foreign governments in the United States. Enacted in the 1930's to require disclosure of Americans working on behalf of Nazi Germany, and used to control Soviet agents thereafter, FARA requires full public disclosure of those same activities that the U.S. government had tried to fund in Russia. The Federal Election Campaign Act flatly prohibits foreign involvement in American elections – yet it was touted as legitimate when conducted in Russia by Washington's protégés under the guise of promoting democracy.
The regime-change mania will go on and on. It is inseparable from the psychotic belief in one's indispensability and exceptionalism. It is a form of self-defeating grandomania that can only stop with America's long-overdue abandonment of the global hegemony experiment.
And yes, John Kerry is a liar.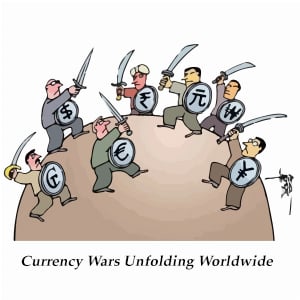 The first two months of 2015 have seen turmoil in the currency markets extend from Russia and Ukraine to the heart of Europe.
"Central Banks Now Open 24/7 Fighting Currency Wars and Deflation," blared a February 12th Bloomberg headline. Against this backdrop, precious metals have been on the rise in terms of all currencies except the Swiss franc and the U.S dollar.
In January, the Swiss National Bank shocked markets by announcing that it would de-link its currency from the euro. The move came one week ahead of the European Central Bank's $1.1 trillion Quantitative Easing announcement. Swiss officials decided it would be too costly to keep accumulating depreciating euros in order to maintain the currency peg. The Swiss franc surged by the most ever in a single day.
With the exception of Switzerland, all other countries in Europe (and many others around the world) are trying to depreciate their currencies.
Since January 1, the following central banks have announced interest rate cuts or other monetary easing measures: European Central Bank, Reserve Bank of Australia, Reserve Bank of New Zealand, Monetary Authority of Singapore, and the central banks of India, Canada, Denmark, and Sweden.
On February 12th, the Swedish Riksbank announced a surprise rate cut from 0% to below 0%. "To ensure that inflation rises towards the target, the Riksbank is prepared to quickly make monetary policy more expansionary, even between the ordinary monetary policy meetings," the world's oldest central bank said in a statement.
Sweden joins the European Central Bank and the central banks of a handful of other countries in pushing benchmark interest rates into negative territory. These central bankers are all aiming to revive inflation. "Investors" who are buying bonds yielding less than nothing (a negative rate) are apparently convinced that central bankers won't succeed in depreciating their currencies.
Insanity! Investors Now Paying for the "Privilege" of Lending to Broke Governments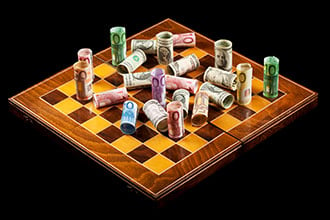 This could go down as one of the oddest, most irrational asset bubbles in history. Trillions of dollars are now tied up in debt instruments that promise to return less than the invested principal. According to a report issued by J.P. Morgan, $3.6 trillion in government bonds around the world now carry negative yields.
It raises the obvious question; why would so many people be willing to accept a negative rate of return?
You'd think that institutional investors would start getting wise to holding gold as a hard-currency alternative to cash instruments that yield less than zero. The fact that gold has no interest rate is actually an advantage in an environment where competing rates are negative! Plus, unlike most of the bonds issued in this upside-down interest rate market, gold has significant appreciation potential.
If inflation rises even modestly to the 2% target of European and U.S. central bankers, then bonds issued at rates of below 2% will all be losers. The two-year Treasury note yields only 0.63%. Even the recent 10-year yield of 1.98% fails to match the Federal Reserve's inflation ambitions.
The fact that gold has no interest rate is actually an advantage in an environment where competing rates are negative!
In this environment of ultra-low nominal yields or even negative real yields, precious metals as a reserve asset look very attractive. Many central bankers around the world agree and are busily accumulating gold. According to a report issued by the World Gold Council in February, governments around the world added 477.2 metric tons of gold to their reserves in 2014. That haul was the second biggest in 50 years.
When inflation fears return to the market, as they eventually will, precious metals will become one of the premier asset classes to hold. Even now, they are performing better than virtually all other world currencies.
The end game of these ongoing currency wars is that all fiat currencies will be debased. And a true flight to quality will accelerate – with assets fleeing depreciating currencies (and debt instruments denominated in them) and piling into gold and silver.
Will the Fed Chicken Out on Rate Hikes?
Of course, right now it's deflation fears that are dominating headlines. But the inflationary policy responses from the European Central Bank and others that have followed the ECB's lead have lifted gold and silver prices markedly in terms of euros and other currencies.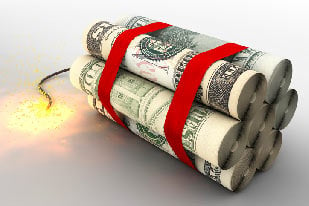 As confidence in European currencies plunges, there's only so much corresponding dollar strength the Federal Reserve is willing to tolerate. There's been much talk of rate hikes coming later this year, and that widespread expectation has been priced into the market. Any rhetorical or policy disappointments from the Fed in the months ahead could cause traders to sell the dollar.
Whether later this year or further down the road, it's only a matter of time before currency turmoil spreads to the United States.
The U.S. has a higher debt-to-GDP ratio than some troubled European countries. It has higher levels of unfunded liabilities (estimated to be in excess of $100 trillion) than any other country. The dollar's status as world reserve currency has allowed the U.S. to become financially overextended. But that vaunted status is slowly deteriorating as Russia, China, and other countries form economic alliances that bypass the dollar.
When these chickens come home to roost, you don't want to be wholly dependent on the U.S. government's promises or its currency. Sizeable holdings in physical precious metals will help make you financially resilient in the face of the spreading global currency crisis.
NATO Lies and Provocations…
"The war has been provoked to destroy the Russian World, to draw Europe into it, and to surround Russia with hostile countries. Unleashing this world war, America is trying to deal with its own internal problems."

– Sergei Glazyev, Advisor to Russian President Vladimir Putin
The fabrications of NATO's top commander in Europe, General Philip Breedlove, have driven a wedge between Germany and the United States that could lead to a collapse of the Atlantic Alliance. According to the German news magazine, Der Spiegel, Breedlove has repeatedly sabotaged Chancellor Angela Merkel's attempts to find a diplomatic solution to the war in Ukraine by spreading "dangerous propaganda" that is misleading the public about Russian "troop advances on the border, (and) the amassing of munitions and alleged columns of Russian tanks." But while the unusually critical article singles out Breedlove for his hyperbolic exaggerations of so-called Russian aggression, the real purpose of the Spiegel piece is to warn Washington that EU leaders will not support a policy of military confrontation with Moscow.
Before we explain what's going on, we need to look at an excerpt from the article. According to Spiegel:
"…for months now, many in the Chancellery simply shake their heads each time NATO, under Breedlove's leadership, goes public with striking announcements about Russian troop or tank movements … it is the tone of Breedlove's announcements that makes Berlin uneasy. False claims and exaggerated accounts, warned a top German official during a recent meeting on Ukraine, have put NATO — and by extension, the entire West — in danger of losing its credibility.

There are plenty of examples….At the beginning of the crisis, General Breedlove announced that the Russians had assembled 40,000 troops on the Ukrainian border and warned that an invasion could take place at any moment. The situation, he said, was "incredibly concerning." But intelligence officials from NATO member states had already excluded the possibility of a Russian invasion. They believed that neither the composition nor the equipment of the troops was consistent with an imminent invasion.

The experts contradicted Breedlove's view in almost every respect. There weren't 40,000 soldiers on the border, they believed, rather there were much less than 30,000 and perhaps even fewer than 20,000. Furthermore, most of the military equipment had not been brought to the border for a possible invasion, but had already been there prior to the beginning of the conflict. Furthermore, there was no evidence of logistical preparation for an invasion, such as a field headquarters.
Breedlove, though, repeatedly made inexact, contradictory or even flat-out inaccurate statements."…

On Nov. 12, during a visit to Sofia, Bulgaria, Breedlove reported that "we have seen columns of Russian equipment — primarily Russian tanks, Russian artillery, Russian air defense systems and Russian combat troops — entering into Ukraine." It was, he noted, "the same thing that OSCE is reporting." But the OSCE had only observed military convoys within eastern Ukraine. OSCE observers had said nothing about troops marching in from Russia.

Breedlove sees no reason to revise his approach. "I stand by all the public statements I have made during the Ukraine crisis," he wrote to SPIEGEL in response to a request for a statement accompanied by a list of his controversial claims."
(Breedlove's Bellicosity: Berlin Alarmed by Aggressive NATO Stance on Ukraine, Der Spiegel)
While it's easy to get swept up in the Spiegel's narrative of a rabid militarist dragging Europe closer to World War 3, the storyline is intentionally misleading. As anyone who's been following the Ukraine fiasco for the last year knows, there's nothing particularly unusual about Breedlove's distortions. Secretary of State John Kerry has made similar claims numerous times as have many others in the major media. The lies about "Russian aggression" are the rule, not the exception. So why has the Spiegel decided to selectively target Breedlove who is no more deceitful than anyone else? What's really going on here?
Clearly, the Spiegel is doing Merkel's work, that is, undermining the credibility of Washington's chief commander in Europe in order to discourage further escalation of the conflict in Ukraine. But while Merkel wants to humiliate Breedlove to show that Germany will not sit on its hands while Washington plunges the region into the abyss; she has also shown considerable restraint in limiting her attack to the General while sparing Kerry and Obama any embarrassment. This is quite an accomplishment given that –as we said earlier–virtually everyone in the political establishment and the media have been lying nonstop about every aspect of the conflict. Merkel doesn't want to discredit these others just yet, although the Spiegel piece infers that she has the power to do so if the "bad behavior" persists.
The Spiegel article is part of a one-two punch designed to force Washington to change its confrontational approach. The second jab appeared late Sunday afternoon when EU Commission President Jean-Claude Juncker announced that Europe needed to field its own army. Here's the story from Reuters:
"The European Union needs its own army to face up to Russia and other threats as well as restore the bloc's foreign policy standing around the world, EU Commission President Jean-Claude Juncker told a German newspaper on Sunday…

"With its own army, Europe could react more credibly to the threat to peace in a member state or in a neighboring state.

"One wouldn't have a European army to deploy it immediately. But a common European army would convey a clear message to Russia that we are serious about defending our European values." (Juncker calls for EU army, says would deter Russia, Reuters)
Can you see what's going on? On the one hand, the Spiegel delivers a hammer-blow to the credibility of NATO's top officer and on the other, the President of the EU Commission blindsides US powerbrokers by announcing a plan to create an independent EU fighting force that will render NATO redundant. These are big developments that have undoubtedly left the Obama troupe reeling. This is a full-blown assault on NATO's role as the primary guarantor of EU regional security. Maybe the European people are gullible enough to accept Junker's absurd claim that an EU army will "send an important message to the world", but you can be damn sure that no one at 1600 Pennsylvania Avenue believes that nonsense. The move is clearly designed to send a message to Washington that Europe is fed up with NATO and wants a change. That means it's "shape up or ship out time" for Breedlove and his ilk.
Ironically, these developments align Merkel with Putin's view of things as stated in his famous Munich speech in 2007 when he said:
"I am convinced that we have reached that decisive moment when we must seriously think about the architecture of global security. And we must proceed by searching for a reasonable balance between the interests of all participants in the international dialogue … The United States, has overstepped its national borders in every way … And of course this is extremely dangerous. It results in the fact that no one feels safe. I want to emphasize this — no one feels safe." (Russian President Vladimir Putin, 43rd Munich Security Conference, 2007)
How can the US possibly cast itself as "steward of the global security system", when its interventions have left a trail of decimated failed states from the southernmost border of Somalia to the northern tip of Ukraine, a chaotic swathe of smoldering ruin and agonizing human suffering that rivals the depredations of the Third Reich.
Europe's security requirements cannot be met by a belligerent, warmongering US-controlled entity that acts solely in Washington's interests. At present, NATO gets 75% of its funding from the US, which is why the alliance is less interested in peacemaking and security than it is in internationalizing its imperial war of aggression across the planet. Prior to the crisis in Ukraine, European leaders didn't see the danger of this idiotic arrangement (even though interventions in Serbia, Libya and Afghanistan should have brought them to their senses) But now that NATO's recklessness could vaporize Europe in a nuclear firestorm, leaders like Merkel and Hollande are starting to change their tune. Keep in mind, the ideal scenario for the US would be a limited war that levels large parts of the European and Asian continents, thus restoring the US to its post WW2 heyday when the "rubblized" world was Washington's oyster. That would be just fine for genocidal maniacs and armchair warriors who rule the globe from the safety of their well-stocked DC bunkers. But for Europe, this is definitely not a winning strategy. Europe doesn't want a war, and it certainly doesn't want to be used as cannon fodder for the greater glory of the dystopian NWO.
Putin advisor, Sergei Glazyev, figured out what Washington was up to long before Kiev launched its wretched "anti terrorism" campaign against federalist rebels in the East. Here's how he summed it up:
"The main task the American puppet masters have set for the (Kiev) junta is to draw Russia into a full-scale war with Ukraine. It is for this purpose that all of these heinous crimes are committed – to force Russia to send troops to Ukraine to protect the civilian population…

The bankruptcy of the US financial system, which is unable to service its foreign debt, the lack of investments to finance a breakthrough to a new technological order and to maintain America's competitiveness, and the potential defeat in the geopolitical competition with China. To resolve these problems, Americans need a new world war." (Sergei Glazyev)
Bingo. The steadily-declining empire, whose share of global GDP continues to shrivel with every passing year, has wanted a war from the get go. That's the only way that the US can reverse its precipitous economic slide and preserve its lofty spot as the world's only superpower. Fortunately, EU leaders are beginning to pull their heads out of the sand long enough to grasp what's going on and change their behavior accordingly.
It's worth noting, that no one in the Merkel administration or anyone else for that matter, has publicly challenged the allegations in the Spiegel article. Why is that, do you think?
Doesn't their silence suggest that they knew all along that all the anti-Putin propaganda hullabaloo was pure bunkum; that "evil" Putin didn't send tanks and soldiers across the border into Ukraine, that Putin didn't shoot down Malaysian Airline 17, that Putin didn't have a political opponent gunned down gangland style just a few hundred yards from the Kremlin? Isn't that what their silence really says?
Of course, it does. The reason no one in power has spoken out is because –as the Spiegel cynically admits–"A mixture of political argumentation and military propaganda is necessary."
"Propaganda is necessary"?
Whoa. Now there's an admission you're not going to see in the media too often. But it's the truth, isn't it? The Euro-leaders have been going along with the lies to keep the public in line. In other words, it's a healthy dose of perception management for the sheeple, but the unvarnished truth for our revered overlords. Sounds about right. Only now these ame elites have decided to share the facts with the lumpen masses. But, why? Why this sudden willingness to share the truth?
It's because they no longer support Washington's policy, that's why. No one in Europe wants the US to arm and train the Ukrainian army. No one wants them to deploy 600 paratroopers to Kiev and increase US logistical support. No one wants further escalation, because no one wants a war with Russia. It's that simple.
For the first time, EU leaders, particularly Merkel, understand that the United States' strategic objectives (the pivot to Asia) do not align with those of the EU, in fact, Washington's geopolitical ambitions pose a serious threat to Europe's security. Regrettably, it's not enough for Merkel to simply understand what is going on. She needs to huddle with her EU colleagues and take positive steps to derail Washington's plan now, otherwise the US will continue its incitements and false flags until Putin is forced to respond. Once that happens, a broader and, perhaps, catastrophic conflagration will be unavoidable.
During the Oscars last Sunday night, winner Patricia Arquette, Boyhood, admonished America to work for women's equal pay. J.K. Simmons, Whiplash, invited Americans to phone their parents and thank them. Michael Keaton, Birdman, told the audience how thankful he felt for his life and his son.
All of the winners and losers spoke eloquently about their fortunes and misfortunes in the American film making business. Ironically, legendary Clint Eastwood's epic film, American Sniper, out-grossed all the other top Oscar winning films combined. The academy ignored his movie.
The movie, Selma, produced by Oprah Winfrey, didn't fare very well. If you remember, back in the era of Dr. Martin Luther King, African-Americans marched from Selma to Montgomery, Alabama to force this nation toward voter rights and Black rights in the American pantheon.
Since that time, America evolved to see African-Americans like Colin Powell become Secretary of State; Clarence Thomas and Thurgood Marshall served on the Supreme Court; Condoleezza Rice became Secretary of State; Barack Obama became president and much more as US Senators, governors, mayors and House of Representatives feature African-Americans from every walk of life.
African-Americans dominate the NBA, NFL and major television shows such as "Scandal" and "How to get away with murder." American Blacks head up Fortune 500 companies.
With all of their success, a black dance group pranced on the stage at the Oscars with a highly racially charged routine depicting their struggles against White America. At one point, they all raised their hands, shouting, "Hands up! Don't shoot!" They referred to 18-year-old Michael Brown in Ferguson, Missouri who lost his life after he robbed a convenience store and charged a police officer.
Six African-American witnesses testified that Brown wrestled the police officer for his gun in the police squad car and they testified that Brown charged the police officer with intent to overpower him. Riots and carnage resulted in burning down a good portion of the city while Al Sharpton and Jesse Jackson charged racism and ruthless police tactics.
In reality, Michael Brown showed up in several videos where he viciously beat an old man senseless and his crime sheet showed a budding criminal who would reach jail or death, whichever came first.
Somehow, major Black leaders lay the blame on White America for all of Black America's problems. Even Barack Obama said that Trayvon Martin, a budding criminal in his own right, could be Obama's son.
Black Americans omit or ignore numerous aspects of Black crime, poverty, illiteracy and prison sentences.
First of all, the latest statistics show that 6,000 Black on Black killings occur annually in the USA via strangling, guns, knifes and beatings. No Black leaders whisper a word about how to solve such horrible numbers. They don't condemn their own actions, but they always condemn Whites.
Second, 73 percent of African-American children arrive out of wedlock and into welfare with a single mother annually. None of the Black community that screams at the Brown and Garner killings, breathes a word about the irresponsible actions of Black teen girls and their boyfriends. They live on welfare provided by the American taxpayer. Is it any wonder that the African-American family devolves into fatherless families, rogue children, violence, illiteracy, shoplifting and cyclical dependency on taxpayers?
Third, figures show that Black American teens quit high school by 50 to 60 percent in our major cities. Millions of African-Americans guarantee their poverty, homelessness, joblessness and fatherless families. They choose their conditions.
Fourth, millions of Black Americans fill our prisons in a response to their choices to deal, consume and transport drugs. Each African-American chooses prison when they choose to break the law.
Fifth, a whopping 48 million Americans failed themselves as to education, personal responsibility and personal accountability as they subsist on food stamps provided by American taxpayers. Millions of Blacks stand in the ranks of those who gain EBT cards (Electronic Benefits Transfers) for food stamps and free housing.
Each person, Black or White, suffering lack of an education and making poor choices, brings a personal tragedy into the fabric of American life. Our inner city projects like Chicago, Detroit, New York City, Atlanta, Houston, Denver and Los Angeles—bear witness that we must change our national priorities.
Instead of massive financial disasters of 13-year wars created and maintained by bankers and the Military Industrial Complex, we need to fund national educational systems that work for our youth. We need all male and all female schools with dress codes to take the sexual intrigues out of the classrooms. We need to teach parents how to parent their children by mandatory classes before marriage. We need to pay teachers and mentors ample money to create discipline and respect for education.
We need to stop endless and massive legal immigration, that injects 1.2 million people annually, who take jobs from our working poor. We need to reduce all immigration to less than 100,000 annually instead of the current 100,000 every 30 days. We must elect Congressional leaders who garrison troops on our Mexican border to stop in excess of 500,000 illegal aliens jumping our borders and into our workforce annually. If not, we cannot and will not solve mass unemployment of Black America. The past five presidents and Congresses did nothing to help Black or White Americans as to jobs. In fact, Congress forces our poorest into more poverty by mass immigration.
We need Black national leaders to lead, guide and inspire African-American youth to participate in the American Way of Life. Whether Black America likes its past or not, it now must deal with living in a highly educated, highly industrialized 21st century country.
We need all the angry Al Sharpton's, all Black entertainers, all sports heroes and political leaders to stand in front of Black audiences and thank their lucky stars for living in America. If Black Americans lived in the unending violence of Africa for a few months, examples—mass murderer Boko Haram, Somalia, Sudan, Congo, millions dying of AIDS, etc., they would change their mantra of "Hands up! Don't Shoot!" to "How lucky I am! Praise the Lord!"
Have Black Americans wondered why all those millions of starving African immigrants clamor to come to America? They die by the millions in Africa from starvation, AIDS, cholera, Malaria, genocide wars and worse.
If we hope to maintain a viable civilization, we all need to buckle down to education, jobs, lawful communities and civil participation. If not, we all face Ferguson, Missouri's in our own towns across the nation, especially in our cities where the cauldrons boil with contempt for law and order. You heard the marches, "Kill cops now!"
Once our nation loses its respect for law and order, we all face what occurs in Africa, the Middle East, Mexico and Paris, France daily. It's not going to be pretty for anyone.
Back in the day, I was always trying to fly off to report on international combat hot-spots like Iraq and Afghanistan — always hoping that if the American people back home read my horror-stories of war, they too would somehow become war-resisters and that my stories of brutal, grim and unjustified death in far-away places might even help escalate a strong anti-war movement here at home, one that would finally stop the heartless killing of women and children by American tanks, rockets and drones.  But now?  Now I'm thinking that I should be doing something even more important than traveling to combat zones far away — that I, like some modern-day Jonah, should actually be going down into the belly of the American beast itself instead.
Plus it's always cheaper to go to North Carolina or Washington DC or St Louis than to go off to Syria, Gaza, Haiti or Ukraine.
The main question that I would be asking in these particular American war zones, however, would be, "What makes America tick?"
What has made us become the most dreaded and hated country in the world — a country that has more weapons and more money to spend on weapons than any other country anywhere, ever?  What gives us the right to call ourselves "patriotic" and "brave" and "democratic" when, in reality, it is America that has killed, maimed, tortured and mutilated millions of people all over the world — and trampled any survivors' chances and their children's chances of ever ever having a decent life again.
Why do Americans support dictators in Ukraine, Palestine, Honduras, Congo, etc. with such enthusiastic glee?  And also why do Americans applaud so loudly when elections here at home are stolen and our infrastructure and school systems die and "Christianity" becomes just another excuse to kill, rape, torture and maim God's children both at home and abroad?
And what makes Americans bitch and complain so much about what ISIS is doing in Iraq and Syria — when what Americans have done there in the past and are doing there right now is so much much much worse?  ISIS fanatics behead hundreds of people.  American troops level whole cities and leave them contaminated with radioactive detritus that will kill children and other living things there for the next 500 years.
Why are Americans so set against preventing nuclear holocausts both at home and abroad?  Why do Americans cheer and get all teary-eyed and proud when our cops turn into robo-cops and spray peaceful protesters with tear gas? And then actually buy tickets to go see women tortured?
"What makes Americans tick?"  I need to know what is going on right here in America before I can possibly understand what the freak is going on in all those American-financed war zones throughout the rest of the world.
So here's my plan.  I'm going to go out and see America first.  Ukraine and Gaza and Baghdad will just have to wait — while I, like Jonah, go deep into the belly of the American beast instead.
Despite all the nightmares I have seen in the last decades, I continue to be an idealist and to dream of a better world, a world that Buddha, Abraham, Moses, Jesus and Mohammad would be proud of.  Most Americans, however, apparently dream of cruelty, torture, injustice and ruling the world vicariously.
We are the protagonists of our own dreams.
Americans (and all other human beings too for that matter) need to finally learn that it is far better to die with love in our hearts than to live with hatred in our eyes, fear in our guts and evil in our souls.
PS:  A Manhattan jury just awarded a $218.5 million verdict against the Palestinian Authority for damages done to Israelis with American citizenship by Palestinian suicide bombers.  Do you know what this means?  A new precedence has just been set.  A new Pandora's box has just been opened.
From now on, relatives of Americans killed in any foreign country, not just Israel, can also use American courts to get recompense for damages done by acts of "terrorism" on American citizens abroad!
For instance, if any Chilean-Americans were killed in the CIA coup against Allende in Chile, their relatives can now sue Henry Kissinger in American courts — but of course they will have to stand in line behind the relatives of any Cambodian-Americans killed by him.
And what about the bunches and groups of Palestinian-Americans, Yemeni-Americans, Iraqi-Americans, Syrian-Americans, Ukrainian-Americans, Vietnamese-Americans, Somali-Americans, Haitian-Americans, etc. who have been killed by American tanks, rockets and drones?
America?  You can no longer pretend to not know what you are doing.  See ya in court!
As the NATO juggernaut directed by a U.S. NeoCon foreign policy marches towards a nuclear confrontation with Russia, the American public is being manipulated to accept that Foggy Bottom knows best. Even under the placid Obama regime, the chicken hawks are able to restart a new cold war that is getting hotter by the moment. The singular opportunity to forge a lasting peace after the fall of the Soviet Union has been squandered by the globalists, who lust after their only superpower status. Well, the time is approaching for payback. Only God can prevent the annihilation from WWIII, since Dr. Strangelove has the code for the nukes and the culture that permeates military planning actually believes that a nuclear war can be won.
This is the context that underpins the cry for citizens to demonstrate their trusting patriotism in an ongoing internationalist regime that seeks a permanent empire.
When George Washington spoke of patriotism as "It may be laid down as a primary position, and the basis of our system, that every Citizen who enjoys the protection of a Free Government, owes not only a proportion of his property, but even of his personal services to the defense of it", it is unimaginable that he would see current administrations as the embodiment of a Free Government, or that citizens have a moral obligation to defend an aggressive interventionist imperia that is endangering the survival of the entire planet.
Honest Conservatives reject Neo Conservatism as a perversion of true national interests. The irony that an internationalist like Teddy Roosevelt would be lionized as a great patriot is attributed to his strong persona, while ignoring the consequences of his entanglement policies. His carrying of a "Big Stick" set the stage for the 21th century of using a blunt club.
What exactly is patriotic about sending generations of youth, to be used as cannon fodder, for the sole purpose and benefit of global elites, who really rule our country?  When TR says: "Patriotism means to stand by the country" has become a meaningless viewpoint, since the control of the government is in foreign hands that have destroyed all semblance of what once existed as OUR Country.
Popular public polls always provide higher support for the President than for legislators in Congress. Because of no small measure, the House and Senate have abdicated their constitutional duties in foreign policy since the Korean War. Leaving to the executive branch the full weight of determining relations with foreign nations has allowed the decisive influence to be concentrated in the State Department establishment.
While the military-industrial-security-complex and the intelligent community agencies are the dominant power behind the globalist policy, the treasonous elites and foreign Banksters who control the strings are the only benefactors after the body count is compiled.
Under this set of circumstances, what actual duty does a loyal American have to do the bidding of a corrupt and illegitimate government? Do you believe that George Washington fought the Revolution to allow the City of London to rule over the foreign policies of our own country?
Even though the last two centuries have decidedly been influenced if not totally compromised by foreign agents, especially those among the Rothschild central banking cabal, the final responsibility for the loss of our country lies with the American people.
Americans have seldom exemplified a burning desire to understand the truth. Most are content to believe that their leaders are good men and women and have the best interests of the nation as their goal. The fact that such a myth bears little resemblance with reality never gets through to the flag flying households that proudly display their Love It or Leave It bumper stickers.
Their uncritical and all consuming Patriotism is a false and destructive sentiment. By allowing the mass media manipulation and distorted historical lessons to be accepted as mainstream culture, the forces of global dominance are able to achieve their worldwide governance.
Now this assessment is disturbing to many people and the bearer of the message risks becoming ostracized from polite society. Yet, such a reaction does not refute the accuracy of the argument.
What can or should a responsible citizen do to prevent the systematic betrayal of our country and the even more important, what can be done to stop the madness of NATO's belligerency?  The Russian Federation under Putin is not the same threat of the Soviet Union of Lenin or Stalin.
The practice of civil disobedience is most closely associated with fringe or radical dissenters. Ever since the demonstrations of burning draft cards and wearing the stars and stripes as bandanas of the Viet Nam era, the silent and moral majority became distrustful of protests. Nonetheless, the public display of discontent has influenced the body politick more than voting between bi-partisan clones of the same established order.
Every rational person instinctively understands that money interests exert the primacy influence over public policy. Laws are administered and enforced according to the legal judiciary that operates, not as an arbitrator or adjudicator for justice, but as a protector of the patrician system.
Defiance has a charm about the image that movies exemplify, but little support when it comes down to popular engagement. The Henry David Thoreau of Philosophy may be discussed in conversation, but is seldom practiced in ordinary life decision. People have surrendered their courage to confront governmental abuses. As the docility of personality becomes the normal standard for the "Political Correct" culture, government is emboldened to discard the public opinion that differs with official policy.
Taking to the street is seen in Europe frequently, even if it not reported on the nightly news. In the Brian Williams version of embellishment, the civilian receptor of perpetual war propaganda is blinded by the non news in order to accept the phony narrative. As the latest "Wag the Dog" episode of this year's "War on Terror" play for the crowd, the ISIL miniseries gets overshadowed in the rating with the Ukraine designer conflict.
Those who believe the sirens sounds from the triplets – Jen Psaki, Marie Harf and "Big NeoCon Mama" Victoria Nuland over at the State Department, are the most pathetic patriot impostors imaginable. Lost in the spin is that the State Department was an eager participant behind the Ukraine coup d'etat.
However, public apathy persists that the notion of spontaneous civil disobedience combustion is totally absent from public consciousness. With the susceptibility of simulated patriotic appeals, the swayable dullards will demand retaliation after the next cover-up deception is triggered.
In a social order where it is impossible to throw out the bums in elections and courts will not follow the constitution, the lonely protestor has few options. Civil disobedience may not be popular in a psychologically induced environment, but denial is never a positive choice when tyranny is the official mode of rule.
With the announcement that Israeli's Benjamin Netanyahu's March 3 speech to Congress, the stakes are dramatically raised to eliminate Syria and Iran as a threat to the greater Zionist state and worse yet, to marginalize Russia and demonize Putin as a devil incarnate.
When the media cheerleaders do their usual genuflections for Bibi's call to arms, the rest of us are being used as bargaining chips to force a total capitulation or face nuclear destruction. If this is not an overwhelming reason to call for our own government to stand down, what would be? Threats from Israel that they will use their nukes against anyone who defies their demands, illustrates, who the real belligerent is in the region.
The upside down nature of the authentic patriotism and what passes as a blank check for brinkmanship madness should be clear to even the least informed. Still, the inevitable responses to those, who demonstrate or employ protest with civil disobedience, are put up as enemies of the state.
These are times for sober reflection. Dispel the manufactured and false flag crisis and concentrate on the bona fide threats that reside within our own shores. Fifth column subversives have assumed key position within the government. Their loyalty to causes or countries other than our own is a core factor in the insecurity that prevails.
If civil disobedience is not your cup of tea, start digging your bomb shelter. The odds that our Congressional Representatives will grow a backbone are remote. Presidents view themselves as the most powerful and supreme leader of the world as opposed to an American servant.
Dissent is the true patriotism when it is focused on eliminating despotism and restoring our foreign policy in keeping with George Washington's Farewell Address. If you really love your country, put an end to the gunboat armadas of the TR mentality and follow the lead of the father of your country.
Americans need to mature and grow-up. The dangerous world we live in was created largely because of the militarized intervention of the imperial U.S. Empire. Drawing lines in the sands of the Middle East is only superseded in pushing Russia to accept Ukraine to become a NATO member.
America's Founding Fathers wisely instituted a federal government with three separate branches with the intention of creating built-in checks and balances designed to protect the liberties of the American people and the independence of the sovereign states. Each branch of government was given authority to check the other branches when they became oppressive or unconstitutional. In addition to the checks and balances built in to the federal government, they assumed that additional checks to power outside the federal government would serve to protect the people's liberties. Namely, our founders expected that free and independent states, a free and independent press, and free and courageous pulpits would further serve as diligent watchdogs of liberty.
However, only the most naïve among us do not recognize that, for all intents and purposes, the governmental checks and balances in Washington, D.C., are virtually non-existent. For the most part, the three branches of the federal government and the two major political parties in Washington simply facilitate the decisions of the existing power base–especially when it comes to the expansion of federal intrusion and oversight.
All of the political wrangling over the differences between Republicans and Democrats notwithstanding, when it comes to increasing the size and scope of the federal government, the two parties inside the Beltway are practically identical twins. And nowhere is this more clearly observed than in all things said to be for the sake of "national security."
With very few exceptions, America's newspapers regurgitate the federal government's solutions for "national security." With very few exceptions, a majority of the talking heads on television from both the left and the right embrace America's military interventionism in the Middle East and the burgeoning Police State currently mushrooming inside the United States. And, again, the banner flying high above all of this warmongering and domestic enslavement is "national security."
For the sake of "national security," the Church, too, enthusiastically embraces a domestic Police State and wars of aggression abroad–especially in the Middle East.
Anything that falls under the rubric of "national security" is enthusiastically embraced by most Republicans and Democrats, conservatives and liberals, and Christians and unbelievers. This almost always translates into more global intervention by the U.S. military and increased power by federal, State, and local police agencies in America's heartland.
The shadows of power that have mostly controlled the federal government (with rare exceptions) since at least the Woodrow Wilson administration are experts at creating Boogeymen for America to hate. And, of course, fighting these Boogeymen serves as a justifiable reason for the federal government to expunge more and more liberties; it's in the interest of "national security." But since 9/11, the American people have been more manipulated since perhaps any other time in our nation's history.
Take a look at this recent report:
"A church hosting a law enforcement appreciation sermon asked its followers to pledge their allegiance to government this weekend, arguing that all state authorities throughout history have been ordained by God.
"According to an anonymous visitor of the Gold Creek Community Church in Mill Creek, Washington, who provided exclusive photos to Infowars, attendees were ordered to submit to the state without question. 'They had police worship today and last week was military worship where they played clips of American Sniper…' the source said. 'They were telling people to basically worship government and worship police no matter what. No mention of police brutality, no mention of the stingray systems grabbing our data…'
"Near the end of the sermon, members of the congregation were asked to raise their right hands and make a pledge, which included the promise to call 911 on 'suspicious' neighbors."
Of course, the justification that the pastor used for this type of state worship was Romans 13. This devilish misinterpretation of Romans 13 has done more to enslave the minds of America's pastors and Christians than anything I can think of. That's why my son and I co-authored the book, "Romans 13: The True Meaning of Submission."
Romans 13: The True Meaning of Submission
In addition, I delivered a four-message series on Romans 13 that is available on DVD. Find it here:
The True Meaning of Romans 13 Series-DVD
The infowars report also included a local television news report on how pastors and churches are conditioning their parishioners to become sheepish slaves of the state under the rubric of Romans 13:
Clergy Response Teams To Help Government Enforce Martial Law
See the infowars report here:
Church Asks Followers To Submit To Government, Call 911 On Suspicious Neighbors
Ladies and gentlemen, this kind of report could have been repeated throughout the entire country of Germany during the rise of the Third Reich.
Of course, many of the pastors who are regurgitating this form of state worship are not conscience of what they are doing. They have been indoctrinated in our nation's seminaries, Bible colleges, Christian universities, etc., to the point that they actually believe they are being both patriotic and spiritual. They are completely blind to the fact that they have become puppets for the New World Order power elite.
Our pastors are in the same boat as many of our military personnel and police officers. They believe that by being willing to submit to any order, no matter how unconstitutional or unrighteous, they are "serving God and country." Remember, without this ongoing "war on terror" overseas, America's growing domestic Police State would come crashing down. A domestic Police State is TOTALLY dependent upon the international "war on terror." And ever since 9/11, the big, bad Boogeymen that are being used to frighten the American people (especially Christians) out of their senses are Muslims–ALL Muslims.
How many times have I heard some well-intentioned (I think they are well-intentioned) Christian say, "There is no such thing as a moderate Muslim." Or, "There is no such thing as a peaceful Muslim." Really?
Why is it that we rarely heard such ludicrous statements before the events of 9/11? There have been millions of Muslims living among us Americans for as long as any of us can remember. There were doubtless thousands of Muslims in the United States at the time of our Revolutionary War. Where was the holy Jihad in this nation? Where were the mass beheadings or genocide against Christians in this country? For the most part, these millions of Muslim Americans have lived peacefully among us for all of our lives. But, now all of a sudden, they are the greatest threat to our country's very existence? Get real.
The warmongers and international nation builders who desire to drown the United States under the deluge of a global New World Order found the perfect Boogeyman in the form of Islam. If the official report on 9/11 is true (almost half of the American people do NOT believe it is true, including this writer), all the perpetrators of the attacks were men from Saudi Arabia. Yet, we couldn't invade Saudi Arabia. We need their oil too much. Besides, the Muslim nation of Saudi Arabia is deemed to be a U.S. ally. And we couldn't attack Iraq on the basis of Saddam Hussein's alleged atrocities alone. The world just wouldn't buy it.
Did Hussein kill hundreds of Muslim Kurds (most Muslim violence is perpetrated against other Muslims) during his regime? Probably so. Does anyone want to know why? THEY WERE TRYING TO OVERTHROW HIS GOVERNMENT. Am I justifying what Hussein did against his enemies? No. But the same people who are so quick to condemn Hussein for defending his government with violence seem to pay no attention to the atrocities committed by George H.W. Bush and Bill Clinton against U.S. citizens who posed absolutely NO THREAT to the government in Washington, D.C.
I am talking about Ruby Ridge, Idaho, when our own federal government accused ONE MAN, Randy Weaver, of threatening the United States government, and it sent federal agents to murder both him and his wife, Vicki. A federal sniper murdered Vicki and shot Randy (he survived his wounds). Federal agents also shot their young son, Sammy, in the back and killed him.  But Vicki was not holding a rocket launcher or hand grenade; she was holding her little baby in her arms.
I recall that the federal government accused a small splinter group of Seventh Day Adventists (the Branch Davidians) of threatening the U.S. government; and it sent federal agents and combat military personnel to burn them out and machine-gun them to death.
Where was the outrage of all of these patriotic Americans and righteous Christians over the atrocities committed by our own government at Ruby Ridge, Idaho, and Waco, Texas? Neither the Weaver family nor the Branch Davidians posed ANY threat to the U.S. government. Heck! They didn't even pose a threat to their neighbors. But our federal government murdered them, nonetheless.
One more thing to think about: the U.S. war in Iraq is estimated to have killed over 500,000 Iraqi children. That is more people (men, women, and children) than were killed when we dropped the atomic bombs on Hiroshima and Nagasaki. Of course, then-Secretary of State Madeleine Albright testified before Congress and said the deaths of all of those Iraqi children were "worth it." (And by the way many of our Christian brethren in the United States are acting, I suppose they think it was worth it, too.)
So, needing something more than just Saddam Hussein's alleged atrocities against the Kurds to justify a full-scale war in the Middle East, we invented a brand new threat: Al Qaeda. Now, the globalists had their Boogeyman. But after more than a decade of war, and with the American people becoming numb to an Al Qaeda threat, they invented a new Boogeyman: ISIS (IS; ISIL, etc.).
Think of it: OVERNIGHT, ISIS has advanced, sophisticated weapons; OVERNIGHT, it has millions of dollars to spend; OVERNIGHT it has become the greatest threat to, not only the security of the Middle East, but the United States of America. In the name of the threat of ISIS, the surveillance state must be expanded in America. In the name of the threat of ISIS, our local and State police must become more and more militarized. In the name of the threat of ISIS, Americans must be willing to surrender more and more of their liberties.
Neither Al Qaeda nor ISIS could have become the powerful force they have become WITHOUT THE DIRECT ASSISTANCE OF DARK OPS AND DIRTY MONEY FROM THE UNITED STATES. It is just not humanly possible.
Am I suggesting that ISIS is not comprised of radical, militant Muslims who are very violent and dangerous people? Of course not! But I am suggesting, no I am saying, that not every Muslim is a radical, violent Jihadist. I am saying that our country is filled with peaceful, non-violent Muslims who pose absolutely NO THREAT to the people of the United States. And I am saying that the kind of hatred and bigotry that many Christians are demonstrating against the Muslim people in general is a sin against Jehovah God and a contradiction of everything our Savior, the Lord Jesus Christ, taught us. And I am further saying that ISIS could not exist without major assistance from the United States and probably Israel.
Ask yourself, since when do revolutionaries broadcast their atrocities for the entire world to see and for the entire world to become enraged against them? Even surrounding Muslim nations are incensed with the conduct of ISIS. A Jordanian government official just recently stated that members of ISIS are NOT Muslims. Many, if not most, of the Muslim states totally reject ISIS as part of the Muslim brotherhood. Why would ISIS seek to alienate its own brethren? Why would it risk becoming the most hated group of people in the world–even the Muslim world?
It's because ISIS is a contrivance of U.S. and Israeli Dark Ops who have created and attracted the most radical, hate-filled people of the region and set them up in opposition to the laws of decency in order to incite the American public into accepting more war and more abridgments of their liberties. And whether these master manipulators realized it would happen the way it has or not (they probably did), their biggest assets have turned out to be zealous Christians who see themselves as fighting their own holy war against the Muslim infidels.
Yet, America's Founding Fathers did not categorize all Muslim people as Jihadists or militant extremists. Yes, Thomas Jefferson had to deal with violent Muslims during his administration. And he did it constitutionally, by the way. He didn't invade Muslim nations with the U.S. military; he invoked the constitutional solution of asking Congress for letters of marque and reprisal. Ron Paul introduced just such a bill after 9/11, but, of course, George W. Bush and Dick Cheney were already determined to invade Iraq. Invasion plans were in place long before the attacks on 9/11.
That Thomas Jefferson didn't hate Muslims or regard all of them as being violent Jihadists is plain. The man that Jefferson admired–and copied from–most, John Locke, insisted that Muslims be tolerated in England. Campaigning for religious freedom in Virginia, Jefferson demanded recognition for the religious rights of the "Mahamdan [Muslim], the Jew and the pagan." In his autobiography, Thomas Jefferson recounted his satisfaction at the passage of his landmark Bill for Establishing Religious Freedom (1786) and the effort by some in the legislature to limit the bill's scope "in proof that they meant to comprehend, within the mantle of its protection, the Jew and the Gentile, the Christian and Mahometan [Muslim]." Jefferson's perception of Muslims as peaceful people generally was shared by other Founding Fathers.
Richard Henry Lee, who made the motion for independence at the Continental Congress, declared, "True freedom embraces the Mahomitan [Muslim] and the Gentoo [Hindu] as well as the Christian religion."
George Washington proposed an exemption for Muslims in Virginia regarding a proposed law that would have demanded citizens to support the Christian religion with their tax dollars. Washington further welcomed "Mohometans" [Muslims] to Mount Vernon. And think of it: Washington didn't have a company of Secret Service agents protecting him, either.
Of course, men of influence throughout the course of Western Civilization have noted the danger posed by violence-prone Muslims. Rightly so. But I remind you that for many decades, white Americans were the targets of Indian savagery. And the warnings against the Indian tribes were numerous and often justified. I also remind you that much savagery was committed AGAINST the Indians by whites. I further remind you that much of the savagery of the Indians was CREATED by the whites by acts of injustice, deceit, and downright barbarism. It was not all one-sided.
Neither is it all one-sided in the Middle East. America's CIA and illegal Dark Ops are often INCITING the Muslim people of the Middle East against us. This is deliberate and intentional. It foments war and hatred–on both sides. And when people are filled with fear, and war, and hatred, it is much easier to strip them of their liberties and manipulate them into accepting usurpations of their freedoms that they would otherwise never be inclined to do.
Think about it: if our government truly believed we were at war with Al Qaeda or ISIS, why would it insist on keeping our southern border wide open? If the "war on terror" were legitimate, securing our border would be the FIRST thing our government would do. That it doesn't proves the duplicitous nature of our so-called "war on terror."
It's time for Americans (and especially Christians) to understand that there is a war alright: it is a war against our liberties, and the primary enemy is the New World Order globalists who are using elements of our own government (as well as other governments) against us.
Frankly, if the United States would GET OUT of the Middle East and GET OUT of the United Nations, most of this international conflict that we are mired in today would go away.
When pastors and churches succumb to the notion of submitting to a domestic Police State, when they succumb to the fear and paranoia created by a "war on terror," and when they succumb to the sins of hate and bigotry against one group of people, they unwittingly become puppets for the New World Order.
A half century ago the infamous and timeworn trope coming from the supporters of the Viet Nam War was all over the airwaves. "Love It or Leave It" was the standard retort from the gung-ho believers to the anti-war activists, who filled the streets with civil disobedience. An entire era of youth came under suspicion, from fathers of that "Greatest Generation" for questioning the purpose and wisdom of American leaders and the military policy that drafted dissenting objectors into coercive service.
Now with the undying "War on Terror" as the trumped up cornerstone of government survival, the same old party line of jingoism rises again to smear any opposition of the all mighty war machine.
The following is written by a student, Alex Bertsch, not back in the 1960's but in this year.
"I can't question the actions of the military without being anti-American. I can't question events like the My Lai Massacre, in which U.S. Army soldiers killed between 347 and 504 unarmed civilians in Vietnam, with virtually no punishment. I am barely allowed to question the Haditha Killings, in which U.S. Marines killed 24 civilians in 2006. Questioning these atrocities would be "un-American."
As the public is being conditioned for the next round of conflicts, the mere idea of conducting an open and frank debate is too dangerous to allow. So when the hullabaloo over the Chris Kyle movie, "American Sniper" exploded, the NeoCons rushed in to prance out their ultranationalism for the NWO age. Just what kind of world has these super patriots of the internationalist imperium bestowed on humanity?
Start with a review of the violent history of our species and especially the involvements from our own country in its short existence.
In the lifetime of the eldest living Americans, the Major Military Operations Since World War II, gives a summary of the largest involvements.
For a more comprehensive analysis of American conflicts, "We're at War!" — And We Have Been Since 1776: 214 Years of American War-Making, provides an exhausted list.
Pick any year since 1776 and there is about a 91% chance that America was involved in some war during that calendar year.
No U.S. president truly qualifies as a peacetime president.  Instead, all U.S. presidents can technically be considered "war presidents."
The U.S. has never gone a decade without war.
The only time the U.S. went five years without war (1935-40) was during the isolationist period of the Great Depression.
If the goal is to build a global empire, all these campaigns fit a pattern of design and intention. But is this the true purpose of our founding as a nation?
When John Milton Hay Secretary of State coined the phrase, "A Splendid Little War" – Whose War Is It?, he must have known that expansion to form an intercontinental realm was put irrepressibly in motion.
"This NeoConservative philosophy is pure Internationalism in its most raw form. It is the antithesis of traditional American policy, and attempts to foster a new imperialism that is totally out of step and discredited by civilized societies. The portrait of the 'Ugly American' is one that needs to be relegated to the scrap heap of embarrassed memories."
Regretfully, the entire last hundred years, billed as the American century, just continued an imperialism that kicked off with the Spanish American War. This foreign policy never made the world safe for some mythical "Democracy", but actually set forth a domination culture of rhetoric and force that fostered the economic corporatist interests, protected by garrison outposts scattered around the world.
So what slight of hand or mental hypnoses keeps the gullible public from facing up to the indisputable facts that all these oversea adventures actually destroy our country's real security?
Libertarian Jacob G. Hornberger makes a striking argument in THE TROOPS ARE DESTROYING OUR COUNTRY that help answers this question. This viewpoint goes directly to de-constructing the silly blind faith that the pudden-head flag waivers keep following with every additional failed overseas venture.
"The mindset that is common to U.S. troops serving overseas is that they are all doing it for America, for us, for our rights and  freedoms, for our safety and security. They'll all tell you that they are doing it because they love their country.
There's one big problem with that mindset, however. The truth is that the troops, through what they're doing over there, are indirectly destroying our country, our rights and freedoms, our safety and security, and our economic well-being.
Once again, the justification is to "keep us safe." Safe from what? From the people over there who are angry over what the troops are doing over there. The more people the troops kill and maim, the angrier people get, the greater the threat of terrorist retaliation, the greater the need to keep us safe, and the greater the infringements on our freedom and well-being.
The troops have convinced themselves that they're over there killing the people who would otherwise be coming over here to kill us. That's ridiculous. If people wanted to come over here to kill us, they could easily circumvent the troops and come over here and kill us."
With the open border approach in effect, the long forgotten Monroe Doctrine exempts the refugees from our hemisphere from colonizing our own land. Such acts of aggression go unpunished, while deploying foreign legions around the rest of the globe is defended as necessary.
Wake up America! Where is the common sense to ignore the pontifications of government authorities and trained seal newspeak propagandists?
Celebrating the gallantry of a Navy Seal psychopath assassin like Chris Kyle defies the most rudimentary sense of moral scrutiny, even if one wants to argue the "just war" theorem. However, if you candidly research the covert connections in the creation, funding and training of the mythical terrorism threats, the conclusion will adopt the undeniable linkage to Western government's hidden hand behind the scenes.
Ken O'Keefe, a former US Marine discusses Washington's major role in either generating or aggravating most of the current crises across the world and allowing groups like the ISIL Takfiri terrorists to foster and grow in the video US can no longer deny its support for ISIL.
Much has been written about how the world has changed after 9-11. The three videos on 911 a saga of deceit and lies goes unanswered because the facts presented has no legitimate counter by the establishment warmongers.
Chicken hawks, like Senator Lindsay Graham that routinely spread their dribble on Faux News are reprehensible. When his patron oracle Senator John McCain spills his vile indignation, the pompous faithful of the permanent warfare society rally round his banner.
The Zero Hedge article asks important questions, 59% Of Americans Support Post-9/11 Torture – Propaganda, Cultural Sickness, Or Both? The way you answer directly reflects your attitude about the supposed "War on Terror". Whatever it takes to keep the homeland safe never includes questioning the factual circumstances that reveal the false flag nature, used for the phony justification to build a domestic police state.
There is no place for the "Truth Movement" in the realm of the NeoCon right-thinking camp. One such Kool-Aid dispenser in the deadly disease of disinformation is Cliff Kincaid. His article, Lies of the 9/11 "Truth" Movement, published in Accuracy in Media is a classic in denial.
"The "inside job" theory of 9/11 is appealing to those holding a Marxist or anti-Semitic view that American foreign policy is secretly manipulated by "imperialist" or "Zionist" agents. On other occasions, the puppet-masters are "global elites" or members of secret clubs. These theories preclude serious thinking about why America is under attack and by whom. Facts and evidence don't matter when a theory about sinister secret agents with no names makes more sense."
Paleo-conservatives are the genuine voice of authentic conservatism. The Love It or Leave It crowds of paper mache sword waving jingoists, who purport to be patriots are committed internationalists in the advancement of an American Empire. Their bellicose and warmongering mindset is no formula for genuine patriotism.
More Liberty Now concludes and asks a question that few dare to confront.
"Love it or leave it" admits that the government is a monopoly that claims ownership of us all. This ultimatum is not compatible with free market beliefs. It advocates settling for mediocrity and a monopoly. Worst of all, it's a false choice since the very government we are urged to love will not allow anyone to leave its jurisdiction. That doesn't fit within any definition of 'patriotic' I'm aware of. Does it fit yours?"
People are so dumb down about true national security since 911 and gleefully boast and demonstrate their pride in stupidity. Hypocrites who refuse to face reality about their government and foreign policy wickedness, while pretending to be champions of American principles are mentally ill betrayers.
Amerika is in a death spiral because denial is the new national anthem, sung to the tune of THE BATTLE HYMN OF THE REPUBLIC, for an American nation that no longer exists.
Clearly this subject has already been covered in the media news cycle ad nauseam but I still can't stop thinking about the "I am Charlie" concept.  Was the idea behind all those people who held up "I am Charlie" posters supposed to be about protecting free speech?  Really?  Then why isn't everyone carrying "I am Julian Assange, Chelsea Manning and Edward Snowden" posters too?   Or demanding that the police stop arresting guys who falsely yell "Fire!" in a crowded theater or deliberately start barroom brawls?
Or if those "I am Charlie" posters are in protest of armed thugs in Paris gunning down civilians in cold blood, then why isn't everyone in Paris also carrying posters proclaiming "I am Iraq" or "I am Syria" or "I am Palestine" or "I am Ukraine" or Libya or Mali or….  You get the picture.
All those people holding up signs protesting the slaughter on Rue Nicolas-Appert might actually think that they too are "Charlie" — and that's fine.  Terrible things happened to the employees of Charlie Hebdo.  No one should ever have to suffer the fate of being shot down in cold blood, and thus the victims deserve to be mourned.  However I myself chose NOT to be Charlie Hebdo, a vicious slimy obscene rag clearly designed to stir up religious tensions in France.
And I also choose not to be any other bigots or terrorist troublemakers who clearly delight in trying to stir up religious tensions in France, crassly using others' religious differences to pave their own way to riches and power — and yet who have the ultimate and offensive hypocrisy and nerve to show up for the French "I am Charlie" marches with innocent smiles on their faces.  "Who us?" they innocently proclaim — after doing everything they possibly can to stir up bigotry against Muslims.
I am NOT Avigdor Liberman
I am NOT Naftali Bennet
And I am definitely NOT Bibi Netanyahu.
These three guys and their cohorts seem to be always at the center of any religious tension or terrorist attack almost anywhere in the world — starting in 1948 when the Stern Gang blew up the King David Hotel and Moshe Dayan's "army" slaughtered Christian and Muslim Palestinians left and right in order to steal their land.  "Every time anyone says that Israel is our only friend in the Middle East, I can't help but think that before Israel, we had no enemies in the Middle East," a Jesuit priest stated back then.  And that's still true today.
Israel's sleazy military-industrial complex then went on to be an uber-cheerleader for America when our own sleazy military-industrial complex bombed Kuwait, Afghanistan, Iraq, Libya, Syria, Yugoslavia, Yemen, Pakistan, Somalia and I forget what all else.  And Israeli neo-cons themselves have bombed Palestine, Egypt, Iran, Iraq, Lebanon and I forget what all else too — not to mention their documented ongoing support for ISIS and Al Qaeda.
If bombs, missiles, white phosphorus, tanks, false-flag operations, F-16s, tear gas or even bottle-rockets are involved, Bibi and these guys are so there!
Millions dead in the Middle East?  I call that terrorism.  And yet Bibi and his minions actually had the chutzpah to march in Paris "against terrorism," according to Paris Match.  Yeah, right.
Yet who benefited from the Charlie Hebdo incident?  Let's see.  According to Paul Craig Roberts, it's the American military-industrial complex that benefited.  "Not France, not Muslims, but US world hegemony.  US hegemony over the world is what the CIA supports.  US world hegemony is the neoconservative-imposed foreign policy of the US."
But as they say in poker, "I'll see Roberts and raise him."  Netanyahu benefited.  Apparently, right before the Charlie Dodo incident was staged, France had just announced that it might be backing off supporting sanctions on Russia.  What?  No immediate prospect of World War III?  No big Israeli weapons sales?  Bibi must have been tres disappointed!
France had also just announced that it was gonna recognize the Palestinian state.   OMG!  That must have totally pissed Netanyahu off.
Also, our Bibi is having trouble finding settlers to occupy his many illegal condos in Palestine's West Bank.  But he just loves French Jews — and hopes to scare them enough to force them to flee to Israel and live rent-free on Palestinian land.  Heck, I like Israel well enough.  Wouldn't mind living there myself.  It's a nice place.  Heck, even the Palestinians used to like living there too.  But it's the Israeli neo-cons' blood-thirsty hypocritical scheming military-industrial-complex-flaunting neo-con national-socialist leaders that I do not respect or cannot like.
And I'm not being anti-Semitic here.  Let's leave all that religious bigotry to Charlie Hebdo.  I am only being a student of American-Israeli neo-con "Realpolitik" (Rāˈälpōliˌtēk/:  A system of politics or principles based on practical rather than moral or ideological considerations).  And Realpolitik has nothing to do with religion.
Good grief, I'm so glad that I'm NOT Netanyahu.
And I also feel nothing but compassion for all the billions of Muslims, Christians and Jews who are being subjected to his vile manipulations.  I also feel nothing but compassion for the hostages in the kosher supermarket who were also victims of Bibi's lust for money and power and to create chaos throughout the world.  Even if it means putting all the world's Jews in danger again.
PS:  What is going to happen next in France?  Or in Israel and the United States too, for that matter.  As my friend RJ suggests, let's follow Norway's heroic example after the dreadful 2011 massacre there and stop spending our patrimony on guns, bombs, war and alienation and start spending that money on integrating our nations' diversity into our national bank of excellent human resources instead.
We've already wasted a hundred trillion dollars on "war" so far, only to discover again and again that violence doesn't ever work.  Not in the Middle East, not in Ukraine, not in Paris, not at the World Trade Center and not in Ferguson either.  Just imagine if we had spent all that money on education, jobs, and integrating our society into a smooth-running democratic machine instead.
To paraphrase Thomas Piketty, "You can't have a political democracy unless you have an economic democracy too."  And "war" has ruined — absolutely ruined — the economic democracy of both Israel and the USA.  And probably France too.
War, Murder, And Needless Civil Strife…
Ancient warfare was more decisive than modern warfare.  Conquering armies marched into the areas to be conquered and subdued resistance.  Once an area was conquered governments were set up and it was impossible to amass a competing army; the land was occupied by the victorious force.
Modern warfare is different, it seeks to control not necessarily to occupy.  For every soldier killed in today's battles about nine civilians die. National rulers are supported by the people; some willingly and others by coercion.  When citizens support war they deserve their fate but many do not and millions of innocent men, women, and children are killed in all modern wars.
American citizens usually support our wars and laud our soldiers – the United States is a belligerent nation.  The motto seems to be "Our Nation Right or Wrong".  As we aggressively invade countries that do not threaten us, murdering hundreds of thousands of innocent citizens, our Christian population supports the torture of their recalcitrant prisoners.  Read here.
World War II was the first of the contemporary "all out wars" where civilian neighborhoods and populations were devastated on a daily basis.  According to Wikipedia 69 to 85 million people lost their lives during WWII.  Civilian casualties were slightly higher than military casualties.
In the recent war in Iraq U. S. casualties were 4,425 killed and 32,223 wounded.  The Iraq Body Count estimates 150,000 Iraqis killed of which 80 percent were civilians; a ratio of about 27 to 1.   Unlike U. S. civilians, Iraqi civilians did not support the war. Read here.
"Operation Iraqi Freedom" and the Vietnam War were different but there were similarities: Both were preceded by false flag operations. Both were against nations that posed no threat. Both developed an increasing appetite for more troops. Both wars were failures.  Both wars harmed the nation and neither was in our national interest. During the Vietnam War there were massive protests but during the Iraq War they were few and the few were weak.  The Vietnam War did not benefit neo-Israel but the Iraq War did.
Neocons who represent the nation's power base are clamoring for an attack on Iran.  The safety of neo-Israel is being purchased with the lives and futures of America's youth.
The human power centers that control our world, Rushdoony calls them bramble men (From a passage in the Book of Judges Chapter 9), are carefully omitted in all public discourse. Most of the rhetoric focuses on the results of their decrees.  Often world events defy logic and when they happen the media reports them but avoids the complete story.  The "Who" and the "Why" are omitted and though the "What", "When", and "Where" are usually mentioned the "How" is also missing.
At Christmas, 2014, Daniel McAdams writes, "It will be a miserable Christmas for the overseas victims of US interventions this year. Though "regime change" proponents talk of bringing freedom and democracy to the countries they target, the end result is quite the opposite: the rise of extremism, famine, ethnic cleansing, and economic destruction are what the US government has left behind in places like Iraq, Syria, and Ukraine."  Read here.
Americans now consider Russia an enemy.  The procedure for creating this impression has been successful but the connivance that brought it about is not discussed.
The bramble men want world government.  The inexorable progress of this Babelian scheme is invariably ignored by our press and our elected representatives. Chaos creates weakness and weak nations and tired citizens welcome order even when it is tyrannical.  Civilian support is gained by mendacious propaganda and resistance is confined the few who see through the lies.
The Triune God of Christianity seeks peace.  His servants evangelize those He has chosen.  They do not use force.  Branches of Islam conduct forcible conversions, and Talmudic Judaism seeks power through guile.
R. J. Rushdoony calls the modern state a Babel State.  He claims its destiny is confusion.  He points out the sterility of power seeking governments which value power over production.  He says their politics produce death and writes, "The politics of death seeks dominion by means of government and without work.  It seeks a monopoly on government and works to control every sphere of life: persons, families, churches, vocations, society at large, schools, the arts and sciences, and whatever else there is, in order to play god and create a good society".
He continues, "The image of God in man requires work, responsibility, and self-government under God.  It is man, not the state, who is created in the image of God….. The state is not a person, nor a responsible conscious entity; it is an institution.  When it seeks to supplant men, it cuts itself off from men and from humanity and becomes inhuman, an ironic conclusion for the humanistic state."
When citizens begin to shift their God given responsibilities to the state they begin to create an ungodly institution to which they, themselves will become slaves.  A responsible, Godly society need not worry about tyrannical government.  Tyranny results from lazy, sinful, faithless citizens who would rather shirk their responsibilities and live under a despot than challenge evil and define righteousness.
The United States of America has been pillaged by the bramble men and is now in a state of perpetual war – a war that seeks control, not victory. Perpetual war is destroying its youth and making slaves of tomorrow's generations.
The generation fathered by the veterans of earlier Twentieth Century wars participated in the rioting and burning that occurred in the 1960s.  This generation succeeded in changing the moral fiber of the nation.
War is a social disease and the war-scarred children of the Baby Boomers  provided the impetus for the social disruption that swept the nation during the l960s.
A Swank and Marchand WWII study in Wikipedia  "found that after sixty days of continuous combat, 98% of all surviving military personnel will become psychiatric casualties. Psychiatric casualties manifest themselves in fatigue cases, confusional states, conversion hysteria, anxiety, obsessional and compulsive states, and character disorders."
Wars devastate families:  War removes fathers from the home and saddles mothers with inordinate responsibilities.  War destroys moral standards, freedom, and righteousness. When soldiers return their ability to bring the steady loving hand of a mature compassionate father has often been destroyed by the violence and uncertainty of perennial war.  Children raised in war torn homes themselves become dis-functional and disillusioned.  Though the connection is seldom made, America's decline was accelerated by the generation raised in these homes
As we progress into the Twenty-First Century the deterioration of our culture is everywhere evident.
We are living in an era of social insanity.  Army Generals sit by without protest as militant females claim they are equal to men and want combat roles.  Homosexuals are not being welcomed into an institution that is intrinsically reserved for opposite sexes while mentally challenged television personalities celebrate this repulsive cognitive dissonance.
The former "city on a hill" has now become the torture center of the world.
Physical encounters have become more violent.  Fights that used to result in a bloody nose now result in a trip to the hospital or the funeral parlor.
Manners have long been forgotten.  Women used to be deferred to as the weaker sex but serving as equals in our military they are now complaining about being raped and are attempting to get disability benefits from the government. Read here.
Many Americans are excited by the coming 2016 elections thinking that the fall of the nation can be stopped by changing the government.  This deception has been used to placate the public for centuries but has never touched the bramble men who control the world.  A definition of insanity is the constant repetition of procedures that do not work.
War has now reached its social zenith; it is no longer expected to produce a victory, instead it is a perennial operation that extends eternally into the future.
The bramble men have created the reality of the anarchic human mind.  Without the stability of God's legal standards chaos and tyranny are inevitable.
"Thus when bramble men are in power, when men are both envious and self-righteous about their envy, and when a society begins to use its power politically, i.e., to aggrandize power, rather than economically, to produce, develop, and expand, the new Babels arise to bring in fresh confusion and destruction."  R. J. Rushdoony  (All Rushdoony quotes are from "Systematic Theology" Volume II.)
Is Putin Creating A New World Order?
"If undercharging for energy products occurs deliberately, it also effects those who introduce these limitations. Problems will arise and grow, worsening the situation not only for Russia but also for our partners." – Russian President Vladimir Putin
It's hard to know which country is going to suffer the most from falling oil prices. Up to now, of course, Russia, Iran and Venezuela have taken the biggest hit, but that will probably change as time goes on. What the Obama administration should be worried about is the second-order effects that will eventually show up in terms of higher unemployment, market volatility, and wobbly bank balance sheets. That's where the real damage is going to crop up because that's where red ink and bad loans can metastasize into a full-blown financial crisis. Check out this blurb from Nick Cunningham at Oilprice.com and you'll see what I mean:
"According to an assessment from the Federal Reserve Bank of Dallas, an estimated 250,000 jobs across eight U.S. states could be lost in 2015 if oil prices don't rise. More than 50 percent of those job losses would occur in Texas, which leads the nation in oil production.

There are some early signs that a slowdown in drilling could spread to the manufacturing sector in Texas… One executive at a metal manufacturing company said in the survey, "the drop in crude oil prices is going to make things ugly… quickly." Another company that manufactures machinery told the Dallas Fed, "Low oil prices will drive reductions in U.S. drilling rigs, which will in turn reduce the market for our products."

The sentiment was similar for a chemical manufacturer, who said "lower oil prices will adversely impact margins. Energy volatility will cause our customers to keep inventories tight."

States like Texas, North Dakota, Oklahoma, and Louisiana have seen their economies boom over the last few years as oil production surged. But the sector is now deflating, leaving gashes in employment rolls and state budgets." (Low Prices Lead To Layoffs In The Oil Patch, Nick Cunningham, Oilprice.com)
Of course industries lay-off workers all the time and it doesn't always lead to a financial crisis. But unemployment is just one part of the picture, lower personal consumption is another. Take a look:
"Falling oil prices are a bigger drag on economic growth than the incremental "savings" received by the consumer…..Another way to show this graphically is to look at the annual changes in Personal Consumption Expenditures (PCE) in aggregate as compared to the subsection of PCE spent on energy and related products. This is shown in the chart below.

Lower Energy Prices To Lower PCE (Personal Consumption Expenditures):
See? So despite what you might have read in the MSM, lower gas prices do not translate into greater personal consumption or more robust growth. Quiet the contrary, they tend to intensify deflationary pressures and reduce activity which is a damper on growth.
Then there's the knock-on effects that crashing prices and layoffs have on other industries like mining, manufacturing and chemical production. Here's more from Oil Price:
"Oil and gas production makeup a hefty chunk of the "mining and manufacturing" component of the employment rolls. Since 2000, when the oil price boom gained traction, Texas has comprised more than 40% of all jobs in the country according to first quarter data from the Dallas Federal Reserve…

The majority of the jobs "created" since the financial crisis have been lower wage paying jobs in retail, healthcare and other service sectors of the economy. Conversely, the jobs created within the energy space are some of the highest wage paying opportunities available in engineering, technology, accounting, legal, etc. In fact, each job created in energy related areas has had a "ripple effect" of creating 2.8 jobs elsewhere in the economy from piping to coatings, trucking and transportation, restaurants and retail….

The obvious ramification of the plunge in oil prices is that eventually the loss of revenue will lead to cuts in production, declines in capital expenditure plans (which comprise almost 1/4th of all capex expenditures in the S&P 500), freezes and/or reductions in employment, and declines in revenue and profitability…

Simply put, lower oil and gasoline prices may have a bigger detraction on the economy than the "savings" provided to consumers." (The Gasoline Price Myth, Lance Roberts, oilprice.com)
None of this sounds very reassuring, does it? And yet, all we hear from the media is how the economy is going to reach "escape velocity" on the back of cheap oil. Nonsense. This is just more "green shoots" baloney wrapped in public relations hype. The fact is, the economy needs the good-paying jobs more than it needs low-priced energy. But now that prices are tumbling, those jobs are going to disappear which is going to be a drag on growth. Now check out these headlines I picked up on Google News that help to show what's going on off the radar:
"Texas is in danger of a recession", CNN Money.
"Texas Could Be Headed for an Oil-Fueled Recession, JP Morgan Economist Says", Wall Street Journal "Good Times From Texas to North Dakota May Turn Bad on Oil-Price Drop", Bloomberg
"Low Oil Prices in the New Year Are Screwing Petrostates", Vice News
"Top US Oil States Are Taking A Hit From Plunging Crude Prices", Business Insider
Get the picture? If oil prices continue to fall, unemployment is going to spike, activity is going to slow, and the economy is going tank. And the damage won't be limited to the US either. Get a load of this from the UK Telegraph:
"A third of Britain's listed oil and gas companies are in danger of running out of working capital and even going bankrupt amid a slump in the value of crude, according to new research.

Financial risk management group Company Watch believes that 70pc of the UK's publicly listed oil exploration and production companies are now unprofitable, racking up significant losses in the region of £1.8bn.

Such is the extent of the financial pressure now bearing down on highly leveraged drillers in the UK that Company Watch estimates that a third of the 126 quoted oil and gas companies on AIM and the London Stock Exchange are generating no revenues.

The findings are the latest warning to hit the oil and gas industry since a slump in the price of crude accelerated in November when the Organisation of Petroleum Exporting Countries (Opec) decided to keep its output levels unchanged. The decision has caused carnage in oil markets with a barrel of Brent crude falling 45pc since June to around $60 per barrel." (Third of listed UK oil and gas drillers face bankruptcy, Telegraph)
"Carnage in oil markets," you say?
Indeed. Many of the oil-drilling newcomers set up shop to take advantage of the low rates and easy money available in the bond market. Now that prices have crashed, investors are avoiding energy-related junk bonds like the plague which is making it impossible for the smaller companies to roll over their debt or attract fresh capital. When these companies start to default en masse, as they certainly will if prices don't rebound, the blowback will be felt on bank balance sheets across the country creating the possibility of another financial meltdown. (Now we ARE talking about a financial crisis.)
The basic problem is that the banks have bundled a lot of their dodgy debt into financially-engineered products like Collateralized Loan Obligations (CLOs) and Collateralized Debt Obligations (CDOs) that will inevitably fail when borrowers are no longer able to service the loans. The rot can be concealed for a while, but eventually, if prices don't recover, a significant number of these companies are going to go under which will push the perennially-undercapitalized banking system to the brink once again. That's why Washington's plan to push down oil prices (to hurt the Russian economy) might have made sense on a short-term basis (to shock Putin into submission) but as a long-term strategy, it's nuts. And what's even crazier, is that Obama has decided to double-down on the same wacky plan even though Putin hasn't given an inch. Check this out from Reuters on Monday:
"The Obama administration has opened a new front in the global battle for oil market share, effectively clearing the way for the shipment of as much as a million barrels per day of ultra-light U.S. crude to the rest of the world…

The Department of Commerce on Tuesday ended a year-long silence on a contentious, four-decade ban on oil exports, saying it had begun approving a backlog of requests to sell processed light oil abroad.

The action comes at a critical juncture for the global oil market. World prices have halved to less than $60 a barrel since the summer as top exporter Saudi Arabia, once a staunch defender of $100 oil, refused to cut production in the face of surging U.S. shale output and tempered global demand…

With global oil markets in flux, it is far from clear how much U.S. condensate will find a market overseas."
(Analysis – U.S. opening of oil export tap widens battle for global market, Reuters)
Does that make sense to you, dear reader? Why would Obama suddenly opt to change the rules of the game when he knows it will increase supply and push prices down even further? Why would he do that? Certainly, he doesn't want to inflict more pain on domestic producers, does he?
Let's let Obama answer the question for himself. Here's a clip from an NPR interview with the president just last week. About halfway through the interview, NPR's Steve Inskeep asks Obama: "Are you just lucky that the price of oil went down and therefore their currency collapsed or …is it something that you did?
Barack Obama: If you'll recall, their (Russia) economy was already contracting and capital was fleeing even before oil collapsed. And part of our rationale in this process was that the only thing keeping that economy afloat was the price of oil. And if, in fact, we were steady in applying sanction pressure, which we have been, that over time it would make the economy of Russia sufficiently vulnerable that if and when there were disruptions with respect to the price of oil — which, inevitably, there are going to be sometime, if not this year then next year or the year after — that they'd have enormous difficulty managing it." (Transcript: President Obama's Full NPR Interview)
Am I mistaken or did Obama just admit that he wanted "disruptions" in the "price of oil" because he figured Putin would have "enormous difficulty managing it"?
Isn't that the same as saying that it was all part of Washington's plan; that plunging prices were just the icing on the cake for their asymmetrical attack on the Russian economy? It sure sounds like it. And that would also explain why Obama decided to allow domestic producers to dump more oil on the market even though it's going to send prices lower. Apparently, none of that matters as long as the policy hurts Russia.
So maybe the US-Saudi oil collusion theory isn't so far fetched after all. Maybe Salon's Patrick L. Smith was right when he said:
"Less than a week after the Minsk Protocol was signed, Kerry made a little-noted trip to Jeddah to see King Abdullah at his summer residence. When it was reported at all, this was put across as part of Kerry's campaign to secure Arab support in the fight against the Islamic State.

Stop right there. That is not all there was to the visit, my trustworthy sources tell me. The other half of the visit had to do with Washington's unabated desire to ruin the Russian economy. To do this, Kerry told the Saudis 1) to raise production and 2) to cut its crude price. Keep in mind these pertinent numbers: The Saudis produce a barrel of oil for less than $30 as break-even in the national budget; the Russians need $105.

Shortly after Kerry's visit, the Saudis began increasing production, sure enough — by more than 100,000 barrels daily during the rest of September, more apparently to come…

Think about this. Winter is coming, there are serious production outages now in Iraq, Nigeria, Venezuela and Libya, other OPEC members are screaming for relief, and the Saudis make back-to-back moves certain to push falling prices still lower? You do the math, with Kerry's unreported itinerary in mind, and to help you along I offer this from an extremely well-positioned source in the commodities markets: "There are very big hands pushing oil into global supply now," this source wrote in an e-mail note the other day." ("What Really Happened in Beijing: Putin, Obama, Xi And The Back Story The Media Won't Tell You", Patrick L. Smith, Salon)
Vladimir Putin: Public Enemy Number 1
Let's cut to the chase: All these oil shenanigans are really aimed at just one man: Vladimir Putin. There are a number of reasons why Washington wants to get rid of Putin, the first of which is that the Russian president has become an obstacle to US plans to pivot to Asia. That's the main issue. As long as Putin is calling the shots, there's going to be growing resistance to NATO's push eastward and Washington's military expansion across Central Asia which could undermine US plans to encircle China and remain the world's only superpower. Here's an excerpt from Zbigniew Brzezinski's The Grand Chessboard which helps to explain the importance Eurasia is in terms of Washington's global ambitions:
"..how America 'manages' Eurasia is critical. A power that dominates Eurasia would control two of the world's three most advanced and economically productive regions. A mere glance at the map also suggests that control over Eurasia would almost automatically entail Africa's subordination, rendering the Western Hemisphere and Oceania (Australia) geopolitically peripheral to the world's central continent. About 75 per cent of the world's people live in Eurasia, and most of the world's physical wealth is there as well, both in its enterprises and underneath its soil. Eurasia accounts for about three-fourths of the world's known energy resources." (p.31) (Zbigniew Brzezinski, The Grand Chessboard: American Primacy And It's Geostrategic Imperatives, Key Quotes From Zbigniew Brzezinksi's Seminal Book)
Get it? Prevailing in Asia is the administration's top priority, which is why the US is rapidly moving its military assets into place. Check this out from the World Socialist Web Site:
"Under Obama's "pivot to Asia," the Pacific Command will account for more than 60 percent of all US military forces, up from 50 percent under the Bush administration. This includes new US basing arrangements in the Philippines, Singapore and Australia, as well as renewed close military ties to New Zealand, and ongoing US military exercises in Thailand, Malaysia, Indonesia and Taiwan….(as well as) large troop deployments in Japan and South Korea, including nuclear-armed units." (The global scale of US militarism, Patrick Martin, World Socialist Web Site)
The "Big Shift" is already underway, which is why obstacles have to be removed and Putin's got to go.
Second, Putin has made himself a general nuisance vis a vis US strategic objectives in Syria, Iran and Ukraine. In Syria, Putin has thrown his support behind Assad who the US wants to topple in order to redraw the map of the Middle East and build gas pipelines from Qatar to Turkey to access the lucrative EU market.
Third, Putin has strengthened a number of coalitions and alliances –the BRICS bank, the Eurasian Economic Union, and the Shanghai Cooperation Organization–all of which pose a challenge to US dominance in the region as well as a viable alternative to neoliberal financial institutions like the IMF and World Bank. Going back to Brzezinski's "chessboard" once again, we see that the US should not feel threatened by any one nation, but should be constantly on-the-lookout for "regional coalitions" which could derail its plans to rule the world. Here's Brzezinski again:
"…the three grand imperatives of imperial geostrategy are to prevent collusion and maintain security dependence among the vassals, to keep tributaries pliant and protected, and to keep the barbarians from coming together." (p.40)

"Henceforth, the United States may have to determine how to cope with regional coalitions that seek to push America out of Eurasia, thereby threatening America's status as a global power." (p.55) (Zbigniew Brzezinski, The Grand Chessboard: American Primacy And It's Geostrategic Imperatives, Key Quotes From Zbigniew Brzezinksi's Seminal Book)
As a founding member and primary backer of these organizations, (and initiator of giant energy deals with China, India and Turkey) Putin has become Washington's biggest headache and a logical target for regime change.
Finally, Putin is doing whatever he can to circumvent dollar-denominated business and financial transactions. The move away from the buck is a direct attack on the US's greatest source of power, the ability to control the de facto international currency and to require that other nation's stockpile dollars for their energy purchases which are then recycled into US financial assets, stocks bonds and US Treasuries. This petrodollar-recycling scam allows the US to run gigantic current account deficits without raising interest rates or reducing government spending. Putin's anti-dollar policies could diminish the greenback's role as reserve currency and put an end to a system that institutionalizes looting.
This is why Putin is Public Enemy Number 1. It's because he's blocking the US pivot to Asia, strengthening anti-Washington coalitions, sabotaging US foreign policy objectives in the Middle East, creating institutions that rival the IMF and World Bank, transacting massive energy deals with critical US allies, increasing membership in an integrated, single-market Eurasian Economic Union, and attacking the structural foundation upon which the entire US empire rests, the dollar.
Naturally, Washington's powerbrokers are worried about these developments, just as they are worried about the new world order which is gradually taking shape under Putin's guidance. But, so far, they haven't been able to do anything about it. The administration's regime change schemers and fantasists have shown time-and-again that they're no match for Bad Vlad who has beaten them at every turn.
Bravo, Putin.
It is futile to make any but short-term predictions on world affairs: there are just too many variables in the equation, too many unknown-unknowns. The escalation of the Ukrainian crisis and the rise in U.S.-Russian tensions could have been forecast a year ago, in general terms at least, but the explosive rise of ISIS could not.
It is nevertheless possible and often useful to outline the contours of probable developments on the basis of existing structural vectors and recent dynamics. "Time is not heterogeneous," Raymond Aron correctly noted half a century ago, when writing on Max Weber's approach to historical causality. If time is homogenous, then – in theory at least – "the possibility of causal explanation is the same for the past and for the future." In practice, we can expect two key developments to make an impact on the global scene in 2015:
The government in Kiev and its handlers in Washington will not settle for a long-term frozen conflict in the east of the country. Armed, trained and equipped by NATO, Ukrainian forces are likely to launch a major military assault against Donetsk and Lugansk in late spring – I'd put the odds at 3:1. If the attack is successful, the regime would use it to compensate for the adverse effects at home of the ongoing economic and financial collapse, while the U.S. would show the world that Putin is not invincible. If Russia intervenes openly to prevent the two self-proclaimed republics' collapse, Putin would finally enter the trap which he has been avoiding ever since the massacre in Odessa eight months ago. If the Novorossiyan forces defeat the attackers, thus repeating the feat of last August – obviously the least desirable scenario from Washington's and Kiev's point of view – there is still the fallback option of another Minsk-like ceasefire agreement, which leaves the military option open for 2016.
Russia's pivot to Asia will gather momentum, reflecting Moscow's strategic decision to abandon the elusive quest for a neo-Gaullist long-term partnership with the EU. That decision was made symbolically public in Ankara last November with the abandonment of the South Stream pipeline project. China and Russia are long-term economic, political and – increasingly – military partners now. Putin's recent visits to Modi in India and Erdogan in Turkey indicate his ongoing efforts to build a massive Eurasian bloc and his growing indifference to the Brussels connection. This means the end of the "Europe from the English Channel to Vladivostok" idea, but my notion of a Northern Alliance never had a chance with the Duopoly so firmly in charge. The implications are serious for the Beltway global hegemonists, primarily because progressive de-dollarization of financial transactions among those countries has the potential to bring the Empire down without a shot being fired. That is a long-term, rather than immediate danger, however.
Those two issues matter the most in geopolitical terms. On other fronts, in the Greater Middle East the Islamic State will not be defeated, Bashar will continue to hold on, Egypt will remain stable and peaceful under Sisi, and there will be no progress in Israel-Palestine; everything else is up in the air. The Eurozone will struggle on, just, but recent oil price collapse means deflation and continued sluggish growth in 2015. We can expect oil prices to bounce back somewhat, settling at or near $70 per barrel for a long while. Russia is and will continue to be badly hit, but this may prompt her long-overdue economic diversification. The most vulnerable exporter is Venezuela, where social and political unrest against the Maduro government – aided and abetted by the NED et al – is a distinct possibility. (Nigeria is in the same boat, but sub-Saharan Africa is irrelevant to the rest of the world.)
The only thing I am willing to predict with some certainty is that 2015 will be worse than 2014 and better than 2016.
I just finished reading an article by a guy who had accurately predicted the fall of the former USSR two whole years before it actually happened.  However, nobody back then even believed him.  "The USSR has over-extended itself and is going to collapse!" he kept telling people.  But everyone who heard him just laughed.
Well.  At this point in time, the USA has totally over-extended itself too.  Like some addicted shopaholic set loose with questionable plastic at a shopping mall, the USA has over-charged every single one of its credit cards by at least eleven trillion dollars in order to buy its very favorite consumer product — endless war.  And, in addition, the USA has also spent another ungodly number of trillions on making its uber-rich 1% even richer, and keeping its corrupt bankers happy as clams.
And so, like the former USSR back in 1991, now the USA also has nowhere to go but down either — due to its total over-extension.  And you don't even have to be a genius to do the math here.  Anyone with a calculator app. on their iPhone can figure this one out.  A couple hundred trillion $$$$ subtracted from zero equals what?  Total collapse.  This is pretty much a given at the rate that our "fearless leaders" on Wall Street and War Street are currently spreading their phony credit-card moolah around.
But what I really want to talk about here is what will actually happen to America (and to you and me) when our country suddenly does become referred to as "The Former USA".   To know that, all we have to do is look at a model already set before us — what had happened to the Former USSR after it had over-extended itself.
First, you gotta remember that ten percent of all citizens of the Soviet Union actually DIED after the USSR collapsed.  Ten percent!  One in ten.  The old people went first.  And the working poor.  And the kids.  That would be like having about 30 million Americans dead as a doornail because Wall Street and War Street didn't behave themselves.
Second, a huge number of Soviet public buildings throughout Europe and Asia suddenly became "privatized" and were happily handed over to the lowest bidders — the oligarchs.  But then that is happening here in the USA already.  Let's take my own downtown Berkeley post office for instance.  It's being practically given away to oligarchs even as we speak.  And American schools, national parks, mineral-rich lands, public buildings and all kinds of other property that used to be held in the common interest is now not being held in the common interest any more.  And when the USA becomes "Former," this process will be speeded up even faster.  Say goodbye to Yellowstone, the Statue of Liberty and your local city hall.
Third, after the former Soviet Union fell, people's teeth began to rot for lack of dental care there.  Suddenly there were no affordable doctors and dentists in Russia, a trend that has also gotten a big head-start here in the soon-to-be Former USA already.  If you don't take care of your citizens, this is what you get.  Sick people and rotten teeth.
Fourth?  Unemployment in Russia.  Of course we already have a head-start on that one as well.  But it will be getting worse.  Much worse.
Fifth, the USSR's status as a world super-power suddenly collapsed as its wounded warriors painfully wound their way back home from places like Afghanistan.  The same will happen in the former USA too.
Sixth:  Before its collapse, the USSR used to be a "communist" state — in the sense that only a few people at the very top made all the decisions.  And now, thanks to Citizens United, the USA has already gotten that way too.  We are no longer a democracy either.  So in that respect too we have already started to become like the Soviets right before their big fall.  And it will get even worse here after the fall of the USA as well.  Our current "deep state" shadow governments will be coming out of the shadows and cesspools for sure.  Can you say "President-for-Life Cheney," boys and girls?
But actually, back during the 1950s, it was America that had been the true communist state — after WW II had reshuffled the cards, dealt new hands to working folks, given our middle class a leg up and redistributed our wealth more equally by taking it from the uber-rich and giving it to the middle class.  But Reagan's tricky re-stacking of the deck in favor of Wall Street, and Bush's ace-up-his-sleeve gifts to War Street and sleight-of-hand tax redistribution act of 2003 soon changed all that — and our wealth was then redistributed upwards to the uber-rich once again, ending "communism" in America forever.  No, they don't call it "capitalism" without reason.  The uber-rich now own all the "capital".  We don't.
In order to return to America's former "communistic" economic glory of the 1950s, three things need to happen.  We need to go back to giving America's middle and working classes their former leg-up tax breaks — instead of only giving a huge tax leg-up to our 1% "Soviet Commissars" only.  And we need to stop stacking the deck in favor of Wall Street's insane profit margins.  And we need to shut down War Street completely.  Otherwise, after the USA falls too, we also are gonna have oligarchs coming out our ears — even more than they are now.
Seventh, the USSR ruble collapsed back then — just like the dollar is now collapsing already.  It's gonna be rather tough around here when the US dollar also becomes worth diddly-squat.
Eighth, consider that wise Biblical saying, "Do unto others as you would have others do unto you".  And then become very afraid.  From Hiroshima, Korea, Vietnam, Cambodia, Africa and Latin America to the former Yugoslavia, Afghanistan, Iraq, Libya, Lebanon, Syria, Gaza, Ukraine, etc., the first thing that the USA and/or its surrogates do when they attack a country is to bomb its civilian population, take out the water supply, power plants and hospitals, and/or install a ruthless dictator.  Let us just hope that the former USA will not fall into a position to be vulnerable to retaliation, that our former victims will show mercy and that "Do unto others…" will not apply to us like it did to the USSR.
And, ninth, the huge Soviet Union began to break up into smaller states and groups as it fell.  That will definitely happen here too.  Can't exactly say that I will miss any of the Red States when they leave — but they will sorely miss not being part of the new American Blue States, their current life-line to prosperity.  I can tell you that right now.
All the signs of the eminent collapse of the USA are already here right now, just like they were for the USSR back before 1991.  Go ahead and laugh if you will, but hard times really are coming here too.  The Former USA is practically upon us.  We have already over-extended ourselves too deeply to rationally expect any other result.  Sigh.
Let us just hope that America somehow manages to find another chess master like Putin to lead us After the Fall, and doesn't get stuck with another drunk like Yeltsin!
Did the U.S. and the Saudis Conspire to Push Down Oil Prices?
"Saudi oil policy… has been subject to a great deal of wild and inaccurate conjecture in recent weeks. We do not seek to politicize oil… For us it's a question of supply and demand, it's purely business." – Ali al Naimi, Saudi Oil Minister

"There is no conspiracy, there is no targeting of anyone. This is a market and it goes up and down." – Suhail Bin Mohammed al-Mazroui, United Arab Emirates' petroleum minister

"We all see the lowering of oil prices. There's lots of talk about what's causing it. Could it be an agreement between the U.S. and Saudi Arabia to punish Iran and affect the economies of Russia and Venezuela? It could." – Russian President Vladimir Putin
Are falling oil prices part of a US-Saudi plan to inflict economic damage on Russia, Iran and Venezuela?
Venezuelan President Nicolas Maduro seems to think so. In a recent interview that appeared in Reuters, Maduro said he thought the United States and Saudi Arabia wanted to drive down oil prices "to harm Russia."
Bolivian President Evo Morales agrees with Maduro and told journalists at RT that: "The reduction in oil prices was provoked by the US as an attack on the economies of Venezuela and Russia. In the face of such economic and political attacks, the nations must be united."
Iranian President Hassan Rouhani said the same thing,with a slightly different twist: "The main reason for (the oil price plunge) is a political conspiracy by certain countries against the interests of the region and the Islamic world … Iran and people of the region will not forget such … treachery against the interests of the Muslim world."
US-Saudi "treachery"? Is that what's really driving down oil prices?
Not according to Saudi Arabia's Petroleum Minister Ali al-Naimi. Al-Naimi has repeatedly denied claims that the kingdom is involved in a conspiracy. He says the tumbling prices are the result of "A lack of cooperation by non-OPEC production nations, along with the spread of misinformation and speculator's greed." In other words, everyone else is to blame except the country that has historically kept prices high by controlling output. That's a bit of a stretch, don't you think? Especially since–according to the Financial Times — OPEC's de facto leader has abandoned the cartel's "traditional strategy" and announced that it won't cut production even if prices drop to $20 per barrel.
Why? Why would the Saudis suddenly abandon a strategy that allowed them to rake in twice as much dough as they are today? Don't they like money anymore?
And why would al-Naimi be so eager to crash prices, send Middle East stock markets into freefall, increase the kingdom's budget deficits to a record-high 5 percent of GDP, and create widespread financial instability? Is grabbing "market share" really that important or is there something else going on here below the surface?
The Guardian's Larry Elliot thinks the US and Saudi Arabia are engaged a conspiracy to push down oil prices. He points to a September meeting between John Kerry and Saudi King Abdullah where a deal was made to boost production in order to hurt Iran and Russia. Here's a clip from the article titled "Stakes are high as US plays the oil card against Iran and Russia":
"…with the help of its Saudi ally, Washington is trying to drive down the oil price by flooding an already weak market with crude. As the Russians and the Iranians are heavily dependent on oil exports, the assumption is that they will become easier to deal with…

John Kerry, the US secretary of state, allegedly struck a deal with King Abdullah in September under which the Saudis would sell crude at below the prevailing market price. That would help explain why the price has been falling at a time when, given the turmoil in Iraq and Syria caused by Islamic State, it would normally have been rising.

The Saudis did something similar in the mid-1980s. Then, the geopolitical motivation for a move that sent the oil price to below $10 a barrel was to destabilize Saddam Hussein's regime. This time, according to Middle East specialists, the Saudis want to put pressure on Iran and to force Moscow to weaken its support for the Assad regime in Syria… (Stakes are high as US plays the oil card against Iran and Russia, Guardian)
That's the gist of Elliot's theory, but is he right?
Vladimir Putin isn't so sure. Unlike Morales, Maduro and Rouhani, the Russian president has been reluctant to blame falling prices on US-Saudi collusion. In an article in Itar-Tass, Putin opined:
"There's a lot of talk around" in what concerns the causes for the slide of oil prices, he said at a major annual news conference. "Some people say there is conspiracy between Saudi Arabia and the US in order to punish Iran or to depress the Russian economy or to exert impact on Venezuela."

"It might be really so or might be different, or there might be the struggle of traditional producers of crude oil and shale oil," Putin said. "Given the current situation on the market the production of shale oil and gas has practically reached the level of zero operating costs." (Putin says oil market price conspiracy between Saudi Arabia and US not ruled out, Itar-Tass)
As always, Putin takes the most moderate position, that is, that Washington and the Saudis may be in cahoots, but that droopy prices might simply be a sign of over-supply and weakening demand. In other words, there could be a plot, but then again, maybe not. Putin is a man who avoids passing judgment without sufficient evidence.
The same can't be said of the Washington Post. In a recent article, WP journalist Chris Mooney dismisses anyone who thinks oil prices are the result of US-Saudi collaboration as "kooky conspiracy theorists". According to Mooney:
"The reasons for the sudden (price) swing are not particularly glamorous: They involve factors like supply and demand, oil companies having invested heavily in exploration several years ago to produce a glut of oil that has now hit the market — and then, perhaps, the "lack of cohesion" among the diverse members of OPEC." (Why there are so many kooky conspiracy theories about oil, Washington Post)
Oddly enough, Mooney disproves his own theory a few paragraphs later in the same piece when he says:
"Oil producers really do coordinate. And then, there's OPEC, which is widely referred to in the press as a "cartel," and which states up front that its mission is to "coordinate and unify the petroleum policies" of its 12 member countries…. Again, there's that veneer of plausibility to the idea of some grand oil related strategy." (WP)
Let me get this straight: One the one hand Mooney agrees that OPEC is a cartel that "coordinates and unify the petroleum policies", then on the other, he says that market fundamentals are at work. Can you see the disconnect? Cartels obstruct normal supply-demand dynamics by fixing prices, which Mooney seems to breezily ignore.
Also, he scoffs at the idea of "some grand oil related strategy" as if these cartel nations were philanthropic organizations operating in the service of humanity. Right. Someone needs to clue Mooney in on the fact that OPEC is not the Peace Corps. They are monopolizing amalgam of cutthroat extortionists whose only interest is maximizing profits while increasing their own political power. Surely, we can all agree on that fact.
What's really wrong with Mooney's article, is that he misses the point entirely. The debate is NOT between so-called "conspiracy theorists" and those who think market forces alone explain the falling prices. It's between the people who think that the Saudis decision to flood the market is driven by politics rather than a desire to grab "market share." That's where people disagree. No denies that there's manipulation; they merely disagree about the motive. This glaring fact seems to escape Mooney who is on a mission to discredit conspiracy theorists at all cost. Here's more:
(There's) "a long tradition of conspiracy theorists who have surmised that the world's great oil powers — whether countries or mega-corporations — are secretly pulling strings to shape world events."…

"A lot of conspiracy theories take as their premise that there's a small group of people who are plotting to control something, to control the government, the banking system, or the main energy source, and they are doing this to the disadvantage of everybody else," says University of California-Davis historian Kathy Olmsted, author of "Real Enemies: Conspiracy Theories and American Democracy, World War I to 9/11″. (Washington Post)
Got that? Now find me one person who doesn't think the world is run by a small group of rich, powerful people who operate in their own best interests? Here's more from the same article:
(Oil) "It's the perfect lever for shifting world events. If you were a mad secret society with world-dominating aspirations and lots of power, how would you tweak the world to create cascading outcomes that could topple governments and enrich some at the expense of others? It's hard to see a better lever than the price of oil, given its integral role in the world economy." (WP)
"A mad secret society"? Has Mooney noticed that — in the last decade and a half — the US has only invaded nations that have huge natural resources (mainly oil and natural gas) or the geography for critical pipeline routes? There's nothing particularly secret about it, is there?
The United States is not a "mad secret society with world-dominating aspirations". It's a empire with blatantly obvious "world-dominating aspirations" run by political puppets who do the work of wealthy elites and corporations. Any sentient being who's bright enough to browse the daily headlines can figure that one out.
Mooney's grand finale:
"So in sum, with a surprising and dramatic event like this year's oil price decline, it would be shocking if it did not generate conspiracy theories. Humans believe them all too easily. And they're a lot more colorful than a more technical (and accurate) story about supply and demand." (WP)
Ah, yes. Now I see. Those darn "humans". They're so weak-minded they'll believe anything you tell them, which is why they need someone as smart as Mooney tell them how the world really works.
Have you ever read such nonsense in your life? On top of that, he gets the whole story wrong. This isn't about market fundamentals. It's about manipulation. Are the Saudis manipulating supply to grab market share or for political reasons? THAT'S THE QUESTION. The fact that they ARE manipulating supply is not challenged by anyone including the uber-conservative Financial Times that deliberately pointed out that the Saudis had abandoned their traditional role of cutting supply to support prices. That's what a "swing state" does; it manipulates supply keep prices higher than they would be if market forces were allowed to operate unimpeded.
So what is the motive driving the policy; that's what we want to know?
Certainly there's a strong case to be made for market share. No one denies that. If the Saudis keep prices at rock bottom for a prolonged period of time, then a high percentage of the producers (that can't survive at prices below $70 per barrel) will default leaving OPEC with greater market share and more control over pricing.
So market share is certainly a factor. But is it the only factor?
Is it so far fetched to think that the United States–which in the last year has imposed harsh economic sanctions on Russia, made every effort to sabotage the South Stream pipeline, and toppled the government in Kiev so it could control the flow of Russian gas to countries in the EU–would coerce the Saudis into flooding the market with oil in order to decimate the Russian economy, savage the ruble, and create favorable conditions for regime change in Moscow? Is that so hard to believe?
Apparently New York Times columnist Thomas Freidman doesn't think so. Here's how he summed it up in a piece last month: "Is it just my imagination or is there a global oil war underway pitting the United States and Saudi Arabia on one side against Russia and Iran on the other?"
It sounds like Freidman has joined the conspiracy throng, doesn't it? And he's not alone either. This is from Alex Lantier at the World Socialist Web Site:
"While there are a host of global economic factors underlying the fall in oil prices, it is unquestionable that a major role in the commodity's staggering plunge is Washington's collaboration with OPEC and the Saudi monarchs in Riyadh to boost production and increase the glut on world oil markets.

As Obama traveled to Saudi Arabia after the outbreak of the Ukraine crisis last March, the Guardian wrote, "Angered by the Soviet invasion of Afghanistan in 1979, the Saudis turned on the oil taps, driving down the global price of crude until it reached $20 a barrel (in today's prices) in the mid-1980s… [Today] the Saudis might be up for such a move—which would also boost global growth—in order to punish Putin over his support for the Assad regime in Syria. Has Washington floated this idea with Riyadh? It would be a surprise if it hasn't." (Alex Lantier,Imperialism and the ruble crisis, World Socialist Web Site)
And here's an intriguing clip from an article at Reuters that suggests the Obama administration is behind the present Saudi policy:
"U.S. Secretary of State John Kerry sidestepped the issue (of a US-Saudi plot) after a trip to Saudi Arabia in September. Asked if past discussions with Riyadh had touched on Russia's need for oil above $100 to balance its budget, he smiled and said: "They (Saudis) are very, very well aware of their ability to have an impact on global oil prices." (Saudi oil policy uncertainty unleashes the conspiracy theorists, Reuters)
Wink, wink.
Of course, they're in bed together. Saudi Arabia is a US client. It's not autonomous or sovereign in any meaningful way. It's a US protectorate, a satellite, a colony. They do what they're told. Period. True, the relationship is complex, but let's not be ridiculous. The Saudis are not calling the shots. The idea is absurd. Do you really think that Washington would let Riyadh fiddle prices in a way that destroyed critical US domestic energy industries, ravaged the junk bond market, and generated widespread financial instability without uttering a peep of protest on the matter?
Dream on! If the US was unhappy with the Saudis, we'd all know about it in short-order because it would be raining Daisy Cutters from the Persian Gulf to the Red Sea, which is the way that Washington normally expresses its displeasure on such matters. The fact that Obama has not even alluded to the shocking plunge in prices just proves that the policy coincides with Washington's broader geopolitical strategy.
And let's not forget that the Saudis have used oil as a political weapon before, many times before. Indeed, wreaking havoc is nothing new for our good buddies the Saudis. Check this out from Oil Price website:
"In 1973, Egyptian President Anwar Sadat convinced Saudi King Faisal to cut production and raise prices, then to go as far as embargoing oil exports, all with the goal of punishing the United States for supporting Israel against the Arab states. It worked. The "oil price shock" quadrupled prices.

It happened again in 1986, when Saudi Arabia-led OPEC allowed prices to drop precipitously, and then in 1990, when the Saudis sent prices plummeting as a way of taking out Russia, which was seen as a threat to their oil supremacy. In 1998, they succeeded. When the oil price was halved from $25 to $12, Russia defaulted on its debt.

The Saudis and other OPEC members have, of course, used the oil price for the obverse effect, that is, suppressing production to keep prices artificially high and member states swimming in "petrodollars". In 2008, oil peaked at $147 a barrel." (Did The Saudis And The US Collude In Dropping Oil Prices?, Oil Price)
1973, 1986, 1990, 1998 and 2008.
So, according to the author, the Saudis have manipulated oil prices at least five times in the past to achieve their foreign policy objectives. But, if that's the case, then why does the media ridicule people who think the Saudis might be engaged in a similar strategy today?
Could it be that the media is trying to shape public opinion on the issue and, by doing so, actually contribute to the plunge in oil prices?
Bingo. Alert readers have probably noticed that the oil story has been splashed across the headlines for weeks even though the basic facts have not changed in the least. It's all a rehash of the same tedious story reprinted over and over again. But, why? Why does the public need to have the same "Saudis refuse to cut production" story driven into their consciousness day after day like they're part of some great collective brainwashing experiment? Could it be that every time the message is repeated, oil sells off, and prices go down? Is that it?
Precisely. For example, last week a refinery was attacked in Libya which pushed oil prices up almost immediately. Just hours later, however, another "Saudis refuse to cut production" story conveniently popped up in all the major US media which pushed prices in the direction the USG wants them to go, er, I mean, back down again.
This is how the media helps to reinforce government policy, by crafting a message that helps to push down prices and, thus, hurt "evil" Putin. (This is called "jawboning") Keep in mind, that OPEC doesn't meet again until June, 2015, so there's nothing new to report on production levels. But that doesn't mean we're not going to get regular updates on the "Saudis refuse to cut production" story. Oh, no. The media is going to keep beating that drum until Putin cries "Uncle" and submits to US directives. Either that, or the bond market is going to blow up and take the whole damn global financial system along with it. One way or another, something's got to give.
Bottom line: Falling oil prices and the plunging ruble are not some kind of free market accident brought on by oversupply and weak demand. That's baloney. They're part of a broader geopolitical strategy to strangle the Russian economy, topple Putin, and establish US hegemony across the Asian landmass. It's all part of Washington's plan to maintain its top-spot as the world's only superpower even though its economy is in irreversible decline.