Almost nobody remembers the Keystone Kops any more — those hilariously bewildered, confused and zany silent-movie clowns who ran around in circles like chickens with their heads cut off and whose crazy antics were shown on theater screens all across America, exactly 100 years ago today.https://www.youtube.com/watch?v=JVNSQ72wvlc.
But I remember the Keystone Kops because they used to be on TV in the 1950s when I was a kid.  Boy did I laugh!
And now, one hundred years later, the Keystone-Kop-wannabe antics of America's crazy, bewildered and confused foreign policy is making me laugh too — at least when it isn't making me cry.
How easy would it be — to develop a whole new stand-up comedy routine based solely on America's foreign policy in Ukraine.http://rt.com/news/170104-ukraine-lugansk-shelling-airstrike/  And describing America's foreign policy in the Middle East would surely be funny enough to land me a spot on Saturday Night Live.
My first joke about America's Middle East foreign policy will surely have you in stitches!  "America's foreign-policy Keystone Kops' opening gig in the Middle East was first on the marquee in Jerusalem back in the 1940s — when those crazy, zany and confused foreign-policy Kops mistook the Palestinian holy land for a perfect site for the latest Neo-Con Condominium Development Association project."
Get it?  Holy Land?  Condo development?  That's hilarious!  Although even most Israelis these days are not laughing at this pratfall any more either — especially after some Israeli neo-con storm troopers just made a Palestinian child drink gasoline and then set him on fire while he was still alive.  http://www.haaretz.com/opinion/.premium-1.599318.  Looks like this whole Israeli neo-con Occupation skit has fallen flat.
But wait!  I still gots tons of other great jokes about America's crazy, confused and zany foreign policy in the Middle East.
"Did I ever tell you the one about how America had trained and weaponized Al Qaeda terrorists in Afghanistan, back during Charlie Wilson's War — until, oops, AQ made a wrong turn at Kabul and blew up the World Trade Center instead?" https://www.youtube.com/watch?v=RBQ-IoHfimQ&feature=youtu.be
"Not very funny, Jane."  Yeah, yeah — but wait for the punchline.
"THEN America went on to weaponize and train Al Qaeda terrorists to invade Syria — but only after Americans had bombed Iraq in 2003 in order to defeat Al Qaeda terrorists there, but then, big surprise, wait for it  — it turned out that there WERE no Al Qaeda terrorists in Iraq!  However, there soon would be plenty of Al Qaeda terrorists in Iraq after all those bumbling Keystone Kops in DC left the doors wide open for them to drop in."  https://www.youtube.com/watch?v=NEuJ5v3AbJg&feature=youtu.be
Do I hear any belly-laughs out there?  Not yet?  Damn, you're a hard audience to please.
Then how about this joke?  "America spent almost a trillion dollars invading Afghanistan in search of Al Qaeda terrorists — who had by then joined up with the Taliban terrorists and/or moved on to Pakistan and Iraq."  Hey, I thought that was funny.  Get it?  America chasing Al Qaeda terrorists all through the Middle East like Al Qaeda terrorists were the bad guys and all the while Al Qaeda terrorists were America's very own crazy and zany country cousins?"  Can't get much more like Keystone Kops than that!
I'm laughing my head off here!  So — why aren't you?
To paraphrase Father Dave Smith, "I thought the Americans were trying to wage a war ON terror, not a war to CREATE it."  Funny how that all got twisted around, right?  http://prayersforsyria.com/why-its-ok-to-arm-moderate-jihadists-in-syria/
But perhaps this next schtick will be the money-shot joke?  Let's give it a try.
"Then after tearfully telling Al Qaeda, 'Come home, all is forgiven,' America's DC Kops once again started training and weaponizing AQ in Jordan, and then sent a bunch of Al Qaeda terror-creating operatives off to Syria to do what they do best — and once there, they apparently broke into two groups."  Al Nustra and ISIS.
"But then Al Nustra terrorists started demanding to get paid the same wages that ISIS terrorists are getting from the Americans, who are funneling ISIS's paychecks to them through the Saudis.  So the ISIS terrorists chop off the Al Nustra terrorists' heads — and then run off to Iraq where ISIS then gathers its minions on the Saudi border."  More Keystone-Kop antics here — only these Kops are brandishing AK-47s and machetes, and the costume department has gone bananas with the new black-bandana look.  But they still run around like chickens with their heads cut off.
"So then the Saudis have to send 30,000 of its own Keystone Kops to their border to keep the ISIS terrorists out of Arabia — and that's ISIS we're talking about, the group of terrorists that the Saudis had originally funded themselves in the first place, by using money laundered from America."
http://www.thetimes.co.uk/tto/news/world/middleeast/article4137451.ece
But wait.  This stuff gets even funnier.  Honest.
"America then sends in its own Keystone-Kop special forces to Iraq in order to stop the ISIS terrorists, who were spozed to be our own Keystone Kops in the first place.  Or is it Al Qaeda's terrorist Keystone Kops that America now wants to stop?"  Now even I am confused.  There's gotta be a killer punchline in here somewhere.  Oh yeah.  Now I remember.  "And so America's Keystone Kops end up setting the whole Middle East on fire — but then blaming the whole frigging mess on Iran and Russia!"  LOL.
Meanwhile back in Ukraine, America's foreign policy has now weaponized and trained another bunch of pseudo-Ukrainian neo-Nazi terrorist Keystone Kop wannabes who are happily blowing up everything in sight too — but mostly blowing up Ukrainians.  I guess that America must have thought that the siege of Stalingrad by the Nazis was so funny that they wanted to do it again. https://www.youtube.com/watch?v=OlMw8CjyV80
And all these hilarious American Keystone-Kop foreign-policy routines — where everyone is running around crazily and blowing things up — have got me just rolling in the aisles, laughing it up.  So why aren't you laughing too?
Because American taxpayers are the ones that have been forced to pay for all this bloody, crazy, and confused carnage…"  Oh hell.  Even Jon Stewart couldn't get a laugh out of that one.
The joke is on us.
On July 17th Neil Young & Crazy Horse will perform at Hayarkon Park, Tel Aviv, a park built on the ruins of the Palestinian village Al Mirr, a land and people, destroyed and buried amidst unspeakable violence, but not forgotten. 
Neil Young is a Canadian singer, songwriter, guitarist and author of WAGING HEAVY PEACE
Crazy Horse is an American band best known for their association with Young beginning in 1969.
Crazy Horse has been co-credited on 11 studio albums and numerous live albums billed as by "Neil Young and Crazy Horse".
In Waging Heavy Peace, Neil Young's 2012 autobiography, Young documents his life and career shifting from the past to present and from career to personal experiences.
On page 346, Neil Young wrote:
Somewhere along the line I had suggested the name Crazy Horse after the great Indian chief and the guys liked it. Neil Young with Crazy Horse. Not 'and'…I liked that I was with them. Like we were together, not separate.
On page 137, Neil Young wrote:
When music is your life, there is a key that gets you to the core. I am so grateful that I still have Crazy Horse…they are my window to the cosmic world where the music lives and breathes. I can find myself there and go to the special area of my soul…

Just getting there is the key thing, and Crazy Horse is my way of getting there…

Am I too cosmic about this? I think not…

Do not doubt me in my sincerity, for it is that which has brought us to each other now.
In 2005, a coalition of over 170 Palestinian civil society organizations launched a campaign calling the international community to boycott Israel culturally, academically, and commercially  UNTIL Israel recognizes the indigenous Palestinian people's right to self-determination, UNTIL Israel fully complies with international law and finally honors the UNIVERSAL DECLARATION of HUMAN RIGHTS upon which the Establishment of their very Statehood was contingent upon!
 Article 1.
All human beings are born free and equal in dignity and rights.They are endowed with reason and conscience and should act towards one another in a spirit of brotherhood.

On the day of the termination of the British mandate and on the strength of the United Nations General Assembly declare The State of Israel will be based on freedom, justice and peace as envisaged by the prophets of Israel: it will ensure complete equality of social and political rights to all its inhabitants irrespective of religion it will guarantee freedom of religion [and] conscience and will be faithful to the Charter of the United Nations.- May 14, 1948. The Declaration of the Establishment of Israel
In November 2006, Father Manuel, the parish Priest at the Latin Church and school in Gaza warned the world:
Gaza cannot sleep! The people are suffering unbelievably. They are hungry, thirsty, have no electricity or clean water. They are suffering constant bombardments and sonic booms from low flying aircraft. They need food: bread and water. Children and babies are hungry…people have no money to buy food. The price of food has doubled and tripled due to the situation. We cannot drink water from the ground here as it is salty and not hygienic. People must buy water to drink. They have no income, no opportunities to get food and water from outside and no opportunities to secure money inside of Gaza. They have no hope.

Without electricity children are afraid. No light at night. No oil or candles…Thirsty children are crying, afraid and desperate…Many children have been violently thrown from their beds at night from the sonic booms. Many arms and legs have been broken. These planes fly low over Gaza and then reach the speed of sound. This shakes the ground and creates shock waves like an earthquake that causes people to be thrown from their bed. I, myself weigh 120 kilos and was almost thrown from my bed due to the shock wave produced by a low flying jet that made a sonic boom.

Gaza cannot sleep…the cries of hungry children, the sullen faces of broken men and women who are just sitting in their hungry emptiness with no light, no hope, no love. These actions are War Crimes!
Because this American cannot improve on this Letter to Neil Young from the Palestinian Students' Campaign for the Academic Boycott of Israel University Teachers' Association it follows in full here:
16.03.2014
Besieged Gaza, Palestine
Dear Neil
We are Palestinian students and youth from the besieged Gaza Strip; we write to you now on a night engulfed by huge explosions ripping through our houses and neighborhoods again, more common than the thunder and hard rain also filling the night air.
And now we hear you plan on playing your inspiring music to a packed house in Hayarkon Park, Tel Aviv, a park built on the ruins of the Palestinian village Al Mirr, a land and people, destroyed and buried amidst unspeakable violence, but not forgotten. The residents of that Palestinian village and hundreds of other villages forcibly emptied by the nascent Israeli army, were either killed or denied return, denied the chance to even visit or commemorate the lives they once had. (1)
While the world turns its back, we hope that you don't turn yours, that you heed the call of over 170 Palestinian civil society organizations, for boycott, divestment and sanctions against the Israeli regime until it abides by international law and stops denying us the right to live as any other human beings would expect.
Just as you didn't perform in Apartheid South Africa, just as you stood up against racism in the US South, just as you have so admirably supported indigenous rights in Canada against the drilling for Tar Sands, we ask you to support indigenous, displaced people wherever they may be, including we Palestinians. The words of the Native American and Indigenous Studies Association in their recent move to boycott the Israeli regime echo the struggle for indigenous rights in America. (2)
As this letter is penned the sound of more Israeli bombing reverberates around the tight refugee camps and narrow alleys where we live.
The camps are in complete darkness as the electricity has been cut.
The Israeli siege and previous bombing of our only power-plant has lead to huge fuel shortages, leaving us with just 6 hours of electricity each day.
This is just one night, but it is comparable to many other nights in Gaza, many worse nights.
We are used to facing the wrath of Israeli Merkhava tanks, drones, shellings, bombs and snipers that have brutally murdered and maimed our people for decades, for the crime of being born Palestinians, the wrong "ethnic group" for the Israeli regime who since it was established has done everything to wipe us off the map.
Listening to music is difficult in these circumstances, despite our passion for it. We have our own big range of music we love to play and Debka dance. But we have few instruments. Israel's air, land and sea blockade of all our borders has meant for years musical instruments were banned from entry to Gaza.[3]
Other items denied to us were coriander, nutmeg, ginger, dried fruit, fresh meat, lentils, pasta, chocolate, fishing rods, cattle, toys, donkey, workbooks and newspapers. Dov Weisglass, an advisor to former Prime Minister Ehud Olmert, explicitly outlined their intentions to collectively punish our population, "The idea is to put the Palestinians on a diet, but not to make them die of hunger", he announced, in contravention of article 33 of the Geneva Conventions and condemned by all major human rights organizations. (4]
The violence behind Israel's military occupation of our land is relentless and this week is no different. It began with Israeli border police shooting and killing a 38 year old Palestinian judge Raed Zeitar, the other bus passengers forced to sit and watch as he bled to death. Then 18-year-old Saji Darwish, Humanities student at Birzeit university, was shot in the head in Beitin, near Ramallah. Thousands attended his funeral the following day.
Tuesday saw four more murdered in the West Bank and Gaza.
On Wednesday Israeli authorities approved the construction of 387 housing units in the illegal settlement of Ramat Shlomo, denying the Palestinian towns of Beit Hanina and Shuafat the possibility to expand. And today a three-month old baby Ahmed Ammar Abu Nahal died of enlarged heart and liver as a result of the closure of Gaza crossings, a closure that has also left our hospitals bereft of medical supplies.
And right now we sit paralyzed in our homes as the bombs fall on us in Gaza.
Who knows when the current attacks will end.
Permanently etched on our minds are the rivers of blood that ran through the Gaza streets when for over 3 weeks in 2009 over 1400 were killed including over 330 children, with white phosphorous and other chemical weapons used in civilian areas and contaminating our land with a rise in cancers as a result.
More recently 170 more were killed in the weeklong attacks in late November 2012.
How many more sleeping in their beds now will face the same fate in the coming days, weeks and months? The trauma, fear and uncertainty never goes away.
Over two thirds of the Palestinians here in Gaza are UN registered refugees.
Over half of us are children.
We or our descendants were dispossessed entirely and forcibly removed from our homes.
The extent of this ethnic cleansing was such that one in three refugees worldwide is a Palestinian.
Expulsions of Palestinians continue today especially in Jerusalem and the West Bank, places that we in Gaza are no longer able to visit.
For what crime? The crime of being born Palestinian.
The Israeli regime denies us the freedom to come to enjoy your music, we live our lives surrounded by Navy Gunships along the sea, jeeps and wall tower snipers along the land frontier, and skies filled with the kind of aircraft unleashing yet more devastating attacks tonight.
The Gaza Strip has been made an outdoor prison, a reality beyond which most youth can never imagine, because most can never leave.
Others are hearing us and the world is beginning to wake up.
Many of your contemporaries are taking a stand including Carlos Santana, Roger Waters, Annie Lennox, Elvis Costello and the late, great Pete Seeger and Gil Scott Heron, who said he wouldn't play in Israel "until everyone is welcome there". (5)
As Israeli Apartheid week kicked off in South Africa this week, an event that has taken place in over 150 different locations worldwide, Archbishop Desmond Tutu called for the world to support the Boycott Divestment and Sanctions of Israel, just as many other Anti Apartheid heroes from South Africa have affirmed. Tutu said in his statement on Monday, "I have witnessed the systemic humiliation of Palestinian men, women and children by members of the Israeli security forces. Their humiliation is familiar to all black South Africans who were corralled and harassed and insulted and assaulted by the security forces of the apartheid government." (6)
Long before he died, Nelson Mandela demanded that we should have the self determination of any other people. "We know too well that our freedom is incomplete without the freedom of the Palestinians", he said.
Will you sing "living with war" to an audience most of which will have served or are serving in the Israeli army that during the day were bombing our families, or manning the hundreds of checkpoints that make simple journeys daily acts of humiliation?
While we in Gaza can never return to our homes that lay buried around the areas in which you will be travelling freely, will you sing, "A hundred voices from a hundred lands, need someone to listen.  People are dying here and there."
On the struggle to support First Nations rights in Canada and environmental protection you said: "If you have a conscience, you can`t go through your day without realizing what`s going on, and questioning it, and going, "Is this right?"(7)
This is the question to mull over as here in Gaza a short period of silence has descended after the bombs rained down on us yet again tonight Show the courage to say that this system of violent discrimination and racial segregation is unacceptable in Palestine, just as you showed it to be unacceptable in the American South, unacceptable in Apartheid South Africa and unacceptable for the Indigenous of the Americas.
Stand on the right side of history and stand with us, and don't entertain apartheid Israel this July.
Palestinian Students' Campaign for the Academic Boycott of Israel University Teachers' Association
###
How about Neil Young & Crazy Horse entertain Tel Aviv and wage some heavy peace by broadcasting this image on the stage at Hayarkon Park on July 17?

References:
(1) http://cosmos.ucc.ie/cs1064/jabowen/IPSC/php/place.php?plid=1985
(2) http://electronicintifada.net/blogs/ali-abunimah/major-indigenous-studies-group-endorses-israel-boycott
(3) http://www.gazagateway.org/tag/musical-instruments/
(4) http://www.guardian.co.uk/world/2006/apr/16/israel#sthash.EtPIzrik.dpuf
(5) http://www.usacbi.org/2010/04/gil-scott-heron-announces-cancellation-of-tel-aviv-concert-artist-won%E2%80%99t-play-in-israel-%E2%80%9Cuntil-everyone-is-welcome-there%E2%80%9D/
(6) http://www.haaretz.com/news/diplomacy-defense/1.578872
(7) http://edition.cnn.com/TRANSCRIPTS/0604/18/sbt.01.html
Did Obama Know that ISIS Planned to Invade Iraq?
"I think we have to understand first how we got here. We have been arming ISIS (the Islamic State in Iraq and Syria) in Syria.  ISIS, an al Qaeda offshoot, has been collaborating with the Syrian rebels whom the Obama administration has been arming in their efforts to overthrow Syrian President Bashar al-Assad."  - Senator Rand Paul, Interview CNN 
Today's head-scratcher: How could a two-mile long column of jihadi-filled white Toyota Land rovers barrel across the Syrian border into Iraq–sending plumes of dust up into the atmosphere –without US spy satellites detecting their whereabouts when those same satellites can read a damn license plate from outer space? And why has the media failed to inquire about this massive Intelligence failure?
Barack Obama is a big proponent of "inclusive democracy" which is why he wants Iraqi prime minister Nouri al Maliki to either include more Sunnis in the government or resign as PM. In an interview with CNN, Obama said, "We gave Iraq the chance to have an inclusive democracy, to work across sectarian lines to provide a better future for their children and unfortunately what we've seen is a breakdown of trust…There's no doubt that there has been a suspicion for quite some time now amongst Sunnis that they have no access to using the political process to deal with their grievances, and that is in part the reason why a better-armed and larger number of Iraqi security forces melted away when an extremist group, Isis, started rolling through the western portions of Iraq.
"Part of the task now is to see whether Iraqi leaders are prepared to rise above sectarian motivations, come together, and compromise. If they can't there's not going to be a military solution to this problem … There's no amount of American firepower that's going to be able to hold the country together and I've made that very clear to Mr Maliki and all the other leadership inside of Iraq (that) they don't have a lot of time." (New York Times)
Anyone who thinks Obama  gives a rip about sectarian problems in Iraq needs his head examined. That's the lamest excuse for a policy position since the Bush administration announced they were sending troops to Afghanistan to "liberate" women from having to wear headscarves.  If Obama was serious about "inclusive democracy" as he calls it, then he'd withhold the $1.3 billion from his new dictator buddy, Generalissimo al Sisi of Egypt who toppled the democratically-elected government in Cairo, installed himself as top-dog in conspicuously rigged elections, and is now planning to execute 200-plus Egyptians for being members of a party that was legal just a few months ago.   Do you think Obama is pestering al-Sisi to be "more inclusive"?  No way. He doesn't care how many people are executed in Egypt, anymore than he cares whether al Maliki blocks Sunnis from a spot in the government. What matters to Obama and his deep-state puppetmasters is regime change, that is, getting rid of a nuisance who hasn't followed Washington's directives. That's what this is all about. Obama and Co. want to give al Maliki the old heave-ho because he refused to let US troops stay in Iraq past the 2012 deadline and because he's too close to Tehran. Two strikes and you're out, at least that's how Washington plays the game.
So Maliki has got to go, and all the hoopla over sectarian issues is just pabulum for the News Hour. It means nothing. The real goal is regime change. That, and the partitioning of Iraq. In fact, the de facto partitioning of Iraq has already taken place. The Sunnis have basically seized the part of the country where they plan to live. The Kurds have nailed down their own territory, and the Shia will get Baghdad and the rest, including Basra. So, the division of Iraq has already a done deal, just as long as al Maliki doesn't  gum up the works by deploying his army to retake the parts of the country that are now occupied by ISIS. But the Obama team probably won't allow that to happen, mainly because the bigshots in Washington like things the way they are now. They want an Iraq that is broken into smaller chunks and ruled by tribal leaders and warlords. That's what this is all about, splitting up the country along the lines that were laid out in an Israeli plan authored by Oded Yinon 30 years ago.  That plan has already been implemented which means Iraq, as we traditionally think of it, no longer exists. It's kaput. Obama and Co. made sure of that.  They weren't satisfied with just killing a million Iraqis, polluting the environment, poisoning the water, destroying the schools, hospitals, roads, bridges, and leaving them to scrape by on meager rations, foul water and a tattered electrical grid. They had to come back and annihilate the state itself, erase the lines on the map,  and remove any trace of a nation that was once a prosperous Middle East hub. Now the country is gone, vanished overnight. Poof. Now you see it, now you don't.
Of course, al Maliki could try to reverse the situation, but he's got his own problems to deal with. It's going to be hard enough for him just to hold onto power, let alone launch a sustained attack on a disparate band of cutthroats who are bent on wreaking havoc on oil wells, critical infrastructure, pipelines, reservoirs, etc as well as killing as many infidels as humanly possible. No matter how you cut it, al Maliki is going to have his hands full.  Obama has already made it plain, that he's gunning for him and won't rest until he's gone. In fact, Secretary of State John Kerry is in the Middle East right now trying to drum up support for the "Dump Maliki" campaign. His first stopover was Cairo. Here's a wrap-up form the Sunday Times:
"Secretary of State John Kerry arrived in Cairo on Sunday morning on the first leg of a trip that is intended to hasten the formation of a cross-sectarian government in Iraq. In his swing through Middle East capitals, Mr. Kerry plans to send two messages on Iraq. One is that Arab states should use their influence with Iraqi politicians and prod them to quickly form an inclusive government. Another is that they should crack down on funding to the Sunni militants in the Islamic State in Iraq and Syria. The group is largely self-sustaining because of success in extortion and its plundering of banks in Mosul, Iraq. But some funding "has flowed into Iraq from its neighbors," said a senior official on Mr. Kerry's plane." (Kerry Arrives in Cairo on Trip to Push for New Iraqi Government, New York Times)
How's that for priorities? First we get rid of al Maliki, says Kerry, then we move on to less important matters, like that  horde of jihadi desperados who are descending on Baghdad like a swarm of locusts. Doesn't that seem a little backasswards to you, dear reader?
And why isn't Obama worried about a jihadi attack on Baghdad?   Think of it: If they did attack Baghdad and the capital fell into jihadi hands, then what? Well, then the Dems would take the blame, they'd get their butts whooped in the upcoming midterms, and Madame Hillary would have to take up needlepoint because her chances of winning the 2014 presidential balloting would drop to zero.  So, the fallout would be quite grave. Still, Obama's not sweating it, in fact, he's not the least bit worried. Why?
Could it be that he knows something that we don't know?  Could it be that US Intel agents have already made contact with these yahoos and gotten a commitment that they won't attack Baghdad if they are allowed to remain in the predominantly Sunni areas which they already occupy? Is that it? Did Obama offer the Baathists and Takfiris a quid pro quo which they graciously accepted?
It's very likely, mainly because it achieves Obama's strategic objective of establishing a de facto partition that will remain in effect unless al Maliki can whip up an army to retake lost ground which looks doubtful at this point.
But, here's the glitch;  al Maliki is not a quitter, and he's not going anywhere. In fact he's digging in his heels. He's not going to be blackmailed by the likes of Obama. He's going to this fight tooth and nail. And he's going to have help too, because young Shia males are flocking to the recruiting offices to join the army and the militias. And then there's Russia; in a surprise announcement  Russian president Vladimir Putin offered to assist al Maliki in the fight against the terrorists, a move that is bound to enrage Washington. Here's a clip from the Daily Star:
"Russian President Vladimir Putin on Friday offered Iraqi Prime Minister Nuri al-Maliki Moscow's total backing for the fight against jihadist fighters who have swept across the Middle East country.

"Putin confirmed Russia's complete support for the efforts of the Iraqi government to speedily liberate the territory of the republic from terrorists," the Kremlin said in a statement following a phone call between the two leaders…
Russia is one of the staunchest allies of Syrian strongman Bashar al-Assad and has helped prop up his regime during three years of fighting against a hotchpotch of rebel groups, including the ISIL."  ( Putin offers Iraq's Maliki 'complete support' against jihadists, Daily Star)
That makes a third front in which Russia and the US will be on opposite sides. It's just like the good old days, right?  Putin seems to be resigned to the idea that Moscow and Washington are going to be at loggerheads in the future. He's not only opposed to a "unitary world order", he's doing something about it, putting himself and his country's future at risk in order to stop the empire's relentless expansion and vicious wars of aggression.  Needless to say, proxy wars like this can lead to rapid escalation which is always a concern when both parties have nuclear weapons at their disposal.  Now check this out from the Oil Price website:
"Here's why the threat goes beyond Iraq and Syria…Modern Syria is bordered by Turkey to the north, Iraq to the east, Jordan and Israel to the south and Lebanon to the west.

'Greater Syria' incorporates most of the territories of each.

This is what 'Syria' means in the mind of Middle Easterners, says Joshua Landis, director of the Center for Middle East Studies at the University of Oklahoma, and author of the respected blog SyriaComment.com

'If we can teach people that so many Arabs still think of Syria as Greater Syria, they will begin to understand the extent to which Sykes-Picot remains challenged in the region,' said Landis.

Sykes-Picot, of course refers to the secret agreement drawn up by two British and French diplomats — Sir Mark Sykes and Francois George-Picot — at the end of Word War I dividing the spoils of the Ottoman Empires between Britain and France by drawing straight lines in the sand.

To this day, many Arabs refuse to accept that division and think of 'Syria' as 'Greater Syria.' Some go so far as to include the Arab countries of North Africa – which from the Nile to the Euphrates forms 'the Fertile Crescent,' the symbol of many Muslim countries from Tunisia to Turkey. And some even go as far as including the island of Cyprus, saying it represents the star next to the crescent.

Given that, anyone who thinks ISIS will stop with Iraq is delusional."  (Insiders reveal real US aims in redrawing map of ME: Greater Syria, oil price)
Interesting, eh? So, if Mr. Landis is right, then the fracas in Iraq and Syria might just be the tip of the iceberg. It could be that Washington, Tel Aviv and Riyadh –who we think are the driving force behind this current wave of violence–have a much more ambitious plan in mind for the future. If this new method of effecting regime change succeeds,  then the sky's the limit. Maybe they'll try the same stunt in other countries too, like Turkey, Tunisia, Cyprus, and all the way to North Africa. Why not? If the game plan is to Balkanize Arab countries wholesale and transform them into powerless fiefdoms overseen by US proconsuls and local warlords, why not go on a regime change spree?
By the way, according to the Telegraph, Obama and friends knew what ISIS was up to, and knew that the terrorist group was going to launch attacks on cities in the Sunni territories, just as they have. Get a load of this:
"Five months ago, a Kurdish intelligence "asset" walked into a base and said he had information to hand over. The capture by jihadists the month before of two Sunni cities in western Iraq was just the beginning, he said.
There would soon be a major onslaught on Sunni territories.

The Islamic State of Iraq and al-Sham (Isis), a renegade offshoot of al-Qaeda, was about to take its well-known cooperation with leftovers of the regime of Saddam Hussein,  and his former deputy Izzat al-Douri, to a new level.

His handlers knew their source of old, and he had always proved reliable, officials told The Telegraph. So they listened carefully as he said a formal alliance was about to be signed that would lead to the takeover of Mosul, the biggest city north of Baghdad, home to two million people. …

'We had this information then, and we passed it on to your (British) government and the US government,' Rooz Bahjat, a senior lieutenant to Lahur Talabani, head of Kurdish intelligence, said. 'We used our official liaisons.'

'We knew exactly what strategy they were going to use, we knew the military planners. It fell on deaf ears.'  (How US and Britain were warned of Isis advance in Iraq but 'turned a deaf ear, Telegraph)
"Deaf ears"?
I'm not buying it. I think the intelligence went straight to the top, where Obama and his neocon colleagues came up with the plan that is unfolding as we speak. They figured, if they just look the other way and let these homicidal madhatters seize a few cities and raise a little Hell, they'd be able to kill two birds with one stone, that is,  get rid of al Mailiki and partition the country at the same time. But, it's not going to work out like Obama expects, mainly because this is just about the dumbest plan ever conjured up. I would give it an 80 percent chance blowing up in Obama's face in less than a month's time. This turkey has failure written all over it.
As for the sectarian issue, well, Iraq was never a sectarian society until the war.  The problems arose due to a deliberate policy to pit one sect against the other in order to change the narrative of what was really going on the ground. And what was really going on was a very successful guerilla war was being waged by opponents of the US occupation who were launching in excess of 100 attacks per day on US soldiers. To change the storyline–which was causing all kinds of problems at home where support for the war was rapidly eroding–US counterinsurgency masterminds concocted a goofy plan to blow up the Golden Dome Mosque, blame it on the Sunnis, and then unleash the most savage, genocidal counterinsurgency operation of all-time. The western media were instructed to characterize developments in Iraq as part of a bloody civil war between Shia and Sunnis. But it was all a lie. The bloodletting was inevitable result of US policy which the Guardian effectively chronicled in a shocking, but indispensable hour-long video which can be seen here. James Steele: America's mystery man in Iraq - video
The US made every effort to fuel sectarian animosities to divert attention from the attacks on US soldiers. And due to a savage and deceptive counterinsurgency plan that employed death squads, torture, assassinations, and massive ethnic cleansing,  they succeeded in confusing Iraqis as to who was really behind the daily atrocities, the human rights violations and the mountain of carnage.
You'd have to be a fool to blame al-Maliki for any of this. As brutal as he may be, he's not responsible for the divisions in Iraqi society. That's all Washington's doing.  Just as Washington is entirely responsible for the current condition of the country and for the million or so people who were killed in the war.
It's no longer easy to be a faithful Christian in America, says Dr. Robert P. George, chairman of the U.S. Commission on International Religious Freedom.  Our culture increasingly condemns Christian beliefs as bigoted and hateful: 
 
"They despise us if we refuse to call good evil and evil good." (American Christians Should Prepare to Be Despised, Official Tells National Prayer Breakfast, Rob Kerby, ChristianHeadlines.com, May 15, 2014) 
 
The Princeton University professor and author told Washington, D.C.'s 10th annual National Catholic Prayer Breakfast that American culture no longer favors faithful Christians. For example, he asked attendees to consider, 
 
"….the derision that comes from being pro-life and pro-traditional marriage (they) threaten us with consequences if we refuse to call what is good, evil, and what is evil, good. They demand us to conform our thinking to their orthodoxy, or else say nothing at all…"  
 
Dr. George told the prayer breakfast: 
 
"The intimidation to remain silent is insidious and growing…what American Christians are facing is the 21st century version of the question, 'Am I ashamed of the Gospel?"   
 
If anything, some evolutionary theologians and their gullible Christian flocks, both evolutionary theist and progressive creationist, are at least as hostile if not more so toward faithful defenders of the miracle of Special Creation than are their evolutionary atheist and occult pantheist counterparts: Luciferians, god-men, goddesses, shaman, Satanists, witches, necromancers, and astrologers. 
 
The usual diatribe thrown against altogether despised creationists goes something like this:  
 
Since Darwin introduced the theory of evolution some Christians have been uncomfortable with the idea that all species (i.e., reptiles, birds, bugs, dogs, apes, humans) share a common ancestry moving from primordial matter to creeping things, crawling things, swimming things, knuckle-dragging things to man under the direction of the God of evolution.   Thus the Earth was not created instantaneously as St. Augustine held or created in six days as most early Church Fathers affirmed. Nor was Adam created by the One God in three Persons as a living soul embodied in flesh, fully person, fully man right from the beginning.   Adam and Eve, if they even existed were emergent products of evolution, their closest relative soulless hominids.  Thus the events described in Genesis are not meant to convey the miraculous creation ex nihilo but the scientific 'reality' that the universe has an impotent creator that made and ignited a Cosmic Egg (Big Bang) which generated matter and energy. Then after billions of years of God-directed evolution eventuating in the suffering and death of millions of life-forms (God's fault, btw) man inexplicably fell from grace even though God is the guilty party, the real cause of death and suffering.  
 
According to this counter-intuitive Gnostic-laced tale of nonsense, evolutionary science, not God's Revelation, is a reality in nature explainable by reason and empirical observation and faithful Christians who deny this are in denial of reality.  Faithful Christians who actually affirm the Revelation of God and Special Creation are guilty of defending the backwards, anti-scientific, anti-evolution 'fundamentalist' interpretation of the book of Genesis thus are not only a cause of embarrassment to fashionably-correct, scientifically enlightened Christians, but are also guilty of harming Christianity. (Creationism Harms Christianity, sacerdotus.wordpress.com) 
 
However, it isn't faithful Christians who are 'embarrassments' but rather intellectually arrogant evolution-obsessed theologians.  These wolves in sheep clothing mesmerize and persuade susceptible Christian sheep to uncritically accept dangerous esoteric ideas like evolution.
 
 With respect to Darwin's theory, Darwin is not its' inventor. He received the idea from his nature-worshipping pagan grandfather Erasmus Darwin, an important name in European Masonic anti-Christian Church organizations engaged in destructive revolutionary activism. Erasmus mentored his grandson Charles: 
 
"Dr. Erasmus Darwin (1731-1802) was the first man in England to suggest those ideas which were later to be embodied in the Darwinian theory by his grandson, Charles Darwin (1809-1882) who wrote in 1859 Origin of Species." (Scarlet and the Beast, Vol. II, John Daniel, p. 34) 
 
According to anthropologist Henry Fairfield Osborn, longtime director of the American Museum of Natural History, ancient pagans are the inventers of modern evolutionism. In the introduction to his history of evolutionism Osborn wrote:
 
 "When I began the search for anticipations of the evolutionary theory….I was led back to the Greek natural philosophers and I was astonished to find how many of the pronounced and basic features of the Darwinian theory were anticipated even as far back as the seventh century B.C." (Osborn, From the Greeks to Darwin, p. xi) 
 
By its' nature evolutionism belongs to the category of naturalism (all that exists is nature or cosmos), making it antithetical, or in fierce opposition to the infinite Triune God, the supernatural dimension and special creation.  The personal Triune God is outside of His creation—the natural dimension of space, time, matter and energy—thus He is not subject to the laws of science: 
 
"….science has no satisfactory answer to the question of the origin of life on the earth. Perhaps the appearance of life on the earth is a miracle. Scientists are reluctant to accept that view, but their choices are limited: either life was created on the earth by the will of a being outside the grasp of scientific understanding, or it evolved on our planet spontaneously, through chemical reactions occurring in nonliving matter lying on the surface of the planet. The first theory places the question of the origin of life beyond the reach of scientific inquiry. It is a statement of faith in the power of a Supreme Being not subject to the laws of science. The second theory is also an act of faith. The act of faith consists in assuming that the scientific view of the origin of life is correct, without having concrete evidence to support that belief." (Until the Sun Dies, Robert Jastrow, Ph.D. Theoretical Physics, pp. 62-63, 1977) 
 
Only by conceptually murdering the supernatural Triune God and replacing Him with a 'god' within the natural dimension (naturalism), thus subject to scientific inquiry, can intellectually arrogant theologians presume to speak for god, claiming that he made and exploded a Cosmic Egg and directs evolutionary transformism together with the rest of their twisted theology dressed in Christian clothing.
 
 As an idea evolution is like an onion consisting of multitudinous layers of esoteric meaning.  Darwin's theory occupies two or three layers. The many other layers already existed prior to Erasmus going back to the Renaissance and before that to ancient Chaldea and India thence to ancient Greece and Rome where evolution is always and everywhere connected to reincarnation and spiritual evolution (transformism).    
 
On ancient pagan conceptions of reincarnation and spiritual evolution early Church Father Gregory of Nyssa said: 
 
"[I]f one should search carefully, he will find that their doctrine is of necessity brought down to this. They tell us that one of their sages said that he, being one and the same person, was born a man, and afterward assumed the form of a woman, and flew about with the birds, and grew as a bush, and obtained the life of an aquatic creature—and he who said these things of himself did not, so far as I can judge, go far from the truth, for such doctrines as this—of saying that one should pass through many changes—are really fitting for the chatter of frogs or jackdaws or the stupidity of fishes or the insensibility of trees" (The Making of Man 28:3; A.D. 379).  
 
Evolution appeared in Christendom during the Renaissance when certain Christian theologians, mystics and scholars such as Emanuel Swedenborg had discovered Chaldean astrology, Hermetic magic, occult Jewish Kabbalah, Eastern mystical traditions and the ancient ways of 'going within' (contacting spirits).  All of this was accompanied by conceptions of reincarnation and spiritual evolution.  They studied these ancient occult traditions which they translated resulting in Hermetic Kabbalah. Then like Pico della Mirandola, they argued that occult hermetic science – the divine technology or Magic Way of reaching divine status and powers through ritual procedures and spiritual evolution is the best proof of the divinity of Christ.  (God and the Knowledge of Reality, Thomas Molnar, pp. 78-79) 
 
Father Richard John Neuhaus pulls all of these occult traditions together in his analysis of modern evolutionary scientism as a revitalization of ancient spiritual traditions closely connected to elemental spirits. In his book, "American Babylon," Neuhaus argues that astrological elemental spirits (powers and principalities) have been recast as, 
 
"…evolutionary dynamics, life forces, or laws of nature." Though described as laws rather than spirits, these elemental "forces"…. work their inexorable ways in cold indifference to reason, to will, to love, and to hope. In short, it is suggested that the elemental spirits are in charge and that human freedom is a delusion." (p. 226)
 
 Despite that modern evolutionary theologians validate their esoteric projects as empirical or observational science in reality observational science is their enemy.   For instance, evolutionary theology alleges that hominids are supposed to be our ancestors, the so-called transitional life-forms linking modern humans to the common ancestor of all life.    
 
However, the hominid claim has fallen flat on its' face, said Carl Wieland. In "Making Sense of Apeman Claims," Wieland reports that a consistent pattern has emerged in direct opposition to the evolutionary story.  Over the decades, each new fossil find has been falling quite naturally into one of only three major groups.    And two of these, Neanderthal and Homo erectus turn out to be strikingly similar, in fact, Neanderthals are "clearly human descendants of Adam." (Creation, Vol. 36, No. 3, 2014, p. 38)
 
 Although the third category generates the most excitement among evolution-worshippers it turns out to be an extinct non-human primate group, anatomically not between apes and humans.    
 
Sequencing of Neanderthal DNA clearly shows interbreeding with modern populations, particularly those from Eastern Europe, meaning that Neanderthals are not a separate species, despite evolutionary claims that they split off from the human lineage 500,000 years ago.  This evidence is a major blow to evolutionary theist and "progressive" or "old-earth creationist notions." (p. 38). 
 
It is because evolutionary 'old-earth' theologians reject what God said in favor of what man said, their starting point is fallible secular dating, hence they, 
 
"….must regard Neanderthals as pre-Adamic soulless nonhumans despite all the archaeological evidences of their humanity.   But DNA now makes this completely dead in the water, having children together means they must be the same created kind."  (pp. 38-39) 
 
Among the scientifically affirmed finds showing that Neanderthals were human are: 
 
1. Stone tools and specialized bone tools for leatherworking. 
 
2. The controlled use of fire, including heating birch bark peelings to make special pitch to haft wooden shafts onto stone tools. 
 
3.  Perfectly balanced, finely crafted wooden hunting javelins. 
 
4. Jewelry 
 
5. Evidence of body decorations and cosmetics. 
 
6. Burying their dead with ornaments. 
 
7. Cooking utensils and the use of herbs in food. 
 
8. Symbolic thinking 
 
9. High-tech 'superglue' 
 
10. A complex structure built 1 mile underground where no daylight penetrates suggests the technology and know-how to transport sustained fire as a source of light that far down. 
 
11. Evidence of dwellings made of timber draped with animal skins 
 
12.  Recent detailed analysis of hyoid bone (associated with the voice box) indicates they could speak, as does recent genetic evidence.  (ibid, Wieland) 
 
"For he spoke and they were made: he commanded and they were created." Psalm 33:9  
 
Either the infinite personal One God in three Persons spoke or He did not. If He did, then Jesus is God in the flesh, the Creator and Living Word (John 1: 1-5) the Light that came into the world (John 3: 1-9) who perfectly fulfills all prophecy from the antediluvian world to the post-flood world: 
 
"And he said: I am the God of thy father, the God of Abraham, the God of Isaac, and the God of Jacob. Moses hid his face: for he durst not look at God."     Exodus 3:6 
 
If the One God in three Persons spoke then what He revealed to Moses with respect to the miracle of creation is thesis (True Truth), making evolution antithesis (the lie).  The faith of the Christian Church and of the average Christian has had, and still has, its foundation as much in the literal and historic elements of Genesis, the book of beginnings revealed 'mouth to mouth' by the Angel to Moses, as in that of the person and deity of Jesus Christ.  
 
The Return of an Ancient Heresy  
 
The primary tactic employed by defiant, intellectually proud theologians eager to accommodate Scripture and the Church to modern science and pagan evolutionary thinking is predictable. It is the argument that evolution is entirely compatible with the Bible when Genesis, especially the first three chapters, is viewed in its entirety in a non-literal, non-historical context. This is not a heresy unique to modern times. The early Church Fathers dealt with this heresy as well, counting it among the heretical tendencies of apostate Jewish Cabbalists, Origenists and Gnostic pagans such as Simon Magus. 
 
Fourth-century Fathers such as John Chrysostom, Basil the Great and Ephraim the Syrian, all of whom wrote commentaries on Genesis, specifically warned against treating Genesis as an unhistorical myth or allegory. John Chrysostom strongly warned against paying heed to these heretics, 
 
"…let us stop up our hearing against them, and let us believe the Divine Scripture, and following what is written in it, let us strive to preserve in our souls sound dogmas." (Genesis, Creation, and Early Man, Fr. Seraphim Rose, p. 31)
 
 As St. Cyril of Alexandria wrote, higher theological, spiritual meaning is founded upon humble, simple faith in the literal and historic elements of Genesis as Revealed by God and one cannot apprehend rightly the Scriptures without believing in the historical reality of the events and people they describe. (ibid, Seraphim Rose, p. 40) 
 
In agreement, Vishal Mangalwadi (1949- ), founder-president of BOMI/Revelation Movement observes that the Revelation of God is the only available foundation for truth, freedom and faith in God's gift of reason.  But Western theologians and intellectuals have closed their minds to Revelation, hence Truth, reason and Special Creation.  Because "intelligent" Americans no longer believe in "True Truth" (Francis Schaeffer) they invent stories and use empty god words as substitutes for the infinite, personal Triune God.  Thus Gospel Truth is now 'Gospel Story' and history a series of unfolding stories such as the physical science story (Big Bang) which may or may not include the use of a god-word; the biological science story (evolutionary transformism), the climate science story (global warming or change), and the social science story (gay marriage): 
 
"Doing science" increasingly means peddling politically correct dogma – that is, stories that have evolved into myths. No one really knows if there was only one Big Bang or other bigger bangs as well; whether we live in a universe or multi-verse; whether life evolved on this planet or came from outer space . . . but if you want a tenured position in a university, and if you want your research projects funded, you have to toe politically correct storyline – champion dogma."  (How Did the West's 'Rational Animal' Become Incapable of Using Reason? Mangalwadi) 
 
The abandonment of God's Revelation in favor of story-telling   
 
Christendom and Protestant America did not emerge from the darkness of story-telling and god-words but arose to illustrious heights on the awe-inspiring wings of the Revelation of God, hence the Genesis account of creation ex nihilo, the uniquely Christian definition of man as a person because created in the spiritual image of the infinite One God in three Persons, God's unchanging Moral Law and the Biblical view of man's sinful condition. Their subsequent fall was traced by Richard Weaver in his book, "Ideas Have Consequences" (1945). 
 
Weaver writes that 14th century Western man had made an "evil decision" to abandon his belief in the transcendent Triune God, His Revelation and unchanging universals, thus the position that "there is a source of truth higher than and independent of man…" The consequence of this 'evil decision' is a still unfolding catastrophe reaching fullness in our own time: 
 
"The denial of everything transcending experience means inevitably…the denial of truth. With the denial of objective truth there is no escape from the relativism of 'man is the measure of all things." (The Conservative Intellectual Movement in America, George H. Nash, pp. 32-33) 
 
The substance of 'man is the measure of all things' is idolatry.  The beginning of idolatry is pride (narcissism), which together with selfishness demonstrates preference for one's self instead of the Triune God, His Revelation (hence 'True Truth') and neighbor (and unwanted, inconvenient human life, i.e., babies).  Just as no violation of the Law can occur without one first being an idolater, envy/covetousness and murder are its' final results, for where 'self' is primary then 'self' deserves everything it can get, no matter the cost to other people.   
 
The fall of the West and America is due to the idolatry of darkened souls turned by choice toward evil.  From the antediluvians to our own age, the truth as to this evil said Athanasius, 
 
"….is that it originates, and resides, in the perverted choice of the darkened soul" which, "materialized by forgetting God" and engrossed in lower things, "makes them into gods," and thereby "descends into a hopeless depth of delusion and superstition," whereby "they ceased to think that anything existed beyond what is seen, or that anything was good save things temporal and bodily; so turning away and forgetting that she was in the image of the good God, she no longer… sees God the Word after whose likeness she is made; but having departed from herself, imagines and feigns what is not (and then) advancing further in evil, they came to celebrate as gods the elements and the principles of which bodies are composed…."(Against the Heathen, New Advent) 
 
Having descended into delusion and superstition darkened souls imagined that "all that exists" is the natural dimension, meaning the universe of matter, animated powers, forces, and deterministic laws, all of which they celebrated and attributed miraculous powers to just as modern evolution worshippers do, whether secular or theological: 
 
"There is an energy in the world, a spark, an electricity that everything is plugged into. The Greeks called it zoe, the mystics call it 'Spirit,' and Obi-Wan called it 'the Force'…..This energy, spark, and electricity that pulses through all of creation sustains it, fuels it, and keeps it growing. Growing, evolving, reproducing…" (Love Wins, Rob Bell, pgs. 144-145) 
 
Evolutionary scientism is not observational science in search of how things really work in this world but rather a disastrous occult science tradition whose taproot stretches back to Babylon and before that the pre-flood world.   The 'Christian' teachers and defenders of this demonic heresy are guilty of leading unwitting sheep astray, possibly to their doom, and of besmirching and defaming faithful defenders of special creation as backwards, anti-science, anti-evolution destroyers of the faith.   However, in reality creationists are the defenders of thesis (True Truth) against the damnable incursion of antithesis (occultism) into the good news, the Gospel of Christ. 
 
 In this light, what are vicious attacks against Special Creation as well as those against the sanctity of human life, and traditional one man one woman marriage but evil wills offended by and resentful of Higher Authority, True Truth, 'other' (unwanted, inconvenient human life) and moral restrictions and limitations? 
 
"For whoever shall be ashamed of me and of my words, of him shall the Son of man be ashamed, when he shall come in his own glory, and in his Father's, and of the holy angels."    Luke 9:26 
 
Who are the intolerant ones, the highly offended because ashamed of our Lord and his words?  Who are the selfish, intellectually arrogant story-tellers whose embarrassing doctrine of change (evolution) is "really fitting for the chatter of frogs or jackdaws or the stupidity of fishes or the insensibility of trees"'?   
 
Hint:  Not Creationists or any of the faithful. 
Now that I'm back here in America after personally observing Syria's recent presidential elections, I've been totally amazed at some of the fabrications, gross exaggerations and out-right lies that my country's mainstream media has come up with regarding these vote results.
"Election fraud in Syria!" the newspapers cry over and over again.  "Assad forces Syrians to vote for him!  The elections were coerced!" plus many many other words to that effect.  And even President Obama jumped on the band wagon — after even he himself has committed election fraud of a sort, having run on a ticket of peace and more jobs and then giving us war and no jobs instead.  To say nothing of when G.W. Bush stole the Florida and Ohio elections.  Twice!
Well. I am here to tell you that what they are saying about the Syrian elections is just so much bull dookie.  And how do I know?  I was there.  In Syria.  They weren't.  Eye-witness accounts always trump outsourced fabrications.  Hopefully.
And so in the name of setting the record straight, I've decided to type up all of my various 50 pages of notes that I took over there in order to show you, step by step, minute by minute, what actually happened over in Syria — to me personally.
This eye-witness account is going to be a long read — but an accurate one.  Some good stuff happened.  And some bad stuff.  And some fun stuff too (fun stuff in a war zone?  Huh?)  But I dare you to read it.  And if you do, I'm sure you will find that it will be just like you came along to Syria with me.
Here is the link.
PS:  How much do you know about America's new "Army of One"?  It's just not your father's Army any more.  Or even your son's (or your daughter's).  The new U.S. Army appears to have gone totally mercenary — and its new source of recruits goes way far beyond just hiring some Blackwater guys sporting AK-47s or a Bangladeshi kitchen crew.
Under America's new rules of war, recruiters don't have offices on Main Street USA any more.  Instead they have offices in poverty-stricken countries like Chechnya, Afghanistan, Somalia and South Sudan — any godforsaken hell-hole where there is over 50% employment.  "Wanna interesting job with good pay," American recruiters whisper into future soldiers' ears.  But the good pay these recruiters are offering is this:  When these new soldiers come home in a box, their families might possibly be given burial expenses.
And, trust me, these new recruits are a whole different breed from your traditional G.I. Joe.  They are angry.  They are far from home.  They have had a grueling hand-to-mouth childhood.  Many of them are wingnut religious fanatics who think that the Bible and the Koran are all about slaughter and vengeance, not compassion and justice.  And they truly do not care who they kill.
And did I already mention that these new recruits work for cheap?  No need for pensions plans or VA hospitals or none of that other slacker stuff for them.  These guys are the ultimate outsourcing/cheap labor Republican wet dream.
Too bad that the neo-Nazi blood-thirsty recruits that Wall Street and War Street have hired in Ukraine are refusing to work as cheaply as the ones that they send to Syria.
However, thanks to this new recruiting policy, no one back home in America whines and bellyaches any more because their sons and daughters have been killed while defending America's military-industrial complex's oil either.  This is a win-win situation for American war mongers.  The Bush dynasty and Mr. Cheney must be ecstatic right now.  But Eisenhower must be rolling over in his grave.
In addition, these new fanatical terrorist jihadi wingnut recruits are actually really really good at doing what they have come to love best:  Killing and looting.  They just took over Mosul and Tikrit in Iraq, no small feat.  And they have been driving Syria bananas over the last three years, like so many psychotic bedbugs.  Forget the Marines!  These new recruits are always Semper Fi — to whoever pays them peanuts to behead civilians and rape women.  And Americans like you and me are paying billions to keep these wannabe butchers in the field.
Welcome to the new "Army of One".
PPS:  Perhaps I may be wrong about all those crazy-eyed jihadis and wingnut foreign fighters earning almost nothing in their American paychecks.  I just read an article about how ISIS (the main jihadi gang of thugs operating in Syria) has pretty much sacked a lot of Syria's wealth.
Basically ISIS has just swooped in and looted Syria like so many pirates — and now, with American and Saudi help, it is also looting Iraq too.  Let me make one thing clear:  These barbarians do not want to start an Islamic civil society in the Middle East.  They just want to plunder.  "Argh."
According to Alakbar English, "ISIS currently controls many [oil] fields and is battling for control for more fields still.  According to al-Nusra sources, one oil well south of Raqqa brings in up to $1.3 million per day, while other fields in and around Raqqa like Zamla, al-Tabaqa, and Kuniko bring in $500,000 per day, in addition to unknown revenues from the Jazal and Shaer oil fields, and al-Jafra (oil and gas)
"ISIS also profits from thousands of kidnappings and ransoms involving locals and foreigners, including journalists, as well as robbery and looting, including of archaeological sites and factories.  For example, ISIS seized control of large factories in Aleppo, including the government-owned railway and cables factory, a batteries factory, and a tractor factory.  In some cases, ISIS dismantled and sold their equipment and machinery.  Al-Nusra sources put the resulting revenues at $1 million per month.
"In addition, ISIS has taken control of grains and cotton production in the eastern regions.  For instance, al-Nusra accuses Amer al-Rafdan, one of the most prominent figures in ISIS, of stealing $5 million worth of cotton in Deir al-Zour alone.  Meanwhile, al-Nusra sources say that ISIS has earned more than $25 million from al-Alia grain silos in Al-Hasakah.
"The conflict in Syria has also allowed ISIS to put its hands on a large arsenal of weaponry, consisting of both weapons seized in combat and weapons purchased directly from arms dealers, who are always willing to sell weapons to just about everyone."
This is just plain scary.  This is just like when the barbarians sacked and burned ancient Rome.  And now the same Middle Eastern jihadi wingnuts who tried to sack and burn Syria have gone on to sack and burn Mosul and Tikrit too (not to mention Benghazi et al.)  And Baghdad is next.
And one election observer I met in Damascus also brought up another good point.  "Something about this advance does not add up.  How could 1,500 fighters hold a town or a province?  How come American satellites did not see this coming?  Major advances like that are not easily done."  Not unless America and Saudi Arabia are offering up the technology and footing the bill.  Duh.
Wall Street and War Street should be ashamed for supporting these kinds of hoodlums.  And what if they come over here to sack and burn us next?  "Sorry, I plan to be out of town that weekend," just isn't gonna wash.  But, oops, too late now.  The FBI has already claimed that Saudi and Chechen barbarians have already been active in Boston and New York.
These pirating wingnuts in ISIS are psychotic.  The American military-industrial complex may think that their pirate crews in the Middle East are controllable — but, guys, this is not Halloween.  You are playing with fire.

While staying here in Damascus, I have heard the same thing said again and again from a whole array of sources, including foreign journalists, Syrian citizens and even Christian nuns.  "This war on Syria is being fought by Al Qaeda operatives, fanatic Islamist jihadis, foreign fighters, terrorists and mercenaries for hire.  And they are being financed by American money and given American weapons."  Yikes!
    What this means to me personally is that my very own head (which I have actually become quite attached to) could possibly be blown off at any minute by fanatics and/or weapons bought and paid for by my very own tax dollars.  Now that is a really confusing thought.
"War by proxy" is becoming a more and more frequently-used phrase here in Syria.  The American military-industrial complex is now out-sourcing their war.
   But, hey, that's better than having American soldiers over here fighting and dying for Wall Street and War Street like they did in Iraq.  Our soldiers' jobs are being shipped overseas?  That's one example of outsourcing that is just fine by me.
Except, in the words of one local college professor I interviewed the other day, "We Syrians are fighting dirty enemies.  This is a dirty war.  The jihadists attack hospitals, power plants and schools.  But the Syrian people are fighting back."  The professor also mentioned the discovery of vast new oil fields off the Syrian coast.  And he found it ironic that the very first place that the jihadis, inquisionists, Taliban wannabes and Al Qaeda death squads attacked was in this oil-rich region.  The original peaceful protests by Syrians themselves — before the Taliban wannabes arrived in force from overseas and turned Syria into a slaughterhouse — took place in Daraa, not in the oil fields.  Hmmm.
  "I also find it ironic that Americans are citing democracy as their primary reason for attacking Syria — while their biggest ally in this region is Saudi Arabia, a known dictatorship."  Not to mention the doubts that everyone has about American elections.  Take Diebold for instance.  And Florida and Ohio and that weird Supreme Court ruling that forced GWB down our throats.  And voter ID cards and 92-year-old women turned away from the polls.  But, hey, America is famous for exporting hypocrisy.  Get over it, prof.
  In Sweida, I talked with a young woman who spoke English and she said, "Living in Syria is like living in one of those Hollywood horror movies."  Slasher flicks.  "These terrorists come here and they bomb our hospitals and schools, kill and rape women and children and even eat our flesh like cannibals.  We Syrians just want this horror movie to stop."  And she was proud of Bashar Assad for standing up to these wannabe Freddy Kruegers.  And most of the Syrians I have talked with feel the same way.  "And you would too — if it happened to you."
And it did happen to me too — sort of.  I can hear the shelling outside Damascus going on night and day.  Nerve-racking.   I almost felt like a heroic citizen of London during the Blitz.
Syria's president, Bashar Assad, has been playing the Great Game of political chess in this region like he is a grand master — and perhaps that's why the American military-industrial complex hates him so much.  But Syrians love him.  They just do.  It's a Syrian thing.  Remember what Maya Angelou said in "I know Why the Caged Bird Sings"?  How she was being raped as a child and prayed for the Green Lantern to save her?  Well President Assad, like it or not, is Syria's Green Lantern.
Assad might have been a bit to enthusiastic in the past about suppressing dissidence.  But please be aware that the inquisionist crazies and Al Qaeda freaks that have tried to invade Syria are so very much worse.  Syrians weren't totally behind Assad before the invasion — but they certainly are now, thanks to America's military-industrial complex.  Eisenhower warned us about the complex.  He shoulda warned the Syrians too.
The only thing that I can truly fault Assad on presently are all those all-pervasive giant posters of him that you see everywhere — on buildings, in shops, on cars and buses, on T-shirts and even in elevators.  Everywhere.  He should stop doing that.  He's not just some Ken doll or even the next Brad Pitt.  He's a political genius who is trying save Syria from the bad guys.  He should have understood by now that he has found a place in the hearts of the Syrians and just leave it at that.
PS:  Observing the elections was fun.  It was like attending a country-wide block party.  Or, as Mother Agnes-Mariam said to me in an interview at the Dama Rose Hotel, "It would be impossible to coerce that many Syrians to vote out of fear. People actually went out from rebel-held territory to vote.  Even the rebels voted."  So. Who are you going to believe about the authenticity of the Syrian elections?   Mother Agnes-Mariam who said that they were valid — or Wall Street and War Street, who claim they were a fraud?
Are you going to believe the same people who lied to us about Iraq having weapons of mass destruction – or a mother-superior Christian nun?
PPS:  In Homs, those nasty American-sponsored jihadists blew up a historic old Christian church — only to find an even older church lay buried under the newer church's foundations.  Built in 59 AD, this older church might actually been visited by the Apostles and Saint Paul himself.  And these Taliban wannabes were happily trying to blow this older church up too.  But apparently they got distracted by trying to break up the bones of some nearby Christian saints' relics — and the old church was saved!
PPPS:  I never did get to meet President Assad.  "Apparently he has to keep his eye out for being assassinated by drones," one journalist explained to me as to why Assad hadn't come to the Dama Rose hotel.  But still…I could have worn my cool "Berkeley High Water Polo Team" T-shirt that I had swiped from my daughter Ashley.  I'm sure Assad would have been quite impressed.
On Thursday, European Central Bank chief Mario Draghi dropped rates on overnight deposits to minus 0.1% thereby charging commercial banks to keep their money at the ECB. The move, which was applauded by the media as a "historic measure to fight deflation", is nothing of the kind. Negative rates have been used in both Sweden and Denmark in recent years, but to little effect. The policy will not "get the banks lending again" as the ECB suggests, nor will it ease the high unemployment and slow growth that have plagued the Eurozone for the last six years. In truth, the rate change will have no impact at all. It's merely public relations stunt designed to create the impression that the ECB is aggressively addressing the crisis for which it is largely responsible. Here's how the World Socialist Web Site summed it up:
"The move is an expression of the fact that, nearly six years since the collapse of Lehman Brothers, the world economy remains mired in deep crisis, for which the world's central banks have no solution outside of pumping trillions into banks and financial firms. While trillions are handed out to the banks, workers throughout the continent are told that there is "no money" to pay for pensions, social programs, and healthcare benefits." (European Central Bank cuts interest rate below zero, WSWS)
Stock traders loved the news that the ECB was going "sub zero". As we've seen before, any indication that the easy money regime is here-to-stay is enough to send equities skyrocketing, which it did. All the main indices notched substantial gains on the day while the SandP 500 surged to a new record of 1,940.
The idea that charging the banks a small fee on overnight deposits will induce them to lend more freely, demonstrates a laughable misunderstanding of how the system really works. Banks don't need piles of reserves to issue loans. What they need is creditworthy customers and strong demand. But, of course, demand is weak because the ECB has taken steps to keep the EU in a permanent state of Depression through its austerity policies. What this shows, is that the objectives of the class war precede the requirements for a healthy economy. Draghi and his cohorts would rather decimate the welfare state and reduce EU working people to abject poverty, then implement the policies that would generate a strong economic recovery.
But won't the lower rates lead to more lending, you ask? After all, when the price of money falls, borrowing becomes more attractive, right?
It's a persuasive theory, but it doesn't work that way. For example, check out this blurb from Reuters and you'll see what I mean:
"Lending to companies in the euro zone contracted at the fastest pace on record in November, piling pressure on the European Central Bank to do more to revive the currency bloc's economy…

"Worryingly, there is still no sign of any trend change in bank lending to euro zone businesses…" said Howard Archer, chief European economist at IHS Economics…

Corporate borrowing in the euro zone overall declined at the fastest pace on record, November's 3.9 percent drop comparing with a 3.8 percent decline on the year in the previous month.

Bank lending to Italian firms fell at an annual pace of 5.9 percent in November, the sharpest decline in the measure's 10-year history. That was also true for the euro zone's smallest economy, Malta, which recorded a 10.4 percent drop….The biggest decline was in Spain, where lending to companies fell 13.5 percent." (Euro zone corporate lending shrinks at record pace in November, Reuters)
The reason bank lending saw "the sharpest decline in the measure's 10-year history", is because the economy is in a depression, and people don't borrow tons of dough in a depression. They cut back, hunker down and squirrel-away whatever they can. Draghi knows this. He's just going through the motions to make it look like he cares. It's all PR. What he really cares about is his constituents, and what they want, is an end of the welfare state.
What's so irritating about all of this, is that we know how fix the economy. We know how to increase activity. We know how to boost demand, create jobs, and raise GDP. None of this is new.
When the private sector (consumers and businesses) can't spend for some reason, then the government has to step up and spend like crazy to keep the economy going. The only alternative is to allow consumption to fall sharply, which will push up unemployment, push down GDP and do vast damage to both the economy and financial system. Why would anyone want to do that, especially when all they have to do is increase the budget deficits temporarily while consumers patch their balance sheets and get back on their feet again?
Monetary policy has not and will not fix the economy. How many years are we going to repeat the same mistake before we acknowledge that? The whole presumption that this pointless, circle-jerk policy is designed to do anything other than provide another bailout for underwater, insolvent financial institutions and the crooked bank bondholders who own the whole friggin' planet is laughable in the extreme. Check this out from Bloomberg:
"In a bid to get credit flowing to parts of the economy that need it, the ECB also opened a 400-billion-euro ($542 billion) liquidity channel tied to bank lending and officials will start work on an asset-purchase plan. While conceding that rates are at the lower bound "for all practical purposes," he signaled the the ECB is willing to act again." (Bloomberg)
So that's what this is really all about, eh? Draghi is just laying the groundwork for a European version of QE?
Yep. Sure is. And that means another $542 billion will go to the chiseler class. Another $542 billion propping up crooked banks by purchasing their unwanted, toxic Asset-Backed Securities. (ABS) Do you think I'm kidding? I'm not. That's what the money is earmarked for.
The point is, monetary policy alone will not produce a strong, self sustaining recovery, which is a point that Keynes makes in Chapter 12 of "The General Theory of Employment, Interest and Money". Here's what he says:
"For my own part I am now somewhat skeptical of the success of a merely monetary policy directed towards influencing the rate of interest. I expect to see the State, which is in a position to calculate the marginal efficiency of capital-goods on long views and on the basis of the general social advantage, taking an ever greater responsibility for directly organizing investment; since it seems likely that the fluctuations in the market estimation of the marginal efficiency of different types of capital, calculated on the principles I have described above, will be too great to be offset by any practicable changes in the rate of interest." (John Maynard Keynes, "The General Theory of Employment, Interest and Money", marxists.org, 2002)
Keynes is just stating the obvious, that during periods of weak demand, the sensible option is for the government to take up the slack by "directly organizing investment", in other words, spending money to keep the economy running. Doesn't that seem infinitely more reasonable than the Draghi approach which involves a decade of experimental monetary policy that ends in social upheaval, high unemployment, and political unrest?
And here's the thing: Keynes "The General Theory" was published in 1936. That's nearly 80 years ago! This isn't some new-fangled theory concocted by pointy-head crackpots like Bernanke. This is settled science. Fiscal stimulus works. If the government spends, unemployment will drop. If the government spends, the economy will grow. What else do you need to know?
We've been hoeing this same row for 6 years now and the economy is still in the dumps. And, in the EU, it's even worse. Youth unemployment is above 50 percent in Spain and Greece, GDP stuck at a miserable 0.2 percent, business and consumer lending still shrinking, bond yields on sovereign debt are in the toilet, civil disorder and fascism are on the rise, and with the entire 17-member union is rushing headlong into deflation.
And Draghi thinks that negative rates are going to fix all this and put the economy back on the road to recovery?
In your dreams! The only way out of a mess like this is to spend like a madman, which is what Keynes recommended in his famous statement about bottles stuffed with banknotes. Here's what he said:
"If the Treasury were to fill old bottles with banknotes, bury them at suitable depths in disused coalmines which are then filled up to the surface with town rubbish, and leave it to private enterprise on well-tried principles of laissez-faire to dig the notes up again… there need be no more unemployment and, with the help of the repercussions, the real income of the community, and its capital wealth also, would probably become a good deal greater than it actually is. It would, indeed, be more sensible to build houses and the like; but if there are political and practical difficulties in the way of this, the above would be better than nothing." (p. 129)
Okay, so it sounds crazy, but it's really no different than Bernanke's "helicopter drop" theory, that is, that –during a severe downturn–the government needs to find a way to stimulate demand. The best way to do that, is to avoid the normal transmission mechanisms (which don't function properly during a slump) and get money directly into the hands of the people who will spend it quickly and get the economy growing again. It's all about spending, spending, spending. It doesn't matter if people buy Ipads or Ant Farms. Just spend, dammit. Spending is activity, activity is growth, growth reduces unemployment, which leads to more investment, more jobs and a virtuous circle.
If it seems to you, dear reader, that Keynes antidote for the ailing economy is more likely to succeed than Draghi's, then you are certainly right. Massive doses of fiscal stimulus WILL revive the EU economy, lower unemployment, and boost growth. The question is whether that's a goal the public should really support or not? In other words, is there any point in trying to restore a system which, at its very core, is unstable, self destructive and exploitative? Here's how Counterpunch economics writer Rob Urie sums it up:
"John Maynard Keynes created a host of economic patch-jobs to save capitalism from more effective solutions. In the pit of the Great Depression FDR implemented programs based on Mr. Keynes' ideas (which) produced minor relief now deemed by the economic insightful-lite to be a 'robust' economic recovery….. But the cause, leveraged (finance) capitalism gone wild, was only temporarily tamped down by regulation while its intrinsic instability was left intact…

Calls for re-regulation, managed capitalism, beg the question: re-regulate what? As demonstrated by history, the system of finance capitalism is intrinsically unstable and economically destabilizing. Under the guise of reviving a functioning financial system a dysfunctional system has been revivified, not revived, and nearly all benefits continue to accrue to a tiny economic elite." (Financial Crises and Economic Depressions, Rob Urie, CounterPunch)
So, yeah, Keynes' remedies will work. They'll definitely get the economy up-and-running again and keep it sputtering-along until the next crisis. But why bother?
Why not just scrap the whole thing and move on to Plan B.
After two mystical encounters with the evil spirit Zarathustra, the dark prophet Nietzsche announced the "death of the Christian God." Dubbing himself the Antichrist, Nietzsche proclaimed:
"The greatest recent event — that 'God is dead,' that the belief in the Christian God has ceased to be believable — is even now beginning to cast its first shadows over Europe; however, few really understood " what has really happened here, "and what must collapse now that this belief has been undermined — all that was built upon it, leaned on it, grew into it; for example, our whole European morality." (False Dawn, Lee Penn, p. 433)
From the beginning of Christ's earthly ministry, there were those who received Him but many more, like Nietzsche, who would not, and so it will be until the end.   The former are those who admit and humbly confess their sinful condition while the latter, being full of stubborn pride, covetousness, and envy will not.
Not even the mighty miracle of creation ex nihilo as described in John's Gospel and Christ's own bodily resurrection (Luke 16:31) can persuade those who choose not to believe.
This willful unbelief in Christ had been prophesied long before.  In support of this John cites Isaiah 53:1-3,
"He was despised and rejected by mankind, a man of suffering, and familiar with pain. Like one from whom people hide their faces he was despised, and we held him in low esteem."
In order to be received, one must be acceptable.  Christ is rejected by proud, rebellious, sinless men along with His offer of salvation because He is not acceptable to them.  Thus their final word to Him is the cross.
At the root of the rejection of Jesus Christ God incarnate is the rebellious assertion that man has not been created by Him.  He is a free spirit neither dependent upon Him for his life nor created in His spiritual image but rather a conscious product of evolution.  He is a man-god who can choose either to murder God or to invent sock-puppet deities to do his bidding, for he is the master of science, evolution, matter, energy, time, and being who through his own knowledge and powers will save himself, or so he foolishly believes.  In reality, an inner blinding prevents him from 'seeing' that his liberty does not lead to greater freedom but to slavery because willful rejection of his Creator means he becomes Satan's infernal tool.
"I am become a monstrous machine of annihilation…"  Ritual of Destruction, the Satanic Bible, Anton LeVey
The ritual 'murder' of the Christian God led to the collapse of far more than just European morality.  Consider the following:
In Christian thought, a person is a spirit and personality is the total individuality of the spirit. Without spirit there is no person.  The term 'person' originated in Christian theologies developmental struggle to comprehend the nature and experience of the Christian God, the transcendent, personal Triune God:
"The derivative concept of human personhood is a gift of the Christian faith to culture…" (Stephen P. Stratton, Chapter 14, p. 247, The Self, Paul Vitz & Susan M. Felch, Editors)
Whether the Founders were individually Christian or not, there was among them a strong Christian consensus that finds some of its greatest spiritual and moral expression in the scholarly works of Samuel Rutherford in "Lex Rex" (1644) and in the writings of the 18th century jurist William Blackstone.
Rutherford reasoned that since all people are sinners, then no sinner—whether President, Att. General, Senator, 'gay,' pastor, cop, jurist, perverse sex-educator, abortionist, evolutionary biologist, or Supreme Court Justice for example—is superior to any other sinner. No sinner is above the law but rather subject to the law without exception.  All must recognize that they are sinners under the unchanging transcendent Law of God.
Blackstone greatly influenced early American understanding of the Christian God, the Bible, Law and nature. He taught that since the eternally unchanging Triune God is the omnipotent Creator who works and governs the affairs of men then all law should be consistent with His Revelation in the Bible. No law should be passed that is contrary to the higher law of God.
Furthermore, as all men are created spiritual equals in the eyes of God, then life, property, worth, dignity and other unalienable rights are conferred upon each human person at conception.   For example, the unalienable right to life is because all people are God's spiritual image bearers while freedom of religion and speech are the temporal property of a person's God-given spiritual property of conscience and reason.
In "Property," published in The National Gazette on March 29, 1792, James Madison outlines the meaning of a person's God-given spiritual property, some of its' temporal rights and the meaning and intent of just government as opposed to unjust government:
"He has a property….in his religious opinions, and in the profession and practice dictated by them."  "He has a property…in his opinions and the free communication of them."  "He has an equal property in the free use of his faculties and free choice of the objects on which to employ them." "He has property very dear to him in the safety and liberty of his person."  (The Heritage Foundation)
Property is,
"….a man's land, or merchandize, or money (and) as a man is said to have a right to his property, he may be equally said to have a property in his rights. Where an excess of power prevails, property of no sort is duly respected. No man is safe in his opinions, his person, his faculties or his possessions." 
Just government is instituted to protect property of every sort:
"This being the end of government, that alone is a just government, which impartially secures to every man, whatever is his own." (Samuel Rutherford, lexrex.com)
The Constitution therefore, recognizes the divine nature of man's creation, that man is a person endowed by his personal Creator with spiritual property, a divine right to life and liberty, and the means of acquiring and possessing property. Hence our Republic recognizes Law is unchangeable because the Creator (John 1:1) is the unchanging Lawgiver Who is the same today as yesterday and for all eternity:
"It is sufficiently obvious, that persons and property are the two great subjects on which Governments are to act; and that the rights of persons, and the rights of property, are the objects, for the protection of which Government was instituted. These rights cannot well be separated." (James Madison, Speech at the Virginia Convention, December 2, 1829)
Vishal Mangalwadi, India's foremost Christian scholar affirms that the Christian gift of personhood gave birth to the "belief in the unique dignity of human beings," and this is,
"…the force that created Western civilization, where citizens do not exist for the state but the state exists for the individuals. Even kings, presidents, prime ministers, and army generals cannot be allowed to trample upon an individual and his or her rights." (Truth and Transformation: A Manifesto for Ailing Nations, pp. 12-13)
 Death of the Christian God: Catastrophic Consequences
"And this is the condemnation, that light is come into the world, and men loved darkness rather than light, because their deeds were evil." John 3:19
Once the citadel of the Light that came into the world, modern Western Europe and America are roiling seas of darkness punctuated here and there by shrinking islands of light because evil-minded men love darkness rather than Light. Thus the perversely twisted, upside-down, lawless atmosphere of our age is the "death of the Christian God" made tangible.
When people fall away from the knowledge of God and transgress against His commandments, these actions effectively turn them back to their natural state. This means that in forsaking God, the fount of living waters, they have become cracked cisterns that hold no water. (Jer. 2:13) In other words, the death of the Christian God logically means the death of spirit (person), hence also spiritual and temporal property, and by extension the collapse of Western civilization and America's Constitutional Republic— "if the foundations be destroyed, what can the righteous do?"  Psalm 11:3
The methodology of the 'murder' of Christ the Creator (John 1:1) requires that the miracle of six day creation (Genesis account) together with Adam and Eve and their fall be de-historicized and reduced to myth and fable (annihilated), a project already underway by the time of Descartes and fulfilled with infernal 'higher criticism.'
In her book "Total Truth," Nancy Pearcy, a senior fellow at the Discovery Institute, writes that one of the great ironies of history is that the enduring impact of Descartes philosophy has been precisely the opposite of what he had intended. Descartes had intended the defense of the human soul/spirit over and against the dehumanizing mechanistic and materialistic conception of the universe. Instead, soul/spirit was reduced to a shadowy substance totally irrelevant to the material realm known by natural science. The immortal soul/spirit became a kind of ghost only tenuously connected to the physical body.
After the success of Newtonian physics natural science began to take on the trappings of religion. Epistemologically, science began to be viewed as the way to true understanding, and by extension, true progress. Nature itself took on the guise of an impersonal, mystical entity described as a cosmic machine governed by deterministic energies working through natural laws as strictly as the gears of a clock. Though soul/ spirit are crucial for reason, conscience, morality, belief, faith, prayer, theorizing, science, math and religion, there was no room for them in the cosmic machine.
The mechanistic conception gave rise to evil 'isms'–rationalism, positivism, skepticism, relativism, and scientific materialism (atheism), which granted the sovereign reason of sinful man and naturalistic science an epistemological monopoly on so-called "real" knowledge, facts and truth while trivializing everything else to faith, personal belief and social constructs.  The devilish consequences of this have been horrendous, for whereas the creation of universal moral law was traditionally the function of the Triune God, now this function is arrogated to the individual human will, making the "reason" of sinners into God and science into a dictatorship of the knowable.
"…men loved darkness rather than light, because their deeds were evil." John 3:19
With "reason" sitting on the throne of the Christian God, heaven was shut-down and the physical world of the senses elevated to the supreme reality. The six day Genesis account was de-historicized and replaced with imaginative evolutionary cosmologies claiming vast ages of time.  As supernatural Christian theism declined, immutable truth, moral law and sin disappeared under the onslaught of evil "isms" and apostate Protestant Liberalism (pantheism) in tandem with reductionist evolutionary biology, which became the most prestigious way to study the depersonalized human organism. With knowledge limited to the sensory realm, Jesus Christ the Word Incarnate was "murdered," meaning reduced by evil men to an immanent mystical evolutionary force (Christ consciousness) while man's soul/spirit was lost in an endless cycle of reductionism and determinism. Man, the person created in the spiritual likeness of the One God in three Persons would be lost.  In his place would stand the subhuman hominid, a conscious product of evolution, the god of forces.
Today, the 'god' evolution has so thoroughly replaced the living Word (John 1:1) and Special Creation in the consciousness of vast numbers of scientifically endarkened men and women within and without the whole body of the Christian Church that one of the leading evolution-worshippers of our day, Professor S.J. Gould, describes scientism and evolution as the story of mankind that tells us,
"….where we came from, how we got here, and perhaps where we are going. Quite simply, it is science's version of Roots, except it is the story of us all."   (The Religious Nature of Evolution Theory and its Attack on Christianity, John G. Leslie and Charles K. Pallaghy, Ph.D, creation.com)
In glowing affirmation, Theodosius Dobzhansky (1900-1975) , a prominent evolutionary biologist and progressive creationist sees the 'god' evolution as a light that illuminates all facts, a trajectory which all lines of thought must follow, for if man,
"…has arrived at his present state as a result of natural processes rather than a supernatural will, he can learn to control these processes…The concept of evolution, which is now basic to the life sciences, has provided new and in some ways revolutionary answers to questions men have been asking for centuries. The two most important of these are, 'Why am I here, what is the purpose of human existence, and what is the nature of the world of life that surrounds us?"   (Dobzhansky, T., Ayala, F.J., Stebbins, G.L. and Valentine, J.W., Evolution, W.H. Freeman and Co., San Francisco, 1977)
Triumph of Scientism and the 'god' Evolution
At its founding and for about 150 years after America was the world's beacon of freedom and hope because it was founded on the true Light of unchanging truths such as,
"all men are created equal, that they are endowed by their Creator with certain unalienable Rights, that among these are Life, Liberty and the pursuit of Happiness.–That to secure these rights, Governments are instituted among Men, deriving their just powers from the consent of the governed. . ."
Now however, an endarkened generation of law makers, politicians, entertainers, professors, seminarians and high school graduates no longer believe that anyone knows 'the' truth or even if whether males are meant to be males or females too. For them, anyone who claims to know the truth is a bigoted fundamentalist because they know there was never a fall from God's good creation but rather an evolutionary ascent moving from primordial matter to creeping things, crawling things, knuckle-dragging things to man. They know with certainty that human beings were never created but evolved. And as the 'god' evolution endows nothing—not soul/spirit, personhood, unalienable rights and the freedom to exercise them—then our Constitution is as meaningless as Xmas and Special Creation.
The real source of this evil and madness is a godless left-right confederacy of nihilists described by Professor Angelo Codevilla as America's Ruling Class.  In "The Ruling Class: How They Corrupted America and What We Can Do About It,"  Codevilla, emeritus professor of international relations at Boston University, argues that America's real war is between Americans who still worship the supernatural Triune God and a class of evolutionary humanists who dominate both political parties, academe, Hollywood, science and media.  They preach from pulpits, run big business, our economy and the country's major institutions and imagine themselves entitled to reshape an America that they regard as composed of un-evolved subhuman hominids.
The Ruling Class affirm that scientism and evolution trump the Revelation of God, and as they are the evolved products of the 'god' evolution they are science's authoritative enlightened priests and god-men who pray to themselves,
"… as saviors of the planet and as shapers of mankind in their own image.." (The Ruling Class: How They Corrupted America and What We Can Do About It, p. xix)
After more than eighty years of nearly unopposed evolutionary evangelization in the schools, media, seminaries, academia and elsewhere the Ruling Class is finally at liberty to declare that evolution is "mind,"
"….enlarging its domain up the chain of species."  The god evolution is the "universe…a mind that oversees, orchestrates, and gives order and structure to all things."   (Algeny, Jeremy Rifkin, 1983, p. 188)
Now that scientism and evolution reign supreme, Satan's infernal machines, such as the demonized Rifkin,  no longer feel like guests,
"….. in someone else's home and therefore obliged to make our behavior conform with a set of pre-existing cosmic rules. It is our creation now. We make the rules. We establish the parameters of reality. We create the world, and because we do, we no longer feel beholden to outside forces. We no longer have to justify our behavior, for we are now the architects of the universe. We are responsible to nothing outside ourselves for we are the kingdom, the power, and the glory forever and ever." (ibid)
According to Robert Muller, the father of World Core Curriculum, now that evolution is "mind" highly evolved men are free to spiritually evolve into higher and higher forms, to become one with the 'divine:'
"Once again, but this time on a universal scale, humankind is seeking no less than its reunion with the 'divine,' its transcendence into ever higher forms of life.  Hindus call our earth Brahma, or God, for they rightly see no difference between our earth and the divine.  This ancient simple truth is slowly dawning again upon humanity.  Its full flowering will be the real, great new story of humanity as we are about to enter our cosmic age…" (New Genesis: Shaping a Global Spirituality, Robert Muller, father of Core Curriculum, 1984, p. 84)
"…..the whole world lies under the sway of the wicked one."  1 John 5:19    "Therefore take heed that the light which is in you is not darkness."  Luke 11:35
From the post-flood world of ancient Babylon to our own, the majority of the world's people have lived under the tyranny of powers, principalities and various determinisms—karma, reincarnation, evolution, fates, furies, chance, cause, doom, natural selection, and genes. They believed that all events in the real world were predestined and controlled by unseen forces of the cosmos that the apostle Paul described as the elemental spirits of the universe.
When Jesus Christ God incarnate demonstrated His absolute control over the elements (Luke 8:24) the tyranny of determinism was cast down and utterly broken.  In the fourth century Gregory of Nazianzen suggested that at the very moment when the Magi came to worship the child of Mary and Joseph, it was then that the tyranny of determinism was broken:
"From that moment onward, the cosmos has orbited around the newborn king…Christ is the logos—the word and the reason by whom all exists and to whom all is ordered." (American Babylon, Neuhaus, p. 226)
Determinism crept into the West when evil spirits entered into the heart of Christendom during the Renaissance.   They came quietly, first to certain theologians who rejected Jesus Christ in favor of Hermetic magic, Babylonian Kabala, Eastern mysticism, reincarnation, evolution, karma and other occult traditions and determinisms, and then openly with the brazen claim that laws of matter and evolution ultimately govern the world and man.
With penetrating insight, Father Richard John Neuhaus connects modern evolutionary scientism to its' ancient spiritual foundations in astrology. In his book, "American Babylon," Neuhaus argues that astrological elemental spirits have been recast as,
"…evolutionary dynamics, life forces, or laws of nature."  Though described as laws rather than spirits, these elemental "forces"…. work their inexorable ways in cold indifference to reason, to will, to love, and to hope. In short, it is suggested that the elemental spirits are in charge and that human freedom is a delusion."(p. 226)
"Beware lest any man spoil you through philosophy and vain deceit, after the tradition of men, after the rudiments of the world, and not after Christ."  Colossians 2:8
According to Pastor Larry DeBruyn, the word "rudiments" (Greek, stoicheion) relates to the universe of matter and energy and is variously,
"…. translated "elemental powers" (NAB), "elementary principles" (NASB), "basic principles" (NIV, NKJV), "evil powers" (NLT), and "elemental spirits" (ESV, NRSV). Translations indicate that stoicheion's meaning diverges between "principles" and "powers," between the "physical elements" constitutive of the cosmos or universe, or the "spiritual powers" that inhabit it. In 2 Peter 3:10, the first sense—that is, the "elements" which "shall melt with fervent heat"—is evident, while in Galatians 4:3 and 9, the other sense—that is, "world forces" which once "held in bondage" the Galatian believers—is evident." (The Supreme Supremacy of the Lord Jesus Christ,guardinghisflock.com)
The Worldview of Evil Spirits
"….we wrestle not against flesh and blood, but against principalities, against powers, against the rulers of the darkness of this world, against spiritual wickedness in high places."  Eph. 6:12
During the 1970s Satanism and possession became front page news in America.  It was during this time that the eminent theologian Malachi Martin, a former Jesuit professor at the Pontifical Biblical Institute in Rome published his shattering book on demon oppression and possession.
Martin's "Hostage to the Devil: the Possession and Exorcism of Five Contemporary Americans," presents five cases of actual possession that express important aspects of the worldview of evil spirits which allow us to not only identify these elements but discern their devastating effects within the whole body of the Christian church, the minds of millions of Americans and by extension, our nation.
The worldview of evil powers always takes the form of nature worship, or celebration of created things such as matter and energy as opposed to worship of the living, personal Creator Who created everything. Thus in support of the idea that living beings created themselves it is virulently anti-supernatural and Genesis account creation ex nihilo in favor of one dimensional naturalism and evolutionary cosmologies.
In one case, an evil spirit's evolutionary cosmology teaching the self-created "universe of matter" and human life was disclosed wherein,
"…men, women, animals, plants, cities, oceans (are) interconnected.  There is really no difference between one thing and anything else….land, ocean, animals, humans, plants are one living organism clad in the shell of breathable atmosphere.  Psychic forces bind it all together….It is a self-creating, self-protecting, self-developing thing…..Earth as mother, as womb, as god, as tomb, as a whole unity protected by its own shell and its own strength (is) all there is." (p. 395)
From the Big Bang (exploding cosmic egg) which supposedly created matter and energy in the demon's description of the universe as "self-creating" to inflationary in the description of the universe as a "self-developing thing" to Gaia as "Earth as self-protecting mother" the possessing demon's evolutionary cosmology is very similar to occult New Age spirituality.
Another important case involved David, a Catholic priest who became obsessed with the evolutionary scientism of Pierre Teilhard de Chardin.  Teilhard's destructive influence is widespread today within transnational Trans-humanist circles, the U.N., the Catholic Church, and increasingly within the Protestant Church.
In "Teilhard de Chardin: Trojan Horse of Vatican II/Heretic Extraordinaire," Dr. J. P. Hubert wonders whether based on Teilhard's admission of a mystical encounter if his evolutionary science was satanically inspired.  Teilhard describes his strange encounter:
"The man was walking in the desert…when the Thing swooped down on him.  Then, suddenly, a breath of scorching air passed across his forehead, broke through the barrier of his closed eyelids; an irresistible rapture took possession of him….mightily refashioning the enfeebled fibres of his being.  And at the same time the anguish of some superhuman peril oppressed him, a confused feeling that the force which had swept down upon him was equivocal, turbid, the combined essence of all evil and goodness.  You called me: here I am grown weary of abstractions, of attenuations, of the wordiness of social life, you wanted to pit yourself against Reality entire and untamed.  I was waiting for you in order to be made holy.  And now I am established on you for life, or for death….He who has once seen me can never forget me: he must either damn himself with me or save me with himself.  O you who are divine and mighty, what is your name? Speak."
Hubert concludes that Teilhardism is,
"…no doubt of Satanic origin—a true "religion of man," if ever there was one."
America's Unfolding Spiritual Catastrophe
For over eighty-five years, America has been incrementally conquered by the same madness-inducing demon of hatred and violence that earlier took over Russia, China, Germany, and Italy.
This demon is mainly embodied within America's "scientifically endarkened" Ruling Class which is deeply oppressed and possessed by elemental spirits and the delusion that the true enemy of America is always on the Right.  Having rejected the biblical God and the religious heritage of our civilization, they embrace instead an ancient order of beliefs of which Communism and Socialism are logical expressions.  A new world order is what they seek, but in order that it can emerge, the still remaining remnants of America's Christian-based culture must be completely destroyed.
What this means is that the spiritual catastrophe that unfolded in the Soviet Union and Nazi Germany is unfolding on America's stage.
Can this catastrophe be averted?
Repentance: The Only Way Back
Returning to David, prior to his obsession with Teilhardism he was destined to become a professor of anthropology at a Catholic university.  But under the influence of Teilhardism, he came to see that the Genesis account of creation ex nihilo, Adam and Eve as the first man and woman and parents of all mankind who fell and passed on Original Sin to all human beings were utterly contrary to modern scientific thinking and evolution.
Therefore David taught anthropology from a modern "evolutionary science" perspective, even going so far as to exclude traditional presentations of doctrines about creation ex nihilo and Original Sin.  But after introducing Teilhardism to his students, doubts arose when he observed the breathtaking transformative effects of this teaching upon Jonathan, one of his students, a priest who now insisted that all the sacraments are "…no more than expressions of man's natural unity with the world around him." 
David's eyes were suddenly opened and he saw clearly for the first time that Teilhardism exalted man as an animal and pictured,
"God as no more than the very bowels of earth and sky and the spatial distances of the universe with all its expanding galaxies." (Martin, p. 107)
Meanwhile, Jonathan left the church and quickly founded his own cult among wealthy Manhattan families.  He preached that the universe and all people were evolving as 'one' in a naturally occurring mystical union which he called "Abba Father." (p. 127)
Martin writes that Jonathan had come under the dominion of an evil spirit and David was called in to exorcise him.  However, the demon possessing Jonathan ridiculed David, saying they both believed the same things, therefore if Jonathan needed exorcism David needed it more.
Reeling in shock, David was led to an agony of soul-searching over the course of many weeks during which he re-examined and finally repented of the intellectual arrogance that led him to embrace Teilhardism and the "higher criticism" of Scriptures that reduced the Revealed Word to myth, allegory and delusion and the death of Jesus to an insignificant event of the evolutionary past rather than,
"…an ever present source of personal forgiveness and unshakable hope for any future." (p. 149)
According to Martin, the evil spirit who had nearly succeeded in killing David's faith now taunted him that to return to faith would entail slavery of mind and will.   But when a repentant David deliberately rejected the demon's taunts,
"…a great and breathtaking dimension full of relief….flooded his mind and will and imagination….And when he now looked at the world of nature around him…and heard the song of a mockingbird nearby, he received it no longer as he had while a Teilhardian evolutionist, as 'intimations of molecules endlessly regrouping,' but rather 'of endless life for each person, and of love without a shadow." (pp. 163, 165)
Speaking through Nietzsche, Zarathustra had declared the death of the Christian God on behalf of all willful unbelievers, but now for David, "He's alive and I'm forgiven!"   His faith in God, Christ, the Holy Spirit and Scripture restored, David was ready to exorcise the evil spirit who possessed Jonathan.  He did so,
"…in the name of God who created him (Jonathan) and you (evil spirit), and of Jesus of Nazareth who saved him!  You will depart and get back to the uncleanness and agony you chose." (p. 169)
Jewish Quarter, the Old City, Damascus…
It's always encouraging when one comes upon some inspiring human enterprise, here in Syria or elsewhere, that refutes the worn shibboleths and clichés about how this or that group, or this or that religion, hates others and won't cease targeting them until they are destroyed and burning in Hell.
In Syria today there is much evidence to refute the claims, often politically motivated, that Jewish cultural heritage sites are being singled out for destruction by rabid anti-Semites. One example of this is the Eliyahu Hanabi Synagogue in the neighborhood of Jobar, on the outskirts of Damascus. For centuries, Jobar has been inhabited by a peaceful, mixed community of Muslims, Christians, and Jews, many of whom often attended events together at the synagogue.
Reports this week in Zionist media about the destruction of the 400-year-old (not 2000-year-old, as claimed, erroneously, by one report in Israeli media) synagogue, along with the loss of all its contents, are similar to reports over the past three years which turned out to be patently false. This observer has been waiting for clearance to visit the site, to learn exactly what happened there this week, to assess its current condition and inventory its religious artifacts, which comprise part of Syria's, and humanity's, collective heritage.
One of the more virulent charges to come forth this week, particularly from the colonial Zionist regime occupying Palestine, is the mantra of 'see what the hatred of those Arabs for the Jewish people has done.' Admittedly it's an effective fund-raising mechanism—as well as a handy intimidation tool—for the Zionist lobby, as it scrabbles to retain control of the US government and American public sentiment, a public which seems to be growing increasingly vexed by the lobby's actions and which are finally pulling back from rubber-stamping the crimes of the apartheid regime.
Jobar is a suburb of Damascus, and location-wise the Eliyahu Hanabi Synagogue (measuring approximately 17 meters long by 15.7 meters wide) sits undeniably at a crossroads, in an area that has been occupied by rebel forces since the beginning of the Syrian conflict—which means it was sure to get damaged. With each shelling of the district over the past three years, claims were made that the synagogue had been destroyed by government forces. One such report, published on April fool's day in 2013 by the Times of Israel and widely circulated by Zionist media outlets, claimed that, "The 2,000-year-old Jobar Synagogue in the Syrian capital of Damascus—the country's holiest Jewish site—was looted and burned to the ground by government forces." The report was patently false but got spread far and wide, despite the fact that there have been no government forces in Jobar since the conflict began. Two copy-cat reports followed later in 2013, but they were equally false. Nearly a year later, however, in March of 2014, media reports conceded that the synagogue was still standing, with only minor damage, and that its contents appeared to be in good condition.
This observer has received credible reports about certain stolen artifacts, including gold chandeliers, from the Eliyahu Hanabi Synagogue being offered for sale. It is well known in Syria that certain militia and other opportunists have been financing themselves by selling this country's cultural heritage whenever and wherever they get the opportunity. There is in fact a multi-million-dollar black market in this type of illicit trade. Security agencies in Syria, in coordination with INTERPOL, have been alerted to the thefts of Jewish property, just as with thefts of other antiquities, and they periodically issue what are referred to as "watch for and confiscate" lists of stolen artifacts.
It is not true…based upon this observer's many personal experiences in Syria…that Arabs hate Jews, although they would have plenty of reasons to, or that animosities between the two peoples are irreversible and irretrievable, and the reason I say this is that increasingly, in the Middle East as well as globally, people are beginning to distinguish between Jews as individuals (as "people of the book" and basically more or less like the rest of us) and fascist Zionism—an ideology being exposed as the greatest enemy and threat to Jews everywhere.
The latest, but so far unverified, information received by this observer from rebel sources claiming to have "contacts" in the Jobar Synagogue indicate that some early 20th century artifacts, including gold chandeliers and icons, were stolen early on in the conflict, and also that the area surrounding the synagogue has been shelled sporadically over the past nearly two years, resulting in modest damage to the exterior walls. This information was obtained as of last month. Conditions may well have changed this week. Other Syrian sources indicate that there has been interior damage with some scattered rubble in the nave and prayer rooms of the temple. But there has been no confirmation to claims of thousands of manuscripts, including Bibles, being looted from Jobar. On the contrary, many documents, including Bibles and other artifacts, were transferred by the local Jobar Council, with the full cooperation of the Syrian government, to an Ottoman-era synagogue in the Old City of Damascus for safe keeping. The location, which this observer has visited and where many Jobar Synagogue artifacts are today in storage, is one of six areas in Syria currently listed on the World Heritage List of the UN Educational, Scientific and Cultural Organization (UNESCO). The site currently has round-the-clock government security that continues to guard the Old City of Damascus. It is also one of the 11 synagogues that President Assad had promised in 2011 to repair and restore, but alas that's a project that the rebellion has put on hold.
In light of all the unverified claims about the synagogue in Jobar, one is reminded again of the decade-long US/UK War against Iraq and the false reporting about what happened at certain archaeological sites in that country. Specifically we might recall the Iraqi Jewish artifacts that Ahmad Chalabi claimed he was able to 'rescue' for the Coalition Provisional Authority. Chalabi, of the ill-fated Iraqi National Congress, along with the Bush administration's Coalition Provisional Authority, sought to gain some much needed good press for himself and pals Richard Perle, Nathan Sharansky, Dick Cheney and Donald Rumsfeld, this after April 2003 reports of thousands of priceless ancient artifacts being looted from Iraqi museums. The war planners were being castigated for their failure to protect Iraq's cultural treasures, and it soon became clear that some of Chalabi's pronouncements regarding the fate of Jewish artifacts were false and politically self-serving. Discredited, Chalabi's party did not win any seats in the December 2005 election.
Some suspect similar political grandstanding motives in the current reports about Jobar, and it may be a while before credible eyewitness accounts from the scene are gathered. At that point we will we know the truth about the fate of the Eliyahu Hanabi Synagogue and the whole of Jobar. A delegation, including a Jewish representative from Damascus as well as this observer, has been trying to visit the area, but armed conflict and the continued occupation of the synagogue by rebels has prevented us so far from gaining entry.
What's important to note, though, is that the people of Syria and their government have made herculean efforts to avoid what happened in Iraq, and to assure the preservation of their global cultural heritage, of which Jewish antiquities is an important pillar. One example of these efforts is the fascinating case of the Dura-Europos Synagogue, discovered in 1932.
The synagogue in Dura Europos had survived in such good condition because of its location, near a small Roman garrison on the Euphrates River. Parts of the building, which abutted the main city wall, were requisitioned by the Roman army and filled with sand as a defensive measure against northern and eastern marauders. The city was abandoned after Rome's fall, never to be resettled, and the lower walls of the rooms remained buried and largely intact until excavated. The archaeological dig discovered many Jewish wall-paintings and also Christian texts written in Hebrew. Especially interesting perhaps was the discovery of paintings in the synagogue depicting limited aspects of Mithraism, a religion practiced in the Roman Empire between the first and 4th centuries and that was especially popular within the ranks of the Roman legions. Named for the Persian god Mithra, many Syrians followed the cult, as did some Roman senators who resisted the 'new' Christianity.
Itemized in the list below are specific Jewish-Syrian antiquities, including Old-Testament-themed paintings, this observer has verified as being under protection. Keep in mind, these are only a few examples, among many thousands, that I have been advised appear to be in excellent condition as of late May 2014:
The Torah niche from the ancient Synagogue of Dura Europos on which are drawings of the Prophet Abraham, including the scene of his offering his son. Also beside them a drawing of the candle stick and the temple façade.
A drawing featuring the Prophet Ezra reading a papyrus, Prophet Moses in the flames of boxthorn, the Ark of the Covenant in the hands of Philistines, and David anointed as a king by Samuel.
A number of paintings with themes from the Old Testament
A drawing of the pharaoh and Moses as a child, and a beautiful painting of Abraham between the two symbols of the sun and the moon.
A drawing representing the story of Mordechai and Esther and Elijah bringing life back to a baby.
Despite the current and legitimate focus on Jobar, the record of the Syrian people on preserving their cultural heritage, especially during the current crisis, is admirable. Two weeks ago this observer visited the old city of Homs, and spent a fair bit of time at the Um Al-Zenar Church of Saint Mary, Church of the Holy Belt, which dates from 52 AD. Tradition has it that this seat of the Syriac Orthodox archbishopric contains a venerated relic, and indeed the Bishop spoke to me about it one day as he shoveled rubble from around the altar. The relic is claimed to be a section of the belt of St. Mary, the mother of Jesus, and is said to be hidden near a below-ground spring. One arrives at the spring by walking down a long, very narrow, pitch black set of stone steps. The Holy Water that can be found there, a small pond in essence, is filled with fragments of stone and wood chunks from the fighting, yet supposedly this water has curative powers. I scooped up a couple of handfuls, and it was indeed very refreshing, but did nothing, so far, to cure my leg problem.
Be that as it may, this observer was struck by the number of parishioners, along with volunteers from the neighborhood, mostly Muslims, covered in dust and soot as they worked at cleaning out the rubble. In the courtyard in front of the church this observer stoked a still smoldering heap of burned bibles and other church documents and icons which I was told rebels had torched as they prepared to vacate the compound earlier this month. Two days after I departed Homs, the Um Al-Zenar Church, though a partially burned out shell devoid of pews and religious artifacts, held its first Holy Communion since the conflict began.
From my experience, Syrians, without exception, are deeply connected with their cultural heritage and do not distinguish all that much among its origins. Many Syrians are proud to help others protect and rebuild their damaged religious and cultural sites, and in fact it seems to be a unifying factor among this besieged population. People this observer speaks with as he travels around Syria to visit archeological sites seem to blame both sides for the damage, but they tend to focus more on the task of restoring their heritage sites. Space does not allow me to enumerate the countless examples of this, but I will mention one.
This observer was served tea one day by some members of the Jewish community in the old City of Damascus, including my friend Saul, who claims to be the last Jewish tailor in Syria, as well as the lovely elderly ladies known as 'the Jewish sisters' and whose apartment is near where St. Paul, according to tradition, converted to Christianity. The view expressed by my hosts that day—and I believe them—is that Jewish cultural heritage in Syria is being respected, protected and preserved with the same care as Muslim, Christian, and pagan antiquities.
"Prior to the 2003 invasion and occupation of Iraq, US and other western oil companies were all but completely shut out of Iraq's oil market. But thanks to the invasion and occupation, the companies are now back inside Iraq and producing oil there for the first time since being forced out of the country in 1973."

– Antonia Juhasz, oil industry analyst,  Al Jazeera.
These are the 'best of times' for the oil giants in Iraq.  Production is up, profits are soaring, and big oil is rolling in dough.  Here's the story from the Wall Street Journal:
"Iraq's oil production surged to its highest level in over 30 years last month, surprising skeptics of the country's efforts to restore its oil industry after decades of war and neglect."  (Wall Street Journal)
Mission accomplished?
You bet.  But for those who still cling to the idea that the US was serious about promoting democracy or removing a vicious dictator or  eliminating WMD or any of the other kooky excuses, consider what we've learned in the last couple weeks. Here's the story from Aljazeera:
"While the US military has formally ended its occupation of Iraq, some of the largest western oil companies, ExxonMobil, BP and Shell, remain.

On November 27, 38 months after Royal Dutch Shell announced its pursuit of a massive gas deal in southern Iraq, the oil giant had its contract signed for a $17bn flared gas deal. Three days later, the US-based energy firm Emerson submitted a bid for a contract to operate at Iraq's giant Zubair oil field, which reportedly holds some eight million barrels of oil.

Earlier this year, Emerson was awarded a contract to provide crude oil metering systems and other technology for a new oil terminal in Basra, currently under construction in the Persian Gulf, and the company is installing control systems in the power stations in Hilla and Kerbala. Iraq's supergiant Rumaila oil field is already being developed by BP, and the other supergiant reserve, Majnoon oil field, is being developed by Royal Dutch Shell. Both fields are in southern Iraq." ("Western oil firms remain as US exits Iraq", Dahr Jamail, Aljazeera.)
If it sounds like the big boys are dividing the spoils among themselves; it's because they are. Exxon, BP, Shell; they're all here. They all have their contracts in hand, and they're all drilling their brains out thanks to the American servicemen and women who gave their lives for some trumped up baloney about WMD. Isn't that what's going on?
Sure it is. And even now–after all the reasons for going to war have been exposed as lies–the farce continues. Nothing has changed. Nothing. There's still no talk of reparations, no official investigation, no indictments, no prosecutions, no trials, no penalties, no nothing. Not even a stinking apology. Just a big "up yours" Iraq. We're way too important to apologize for killing a million of your people and reducing your five thousand year old civilization to a pile of rubble.  Instead, we'll just screw you some more and paper it over with a little public relations, like Obama did a couple weeks ago when he promised to "leave behind a sovereign, stable and self-reliant Iraq, with a representative government that was elected by its people".
Oh yeah. Obama's all about sovereignty and stability, everyone knows that.  That's why Baghdad is the terror capital of the world, because Obama's so committed to security.
These PR blurbs are effective though, they provide the necessary cover for leaving enough troops behind to protect the oil installations and pipelines.  That's the kind of security Obama cares about. Security for the oiligarchs and their stolen property.  Everyone else can fend for themselves, which is why Baghdad is such a bloody mess.  Here's more from Aljazeera:
"Prior to the 2003 invasion and occupation of Iraq, US and other western oil companies were all but completely shut out of Iraq's oil market," oil industry analyst Antonia Juhasz told Al Jazeera. "But thanks to the invasion and occupation, the companies are now back inside Iraq and producing oil there for the first time since being forced out of the country in 1973." (Aljazeera)
Yeah, thanks for that invasion, Mr. Bush. We couldn't have done it without you, guy. Hope you have a great retirement painting pictures of poodles and stuff while people continue to get blown to pieces in the terrorist Hellhole you created. Here's more Al Jazeera:
"Juhasz, author of the books The Tyranny of Oil and The Bush Agenda, said that while US and other western oil companies have not yet received all they had hoped the US-led invasion of Iraq would bring them, "They've certainly done quite well for themselves, landing production contracts for some of the world's largest remaining oil fields under some of the world's most lucrative terms."
Dr Abdulhay Yahya Zalloum, an international oil consultant and economist …(said) he believes western oil companies have successfully acquired the lions' share of Iraq's oil, "but they gave a little piece of the cake for China and some of the other countries and companies to keep them silent". (Aljazeera)
How do you like that? These guys operate just like the Mafia. The Bossman pays off China with a few million barrels, and China keeps its mouth shut. Nice. Everyone gets "their cut" so they don't go blabbing to the media about the ripoff that's taking place in broad daylight. The stench of corruption is overpowering.
And here's something else you won't see in the media. In a White House press release,  the Obama administration announced that they would continue to support Iraq's "efforts to develop the energy sector" in order  to "help boost Iraq's oil production."….
According to Assim Jihad, spokesman for Iraq's ministry of oil, "Iraq has a goal of raising its oil production capacity to 12m bpd by 2017, which would place it in the top echelon of global producers." (Aljazeera)
"12 million barrels-per-day by 2017″?
That makes this the biggest petroleum heist in history. And we're supposed to believe that the oil bigwigs didn't know anything about this before the war? What a crock! I'll bet you even money the CEOs and their lackeys figured out that Saudi Arabia was running out of gas, so they decided to pick up stakes and move their operations to good old Mesopotamia. That's why they put their money on Bush and Cheney, because they knew that two former oil men would do the heavy lifting once they got shoehorned into the White House.  The whole thing was a set-up from the get-go, right down to the 5 shady Supremes who suspended the voting in Florida and crowned Bush emperor in 2000. The whole thing was probably mapped out years in advance.
Big oil runs everything in America. People talk about the power of Wall Street and Israel, but oil is still king. They run it all, and they own it all. And "what they say, goes."  Here's more:
"Juhasz explained that ExxonMobil, BP and Shell were among the oil companies that "played the most aggressive roles in lobbying their governments to ensure that the invasion would result in an Iraq open to foreign oil companies".

They succeeded," she added. "They are all back in." (Aljazeera)
Hooray. Big oil wins again, and all it cost was a million or so Iraqis who got blown to bits air raids or shot up at checkpoints, or beaten to death with a rubber hose at Abu Ghraib or any of the other democracy reeducation centers that dot the countryside. But, hey, look at the bright side: At least production is up, right? Can you see how sick this is? Here's more:
"Under the current circumstances, the possibility of a withdrawal of western oil companies from Iraq appears remote, and the Obama administration continues to pressure Baghdad to pass the Iraq Oil Law." (Aljazeera)
And what is the "Iraq Oil Law", you ask?
It's a way to privatize the oil market using Production Sharing Agreements (PSAs) which disproportionately benefit the corporations.  Obama's a big backer of the law since it means even heftier profits for his thieving  friends.  In other words, the humongous profits they're already skimming off aren't quite good enough. They want more. They want to own the whole shooting match lock, stock and barrel.
This is really an outrage. What other country behaves like this?
No one. No other country in the world goes out and kills a million people, destroys their country, and leaves them to scrape by on next to nothing just so they can pad the bank accounts of voracious plutocrats have more dough than they know what to do with. No one else would even dare to act like that for fear that they'd get bombed into annihilation by the world's biggest bullyboy, the US of A.  Only the US can get away with this type of crap, because the US is a law unto itself.
Iraq was the Cradle of Civilization. Now it's the cradle of shit. The US decimated Iraq; blew it to bits, bombed its industries, its bridges, its schools, its hospitals, leveled its cities, polluted its water, spread diseases everywhere, killed its kids,  pitted brother against brother,   and transformed a vibrant, unique country into a dysfunctional cesspit run by opportunists, gangsters, and fanatics.
And, here's the corker:  No one gives a rip. Face it: No one gives a flying fu** about Iraq. The American people lost interest long ago, the politicians can't be bothered, and the UN is too afraid of the US to lift a finger to help. They'd rather stamp their feet and scold Putin over Crimea than utter a peep about the genocide in Iraq.  That's the state of things today, right?  No accountability for the men who started the war, and no justice for the victims. Just the infrequent (phony) pronouncement of support from the White House or the all-too-frequent sectarian bombing that leaves an untold number of civilians dead or wounded. This is all the US leaves behind; hatred, death and destruction.
Here's a clip from a poem by Iraqi writer who wants readers to take a minute and think about all the suffering the United States has created. The poem is titled "Flying Kites":
"Come and see our overflowing morgues and find our little ones for us…

You may find them in this corner or the other, a little hand poking out, pointing out at you…

Come and search for them in the rubble of your "surgical" air raids, you may find a little leg or a little head…pleading for your attention.

Come and see them amassed in the garbage dumps, scavenging morsels of food…

Come and see  our little ones, under-nourished or dying from disease. Cholera, dysentery, infections…

Come and see, come…."  ("Flying Kites" Layla Anwar)
A million people were killed so a few rich fu**ers could get even richer. That's a hell of a legacy.
In 2008, Houston police pulled over CIA agent Roland Carnaby on what appeared to be a routine traffic stop. A few seconds later, Carnaby was dead.
It is illegal to detain a CIA agent under any circumstances. They may carry any weapon, anywhere, anytime, and request assistance from any law enforcement official with more than certainty.
Why then would this incident be part of a highly classified Russian intelligence report? Could it, perhaps, be that Carnaby, answering directly to former President and CIA Director, George H.W. Bush, was murdered to silence his participation in the theft and sale of American nuclear warheads?
Carnaby was holding a trove of documents outlining the theft and transfer of hundreds of nuclear warheads from the Pantex Plant near Amarillo, Texas. Weapons sent there for disassembly were transshipped to Israel and, from there, refurbished, their cores remachined and then sold around the world or stored in Israeli embassies and consulates around the world.
The Russian report outlines a very different view of the past 30 years, a "view" that "fits like a glove."
DIMONA OUT OF ACTION
The report not only confirms Israel's nuclear weapon inventory but outlines the program of subterfuge and piracy required to keep Israel as a nuclear power after their facility at Dimona suffered a critical "event" in 1988.
"Dimona is a standard 75-megawatt thermal open top reactor as used in France for their plutonium weapons production program, their version of Stanford (Editor's note: Probably "Hanford").

Due to overuse as a fast breeder reactor by the Israelis, Dimona suffered a "steam explosion" IE a flash over indecent due to neutron criticality back in the late 1980′s under Bush 1. This shut down its operation for many years until repairs could be made.

It know only operates at very low power levels due to neutron absorption damage to the containment vessel. Now mainly use for isotope production. This forced the Israelis to turn to stolen nuclear stockpiles from the US for the continuation of their nuclear program."
The highly classified Russian report, released, experts believe, to demonstrate American hypocrisy over recent events in the Ukraine, is a litany of horror stories. If this is a "first shot over the bow" by Russian intelligence, American officials can only dread what may be to come.
BACKGROUND

48 hours ago, the retired chief of Russia's counter-intelligence effort for the Middle East released a highly classified report designed to embarrass the United States and demonstrate their servitude to Israel and complicity in broad acts of nuclear proliferation.
The report, loaded with "shock value" intelligence and backed by reams of supporting documents including classified nuclear weapons plans demonstrated that Russia has been able to maintain a high level of penetration of not just American nuclear weapons labs but security agencies as well.
ROUND ONE, 9/11
The report, carefully structured for maximum shock value, begins with 9/11, the watershed event of our era:
"The type of nuclear devices used on 911 were a modified version of the W-54 nuclear artillery shells that were covertly provided to the Israelis between 1988 and 1998 from US surplus stockpiles illegally exported during the Bush/Clinton era.
Chemical analysis done by DOE Sandi was able to identify the chemical/radiation footprint or fingerprint of the warheads based on samples taken after 911 of the fallout at ground zero."
According to the report, 911 was an Israeli operation facilitated by blackmail of Bush 41 and 43, threatening them with "outing" for their personal financial involvement in the sale of 350 primarily w54 nuclear artillery rounds, sold through Israel but distributed to a number of nations.
The Russian report further outlines that NATO partners, particularly Britain and France, were involved every step of the way. 911 was cover for stolen gold, stock fraud and the looting of the American economy. The "wars for profit" were the Bush boys cashing in on their own.
THE "HOW" OF 911
A number of theories have been introduced to explain the mysterious effects seen at ground zero on 9/11. In an article on the Press TV website, evidence of a widespread cover-up of an epidemic of radiation exposure-related cancers tied to 9/11, was presented.
Not only has Russia confirmed the Press TV findings, they present evidence of nuclear weapons use, evidence from a suppressed report based on findings by the Department of Energy's Sandia Laboratories.
"Only a 2 kiloton device was needed to drop the buildings. A 2 kiloton device will produce a fireball of apx 150 to 200 feet in diameter at over 4000 degrees Centigrade. Just large enough to melt the I beams of the central core of the building and drop them in place. The light flash would last less than 1 second and primarily be in the UV light range. Overpressure would only be at 60PSI max and directed upwards with the blast.
Fallout would be minimal and located to within ground zero range only. Radiation would drop to acceptable levels within 72 hrs. after the blast. Most fall out was trapped in the cement dust thus causing all of the recent cancer deaths that we are now seeing in NYC amongst first responders."
The report continues with details that close the door on speculation about 9/11, putting an end to conspiracy theories and, in particular, the wildest one of all, the pseudo-science fairy tale broadly rejected by the 9/11 Commission but allowed to stand as America descended into an Islamophobic frenzy.
"Fallout would be minimal and located to within ground zero range only. Radiation would drop to acceptable levels within 72 hrs. after the blast. Most fall out was trapped in the cement dust thus causing all of the recent cancer deaths that we are now seeing in NYC amongst first responders.

Melted steel and iron oxide or "nano thermite" is a byproduct of the very high gamma ray / Neutron flux induced into the central steel core. The radiation dissolves the steel into iron oxide consuming the carbon and silicone in the steel."
This explains the missing steel columns and the very important clue of the "vaporized" 20 ton antenna tower atop the south tower. The upward blast of radiation literally vaporized it. Video evidence proves this to be true.
The total (redacted) data file from DOE Sandia on the 911 event is well over 72 MB. "P.S. Snowden didn't have a Q clearance so he missed this one."
The scope of the Bush/Cheney/Israeli nuclear proliferation operation, according to the report, is well beyond anything imagined. Here, Russia places the blame, naming not only Vice President Dick Cheney and former White House Chief of Staff Ram Emanuel but Tom Countryman, tasked, according to Russian sources, with actually managing the program that spread nuclear weapons to Brazil, North and South Korea, Saudi Arabia and a number of other nations.
"Illegal distribution of US nuclear material to foreign allies was not limited to Israel. Virtually all NATO allies were in on this scam too. Dick Cheney was the bad guy on this one. Bush2/Cheney traded nuclear pits to foreign country as IOU's in order to get what they wanted. Tom Countryman a well-known Israeli operative is curiously now in charge of N.N.P. at the State Department under Obama. He was put there by Ram Emanuel."
REACTIVATING "DEAD NUKES"
Only nuclear weapons that had deteriorated but could be recommissioned were of use to Israel. The Russian report outlines the basis for selecting the W-54 warhead and exacting details on how weapons were created out of America's "nuclear scrap heap."
"A total of over 350 pits were transferred to the Israelis over a 10 to 20 year period of time. The W-54 type of pit design were the most desirable due to the 2 point implosion pit design. This is the easiest to re manufacture and modify as compared to other circular pit designs.
The pill shaped design of the W-54 type weapon contains over 1.5 times more plutonium than a standard pit. This would allow enough Plutonium to be recovered that was still of weapons grade use even after 32 plus years of age. Americium build up in the pit over time eventually makes the Pit unusable as a weapon so they have a limited shelf life based on how fast or slow the Plutonium was produce in the reactor at Stanford.
Usually it was about 150 days max. Irradiation time in the reactor during production determines the shelf life of the pit as weapons grade material. All of the micro nukes used by the Israelis are re-manufactured W-54 type series devices."
CONCLUSION
According to the Russian report, Israel used remanufactured W-54 warheads, reconfigured as micro-nukes, for terror bombings in Bali, London and to destroy the Fukashima nuclear reaction site in Japan.
With weapons around the world, stored in embassies and consulates, and their powerful friends in the American "right," Israel has managed to maintain nuclear superpower status without a real production facility, using only pirates and traitors, something America, according to our Russian sources, seems to have no shortage of.
Gordon Duff is a Marine Vietnam veteran, a combat infantryman, and Senior Editor at Veterans Today. His career has included extensive experience in international banking along with such diverse areas as consulting on counter insurgency, defense technologies or acting as diplomatic representative for UN humanitarian and economic development efforts. Gordon Duff has traveled to over 80 nations. His articles are published around the world and translated into a number of languages. He is regularly on TV and radio, a popular and sometimes controversial guest. 
Source: Veterans Today | Press TV
Origin of the Master Model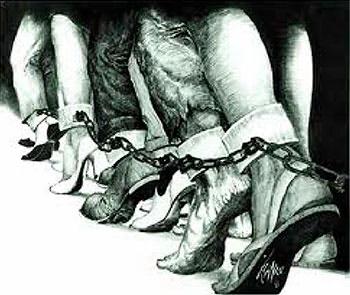 The master plan for world domination we see playing out today was first proposed to the US at the end of World War I. However, there were no takers. People were too war weary. However, when the plan was again proposed at the end of World War II, it was accepted. Consequently, World War II quietly transitioned into the secret "war" to set up what has become known as the "new world order" — an absolute dictatorship over the entire planet.
The United States set up the School of the Americas to train future dictators and terrorists who would be sent out into the world to destroy sovereign nations and place them under US domination by installing puppet governments obedient to the United States. Many conquests were made quietly using clever economic tricks [2]. However, leaders who refused to submit quietly would see their entire country reduced to rubble and the land rendered unlivable by uranium dust scattered by US bombs. The message was clear: Submit to the United States or face total destruction.
A social model based upon the assumption that cleverness and power automatically convey the right to take anything desired from those who are less adept and unable to resist is not a sustainable model for harmonious social interactions. However, this is the chosen model. The mantra for this model, "A man's true worth is measured by the amount of other peoples' happiness that he can possess and destroy" [1], is essentially a call for a class war between the greedy elite and the innocent masses of the world who simply desire a peaceful existence.
Acquisitions
The United States looks at the rest of the world as a "resource". If a country has something — oil, gold, minerals, etc. — that the US covets, it believes it has the right to take those things by whatever means necessary. In many cases the coveted resource is human slave labor. Let's look at some representative examples:
With the cooperation of the dictator, United Fruit Company (US) owned almost half of the country and used the locals as slaves to harvest its Chiquita brand bananas. However, during the period from 1945-1954 new leaders made changes. They helped the poor and set up social security and health care. Then they took land away from United Fruit and gave it to the local people. United fruit complained to the CIA that its business interests were being interfered with by the "communist" government. Any government which shows kindness to the poor and weak is called communist by the US. The US attacked Guatemala — killed the elected leaders and many thousands of citizens — and established a puppet dictatorship which would obey the will of United Fruit. The people were returned to a state of slavery. The CIA trained death squads to make sure the people were crushed into submission.
Strip Mining in Africa [4]
In Africa, the International Monetary Fund — a puppet of the US — destroys a country with strip mining. The original country was self sustaining. People were able to grow lots of food and hunt animals. However, once the land was ruined by US corporations, it was unusable to plant crops and the native animals died. The people had to buy food from other countries with money loaned to them by the IMF which they could never hope to repay. Therefore, a once free and self supporting people were made debt slaves of the IMF. Once all the natural resources have been stolen, the corporations will simply pack up and leave the indigenous people to starve and die.
Countries Used as Trash Dumps [5]
Used computers and associated items are dumped in poor countries where starving barefoot children sift through the mess of hazardous waste and broken obsolete glass computer monitors hoping to find something they can sell to get enough money to stay alive another day. Property stickers show the waste is mainly from the US government and various US state governments.
Corruption of Trusted Sources
Reporters and News Organizations
The masses are conditioned to believe news they receive from establishment sources. In the earlier times, this assumption was often correct. It was considered so important by the founding fathers that freedom of the press was enshrined in the US constitution. However, times have changed.
Walter Cronkite was known as the "trusted voice". No one knew he was also the official announcer at the secret Bohemian Grove meetings. The leaders of the world's news organizations also attend this event. That is why, even though the meetings began over one hundred years ago, until recently no one knew this group even existed. President George W. Bush may have set a new record for bribing journalists to allow their trusted name to be used as the author of material actually written by government propaganda experts. Apparently, everyone has a price and the government, of course, has no problem when it comes to money.
When Ronald Reagan reportedly ordered the death of investigative reporter Jessica Savitch [6], the message to independent journalists was clear: Go against the official party line an you're done!
Today, dedicated journalists face mysterious deaths and strange single car accidents but a few survive long enough to give us a glimpse of truths we would otherwise never know. They are true heroes.
Churches
Churches are everywhere. Unfortunately, legitimate Spiritual teachers are not. People look at churches either as harmless or with some sort of conditioned hypnotic respect. Churches send out "missionaries". However, the "mission" of these missionaries may not be so clear. If you wanted to infiltrate a foreign country, these people would be an ideal asset.
Churches are not Spiritual centers. At best, all they want is your money. At worst, they are Satanic and you are in severe Spiritual danger if you come under their influence and control.
The Catholic Church has been a trusted asset of the US intelligence community for quite some time. Significant information obtained by priests during confessions is routinely passed on to the government.
This agreement predates the internet by many years. Because the church has branches in almost every country, it has great potential for covert activities. For example, if you need to get an operative who is in danger out of a country, they can go to a Catholic church for "confession". Once the door is closed, they can exit through a secret passage, be disguised in robes and spirited safely out of the country. Church secrecy is at least on a par with US secrecy. Also, the Catholic church and the US shadow government share the same Satanic value system and engage in child rape and ritual killings.
Doctors and the Medical Industry
Medicine in the United States is an industry. It is no longer a profession. Its corporate model puts profit above all else. If some patients accidentally benefit they are the lucky ones.
The medical community has a rigid hierarchical structure and effective mechanisms for enforcing secrecy. Essentially, its model closely resembles the military chain of command structure. This makes it a perfect partner for the government in the area of secret human experiments.
For example, when the government was doing radiation experiments on humans, a doctor or someone dressed as a doctor would just walk up to unsuspecting patients and inject them with radioactive material. They were then secretly followed for years to see what would happen. Eventually, some of those who survived were told the truth. Most people used in the MK Ultra and subsequent secret projects were never notified.
Hospitals are set up to protect themselves. Staff may appear to be dedicated, smiling people who truly care about you. However, they are basically prostitutes who are being nice because you are worth money to them. When they make mistakes they have a "loss prevention" department staffed by clever lawyers who are trained to protect the financial interests of the hospital by denying everything and fabricating believable coverups. They are trained to do whatever is necessary. The staff will all agree to support whatever lies are needed. They know their job and their financial future depends upon maintaining strict secrecy.
The only people who receive legitimate medical care are the select elite cleared to accesstop secret medicine. These people always get excellent care because the doctors work for the shadow government and mistakes on their part are simply not tolerated.
Infiltrations
Countries which have the resources to sustain an intelligence community generally try to get operatives (spies) into other countries so they can directly observe activities. When real people gather intelligence, this is called human intelligence or HUMINT. The US, of course, does this too. However, you may not be aware of the extent to which the US also infiltrates itself. The central government really does not trust anyone.
Essentially all local police departments, state offices and state governors have a covert federal agent working close by pretending to be just another employee. Also, every US neighborhood has an informer who reports to the federal government. Large corporations, which tend to behave like "mini governments", need to be infiltrated and kept under observation. Colleges and universities are also monitored.
Here is how this spy network operates: The NSA likes to recruit young kids right out of college. When they are hired and sworn to secrecy they still do not know what their assignment will be. They must agree to do this assignment without first being told what it is.
Some agents, like John Perkins [2], are assigned to work in other countries. However, others are assigned to work inside the US. Their assignment could be to go to some state and apply to join the local police department. They would pretend to be just a regular person looking for a job. They would take the necessary training and spend their life as a local policeman so they could directly observe other local police from the inside and report to the NSA. Since they are actually an employee of the NSA, presumably they get to keep both salaries and, eventually, both retirements. All significant local police forces in the US are infiltrated this way.
Additionally, some agents will be assigned to get a job on the state governor's staff as well as in major local state agencies. A CIA or NSA agent is always on the staff at major colleges and universities. The same goes for major corporations.
Senior level agents are allowed to have special TV receivers in their homes linked to the secret government TV network. This way everyone stays on the same page. The channels on this network actually broadcast the truth. TV channels available to ordinary people contain only government approved propaganda mixed with "bread and circuses" presentations to make sure the sheeple stay asleep and content.
Fronts
The US government is involved in illegal activities internationally and domestically. If it performed these activities overtly in the name of the United States, there would be serious consequences under both international and local laws. To avoid this situation, the US government operates thousands of "front organizations" which appear to be private but are actually shadow operatives of the US.
For example, John Perkins [2] explained that he was recruited, hired and trained by the NSA. He was an NSA agent. However, for his cover as an economic hit man, he "officially" worked for a "private" company called Charles T. Main. This company was a government front to shield the US because the activities the NSA trained Perkins to do were illegal.
This is standard operating procedure for the US as well as other countries and many corporations. It shields them from legal recourse by providing deniability for the crimes they actually direct and commit.
Generally, when the US wants to influence other sovereign countries, it creates harmless looking NGO's which appear to be independent but are actually fronts for covert activities.
Domestically, colleges and universities — especially those with associated medical schools and hospitals — are great places to conceal a variety of covert projects such as the MK Ultra series of human experiments which, reportedly, continue today using new cover names. The US also likes to create non-profit corporations which exist only to provide classified services to the United States. A good example would be the Institutes for Defense Analysis (IDA). The US, reportedly, is its only client.
Programming
Mass media "programming" is actually programming you. It has developed into a subtle form of mind control. Before radio and television, special interests recognized that motion pictures could be used to alter public opinion in their favor. Perhaps, for example, you wanted to attack labor unions. When radio and later television came along providing access to national and international audiences, the temptation to exploit these technologies became irresistible. Originally, the US government recognized this and set up fairness rules to prevent monopolies from taking over the broadcast media and blocking opposing viewpoints. All this ended, unfortunately, when Ronald Regan canceled all the fairness regulations. Today, a handful of powerful corporations own and control essentially all content delivered by radio and television.
Television is the main vehicle for mass indoctrination. It is said that people watching TV actually fall into a light hypnotic trance. The "entertainment" you see on TV does not "just happen to be there". It is very carefully planned and timed to attract and influence targeted audiences. It is said that if some event were to somehow shut down all television broadcasts the government would experience a severe crisis because it would lose control over the minds of the masses.
TV creates sort of a "hive mind" among the masses and keeps everyone coordinated and tuned into the official party line. Without this, people would have no choice but to start thinking for themselves and forming independent opinions. Clearly, this would be a disaster.
The radio broadcast of "War of the Worlds" and the later movie "The Day the Earth Stood Still" are said to be CIA psychological experiments to judge how the general public would react to some type of ET contact.
Today, broadcasting is not just a one way event. Because people react to events and use social media to express these reactions, the effect of specific propaganda can be analyzed in real time. Since the government now intercepts all electronic communications, it is able to see general opinions and then tweak algorithms to maximize the desired effect of propaganda. This ability makes TV a two-way communications system although most people, of course, do not realize this and have no concept of the level of sophistication these technologies have reached.
Information Theory
Information Theory is the name of a relatively new branch of science which became popular in the 1960′s. It covers a broad range of technologies. Basically, it is the science of the flow of information and how that flow can be selectively controlled so that information flows only in desired pathways. As you may have already guessed, governments love this sort of stuff.
ECM
ECM stands for Electronic Counter Measures. In general, these are techniques to disable other electronic devices. Basically, it is electronic warfare. When the secret service is active in an area, for example, they will selectively jam all radio frequencies except for the specific frequencies they are using so that no one else can communicate.
World leaders, who are generally terrified of "threats" materializing from practically anywhere, like to travel with ECM generators running just in case "someone" from "somewhere" was trying to target them for "some reason". Basically, they are paranoid whack jobs.
People familiar with aviation tell the story of how Tony Blair, while traveling to or near a commercial airport, reportedly caused a commercial jet to crash because all the ECM garbage he was transmitting jammed the plane's navigation system. Of course, the British government would never admit this.
Secure Communication With Submarines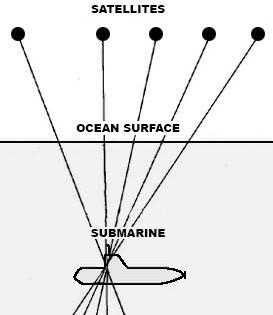 Since submarines were invented, communicating with them has been a problem because conventional radio waves will not travel underwater. Therefore, early submarines had to get close enough to the surface to put up some kind of antenna in the air to send or receive radio messages. Obviously, this could pose a problem if you did not wish to be discovered and located. After all, the motivation to create submarines in the first place was the feeling that they would be able to move about the planet secretly. However, newer technologies now make this impossible.
To solve the problem of reliable secure communication without the need to surface, scientists learned that sea water was essentially transparent to a special type of Argon laser. To set up the current communications network, it was decided to use several satellites with each satellite sending only part of an encrypted communication signal. The complete signal could only be received at a specific point underwater where all the laser beams intersected. Intercepting only one or two beams would prove useless. This communications system is considered to be impossible to intercept.
Quantum Entanglement
Returning to the submarine issue for a moment, before modern communications were perfected, there was a search for some reliable method to send a signal to a submerged submarine that could not be detected. This was considered necessary in a war situation to secretly transmit an attack command. What they originally did was to locate a couple of people who could communicate telepathically. One would be at the command base and the other on the submarine. Doing a bit more research, it was determined that this type of communication is instantaneous and somehow operated outside of time. Radio waves travel at the speed of light.
Quantum entanglement is a process which uses technology to send and receive signals outside of space-time. Now, why would you possibly want to do this? Well, if you had a base or a colony on a planet in some other solar system light years away, you would not want to wait years for messages to be received. Following this thread — and adding some basic common sense — why would you want to dedicate resources to search for habitable planets in distant solar systems when you had already "proven" it would be impossible to ever get there? Could it just be that someone is not coming clean with whole story?
The Separation Barrier
This is a model of the separation barrier which insulates the ruling class from the slave class. It is essentially "intellectual apartheid". The question is, why is it there. It takes considerable effort, money and manpower to maintain this artificial barrier. What is the reasoning behind not having a level playing field for everyone? Why does this idea absolutely terrify the elite? What are they afraid of?
The Pirate Story
This is a summary of a story told years ago on a radio broadcast most likely by Paul Harvey:
Ordinary people were afraid. The Earth was flat so they dare not venture far from home. Periodically, a pirate ship would come. They did not know how it got there or from where it came. It brought treasures they had never seen. The Chief Pirate would encourage the young men to study and specialize in specific skills. He wanted them to become educated but only in one narrow area. The Chief Pirate knew the world was not flat and how to navigate to other lands. However, this knowledge was never discussed. This "top secret" knowledge or the "big picture of the known world" would only be given to the Chief Pirate's son who would inherit his title and someday become the Chief Pirate.
This story is about the origin of the concept we call compartmentalization — the process of controlling the slave masses by only allowing them to know specific bits of the truth while the leaders are allowed to know total truth.
ELITE RULING CLASS
SECURITY CLEARANCES
SECRET POLICE
ASSASSINS
SURVEILLANCE — SIGINT HUMINT COMINT
SPY SATELLITES
SPY DRONES
SMART ELECTRIC METERS
INTERNET SURVEILLANCE
NEIGHBORHOOD SPIES
PLENTIFUL STREET DRUGS
PSYCHIATRIC FORCED DRUGGING
GENETICALLY MODIFIED FOOD
FLUORIDATED WATER
COORDINATED TELEVISION PROPAGANDA
DEGRADED PUBLIC EDUCATION
LOCAL MILITARIZED POLICE
---
SLAVE CLASS
Leaders can only maintain their status if there are slaves. Otherwise, everyone would be equal and operate on a level playing field. This means "leaders" would have to pull their own weight like everyone else. Clearly, this would be intolerable. Leaders love beautiful and exotic things but don't want to do the work needed to create these things. They probably could not even plant a garden much less build the various "ivory towers" where they like to live surrounded by servants. If left on their own they would very likely starve. This is why it is so important to create and maintain the complex separation barrier.
Why don't people who live above the separation barrier ever "come down" and talk to the people below the barrier? Well, other than the obvious fact that they would likely be killed or jailed for espionage or treason, there is another, simpler, reason.
Would you like to spend your days sitting in an open field with kindergarten kids looking for four leaf clovers? Probably not. You have progressed beyond that. The slaves below the separation barrier cannot even imagine the world of those who live above the barrier. In fact, the elite do not even consider the slaves human. They call them "disposable biological units". The United Nations prefers the slang term "the herd". Slaves can be easily bred in quantities needed and programmed to do desired tasks. Then, they can be easily disposed of when no longer useful. That's how they look at you. So, why would they want to make friends with you?
The Mars Example
There is an interesting event playing out today that you may have noticed. This concerns the recruitment and selection of people to be sent to Mars. There are simulation projects where volunteers are locked away to imitate the long voyage to Mars. They are being told that this is a one way trip and they can never hope to return to Earth.
What you are witnessing is the selection process for the "seed people" who will be used to breed the future slave class on Mars. In a situation similar to the period when most believed the Earth was flat and you would fall off if you tried to go to sea, these people are convinced that the only way to get to mars is to ride a rocket on a perilous journey taking years. Because they truly believe this, when they get to Mars, they will teach this crap to their kids along with other misconceptions like it is impossible to go faster than the speed of light and other associated obsolete scientific principles. They will have no
desire to ever return to Earth or go anywhere else because they truly believe it is not possible. They will be contented slaves.
Of course the truth is that there are already secret colonies on Mars. It is not that hard to get there using antigravity and other secret propulsion methods and it is quite likely possible to simply walk through some kind of wormhole device and come out on Mars.
However, the slaves will never know this. Just as it is done on Earth, there will be an artificial separation barrier. The insiders will know the truth and will be physically hidden from the slaves. There will be secret police and other methods — the same as are used on Earth — to make sure no slave ever escapes from the "information prison". Business as usual will continue.
Reinforcement of Ignorance
Governments and their oligarchs love to keep their subjects in a cloud of ignorance. Back in the days when people believed the Earth was flat, the inner circle ruling class knew it was round. Maintaining the deception was convenient because it kept the slaves from developing any desire to travel far from home.
Nothing has changed all that much today. Consider, for example, all the fuss over the missing MH370 plane. You are being played for a sucker. It is impossible for that plane to have "disappeared".
The US DoD spy satellite system reportedly consists of ten constellations of satellites. Each constellation has over seven thousand satellites. They see and record everything that happens on this planet. The floor of the oceans can be seen just as clearly as the land areas. The resolution of the system is better than one square millimeter. Also, everything is recorded so you can go back in time and play past images.

This is a picture of a common electric lamp. Take this lamp and throw it in the ocean — any ocean anywhere on this planet. The spy satellite system will locate it, give you the coordinates and give you a photo at least as good as the one above. That is the capability of the system. So, clearly, it is impossible not to know the location of something as large as a Boeing 777 plane. All the TV publicity is a choreographed play. You are being scammed and you need to wake up and realize this fact.
Murders and Assassinations
To ensure a strong empire, dissent must be crushed. The United States trains assassins and carries out both domestic and foreign murders and assassinations on a regular basis. You may be familiar with the classic movie scenes where a black limousine with tinted windows drives by a target with thugs shooting machine guns. Although this would accomplish the task, it is a bit too obvious in a country that advertises itself to be a free, civilized democracy. Someone might catch on and begin to doubt the party line. Consequently, these things must be done quietly.
Inside the US, murders are reportedly carried out by a group known as "FBI Division Five". Other agencies likely have the responsibility for foreign assassinations. However, the basic techniques used would be similar.
Typically, an agent would wake up every day and connect to the top secret internet to see who he was assigned to kill that day. There would be several options. If it was important to eliminate the target immediately, a fast acting chemical agent would be selected which, for example, would cause the target to die within a few hours of a "natural" heart attack.
However, if time was not critical and the government just wanted the target out of the way, you might want to select one of the cancer causing agents such as those likely used to eliminate Hugo Chavez and Senator Ted Kennedy.
There is also a third possibility. This involves character assassination instead of actual murder. Consider, for example, a person who has gained a lot of public recognition talking about, say, free energy. If you simply kill the person, there could be blowback and talk that he was silenced by the government. In such cases, it is easier to use a chemical agent designed not to kill but, rather, to cause states of mental confusion resulting in obviously strange behavior. This would be coordinated with the government controlled mainstream press to make sure everyone became convinced the person was a nut and would therefore ignore anything said without regard to the truth or validity of the message.
Once the appropriate chemical has been selected, you need to load it into the secret delivery system and locate your target. To find your target you will connect to the top secret internet and pinpoint the location of the target through their cell phone. You can also activate all the cameras and microphones in electronic gadgets connected to the internet associated with the target in case you wish to look around the target's home and hear in real time what is taking place.
Of course, this will not help you locate the target when it is time to actually do the hit. So, you need to get the top secret profile data which will show any predictable habits of the target. Everyone is constantly tracked through their cell phones and profiles are logged and stored. In this case, the profile shows that the target has a favorite restaurant and goes there for lunch every day around 11:30. Now, you know exactly what to do. You go to the restaurant, hang out until you see your target, and get in line behind the target. Now, all you need to do is slightly bump into the target to deliver the chemical. Generally, the targets never even notice.
This mission is now complete. If it is early enough, you can check back in to the top secret system to see who you are supposed to kill next. Just another day. Just a routine job.
Money
Money is an imaginary force. It is used to motivate and control slaves. Real forces effect all life forms. However, only people respond to money. The only reason they do is because they have been artificially programmed to do so.
Money can be created in unlimited quantities by those adept in the use of this force. The physical world is finite, however the world of imagination is not. There is no limit to the quantity of money that can be imagined into existence. Money can also be imagined out of existence.
Let's assume that one day the entire financial system simply disappeared. If you lived in a rural area and had a nice veggie garden, some friendly chickens, collection facilities for rain water and a few photocells for electricity, you would not notice this. The veggies would continue to grow. Rain would periodically fall. The chickens would lay eggs as usual. The sun would continue to shine. However, if you lived in a city environment, you would be devastated.
Before money, people lived in small hunter-gatherer groups. The concept of ownership did not exist. People worked and survived as a group. Men and women were equal. Everyone contributed to the community. Resources were shared equally. The concept of "mine" and "yours" did not exist. Women generally became pregnant only once about every three years although there was no birth control. Later, when the concept of money entered the consciousness, women were seen as having less value because men were paid for work but women were not paid to raise and care for kids. Society has changed, however, the downgraded status of women has not.
Money systems have always been manipulated by clever people. When gold was used as money, people learned they could dilute pure gold with silver or maybe even lead to come up with something that looked like pure gold and had the correct weight but was a fraud. A king suspected he was being scammed but had no way to prove it. He called on the great minds of the time for help. This led to what is known as the Archimedes' principle which is better known today as "specific gravity". This principle made it possible to compare a sample known to be pure gold to a questionable sample and prove the unknown sample was not pure gold. Likely, some clever crook lost his head once this test became known.
There is a general belief that gold is the ultimate reference for all money. However, secrets concerning the exact quantity of gold make this a perilous assumption. Reportedly, the United States stole a tremendous quantity of physical gold from Japan towards the end of World War II. This gold exists off the books. To make matters worse, Japan was not all that concerned. Japan had been using gold bars as ballast on its ships because they were compact and heavy. They thought nothing of throwing the bars overboard as necessary. Japan used platinum as a money reference and the US never got that. This should make one rethink all the hype about the value of gold. It may be a lot more plentiful than we have been led to believe. Also, the secret off the books stashes of gold would allow its relative value to be manipulated at will just like other commodity markets.
The Financial Axis of Evil [3]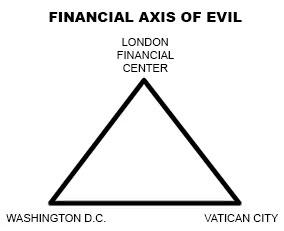 This is the model of the financial axis of evil which rules this planet. It consists of three main branches as shown above. Collectively, they are known as "The Empire of the City". Briefly, here is how this system operates:
The London financial district is in London, Washington D.C. is in the United States and the Vatican is in Italy. However, these three places are not part of the countries where they exist. They are independent "city states" and have their own laws and constitution. They are, effectively, "mini countries" inside of other countries and fly their own flags. The city state of London is a private corporation and pays no taxes to actual London or to Britain. The city state of London is the master power center and is controlled by the Rothschild family which considers itself to be the legal owner of this planet. The Vatican is the largest private land owner in the world and the first true multinational corporation with installations (churches) and secret agents (The Knights of Malta) everywhere. They control through the power of fear of the unknown and practice black magic. Washington D.C. relies upon brute military force. All three closely cooperate combining their specialties of financial trickery, witchcraft and military might. Of course, all three worship Satan as their Master.
Slavery
Slavery is alive and well throughout the world. The US constitution prohibits slavery, however, most americans live in slave-like conditions.
It is said that it will take the average college student until age fifty to pay back their student loan.
The constitutional amendment prohibiting slavery addressed the concept of physically owning another person. However, it did not address the issue of holding another person in bondage as a debt slave. It also did not consider the concept of private for profit prisons who force inmates to work as slaves. These systems exist today and are perfectly legal.
Actually, a recent report from prestigious Princeton University has reclassified the US government as an oligarchy — a country run by and for the rich elite. Former US President Carter has stated that the United States "no longer has a functioning democracy". So much for the Founding Father's dream. Speaking of dreams, check out the free you tube video titled "The American Dream".
Other forms of slavery are illegal but still flourish. Sex slaves are always in demand. Traffickers are sometimes caught but you need to realize that your leaders use sex slaves and also routinely abuse young girls and boys. Sometimes they are also killed during occult rituals. No one ever talks about this and these people are never punished. This has been the normal way of life for Satan worshipers for many years and nothing has changed or is likely to ever change in the future. Stanley Kubrick's last movie, Eyes Wide Shut, covers this subject. Some believe this intense dramatization of how the elite really live may have cost him his life.
People still have some rights left in the United States but other countries are a different story. Qatar is doing construction for the World Cup. The event is not scheduled until the year 2022, however they have already killed 1200 slaves [7] by working them to death. People are lured from poor countries with the promise of jobs and money. When they arrive, their passports are confiscated and they are forced to work until they literally drop dead. If the World Cup is actually held in Qatar in 2022, there will be glamorous TV coverage and no one will remember or care about all the dead slaves. The show must go on.
Qatar, incidentally, sponsors Al Jazeera TV network.
Adaptation Techniques
The status quo of today will never change because the people who created it will never die. Because of top secret medicine, when men like Henry Kissinger, who heads the Bilderberg Group's steering committee, get too feeble to function, they will simply go to one of the secret locations and use the temporal reversal device to regress back to about twenty years old. Their memories will be unaffected. Then they will get new identities and continue on. This process can be repeated indefinitely.
Because you can never change the status quo, your best hope for a lifetime of reasonable quality is to find clever ways to live in this world with as much independence as possible.
One method of adaptation is autonomous and semi-autonomous communities. If the community is registered as a religious institution it is automatically shielded from most government interference by the US constitution. It pays no taxes and can pretty much write its own rules by simply calling whatever it wants to do "religious doctrine". Many small semi-autonomous groups exist where people who share a common set of values find ways to quietly live out their lives pretty much on their own terms. The government does not seem interested in bothering these smaller groups as long as they live peacefully and are not doing anything that the government perceives to be a threat.
The Amish people are a good example of an autonomous group. You would probably not want to live as they do, however, before you completely dismiss them, you may want to look at some definite advantages in their chosen lifestyle.
Remember, these are the people who reject technology. They just might have made the correct choice. Technology, at first, seemed like a good idea. However, now that people are addicted to technology they are also enslaved by technology. Everything they do is monitored and recorded by the government. Privacy no longer exists. It did not have to be this way.
Technology, in itself, is not evil. However, it can be quite evil if you live under a government run by sociopathic control freaks which, unfortunately, you do. In the Amish world, electronic surveillance does not exist because electronic devices do not exist. The constant propaganda from TV has no effect on people who do not have TV. A horse does not report its position to a GPS satellite and is not controlled by a computer.
Also, the people are generally healthy and do not suffer from many diseases common to the mainstream population. They are not being poisoned by fluorinated water or additives found in processed food because they don't use these things. Also, they get lots of physical exercise.
Without totally withdrawing from the world, there are some positive steps you can take. By now you know never to drink fluorinated water or use any personal product containing fluoride such as many brands of toothpaste. To minimize harmful food additives, look for Kosher food which is marked with either the encircled "K" or "U" (Ultra Kosher). These foods have less or no harmful additives. The Jewish community is very protective of its people and the Mossad is widely considered to be the best intelligence service in the world. Therefore, they would have the inside scoop on everything including food and do not want to see their people harmed.
Whatever you decide to do, you definitely do not want to be part of so called mainstream society. These people are doomed. They are sheep (sheeple) slowly walking to the slaughter house. Don't go there!
---
references and credits
[1] DVD "The American Ruling Class". ASIN: B001HM2CE2.
[2] John Perkins. Book: Confessions of an Econemic Hit Man; DVD (free on you tube): "Apology of an Economic Hit Man"; RT interviews.
[3] See the free you tube videos titled "The Red Shield".
[4] DVD: "The Wages of Debt", RT Intl. Also available for purchase.
[5] DVD "Terra Blight", RT Intl. Also available for purchase.
[6] Interview with John Judge of Veterans Against Military Psychiatry.
[7] Also search using the phrase "qatar slaves world cup".
© 2014 W C Vetsch. All rights reserved.
Source: Walter C. Vetsch  |  3108.info | War Is Crime
Imagine: you are dressed up for a night on Broadway, but your neighbours are involved in a vicious quarrel, and you have to gun up and deal with the trouble instead of enjoying a show, and a dinner, and perhaps a date. This was Putin's position regarding the Ukrainian turmoil.
The Russians have readjusted their sights, but they do not intend to bring their troops into the two rebel republics, unless dramatic developments should force them.
It is not much fun to be in Kiev these days. The revolutionary excitement is over, and hopes for new faces, the end of corruption and economic improvement have withered. The Maidan street revolt and the subsequent coup just reshuffled the same marked deck of cards, forever rotating in power.
The new acting President has been an acting prime minister, and a KGB (called "SBU" in Ukrainian) supremo. The new acting prime minister has been a foreign minister. The oligarch most likely to be "elected" President in a few days has been a foreign minister, the head of the state bank, and personal treasurer of two coups, in 2004 (installing Yushchenko) and in 2014 (installing himself). His main competitor, Mme Timoshenko, served as a prime minister for years, until electoral defeat in 2010.
These people had brought Ukraine to its present abject state. In 1991, the Ukraine was richer than Russia, today it is three times poorer because of these people's mismanagement and theft. Now they plan an old trick: to take loans in Ukraine's name, pocket the cash and leave the country indebted. They sell state assets to Western companies and ask for NATO to come in and protect the investment.
They play a hard game, brass knuckles and all. The Black Guard, a new SS-like armed force of the neo-nazi Right Sector, prowls the land. They arrest or kill dissidents, activists, journalists. Hundreds of American soldiers, belonging to the "private" company Academi (formerly Blackwater) are spread out in Novorossia, the pro-Russian provinces in the East and South-East. IMF–dictated reforms slashed pensions by half and doubled the housing rents. In the market, US Army rations took the place of local food.
The new Kiev regime had dropped the last pretence of democracy by expelling the Communists from the parliament. This should endear them to the US even more. Expel Communists, apply for NATO, condemn Russia, arrange a gay parade and you may do anything at all, even fry dozens of citizens alive. And so they did.
The harshest repressions were unleashed on industrial Novorossia, as its working class loathes the whole lot of oligarchs and ultra-nationalists. After the blazing inferno of Odessa and a wanton shooting on the streets of Melitopol the two rebellious provinces of Donetsk and Lugansk took up arms and declared their independence from the Kiev regime. They came under fire, but did not surrender. The other six Russian-speaking industrial provinces of Novorossia were quickly cowed. Dnepropetrovsk and Odessa were terrorised by personal army of Mr Kolomoysky; Kharkov was misled by its tricky governor.
Russia did not interfere and did not support the rebellion, to the great distress of Russian nationalists in Ukraine and Russia who mutter about "betrayal". So much for the warlike rhetoric of McCain and Brzezinski.
Putin's respect for others' sovereignty is exasperating. I understand this sounds like a joke, — you hear so much about Putin as a "new Hitler". As a matter of fact, Putin had legal training before joining the Secret Service. He is a stickler for international law. His Russia has interfered with other states much less than France or England, let alone the US. I asked his senior adviser, Mr Alexei Pushkov, why Russia did not try to influence Ukrainian minds while Kiev buzzed with American and European officials. "We think it is wrong to interfere", he replied like a good Sunday schoolboy. It is rather likely Putin's advisors misjudged public sentiment. « The majority of Novorossia's population does not like the new Kiev regime, but being politically passive and conservative, will submit to its rule", they estimated. "The rebels are a small bunch of firebrands without mass support, and they can't be relied upon", was their view. Accordingly, Putin advised the rebels to postpone the referendum indefinitely, a polite way of saying "drop it".
They disregarded his request with considerable sang froid and convincingly voted en masse for secession from a collapsing Ukraine. The turnout was much higher than expected, the support for the move near total. As I was told by a Kremlin insider, this development was not foreseen by Putin's advisers.
Perhaps the advisors had read it right, but three developments had changed the voters' minds and had sent this placid people to the barricades and the voting booths:
1. The first one was the fiery holocaust of Odessa, where the peaceful and carelessly unarmed demonstrating workers were suddenly attacked by regime's thugs (the Ukrainian equivalent of Mubarak's shabab) and corralled into the Trade Unions Headquarters. The building was set on fire, and the far-right pro-regime Black Guard positioned snipers to efficiently pick off would-be escapees. Some fifty, mainly elderly, Russian-speaking workers were burned alive or shot as they rushed for the windows and the doors. This dreadful event was turned into an occasion of merriment and joy by Ukrainian nationalists who referred to their slain compatriots as "fried beetles". (It is being said that this auto-da-fé was organised by the shock troops of Jewish oligarch and strongman Kolomoysky, who coveted the port of Odessa. Despite his cuddly bear appearance, he is pugnacious and violent person, who offered ten thousand dollars for a captive Russian, dead or alive, and proposed a cool million dollars for the head of Mr Tsarev, a Member of Parliament from Donetsk.)
2. The second was the Mariupol attack on May 9, 2014. This day is commemorated as V-day in Russia and Ukraine (while the West celebrates it on May 8). The Kiev regime forbade all V-day celebrations. In Mariupol, the Black Guard attacked the peaceful and weaponless town, burning down the police headquarters and killing local policemen who had refused to suppress the festive march. Afterwards, Black Guard thugs unleashed armoured vehicles on the streets, killing citizens and destroying property.
The West did not voice any protest; Nuland and Merkel weren't horrified by this mass murder, as they were by Yanukovich's timid attempts to control crowds.
The people of these two provinces felt abandoned; they understood that nobody was going to protect and save them but themselves, and went off to vote.
3. The third development was, bizarrely, the Eurovision jury choice of Austrian transvestite Conchita Wurst for a winner of its song contest.
The sound-minded Novorossians decided they want no part of such a Europe.
Actually, the people of Europe do not want it either:
It transpired that the majority of British viewers preferred a Polish duo, Donatan & Cleo, with its We Are Slavic. Donatan is half Russian, and has courted controversy in the past extolling the virtues of pan-Slavism and the achievements of the Red Army, says the Independent.
The politically correct judges of the jury preferred to "celebrate tolerance", the dominant paradigm imposed upon Europe.
This is the second transvestite to win this very political contest; the first one was Israeli singer Dana International.
Such obsession with re-gendering did not go down well with Russians and/or Ukrainians.
The Russians have readjusted their sights, but they do not intend to bring their troops into the two rebel republics, unless dramatic developments should force them.

RUSSIAN PLANS

Imagine: you are dressed up for a night on Broadway, but your neighbours are involved in a vicious quarrel, and you have to gun up and deal with the trouble instead of enjoying a show, and a dinner, and perhaps a date. This was Putin's position regarding the Ukrainian turmoil.
A few months ago, Russia had made a huge effort to become, and to be seen as, a very civilized European state of the first magnitude. This was the message of the Sochi Olympic games: to re-brand, even re-invent Russia, just as Peter the Great once had, as part of the First World; an amazing country of strong European tradition, of Leo Tolstoy and Malevich, of Tchaikovsky and Diaghilev, the land of arts, of daring social reform, of technical achievements, of modernity and beyond — the Russia of Natasha Rostova riding a Sikorsky 'copter. Putin spent $60 billion to broadcast this image.
The old fox Henry Kissinger wisely said:
Putin spent $60 billion on the Olympics. They had opening and closing ceremonies, trying to show Russia as a normal progressive state. So it isn't possible that he, three days later, would voluntarily start an assault on Ukraine. There is no doubt that… at all times he wanted Ukraine in a subordinate position. And at all times, every senior Russian that I've ever met, including dissidents like Solzhenitsyn and Brodsky, looked at Ukraine as part of the Russian heritage. But I don't think he had planned to bring it to a head now.
However, Washington hawks decided to do whatever it takes to keep Russia out in the cold. They were afraid of this image of "a normal progressive state" as such Russia would render NATO irrelevant and undermine European dependence on the US. They were adamant about retaining their hegemony, shattered as it was by the Syrian confrontation. They attacked Russian positions in the Ukraine and arranged a violent coup, installing a viciously anti-Russian regime supported by football fans and neo-Nazis, paid for by Jewish oligarchs and American taxpayers. The victors banned the Russian language and prepared to void treaties with Russia regarding its Crimean naval base at Sebastopol on the Black Sea. This base was to become a great new NATO base, controlling the Black Sea and threatening Russia.
Putin had to deal quickly and so he did, by accepting the Crimean people's request to join Russian Federation. This dealt with the immediate problem of the base, but the problem of Ukraine remained.
The Ukraine is not a foreign entity to Russians, it is the western half of Russia. It was artificially separated from the rest in 1991, at the collapse of the USSR. The people of the two parts are interconnected by family, culture and blood ties; their economies are intricately connected. While a separate viable Ukrainian state is a possibility, an "independent" Ukrainian state hostile to Russia is not viable and can't be tolerated by any Russian ruler. And this for military as well as for cultural reasons: if Hitler had begun the war against Russia from its present border, he would have taken Stalingrad in two days and would have destroyed Russia in a week.
A more pro-active Russian ruler would have sent troops to Kiev a long time ago. Thus did Czar Alexis when the Poles, Cossacks and Tatars argued for it in 17th century. So also did Czar Peter the Great, when the Swedes occupied it in the 18th century. So did Lenin, when the Germans set up the Protectorate of Ukraine (he called its establishment "the obscene peace"). So did Stalin, when the Germans occupied the Ukraine in 1941.
Putin still hopes to settle the problem by peaceful means, relying upon the popular support of the Ukrainian people. Actually, before the Crimean takeover, the majority of Ukrainians (and near all Novorossians) overwhelmingly supported some sort of union with Russia. Otherwise, the Kiev coup would not have been necessary. The forced Crimean takeover seriously undermined Russian appeal. The people of Ukraine did not like it. This was foreseen by the Kremlin, but they had to accept Crimea for a few reasons. Firstly, a loss of Sevastopol naval base to NATO was a too horrible of an alternative to contemplate. Secondly, the Russian people would not understand if Putin were to refuse the suit of the Crimeans.
The Washington hawks still hope to force Putin to intervene militarily, as it would give them the opportunity to isolate Russia, turn it into a monster pariah state, beef up defence spending and set Europe and Russia against each other. They do not care about Ukraine and Ukrainians, but use them as pretext to attain geopolitical goals.
The Europeans would like to fleece Ukraine; to import its men as "illegal" workers and its women as prostitutes, to strip assets, to colonise. They did it with Moldova, a little sister of Ukraine, the most miserable ex-Soviet Republic. As for Russia, the EU would not mind taking it down a notch, so they would not act so grandly. But the EU is not fervent about it. Hence, the difference in attitudes.
Putin would prefer to continue with his modernisation of Russia. The country needs it badly. The infrastructure lags twenty or thirty years behind the West. Tired by this backwardness, young Russians often prefer to move to the West, and this brain drain causes much damage to Russia while enriching the West. Even Google is a result of this brain drain, for Sergey Brin is a Russian immigrant as well. So are hundreds of thousands of Russian scientists and artists manning every Western lab, theatre and orchestra. Political liberalisation is not enough: the young people want good roads, good schools and a quality of life comparable to the West. This is what Putin intends to deliver.
He is doing a fine job of it. Moscow now has free bikes and Wi-Fi in the parks like every Western European city. Trains have been upgraded. Hundreds of thousands of apartments are being built, even more than during the Soviet era. Salaries and pensions have increased seven-to-tenfold in the past decade. Russia is still shabby, but it is on the right track. Putin wants to continue this modernisation.
As for the Ukraine and other ex-Soviet states, Putin would prefer they retain their independence, be friendly and work at a leisurely pace towards integration a la the European Union.
He does not dream of a new empire. He would reject such a proposal, as it would delay his modernisation plans.
If the beastly neocons would not have forced his hand by expelling the legitimate president of Ukraine and installing their puppets, the world might have enjoyed a long spell of peace.
But then the western military alliance under the US leadership would fall into abeyance, US military industries would lose out, and US hegemony would evaporate. Peace is not good for the US military and hegemony-creating media machine. So dreams of peace in our lifetime are likely to remain just dreams.
What will Putin do?
Putin will try to avoid sending in troops as long as possible. He will have to protect the two splinter provinces, but this can be done with remote support, the way the US supports the rebels in Syria, without 'boots on the ground'. Unless serious bloodshed on a large scale should occur, Russian troops will just stand by, staring down the Black Guard and other pro-regime forces.
Putin will try to find an arrangement with the West for sharing authority, influence and economic involvement in the failed state. This can be done through federalisation, or by means of coalition government, or even partition. The Russian-speaking provinces of Novorossia are those of Kharkov (industry), Nikolayev (ship-building), Odessa (harbour), Donetsk and Lugansk (mines and industry), Dnepropetrovsk (missiles and high-tech), Zaporozhe (steel), Kherson (water for Crimea and ship-building), all of them established, built and populated by Russians. They could secede from Ukraine and form an independent Novorossia, a mid-sized state, but still bigger than some neighbouring states. This state could join the Union State of Russia and Belarus, and/or the Customs Union led by Russia. The rump Ukraine could manage as it sees fit until it decides whether or not to join its Slavic sisters in the East. Such a set up would produce two rather cohesive and homogeneous states.
Another possibility (much less likely at this moment) is a three-way division of the failed Ukraine: Novorossia, Ukraine proper, and Galicia&Volyn. In such a case, Novorossia would be strongly pro-Russian, Ukraine would be neutral, and Galicia strongly pro-Western.
The EU could accept this, but the US probably would not agree to any power-sharing in the Ukraine. In the ensuing tug-of-war, one of two winners will emerge. If Europe and the US drift apart, Russia wins. If Russia accepts a pro-Western positioning of practically all of Ukraine, the US wins. The tug-of-war could snap and cause all-out war, with many participants and a possible use of nuclear weapons. This is a game of chicken; the one with stronger nerves and less imagination will remain on the track.
Pro and Contra
It is too early to predict who will win in the forthcoming confrontation. For the Russian president, it is extremely tempting to take all of Ukraine or at least Novorossia, but it is not an easy task, and one likely to cause much hostility from the Western powers. With Ukraine incorporated, Russian recovery from 1991 would be completed, its strength doubled, its security ensured and a grave danger removed. Russia would become great again. People would venerate Putin as Gatherer of Russian Lands.
However, Russian efforts to appear as a modern peaceful progressive state would have been wasted; it would be seen as an aggressor and expelled from international bodies. Sanctions will bite; high tech imports may be banned, as in the Soviet days. The Russian elites are reluctant to jeopardize their good life. The Russian military just recently began its modernization and is not keen to fight yet, perhaps not for another ten years.
But if they feel cornered, if NATO moves into Eastern Ukraine, they will fight all the same.
Some Russian politicians and observers believe that Ukraine is a basket case; its problems would be too expensive to fix. This assessment has a 'sour grapes' aftertaste, but it is widespread. An interesting new voice on the web, The Saker, promotes this view. "Let the EU and the US provide for the Ukrainians, they will come back to Mother Russia when hungry", he says. The problem is, they will not be allowed to reconsider. The junta did not seize power violently in order to lose it at the ballot box.
Besides, Ukraine is not in such bad shape as some people claim. Yes, it would cost trillions to turn it into a Germany or France, but that's not necessary. Ukraine can reach the Russian level of development very quickly –- in union with Russia. Under the EC-IMF-NATO, Ukraine will become a basket case, if it's not already. The same is true for all East European ex-Soviet states: they can modestly prosper with Russia, as Belarus and Finland do, or suffer depopulation, unemployment, poverty with Europe and NATO and against Russia, vide Latvia, Hungary, Moldova, Georgia. It is in Ukrainian interests to join Russia in some framework; Ukrainians understand that; for this reason they will not be allowed to have democratic elections.
Simmering Novorossia has a potential to change the game. If Russian troops don't come in, Novorossian rebels may beat off the Kiev offensive and embark on a counter-offensive to regain the whole of the country, despite Putin's pacifying entreaties. Then, in a full-blown civil war, the Ukraine will hammer out its destiny.
On a personal level, Putin faces a hard choice. Russian nationalists will not forgive him if he surrenders Ukraine without a fight. The US and EU threaten the very life of the Russian president, as their sanctions are hurting Putin's close associates, encouraging them to get rid of or even assassinate the President and improve their relations with the mighty West. War may come at any time, as it came twice during the last century – though Russia tried to avoid it both times. Putin wants to postpone it, at the very least, but not at any price.
His is not an easy choice. As Russia procrastinates, as the US doubles the risks, the world draws nearer to the nuclear abyss. Who will chicken out?
(Language editing by Ken Freeland)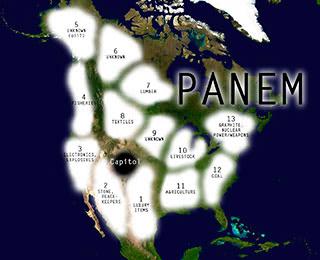 One of the most popular films of 2012 was The Hunger Games which portrayed a post-apocalyptic nation called Panem in which a super-rich, super-pampered, super-callous 'elite' lived in high-tech luxury while the rest of the population daily battled to survive in abject poverty locked away behind prison fences in intensively-populated 'people zones'. Panem comes from the Latin phrase 'panem et circenses' or 'bread and circuses' — a term derived from Rome and meaning to give the people diversions and distractions to hide what is being done to them. Exactly what is happening today.
The Totalitarian Tiptoes to just such a world are happening all around us, although most people can't see this because they don't connect the dots. People tend to live in their own 'little world' and focus on only a few subjects and interests. This gives them a distorted view of what is happening because they are so busy concentrating on the strands that they cannot see the tapestry. The world of The Hunger Games is already well on the way to fruition unless humanity has a fundamental reassessment of reality.
The foundations, structure and 'must haves' of a Hunger Games society are detailed in a plan being imposed through the United Nations called Agenda 21 which encompasses two related themes of 'sustainable development' and 'biodiversity'. Sustainable development — as in don't use more than can be replaced — sounds sensible enough at first until you realize what this and biodiversity really mean in the context of the conspiracy.
Agenda 21 was established at the United Nations Conference on Environment and Development in Rio de Janerio, Brazil, in 1992, hosted by Maurice Strong, a Canadian oil and business billionaire and long-time front man for the Rothschilds and Rockefellers. Strong has been a leader of their exploit-the-environment-to-scam-the-people programme which is now in full flow. Strong is a member of the Club of Rome, the environmental Hidden Hand in the Round Table network that includes the Bilderberg Group, Trilateral Commission and Council on Foreign Relations.
Strong said in support of Agenda 21:
'Isn't the only hope for this planet that the industrialised civilization collapse? Isn't it our responsibility to bring that about?'
This is a man who became mega-rich through the oil industry. He now lives in billionaire luxury in China where carbon-emitting industry is booming and he is a director of the Chicago Climate Exchange (largest shareholder, Goldman Sachs), which is 'the world's first and North America's only legally-binding greenhouse-gas emission registry reduction-system for emission sources and offset projects in North America and Brazil'.
The Exchange was established with funding from the Joyce Foundation where Barack Obama was once a director. Strong and Al Gore make money through the Carbon Exchange and other means from the lies they promote about climate change and the solutions they propose. Kate Johnston wrote on the Globalresearch.cawebsite:
'The same men that sold us the myth of man-made global warming are the same men that sold us the "solution" of a Carbon Tax and Emissions Trading Scheme and now they're profiting off their lucrative investments which are based on lies.' (See "The Climate Change Hoax").
Strong fled to China in 2006 after being accused of corruption with respect to the UN oil for food program.
Climate change propaganda is a No-Problem-Reaction-Solution technique to justify Agenda 21 and its stable-mate the Biodiversity Treaty. This is an internationally-binding document involving nearly 200 countries. The United States signed the treaty, but it was not ratified by the Senate after people like ecologist and ecosystem scientist Dr. Michael Coffman exposed its true consequences and implications. He said that he realized during the 1980s and 1990s that the plan was to use the excuse of protecting the environment to confiscate half the land of the United States.
Similar plans exist for every other country. America may not have ratified the treaty, but it is being implemented by the day. Agenda 21 demands the central global control of all land; all private property; all water sources and distribution; all other resources which includes people in its definition; all energy supplies and distribution and all food production and distribution.
Agenda 21 is called 'the agenda for the 21st century' and that refers to global fascism / communism. This is a summary of what Agenda 21 / Sustainable Development / Biodiversity is seeking to impose:
An end to national sovereignty
State planning and management of all land resources, ecosystems, deserts, forests, mountains, oceans and fresh water; agriculture; rural development; biotechnology; and ensuring 'equity' (equal slavery)
The State to 'define the role' of business and financial resources
Abolition of private property (it's not 'sustainable')
'Restructuring' the family unit
Children raised by the State
People told what their job will be
Major restrictions on movement
Creation of 'human settlement zones'
Mass resettlement as people are forced to vacate land where they currently live
Dumbing down education (achieved)
Mass global depopulation in pursuit of all the above
This horrific plan is being coordinated through the United Nations, the stalking horse for world dictatorship, via a non-governmental network once called the International Council of Local Environmental Initiatives ICLEI), and now known as Local Governments for Sustainability although still using the shortened name ICLEI. The United Nations is now opening 'embassies' around the world called 'UN Houses' under the guise of raising awareness of UN activities, but not the activities that people really need to know about. They have opened one in Hunter Square, Edinburgh, Scotland, for example.
Local Governments for Sustainability (ICLEI) and other organisations are integrating the plan into every village, town, city and region and it is already becoming widespread across the world. The organisational infrastructure of Agenda 21 is already fantastic and involves government agencies, non-governmental organisations (NGOs), think-tanks, trusts, foundations, 'training' (mind control) operations and 'initiatives' which have been building the infrastructure for what they call 'the post-industrial, post-democratic' society while the public go about their daily business oblivious of the prison being built all around them by the hour.
Harvey Ruvin, a vice-chairman of ICLEI, was asked how Agenda 21 would affect liberties with regard to the US Constitution and Bill of Rights, private property and freedom of speech. He replied:
'Individual rights must take a back-seat to the collective.'
The arrogance of these people is breathtaking. The extraordinary network supporting ICLEI and Agenda 21 includes the Rockefeller-sponsored America 2050; United Cities and Local Governments (UCLG); Metropolis; World Economic Forum; United Nations Framework Convention on Climate Change; United Nations International Strategy for Disaster Reduction; World Bank; Clinton Climate Initiative; Climate Group (Tony Blair); World Conservation Union (IUCN); Renewable Energy and Energy Efficiency Partnership; Global Footprint Network; Renewable Energy and Energy Efficiency Partnership; Global Footprint Network; International Centre for Sustainable Cities; Earthquakes and Megacities Initiative and the Stakeholder Forum. These and so many others are working to the same end — Agenda 21 and total human enslavement worldwide, although most of those involved will have no idea that they are building a global prison for themselves and their families.
Another of these front organisations is the World Business Council for Sustainable Development which includes the hideously anti-people Monsanto. Destroying food-growing land, contaminating the countryside with toxins and replacing proper food with deadly and soil-destroying genetically-modified organisms is Monsanto's contribution to 'sustainability'. Agenda 21 is operating in more than 600 towns, cities and counties in the United States and expanding by the day.
A member of the Agenda 21 committees in Santa Cruz, California, in the mid-1990s said that the proposals he heard were so crazy that he laughed at them because they could never happen. These included that 'Mother Earth's surface was not to be scratched'; humans should be concentrated in settlement zones; education should focus on the environment as a central organising principle and all aspects of life covered by Agenda 21, but all of these crazy plans are now being introduced. It's all happy, feely, smiling faces and how we care, when the truth is that Agenda 21 is a vicious, brutal, heartless strategy to impose a global Orwellian state.
Agenda 21 manipulators either create or hijack some local organisation or other, many of them in locations with large populations, and they have their (controlled) leadership to agree the Agenda 21 blueprint for their community together with any uninformed, unwitting idiots who can be sold a human nightmare as saving the planet. This allows them to claim that decisions were made after 'public participation' when that would have been the last thing they wanted, and 99 percent of the 'community' has never heard of Agenda 21 let alone had their say on it. They want no democracy which is why these people talk privately, sometimes even publicly, about the post-democratic, post-industrial society.
They want to control every man, woman and child on the planet — everyone and everywhere and every resource, water source and piece of land. To do this they need a global structure of fascist control that goes right down into every local community with the jackboots at local level enforcing the will of the global centre. This is why there is so much emphasis on local authorities and town and city authorities in Agenda 21.
There is a 'training organisation' called Common Purpose (common purpose, common consensus, everyone the same) which has been paid very large amounts of money by governments and local authorities, police forces and other institutions of state to 'train the leaders' of the post-democratic, post-industrial society. Common Purpose was heavily represented in the Leveson 'inquiry' leading to new media laws in Britain. It is not a training programme; it is a programming programme and turns out unquestioning zombie administrators who serve the god of Agenda 21 and the associated European Union. The theme of 'common' also applies to the ever greater standardisation of laws and regulations and constant reference to 'international law'. This is the unfolding global dictatorship of Agenda 21. What do you need to be a global dictator? Laws that everyone on the planet must obey — international law and the standardisation of global regulation.
You can see The Hunger Games connection when you look at the official Biodiversity wish-for map of the United States in Figure 1. The red areas are designated for no human use and most of the rest of America is confiscated for little and highly-regulated use. The mass of the population would be concentrated in high-rise, densely-packed 'human settlement zones' and denied access to something like 80 percent of present day America. It is without question the world of The Hunger Games with a globally-enforced top-down hierarchy that has a world government using its world army and police force to impose its will at regional and local levels (sectors). The Rockefeller-funded America 2050 has produced a map of the new United States divided into eleven 'megaregions' and includes parts of Canada (Figure 2). Seattle, Portland and Vancouver, British Columbia, become the megaregion known as 'Cascadia' and this regional system comes under the collective name of 'megalopolis' which is Greek for large city or great city. America, Canada and Mexico are due to merge to form the North American Union in line with the European Union blueprint.
The European Union is planned to be broken up into regions and the same structure is in development all over the world. The map of the new Europe has regions from different countries linked up with regions in other countries to end any vestige of national sovereignty or even national existence (Figure 3). This is a global plan with its fierce central control hidden behind its lower elements such as the European Union and local government. What is planned would clearly require a fantastic reduction of the global population and this is indeed what Agenda 21 / Sustainable Development / Biodiversity demand.
The e-book Agenda 21: Your Life In Their Hands can be downloaded here.
reference:
Icke, David. The Perception Deception. Ryde: David Icke Books, 2013.
Julian Websdale is an independent researcher in the fields of esoteric science and metaphysics, and a self-initiate of the Western Esoteric Tradition. His interest in these subjects began in 1988. Julian was born in England, received his education as an electronic and computer engineer from the University of Bolton, served in a Vaishnava monastery during 2010, and has travelled to over 21 countries. Julian is also a member of the Palestinian Solidarity Campaign.
Source: Julian Websdale  |  Waking Times | War Is Crime
Sometimes I just want to pimp slap people.
Last summer, I was at dinner during a sales convention. The conversation didn't get political until someone mentioned the NSA.
There is one in every crowd. Someone piped up and said, "They can spy on me all they want. I am not doing anything wrong."
They sang this song in Germany in 1933. And they sang it with unprecedented gusto in the months following 9/11, all in the name of  "security" and "keeping us safe".
We were at the MGM Grand in Las Vegas, the world's second largest hotel. Nothing in the post-9/11 "national security" apparatus would prevent a terrorist from walking in, setting off a bomb, and killing hundreds or even thousands of people.
The more important questions are: How do you know you are doing nothing that could be construed as wrong by some state functionary? How do you know you are not breaking some law somewhere? And why are you so implicitly trusting that your government would never do anything evil with the information it has collected on you?
This is not purely an academic matter. The practical implications are profound.
I give you several examples.
1. Niakea Williams went to her son's St. Louis-area elementary school one day to pick up her son, who has Asperger's. The school was put on lockdown and Mrs. Williams was escorted out in handcuffs.
2. Adrionna Harris was almost expelled from her middle school in Virginia Beach after taking a razor blade away from a fellow student who was trying to harm himself.
3. Read what Houston police did to this man who gave 75 cents to a homeless person.
4. A little known Denver parking ordinance can get you a $25 fine even if you haven't exceeded the two-hour limit.
5. Police in Iowa City, Iowa, seized $50,000 from this couple without charging them with a crime.
6. Alberto Willmore lost his teaching job in Manhattan over a totally bogus marijuana arrest. Even though he was never convicted of anything, he was unable to get his job back.
7. Norman Gurley was arrested in Lorain County, Ohio, because a compartment in his car could have been used to transport drugs.
8. Los Angeles County sheriff's deputies shot and killed 80-year-old Eugene Mallory in his own bed during a meth raid. No meth, or any other illegal drugs, was discovered.
9. Paul Valin contacted police to report that he found a backpack full of what he believed to be meth-making equipment 15 miles from his home near Des Moines. As a result, the DEA placed his house on its list of meth labs.
10. Ryan Holle of Pensacola, Florida, lent his roommate his car on night in 2004. As a result, Holle is currently serving a life sentence without possibility of parole for pre-meditated murder.
11. New York police seized Gerald Bryan's cash in a nighttime raid in 2012. Even though Bryan was cleared of any wrongdoing, the stolen cash was deposited in the NYPD pension fund.
12. Robert Duncan is currently serving two years in a California prison, even though the business in which he worked was legal in California.
13. Jordan Wiser spent 13 days in jail after Jefferson, Ohio, police found a pocketknife during a warrantless search of his car.
14. During a school lockdown in Clarksville, Tennessee, David Duren-Sanner gave police permission to search his car as he had "nothing to hide". Police found a fishing knife. Duren-Sanner, who previously had never been to the principal's office, was suspended for 10 days and then sent to an alternative school for 90 days.
15. Look what happened to these parents in Napa, California, even though the medical marijuana prescriptions they had were completely legal.
16. Eileen Ann Bower of suburban Pittsburgh had her newborn child taken from her for 75 days because of a false positive drug test.
17. Jerry Hartfield of Bay City, Texas, has spent the majority of his life in prison, even though hisconviction was overturned in 1980.
18. Jason Dewing of update New York was found guilty of violating a law that did not exist.
19. Don Miller of Waldron, Indiana, had his home raided by FBI agents who seized hundreds of cultural artifacts from around the world. Miller was neither arrested nor charged with anything.
20. This San Diego couple was pepper-sprayed and tasered by police who had erroneously identified their vehicle after being stolen.
21. The good news is that Brian Aitken of Mount Laurel, New Jersey, had his prison sentence commuted.The bad news is that he was originally sentenced to seven years behind bars for possessing two legally purchased guns.
22. This special needs student in McDonald, Pennsylvania, was charged with felony wiretapping for recording other students who were bullying him mercilessly.
23. Abner Schoenwetter of Miami served over six years in prison for – you can't make this stuff up – violating Honduran fisheries law.
24. Read what happened to John Filippidis of Hudson, Florida, when he was pulled over by state policewhile driving unarmed through Maryland.
25. In a case of mistaken identity, Lewis James of Durham, North Carolina, "was handcuffed and later jailed under a $1.425 million bond" after he had contacted the police to notify them of a dead body in the middle of the road. As someone put it on Facebook, "Don't call the cops. Ever. Even if you find a dead body. Just don't ever call the cops."
26. Read what happened to Diane Avera of Meridian, Mississippi, when she went to Alabama to buy Sudafed, even though she did not know that this was illegal.
27. Andy Johnson of Uinta County, Wyoming, faces EPA fines of $75,000 per day for building a pond on land that he owns.
28. Douglas Zerby of Long Beach was shot and killed by police while watering his lawn because some idiot neighbor thought the hose nozzle was a gun.
29. Darien Roseen was arrested and had his vehicle searched by sheriff's deputies in Payette County, Idaho, simply because his Colorado license plates led them to believe that he could have been carrying marijuana.
30. Brian Banks of Long Beach spent five years in prison and five more years as a registered sex offenderas a result of a rape conviction. And then his accuser changed her story.
These are not "isolated incidents." There are no doubt countless other examples of people who were doing nothing wrong, yet were harshly punished.
Also, consider the following:
• The Internal Revenue Code is 73,955 pages and millions of words long. No one has read it cover-to-cover and no one knows every aspect of it. Yet if anyone violates any of its provisions it can mean fines, prison or even death.
• We are often told that "ignorance of the law is no defense." To the right is a picture of the Yale Law Library. Do you know every law contained within these tomes?
Read what various emissaries of the Amerikan police state have done to these veterans who went all over the world to "fight for our freedom."
• Seventy-two types of Americans are classified as terrorists in various government documents. Senator Harry Reid has now added a seventy-third category.
• Read how police have used asset forfeiture laws to seize millions of dollars from people without charging them with any crimes.
• Read this article and pay special attention to these words from former NSA official William Binney: "The problem is, if they think they're not doing anything that's wrong, they don't get to define that. The central government does."
• Read how the Innocence Project has helped exonerate over 300 wrongfully imprisoned people, many of whom were on death row.
• Attorney Harvey Silverglate argues that the average American commits three felonies a day without even knowing it.
• This Ford executive claims that, thanks to GPS, "we know everyone who breaks the law."
• Although it has been estimated that there are over 3000 types of federal criminal offenses, no one knows the exact number for sure.
So, do you still feel you have nothing to fear?
"Gaping holes exist in the scientific understanding of existence, which the sciences answer chiefly be ignoring them. They do not mention purpose (there is none), the possibility of an afterlife (there is none), free will or determinism (we have freely determined that there is no free will), or Good and Evil (evolutionary traits evolved to further cohesion within the pack). Minor omissions, these." Fred Reed, "Pond Scum"
Alas, my favorite contemporary writer is an atheist – grudgingly, maybe even seeking, but still atheistic!
Reed, like all secular humanists, is appalled that he cannot inject meaning unto creation.  Since it has become second nature with Fred to view the world as if he is the determiner Fred ends in despair.
"Yes, the universe has its appeal. I have never lived in a place more eerily beautiful and complexly implausible. Perhaps we really are just pond scum on a minor planet in the middle of everywhere. Or maybe something is going on that is way above our pay grade. But between the sciences that describe much and explain nothing, and religious faiths that seem exercises in wish fulfillment…" Fred Reed, "Pond Scum"
Being the "determiner" is an untenable position.  Determiners attempt to understand the universe from God's perspective.  It cannot be done.  Man was created in God's image but the creature cannot become the creator; that is the original sin, man attempting to be like God.
No human being can unravel the complex implausibility of our existence in this universe because we did not create it.
Rousas Rushdoony is singularly remarkable because he read, understood, remembered and refuted the "determiner" philosophies of not one but all of the significant popular secular philosophers. His grasp of the nuances of scores of different thinkers and writers is astounding.
Rushdoony writes, "For man to define God would mean that man would then classify God in relationship to himself and would understand and judge God, as well as to name Him, in terms of man's infallible word."
Fred Reed often mentions the role of high intellect in society.  He is a thinker who often strays from politically correct maxims.  His columns contain interesting and esoteric words that I regularly look up in the dictionary. He is accomplished in the fields of mathematics and science and uses examples in his writing.  His columns evoke a high respect for intellectual brilliance – his and others.
A photographic memory coupled with a brilliant mind can produce an outstanding individual in both the secular and Christian world.  Rushdoony had both.
The problem that afflicts our world is not a lack of brilliant minds but a lack of the humility that makes a brilliant mind useful. Reed recognizes this arrogance when he writes, "To me the most tedious thing about atheists is how proud they are of themselves.."
Before beginning to reason on the human plight the thinker must consider how his mind and his person relate to his environment.  His I.Q. may be at the apogee of the Mensa club and his reasoning may be crystal clear but if he starts from the wrong premise all of his work will be faulty.
He must acknowledge that there is a larger universe beyond the range of our most powerful telescopes.  We know it is there and that what we know of it dwarfs not only us as human beings but also our planet and solar system.  To further complicate our quest for verity there is an infinitesimal universe so tiny our telescopes cannot make it visible.  We, ourselves, live in a milieu, in some ways similar to an ant hill.  We are one in millions of others all made from the same last and all functioning in a similar manner.  To think realistically the thinker must consider his plight.
The next logical consideration should be the world in which we live.  As we have already concluded, there is much we cannot understand.  However, we can discern that the multeity is sometimes chaotic and sometimes orderly.  It is sometimes beautiful and sometimes ugly, it challenges our mind, resists our physique, but quenches our hunger and thirst.  It is reasonable and much of it is understandable.  It is, however, a creation that is beyond the comprehension of the human mind.  Man could never create such an array and the stubborn stupidity that lies behind the ridiculous assumption that in millions of years a system of evolution could defy the Second Law of Thermodynamics and bring about this brilliant complexity should strain the logic of any  clear thinking seeker.
As insignificant as we are we can easily understand that the order and design of the world is compatible with our understanding. We are creatures of the creation and we are intrinsically related to it.  Attempts to understand the environment and find meaning and direction must begin by seeking to know the Creator.  We are created beings.  Theories that deny creation are not plausible.
We are prisoners in a physical body and in a created world.  Life itself requires restrictions to provide us with food and water.  Freedom is a quantitative concept and the Creator has provided us with Law designed to provide us with justice and peace without which freedom is impossible
We can yell and scream and protest with the intellects of our most brilliant counterparts but it is all for naught.  When we succumb to the disastrous conclusion that we are sovereign and the arbiters of our behavior we always end in murder and mayhem.  We were not created to govern ourselves and our efforts to do so are and have been disastrous.
Fred writes, "Of course if you want to be convinced earnestly enough, you can believe anything."  Humans are gullible and as we watch our nation sink into the mire we are witnessing first-hand the depth of our gullibility.
The God of the Bible, the One True God, selects His servants.  The desire to understand comes into the heart of a seeker through the Holy Spirit.  Contrary to the current pop-theology of our churches, we do not do the "inviting".  God is sovereign, He does the inviting.  When we are invited He gives us the humility to seek Him as servants and when we seek Him from that perspective He rescues us and makes us His own.
Humanists have a penchant for discussing "most religions". They choke by trying to swallow the entire box of chocolates in one bit.  We live in a nation that is primarily populated by people who consider themselves Christian.  But because the One True God and His Word, the Bible, have been badly distorted and the distortion has been accepted by gullible Christians the nation does not reflect the pristine society God desires.
We worship a God Who champions life.  His original creation was designed to support life but His intent was disrupted when His created beings challenged His rule.  Adam was not created as a god and when he was seduced into acting like a god, murder, mayhem, death and disease came into the world.
Rushdoony writes, "But man is a creature, and his freedom is a creaturely and limited freedom.  Man does not choose his own nature, time and place of birth, sex, aptitudes, or anything else in this direction.  Because he is a creature, not God, and not the first cause, man's freedom is limited, derivative, and secondary freedom.  Man's freedom is the freedom to be the man God created him to be, not the freedom to be a god" Pg. 75 "Systematic Theology"
The Eleventh Chapter of the Book of Isaiah describes God's desire for His creation "Also righteousness will be the belt about His loins, And faithfulness the belt about His waist. And the wolf will dwell with the lamb, And the leopard will lie down with the young goat, And the calf and the young lion and the fatling together; And a little boy will lead them. Also the cow and the bear will graze, Their young will lie down together, And the lion will eat straw like the ox."
He has given us His Law and instructed us to obey.  In return He will give us life more abundantly.  When we disobey we create discord; when we obey we create justice and peace.  It is the assigned duty of every Christian to work at bringing the creation under the control of God's Law.
Human beings are created in the image of God.  They are not gods but created beings.  They are unable to penetrate the mind of God.  His creation is far beyond the capability of their thought and logic.   We are made to obey our Creator and the sickness, suffering, murder, and mayhem that are both antediluvian and current are a result of our refusal to do so
If Fred is to make progress in understanding the world he must begin as a creature with a willingness to seek the Creator.  God has granted us dominion over the creation but not over Himself.  Our dominion over His creation is to be governed by His Law and His Law is immutable.