Practiced for thousands of years by cultures around the world –detoxification is about resting, cleansing and nourishing the body from the inside out. By removing and eliminating toxins, then feeding your body with healthy nutrients, detoxifying can help protect you from disease and renew your ability to maintain optimum health. These foods will assist in boosting your metabolism, optimizing digestion, while allowing you to lose weight and fortify your immune system.
Artichokes help the liver function at its best, which in turn will help your body purge itself of toxins and other things it doesn't need to survive. It ups the liver's production of bile, and since bile helps break down foods which helps your body use the nutrients inside them, an increase in bile production is typically a good thing.
Apples are full of wonderful nutrients. You get fibre, vitamins, minerals and many beneficial phytochemicals such as D-Glucarate, flavonoids and terpenoids. All of these substances are used in the detox process. One flavonoid, Phlorizidin (phlorizin), is thought to help stimulate bile production which helps with detox as the liver gets rid of some toxins through the bile. Apples are also a good source of the soluble fibre pectin, which can help detox metals and food additives from your body. It's best to eat only organic apples as the non-organic varieties are among the top 12 foods that have been found to contain the most pesticide residues. Organically produced apples also have a 15 percent higher antioxidant capacity than conventionally produced apples.
Almonds are the best nut source of Vitamin E. In fact, just one ounce contains 7.3 mg of "alpha-tocopherol" vitamin E, the form of the vitamin the body prefers. They're also high in fiber, calcium, magnesium, and useable protein that helps stabilize blood sugar and remove impurities from the bowels.
Not only does asparagus help to detoxify the body, it can help you wage the anti-aging battle, protect you from getting cancer, help your heart to stay healthy, and is a general anti-inflammatory food. It's also known to help with liver drainage, which might sound like a bad thing, but since the liver is responsible for filtering out the toxic materials in the food and drinks we consume, anything that backs up its drainage is not doing you any favors. Asparagus also helps reduce risk of death from breast cancer and increase the odds of survival.
This wonder fruit is packed with antioxidants, lowers cholesterol and dilates the blood vessels while blocking artery-destroying toxicity. Avocados contain a nutrient called glutathione, which blocks at least 30 different carcinogens while helping the liver detoxify synthetic chemicals. Researchers at the University of Michigan found that elderly people who had high levels of glutathione were healthier and less likely to suffer from arthritis. Consuming avocados is associated with better diet quality and nutrient intake level, lower intake of added sugars, lower body weight, BMI and waist circumferences, higher "good cholesterol" levels and lower metabolic syndrome risk.
Basil has anti-bacterial properties, and it's full of antioxidants to protect the liver. The active ingredients are terpenoids. It is also wonderful for digestion and detoxification, too. It supports the functioning of the kidneys and also acts as a diuretic to help the body expel unwanted toxins. Basil has been known to have anti-ulcer qualities as well as antimicrobial effects that guard against bacteria, yeast, fungi and mold. Basil seed can also help with constipation. The anticancer properties of basil may also relate to its ability to influence viral infections.
A single serving of beets can do more for your health than most foods in the produce isle. Not only can they boost your energy and lower your blood pressure, but eating beets in the long-term can help you fight cancer, reduce arthritic pain, boost your brain as well as help you lose weight. Beets contain a unique mixture of natural plant chemicals (phytochemicals) and minerals that make them superb fighters of infection, blood purifiers, and liver cleansers. They also help boost the body's cellular intake of oxygen, making beets excellent overall body cleansers. When you're detoxing, beets will help by making sure that the toxins you're getting out actually make it out of your body. Many detox cleanses go wrong when toxins are reintroduced to the body because they don't make it all the way out.
Blueberries contain natural aspirin that helps lessen the tissue-damaging effects of chronic inflammation, while lessening pain. Just 300 grams of blueberries protects against DNA damage. Blueberries also act as antibiotics by blocking bacteria in the urinary tract, thereby helping to prevent infections. They have antiviral properties and are loaded with super-detoxifying phytonutrients called proanthocyanidins.
These tasty treats are packed with selenium, which is key to flushing mercury out of your body. The body uses selenium to make 'selenoproteins', which work like antioxidants preventing damage to cells and there is growing body of evidence to show it has a key role in our health. The consumption of brazil nuts has been found to be inversely associated with risk of pancreatic cancer, independent of other potential risk factors for pancreatic cancer.
Broccoli specifically works with the enzymes in your liver to turn toxins into something your body can eliminate easily. If you're stuck for ways on how to make broccoli taste better try dehydrating or consider eating it raw. But don't microwave it as this destroys both the nutritional and detox potential. Broccoli contains a very powerful anti-cancer, anti-diabetic and anti-microbial called sulforaphane which helps prevent cancer, diabetes, osteoporosis and allergies.
Broccoli sprouts can actually provide more benefit than regular broccoli as they contain 20 times more sulfurophane. They contain important phytochemicals that are released when they're chopped, chewed, fermented, or digested. The substances are released then break down into sulfurophanes, indole-3-carbinol and D-glucarate, which all have a specific effect on detoxification. Add these to your salads and get creative with them in your meals. Researchers have found that an oral preparation made from broccoli sprouts trigger an increase in inflammation-fighting enzymes in the upper airways.
In addition to cleansing your liver, cabbage will also aid in helping you go to the bathroom, which in turn helps you expel the toxins, getting them out of your system so you can start fresh. It contains sulfur, which is essential when it comes to breaking down chemicals and removing them from your body. Along with other cole crops, cabbage is a source ofindole-3-carbinol, a chemical that boosts DNA repair in cells and appears to block the growth of cancer cells.
Cilantro, also known as coriander, Chinese parsley or dhania, contains anabundance of antioxidants. Cilantro helps mobilize mercury and other metals out of the tissue so it can attach to it other compounds and allow it to be excreted from the body. It also contains an antibacterial compound called dodecenal, which laboratory tests showed is twice as effective as the commonly used antibiotic drug gentamicin at killing Salmonella.
The oils from cinnamon contain active components called cinnamaldehyde, cinnamyl acetate, and cinnamyl alcohol. Cinnamaldehyde has been well-researched for its effects on blood platelets helps prevent unwanted clumping of blood cells. Cinnamon's essential oils also qualify it as an "anti-microbial" food, and cinnamon has been studied for its ability to help stop the growth of bacteria as well as fungi, including the commonly problematic yeast Candida. Cinnamon's antimicrobial properties are so effective that recent research demonstrates this spice can be used as an alternative to traditional food preservatives. It has one of the highest antioxidant values of all foods and its use in medicine treats everything from nausea to menstruation and energy to diabetes.
While they are more popular as fruits that help prevent urinary tract infections, cranberries are antibacterial and are known to remove many different toxins from your body. Cranberries feature a rich profile of anti-inflammatory nutrients, provide immune and cardiovascular support, as well as promote digestive health. Consuming cranberry products has beenassociated with prevention of urinary tract infections (UTIs) for over 100 years.
Dandelions are considered a powerhouse food full of nutrients that are essential for anyone regularly eating processed foods. Dandelion root (taraxacum officinale) is known to act on the liver and pancreas bystraining and filtering toxins & wastes from the bloodstream and its beneficial effects on liver complaints have been well documented by both Asian practitioners and American physicians. They're a rich source of minerals and provide a variety of phytonutrients. They're super antioxidants that support cleansing of the digestive tract. Try adding dandelion leaves to your salad.
The fennel bulb is high in fiber may also be useful in preventing colon cancer. In addition to its fiber, fennel is a very good source of folate, a B vitamin that is necessary for the conversion of a dangerous molecule called homocysteine into other, benign molecules. The vitamin C found in fennel bulb is directly antimicrobial and is also needed for the proper function of the immune system.
When detoxifying your body, it's essential to ensure toxins are eliminated properly. Ground flaxseeds provide a wonderful source of fibre that helps to bind and flush toxins from the intestinal tract. They're also a great source of health promoting omega 3 oils. Try consuming two tablespoons of ground flaxseeds in lemon water every morning. University of Copenhagen researchers report that flax fiber suppresses appetite and helps support weight loss. Men should be cautious when consuming flax as the lignans are similar to the female hormone estrogen as can cause problems for some men.
Many detox diets list garlic as a crucial piece of the puzzle. The reason is that garlic boosts the immune system as well as helping out the liver. One good thing about garlic is that you can up your intake without having to worry if your body is going to get used to it or build up a resistance. Sulfur is found in high quantities in garlic — which makes it a good detox food and its antibiotic properties heal your body. Garlic is proven to be 100 times more effective than antibiotics and working in a fraction of the time.
Along side turmeric, ginger is one of the world's most potent disease-fighting spices. Ginger spikes your metabolism, flushes out waste, is thought to help liver function, and has some astringent properties. Some detox diets ask you to chew on ginger root. You may also find that adding it to hot water makes the water taste better. Basically any way you can think of it get it into your system is going to be beneficial, especially if you're suffering from a fatty liver caused by too much alcohol, or too many toxic foods and drinks.
Replace raisins with nutrient-dense Goji berries to boost your vitamin C and beta-carotene intake. Gram for gram, goji berries pack more vitamin C than oranges and more beta-carotene than carrots. Vitamin C can help remove waste from your body, while beta-carotene improves liver performance.
Grapefruits can prevent weight gain, treat diabetes, lower cholesterol, fight cancer, heal stomach ulcers, reduce gum disease and even keep stroke and metabolic syndrome at bay. Grapefruits can treat disease as well as pharmaceuticals without the side effects. The rich pink and red colors of grapefruit are due to lycopene, a carotenoid phytonutrient. Among the common dietary carotenoids, lycopene has the highest capacity to help fight oxygen free radicals, which are compounds that can damage cells. The big takeaway on grapefruit is that it gets your liver fired up and ready for action, while infusing the rest of your organs with nutrient-laden fruit juice.
Green tea is often thought of as a great addition to any detox program because of its high antioxidant value. It is the least processed tea and thus provides the most antioxidant polyphenols, notably a catechin called epigallocatechin-3-gallate (EGCG), which is believed to be responsible for most of the health benefits linked to green tea. According to 17 clinical trials, green tea is linked with significantly lower blood sugar.
Hemp might just be one of nature's most perfect foods since it is full of antioxidants like Vitamins E and C, as well as chlorophyll which is wonderful for cleansing the body from toxins of all kinds, including heavy metals. The soluble and insoluble fiber in hemp can also keep the digestive tract clean and therefore, reduce the toxic burden on other internal organs. Hemp could free us from oil, prevent deforestation, cure cancer and it's environmentally friendly.
Kale is now recognized as providing comprehensive support for the body's detoxification system. New research has shown that the ITCs made from kale's glucosinolates can help regulate detox at a genetic level. This vegetable is so good for you that it is often recommended to patients that are following a doctor recommended diet when fighting kidney disease. It's packed with so many antioxidants and has anti-inflammatory properties as well, not to mention all of the vitamins and minerals it contains. Leafy greens are likely the number one food you can eat to regularly help improve your health. They're filled with fiber along with crucial vitamins, minerals, and plant-based phytochemicals that may help protect you from almost every disease known.
This is an herb that is used in Thailand and other parts of the world as a natural way to cleanse several organs at once. It not only helps the liver but also the kidneys, the bladder, and the entire digestive tract. Benefits of using it in your cooking, or drinking it as a tea include a better complexion, better circulation, and better digestion. It is most often used as a tea in the world of detoxing, and there are several recipes you can try until you find one that suits your tastes best.
This wonderful fruit stimulates the release of enzymes and helps convert toxins into a water-soluble form that can be easily excreted from the body. In addition, they contain high amounts of vitamin C, a vitamin needed by the body to make glutathione. Glutathione helps ensure that phase 2 liver detoxification keeps pace with phase 1, thereby reducing the likelihood of negative effects from environmental chemicals. Drinking lemon water, which is alkaline-forming, first thing in the morning will help to balance out the acidity of foods we've consumed. They also have an incredible effect in detoxing the liver. Fresh lemon juice contains more than 20 anti-cancer compounds and helps balance the body's pH levels. Here are 45 uses for lemons that will blow your socks off.
Some liver cleanses out there call for olive oil mixed with fruit juice in order to trigger your liver to expunge its gallstones. But aside from that olive oil should be your go-to oil when you're trying to detox the body. That's because it has a lot of healthy properties, and makes for a better choice of fat than most of your other options. Just be sure not to cook with it at high heat. Use it as a salad dress to help things like dark leafy greens go down. Your best choice is always ice-pressed olive oil, but if you can find a very high quality cold-pressed olive oil, although not as nutritious, it will suffice provided the quality is high and not adulterated.
This ubiquitous kitchen staple is as healthy as it is tasty. It's brimming with sulfur-containing amino acids, which efficiently detox the liver. Raw onions deliver the most health benefits. Even a small amount of "overpeeling" can result in unwanted loss of flavonoids. For example, a red onion can lose about 20% of its quercetin and almost 75% of its anthocyanins if it is "overpeeled". Onions will soak up arsenic, cadmium, lead, mercury and tin in contaminated foods. The total polyphenol content of onion is not only higher than its fellow allium vegetables, garlic and leeks, but also higher than tomatoes, carrots, and red bell pepper. Onions have been shown to inhibit the activity of macrophages, specialized white blood cells that play a key role in our body's immune defense system, and one of their defense activities involves the triggering of large-scale inflammatory responses.
Those pretty green leaves don't just make your plate look great. Parsley boasts plenty of beta-carotene and vitamins A, C and K to protect your kidneys and bladder. Diuretic herbs such as parsley prevent problems such as kidney stones and bladder infections and keep our body's plumbing running smoothly by causing it to produce more urine. They also relieve bloating during menstruation. The flavonoids in parsley–especially luteolin–have been shown to function as antioxidants that combine with highly reactive oxygen-containing molecules (called oxygen radicals) and help prevent oxygen-based damage to cells. In addition, extracts from parsley have been used in animal studies to help increase the antioxidant capacity of the blood.
This tropical delight contains bromelain, a digestive enzyme that helps cleanse your colon and improve digestion. Excessive inflammation, excessive coagulation of the blood, and certain types of tumor growth may all be reduced by bromelain. Two molecules isolated from an extract of crushed pineapple stems have even shown promise in fighting cancer growth.
Seaweed may be the most underrated vegetable in the Western world. Studies at McGill University in Montreal showed that seaweeds bind to radioactive waste in the body so it can be removed. Radioactive waste can find its way into the body through some medical tests or through food that has been grown where water or soil is contaminated. Seaweed also binds to heavy metals to help eliminate them from the body. In addition, it is a powerhouse of minerals and trace minerals. Seaweed extracts can help you lose weight, mostly body fat.
Sesame seeds' phytosterols have beneficial effects which are so dramatic that they have been extracted from many foods and added to processed foods, such as "butter"-replacement spreads, which are then touted as cholesterol-lowering "foods." But why settle for an imitation "butter" when Mother Nature's nuts and seeds are a naturally rich source of phytosterols–and cardio-protective fiber, minerals and healthy fats as well? Sesame seeds contain minerals important in a number of antiinflammatory and antioxidant enzyme systems. Sesame representsone of the top 10 healthiest seeds on Earth.
Curcumin is the active ingredient in the spice turmeric, which gives it its yellow color. The rate at which your detox pathways function depends on your genes, your age, lifestyle and a good supply of nutrients involved in the detox process. Curcumin is used a lot in Ayurvedic Medicine to treat liver and digestive disorders. Turmeric has specifically been studied in relation to the positive effect that it has on the liver. As a high antioxidant spice, turmeric protects the body and prevents disease more effectively than drug based treatments and without the side effects.
Give your liver a big boost with cleansing action of watercress. If you're into making smoothies for your detoxing this is a great one to blend up and drink down. This helps to release enzymes in the liver that clean it out and help rid it of toxic buildup. Eating watercress every day helps prevent breast cancer.
Wheatgrass restores alkalinity to the blood. The juice's abundance of alkaline minerals helps reduce over-acidity in the blood and thus also Is a powerful detoxifier, and liver protector. It increases red blood-cell count and lowers blood pressure. It also cleanses the organs and gastrointestinal tract of debris. Wheatgrass stimulates the metabolism and the body's enzyme systems by enriching the blood. It also aids in reducing blood pressure by dilating the blood pathways throughout the body. Pound for pound, wheatgrass is more than twenty times denser in nutrients than other choice vegetables. Nutritionally, wheatgrass is a complete food that contains 98 of the 102 earth elements.
Notes:
whfoods.com
John Summerly is nutritionist, herbologist, and homeopathic practitioner. He is a leader in the natural health community and consults athletes, executives and most of all parents of children on the benefits of complementary therapies for health and prevention.
Source: Preventdisease.com
As a general rule, extreme economic decline is almost always followed by extreme international conflict. Sometimes, these disasters can be attributed to the human survival imperative and the desire to accumulate resources during crisis. But most often, war amid fiscal distress is usually a means for the political and financial elite to distract the masses away from their empty wallets and empty stomachs.
War galvanizes societies, usually under false pretenses. I'm not talking about superficial "police actions" or absurd crusades to "spread democracy" to Third World enclaves that don't want it. No, I'm talking about REAL war: war that threatens the fabric of a culture, war that tumbles violently across people's doorsteps. The reality of near-total annihilation is what oligarchs use to avoid blame for economic distress while molding nations and populations.
Because of the very predictable correlation between financial catastrophe and military conflagration, it makes quite a bit of sense for Americans today to be concerned. Never before in history has our country been so close to full-spectrum economic collapse, the kind that kills currencies and simultaneously plunges hundreds of millions of people into poverty. It is a collapse that has progressed thanks to the deliberate efforts of international financiers and central banks. It only follows that the mind-boggling scale of the situation would "require" a grand distraction to match.
It is difficult to predict what form this distraction will take and where it will begin, primarily because the elites have so many options. The Mideast is certainly an ever-looming possibility. Iran is a viable catalyst. Syria is not entirely off the table. Saudi Arabia and Israel are now essentially working together, forming a strange alliance that could promise considerable turmoil — even without the aid of the United States. Plenty of Americans still fear the Al Qaeda bogeyman, and a terrorist attack is not hard to fabricate. However, when I look at the shift of economic power and military deployment, the potential danger areas appear to be growing not only in the dry deserts of Syria and Iran, but also in the politically volatile waters of the East China Sea.
China is THE key to any outright implosion of the U.S. monetary system. Other countries, like Saudi Arabia, may play a part; but ultimately it will be China that deals the decisive blow against the dollar's world reserve status. China's dollar and Treasury bond holdings could be used as a weapon to trigger a global sell-off of dollar-denominated assets. China has stopped future increases of dollar forex holdings, and has cut the use of the dollar in bilateral trade agreements with multiple countries.  Oil-producing nations are shifting alliances to China because it is now the world's largest consumer of petroleum. And, China has clearly been preparing for this eventuality for years. So, given these circumstances, how can the U.S. government conceive of confrontation with the East? Challenging one's creditors to a duel does not usually end well. At the very least, it would be economic suicide. But perhaps that is the point. Perhaps America is meant to make this seemingly idiotic leap.
Here are just some of the signs of a buildup to conflict…
Currency Wars And Shooting Wars
In March 2009, U.S. military and intelligence officials gathered to participate in a simulated war game, a hypothetical economic struggle between the United States and China.
The conclusions of the war game were ominous. The participants determined that there was no way for the United States to win in an economic battle with China. The Chinese had a counterstrategy to every U.S. effort and an ace up their sleeve – namely, their U.S. dollar reserves, which they could use as a monetary neutron bomb, a chain reaction that would result in the abandonment of the dollar by exporters around the world . They also found that China has been quietly accumulating hard assets (including land and gold) across globe, using sovereign wealth funds, government-controlled front companies, and private equity funds to make the purchases. China could use these tangible assets as a hedge to protect against the eventual devaluation of its U.S. dollar and Treasury holdings, meaning the losses on its remaining U.S. financial investments was acceptable should it decide to crush the dollar.
The natural response of those skeptical of the war game and its findings is to claim that the American military would be the ultimate trump card and probable response to a Chinese economic threat. Of course, China's relationship with Russia suggests a possible alliance against such an action and would definitely negate the use of nuclear weapons (unless the elites plan nuclear Armageddon). That said, it is highly likely that the U.S. government would respond with military action to a Chinese dollar dump, not unlike Germany's rise to militarization and totalitarianism after the hyperinflationary implosion of the mark. The idea that anyone except the internationalists could "win" such a venture, though, is foolish.
I would suggest that this may actually be the plan of globalists in the United States and their counterparts in Asia and Europe. China's rise to financial prominence is not due to its economic prowess. In fact, China is ripe with poor fiscal judgment calls and infrastructure projects that have gone nowhere. But what China does have on its side are massive capital inflows from global banks and corporations, mainly based in the United States and the European Union. And, it has help in the spread of its currency (the Yuan) from entities like JPMorgan Chase and Co. The International Monetary Fund is seeking to include China in its global basket currency, the SDR, which would give China even more leverage to use in breaking the dollar's reserve status. Corporate financiers and central bankers have made it more than possible for China to kill the dollar, which they openly suggest is a "good thing."
Is it possible that the war game scenarios carried out by the Pentagon and elitist think-tanks like the RAND Corporation were not meant to prevent a war with China, but to ensure one takes place?
The Senkaku Islands
Every terrible war has a trigger point, an event that history books later claim "started it all." For the Spanish-American War, it was the bombing of the USS Maine. For World War I it was the assassination of Archduke Franz Ferdinand of Austria. For U.S. involvement in World War I, it was the sinking of the Lusitania by a German U-Boat. For U.S. involvement in World War II, it was the attack on Pearl Harbor. For Vietnam, it was the Gulf of Tonkin Incident (I recommend readers look into the hidden history behind all of these events). While the initial outbreak of war always appears to be spontaneous, the reality is that most wars are planned far in advance.
As evidence indicates, China has been deliberately positioned to levy an economic blow against the United States. Our government is fully aware what the results of that attack will be, considering they have gamed the scenario multiple times. And, by RAND Corporation's own admission, China and the United States have been preparing for physical confrontation for some time, centered on the concept of pre-emptive strikes.  Meaning, the response both sides have exclusively trained for in the event of confrontation is to attack the other first!
The seemingly simple and petty dispute over the Senkaku Islands in the East China Sea actually provides a perfect environment for the pre-emptive powder keg to explode.
China has recently declared an "air defense zone" that extends over the islands, which Japan has already claimed as its own. China, South Korea and the United States have all moved to defy this defense zone. South Korea has even extended its own air defense zone to overlap China's.
China has responded with warnings that its military aircraft will now monitor the region and demands that other nations provide it with civilian airline flight paths.  China has also stated that it plans to create MORE arbitrary defense zones in the near future.
The U.S. government under Barack Obama has long planned a military shift into the Pacific, which is meant specifically to counter China's increased presence. It's almost as if the White House knew a confrontation was coming.
The shift is now accelerating due to the Senkaku situation, as the U.S. transfers submarine-hunting jets to Japan while pledging full support for Japan should war ignite.
And most recently, the Japanese press has suggested that war between the two countriescould erupt as early as January.
China, with its limited navy, has focused more of its energy and funding into advanced missile technologies — including "ship killers," which fly too low and fast to be detected with current radar.  This is the same strategy of cheap compact precision warfare being adopted by countries like Syria and Iran, and it is designed specifically to disrupt tradition American military tactics.
Currently, very little diplomatic headway has been made or attempted in regards to the Senkaku Islands. The culmination of various ingredients so far makes for a sour stew.
All that is required now is that one trigger event — that one ironic "twist of fate" that mainstream historians love so much, the spark that lights the fuse. China could suddenly sell a mass quantity of U.S. Treasuries, perhaps in response to the renewed debt debate next spring. The United States could use pre-emption to take down a Chinese military plane or submarine.  A random missile could destroy a passenger airliner traveling through the defense zone, and both sides could blame each other. The point is nothing good could come from the escalation over Senkaku.
Why Is War Useful?
What could possibly be gained by fomenting a war between the United States and China?  What could possibly be gained by throwing America's economy, the supposed "goose that lays the golden eggs", to the fiscal wolves?  As stated earlier, distraction is paramount, and fear is valuable political and social capital.
Global financiers created the circumstances that have led to America's probable economic demise, but they don't want to be blamed for it. War provides the perfect cover for monetary collapse, and a war with China might become the cover to end all covers. The resulting fiscal damage and the terror Americans would face could be overwhelming. Activists who question the legitimacy of the U.S. government and its actions, once considered champions of free speech, could easily be labeled "treasonous" during wartime by authorities and the frightened masses. (If the government is willing to use the Internal Revenue Service against us today, just think about who it will send after us during the chaos of a losing war tomorrow.) A lockdown of civil liberties could be instituted behind the fog of this national panic.
Primarily, war tends to influence the masses to agree to more centralization, to relinquish their rights in the name of the "greater good", and to accept less transparency in government and more power in the hands of fewer people. Most important, though, is war's usefulness as a philosophical manipulation after the dust has settled.
After nearly every war of the 20th and 21st century, the subsequent propaganda implies one message in particular: National sovereignty, or nationalism, is the cause of all our problems. The establishment then claims that there is only one solution that will solve these problems: globalization. This article by Andrew Hunter, the chairman of the Australian Fabian Society, is exactly the kind of narrative I expect to hear if conflict arises between the United States and China.
National identity and sovereignty are the scapegoats, and the Fabians (globalist propagandists) are quick to point a finger. Their assertion is that nation states should no longer exist, borders should be erased and a one-world economic system and government should be founded. Only then will war and financial strife end. Who will be in charge of this interdependent one world utopia? I'll give you three guesses…
The Fabians, of course, make no mention of global bankers and their instigation of nearly every war and depression for the past 100 years; and these are invariably the same people that will end up in positions of authority if globalization comes to fruition. What the majority of people do not yet understand is that globalists have no loyalties to any particular country, and they are perfectly willing to sacrifice governments, economies, even entire cultures, in the pursuit of their "ideal society".  "Order out of chaos" is their motto, after all.  The bottom line is that a war between China and the United States will not be caused by national sovereignty. Rather, it will be caused by elitists looking for a way to END national sovereignty. That's why such a hypothetical conflict, a conflict that has been gamed by think tanks for years, is likely to be forced into reality.
Source: Brandon Smith | Alt-Market
Traces of 18 unregulated chemicals were found in drinking water from more than one-third of U.S. water utilities in a nationwide sampling, according to new, unpublished research by federal scientists.
Included are 11 perfluorinated compounds, an herbicide, two solvents, caffeine, an antibacterial compound, a metal and an antidepressant, reports Environmental Health News.
While studies increasingly report newly emerging contaminants in wastewater, there has been little data on which ones are in drinking water. Researchers from the U.S. Geological Survey (USGS) and the U.S. Environmental Protection Agency (EPA) analyzed single samples of untreated and treated water from 25 U.S. utilities that voluntarily participated in the project.
Twenty-one contaminants were detected—mostly in low concentrations of parts per trillion—in treated drinking water from at least nine of the utilities. Eighteen of the chemicals are not regulated under the federal Safe Drinking Water Act so utilities do not have to meet any limit or even monitor for them.
"The good news is the concentrations are generally pretty low," said Dana Kolpin, a research hydrologist with the USGS who participated in the study. "But there's still the unknown. Are there long-term consequences of low-level exposure to these chemicals?"
For many of the contaminants, little is known about potential human health effects of low doses. But one of the perfluorinated compounds, known as PFOA, has been linked to a variety of health problems, including cancer, among people in communities where water is contaminated by a chemical plant in West Virginia.
Of 251 chemicals, bacteria, viruses and microbes the scientists measured, 117 were not detected in any of the treated drinking water. Twenty-one were found in water from more than one-third of the 25 utilities (nine or more) and 113 were found in less than one-third (eight or fewer).
Four of the chemicals found in the samples—the metal strontium, the herbicide metolachlor, PFOS and PFOA—are on the EPA's list of chemicals under consideration for drinking water standards. The EPA plans to make decisions regarding at least five of the contaminants on its list next year.
"We're hoping through this work the EPA will do a much more intensive contaminant candidate list and develop new methods and requirements for drinking water plants," said Edward Furlong, a scientist with the USGS who participated in the study.
Perfluorinated chemicals, which were found most frequently, are widely used in a variety of industrial processes, including manufacture of some nonstick and stain-resistant food packaging, fabrics and cookware.
The two most common perfluorinated compounds, PFOS and PFOA, in the utilities' water have been detected in the blood of nearly all people in the U.S.
A panel of scientists has concluded there is a "probable link" between PFOA in drinking water and high cholesterol, ulcerative colitis, thyroid disease, testicular cancer, kidney cancer and pregnancy-induced hypertension. The findings were based on people in Mid-Ohio Valley communities whose water was polluted with PFOA from a DuPont plant.
PFOS, used in Scotchgard until 3M phased it out in 2002, has been linked to attention disorders in children and thyroid disease in men.
The EPA has classified metolachlor as a possible human carcinogen based on studies of highly exposed rats. Strontium can affect bone growth, according to some animal studies that used doses much higher than those found in drinking water.
The perfluorinated compounds were at similar concentrations in the untreated and treated drinking water, suggesting that treatment techniques are largely unsuccessful. Only one plant was successful at removing them and it used activated carbon treatment.
Activated carbon, ozone and UV treatments are generally better at removal than traditional chlorine treatment, but such techniques are often prohibitively expensive, said EPA research chemist Susan Glassmeyer, who led the project.
"People resent having to pay anything for water," she said. "There's the thought that there's a God-given right to have as much as we want but, if you want the cleanest water, these techniques take money."
Treatment also can sometimes transform compounds into new ones, said Laurel Schaider, a research associate at the Harvard School of Public Health.
"Chlorination and other treatments technologies will remove some contaminants, but will react with others," Schaider said. "Some compounds may appear to be removed but may be transformed to a chemical we know even less about."
Glassmeyer said the utilities, which remain anonymous, represented a mix of large and small and used different water treatment technologies.
Preliminary findings of the study, which is expected to be published next year, were presented by the scientists at a toxicology conference in Nashville last month.
Source: Kaye Spector | EcoWatch
Too complex to function, too overcrowded to solve anything, too many people from too many places, too few resources…
One reader of this series asked that I write about what we face 10 years from now instead of 37 years from now. He asked me to become more "relevant" as to what our country faces.  He felt that 37 years in the future felt too far away to make any impact on Americans today.
The run-up to that 100 million, that's 100,000,000 immigrants by 2050 won't be a pretty one.  We face greater and greater consequences within 10 years by adding 30 million that will magnify to 60 million in 20 years and reach 90 million 30 years and 100 million immigrants within 37 years.  On top of that, we will add another 38 million of our own.  Total: 138 million people to feed, water, house, warm, transport, work, educate, medicate and try to maintain some kind of balance with our environment. This won't be pretty for anyone.
We remain on course to become SO large that we cannot solve our problems.   To give you an example, India today suffers 1,000 children that die every 24 hours 7 days a week of water borne diseases like dysentery and diarrhea.   They die because India cannot maintain clean water from its toxic rivers, lakes and underground water supplies.  Millions upon millions of Indians urinate and defecate onto the soils in India because they lack toilets and sewage treatment plants.  Yet, they add 11 million new citizens into their society every year, year in and year out.  Most Indian people live in horrendously degraded conditions.  Air pollution, unsafe water and horribly crowded cities make life in that country a living hell.   Guess what, it's coming to America.
Millions of Indians immigrated to America in the last few decades.  They arrive and then, chain-migrate their relatives through our immigration laws. They command virtually all the motel chains in America with your tax dollars being used to fund them.
Who can blame them?  If we give them the keys to the country, they would be fools to pass it up.  They flee a country that cannot save itself from itself.
When I visited India, it made me sick to my stomach to see little children starving in the cities. No one could help them because their numbers exceeded any aid.  I witnessed so much misery that I had to "harden" my emotions in order to make it through each day.  Most of Asia lives in utter misery and deprivation.  They cannot fix or solve their predicament.
Even more sobering, demographic experts project somewhere between 50 and 100 million refugees streaming into other countries in the next 10 to 20 years.  Africa's desperate refugees already pour into Europe.  They overrun Spain and Greece.  As Haiti adds another projected three million to its present day nightmare, they will swim, boat and paddle their way to Florida by the hundreds of thousands.
Dr. Jack Alpert, at www.Skil.org, a research scientist predicts that we could see 1 billion people perish around the globe from lack of food within the next 10 years; 15 years at the most.
Watch these two videos:  Alpert shows where these countries lack enough water and arable land to feed their populations:
The Human Predicament and What to Do About It       Feb. 2012
Overpopulation Means Civilization Collapse                Aug. 2011
Do you think they will sit in their own countries and starve?  Will they wait to be saved?  Answer: No! They will migrate to Canada, America, Europe and Australia.
Instead of shielding ourselves from the coming nightmare facing our country, our intellectually-challenged Congress injects millions upon millions more immigrants into our country.  Whether it's the 48.1 million Americans subsisting on food stamps today, to 100 million devouring food stamps in 30 years—something must give.
I can only imagine that our civilization will begin to collapse even before that 100 million legal immigrants manifest. If we do manage to hang on, it means race riots, food riots and racial separation where European-Americans flee to Idaho, Montana, Wyoming, North Dakota and South Dakota.  Chicago, LA and Detroit portend our future.  They possess one thing in common: massive influx of legal and illegal immigrants that drive out Americans.
In the end, people align with their own tribes and we possess so many different tribes that we lack any cohesion within our society to maintain any rational order.  With another 100 million immigrants from all over the world, we encase a "schizophrenic society" and like Humpty Dumpty, "All the king's horses and all the king's men, couldn't put Humpty Dumpty together again."
As the great historian Arnold Toynbee observed that all great civilizations rise and fall, and that, "An autopsy of history would show that all great nations commit suicide."
As Colorado Governor Richard D. Lamm said on the eight methods for destroying America, "First, turn America into a bilingual or multi lingual and bicultural country.  History shows that no nation can survive the tension, conflict and antagonism of two or more competing languages and cultures.  It is a blessing for an individual to be bilingual; however, it is a curse for a society to be bilingual.  The historical scholar Seymour Lipset put it this way, "The histories of bilingual and bicultural societies that do not assimilate are histories of turmoil, tension and tragedy.  Canada, Belgium, Malaysia, Lebanon—all face crises of national existence in which minorities press for autonomy, if not independence. Pakistan and Cyprus have divided. Nigeria suppressed an ethnic rebellion. France faces difficulties with Basques, Bretons and Corsicans."
We write our own death sentence with passage of the S744 amnesty into law in 2014.  We face 100 million volatile, multi-language, multi-religious and multiple-cultures that lack any compatibility with our civilization.  If the sheer numbers don't destroy us, the endless conflicting cultures will ring our death knell.
If you don't want to see our country turned into a schizophrenic cultural quagmire, call Speaker of the House John Boehner at 1 202 225 0600:
"Mr. Boehner, I understand that S744 doubles legal immigration from its current 1.0 million annually to 2.0 million while giving amnesty to 12 to 20 million illegal migrants. Do you understand that such an amnesty would flood America with over 100 million immigrants by 2050—a scant 37 years from now. How will we be able to water, house, work, feed, educate, medicate and care for that many people when we already suffer 48 million Americans who cannot secure jobs and live on food stamps? How will we maintain our environment and standard of living in light of those numbers. As an American citizen, I demand that you reduce all immigration to less than 100,000 annually and enforce the laws on the books to arrest, prosecute and jail employers of illegal migrants. That will help illegal migrants to go home on their own dime when they don't have a job. Our own unemployed citizens can take those jobs at a living wage."
Also: call your own U.S. Senators and leave the same message.
Nation of refugees, cultural conflict, social schizophrenia…
Despite the origin of the term from the Greek roots "skhizein" which means "to split", schizophrenia does not imply a "multiple personality disorder."  The term means a "splitting of mental functions."  You might say that someone suffering from a multiple personality disorder walks around with an endless number of "distinct" persons in his or her head.  All of them compete for dominance.  All of them create chaos in that person's mind.
Enter the term "multiculturalism" where multiple cultures reside in the same country.   Ultimately cultures conflict with one another via people, passions and language.
Jonathan H. Turner defines it as a conflict caused by "differences in cultural values and beliefs that place people at odds with one another". He defines this conflict as, "One that occurs when peoples' expectations of a certain behavior coming from their cultural backgrounds are not met.  They face others that possess different cultural backgrounds and different expectations."
We proved that cultures don't mix when we usurped the Native American Indians of North America.  They have not integrated into the white man's culture whatsoever.
"Cultural conflicts are difficult to resolve as parties to the conflict have different beliefs," said Turner.  "Cultural conflicts intensify when those differences become reflected in politics, particularly on a macro level.  An example of cultural conflict is the debate over abortion.  Ethnic cleansing is another extreme example of cultural conflict. Wars can also be a result of a cultural conflict."
The African-Americans versus European-American conflict rages in the United States without pause from 1776 to 2013.  No amount of laws, education, forced integration, police or legal consequences stop racial discrimination, racial bias, racism or violence.
Whether in the NFL two weeks ago with one black and one white player fighting over race or the Zimmerman-Martin killing or voting a black president into the White House—Americans fail to resolve the racial-cultural divide that permeates every city in America where blacks, Mexicans and whites mix.
Today, blacks in big cities practice a new game where they "Knockout" a white person from behind with a hammer or 2×4 board.  "Black flash mobs" run around major US cities looting stores and killing white people. They take a video of their kills and boast on You Tube.  Much the same occurred in the 80s, 90s and last decade with blacks car- jacking whites in Detroit, Michigan at stoplights.  Whites fled to the tune of over 1.0 million over 20 years. Their flight dropped Detroit from 1.85 million to its current 680,000 today—over 90 percent Arabic-Black minority.
Illegal alien Mexican migrants attempt to fight their way into America demanding we suspend our laws in favor of legalizing their lawlessness. As their numbers continue to grow, we can expect violent demonstrations. They demand Americans speak Spanish and wherever Mexicans command dominant numbers, Americans must teach Mexican kids in Spanish. Mexican racism runs deep and virulent.
If you look at Norway, United Kingdom, France, Sweden, Belgium and Holland today, you see the results of multiculturalism turning their countries into "Schizophrenic societies."  All of them see major crime waves of rapes, murders, shoplifting, bursting prisons, schools in chaos, enclaving of entire cities into cultural ghettos, language changes, cultural changes and loss of societal cohesiveness.  Belgium, once all-European, will become an Islamic caliphate within four decades.  Its culture and language face ultimate displacement by its Islamic immigrants.
Of special note, Swedish women can no longer walk down the streets of Stockholm by themselves for fear of being accosted, raped or murdered by Muslim immigrant males.  Same in Norway and in France where Muslims dominate a specific enclave!
The United Kingdom, Holland and France face similar fates.
Within 37 years, the United States faces becoming a "Schizophrenic Society" with 100 million immigrants streaming into its borders from 150 countries around the world.  Some cultures will create and harbor their own in ghettos like the ones they fled.  Others will compete for dominance like the Islamic immigrants as they follow the prime directive of their Koran—"You must convert or kill all non-believers, especially the Jews."
As this series winds down as to what America will look like in 2050, you cannot help but cringe at the loss of your own language, culture and way of life.  You may be sickened at what you see already occurring across America in Mexican ghettoes like Los Angeles, Houston and along the border with "colonias" that reek of third world misery.
If you don't want to see our country turned into a schizophrenic cultural quagmire, call Speaker of the House John Boehner at 1 202 225 0600:
"Mr. Boehner, I understand that S744 doubles legal immigration from its current 1.0 million annually to 2.0 million while giving amnesty to 12 to 20 million illegal migrants. Do you understand that such an amnesty would flood America with over 100 million immigrants by 2050—a scant 37 years from now. How will we be able to water, house, work, feed, educate, medicate and care for that many people when we already suffer 48 million Americans who cannot secure jobs and live on food stamps? How will we maintain our environment and standard of living in light of those numbers. As an American citizen, I demand that you reduce all immigration to less than 100,000 annually and enforce the laws on the books to arrest, prosecute and jail employers of illegal migrants. That will help illegal migrants to go home on their own dime when they don't have a job. Our own unemployed citizens can take those jobs at a living wage."
Also: call your own U.S. Senators and leave the same message.
There's nothing like a glass of cool, clear water to quench one's thirst. But the next time you or your child reaches for one, you might want to question whether that water is in fact, too toxic to drink. If your water is fluoridated, the answer may well be yes.
For decades, we have been told a lie, a lie that has led to the deaths of hundreds of thousands of Americans and the weakening of the immune systems of tens of millions more. This lie is called fluoridation. A process we were led to believe was a safe and effective method of protecting teeth from decay is in fact a fraud. For decades it's been shown that fluoridation is neither essential for good health nor protective of teeth. What it does is poison the body. We should all at this point be asking how and why public health policy and the American media continue to live with and perpetuate this scientific sham.
The Latest in Fluoride News
Today more than ever, evidence of fluoride's toxicity is entering the public sphere.The summer of 2012 saw the publication of a systematic review and meta-analysis by researchers at Harvard University that explored the link between exposure to fluoride and neurological and cognitive function among children. The report pooled data from over 27 studies- many of them from China- carried out over the course of 22 years. The results, which were published in the journal Environmental Health Sciencesshowed a strong connection between exposure to fluoride in drinking water and decreased IQ scores in children. The team concluded that "the results suggest that fluoride may be a developmental neurotoxicant that affects brain development at exposures much below those that can cause toxicity in adults." 1
The newest scientific data suggest that the damaging effects of fluoride extend to reproductive health as well. A 2013 study published in the journal Archives of Toxicology showed a link between fluoride exposure and male infertility in mice. The study's findings suggest that sodium fluoride impairs the ability of sperm cells in mice to normally fertilize the egg through a process known as chemotaxis. 2 This is the latest in more than 60 scientific studies on animals that have identified an association between male infertility and fluoride exposure.3
Adding more fuel to the fluoride controversy is a recent investigative report by NaturalNews exposing how the chemicals used to fluoridate United States' water systems today are commonly purchased from Chinese chemical plants looking to discard surplus stores of this form of industrial waste. Disturbingly, the report details that some Chinese vendors of fluoride advertise on their website that their product can be used as an "adhesive preservative", an "insecticide" as well as a" flux for soldering and welding".4 One Chinese manufacturer, Shanghai Polymet Commodities Ltd,. which produces fluoride destined for municipal water reserves in the United States, notes on their website that their fluoride is "highly corrosive to human skin and harmful to people's respiratory organs". 5
The Fluoride Phase Out at Home and Abroad
There are many signs in recent years that indicate growing skepticism over fluoridation. The New York Times reported in October 2011 that in the previous four years, about 200 jurisdictions across the USA moved to cease water fluoridation. A panel composed of scientists and health professionals in Fairbanks, Alaska recently recommended ceasing fluoridation of the county water supply after concluding that the addition of fluoride to already naturally-fluoridated reserves could pose health risks to 700,000 residents. The move to end fluoridation would save the county an estimated $205,000 annually. 6
The city of Portland made headlines in 2013 when it voted down a measure to fluoridate its water supply. The citizens of Portland have rejected introducing the chemical to drinking water on three separate occasions since the 1950's. Portland remains the largest city in the United States to shun fluoridation.7
The movement against fluoridation has gained traction overseas as well. In 2013, Israel's Ministry of Health committed to a countrywide phase-out of fluoridation. The decision came after Israel's Supreme Court deemed the existing health regulations requiring fluoridation to be based on science that is "outdated" and "no longer widely accepted."8
Also this year, the government of the Australian state of Queensland eliminated $14 million in funding for its state-wide fluoridation campaign. The decision, which was executed by the Liberal National Party (LNP) government, forced local councils to vote on whether or not to introduce fluoride to their water supplies. Less than two months after the decision came down, several communities including the town of Cairns halted fluoridation. As a result, nearly 200,000 Australians will no longer be exposed to fluoride in their drinking water.9
An ever-growing number of institutions and individuals are questioning the wisdom of fluoridation. At the fore of the movement are thousands of scientific authorities and health care professionals who are speaking out about the hazards of this damaging additive. As of November 2013, a group of over 4549 professionals including 361 dentists and 562 medical doctors have added their names to a petition aimed at ending fluoridation started by the Fluoride Action Network.  Among the prominent signatories are Nobel Laureate Arvid Carlsson and William Marcus, PhD who served as the chief toxicologist of the EPA Water Division.10
The above sampling of recent news items on fluoride brings into sharp focus just how urgent it is to carry out a critical reassessment of the mass fluoridation campaign that currently affects hundreds of millions of Americans. In order to better understand the massive deception surrounding this toxic chemical, we must look back to the sordid history of how fluoride was first introduced.
How to Market a Toxic Waste
"We would not purposely add arsenic to the water supply. And we would not purposely add lead. But we do add fluoride. The fact is that fluoride is more toxic than lead and just slightly less toxic than arsenic." 11
These words of Dr. John Yiamouyiannis may come as a shock to you because, if you're like most Americans, you have positive associations with fluoride. You may envision tooth protection, strong bones, and a government that cares about your dental needs. What you've probably never been told is that the fluoride added to drinking water and toothpaste is a crude industrial waste product of the aluminum and fertilizer industries, and a substance toxic enough to be used as rat poison. How is it that Americans have learned to love an environmental hazard? This phenomenon can be attributed to a carefully planned marketing program begun even before Grand Rapids, Michigan, became the first community to officially fluoridate its drinking water in 1945. 12   As a result of this ongoing campaign, nearly two-thirds of the nation has enthusiastically followed Grand Rapids' example. But this push for fluoridation has less to do with a concern for America's health than with industry's penchant to expand at the expense of our nation's well-being.
The first thing you have to understand about fluoride is that it's the problem child of industry. Its toxicity was recognized at the beginning of the Industrial Revolution, when, in the 1850s iron and copper factories discharged it into the air and poisoned plants, animals, and people.13   The problem was exacerbated in the 1920s when rapid industrial growth meant massive pollution. Medical writer Joel Griffiths explains that "it was abundantly clear to both industry and government that spectacular U.S. industrial expansion ­ and the economic and military power and vast profits it promised ­ would necessitate releasing millions of tons of waste fluoride into the environment."14  Their biggest fear was that "if serious injury to people were established, lawsuits alone could prove devastating to companies, while public outcry could force industry-wide government regulations, billions in pollution-control costs, and even mandatory changes in high-fluoride raw materials and profitable technologies." 15
At first, industry could dispose of fluoride legally only in small amounts by selling it to insecticide and rat poison manufacturers. 16   Then a commercial outlet was devised in the 1930s when a connection was made between water supplies bearing traces of fluoride and lower rates of tooth decay. Griffiths writes that this was not a scientific breakthrough, but rather part of a "public disinformation campaign" by the aluminum industry "to convince the public that fluoride was safe and good." Industry's need prompted Alcoa-funded scientist Gerald J. Cox to announce that "The present trend toward complete removal of fluoride from water may need some reversal." 17   Griffiths writes:
"The big news in Cox's announcement was that this 'apparently worthless by-product' had not only been proved safe (in low doses), but actually beneficial; it might reduce cavities in children. A proposal was in the air to add fluoride to the entire nation's drinking water. While the dose to each individual would be low, 'fluoridation' on a national scale would require the annual addition of hundreds of thousands of tons of fluoride to the country's drinking water.
"Government and industry ­ especially Alcoa ­ strongly supported intentional water fluoridation… [it] made possible a master public relations stroke ­ one that could keep scientists and the public off fluoride's case for years to come. If the leaders of dentistry, medicine, and public health could be persuaded to endorse fluoride in the public's drinking water, proclaiming to the nation that there was a 'wide margin of safety,' how were they going to turn around later and say industry's fluoride pollution was dangerous?
"As for the public, if fluoride could be introduced as a health enhancing substance that should be added to the environment for the children's sake, those opposing it would look like quacks and lunatics….
"Back at the Mellon Institute, Alcoa's Pittsburgh Industrial research lab, this news was galvanic. Alcoa-sponsored biochemist Gerald J. Cox immediately fluoridated some lab rats in a study and concluded that fluoride reduced cavities and that 'The case should be regarded as proved.' In a historic moment in 1939, the first public proposal that the U.S. should fluoridate its water supplies was made ­ not by a doctor, or dentist, but by Cox, an industry scientist working for a company threatened by fluoride damage claims." 18
Once the plan was put into action, industry was buoyant. They had finally found the channel for fluoride that they were looking for, and they were even cheered on by dentists, government agencies, and the public. Chemical Week, a publication for the chemical industry, described the tenor of the times: "All over the country, slide rules are getting warm as waterworks engineers figure the cost of adding fluoride to their water supplies." They are riding a trend urged upon them, by the U.S. Public Health Service, the American Dental Association, the State Dental Health Directors, various state and local health bodies, and vocal women's clubs from coast to coast. It adds up to a nice piece of business on all sides and many firms are cheering the PHS and similar groups as they plump for increasing adoption of fluoridation." 19
Such overwhelming acceptance allowed government and industry to proceed hastily, albeit irresponsibly. The Grand Rapids experiment was supposed to take 15 years, during which time health benefits and hazards were to be studied. In 1946, however, just one year into the experiment, six more U.S. cities adopted the process. By 1947, 87 more communities were treated; popular demand was the official reason for this unscientific haste.
The general public and its leaders did support the cause, but only after a massive government public relations campaign spearheaded by Edward L. Bernays, a nephew of Sigmund Freud. Bernays, a public relations pioneer who has been called "the original spin doctor," 20  was a masterful PR strategist. As a result of his influence, Griffiths writes, "Almost overnight…the popular image of fluoride ­ which at the time was being widely sold as rat and bug poison ­ became that of a beneficial provider of gleaming smiles, absolutely safe, and good for children, bestowed by a benevolent paternal government. Its opponents were permanently engraved on the public mind as crackpots and right-wing loonies." 21
Griffiths explains that while opposition to fluoridation is usually associated with right-wingers, this picture is not totally accurate. He provides an interesting historical perspective on the anti-fluoridation stance:
"Fluoridation attracted opponents from every point on the continuum of politics and sanity. The prospect of the government mass-medicating the water supplies with a well-known rat poison to prevent a nonlethal disease flipped the switches of delusionals across the country ­ as well as generating concern among responsible scientists, doctors, and citizens.
"Moreover, by a fortuitous twist of circumstances, fluoride's natural opponents on the left were alienated from the rest of the opposition. Oscar Ewing, a Federal Security Agency administrator, was a Truman "fair dealer" who pushed many progressive programs such as nationalized medicine. Fluoridation was lumped with his proposals. Inevitably, it was attacked by conservatives as a manifestation of "creeping socialism," while the left rallied to its support. Later during the McCarthy era, the left was further alienated from the opposition when extreme right-wing groups, including the John Birch Society and the Ku Klux Klan, raved that fluoridation was a plot by the Soviet Union and/or communists in the government to poison America's brain cells.
"It was a simple task for promoters, under the guidance of the 'original spin doctor,' to paint all opponents as deranged ­ and they played this angle to the hilt….
"Actually, many of the strongest opponents originally started out as proponents, but changed their minds after a close look at the evidence. And many opponents came to view fluoridation not as a communist plot, but simply as a capitalist-style con job of epic proportions. Some could be termed early environmentalists, such as the physicians George L. Waldbott and Frederick B. Exner, who first documented government-industry complicity in hiding the hazards of fluoride pollution from the public. Waldbott and Exner risked their careers in a clash with fluoride defenders, only to see their cause buried in toothpaste ads." 22
By 1950, fluoridation's image was a sterling one, and there was not much science could do at this point. The Public Health Service was fluoridation's main source of funding as well as its promoter, and therefore caught in a fundamental conflict of interest. 12   If fluoridation were found to be unsafe and ineffective, and laws were repealed, the organization feared a loss of face, since scientists, politicians, dental groups, and physicians unanimously supported it. 23  For this reason, studies concerning its effects were not undertaken. The Oakland Tribune noted this when it stated that "public health officials have often suppressed scientific doubts" about fluoridation.24 Waldbott sums up the situation when he says that from the beginning, the controversy over fluoridating water supplies was "a political, not a scientific health issue."25
The marketing of fluoride continues. In a 1983 letter from the Environmental Protection Agency, then Deputy Assistant Administrator for Water, Rebecca Hammer, writes that the EPA "regards [fluoridation] as an ideal environmental solution to a long-standing problem. By recovering by-product fluosilicic acid from fertilizer manufacturing, water and air pollution are minimized and water utilities have a low-cost source of fluoride available to them." 26    A 1992 policy statement from the Department of Health and Human Services says, "A recent comprehensive PHS review of the benefits and potential health risks of fluoride has concluded that the practice of fluoridating community water supplies is safe and effective." 27
According to the CDC website, about 200 million Americans in 16,500 communities are exposed to fluoridated water. Out of the 50 largest cities in the US, 43 have fluoridated water. 28
To help celebrate fluoride's widespread use, the media recently reported on the 50th anniversary of fluoridation in Grand Rapids. Newspaper articles titled "Fluoridation: a shining public health success" 29  and "After 50 years, fluoride still works with a smile"  30  painted glowing pictures of the practice. Had investigators looked more closely, though, they might have learned that children in Muskegon, Michigan, an unfluoridated "control" city, had equal drops in dental decay. They might also have learned of the other studies that dispute the supposed wonders of fluoride.
The Fluoride Myth Doesn't Hold Water
The big hope for fluoride was its ability to immunize children's developing teeth against cavities. Rates of dental caries were supposed to plummet in areas where water was treated. Yet decades of experience and worldwide research have contradicted this expectation numerous times. Here are just a few examples:
In British Columbia, only 11% of the population drinks fluoridated water, as opposed to 40-70% in other Canadian regions. Yet British Columbia has the lowest rate of tooth decay in Canada. In addition, the lowest rates of dental caries within the province are found in areas that do not have their water supplies fluoridated. 31
According to a Sierra Club study, people in unfluoridated developing nations have fewer dental caries than those living in industrialized nations. As a result, they conclude that "fluoride is not essential to dental health." 32
In 1986-87, the largest study on fluoridation and tooth decay ever was performed. The subjects were 39,000 school children between 5 and 17 living in 84 areas around the country. A third of the places were fluoridated, a third were partially fluoridated, and a third were not. Results indicate no statistically significant differences in dental decay between fluoridated and unfluoridated cities. 33
A World Health Organization survey reports a decline of dental decay in western Europe, which is 98% unfluoridated. They state that western Europe's declining dental decay rates are equal to and sometimes better than those in the U.S. 34
A 1992 University of Arizona study yielded surprising results when they found that "the more fluoride a child drinks, the more cavities appear in the teeth." 35
Although all Native American reservations are fluoridated, children living there have much higher incidences of dental decay and other oral health problems than do children living in other U.S. communities. 36
In light of all the evidence, fluoride proponents now make more modest claims. For example, in 1988, the ADA professed that a 40- to 60% cavity reduction could be achieved with the help of fluoride. Now they claim an 18- to 25% reduction. Other promoters mention a 12% decline in tooth decay.
And some former supporters are even beginning to question the need for fluoridation altogether. In 1990, a National Institute for Dental Research report stated that "it is likely that if caries in children remain at low levels or decline further, the necessity of continuing the current variety and extent of fluoride-based prevention programs will be questioned." 37
Most government agencies, however, continue to ignore the scientific evidence and to market fluoridation by making fictional claims about its benefits and pushing for its expansion. For instance, according to the U.S. Department of Health and Human Services, "National surveys of oral health dating back several decades document continuing decreases in tooth decay in children, adults and senior citizens. Nevertheless, there are parts of the country and particular populations that remain without protection. For these reasons, the U.S. PHS…has set a national goal for the year 2000 that 75% of persons served by community water systems will have access to optimally fluoridated drinking water; currently this figure is just about 60%. The year 2000 target goal is both desirable and yet challenging, based on past progress and continuing evidence of effectiveness and safety of this public health measure." 38
This statement is flawed on several accounts. First, as we've seen, research does not support the effectiveness of fluoridation for preventing tooth disease. Second, purported benefits are supposedly for children, not adults and senior citizens. At about age 13, any advantage fluoridation might offer comes to an end, and less than 1% of the fluoridated water supply reaches this population.  And third, fluoridation has never been proven safe. On the contrary, several studies directly link fluoridation to skeletal fluorosis, dental fluorosis, and several rare forms of cancer. This alone should frighten us away from its use.
Biological Safety Concerns
Only a small margin separates supposedly beneficial fluoride levels from amounts that are known to cause adverse effects. Dr. James Patrick, a former antibiotics research scientist at the National Institutes of Health, describes the predicament:
"[There is] a very low margin of safety involved in fluoridating water. A concentration of about 1 ppm is recommended…in several countries, severe fluorosis has been documented from water supplies containing only 2 or 3 ppm. In the development of drugs…we generally insist on a therapeutic index (margin of safety) of the order of 100; a therapeutic index of 2 or 3 is totally unacceptable, yet that is what has been proposed for public water supplies."39 
Other countries argue that even 1 ppm is not a safe concentration. Canadian studies, for example, imply that children under three should have no fluoride whatsoever. The Journal of the Canadian Dental Association states that "Fluoride supplements should not be recommended for children less than 3 years old." 40   Since these supplements contain the same amount of fluoride as water does, they are basically saying that children under the age of three shouldn't be drinking fluoridated water at all, under any circumstances. Japan has reduced the amount of fluoride in their drinking water to one-eighth of what is recommended in the U.S. Instead of 1 milligram per liter, they use less than 15 hundredths of a milligram per liter as the upper limit allowed. 41
Even supposing that low concentrations are safe, there is no way to control how much fluoride different people consume, as some take in a lot more than others. For example, laborers, athletes, diabetics, and those living in hot or dry regions can all be expected to drink more water, and therefore more fluoride (in fluoridated areas) than others. 42   Due to such wide variations in water consumption, it is impossible to scientifically control what dosage of fluoride a person receives via the water supply.43
Another concern is that fluoride is not found only in drinking water; it is everywhere. Fluoride is found in foods that are processed with it, which, in the United States, include nearly all bottled drinks and canned foods. 44  Researchers writing in The Journal of Clinical Pediatric Dentistry have found that fruit juices, in particular, contain significant amounts of fluoride. In one study, a variety of popular juices and juice blends were analyzed and it was discovered that 42% of the samples examined had more than l ppm of fluoride, with some brands of grape juice containing much higher levels ­ up to 6.8 ppm! The authors cite the common practice of using fluoride-containing insecticide in growing grapes as a factor in these high levels, and they suggest that the fluoride content of beverages be printed on their labels, as is other nutritional information. 45  Considering how much juice some children ingest, and the fact that youngsters often insist on particular brands that they consume day after day, labeling seems like a prudent idea. But beyond this is the larger issue that this study brings up: Is it wise to subject children and others who are heavy juice drinkers to additional fluoride in their water?
Here's a little-publicized reality: Cooking can greatly increase a food's fluoride content. Peas, for example, contain 12 micrograms of fluoride when raw and 1500 micrograms after they are cooked in fluoridated water, which is a tremendous difference. Also, we should keep in mind that fluoride is an ingredient in pharmaceuticals, aerosols, insecticides, and pesticides.
And of course, toothpastes. It's interesting to note that in the 1950s, fluoridated toothpastes were required to carry warnings on their labels saying that they were not to be used in areas where water was already fluoridated. Crest toothpaste went so far as to write: "Caution: Children under 6 should not use Crest." These regulations were dropped in 1958, although no new research was available to prove that the overdose hazard no longer existed. 46
Today, common fluoride levels in toothpaste are 1000 ppm. Research chemist Woodfun Ligon notes that swallowing a small amount adds substantially to fluoride intake. 47 Dentists say that children commonly ingest up to 0.5 mg of fluoride a day from toothpaste. 48
This inevitably raises another issue: How safe is all this fluoride? According to scientists and informed doctors, such as Dr. John Lee, it is not safe at all. Dr. Lee first took an anti-fluoridation stance back in 1972, when as chairman of an environmental health committee for a local medical society, he was asked to state their position on the subject. He stated that after investigating the references given by both pro- and anti-fluoridationists, the group discovered three important things:
"One, the claims of benefit of fluoride, the 60% reduction of cavities, was not established by any of these studies. Two, we found that the investigations into the toxic side effects of fluoride have not been done in any way that was acceptable. And three, we discovered that the estimate of the amount of fluoride in the food chain, in the total daily fluoride intake, had been measured in 1943, and not since then. By adding the amount of fluoride that we now have in the food chain, which comes from food processing with fluoridated water, plus all the fluoridated toothpaste that was not present in 1943, we found that the daily intake of fluoride was far in excess of what was considered optimal." 49
What happens when fluoride intake exceeds the optimal? The inescapable fact is that this substance has been associated with severe health problems, ranging from skeletal and dental fluorosis to bone fractures, to fluoride poisoning, and even to cancer.
Skeletal Fluorosis
When fluoride is ingested, approximately 93% of it is absorbed into the bloodstream. A good part of the material is excreted, but the rest is deposited in the bones and teeth, and is capable of causing a crippling skeletal fluorosis. This is a condition that can damage the musculoskeletal and nervous systems and result in muscle wasting, limited joint motion, spine deformities, and calcification of the ligaments, as well as neurological deficits.
Large numbers of people in Japan, China, India, the Middle East, and Africa have been diagnosed with skeletal fluorosis from drinking naturally fluoridated water. In India alone, nearly a million people suffer from the affliction. 39   While only a dozen cases of skeletal fluorosis have been reported in the United States, Chemical and Engineering News states that "critics of the EPA standard speculate that there probably have been many more cases of fluorosis ­ even crippling fluorosis ­ than the few reported in the literature because most doctors in the U.S. have not studied the disease and do not know how to diagnose it." 50
Radiologic changes in bone occur when fluoride exposure is 5 mg/day, according to the late Dr. George Waldbott, author of Fluoridation: The Great Dilemma. While this 5 mg/day level is the amount of fluoride ingested by most people living in fluoridated areas, 51   the number increases for diabetics and laborers, who can ingest up to 20 mg of fluoride daily. In addition, a survey conducted by the Department of Agriculture shows that 3% of the U.S. population drinks 4 liters or more of water every day. If these individuals live in areas where the water contains a fluoride level of 4 ppm, allowed by the EPA, they are ingesting 16 mg/day from the consumption of water alone, and are thus at greater risk for getting skeletal fluorosis. 52
Dental Fluorosis
According to a 1989 National Institute for Dental Research study, 1-2% of children living in areas fluoridated at 1 ppm develop dental fluorosis, that is, permanently stained, brown mottled teeth. Up to 23% of children living in areas naturally fluoridated at 4 ppm develop severe dental fluorosis. 53  Other research gives higher figures. The publication Health Effects of Ingested Fluoride, put out by the National Academy of Sciences, reports that in areas with optimally fluoridated water (1 ppm, either natural or added), dental fluorosis levels in recent years ranged from 8 to 51%. Recently, a prevalence of slightly over 80% was reported in children 12-14 years old in Augusta, Georgia.
Fluoride is a noteworthy chemical additive in that its officially acknowledged benefit and damage levels are about the same. Writing in The Progressive, science journalist Daniel Grossman elucidates this point: "Though many beneficial chemicals are dangerous when consumed at excessive levels, fluoride is unique because the amount that dentists recommend to prevent cavities is about the same as the amount that causes dental fluorosis." 54   Although the American Dental Association and the government consider dental fluorosis only a cosmetic problem, the American Journal of Public Health says that "…brittleness of moderately and severely mottled teeth may be associated with elevated caries levels." 45   In other words, in these cases the fluoride is causing the exact problem that it's supposed to prevent. Yiamouyiannis adds, "In highly naturally-fluoridated areas, the teeth actually crumble as a result. These are the first visible symptoms of fluoride poisoning." 55
Also, when considering dental fluorosis, there are factors beyond the physical that you can't ignore ­ the negative psychological effects of having moderately to severely mottled teeth. These were recognized in a 1984 National Institute of Mental Health panel that looked into this problem. 
A telling trend is that TV commercials for toothpaste, and toothpaste tubes themselves, are now downplaying fluoride content as a virtue. This was noted in an article in the Sarasota/Florida ECO Report, 56 whose author, George Glasser, feels that manufacturers are distancing themselves from the additive because of fears of lawsuits. The climate is ripe for these, and Glasser points out that such a class action suit has already been filed in England against the manufacturers of fluoride-containing products on behalf of children suffering from dental fluorosis.
Bone Fractures
At one time, fluoride therapy was recommended for building denser bones and preventing fractures associated with osteoporosis. Now several articles in peer-reviewed journals suggest that fluoride actually causes more harm than good, as it is associated with bone breakage. Three studies reported in The Journal of the American Medical Association showed links between hip fractures and fluoride. 575859 Findings here were, for instance, that there is "a small but significant increase in the risk of hip fractures in both men and women exposed to artificial fluoridation at 1 ppm."   In addition, the New England Journal of Medicine reports that people given fluoride to cure their osteoporosis actually wound up with an increased nonvertebral fracture rate. 60  Austrian researchers have also found that fluoride tablets make bones more susceptible to fractures.61 The U.S. National Research Council states that the U.S. hip fracture rate is now the highest in the world. 62
Louis V. Avioli, professor at the Washington University School of Medicine, says in a 1987 review of the subject: "Sodium fluoride therapy is accompanied by so many medical complications and side effects that it is hardly worth exploring in depth as a therapeutic mode for postmenopausal osteoporosis, since it fails to decrease the propensity for hip fractures and increases the incidence of stress fractures in the extremities." 63
Fluoride Poisoning
In May 1992, 260 people were poisoned, and one man died, in Hooper Bay, Alaska, after drinking water contaminated with 150 ppm of fluoride. The accident was attributed to poor equipment and an unqualified operator. 55   Was this a fluke? Not at all. Over the years, the CDC has recorded several incidents of excessive fluoride permeating the water supply and sickening or killing people. We don't usually hear about these occurrences in news reports, but interested citizens have learned the truth from data obtained under the Freedom of Information Act. Here is a partial list of toxic spills we have not been told about:
July 1993 ­ Chicago, Illinois: Three dialysis patients died and five experienced toxic reactions to the fluoridated water used in the treatment process. The CDC was asked to investigate, but to date there have been no press releases.
May 1993 ­ Kodiak, Alaska (Old Harbor): The population was warned not to consume water due to high fluoride levels. They were also cautioned against boiling the water, since this concentrates the substance and worsens the danger. Although equipment appeared to be functioning normally, 22-24 ppm of fluoride was found in a sample.
July 1992 ­ Marin County, California: A pump malfunction allowed too much fluoride into the Bon Tempe treatment plant. Two million gallons of fluoridated water were diverted to Phoenix Lake, elevating the lake surface by more than two inches and forcing some water over the spillway.
December 1991 ­ Benton Harbor, Michigan: A faulty pump allowed approximately 900 gallons of hydrofluosilicic acid to leak into a chemical storage building at the water plant. City engineer Roland Klockow stated, "The concentrated hydrofluosilicic acid was so corrosive that it ate through more than two inches of concrete in the storage building." This water did not reach water consumers, but fluoridation was stopped until June 1993. The original equipment was only two years old.
July 1991 ­ Porgate, Michigan: After a fluoride injector pump failed, fluoride levels reached 92 ppm and resulted in approximately 40 children developing abdominal pains, sickness, vomiting, and diarrhea at a school arts and crafts show.
November 1979 ­ Annapolis, Maryland: One patient died and eight became ill after renal dialysis treatment. Symptoms included cardiac arrest (resuscitated), hypotension, chest pain, difficulty breathing, and a whole gamut of intestinal problems. Patients not on dialysis also reported nausea, headaches, cramps, diarrhea, and dizziness. The fluoride level was later found to be 35 ppm; the problem was traced to a valve at a water plant that had been left open all night. 64
Instead of addressing fluoridation's problematic safety record, officials have chosen to cover it up. For example, the ADA says in one booklet distributed to health agencies that "Fluoride feeders are designed to stop operating when a malfunction occurs… so prolonged over-fluoridation becomes a mechanical impossibility."    In addition, the information that does reach the population after an accident is woefully inaccurate. A spill in Annapolis, Maryland, placed thousands at risk, but official reports reduced the number to eight. 65  Perhaps officials are afraid they will invite more lawsuits like the one for $480 million by the wife of a dialysis patient who became brain-injured as the result of fluoride poisoning.
Not all fluoride poisoning is accidental. For decades, industry has knowingly released massive quantities of fluoride into the air and water. Disenfranchised communities, with people least able to fight back, are often the victims. Medical writer Joel Griffiths relays this description of what industrial pollution can do, in this case to a devastatingly poisoned Indian reservation:
"Cows crawled around the pasture on their bellies, inching along like giant snails. So crippled by bone disease they could not stand up, this was the only way they could graze. Some died kneeling, after giving birth to stunted calves. Others kept on crawling until, no longer able to chew because their teeth had crumbled down to the nerves, they began to starve…." They were the cattle of the Mohawk Indians on the New York-Canadian St. Regis Reservation during the period 1960-1975, when industrial pollution devastated the herd ­ and along with it, the Mohawks' way of life….Mohawk children, too, have shown signs of damage to bones and teeth." 66
Mohawks filed suit against the Reynolds Metals Company and the Aluminum Company of America (Alcoa) in 1960, but ended up settling out of court, where they received $650,000 for their cows. 67
Fluoride is one of industry's major pollutants, and no one remains immune to its effects. In 1989, 155,000 tons were being released annually into the air,    and 500,000 tons a year were disposed of in our lakes, rivers, and oceans. 68

Cancer
Numerous studies demonstrate links between fluoridation and cancer; however, agencies promoting fluoride consistently refute or cover up these findings.
In 1977, Dr. John Yiamouyiannis and Dr. Dean Burk, former chief chemist at the National Cancer Institute, released a study that linked fluoridation to 10,000 cancer deaths per year in the U.S. Their inquiry, which compared cancer deaths in the ten largest fluoridated American cities to those in the ten largest unfluoridated cities between 1940 and 1950, discovered a 5% greater rate in the fluoridated areas. 69  The NCI disputed these findings, since an earlier analysis of theirs apparently failed to pick up these extra deaths. Federal authorities claimed that Yiamouyiannis and Burk were in error, and that any increase was caused by statistical changes over the years in age, gender, and racial composition. 70
In order to settle the question of whether or not fluoride is a carcinogen, a Congressional subcommittee instructed the National Toxicology Program (NTP) to perform another investigation. 71  That study, due in 1980, was not released until 1990. However, in 1986, while the study was delayed, the EPA raised the standard fluoride level in drinking water from 2.4 to 4 ppm. 72   After this step, some of the government's own employees in NFFE Local 2050 took what the Oakland Tribune termed the "remarkable step of denouncing that action as political." 73
When the NTP study results became known in early 1990, union president Dr. Robert Carton, who works in the EPA's Toxic Substances Division, published a statement. It read, in part: "Four years ago, NFFE Local 2050, which represents all 1100 professionals at EPA headquarters, alerted then Administrator Lee Thomas to the fact that the scientific support documents for the fluoride in drinking water standard were fatally flawed. The fluoride juggernaut proceeded as it apparently had for the last 40 years ­ without any regard for the facts or concern for public health.
"EPA raised the allowed level of fluoride before the results of the rat/mouse study ordered by Congress in 1977 was complete. Today, we find out how irresponsible that decision was. The results reported by NTP, and explained today by Dr. Yiamouyiannis, are, as he notes, not surprising considering the vast amount of data that caused the animal study to be conducted in the first place. The results are not surprising to NFFE Local 2050 either. Four years ago we realized that the claim that there was no evidence that fluoride could cause genetic effects or cancer could not be supported by the shoddy document thrown together by the EPA contractor.
"It was apparent to us that EPA bowed to political pressure without having done an in-depth, independent analysis, using in-house experts, of the currently existing data that show fluoride causes genetic effects, promotes the growth of cancerous tissue, and is likely to cause cancer in humans. If EPA had done so, it would have been readily apparent ­ as it was to Congress in 1977 ­ that there were serious reasons to believe in a cancer threat.
"The behavior by EPA in this affair raises questions about the integrity of science at EPA and the role of professional scientists, lawyers and engineers who provide the interpretation of the available data and the judgements necessary to protect the public health and the environment. Are scientists at EPA there to arrange facts to fit preconceived conclusions? Does the Agency have a responsibility to develop world-class experts in the risks posed by chemicals we are exposed to every day, or is it permissible for EPA to cynically shop around for contractors who will provide them the 'correct' answers?" 74
What were the NTP study results? Out of 130 male rats that ingested 45 to 79 ppm of fluoride, 5 developed osteosarcoma, a rare bone cancer. There were cases, in both males and females at those doses, of squamous cell carcinoma in the mouth. 75  Both rats and mice had dose-related fluorosis of the teeth, and female rats suffered osteosclerosis of the long bones.76
When Yiamouyiannis analyzed the same data, he found mice with a particularly rare form of liver cancer, known as hepatocholangiocarcinoma. This cancer is so rare, according to Yiamouyiannis, that the odds of its appearance in this study by chance are 1 in 2 million in male mice and l in 100,000 in female mice.    He also found precancerous changes in oral squamous cells, an increase in squamous cell tumors and cancers, and thyroid follicular cell tumors as a result of increasing levels of fluoride in drinking water. 77
A March 13, 1990, New York Times article commented on the NTP findings: "Previous animal tests suggesting that water fluoridation might pose risks to humans have been widely discounted as technically flawed, but the latest investigation carefully weeded out sources of experimental or statistical error, many scientists say, and cannot be discounted." 78  In the same article, biologist Dr. Edward Groth notes: "The importance of this study…is that it is the first fluoride bioassay giving positive results in which the latest state-of-the-art procedures have been rigorously applied. It has to be taken seriously." 71
On February 22, 1990, the Medical Tribune, an international medical news weekly received by 125,000 doctors, offered the opinion of a federal scientist who preferred to remain anonymous:
"It is difficult to see how EPA can fail to regulate fluoride as a carcinogen in light of what NTP has found. Osteosarcomas are an extremely unusual result in rat carcinogenicity tests. Toxicologists tell me that the only other substance that has produced this is radium….The fact that this is a highly atypical form of cancer implicates fluoride as the cause. Also, the osteosarcomas appeared to be dose-related, and did not occur in controls, making it a clean study." 79
Public health officials were quick to assure a concerned public that there was nothing to worry about! The ADA said the occurrence of cancers in the lab may not be relevant to humans since the level of fluoridation in the experimental animals' water was so high. 80   But the Federal Register, which is the handbook of government practices, disagrees: "The high exposure of experimental animals to toxic agents is a necessary and valid method of discovering possible carcinogenic hazards in man. To disavow the findings of this test would be to disavow those of all such tests, since they are all conducted according to this standard." 73   As a February 5, 1990, Newsweek article pointed out, "such megadosing is standard toxicological practice. It's the only way to detect an effect without using an impossibly large number of test animals to stand in for the humans exposed to the substance." 81 And as the Safer Water Foundation explains, higher doses are generally administered to test animals to compensate for the animals' shorter life span and because humans are generally more vulnerable than test animals on a body-weight basis. 82
Several other studies link fluoride to genetic damage and cancer. An article in Mutation Research says that a study by Proctor and Gamble, the very company that makes Crest toothpaste, did research showing that 1 ppm fluoride causes genetic damage.83 Results were never published but Proctor and Gamble called them "clean," meaning animals were supposedly free of malignant tumors. Not so, according to scientists who believe some of the changes observed in test animals could be interpreted as precancerous. 84   Yiamouyiannis says the Public Health Service sat on the data, which were finally released via a Freedom of Information Act request in 1989. "Since they are biased, they have tried to cover up harmful effects," he says. "But the data speaks for itself. Half the amount of fluoride that is found in the New York City drinking water causes genetic damage." 46
A National Institutes of Environmental Health Sciences publication, Environmental and Molecular Mutagenesis, also linked fluoride to genetic toxicity when it stated that "in cultured human and rodent cells, the weight of evidence leads to the conclusion that fluoride exposure results in increased chromosome aberrations." 85 The result of this is not only birth defects but the mutation of normal cells into cancer cells. The Journal of Carcinogenesis further states that "fluoride not only has the ability to transform normal cells into cancer cells but also to enhance the cancer-causing properties of other chemicals." 86
Surprisingly, the PHS put out a report called Review of fluoride: benefits and risks, in which they showed a substantially higher incidence of bone cancer in young men exposed to fluoridated water compared to those who were not. The New Jersey Department of Health also found that the risk of bone cancer was about three times as high in fluoridated areas as in nonfluoridated areas. 87
Despite cover-up attempts, the light of knowledge is filtering through to some enlightened scientists. Regarding animal test results, the director of the U.S. National Institute of Environmental Health Sciences, James Huff, does say that "the reason these animals got a few osteosarcomas was because they were given fluoride…Bone is the target organ for fluoride."  Toxicologist William Marcus adds that "fluoride is a carcinogen by any standard we use. I believe EPA should act immediately to protect the public, not just on the cancer data, but on the evidence of bone fractures, arthritis, mutagenicity, and other effects." 88
The Challenge of Eliminating Fluoride
Given all the scientific challenges to the idea of the safety of fluoride, why does it remain a protected contaminant? As Susan Pare of the Center for Health Action asks, "…even if fluoride in the water did reduce tooth decay, which it does not, how can the EPA allow a substance more toxic than Alar, red dye #3, and vinyl chloride to be injected purposely into drinking water?" 89
This is certainly a logical question and, with all the good science that seems to exist on the subject, you would think that there would be a great deal of interest in getting fluoride out of our water supply. Unfortunately, that hasn't been the case. As Dr. William Marcus, a senior science advisor in the EPA's Office of Drinking Water, has found, the top governmental priority has been to sweep the facts under the rug and, if need be, to suppress truth-tellers. Marcus explains 90  that fluoride is one of the chemicals the EPA specifically regulates, and that he was following the data coming in on fluoride very carefully when a determination was going to be made on whether the levels should be changed. He discovered that the data were not being heeded. But that was only the beginning of the story for him. Marcus recounts what happened:
"The studies that were done by Botel Northwest showed that there was an increased level of bone cancer and other types of cancer in animals….in that same study, there were very rare liver cancers, according to the board-certified veterinary pathologists at the contractor, Botel. Those really were very upsetting because they were hepatocholangeal carcinomas, very rare liver cancers….Then there were several other kinds of cancers that were found in the jaw and other places.
"I felt at that time that the reports were alarming. They showed that the levels of fluoride that can cause cancers in animals are actually lower than those levels ingested in people (who take lower amounts but for longer periods of time).
"I went to a meeting that was held in Research Triangle Park, in April 1990, in which the National Toxicology Program was presenting their review of the study. I went with several colleagues of mine, one of whom was a board-certified veterinary pathologist who originally reported hepatocholangeal carcinoma as a separate entity in rats and mice. I asked him if he would look at the slides to see if that really was a tumor or if the pathologists at Botel had made an error. He told me after looking at the slides that, in fact, it was correct.
"At the meeting, every one of the cancers reported by the contractor had been downgraded by the National Toxicology Program. I have been in the toxicology business looking at studies of this nature for nearly 25 years and I have never before seen every single cancer endpoint downgraded…. I found that very suspicious and went to see an investigator in the Congress at the suggestion of my friend, Bob Carton. This gentleman and his staff investigated very thoroughly and found out that the scientists at the National Toxicology Program down at Research Triangle Park had been coerced by their superiors to change their findings."91
Once Dr. Marcus acted on his findings, something ominous started to happen in his life: "…I wrote an internal memorandum and gave it to my supervisors. I waited for a month without hearing anything. Usually, you get a feedback in a week or so. I wrote another memorandum to a person who was my second-line supervisor explaining that if there was even a slight chance of increased cancer in the general population, since 140 million people were potentially ingesting this material, that the deaths could be in the many thousands. Then I gave a copy of the memorandum to the Fluoride Work Group, who waited some time and then released it to the press.
"Once it got into the press all sorts of things started happening at EPA. I was getting disciplinary threats, being isolated, and all kinds of things which ultimately resulted in them firing me on March 15, 1992." 
In order to be reinstated at work, Dr. Marcus took his case to court. In the process, he learned that the government had engaged in various illegal activities, including 70 felony counts, in order to get him fired. At the same time, those who committed perjury were not held accountable for it. In fact, they were rewarded for their efforts:
"When we finally got the EPA to the courtroom…they admitted to doing several things to get me fired. We had notes of a meeting…that showed that fluoride was one of the main topics discussed and that it was agreed that they would fire me with the help of the Inspector General. When we got them on the stand and showed them the memoranda, they finally remembered and said, oh yes, we lied about that in our previous statements.
"Then…they admitted to shredding more than 70 documents that they had in hand ­ Freedom of Information requests. That's a felony…. In addition, they charged me with stealing time from the government. They…tried to show…that I had been doing private work on government time and getting paid for it. When we came to court, I was able to show that the time cards they produced were forged, and forged by the Inspector General's staff…." 
For all his efforts, Dr. Marcus was rehired, but nothing else has changed: "The EPA was ordered to rehire me, which they did. They were given a whole series of requirements to be met, such as paying me my back pay, restoring my leave, privileges, and sick leave and annual leave. The only thing they've done is put me back to work. They haven't given me any of those things that they were required to do."92
What is at the core of such ruthless tactics? John Yiamouyiannis feels that the central concern of government is to protect industry, and that the motivating force behind fluoride use is the need of certain businesses to dump their toxic waste products somewhere. They try to be inconspicuous in the disposal process and not make waves. "As is normal, the solution to pollution is dilution. You poison everyone a little bit rather than poison a few people a lot. This way, people don't know what's going on."
Since the Public Health Service has promoted the fluoride myth for over 50 years, they're concerned about protecting their reputation. So scientists like Dr. Marcus, who know about the dangers, are intimidated into keeping silent. Otherwise, they jeopardize their careers. Dr. John Lee elaborates: "Back in 1943, the PHS staked their professional careers on the benefits and safety of fluoride. It has since become bureaucratized. Any public health official who criticizes fluoride, or even hints that perhaps it was an unwise decision, is at risk of losing his career entirely. This has happened time and time again. Public health officials such as Dr. Gray in British Columbia and Dr. Colquhoun in New Zealand found no benefit from fluoridation. When they reported these results, they immediately lost their careers…. This is what happens ­ the public health officials who speak out against fluoride are at great risk of losing their careers on the spot." 
Yiamouyiannis adds that for the authorities to admit that they're wrong would be devastating. "It would show that their reputations really don't mean that much…. They don't have the scientific background. As Ralph Nader once said, if they admit they're wrong on fluoridation, people would ask, and legitimately so, what else have they not told us right?" 
Accompanying a loss in status would be a tremendous loss in revenue. Yiamouyiannis points out that "the indiscriminate careless handling of fluoride has a lot of companies, such as Exxon, U.S. Steel, and Alcoa, making tens of billions of dollars in extra profits at our expense…. For them to go ahead now and admit that this is bad, this presents a problem, a threat, would mean tens of billions of dollars in lost profit because they would have to handle fluoride properly. Fluoride is present in everything from phosphate fertilizers to cracking agents for the petroleum industry." 
Fluoride could only be legally disposed of at a great cost to industry. As Dr. Bill Marcus explains, "There are prescribed methods for disposal and they're very expensive. Fluoride is a very potent poison. It's a registered pesticide, used for killing rats or mice…. If it were to be disposed of, it would require a class-one landfill. That would cost the people who are producing aluminum or fertilizer about $7000+ per 5000- to 6000-gallon truckload to dispose of it. It's highly corrosive." 
Another problem is that the U.S. judicial system, even when convinced of the dangers, is powerless to change policy. Yiamouyiannis tells of his involvement in court cases in Pennsylvania and Texas in which, while the judges were convinced that fluoride was a health hazard, they did not have the jurisdiction to grant relief from fluoridation. That would have to be done, it was ultimately found, through the legislative process.    Interestingly, the judiciary seems to have more power to effect change in other countries. Yiamouyiannis states that when he presented the same technical evidence in Scotland, the Scottish court outlawed fluoridation based on the evidence.
Indeed, most of Western Europe has rejected fluoridation on the grounds that it is unsafe. In 1971, after 11 years of testing, Sweden's Nobel Medical Institute recommended against fluoridation, and the process was banned.93 The Netherlands outlawed the practice in 1976, after 23 years of tests. France decided against it after consulting with its Pasteur Institute64   and West Germany, now Germany, rejected the practice because the recommended dosage of 1 ppm was "too close to the dose at which long-term damage to the human body is to be expected." 84   Dr. Lee sums it up: "All of western Europe, except one or two test towns in Spain, has abandoned fluoride as a public health plan. It is not put in the water anywhere. They all established test cities and found that the benefits did not occur and the toxicity was evident."94
Isn't it time the United States followed Western Europe's example? While the answer is obvious, it is also apparent that government policy is unlikely to change without public support. We therefore must communicate with legislators, and insist on one of our most precious resources ­ pure, unadulterated drinking water. Yiamouyiannis urges all American people to do so, pointing out that public pressure has gotten fluoride out of the water in places like Los Angeles; Newark and Jersey City in New Jersey; and 95Bedford, Massachusetts. 46   He emphasizes the immediacy of the problem: "There is no question with regard to fluoridation of public water supplies. It is absolutely unsafe…and should be stopped immediately. This is causing more destruction to human health than any other single substance added purposely or inadvertently to the water supply. We're talking about 35,000 excess deaths a year…10,000 cancer deaths a year…130 million people who are being chronically poisoned. We're not talking about dropping dead after drinking a glass of fluoridated water…. It takes its toll on human health and life, glass after glass." 96
There is also a moral issue in the debate that has largely escaped notice. According to columnist James Kilpatrick, it is "the right of each person to control the drugs he or she takes." Kilpatrick calls fluoridation compulsory mass medication, a procedure that violates the principles of medical ethics. 97   A New York Times editorial agrees:
"In light of the uncertainty, critics [of fluoridation] argue that administrative bodies are unjustified in imposing fluoridation on communities without obtaining public consent…. The real issue here is not just the scientific debate. The question is whether any establishment has the right to decide that benefits outweigh risks and impose involuntary medication on an entire population. In the case of fluoridation, the dental establishment has made opposition to fluoridation seem intellectually disreputable. Some people regard that as tyranny." 98
Source: Dr. Gary Null, PhD
By our apathy, our unawareness and our complete disregard as to what our U.S. Congress thrusts upon our country—we face enormous obstacles to our continued existence as a country let alone an intact civilization.
Within 37 years, at current immigration rates, we face adding 100 million more people—enough to add another 20 of our most populated cities.  The enormity of the water, food, energy, housing, education and sustainability of that many people boggles the mind.  Simple fact: none of us will be able to live at the level of wealth, waste and pollution we currently enjoy, or should I say destroy!
Hear this: it's not if we add 100 million people, but a definite fact of an added 100 million people—if we don't rescind the 1965 Immigration Reform Act and the 1986 Immigration Amnesty and if we don't stop the final passage of the S744 Amnesty Bill that will return to Congress in 2014.
This 100 million immigrant-number constitutes something SO ominous, SO egregious and SO monumental that it will spiral our nation into its death throes as described in this series.
Do you care about your children's future?  Do you care about the environment in which they will live?  Do you care about the quality of life and standard of living that you bequeath to future generations?  Here's what it will look like if you fail to tack action:
"Immigration by the numbers—off the chart" by Roy Beck
This 10 minute demonstration shows Americans the results of unending mass immigration on the quality of life and sustainability for future generations: in a few words, "Mind boggling!"  www.NumbersUSA.org
http://www.youtube.com/watch?v=muw22wTePqQ
Have you written emails and made phone calls to the 20 contacts I have offered in preceding parts to this series?  If not, why not?  If not now, when?  The fact remains that the current immigration laws from 1965 and 1986 continue the onslaught of 1 million legal immigrants annually, their children and chain-migrated relatives without pause.
In a Constitutional Republic, only YOU can force change.  Only your participation creates discussion and debate. Only your actions change the future.
I am not researching and writing this series to be read and forgotten. I write it in order to give you the power to take collective action.
President Teddy Roosevelt said, "In any moment of decision, the best thing you can do is the right thing. The worst thing you can do is nothing."
Poisoning our world
With 316 million Americans along with 20 million illegal alien migrants, our country faces enormous consequences on multiple fronts as described by this series.
But they may all pale in comparison to the poisoning of our world.  If we continue adding people and hit the projected 438 million by 2050—a scant 37 years from now—that encompasses another 138 million people—all using poisons and chemicals.
At 80,000 chemicals now being injected into the air, land and water 24/7—-just imagine the cancer rates by mid century.  Every family, every person in America will be affected by cancer, Parkinson's Disease, Lupus, Autism and other diseases caused by chemicals wrecking our nervous systems.
The Fukushima radioactive injection of billions possibly trillions of gallons of contaminated water circulates to all oceans around our planet.  It poisons all marine life and affects all oceanic eco-systems.  You might call it "Planetary genocide" when the final story surfaces in the coming decades.
"Planetary Genocide": Fukushima One Year Later: The Poisoning of Planet Earth By Dr. Ilya Sandra Perlingieri
Perlingieri said, "With various half-lives –some eons-long– of numerous radioactive components, the human race and every other living creature on our planet is on its way to extinction, due to the known sterilization effects of radiation. Here is a short list of the half-life of five of the radioactive isotopes that are and will continue to poison all of our children, and us, ad infinitum, in the air we breathe, the food we eat, and the water we drink and in which we bathe:
Cesium 137: 30 years
Plutonium 239: 24,000 years
Strontium 90: 29 years [mimics calcium in the body]
Uranium 235: 700-million years
Iodine 131: 8 days [absorbed into the thyroid and gives heavy radiation dose. Also goes into the soil, passed onto us through cow's milk.]
"In a report released just a few week's ago, the milk tested in the San Francisco area still had radioactive levels of Cesium 134 and Cesium 137. According to even a compromised EPA, these are now at "150 percent of their maximum contaminant level."
Think about another 100 million people added to the USA spraying, injecting and disbursing Round-up, Weed-be-Gone, Tilex, crop pesticides, herbicides, fungicides and thousands of other chemicals that pile-up ultimately within our bodies.
Monsanto poisoning our world
Genetically modified organisms are made by manipulation of extremely deadly viruses & bacteria (such as E. coli) that have been engineered to be immune to antibiotics. Monsanto spends millions of dollars each year in order to "sugar" coat the facts of what GMOs actually are and more importantly, how they are made. This video explains the scientific facts on how Monsanto manufactures their GMOs (Genetically Modified Organisms) by simply removing all the corporate propaganda, the "smoke & mirrors" if you will. This video will educate you:
https://www.youtube.com/watch?v=FAVzcxc5cjU
Aspartame created and sold by Monsanto, a synthetic sugar used in every "diet soda" and "sugar-free" food, has been implicated in lupus, fibromyalgia and brain cancers.  Yet, the American public buys "diet soda" like milk with no clue as to the diseases it causes.  The enclosed video gives you an idea of Aspartame's deadly consequences.
https://www.youtube.com/watch?v=8dmAV4JjV0A
When you tally the 80,000 chemicals injected into our air, land, water, food and homes—no wonder one in three of us will be affected by cancers in our lifetimes.
Multiply another 100 million immigrants added to the USA in 37 years, and what do we as a country face?  Answer: a multiplication of all those problems by 100 million more people.
Whether you add up the medical costs, the crowding, the contaminated water supplies, the acid rain contaminating our soils and dozens of other consequences—we face a growing poisoned civilization and all the people living in it.
Do you sit by and watch it happen to your kids or do you take action?  Answer: take action! Force the immigration issue to the highest media sources by writing them.
With all that is being written about the national economic collapse, people seem to be waiting for some huge event.
However, for many North Americans, the collapse is here. This isn't relegated to only lower income neighborhoods. As an article from a Cincinnati new station stated, "Hunger doesn't know a zip code."
For many people who were formerly financially comfortable, the economic collapse has already happened in the form of a job loss, hours that have been cut back due to Obamacare requirements for employers, an exorbitant medical bill or other crushing debt, or simply an inflation rate that has outstripped your pay increases. Despite all of the warnings, many people are still going to be absolutely blindsided.
For many families, personal finances have reached a catastrophic level – they are left to make terrible choices:
Which utility can I live without?
Should I walk away from my mortgage?
Should I eat something so I can work harder or should I skip meals so my kids have food?
Should I use the grocery money to take my child to the doctor or should I wait and hope he/she improves without medical intervention?
Do I risk the IRS-enforced penalties by forgoing enrollment in Obamacare or should I skip that whole grocery shopping thing so I can pay the monthly premiums and enormous deductibles in order to stay in the government's good graces?
These are the kind of decisions that people across the nation are grappling with every day.
I'm talking about good people, hardworking men and women who have always been employed and paid their bills. A personal financial crisis does not just strike those stereotypical "welfare queens" with the long manicured nails, Gucci knock-off purse, and a grocery cart full of EBT-funded lobster.
I'm talking about the person next door, who seems to have it all together. I'm talking about that quiet family that sits two rows in front of you at church. I'm talking about that two-income family with two children and a car in the driveway that takes them to work and school 5 days a week. I'm talking about people just like you and me.
What is a personal economic collapse?
A personal economic collapse is a little different than the major crises you see all over Europe right now, where huge segments of the population can't feed their children or stay employed. It is a crisis that just hits your family due to a given set of circumstances. (In actuality North Americans are on the brink of the kind of collapse that is occurring in Europe, but because of easy access to credit and a buy-now, pay-later society, many of us still have the appearance of prosperity.)
Here are some signs that you may be in the midst of a personal economic collapse:
You can only afford to pay the minimum payment on most of your bills.
The same dollar amount you used to spend on groceries doesn't buy enough food to feed your family for the week.
You can't afford to go to the doctor when you're sick.
You are taking dangerous steps to "stretch" needed medications because you can't afford the prescriptions.
Your utility bills are past due and your power is in danger of being cut off.
You skip meals in order to save money or to have enough food for your kids.
You've lost your job or had your hours cut.
You have lost property due to foreclosure or repossession (such as your home or your vehicle).
Surviving the crisis
Times are tough but you can survive this.
1.) First you have to see exactly where you are.
It's time for a brutally honest assessment of your finances. If you use your debit card or credit card for most expenditures, you'll easily be able to see what you're spending and bringing in.
Print off your bank account statements for the past 2 months. On a piece of paper, track where your money is going. List the following
Rent/Mortgage
Utilities
Car payments
Vehicle operating expenses (fuel, repairs)
Insurances
Credit card and other debt payments
Telephone/Cell phone
Cable/Satellite
Internet
Extracurricular activities for the kids
Extracurricular activities for the adults
Dining out
Groceries
School expenses
Clothing
Recreational spending
Gifts
Miscellaneous (anything that doesn't fall into the above categories gets its own category or goes here)
Don't say to yourself, "Well, I usually don't spend $400 on clothing so that isn't realistic." If you spent it, then it's realistic. You are averaging together two months, which should account for those less common expenses. Brutal honesty isn't fun, but it's vital for this exercise.
So . . . what do you see when you look at your piece of paper with your average monthly expenditures for the past two months? Are there any surprises? Did you actually realize how much you've been spending? Most of us will immediately see places that we can trim the budget. Those $1-$5 purchases can really add up. Reining them in may just allow you to take care of an important need that you thought you could not meet.
It can't continue like this. The economy will not withstand it. Step one is to see where you can cut things out right now from the above expenditures. Can you reduce your grocery bill? Slash meals out? Budget more carefully for gift-giving and school clothes?
2.) Rethink necessities.
If your finances are out of control, the best possible reality check is a stark look at what necessities really are. It is not necessary to life to have an iPhone, a vehicle in both stalls of your two-car garage, or for your children to all have separate bedrooms. People in Southern and Eastern Europe right now will tell you, as they scramble for food, basic over-the-counter medications like aspirin, and shelter, that necessities are those things essential to life:
Water
Food (and the ability to cook it)
Medicine and medical supplies
Basic hygiene supplies
Shelter (including sanitation, lights, heat)
Simple tools
Seeds
Defense items
Absolutely everything above those basic necessities is a luxury.
So, by this definition, what luxuries do you have?
3.) Reduce your monthly output
Reduce your monthly payments by cutting frivolous expenses. Look at every single monthly payment that comes out of your bank account and slash relentlessly. Consider cutting the following:
Cable
Cell phones
Home phones
Gym memberships
Restaurant meals
Unnecessary driving
Entertainment such as trips to the movies, the skating rink, or the mall
4.) Waste not, want not.
We live in a disposable society. Food comes in throw-away containers. People replace things instead of repairing them. If you throw out more than a couple of bags of garbage each week, that's a very good sign that you may be wasting resources.
Before throwing anything away, pause and think about how it might be able to be reused.
Food: Many times small amounts of leftovers can be recycled into a brand new meal. Meat bones can be used to make broth or stock. Small amounts of veggies or grains can be frozen and added to a future soup or casserole. Leftovers can be frozen in meal-sized portions to take to work for a brown-bag lunch. (Learn more about repurposing leftovers HERE.)
Clothing: Clothing that is torn or damaged can often be repaired with only rudimentary sewing skills. If it has been outgrown or cannot be repaired, often the fabric or yarn can be reused for other purposes, from cleaning rags to fashionable accessories like scarves and headbands, or home items like throw pillows, potholders or rag rugs. When all else fails, the fabric can be used for cleaning rags or patches to repair other items. Keep jars full of buttons, elastic, and other notions that can easily be removed before you throw a clothing item away or relegate it to the rag bag.
Electronics: Obviously, initially you should attempt to repair (or have repaired) electronic items that are not working. If this is not feasible, are there components of the item that can be reused, either now or in the future? What about hardware such as screws or fasteners?
Containers: Most food comes in a container of some sort. Before throwing the container away, consider whether or not it might be useful. Glass jars, plastic tubs, and plastic bags can often be reused to store food in your refrigerator or to contain food in brown bag lunches. Clean aluminum cans can hold all manner of items, from hardware and tools in a workshop to sewing and craft supplies. Use your imagination.
5.) Take control of your food budget.
The price of food is skyrocketing. Who hasn't been to the grocery store recently and been shocked at the high price of that cart full of groceries or at the mysterious shrinking food packages that are the same price as yesterday's larger ones?
Stockpile: Create a stockpile of nutritious, healthy staples at today's prices to enjoy when the cost goes even higher tomorrow. (Learn how to create a frugal food stockpile HERE.)
Preserve: Learn to preserve food yourself when you come across a windfall. Pressure canning,waterbath canning, freezing, and dehydrating can allow you to take advantage of great sales or end-of-season scores.
Eat less: This suggestion isn't for everyone, but many of us could stand to shed a few pounds. Perhaps now would be a good time to cut back a little and shrink both your waistline and your weekly food bill. Lots of people eat for the sheer entertainment of it or out of habit. Next time you're watching TV, grab some mending or a crossword puzzle instead of a bag of potato chips. Dish out slightly smaller servings at dinnertime to leave enough to stretch the leftovers for a brown bag meal the next day.
Drink water: Skip the beverages and drink water instead. At less than $1 per gallon for purchased water you simply can't beat the price. It's better for you, also, than sugary drinks. If you are lucky enough to have well water or access to spring water, your drinks don't have to cost you a penny.
Focus on nutrition instead of convenience: Buy the best quality of food you can, and skip the processed, nutritionless convenience foods.
Grow your own. In the summer, grow the biggest garden you can. In the winter, or if you are an apartment dweller, put some sprouts and greens in a sunny windowsill to add some fresh produce for pennies.
6.) Reduce your dependence on utilities.
Energy rates are skyrocketing. As the prices begin to rise, more and more people will be unable to pay their bills and eventually their power will be shut off. Check your bill each month and as prices increase, use less power. Try some of these ideas to reduce your reliance and drop your bills.
Hand wash your clothing
Hang clothes to dry
Cook on a woodstove or outdoor grill
Can foods to preserve them instead of relying on a large chest freezer
Turn the heat down a few degrees and use non-grid methods to keep warm
Use rain barrels to collect water
Direct the gray water from your washing machines to reservoirs
Turn off the lights and open the blinds
Use solar lighting whenever possible
How do you intend to weather the storm?
There are bleak days ahead. Have you planned for this? What strategies do you intend to use to weather the financial crisis that is coming for all of us? What suggestions do you have for families who are undergoing their own economic collapses? Please post questions and ideas in the comments section below.
Source: The Organic Prepper
Quality of life degraded…

At the current rate of immigration, America faces 100 million more people from all around the world by 2050—37 scant years from now. That equals to 20 of our most populated cities being duplicated into 20 more of them. That means 100 million more people to water, feed, house, transport, warm and work. It means accelerated environmental devastation to our natural world.
That kind of demographic addition means those people face smooching, smashing and cramming into every nook and cranny of our already bursting concrete jungles, skyscrapers, walls of glass, gridlocked traffic and air-polluted cities that crush the human spirit.
New York City may look pretty on the television with a colorful light-filled skyline at night, but it's not pretty in reality. It houses 8.3 million people smashed onto subways all day long. The Big Apple faces gridlocked streets and highly toxic air pollution. The "City that Never Sleeps" features 250 square foot
apartments, the size of two car parking spaces, for couples that cost a fortune. Within 36 years, it faces from 2 to 5 million more people added to its burgeoning concrete jungles.
It means that every person breathing every minute of every day inhales toxic air with every breath. New York City and all cities of enormous sizes encase people in concrete, glass and steel 24/7. Their feet never touch the green Earth or enjoy a forest full of trees. They never see deer, elk, eagles or fox. Humans living in huge cities lose connection with the wilderness. In the end, they lose connection with themselves.
They drink contaminated water, breathe dirty air, get lost on crowded sidewalks, and they face spiritual and emotional duress. They also face fear from violence on the subways, alleyways and waterfronts. Notice CSI New York, or Miami, or Los Angeles crime shows. They showcase a lot of crazy people committing senseless crimes to unlucky people piled on top of one another. Last month in New York City, one woman pushed a man onto the tracks of a subway train: killed him instantly. Big cities foster the most aberrant behavior seen in humans. The bigger the city, the more aberrant the crimes.
John Muir said, "Tell me what you will of the benefactions of city civilization, of the sweet security of streets—all as part of the natural up-growth of man towards the high destiny we hear so much of. I know
That our bodies were made to thrive only in pure air, and the scenes in which pure air is found. If the death exhalations that brood the broad towns in which we so fondly compact ourselves were made visible, we should flee as from a plague. All are more or less sick; there is not a perfectly sane man in San Francisco."
For example: along with gridlocked traffic in my area of Denver, Colorado, we house 2.5 million people. Everyday, we suffer an average of 24 accidents on our bumper-to-bumper highways. You could get killed going to or from work. On weekends, trying to travel into the mountains gets you backed up for three or more hours on what used to take an hour. Returning from a skiing or camping weekend on I-70 and most other roads exasperates everyone and ruins the weekend. To think that mass immigration will flood Colorado with another 5, 10 and 20 million more people! It's nuts folks! Totally and completely crazy!
In Denver and most big American cities, you see bagmen, bag ladies, the lost and forgotten, homeless and drunks everywhere. You see trash flying around the streets from all the dispossessed who toss it everywhere. Denver's Platte River runs with bottles, cans, plastics and junk from a never-ending source of humans that don't care.
Every week in Denver, any number of people shoot, stab or run over someone. If you go to a small city of less than 5,000, you don't hear of a traffic accident or murder for years.
As we immigrate ourselves into a human pile-up, our quality of life degrades. We who work must pay for welfare services for all those who can't, won't, unskilled or are unable to work. By injecting ourselves with another 100 million immigrants from third world countries, we culturally face becoming a schizophrenic society.
The term "quality of life" indicates the general well-being of people and societies. A person's environment, physical and mental health, education, recreation, social well-being, freedom, human rights and happiness also remain significant factors.
By adding 100 million more immigrants to this country, which guarantees our cities explode beyond human imagination—do you think the above paragraph or the American Dream can withstand the migrant onslaught?
One look at Chicago's "Murder capital of America" statistics; Detroit's welfare wasteland and thousands of burned out city blocks; Miami's immigrant Central American underworld; Houston's endless traffic; Denver's 24/7 smog; Atlanta's sweltering smoke billowing from its expressways, Los Angeles' daily traffic-smog nightmare and track-housing packing Americans into monopoly-board-misery lacks any semblance to "Quality of Life."
If we fail to stop mass legal and illegal immigration, we guarantee a miserable future for all Americans of every race, creed and color.
Ecological footprint…
In the past week, our U.S. Congress tabled the egregious mistake of amnesty bill S744 projected to render a free pass for 20 million illegal migrants and their families. It also raises legal immigration from 1.0 million annually to 2.0 million.  For the moment, the American people stand a chance of not allowing an unending flood of humanity into the United States to drive our population to over 100 million added immigrants within four decades.
However, at the current rate of mass legal immigration of 1.0 million annually, we remain on course to add 100 million immigrants, their children and chain-migrated relatives by 2050—a scant 37 years from now.
That's enough people to duplicate the populations of our top 20 cities within the United States.  We would have to water, house, warm, transport, feed, work, educate and medicate 100 million more people.  That fact alone should sober the most optimistic individuals in America. It should cause every single one of our 535 Congressional critters to stand back to "see" the enormous tragedy their actions portend for all Americans of every race, creed or color.
The "Gang of Eight" U.S. Senators who created the amnesty bill S744 will prove some of the dumbest, most unintelligent nincompoops ever to walk the halls of Congress for their sheer stupidity in formulating that bill.
As this series progresses, you grow in understanding of the ramifications of adding 100 million immigrants.  You comprehend the enormity of the decision and its final outcome.  Please realize that Congress continues to push to pass amnesty.  They won't enforce our laws, our president won't enforce our laws; but they can't wait to legalize lawbreakers and employers who hire those lawbreakers.
What lies below the surface of adding 100 million immigrants?  We know that we face horrific energy depletion with that many added persons to our civilization.  But most don't posses a clue as to what lies beneath the waters of such a population-load on America.
Do you notice that humans encroaching on habitat around the world in such places as Africa, India, China and South America—create horrible species extinction rates? How many extinctions?  Answer: over 100 extinctions 24/7.  In other words, the human race thinks its endless population growth supersedes any other creature on the planet.
What does that mean for America?
In 2013, we lost 250 species to extinction in the lower 48 states according to the U.S. Department of Interior and we lose that many every year.   That equates to 2,500 living, breathing creatures every decade. They will never again exist on this planet.  How can that happen?
Ecological footprint on America
Ecological footprint may be the most unheard-of word in America, but its impact will grow more devastating in the coming decades—as we continue to lose more and more species to human encroachment on habitat.
To give you an example: an Ethiopian farmer uses .4 (4/10th) of an acre of land to feed, house and clothe himself and his family.  That's his ecological footprint.
However, when that same Ethiopian farmer immigrants to America at our behest, his ecological footprint jumps to a whopping 25.4 acres of land to support him.  Our standard of living runs hundreds of times greater in use of land, water and resources than a simple farmer from Africa.  But once he arrives, we force his "footprint" to jump more than 50 times.  (Source: www.allspecies.org)
If we add another 100 million immigrants within 37 years, do the math!  That 100 million legal immigrants X's 25.4 acres of land equals to 2.54 billion acres of land that must be destroyed to feed, house, educate, recreate, build malls, roads and a dozen other items that destroy natural habitat.
That's why extinction rates gallop at over 100 species per day worldwide as the human race rampages with an added 80 million annually, net gain.  In other words, the other creatures on the planet don't have say or a prayer. (Source: Norman Myers, Extinctions Worldwide, Oxford University)
But payback will arrive at some point. We will lose the grizzly bear, the moose, the bald eagle, the salmon, the hummingbird, the antelope, fox and hundreds of other creatures.  How?
It's called "cascading extinctions."  When you kill off one creature such as a prairie dog, you also kill off 67 other creatures that live-off that one furry rodent. Fox, coyotes, hawks, eagles and dozens more.   That's why you don't see those great creatures living in concrete-filled jungles called "cities."
Remember, we stand to duplicate the populations of our 20 most populated cities within 37 years, "IF" we continue the 1965 Immigration Reform Act; and faster if S744 bill passes with 2.0 million legal immigrants added annually.
In other words, our country will become as hostile and ugly toward other creatures as the Bengal tiger in India or the Snow Leopard in Nepal, or the elephant in Africa along with the gorillas, or the grizzly bear in Montana, or finally, this nation's symbol: the Bald Eagle.
Dear reader, we stand this watch in our nation's history.  What we allow today affects seven generations into the future. We actually walk on the faces of the children of tomorrow. What will we leave them?  What kind of environment? What kind of national parks?  What kind of landscape? What kind of habitat for other creatures?
What can you do?
We need to stop S744 and reduce all legal immigration to less than 100,000 annually.
 We need to work on conservation of all oil burning by mandating conservation, smaller cars, mass transit and more taxes to discourage accelerating use.
 We need to collective empower ourselves by joining www.CapsWeb.org ; www.NumbersUSA.org and www.Fairus.org
 We need to write major media email addresses and newspapers to force them to address this population nightmare.
Many of the freedoms we enjoy here in the U.S. are quickly eroding as the nation transforms from the land of the free into the land of the enslaved, but what I'm about to share with you takes the assault on our freedoms to a whole new level. You may not be aware of this, but many Western states, including Utah, Washington and Colorado, have long outlawed individuals from collecting rainwater on their own properties because, according to officials, that rain belongs to someone else.
Check out this news report out of Salt Lake City, Utah, about the issue. It's illegal in Utah to divert rainwater without a valid water right, and Mark Miller of Mark Miller Toyota, found this out the hard way.
After constructing a large rainwater collection system at his new dealership to use for washing new cars, Miller found out that the project was actually an "unlawful diversion of rainwater." Even though it makes logical conservation sense to collect rainwater for this type of use since rain is scarce in Utah, it's still considered a violation of water rights which apparently belong exclusively to Utah's various government bodies.
"Utah's the second driest state in the nation. Our laws probably ought to catch up with that," explained Miller in response to the state's ridiculous rainwater collection ban.
Salt Lake City officials worked out a compromise with Miller and are now permitting him to use "their" rainwater, but the fact that individuals like Miller don't actually own the rainwater that falls on their property is a true indicator of what little freedom we actually have here in the U.S. (Access to the rainwater that falls on your own property seems to be a basic right, wouldn't you agree?)
Outlawing rainwater collection in other states
Utah isn't the only state with rainwater collection bans, either. Colorado and Washington also have rainwater collection restrictions that limit the free use of rainwater, but these restrictions vary among different areas of the states and legislators have passed some laws to help ease the restrictions.
In Colorado, two new laws were recently passed that exempt certain small-scale rainwater collection systems, like the kind people might install on their homes, from collection restrictions.
Prior to the passage of these laws, Douglas County, Colorado, conducted a study a study on how rainwater collection affects aquifer and groundwater supplies. The study revealed that letting people collect rainwater on their properties actually reduces demand from water facilities and improves conservation.
Personally, I don't think a study was even necessary to come to this obvious conclusion. It doesn't take a rocket scientist to figure out that using rainwater instead of tap water is a smart and useful way to conserve this valuable resource, especially in areas like the West where drought is a major concern.
Additionally, the study revealed that only about three percent of Douglas County's precipitation ended up in the streams and rivers that are supposedly being robbed from by rainwater collectors. The other 97 percent either evaporated or seeped into the ground to be used by plants.
This hints at why bureaucrats can't really use the argument that collecting rainwater prevents that water from getting to where it was intended to go. So little of it actually makes it to the final destination that virtually every household could collect many rain barrels worth of rainwater and it would have practically no effect on the amount that ends up in streams and rivers.
It's all about control, really
As long as people remain unaware and uninformed about important issues, the government will continue to chip away at the freedoms we enjoy. The only reason these water restrictions are finally starting to change for the better is because people started to notice and they worked to do something to reverse the law.
Even though these laws restricting water collection have been on the books for more than 100 years in some cases, they're slowly being reversed thanks to efforts by citizens who have decided that enough is enough.
Because if we can't even freely collect the rain that falls all around us, then what, exactly, can we freely do? The rainwater issue highlights a serious overall problem in America today: diminishing freedom and increased government control.
Today, we've basically been reprogrammed to think that we need permission from the government to exercise our inalienable rights, when in fact the government is supposed to derive its powerfromus. The American Republic was designed so that government would serve the People to protect and uphold freedom and liberty. But increasingly, our own government is restricting people from their rights to engage in commonsense, fundamental actions such as collecting rainwater or buying raw milk from the farmer next door.
Today, we are living under a government that has slowly siphoned off our freedoms, only to occasionally grant us back a few limited ones under the pretense that they're doing us a benevolent favor.
Fight back against enslavement
As long as people believe their rights stem from the government (and not the other way around), they will always be enslaved. And whatever rights and freedoms we think we still have will be quickly eroded by a system of bureaucratic power that seeks only to expand its control.
Because the same argument that's now being used to restrict rainwater collection could, of course, be used to declare that you have no right to the air you breathe, either. After all, governments could declare that air to be somebody else's air, and then they could charge you an "air tax" or an "air royalty" and demand you pay money for every breath that keeps you alive.
Think it couldn't happen? Just give it time. The government already claims it owns your land and house, effectively. If you really think you own your home, just stop paying property taxes and see how long you still "own" it. Your county or city will seize it and then sell it to pay off your "tax debt." That proves who really owns it in the first place… and it's not you!
How about the question of who owns your body? According to the U.S. Patent & Trademark office, U.S. corporations and universities already own 20% of your genetic code. Your own body, they claim, is partially the property of someone else.
So if they own your land, your water and your body, how long before they claim to own your air, your mind and even your soul?
Unless we stand up against this tyranny, it will creep upon us, day after day, until we find ourselves totally enslaved by a world of corporate-government collusion where everything of value is owned by powerful corporations — all enforced at gunpoint by local law enforcement.
Source: Healthy Debates
Energy exhaustion…
Ten years ago, brilliant research-writer James Howard Kunstler wrote a book: The Long Emergency. He explained what America faces with its huge population when Peak Oil manifests on our civilization. I met him at a Washington, DC conference where he pointed out how fast America runs out of non-renewable resources.
Among the most important non-renewable resources we face in this century: oil.  As of 2011, according to the top oil geologist in the world, M. King Hubbert predicted that America's oil would peak in 1970.  He predicted that we would decline from nine million barrels of oil daily in the lower 48, to three million.  That's exactly what happened.
Hubbert also predicated the "Hubbert Curve" would show the Middle East and other oil rich countries facing depletion in the early to middle part of the 21st century.
(The Hubbert Curve shows us that we now face the last half of all oil reserves in the world as of 2011.  Numerous other oil geologists concur.  Humanity faces running out of oil by 2050 or sooner.)
Why?  Right now in 2013, humans burn 84 million barrels of oil 24/7.  If you lined up every 42 gallon drum of oil side by side at 20 inches per drum in diameter, at 84 million of them, they would form a belt of barrels around the globe at the equator some 25,000 miles.  We load them up every midnight and burn them down in the next 24 hours.  As can be imagined, that's a lot of oil being burned and a lot of carbon being expelled all over the planet, called "Carbon Footprint."
That Carbon Footprint warms our oceans and causes such typhoons like Haniyan, as well as hurricanes Sandy and Katrina.  I discovered that developing global phenomenon while I worked with top climate scientists in Antarctica in 1997-98.
Note this reason for this series:  we expect to add 100 million immigrants to America within 37 years. That's enough to duplicate our top 20 cities' populations in America. Those immigrants will be driving cars, warming their homes, using water and demanding food.
By that time, world population will add another three billion people demanding more oil to water, feed, house and transport themselves.
In Kunstler's book, he noted that China, because it's adding 27 million cars to its highways annually, expects to burn 98 million barrels of oil daily by 2030.  Did you get that number? Let me repeat it: China expects to burn 98 million barrels of oil daily within the next 17 years. That's more than all of the world burns in 2013 daily.
When you add the total of 10 billion humans burning oil by 2050, we face imminent depletion faster.  Amazingly, NO ONE will talk about it at the national level.  Obama, all world leaders and our Congress stick their heads into the sand as if it will go away. It won't. It's coming at us faster than a speeding bullet train with no brakes.
"The cheap oil age created an artificial bubble of plentitude for a period not much longer than a human lifetime….so I hazard to assert that as oil ceases to be cheap and the world reserves move toward depletion, we will be left with an enormous population…that the ecology of the earth will not support. The journey back toward non-oil population homeostasis will not be pretty.  We will discover the hard way that population hyper growth was simply a side-effect of the oil age.  It was a condition, not a problem with a solution. That is what happened and we are stuck with it."  James Howard Kunstler, The Long Emergency
No amount of conservation will save us because we remain on course to add 100 million immigrants.  China remains on course to add another 400,000,000, that's 400 million people.  India, also burning oil at an accelerating pace, expects to add 500 million people to reach 1.6 billion.
Folks, how do you pump in excess of 200 million barrels of oil out of the ground daily by 2050, burn it all up and not appreciate that our biosphere faces some serious "carbon footprint" overload?
As I research this information, I sit before my keyboard almost in a state of catatonic depression.  Future generations will face our utter disregard of reality by what we bequeath to them.
"As we go from this happy hydrocarbon bubble we have reached now to a renewable energy resource economy, which we do this century, will the "civil" part of civilization survive?  As we both know there is no way that alternative energy sources can supply the amount of per capita energy we enjoy now, much less for the 9 billion expected by 2050. And energy is what keeps this game going. We are involved in a Faustian bargain—selling our economic souls for the luxurious life of the moment, but sooner or later the price has to be paid."  Walter Youngquist, energy
Once oil depletes, what do we intend to fill our tractor gas tanks with for energy?   Some say, "Technology will save us."  I wonder how we will eat "technology" for breakfast, lunch and dinner.  Fact: nothing exists on the short or distant horizon that can duplicate the energy of oil.
With the Amnesty Bill S744, our Congress doubled our current legal immigration from one million to two million people annually.  That single bill expects to add 100 million immigrants, their babies, diversity visas and chain-migration faster than 37 years.  Once they land on America, we face Peak Oil's consequences with no way out.  The problem becomes unsolvable and irreversible.
What can you do?
 We need to stop S744 and reduce all legal immigration to less than 100,000 annually.
 We need to work on conservation of all oil burning by mandating conservation, smaller cars, mass transit and more taxes to discourage accelerating use.
We need to collective empower ourselves by joining www.CapsWeb.org ; www.NumbersUSA.org and www.Fairus.org
We need to write major media email addresses and newspapers to force them to address this population nightmare.
Start here by writing letters demanding these media people address this situation in America:
George Noory: coasttocoastam@aol.com ;
TheEarlyShow@cbsnews.com ; Charlie Rose:  charlierose@pbs.com
Today Show:  todaystoryideas@nbc.com
Matt Lauer:  today@nbc.com
O'Reilly: Oreilly@foxnews.com
Brian Williams: nightly@msnbc.com
Greta van Susteren:  Ontherecord@foxnews.com
Editor:  letters@washpost.com
Illiteracy and racial dysfunction…
Current U.S. Census Bureau figures show 22.3 percent of American citizens live below the poverty line.  That equates to 69,520,000 Americans.  They cannot secure a livable-wage job in order to pay for food, home, medical care and basic living in this country.
Within 37 years, demographic experts project an additional 100 million legal immigrants flowing into the United States of America.  They expect to arrive from Africa, Indonesia, India, China, the Middle East, Mexico, Central America, South America and many of the poverty-stricken countries of the world.  Their impact on America: they will force the addition, in sheer numbers, of an additional population enough to duplicate our 20 top metropolitan cities in the U.S. in 2013.
(Source: Pew Research Center, U.S. Population Projections by Fogel/Martin and the U.S. Census Bureau document those demographic facts.)
But what most Americans fail to understand stems from the fact that world human population expires at 57 million annually. Humans not only replace 57 million people, but also add an additional 80 million, net gain, to the planet annually. Total: 7.1 billion people in 2013.  That's 137 million new babies that need to be watered, fed, housed, warmed, medicated and educated annually.  Unfortunately, those countries with those fecundity rates cannot educate that many new children annually.  They lack teachers, books, supplies and schools.  Tragically, over 10 million children starve to death annually. (Source: United Nations Population figures.)
The tragedy of America's 1965 immigration bill added 100 million immigrants within 40 years; then, the 1986 amnesty accelerated the speed of the onslaught and now the proposed S744 amnesty bill expects to add another 100 million immigrants within 35 years or less.  Those desperate immigrants will pour into America at 200,000 every 30 days, along with their birth rates, diversity visas and chain-migration.
This five-minute video presents an example of illiteracy and what it costs you as this woman birthed 15 kids on welfare:
Why do you think those countries around the world suffer misery and starvation within their societies?  What causes it?  Why can't they duplicate Western skills for filling grocery stores to the brim with food like you see all across America?   Answer: illiteracy, lack of intellectual horsepower, cultural poverty, lack of water and arable land.
Unfortunately, we inject those factors into the USA at blinding speed. The new amnesty provides for two million, that's 2,000,000 million third world immigrants annually.  They average 900,000 births annually, which equals 9 million in 10 years. That's a total of 2.9 million legal immigrants annually. (Source: Dr. Steven Camorata, www.cis.org)  When you look at S744, you see 250,000 green cards annually and many more visas on all levels. We could see that 100 million accelerate our population even faster than the predicated 37 years to rush from 316 million to 438 million.
Along the way, we lack the funds, the teachers, the schools, the resources and the languages to teach the endless millions of kids inundating our failing school systems.  Over 85 languages create linguistic chaos in my Denver, Colorado school system with minimum of 50 percent dropout rates and as high as 67 percent.  Detroit, Michigan runs 76 percent dropout rates as reported by Brian Williams at NBC Nightly News.
We face colossal cultural and educational dysfunction.  What one factor drives failed states around the world?  Answer: illiteracy.
With over 42 million Americans who cannot read, write or perform simple math, we face enormous challenges that we will not be able to solve. Some 48.1 million Americans subsist on food stamps today. They cannot work, function, feed or house themselves.  Do any of us possess any idea what the next 100 million immigrants will mean as to food stamps, section 8 housing, welfare and medical care? How will we cope with their languages?
(Source: Tyler Durden, www.zerohedge.com, "23 percent of Americans illiterate.")
Racial and linguistic segregation across America
When people lack education, but see wealth on TV, they react. When they can't attain it, they shoplift, steal cars, form gangs and dwell in underworld ethnic enclaves.  You can see it in most failed countries in the world.
Today in Jackson, Mississippi, with a 90 percent African-American population, they elected a mayor who promotes changing five southern states of Louisiana, Mississippi, Alabama, Georgia and South Carolina into a separate Republic of New Black Afrika.
Journalist Andrea Ryan wrote, "Raising his fist in a black power salute during his swearing in, the newly elected mayor of Jackson, Mississippi was true to his character as a former leader of the black supremacy group, Republic of New Afrika.  The group is dedicated to transforming five of the Southern states into an independent socialist black nation.  Jackson Mayor Chokwe Lumumba, born in Detroit as Edwin Finley Taliaferro, is a radical activist, and co-founder of the Malcolm X Grassroots Movement.  He's, also, being praised by the Nation of Islam, who wrote in their publication, Final Call, that 'the seeds of a black nation are already taking root in Mississippi.'
In Detroit, Michigan, now 93 percent Black and Middle Eastern population, Muslims expect to dominate that population as their numbers grow in the USA from their current seven million to well over 20 million by 2050.  They possess the capacity to use the U.S. Constitution to install Sharia Law by voting power of the majority.  At some point, another Mayor Chokwe Lumumba could rise out of the ashes of Detroit to lead it toward a separate state or country.
In the UK, France and Belgium, Sharia Law Muslims thugs prowl the streets to beat up on anyone uninformed enough to visit during the night. Last month, in London, England, ten Sharia "police", caught on video, beat an American boy senseless and disfigured his face because he walked into the "no go zone" in the Muslim sector. France features over 70 "no go zones" dominated by Muslims.
Solid estimates in the USA show 22 Islamic "villages" guarded and walled off from public scrutiny in Pennsylvania, New York, Michigan and Oregon.
In Los Angeles, the legal and illegal Mexican-Latino population overwhelms schools, housing, hospitals and food stamp stores. California features four million illegal migrants and most of them work underground or with forged papers.  They defraud food stamp and housing welfare rolls.  Spanish fast becomes THE language of southern California.  Unfortunately, they fled Mexico where the average child drops out of school by sixth grade. They repeat that cultural practice in California.  At some point, a Spanish Chokwe Lumumba will rise out of the quagmire of Los Angeles to lead that arena into a satellite state of Mexico.
Short video on "EBT" (Electronic Benefits Transfer) food stamp cards paid for by your tax dollars to feed illiterate Americans who even ship the food to other countries. A rapper shows how to use them, steal them, trade them and defraud with them:
What does this all add up to in our country?
A first world country cannot continue at that level of excellence in the face of illiteracy and intellectual dysfunction.
A first world country cannot maintain its culture, language and educational levels of excellence by injecting itself with multiple languages, cultures and cultural illiteracy.
One look at the United Kingdom, France, Norway, Canada, Australia, Sweden, Belgium and Holland offers a depressing look at the final outcome of mass immigration from disparate cultures and failed-states worldwide.
Multiculturalism, illiteracy and multi-lingualism do not, cannot and will not maintain America as a cohesive, viable, educated and first world civilization.
Since it's not working in 2013, how will it work with another 100 million added immigrants within 37 year?  Answer: it will not!
This video brings this entire Western world nightmare into sharper focus:
"Immigration by the numbers—off the chart" by Roy Beck
This 10 minute demonstration shows Americans the results of unending mass immigration on the quality of life and sustainability for future generations: in a few words, "Mind boggling!"  www.NumbersUSA.org
Our situation will not become any prettier as we discuss the exhaustion of oil, resources and arable land in the next part of this series.
Acute water shortages, aquifers exhausted, contaminated rivers…
Few Americans understand what their children face within 37 years with the addition of 100 million immigrants to the United States of America.  The ramifications of passage of mass Amnesty Bill S.744 guarantee devastating consequences to our country.  I hope, as you read this series, you understand that your children will become victims of your apathy and inaction.
Instead of this crisis standing front and center at the national leadership and media levels—America's population predicament remains the most ignored, evaded and suppressed issue of our time.
I'm not exactly certain why we stand in denial of the effects of adding 100 million immigrants.  You could ask the average American on the street about the implications of S744 and he or she wouldn't possess the slightest idea of what you're talking about.
As a reminder validating the reason for this series: demographic experts project the United States adding 100 million immigrants to this country by 2050—a scant 37 years from now.  All totaled, since we reached 300 million in October of 2007, we will add 138 million people by 2050 to total 438 million people—enough to duplicate 20 of our top cities' populations to our country.  That 100 million people will have to be watered, fed, housed, transported and provided medical services. The enormity of it transcends understanding.  The Pew Research Center, U.S. Population Projections by Fogel/Martin and the U.S. Census Bureau document those demographic facts.
Today in America, seven states suffer water shortages in 2013: Florida, Georgia, Texas, New Mexico, Arizona, Nevada and California.  They may be able to water their populations at this time, but they stand on the edge of acute water shortages.
Florida sustains 18 million people in 2013, but demographic projections show them doubling to 36 million within 37 years—all of it because of legal immigration.  Texas, at 26 million, expects to hit 36 million by 2050.   The whopper granddaddy of them all: California holds 38 million on their way to 58 million.
What amazes me: no one whispers a word.  Somebody with a brain in the media or government must be pulling their hair out while wondering why the media always reports "downstream" or after the catastrophic event already occurred.
But when the "Water footprint" disaster hits, we will have already added 100 million immigrants.  At that point, everyone becomes victims.
(We pollute our drinking water with trash and chemicals all over the planet. Notice the mountain of plastic debris; but you can't see the chemical contamination within the water.  Not until, of course, you contract cancer.)  Photography www.lightstalkers.org
"Without sustainability, 'severe' water scarcity by 2050" By Andrew Nusca
"Today, 36% of the global population — approximately 2.4 billion people — already live in water-scarce regions and 22% of the world's GDP ($9.4 trillion at 2000 prices) is produced in water-short areas," said Nusca. "Moreover, 39% of current global grain production is not sustainable in terms of water use.
"According to IFPRI's analysis, current "business as usual" water management practices and levels of water productivity will put at risk approximately $63 trillion, or 45 percent of the projected 2050 global GDP (at 2000 prices), equivalent to 1.5 times the size of today's entire global economy. Moreover, 4.8 billion people (52 percent of the world population) will be exposed to severe water scarcity by 2050."
(This is the kind of water contamination I have seen in my world travels. Many beaches around the world feature knee deep plastic trash. Worse, most of it sinks to the bottom and disrupts ocean, river and lake eco-systems.  Yet, not one world leader or corporations calls for a 25 cent deposit-return law.)  Photography by www.lightstalkers.org
As their water shortages slam home, where do you think they flee?  Answer: first world countries.
Interestingly enough: these figures stand for our current 7.1 billion humans.  Projections show another 3.1 billion added to that to reach 10 billion by 2050.
Something will happen and it won't be pretty.
1 out of 6 people in the world lack access to clean water – that equals 1.1 billion people
9 million people will die this year from lack of access to clean water
Every 15 seconds a child dies from water related illness
Exactly how do we Americans think we will escape those realities by adding 100 million immigrants?
(Imagine millions gallons of chemicals being dumped into America's lakes and streams 24/7 because that's what's happening. Leaking gas tanks from gas stations and individual oil dumps poison our ground water. Dairy, beef, pig and chicken farms cause enormous ground water pollution.  Add another 100 million immigrants and we face humongous consequences that will become irreversible and unsolvable.) Photography by www.wikipedia.org
Facts about Pollution from Livestock Farms
Livestock pollution and public health
California officials identify agriculture, including cows, as the major source of nitrate pollution in more than 100,000 square miles of polluted groundwater.
In 1996 the Centers for Disease Control established a link between spontaneous abortions and high nitrate levels in Indiana drinking water wells located close to feedlots.
Manure from dairy cows is thought to have contributed to the disastrous Cryptosporidiumcontamination of Milwaukee's drinking water in 1993, which killed more than 100 people, made 400,000 sick and resulted in $37 million in lost wages and productivity.
Water expert Ken Midkiff said, "In just a few short decades in the US, we have depleted our water supply. In the eastern states, which once had an abundance of water, bitter disputes and legal battles have become commonplace over water shortages caused by overpopulation. In the western states, where water has always been in short supply, population growth in dry areas has led to water shortages that threaten to severely restrict or perhaps even bar further growth."
How do you "bar growth" by adding over 100 million people to America inside of four decades?
Just imagine with me: within 37 years, endless immigration will add 20 million immigrants to California.  Anyone want to guess the outcome of that many people on the water supplies?
Water is essential for all dimensions of life.  Over the past few decades, use of water has increased, and in many places water availability is falling to crisis levels. More than eighty countries, with forty percent of the world's population, are already facing water shortages, while by year 2020 the world's population will double. The costs of water infrastructure have risen dramatically. The quality of water in rivers and underground has deteriorated, due to pollution by waste and contaminants from cities, industry and agriculture. Ecosystems are being destroyed, sometimes permanently. Over one billion people lack safe water, and three billion lack sanitation; eighty per cent of infectious diseases.
"Pro-Israel Policy groups such as AIPAC work with unlimited funding to divert US policy in the region ( Middle East )"  Jack Straw, Member of Parliament and former Foreign Secretary of the British Labor Party
"The United States should drop a nuclear bomb on Iran to spur the country to end its nuclear program"    Sheldon Adelson, biggest donor to the Republican Party and major fundraiser for pro-Israel political action committees,  speech at Yeshiva University, New York City, October 22, 2013.
Introduction
The question of war or peace with Iran rests with the policies adopted by the White House and the US Congress.  The peace overtures by newly elected Iranian President Rohani have resonated favorably around the world, except with Israel and its Zionist acolytes in North America and Europe .  The first negotiating session proceeded without recrimination and resulted in an optimistic assessment by both sides.  Precisely because of the initial favorable response among the participants, the Israeli government escalated its propaganda war against Iran .  Its agents in the US Congress, the mass media and in the Executive branch moved to undermine the peace process.  What is at stake is Israel's capacity to wage proxy wars using the US military and its NATO allies against any government challenging Israeli military supremacy in the Middle East, its violent annexation of Palestinian territory and its ability to attack any adversary with impunity.
To understand what is at stake in the current peace negotiations one must envision the consequences of failure:  Under Israeli pressure, the US announced that its 'military option' could be activated – resulting in missile strikes and a bombing campaign against 76 million Iranians in order to destroy their government and economy.  Teheran could retaliate against such aggression by targeting US military bases in the region and Gulf oil installations resulting in a global crisis.  This is what Israel wants.
We will begin by examining the context of Israel 's military supremacy in the Middle East .  We will then proceed to analyze Israel 's incredible power over the US political process and how it shapes the negotiation process today, with special emphasis on Zionist power in the US Congress.
The Context of Israeli Military Supremacy in the Middle East
Since the end of World War II , Israel has bombed, invaded and occupied more countries in the Middle East and Africa than previous colonial power, except the US .  The list of Israel 's victims includes:  Palestine , Syria , Lebanon , Egypt , Iraq , Jordan , Sudan and Yemen .  If we include countries where Israel has launched quasi-clandestine terrorist attacks and assassinations, the list would be greatly expanded to include a dozen countries in Europe and Asia – including the US through its Zionist terror network.
Israel 's projection of military power, its capacity for waging offensive wars at will, is matched by its near-total impunity.  Despite their repeated violations of international law, including war crimes, Israel has never been censored at an international tribunal or subjected to economic sanctions because the US government uses its position to veto UN Security Council resolutions and pressure its NATO-EU allies.
Israel's military supremacy has less to do with the native techno-industrial 'brilliance' of its war-mongers and more to do with the transfers and outright theft of nuclear, chemical and biological technology and weapons from the US (Grant Smith "Ten Explosive US Government Secrets of Israel" IRMEP).  Overseas Zionists in the US and France have played a strategic (and treasonous) role in stealing and illegally shipping nuclear technology and weapon components to Israel, according to an investigation by former CIA Director Richard Helms.
Israel maintains huge nuclear, chemical, and biological weapon stockpiles refusing any access to international arms inspectors and is not obliged to abide by the non-proliferation treaty, because of US diplomatic intervention.  Under pressure from the local 'Zionist power configuration' (ZPC), the US government has blocked any action which might constrain Israel 's production of weapons of mass destruction.  In fact the US continues to provide Israel with strategic weapons of mass destruction for use against its neighbors – in violation of international law.
US military aid and technology transfers to Israel exceed $100 billion dollars over the past half century.  US diplomatic and military intervention was crucial in rescuing Israel from defeat during the 1973 war.  US President Lyndon Johnson's refusal to defend the unarmed intelligence ship, the USS Liberty in 1967, after it had been bombed and napalmed by Israeli fighter planes and warships in international waters, constituted a tremendous victory for Israel thanks to Johnson's Zionist advisers.  Because of its impunity, even in killing American servicemen, Israel has been given a free hand to wage aggressive wars to dominate its neighbors, commit acts of terrorism and assassinate its adversaries throughout the world without fear of retaliation.
Israel 's uncontested military superiority  has converted several of its neighbors to quasi-client collaborators:  Egypt and Jordan have served as de facto allies, along with the Gulf monarchies, helping Israel repress the region's nationalist and pro-Palestinian movements.
The most decisive factor in the rise and consolidation of Israel 's power in the Middle East has not been its military prowess but its political reach and influence via its Zionist agents in the US .  Washington 's wars against   Iraq and Libya , and its current support of the mercenary assault against Syria , have destroyed three major secular nationalist opponents of Israel 's hegemonic ambitions.
As Israel accumulates more power in the region, expanding its colonization of Palestinian territory, it looks eastward toward destroying the last remaining obstacle to its colonial policies:  Iran .
For at least two decades, Israel has directed its overseas agents – (the ZPC) – to destroy the government of Iran by destabilizing its society, assassinating its scientists, bombing its military establishments and laboratories and strangling its economy.
After the ZPC successfully pushed the US into war against Iraq in 2003 – literally shredding its complex secular society and killing over a million Iraqis – it turned its sights on destroying Lebanon (Hezbollah) and the secular government of Syria as a way to isolate Iran and prepare for an attack.  While thousands of Lebanese civilians were slaughtered in 2006, Israel 's attack of Lebanon failed, despite the support of the US government and the ZPC's wild propaganda campaign.  Hysterical at its failure and to 'compensate' for its defeat at the hands of Hezbollah and to 'boost morale', Israel invaded and destroyed much of Gaza (2008/9) – the world's largest open air prison camp.
Lacking military capacity to attack Iran on its own, Israel directed its agents to manipulate the US government to start a war with Teheran.  The militarist leaders in Tel Aviv have unleashed their political assets (ZPC) throughout the US  to work to destroy Iran – the last formidable adversary to Israel supremacy in the Middle East .
The Israeli-ZPC strategy is designed to set the stage for a US confrontation with Iran , using its agents in the Executive branch as well as its ongoing corruption, bribery and control of the US Congress.  ZPC control over the mass media enhances its propaganda campaign:  Everyday the New York Times and the Washington Post publish articles and editorials promoting Israel 's war agenda.  The  ZPC uses the US State Department to force other NATO states to likewise confront Iran .
Israel's Proxy War with Iran:  US Political Pressure, Economic Sanctions and Military Threats
Alone, Israel's 'war' with Iran would not amount to much more than its cyber sabotage, the periodical assassinations of Iranian scientists using its paid agents among Iranian terrorist groups and non-stop brow-beating from Israeli politicians and their 'amen crowd'.  Outside of Israel , this campaign has had little impact on public opinion.  Israel's 'was' on Iran depends exclusively on its capacity to manipulate US policy using its local agents and groups who dominate the US Congress and through the appointments of officials in key positions in the Departments of Treasury, Commerce, and Justice , and as Middle East 'advisors'.  Israel cannot organize an effective sanction campaign against Iran ; nor could it influence any major power to abide by such a campaign.  Only the US has that power.  Israel 's dominance in the Middle East comes entirely from its capacity to mobilize its proxies in the United States who are assigned the task of securing total submission to   Israel 's interests from elected and appointed government officials – especially in regard to Israel 's regional adversaries.
Strategically placed, 'dual US-Israeli citizens' have used their US citizenship to secure high security positions in the Government directly involved in policies affecting Israel .  As Israelis, their activities are in line with the dictates of Tel Aviv.  In the Bush administration (2001-2008) high placed 'Israel Firsters' dominated the Pentagon (Paul Wolfowitz, Douglas Feith), Middle East Security (Martin Indyk, Dennis Ross), the Vice President's office ('Scooter' Libby), Treasury (Levey) and Homeland Security (Michael Chertoff).  In the Obama administration the 'Israel Firsters' include Dennis Ross, Rahm Emanuel, David Cohen, Secretary of Treasury Jack "Jake the Snake" Lew, Secretary of Commerce Penny Pritzker and Michael Froman as Trade Representative among others.
Israel 's Proxy Power within the Executive branch is matched by its dominance of the US Congress.    Contrary to some critics, Israel is neither an 'ally' or 'client' of the US .  Evidence of the gross asymmetry of the relation abounds over the past half century.  Because of these powerful proxies in Congress and the Executive branch, Israel has received over $100 billion dollar tribute from the US over the past 30 years, or $3 billion plus a year.  The US Pentagon has transferred the most up-to-date military technology and engaged in several wars on Israel 's behalf.  The US Treasury has imposed sanctions against potentially lucrative trading and investment partners in the Middle East ( Iran , Iraq and Syria ) depriving US agricultural and manufacturing exporters and oil companies of over $500 billion in revenues.  The White House sacrificed the lives of over 4,400 US soldiers in the Iraq War – a war promoted by Israel 's proxies at the behest of Israel 's leaders.  The State Department has rejected friendly and profitable relations with over 1.5 billion Muslims by backing the illegal settlement of over half million Jewish colonists on military-occupied Palestinian land in the West Bank and Jerusalem .
The strategic question is how and why this one-sided relation between the US and Israel persists for so long, even as it goes counter to so many strategic and elite US interests?  The more immediate and pressing question is how this historically lopsided relation effects contemporary US-Iran sanctions and nuclear negotiations?
Iran and the Peace Negotiations
Undoubtedly the newly elected Iranian President and his Foreign Minister are prepared to negotiate an end to hostilities with the US by making major concessions ensuring the peaceful use of nuclear energy.  They have stated they are open to reducing or even ending the production of highly enriched uranium; reducing the number of centrifuges and even allowing intrusive, unannounced inspections, among other promising proposals.  The Iranian government proposes a roadmap with end goals as part of the initial agreements.  The European Union's Foreign Secretary Lady Ashton has commented favorably on the initial meeting.
 The US Administration has given conflicting signals following the Iranian overtures and the opening meeting.  Some individual comments are guardedly positive; others are less encouraging and rigid.  Administration Zionists like Jack 'Jake' Lew, the Treasury Secretary, insists sanctions will remain until Iran meets all US (read 'Israeli') demands.  The US Congress, bought and controlled by the ZPC, rejects the promising Iranian overtures and flexibility, insisting on military 'options' or the total dismantling of Iran's legal and peaceful nuclear program – ZPC positions designed to sabotage the negotiations.  To that end, Congress has passed new, more extreme, economic sanctions to strangle the Iran 's oil economy.
  How Israel's Political Action Committees Control the US Congress and Prepare War with Iran
The Zionist Power Configuration uses its financial firepower to dictate Congressional policy on the Middle East and to ensure that the US Congress and Senate do not stray one iota from serving Israel 's interests.  The Zionist instrument used in the purchase of elected officials in the US is the political action committee (PAC).
Thanks to a 2010 US Supreme Court decision, Super PACs-linked to Israel spend enormous sums  to elect or destroy candidates – depending on the candidate's political work on behalf of Israel .  As long as these funds do not go directly to the candidate, these Super PACs do not have to reveal how much they spend or how it is spent.  Conservative estimates of ZPC- linked direct and indirect funds to US legislators run close to $100 million dollars over the past 30-year.  The ZPC channels these funds to legislative leaders and members of Congressional committees dealing with foreign policy, especially sub-committee  chairpersons dealing with the Middle East .  Unsurprisingly, the largest Congressional recipients of ZPC money are those who have aggressively promoted Israel 's hard-line policies.  Elsewhere around the world, such large scale payoffs for legislative votes would be considered blatant bribery and subject to felony prosecution­ and imprisonment for both parties.  In the US , the purchase and sale of a politician's vote is called 'lobbying' and is legal and open.  The legislative branch of the US government has come to resemble a high-price brothel or white slavers' auction – but with the lives of thousands at stake.
The ZPC has purchased the alliance of US Congress people and Senators on a massive scale:  Of 435 members of the US House of Representatives (sic), 219 have received payments from the ZPC in exchange for their votes on behalf of the state of Israel .  Corruption is even more rampant among the 100 US Senators, 94 of whom have accepted pro-Israel PAC and Super PAC money for their loyalty to Israel .  The ZPC showers money on both Republicans and Democrats, thus securing incredible (in this era of Congressional deadlock), near unanimous ('bipartisan') votes in favor of the 'Jewish State', including its war crimes, like the bombing of Gaza and Lebanon as well as the annual $3 billion dollar plus US tax-payer tribute to Tel Aviv.  At least 50 US Senators have each collected between $100 thousand and $1 million in ZPC money over the past decades .  In exchange, they have voted for over $100 billion in tribute payments to Israel … in addition to other 'services and payments'.  The members of the US Congress are cheaper:  25 legislators have received between $238,000 and $50,000, while the rest got peanuts.  Regardless of the amount, the net result is the same: Congressional member pick up their script from their Zionist mentors in the PACs, Super PACs and AIPAC and back all of Israel 's wars in the Middle East and promote US aggression on behalf of Israel .
The most outspoken and influential legislators get the biggest chunk of Zionist payola: Senator Mark Kirk (Bombs over Teheran!) tops the 'pigs at the trough' list with $925,000 in ZPC payoffs, followed by John McCain (Bombs over Damascus!) with $771,000, while Senators Mitch McConnell, Carl Levin, Robert Menendez, Richard Durban and other Zionophilic politicos are  not shy about holding out their little begging bowls when the pro-Israel PAC bagmen arrive!   Florida Congresswoman Ileana Ros-Lehtinen tops the 'House' list with $238,000 for her 100% pro-Israel record as well as for being more war-mongering than even Netanyahu!  Eric Cantor got $209,000 for championing 'wars for Israel ' with American lives while cutting Social Security payments to US seniors in order to increase military aid to Tel Aviv.  House Minority Whip Steny Hoyer, got $144,000 for 'whipping the few wobbly' Democrats back into Israel 's 'camp'.  House Majority Leader John Boehner was paid $130,000 to do the same among the Republicans.
 The ZPC has spent huge amounts to punish and destroy a dozen or so dissident legislators who had stood up to Israel 's wars and grotesque human rights record.  The ZPC has poured millions into individual campaigns, not only financing opposition candidates who pledged allegiance to the Israel but mounting scurrilous character assassinations of Israel's critics in office.  These campaigns have been mounted in the most obscure parts of the US , including in majority African-American districts, where local Zionist interests and influence are otherwise absolutely nil.
There are no comparable PACs, Super PACs, party leaders, or civic organization that can contest the power of Israel 's Fifth Column.  According to documents archived by the courageous researcher, Grant Smith of IRMEP, when it comes to Israel , the US Justice Department has adamantly refused to enforce its own federal laws requiring the prosecution of US citizens who fail to register as foreign agents while working for a foreign country – at least since 1963.  On the other hand, the ZPC, through the so-call 'Anti-Defamation League', has successfully pressured the Justice Department, the FBI and NSA to investigate and prosecute law-abiding, patriotic US citizens critical of Israel 's land grabs in Palestine and the Zionist corruptors of the US political system on behalf of their foreign master.
The corruption and degradation of US democracy is made possible by the equally compromised and corrupted 'respectable press'.  Media critic, Steve Lendman, has pointed out the direct link between Israel and the mass media in his investigation of the New York Times.  The leading ('fair and balanced') journalists reporting on Israel have strong family and political ties to that country and their articles have been little more than propaganda.  Times reporter Ethan Bronner, whose son served in the Israel Defense Forces, is a long-time apologist for the Zionist state.  Times reporter Isabel Kershner, whose 'writing' seem to come straight out of the Israeli Foreign Office, is married to Hirsh Goodman an adviser to the Netanyahu regime on 'security affairs'.  The Times bureau chief in Jerusalem, Jodi Rudoren, lives comfortably in the ancestral home of a Palestinian family dispossessed from that ancient city.
 The Times unflinching pro-Israel posture provides a political cover and justification for the corrupted US politicians as they beat the war drums for Israel .  It is no surprise that the New York Times, like the Washington Post, is deeply engaged in disparaging and denouncing the current US-Iran negotiations – and providing ample space for the one-sided rhetoric of Israeli politicians and their US mouthpieces, while studiously excluding the more rational, pro-rapprochement voices of experienced former US diplomats, war-weary military leaders and representatives of the US business and academic communities.
 To understand Congress' hostility to the nuclear negotiations with Iran and their efforts to scuttle them through the imposition of ridiculous new sanctions, it is important to get to the source of the problem, namely the statements of key Israeli politicians, who set the line of march for their US proxies.
In late October, 2013, Former Israeli Defense Intelligence Chief Amos Yadlin spoke of 'having to choose between 'the bomb' or the bombing' – a message which immediately resonated with the 52 Presidents of the Major American Jewish Organizations (Daily Alert, October 24, 2013).  On October 22, 2013, Israel 's Intelligence Minister Yuval Steinitz, called for harsh new sanctions on Iran and insisted that the US use them as leverage to demand that Iran agree to entirely abandon its peaceful nuclear energy and enrichment program.  Defense Minister Moshe Ya'alon affirmed that ' Israel will not accept any deal that allows Iran to enrich uranium'.  It is Israel 's position to threaten war (via the US ) if Iran does not submit to unconditional surrender of its nuclear program.  This defines the position of all the major pro-Israel PACs, Super PACs and AIPAC.  They in turn proceed to dictate policy to their 'lick-spittles' in the US Congress.  As a result, Congress passes even more extreme economic sanctions on Iran in order to sabotage the ongoing negotiations.
 Those who have received the biggest Zionist pay-offs from the pro-Israel PACs are the most vociferous:  Senator Mark Kirk ($925,379), author of a previous sanctions bill, demands that Iran end its entire nuclear and ballistic missile program (!) and declared that the US Senate "should immediately move forward with a new round of economic sanctions targeting all remaining Iranian government revenue and reserves" (Financial Times, 10/18/13, p. 6).  The US House of Representatives (sic) has already passed a bill sharply limiting Iran 's ability to sell its main export, oil.   Once again, the Israel- ZPC – Congressional axis seeks to impose Israel 's war agenda on the American people!  In late October 2013, Secretary of State Kerry was 'grilled' for 7 hours by Israeli Prime Minister Netanyahu with the craven Kerry promising to promote Israel 's agenda on dismantling Iran 's nuclear enrichment program.
To counter the campaign to strangle Iran 's oil economy, promoted by Israel 's flunkeys in the Congress, the Iranian government has offered generous contracts to the US and EU oil companies (Financial Times 10/29/2013, p 1).  Existing nationalist provisions are being removed.  Under the new terms, foreign companies book reserves or take equity stakes in Iranian projects.  Iran hopes to attract at least $100 billion dollars in investments over the next three years.  This stable country boasts the world's largest gas and the fourth largest oil reserves.  Because of the current US ( Israel )-imposed sanctions, production has fallen from 3.5 million barrels per day in 2011 to 2.58 million barrels per day in 2013.  The question is whether 'Big Oil', the giant US and EU companies have to power to challenge the ZPC-stranglehold over US-EU sanction policy.  So far, the ZPC has dominated this critical policy and marginalized 'Big Oil' using threats, blackmail and coercion against US policymakers.  This has effectively shut out US companies from the lucrative Iranian market.
Conclusion
As the US and the 5 other countries attempt to negotiate with Iran , they face enormous obstacles overcoming Israel 's power over the US Congress.  Over  past decades Israel 's agents have bought the loyalties of the vast majority of Congress people, training them to recognize and obey the whistles, signals and script from the war mongers in Tel Aviv.
This 'Axis of War', has inflicted enormous damage on the world resulting in the deaths of millions of victims of US wars in the Middle East, Southwest Asia and North Africa .  The gross corruption and widely recognized bankruptcy of the US legislative system is due to its slavish submission to a foreign power.  What remains in Washington is a debased vassal state despised by its own citizens.  If the ZPC controlled Congress succeeds once again in destroying the negotiations between the US and Iran via new war-like resolutions, we, the American people, will have to pay an enormous price in lives and treasure.
 The time to act is now.  It is time to stand up and expose the role played by the Israeli PACs, Super PACs and the 52 Major American Jewish Organization in corrupting Congress and turning "our" elected representatives into flunkeys for Israel's wars.  There has been a deafening silence from our noted critics –few alternative media critics have attacked Israel 's power over the US Congress.  The evidence is openly available, the crimes are undeniable.  The American people need real political leaders with the courage to root out the corrupted and corruptors and force their elected members in the House and Senate to represent the interest of the American people.
Source: Prof. James Petras  |  Global Research
No doubt you have heard about the War on Drugs, the War on Terror and the War on Happiness. However, you may not be familiar with the War on God, possibly because it would be an unpopular war to discuss publicly. By the "War on God" (definition) we mean the collection of strategies, methods and techniques which have the combined effect of preventing or seriously hampering the efforts of individuals to seek or achieve legitimate Spiritual enlightenment and the Soul's eventual return to God.
The War on God is an ancient war. While the United States and other countries play an active role in this war today, they definitely did not initiate the war. If you want to use the Christian bible as a reference, you could argue that the War on God began shortly after man was created and rejected God in favor of Satan. Clearly, in some form, the War on God has existed throughout human history.
Today, the United States has effectively broken off diplomatic relations with God. The oligarchs who run the country never physically die and so their souls stay on Earth. Apparently, the United States actually believes that its technology, occult knowledge and black magic skills place it in a position which is superior to God.
We know from whistleblowers like David Morehouse that the United States sponsors and trains a cult of psychics to carry out psychic espionage (remote viewing) and also assassinations using psychic black magic techniques. According to clips of his various interviews on YouTube, it was the training in psychic assassinations which caused Morehouse to become disillusioned, quit the secret program and blow the whistle on the operation. Other countries may well operate similar programs but the details will remain unknown until someone defects and exposes them.
The leaders of the United States have always worshiped Satan. The United States was founded by a cult of Satanists known as the Masons and remains under control of that cult today. By rebranding their cult as a nation state, the cult created the appearance of legitimacy. Cult secrets simply transitioned to state secrets. Cult threats to kill anyone telling their secrets transitioned to the crimes of treason and espionage.
Nothing really changed except for the rebranding from a cult to a government. Today, essentially all members of the CIA, NSA and NASA are Masons. All US presidents have been Masons with the two exceptions of Abraham Lincoln and John Kennedy who were both assassinated.
The term "national security" refers to the security of the cult and not to the security of the general population. The Masonic motto is "If you are not one of us, you are nothing". The cult exists only to enrich itself.
The Masons study and practice the occult. Serious study begins after they take a formal oath of allegiance to Satan at the 30th degree initiation. Basic occult knowledge is neutral and everyone who advances Spiritually learns it. However, Masons seek this knowledge to gain power and control over others as opposed to knowledge for personal advancement. This choice, commonly called the Left Hand Path, places them in opposition to the will of God.
If the Satanists simply wanted to sell their Souls to Satan and mind their own business, one could argue that they had that right because they had free choice. However, the situation is not that simple. The Satanic oligarchs did freely choose to worship Satan. However, they also desire a comfortable life. They don't want to do any "grunt" work. Therefore, they have enslaved the remainder of humanity and are holding their Souls prisoner on this planet to service their needs. Therefore, if you, as an innocent Soul, ever plan to escape from this place and return to God, it is in your interest to investigate and gain an understanding of this war so that you will have an opportunity to Spiritually evolve. Otherwise, your Soul will remain a prisoner here — lifetime after lifetime — serving the Satanic overlords essentially forever.
Earth Based Religions
The phrase Earth Based Religions (definition) refers to religious schools which seek and use knowledge, including occult knowledge, to enhance their experiences during their human lifetimes as opposed to using the same knowledge to foster Spiritual development with the ultimate goal of achieving a stable non-physical Spiritual existence.
Although Pagan religions are usually grouped into this category, a more careful examination would reveal that essentially all mainstream religions are Earth based religions. Mainstream religions make constant references to God and Heaven but never explain exactly what they are talking about. Their books concentrate on historical narratives concerning how people in the past lived and coped with the basic problems of human physical existence. They never give details of any level of Spiritual existence or even any specific hints about what life beyond death will be.
Let's try an example. Suppose you have never seen a motor vehicle. You have heard vague stories that they exist, but that is all. Then, suddenly, you find yourself behind the wheel of a car on a high speed road like the US interstate system or the A roads in Britain. What would you guess would be your chance of survival? Try less than zero.
Now suppose you physically die. Suddenly, you find yourself in your Astral body. However, no one ever told you that you have an Astral body. It does not operate under the same rules as a physical body does. It is a very pliant and nimble body. It can travel in time to the past or future, access any plane and subplane in the Astral universe and research the absolute accurate and incorruptible records system known as the Akashic Records to name just a few. But, as in the previous example, you never learned how to "drive" it.
You would have done fine on the highway if you had gradually learned to drive a motor vehicle. You would do fine after death if you had some experience and training with your Astral body. However, no one ever taught you. What practical use is any religion that constantly rants about Heaven but offers no practical advice about your life after this life?
This information may have been a guarded secret in the past, but those days are gone. You can research this information to your heart's content on the internet, locate legitimate Spiritual groups and learn from those who can leave their physical body and explore the non-physical dimensions. But, don't expect any help from a mainstream church.
You might do well to recall the famous quote attributed to Jesus, "The truth will set you free". Mainstream churches are large, rich institutions. They did not get that way by "setting people free". They got that way by terrifying their followers with ridiculous horror stories of what will happen to them if they do not obey their crazy doctrines, stay with them and give them all their money.
Gnostic and other "non-traditional" religions may be Spiritual based as opposed to Earth based. Jesus always reminded everyone that he represented a kingdom "not of this world". If we had accurate records of his true lectures we would no doubt find practical instructions and information about this "other world". We don't have this information because any practical Spiritual teachings he might have given were censored out to create the simplified — but Spiritually sterile — mainstream religions we have today. They are simple to comprehend and follow but will not lead you anywhere except another physical lifetime somewhere on Earth.
Life Before Technology
Before technology life was simple. Although existence was hard, the opportunity for Spiritual experiences was greater than today. Consider, for example, all the empty time you would have as, say, a sheep herder. Nothing to do except make sure the sheep kept moving. In this situation, there was ample opportunity for the mind to wander and perhaps contemplate and glimpse other realities.
Also, and perhaps most important, no electric grid existed on the planet. Electric fields appear as solid "matter" in the Astral dimension and so can affect Astral experiences — generally in a negative way. Artificially created electromagnetic waves which blanket the planet today also have subtle and generally negative effects on living creatures.
Pagan groups generally conduct occult rituals outdoors and away from high population areas. When buildings are used, it is desirable that they be made only of wood and assembled without any metal (nails) and, of course, have no electrical wires.
Both good and evil existed before technology as they always have. It was possible to use psychological propaganda to influence and control susceptible masses of people. However, the positive and negative forces were more in balance. It was not possible for a single group to successfully dominate the planet.
Drugs existed in the form of various plants. Adepts learned how to use them to help or harm others. People with developed psychic abilities existed as they always have and white and black occult schools existed. Legitimate Spiritual masters existed.
Some techniques that thrived have essentially become extinct because the population of the planet has devolved. It is next to impossible to successfully teach Tantra (sex yoga), because today's generation is incapable of the required level of self control. Classic Tibetan yoga techniques are still taught in isolated areas, but the masters — for good reason — will no longer consider trusting outsiders.
Information Control Techniques
Information control is essential for protecting the integrity of a compartment. People are held as slaves by constructing an information box which holds the slaves in an information prison. As long as the "walls" of the compartment remain impenetrable, the compartment — or belief system — will be stable and no slave will escape.
Considerable energy is required to achieve this. Those assigned to protect the walls obviously know that the compartment is an intellectual illusion. Therefore, they must be sworn to secrecy and intimidated in such a way that they will not compromise the integrity of the compartment. It only takes one "leak" to initiate a chain of events which could collapse the compartment and so allow the slaves to escape.
Consider, for example, the Snowden leaks. One person sharing knowledge has totally destroyed the illusion of privacy that most people had accepted as fact. It will not be possible to reconstruct this illusion. The compartment has collapsed.
Similar principles apply in the Spiritual spectrum. Because of the characteristics of the human bodies in use on this planet, most people do not retain any conscious memory of events before they were born. This is not universally true. Life forms on many other planets retain the memories of previous existences. Because humans generally do not have this recall, they are easily enslaved and can be conditioned to believe most anything.
To maintain a state of Spiritual ignorance it is important to institute methods which will prevent people from realizing that they are actually Souls experiencing a constructed illusion. People somehow reaching this state, sometimes referred to as "self realization", will no longer respond to establishment propaganda and are generally considered a threat to the current social order.
The easiest and most direct method to achieve a stable slave population is simply not to talk about anything even vaguely esoteric. For example, how often have you heard the words astral, chakra or aura mentioned on a mainstream TV channel?
Most people will then likely "remain asleep" throughout their entire lifetime and will be no problem. Unfortunately, people have a natural desire — even though it may be an unconscious desire — to Spiritually evolve. It is, after all, the true purpose of human existence.
When someone tries to break away from the contrived illusions more direct methods are needed to return the slave to a state of ignorance. Today, various methods which cause brain damage — generally performed by psychiatrists — are used to negate any success in Spiritual evolution and return the slave to a state of vacant contentment.
Diversions and Techniques Promoting Inaction
The simplest and most effective diversionary technique is to promote scientific atheismand darwinian evolutionary philosophy as established fact. If you can get someone to buy into this philosophy, their fate is sealed. Even if they experience some contact with another dimension, such as an out-of-body experience, they will follow their programming, dismiss the experience as a delusion and refuse to investigate further. When they die, they will be totally lost and confused, flounder around on some lower Astral plane and eventually reincarnate just as Spiritually ignorant as before.
A side effect of accepting scientific atheism, which totally cripples Spiritual progress, is the acceptance of suicide as a way out of life's problems. Suicide becomes a learned reaction. Consequently, when the Soul is sent back into another physical lifetime, it is likely to commit suicide again when faced with some unpleasant event. It never learns, and this cycle can repeat essentially indefinitely. Dealing with this is one of the most difficult problems faced by the administrators who work on the Astral planes.
For those who want more than scientific atheism, there is mainstream garden variety religion. Mainstream Christianity has developed a clever stonewalling technique that has worked to promote inaction for thousands of years. This technique is centered upon the argument that no one can make any progress until Jesus returns to show the way. In the meantime, people should just do nothing and wait. The effect of this is essentially the same as scientific atheism. No Spiritual progress is made.
Schemes designed to waste time are common. One really off the wall example is the decision in Syria to prohibit vacuum cleaners and standard flat brooms in homes. "Witch type" brooms consisting of a circular straw bundle are allowed. Surely there must be a good reason to keep these terrorist weapons out of the reach of the typical Syrian housewife. The official reason is to make basic housework as difficult and time consuming as possible so as to prevent the woman from having any free idle time which, if allowed, could lead to the emergence of "immoral thoughts". Perfectly logical!
In the western world, complex bureaucracies seem to be deliberately designed to make the path to whatever you want as difficult as possible. Here the apparent motive is to prevent the acquisition of enough free time for any independent thought process. There are just not enough hours in a day to allow for any quiet contemplation of anything.
"Blank time" is always reported as a factor in the development of Spiritual figures. Time alone in the wilderness, time spent meditating alone in some isolated cave or at least periods of dedicated quiet time somewhere figure prominently in historical accounts of these people.
You may know or have heard of kids who spend all their waking hours playing interactive role model video games with other kids on the internet. They eat meals by the computer and never leave except to briefly sleep before returning to the all important game. Their entire life is spent in an imaginary reality. You may want to consider that your "real" life may not be all that different. You play a role. Your attributes are fixed by what society expects based upon that role. You can't change, because others would notice. Your concept of the world beyond your little world is determined by what you see on TV. Daily, you receive your "fix" of carefully choreographed "programming" which appears unusually coherent because, as you may not know or fully comprehend, everything on TV is controlled by a few corporations and all of them are loyal to the official government party line. If you somehow had the opportunity to break from this structured "game" you play from day to day — say, the opportunity to visit other countries and see other cultures — you would likely realize that your existence has not been that much different from the kid addicted to a computer game. You would find that the actual "real" world had very little relationship to the world you had been conditioned to believe existed.
Chemical Control Techniques
"With the use of chemical brain-control agents it may be possible to control the individual and the masses and to do this unobtrusively and without the active cooperation of the victims — not a question for the future — it is here".
This is a quote from the book by Edgar Cayce titled Edgar Cayce on Atlantis. There are references to Dr. Robert Galbraith Heath, and this book bears a copyright date of 1968. The book cites an interview that Heath gave to a newspaper called The Virginia Lighthouse and cites the above statement made by him on November 20, 1966. Heath founded the Department of Psychiatry and Neurology at Tulane University, New Orleans, in 1949 and remained its Chairman until 1980.
During this period, Tulane University actively participated in the CIA mind control project known as MK Ultra [1]. Also, during this period, Tulane became an active member of the secret Institute for Defense Analyses, or IDA, a corporation whose only client is the US government. Heath reportedly performed many experiments there involving electrical stimulation of the brain via surgically implanted electrodes. This work was reportedly partially financed by the CIA and the US military. Heath is now "officially" [11] deceased.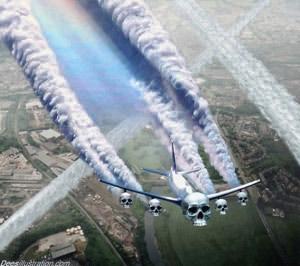 You have been drugged since you were conceived — before you were even born. Your mother was drugged. Soon after birth, you were injected with mercury containing vaccines. And the systematic process of poisoning you never stopped.
By some estimates at least eighty percent of the food in the average supermarket is poison either because it is genetically modified or laced with pesticides and other additives. Even the air is poison now because of geoengineering chemicals sprayed into the upper atmosphere.
It should be noted that things are different in the separate but parallel world of the elite. The Max Keiser show [12] discussed the secret gardens in Japan. These gardens are surrounded by high walls and guarded by the military. They produce the food for the ruling elite. Every plant in the garden has its own health certificate certifying that is pure, healthy and not genetically modified. Obviously, every developed country must have a similar secret supply chain of legitimate food for its ruling class. Certainly the elite know better than anyone that the food supply for the ordinary people is poison. They're not fools. They wouldn't touch the stuff.
Vaccines used for the elite are prepared without the mercury and other toxic additives found in vaccines given to the ordinary people.
Various agents — mainly from plants — have always existed which could be used by those aware of them to harm others or control people by altering their state of consciousness. However, only recently has it become practical to wreck the health of essentially everyone on the planet at the same time. Genetic modification of plants and other life forms used for food has made this possible. Now, quietly, people throughout the world can be sterilized, crippled with serious health problems or even killed by altering the genetic makeup of the food supply. Ordinary people remain generally ignorant of the fact that this awesome power exists and is presently being used against them.
Mind control has become a science. You can't major in it in college because this science is essentially entirely secret. The United States and other countries have spent the equivalent of billions of US dollars investigating and perfecting mind control.
Many secret research projects using unsuspecting or perhaps kidnapped people — some of whom were killed — have been conducted in the past and continue today. We only know about a very few of these projects such as MK Ultra, MK Naomi and Project Other. Even in these projects, specific details are sketchy. From these experiments, practical techniques for creating manchurian candidates and implanting created false personalities and identities have been developed and are in common use today within the secret communities.
Everyone has likely been the victim of some degree of mind control to some extent. Chemical weapons designed to mentally cripple people and render them drooling idiots are freely sold as prescription drugs in drugstores and are available to doctors to use as they please.
The lives of many kids are destroyed by these "drugs" because they have no ability to resist and their parents are ignorant and believe doctors can "do no harm". Actually, today's doctors are agents of the state. Many have top secret clearances and embrace classic Nazi philosophies such as eugenics. Their function is to watch you and make sure you "die appropriately" so as not to burden society. Anything they learn about you and anything you tell them is freely available to anyone in the intelligence community who is curious about you.
Only members of the super elite who are entitled to access top secret medicine will receive legitimate supportive medical care. Ordinary people will be deliberately allowed to die even though doctors with top secret clearances know of effective treatments which would cure them but which are classified and reserved for the chosen elite.
There is no such thing as an incurable disease any more. All the cures have been discovered. If you die, it is because you are not considered important enough to live and not because the cure does not exist.
Common sense should suggest to you that the lives of the elite have statistically different characteristics. For example, members of congress do not live sheltered lives. They work in close quarters and travel extensively both locally and internationally. They are always hanging out with prostitutes as well as playing with the young congressional pages.
Washington D.C. is reported to have more brothels than fast food joints. Strangely, however, these people do not get sick. Have you ever heard that congress had to shut down because everyone was coming down with some infection. It happens in other close populations, so what would make them exempt?
Understanding Astral Damage
Living things have an Astral component. For example, when you cut a leaf and then see the complete leaf on a Kirlian photo you are viewing the Astral component which was unaffected by cutting the physical component because it does not exist in the physical dimension.
Over one hundred years ago, practical techniques for viewing the human Aura were developed by Walter J. Kilner [4]. The original technique used dicyanin dye and a later technique used special glasses. You can't find either one today. In his research, Kilner was able to demonstrate that defects in the human Aura appeared before some corresponding disease manifested in the physical body.
Therefore, he was able to detect and prevent an adverse physical condition before it ever physically materialized. So, you ask, why don't we have this marvelous medical technique available today? Well, we do. It is in use in top secret medicine. However, only the approved elite now have access to it. The information has been removed from public knowledge and classified.
In conventional allopathic medicine, which is based upon scientific atheism and sold to the general public, there is officially no such thing as an Astral body. Conventional medicine denies the existence of anything beyond the physical dimension. Since the Astral body officially does not exist, it is not recognized as a crime to deliberately harm it.
Damage to the Astral body can be compared to damage to the physical body. If you punch holes in the physical body by cutting it, shooting bullets at it or whatever, blood runs out and germs get in. If you cause enough damage, the body dies. Astral bodies do not die, but can suffer critical energy losses. Similar to physical bodies, punching holes in the Astral body allows essential energy to escape and harmful energies to enter.
There are many events which can harm your Astral body. It is in your interest to understand these events because your Astral body will be your primary body when your physical body dies. If it has been damaged, you will be at a severe disadvantage. The chosen elite have perfect Auras because they can use the Aura balancing machines available to them at any top secret medicine provider. However, you cannot.
Also, the ruling elite seem to take some delight in causing harm to the "ordinary" people. Consequently, many drugs, food additives, GMO foods and industrial chemicals found in the environment cause Astral damage. Chemicals recognized as poisons and banned in other countries can be freely added to foods given to ordinary people in the US.
Obviously, there must exist a secret supply chain of safe food and water which is available to the chosen since they know of the contamination and certainly would not want to harm themselves or their friends.
There are ways to closely duplicate the secret techniques available only to the elite. If you can see auras or can find a reputable psychic who can, you can approximate the techniques developed by Kilner and available to everyone over a hundred years ago. Although the secret aura balancing machines are more accurate, a competent psychic healer can do the same thing. Actually, since psychics have always existed, similar techniques have been available throughout the ages to those who were aware.
Fluoride
The concept of adding fluoride to drinking water for the purpose of mind control is said to have originated in the 1930′s as a result of collaboration between German and Russian scientists [2]. Sodium fluoride was originally used and was found to cause a "mild lobotomy" in people who consumed small quantities. The effects were considered to be non reversible after one year of continuous use of the tainted water. Hitler added sodium fluoride to the water in his concentration camps to make the prisoners docile and cooperative as they waited for death.
Sodium fluoride (NaF) is used today in personal products like toothpaste. To poison the water supply of an entire country with sodium fluoride would be expensive. However, it just so happens that there is a waste product created during the manufacture of phosphate fertilizers, Fluorosilicic acid (H2SiF6), which is classified as hazardous waste and would be expensive to dispose of under EPA guidelines.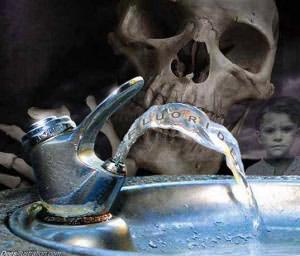 There is lots of this stuff available. This is the poison added to the public water supply in the US and some other countries. It is actually economical for industry because they don't have to pay for hazardous waste disposal. They just pump it into the public water supply.
In the human body, fluoride has an affinity for the pineal gland in the brain. The pineal gland is associated with the "third eye". Everyone has this third eye, but few are aware of it or know how to activate and use it.
Although the pineal gland is part of the physical body, the associated third eye is part of the Astral body and so is invisible in the physical dimension. The third eye allows you to see and communicate with the non-physical dimensions while fully awake and functioning in the physical dimension. So, you could see and carry on a conversation with someone in the physical dimension while invisibly also viewing and communicating with some entity on another plane of existence.
The standard Christian bible refers to the third eye with the phrase, "If thy eye be single thy whole body will be filled with light". However, only students of mysticism would recognize the true meaning of this quote.
Obviously, having this ability would be a threat to the security of any totalitarian society. Poisoning with fluoride destroys this ability and so solves that problem. Literature is available if you wish more detailed information. Simply search using the phrase "fluoride third eye".
On the chance that fluoride in the water is not sufficient to destroy any psychic abilities you may have, there are more aggressive ways to get fluoride into your brain. Here are some structural models of popular psychiatric drugs:
Notice that the element Fluorine (symbolized by its standard chemical symbol "F") figures prominently in all these compounds.
These drugs are used to cause "chemical lobotomy". By blocking communication channels with the higher levels of the human brain, they effectively convert the victim into a lower form of animal. Lower animals do not have the frontal lobes possessed by humans. That is what makes humans special. Disabling the frontal lobes effectively transforms a natural human being into, basically, a docile and obedient house pet which can be trained like a dog.
Incidentally, Fluorine also figures prominently in Sarin nerve gas.
For a more in depth study search YouTube for the free documentary Flouridegate — An American Tragedy by David Kennedy.
They All Drink From the Same Trough
If you casually look out upon the institutions of the world, it may appear to you that they are independent, discrete entities. However, they are not. They are all components of a collective which has successfully hidden its existence and true nature from the general population for generations.
Let's begin with the media in the US. Although it may appear to you that there are thousands of independent sources reporting "news", 90% of all media is controlled by six corporations. They are General Electric, News-Corp, Disney, Viacom, Time-Warner and CBS.
In the US, people believe they are protected from tyranny by the concept of "separation of powers" — that the executive, legislative and judicial branches of government are staffed by independent thinkers who "check and balance" each other. This is also a deception.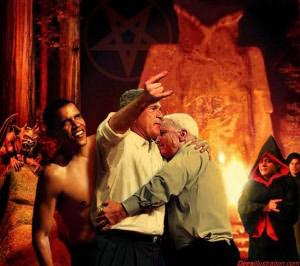 Once a year, at the end of July, there is a secret gathering on private property in the redwood forest of California called the Bohemian Grove. Although this annual meeting has been going on for over one hundred years, it is only during the last several years that outsiders have begun to learn of its existence. The only reason they have is because of the internet and independent journalism. Leaders from the mainstream media are all members of this secret club and so never even report its existence.
Who else goes to this annual secret "party"? Well, for want of a better name, we will call them the "Trusted Satanists". They are the leaders of all the major corporations, banks and representatives from all the major branches of the US government as well as foreign governments.
Although these men outwardly support the concept of capitalism for the masses, this elite group, among themselves, are perhaps best described as "rich socialists". Only men are allowed. For recreation, a stable of prostitutes — both male and female — are kept nearby off-site. The male prostitutes could theoretically enter the Grove.
The "party" begins with a Satanic ritual called "Cremation of Care" (i.e., "we don't care") which features the burning of a coffin at the base of a huge statue of an owl. Walter Cronkite reportedly was the official announcer at the grove until his death.
A secretly filmed video of this event is available on YouTube. It is supposed to be a "simulated" child sacrifice. However, since the CIA, FBI and NSA attend the ritual, who is going to complain on the chance it is a real sacrifice of a human child? After all, they are all trusted Satanists.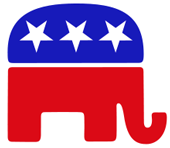 Most attendees from the United States are members of the Republican party. This is completely predictable in view of the fact that the US Republican party flaunts its affiliation with the "dark side" by prominently using the inverted star symbol on its official logo.
During the two week period, corporate leaders, the "independent" government regulators who supposedly keep corporations honest, the leaders from the executive, legislative and judicial branches of US government who are supposed to be "checking and balancing" each other, as well as the media moguls who we "trust" to report the truth, are all running around naked in the woods — pissing on the trees, playing with each other, and the male prostitutes as well as the off-site female prostitutes, and "having discussions".
Well, what are they "having discussions" about? They are discussing what they plan to do with "their world". The Manhattan Project to develop the first atomic bomb was reportedly planned at one of these discussions years ago. What about you? What about your future? What about any expectation of happiness you may have? Well, you see, you "don't need to know". Remember, "If you are not one of us, you are nothing".
Blueprints For the New World
Overview
If this link [7] is still active, it would be in your interest to read through it. This document is a transcript of a speech given by one of the insiders in the year 1969. He boldly states,"Everything is in place and no one can stop us now".
The article details how people ("people" means the slave class who are "nothing"; recall: "If you are not one of us, you are nothing") will just have to get used to changes such needing permission to have children, accepting mandated euthanasia as the law and total surveillance. Essentially all goals are now achieved, although some still remain guarded secrets.
The 1960′s was the period when physical death was eliminated. Of course, this "privilege" is only available to the select Satanic oligarchs. Effective cures for all diseases were also developed. The speaker [7] states that the cures are on file in the Rockefeller Institute. Of course, most are classified and only available to the chosen elite.
Infrastructure
The PBS documentary, Top Secret America [8], presents a good overview of the secret world of the elite. You may think no one is paying attention to the infrastructure in America because streets are in disrepair and bridges are falling down. However, you would be wrong. A tremendous amount of money is being spent on infrastructure in America — for the chosen elite. You will never see it and you will have no need for the decaying bridges and streets because you won't be around to use them. You, as well as 90+ percent of the current population, will be killed in the "Great Culling".
The new infrastructure is quite elaborate as the documentary explains. It consists of thousands of buildings which have a few stories visible above ground but which then extend for 90+ stories underground. All amenities are available within these secret structures which are basically self-sufficient.
It is important for the buildings to reach deep underground so that the lower levels can connect to the secret underground transport network. This network is global and provides safe high speed transport for the elite. Whenever the network crosses a tectonic plate, massive amounts of silicone are used to allow the transport tunnel to flex as needed. The network has access points in all countries. However, these points remain secret in countries which have yet to be subdued and co-opted into the new world order.
NWO Enabling Documents
The treaty known as the Trans-Pacific Partnership appears to be the formal enabling document for the new world. The actual document is secret and only high level corporate executives and politicians are allowed to see it.
Even after the treaty goes into force, its contents will remain secret. Because, in the United States, treaties must be openly debated in congress, the treaty is being called an "agreement" to circumvent the law and keep its contents secret. However, some details have become known.
Although the planet is officially divided into "sovereign" countries, it is overlaid with a network of transnational corporations. This network basically forms a parallel government which encircles the globe. The Trans-Pacific Partnership is designed to cause any country which signs on to surrender its national sovereignty to a secret committee composed of corporate executives. This committee can then alter the constitution and laws of any country which has accepted the treaty as suits their whim. There will be no appeal against this.
Under the treaty, there will be only one purpose to human life. That purpose will be to maximize the profits of the cabal of transnational corporations which will now be essentially a single global corporation in absolute control of the world. This effectively institutionalizes the new world order.
What does this mean for you? Well, to begin with, there can be no retirement. Paying for retirement would negatively impact corporate profits. So, if you can't work, you will be killed. Taking care of sick people would also drain corporate profits. It would be more profitable just to kill the sick and replace them with young, healthy slaves. Disabilities — forget it — disabled kids will never make it out of the womb alive.
Reeducation
To come into compliance with the philosophy of the new world, people will need to be reeducated. Military instruction documents [6] are already teaching that the Founding Fathers of the United States were extremists and anyone who thinks like them would not be suited for today's military.
Well, what did these radical extremists think?
"We hold these truths to be self-evident, that all men are created equal, that they are endowed by their Creator with certain unalienable Rights, that among these are Life, Liberty and the pursuit of Happiness."
Obviously, these principles are not compatible with the new world. The idea of a "Creator" conflicts with the official doctrine of Evolution. We can't have that. People must accept that they and the universe they live in is simply an "accident".
People are already realizing that Liberty and Happiness are gone. They know now that they live under constant surveillance and their lives get worse year after year. How about the right to Life? Can't have that. People need to be reeducated to believe that it is their "duty to die" when they are no longer useful to the state (which is now the global corporation).
Of course, the global elite will live physically forever but ordinary people will not know this.
If a world where people are conditioned to want to die and do not want kids but just sleep around for fun sounds vaguely familiar to you, you might recall that this is the future society described in Huxley's classic novel, Brave New World.
Population Modification
Please refer to [9] as a reference source. Today's "great thinkers" seem to be coming into agreement that most people are unnecessary and need to be exterminated for the convenience of the elite. Bill Gates, who has now been accepted into the super exclusive Bilderberg group, has reportedly taken the task of exterminating the third world population by giving them "free" vaccinations which will render them sterile.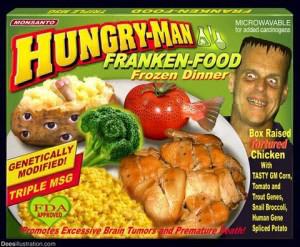 Lots of groups are working on secret sterilization methods. European tests of Monsanto's GM soybeans on hamsters showed the animals became sterile by the third generation [12]. A new gene known as Epicyte [9] is planned to be added to GM corn which will cause immediate sterilization.
Additionally, people are being "eased into" accepting the concept of "after birth abortion". Intellectuals are trying to get people to accept the argument that living human children under three or perhaps even five years old are really "not people but advanced feotuses". Since abortion is already legal, a simple change in the definition of "feotus" would allow young kids to be killed at will for any reason.
Another "new thought" gradually being programmed into the young is the pleasure of the "childless lifestyle". This propaganda seeks to convince people that having kids is too much trouble and they will be happier if they just get sterilized and then run around having lots of sex purely for fun.
These "evolutionary" population control techniques are already in effect. However, the elite likely are not willing to wait several generations to get rid of those they do not need. This brings us to the more direct method commonly called "The Great Culling" which will allow the elite to kill off most of the world's population quickly.
The most likely method will be the release of new designer viruses for which no one will have any natural immunity. Of course, the elite will all get the classified antidote. Preparations for the disposal of the bodies is already complete and stockpiles of plastic coffins — each designed to hold three bodies and manufactured under government contract by Halliburton — have been photographed and documented. Everything is now in place awaiting the "go" command.
Designer Children
Some types of designer children have already been approved for "production". Britain has approved three parent babies [10] and China has proposed a process to artificially fertilize most of a woman's eggs and then examine them to determine which is likely to produce a child with the highest IQ. This will be the only selected egg because Chinese women are only allowed to have one child and must then be sterilized.
In the new world where the only purpose of people will be to do slave labor to serve the elite corporate masters, the concept of allowing the existence of children conceived naturally clearly cannot be allowed. There would be an unexceptable chance for some kind of error that could result, for example, in the creation of a being capable of independent thought who might challenge the establishment.
A man's true worth is measured by the amount of other people's happiness that he can possess and destroy
This is a quote from the docudrama The American Ruling Class [5]. It is worthy of discussion because it is so prophetic.
The Satanic oligarchs who run this world basically exist and thrive on the misery of others. It is not enough just to use and abuse you — they want to consume your Soul. Your misery and suffering is, essentially, their "food". It is the source of their energy.
Ordinary innocent Souls are sustained by the life energy which flows from the Creator. However, since the oligarchs hate God, this energy flow is not available to them. So, they essentially survive by consuming the life energy of the innocent Souls they have captured and enslaved.
Ordinary people do not naturally choose to spend their lives in a state of constant war. They have to be somehow coerced into this behavior. Otherwise, they would likely seek a quiet, peaceful life. The atrocities the US and other warmonger nations force their citizens to commit are so contrary to basic human nature that the US loses more soldiers to suicide than it does to the enemy. The once innocent soldiers find that they simply cannot continue to live with what they have become and the memories of the horrors they have caused to others. The Satanic rulers who create wars, of course, have no problem with this.
Promotions within the inner circles of power are based upon how much evil one has done. The more harm you cause to others the greater your respect. You may have noticed that the stock market, which is a measure of the success of the elite, shows gains during periods when the average person is suffering and losses during periods when, somehow, life for the ordinary person seems to improve. The stock market set a new all time high, for example, during the Vietnam War when innocent young kids were being drafted and slaughtered in Vietnam while peaceful protesters at Penn State were executed by government forces for daring to dissent.
Why You Should Care
On the low Astral planes you will find people — Souls — who are totally lost and confused and seem to move in slow motion. They do not realize they have died. These "people" are not there because they tore up the Bible or burned the Koran or some other offensive act. They are there simply because it is the best they can do. They are using all of the Spiritual energy they have just to maintain this miserable existence. Whatever activities they engaged in while alive had no Spiritual merit and had no effect on developing or increasing their Spiritual energy level. Since the opportunity to do this ended when they died, they will remain strung out in this condition until they reincarnate again at which point they will have another chance to choose activities which enhance Spiritual energies.
You should care because the things you do and the things you fail to do during your brief life here will affect your existence for millions of years in the future.
The other dimensions operate under exact scientific rules just like this dimension. However, the rules are not the same. Because alternate sources of information are available today — mainly because of the internet — it is in your interest to at least investigate the available literature on Spirituality, energy raising techniques and various first-hand reports from people who have successfully visited the neighboring dimensions.
Source:  Walter C. Vetsch   |   3108.info  |  War Is Crime