All the attention over the epoch vote by Crimean's to leave the Ukraine makes for a timely review of other separatist factions that are seeking a similar resolution. The List of active separatist movements in Europe is exhaustive. The immediate impression is that a pervasive discontent, shared by legions of subjects, who want independence and self-determination, will be hard to derail. When European autocratic and aristocrats ruled, the only option was revolution. Today the descendants of the old regimes still wheeled power under the guise of democratically elected authorities. However, separatist sentiment does not mean the same to every splinter group.
Examine Europe's Latest Secession Movement: Venice, for a telling indicator.
"An organization representing a coalition of Venetian nationalist groups, held an unofficial referendum on breaking with Rome. Voters were first asked the main question -"Do you want Veneto to become an independent and sovereign federal republic?" -followed by three sub-questions on membership in the European Union, NATO, and the eurozone . . .

As the referendum's organizers announced the results: 2,102,969 votes in favor of independence—a whopping 89 percent of all ballots cast—to 257,266 votes against. Venetians also said yes to joining NATO, the EU, and the eurozone."
Note the significance of wanting to be part of NATO and the EU.
Next, look at the more widely reported effort, in the land of "Braveheart" William Wallace. Scottish secession remains unlikely, but momentum is with the schismatics provides a more stately viewpoint from the Commonwealth.
"After months of comfort for the pro-unionist 'Better Together' campaign, the most recent polls point to a tighter race with 40 percent of Scots supporting secession. With six months to go, the momentum appears to be with those seeking an amicable divorce.

Scottish independence would not lead to a republic. Queen Elizabeth II (I of Scotland) would remain head of state, a smart move by the 'Yes' campaign to de-radicalize independence and make the electorate feel more comfortable with a vote for change. The debate has therefore become more focused on incrementalism, with plans for an independent Scotland retaining both membership of NATO and the European Union, a common currency with the rest of the UK, and open borders."
A video from the Carnegie Council gives a spin in Which Separatist Movements Will Succeed, which plays down the urgent motivation for "FREEDOM" for an evolutionary approach.
An essay out of Wharton, Is Secession the Answer? The Case of Catalonia, Flanders and Scotland, points out the obvious, while illustrating the problematic.
"It may seem paradoxical in an age of global communications, but the revival of regionalism "is a global phenomenon," notes Jacob Funk Kierkegaard, a senior fellow at the Peterson Institute for International Economics, a Washington, D.C. think tank. Today's high-speed technologies, including the Internet, "enable people to start a campaign and get out their message" quickly and repeatedly to like-minded people who might have harbored such desires in private.

Beyond its unique constitutional challenges, Catalonia faces another hurdle: The eurozone has a de facto veto over its independence. "If Catalonia becomes independent, will they [still] be part of the eurozone?" Kierkegaard asks, adding that, if Catalonia votes to secede, the EU response could be that "you will have to issue your own currency, and your banks will have no access to the European Central Bank. You won't automatically have a seat on the ECB governing council."
The Spanish situation, by contrast, the establishment would have you believe the militant Basques ETA nationalists harbor violent resolve. The YouTube Thousands March In Spain In Support Of ETA, reports that the EU labels this movement as terrorists. Therefore, it comes as no surprise that the Catalan Sovereignty Claim Blocked by Spain Constitutional Court, is but a spillover effort to discredit the Catalonia's claim. "Sovereignty is "not contemplated in our constitution for nationalities and regions that make up the state" and no one can break the principle of the "indissoluble unity of the Spanish Nation," the ruling said.Such illustrations, all exhibit unique local concerns and grievances, while sharing a basic distrust of national authority. What stands out is an anserine eagerness to remain part of the EU and NATO. This factor may be a distinctively European trait, which seems to be lacking in the proper understanding that the surrender of national authority to a body of central banksters, social technocrats and empire military mercenaries, is the fundamental cause of popular dissatisfaction.
Pat Buchanan in the article, Is Red State America Seceding?, provides numerous other European examples of discontent, then goes on to cite secession initiatives in the United States. It is striking that our countries unique experience has a shape difference from the blue-blooded patricians' clashes that mark the history of Europe. Because of this difference, the indigenous cultures on the continent have never developed the same passion of individual liberty, which is inborn in the American revolutionary spirit.
Applying the same principles defended in the View from the Mount essay, Secession Movement Ready to Take Hold, would serve our European cousins well, in breaking up the EU and their NWO oppression.
"Governments fall, while a consensual nation state can still survive. With the destruction of an accepted traditionalistic national identity, time-honored heritage becomes the target of dictatorial "do gooders" who facilitate subjugation of independent self-governing states.

Blowing out the candles of federal absolutism is the imperative of our age. Secession is not a dirty word, but is an indispensable solution. Dissolving the union of the suppressed, under the auspices of the subverted elite, is the path to social freedom and human liberty."
Libertarian and author L. Neil Smith argues, "What happened in America in the 1860s was a war of secession, a war of independence, no different in principle from what happened in America in the 1770s and 1780s." Compare most of the secession movements in the 21th century as half measure efforts that are not willing to take on the yoke of the globalist central banking financial system. The lessons presented in the Radical Reactionary article, Representation, Secession and Taxation, should be applied and adopted by the European secession movements.
"As discontent rises and practical solutions evaporate, that dirty historic sentiment begins to bubble to the surface, SECESSION. Russell D. Longcore provides a standard, when secession is a vital and justified option that many would accept."Secession should be solemnly deliberated by the elected representatives and the state citizens. Secession should be initiated at the moment that any state reaches the point at which it will no longer accept the despotic tyranny and laws coming from the US Federal Government in Washington, DC. Or, secession should be initiated upon a collapse of the Dollar, or the imposition by Washington DC of martial law in the event of social upheaval."

Discontent is not enough to overthrow the tyrants, who have definitively proven, that a European Union based upon top down authoritarianism is a lawful substitute for locally ruled government based upon common ethics and cultural heritage.
The dramatic rise in opposition to the ruling elites is most encouraging in the eternal struggle against despotism. However, the European socialist welfare model has produced generations of soft stock and irresponsible subjects. Surrendering national sovereignty was the monumental failure of the post war era. Open borders to a confederation of dissimilar ethnic groups, attracts the disparate and incongruent, which builds even more pressure for secession.
As it stands today, the prospects for successful secession movements to attain their independence and autonomy are slim because each are fragmented. The correct and necessary element for separation, must be based upon, the dissolution of the European Union and the elimination of the central banking system, under the control of the international banksters.
Countries need to exercise their proper authority to coin their own currencies and maintain low taxation levels that fund minimum governmental functions.
While such a goal and objective is justified, the globalist controllers will not allow a serene exit from the monolith that they created. Marginal regional self-rule may eventually be reluctantly recognized, only if the basic leviathan structure remain intact and accepted by disgruntle camps. Notwithstanding, that approach can and will never bring about a restoration of national self-determination.
It is time for secession movements to unit and coalesce around a few fundamental principles, which they all share. The regional concerns are issues for local administration. Taking on the monster of globalist governance is a universal task.
Consequently, the undertaking domestically is to build ground swell defiance that moves past a modest grassroots opposition to incorporate the bulk of the rapidly declining middle class. This genuine moral majority must be willing to marginalize the federal government and restore the rightful authority of individual state jurisdiction.
If timid and docile Europeans are engaging in secession movements in such significant numbers, what is the excuse for industrious and energetic Americans from doing the same? This was the country for the home of the brave. Now is the time to restore that outlook with direct action.
For the last half century, the American population, subjected to the greatest dumbing down experiment of psychological manipulation in all of history, has resulted in the adoption of a cultural separation from realty and true self-interest. With all the glorious aspirations, that celebrate a diverse society, the fact that humankind shares the same planet usually is not enough to resolve disparities. While DNA similarities are the basis of the specie, the genetic differences among races, put aside and banished from polite conversation, still are true and significant. Yet the civilizations that make up this world function as if the tribal differences are often paramount in the social order.The intentional indoctrination that all races are equal rests upon a specious supposition that the goals, objectives and ambitions assign a uniform desire. Once upon a time immigration to the New World came from a European heritage. That influx of settlers provided a similar experience if not an identical cultural attitude. With the introduction of the slave trade economy, the forced transplanting of African captives, initiated a road to social dissolution as demonstrated in today's racial conflicts.
The notion that this country is a harmonious society fails because of a very basic element that few people will admit. Blacks, Caucasians, Oriental, Native Americans and any combination of mixed races all have an opportunity to interact and grow in moral character and intellectual honesty as the sins of the past are put to rest, in the reciprocal objective of creating a mature society based upon mutual respect.
However, respect needs to be earned and is not an intrinsic ingredient automatically granted to every cultural social mind-set.
Individuals have the ability to make choices. Choosing civilization over barbarianism is within the grasps of any sincere and ethically committed person.
This object of civilized unity builds a future for the greatest numbers. Recognizing that deliberate induced racial animosity has a profound political purpose is essential to understand the motives behind distorted news reporting and the progressive policy agenda that seeks to conquer by dividing the different factions, which populate the country.
Reformist activism, usually portrayed as shaping government programs that provide for "so called" well-intentioned coercive laws and regulations, is the media narrative that insults the intelligence of any thinking person.

No better example of this televised psychosomatic pollution that inflicts a national disease of artificial guilt is MSNBC. The notorious medicine-man dispenser of this kind of poison is Al Sharpton. The Reverend has a long record of demeaning his own brothers and sisters by bring new meaning to the term, Kaffir.
In The Daily Caller, political reporter Caroline May cites Sharpton's consistent race baiting tirades.
"MSNBC host Reverend Al Sharpton invoked race over 200 times last year, according to a new tally by the conservative Media Research Center.

According to the analysis by Katie Yoder the liberal host said "race," "racism," or "racist" 215 times in 2013 during his MSNBC show PoliticsNation.

"From opposition to the Obama agenda to guns and even into fashion and food, Sharpton's finely tuned nose for racism rarely took a day off last year," Yoder wrote.

In an example the MRC notes that Sharpton was able to invoke race five times in a single paragraph about Republican attacks on Barack Obama and Attorney General Eric Holder."
Back in January, John Daly on bernardgoldberg.com, publishes the account, MSNBC Twitterer Fired for Race Baiting.
"On Wednesday night, conservatives honed in on offensive tweet that appeared on MSNBC's official Twitter feed. The full tweet read, "Maybe the rightwing will hate it, but everyone else will go awww: the adorable new #Cheerios ad w/biracial family."
The comment was in reference a new television commercial for Cheerios entitled "Gracie" that features a biracial family enjoying a breakfast conversation at their kitchen table. The implication by the MSNBC employee behind the tweet, of course, was that the rightwing in this country is racist, and therefore they would surely be disgusted by the visual scene of a family with one white parent and one black parent."
Part of the story included that other mainstay of race politics and self-reproach apologist, Chris Mathews. The Hardball video, Matthews To Black Guest On Race: "I'm Speaking Now For All White People… I'm Sorry", is a pitiful testimony.
"We got to continue this conversation, gentlemen, privately and on television. I mean a lot of people out there — I'll just tell you one thing. And I'm speaking now for all white people, but especially people who have had to try to change the last 50 or 60 years. And they — a lot of them have really tried to change, and I'm sorry for this stuff. That's all I'm saying."

Tom Borelli, writes in the Liberty Alliance - MSNBC Chris Matthews Wild Race Card Attack Against Conservatives, more from this self-anointed supporter and barker for liberal delusional bigotry.
"In his foaming rant, Matthews claims voter I.D. laws are like poll taxes with the goal to suppress black voters and he adds Obama's political opposition are the enemy that gain from hate:
"Obama's true enemies are those who back the three dozen states now pushing voter suppression laws to make damn sure the country doesn't go and elect another black president, or a progressive white president. You know this generation's equivalent of poll taxes and those discredited literacy tests anything to keep minorities from their voting rights. And to this crowd the Obama haters add to them those who gnaw on the president's health care bill with the hunger of starving rats but offer nothing in its place except their crazed notions about bringing down the government and destroying the county's economic stature even as they deny even a penny of credit to the president for the zooming American stock market right now. These are the enemies those who stand and benefit from all the anger and hatred and indecency of the nasty right…"
Matthews is once again proving MSNBC is not a news organization but a cable outlet for political operatives whose goal is to spread progressive propaganda."
So does this party line programming, emphasizing a racially slanted mantra, which drives wedges among the viewing public, actually help ratings? The TVNewser lists that MSNBC was down across the board compared to Nov. 2012. However, MSNBC ranked #1 among African-American viewers in both A25-54 and total viewers in all key dayparts and MSNBC ranked #1 among Hispanic viewers A25-54 in M-F primetime and M-Su primetime.Mediaite lists Sharpton #1 in Demo on MSNBC. Especially review the chart TV NEWS RATINGS: 25-54 DEMOGRAPHIC comparing with the other cable news networks.
PoliticsNation with Al Sharpton was the highest-rated show in the 25-54 demo across MSNBC's evening schedule Monday with 214K viewers. Sharpton beat fellow MSNBC hosts Chris Matthews, who had 209K viewers and Ed Schultz, who had 170K.

Matthews was #1 in total viewers on MSNBC with 844K, followed by Rachel Maddow with 729K and Schultz with 717K.
A Pew Study Finds MSNBC the Most Opinionated Cable News Channel By Far, "A full 85% of the Comcast-owned network's coverage can be classified as opinion or commentary rather than straight news, according to the authors of the Pew Research Center's annual State of the News Media report."
The significance of this data is that the gap between minority identified and 25-54 viewers and all America is increasing even wider. With the 2013 Cable News Ratings: Fox News Sees Sharp Demo Decline, CNN Suffers In Primetime. The race baiters at MSNBC seems to have consolidated their niche among targeted minorities and the products of the more recent government school educated and MTV generation.Decades of liberalizing news distortion and manufactured false re-invention of history has produced a total disconnect from reality. MSNBC is used as a poster boy network for shutting out serious journalism from the medium, but it is almost impossible to find any mainstream broadcasts that are worthy of viewership.
There is a profound reason why the stuck on stupid culture is all around us. Open and rational political debate and discourse is slated for complete removal from television. Anyone who can seriously admit being a MSNBC viewer has deep seeded issues of reckoning sane behavior.
Those limousine liberals love to champion abortion as a well-tested solution of reducing population. Minorities, particularly targeted for marginalization, need to rebel against the democratic politicians and liberal class perversion, whereby NYC: More Black Babies Killed by Abortion Than Born. For those who gain a foothold on life, the media brainwashing of the likes of Rev. Al await.Fools who drink from the cup of their own racial genocide are their own worst enemy. The national interest demands that exploitation of race as a substitute for intelligent co-existence end. Compulsory Integration or miscegenation leveling has proven a massive failure. Is it not time that all tribes start a respectful dialogue and abandon the shackles of blaming race discrimination for the general failure of society? Separation by race is natural. This fact is a news topic that serious media and journalists need to address.
Abenomics has been great for stock speculators and corporate bigwigs, but for everyone else, not so much. The fact is–despite all the media hype and monetary fireworks–Prime Minister Shinzo Abe's three-pronged strategy to end 20 years of deflation has been a total bust. But don't take my word for it, check out this clip from Reuters and see for yourself:
"In the fourth quarter of last year, Japan's economy grew at an annual rate of just 0.7 percent, revised figures show, slower than the initial estimate of 1.0 percent on weaker business investment and consumption…." (Japan fourth-quarter growth, external balance suffer blow in test for Abenomics, Reuters)
See? Japan's economy is dead as a doornail. No sign of life at all. What more proof do you need than that?
And Abenomics won't end deflation either. That's another fiction. The weaker yen is just going to force working people and retirees on fixed income to reduce their consumption which will intensify the slump. Heck, even the IMF has figured that one out. Take a look at this clip from one of their recent pieces:
"The average Japanese worker has been dipping into his savings to finance consumption growth. But there's a limit to how far he can do this. The savings rate as a percent of disposable income has declined from around 5 percent a decade ago to close to zero today, leaving little further room for spending from savings….Looking forward, real wages are set to come under even greater pressure this year and next with higher underlying inflation and successive increases in the consumption-tax rate." (Abenomics—Time for a Push from Higher Wages, IMF-direct)
It sounds to me like the IMF is telling old Shinzo that his plan sucks, doesn't it?
Whoever thought that dumping trillions of dollars into the financial system would end deflation had a couple screws loose. That's not how it works. The Fed loaded up on $4 trillion in financial assets and inflation is still hovering at a measly 1 percent. So if the theory doesn't work in the US, why would it work in Japan?
It won't. The way to generate inflation is by circulating money in the economy and increasing the velocity. That means full employment and higher wages. That means fiscal stimulus and redistributive taxation. That means fixing the damn economy. But Abe's not going to do that because it doesn't jibe with his class war strategy which is what drives the current policy. Now check this out from Roger Arnold at The Street:
"The essential policy tools of Abenomics are massive monetary and fiscal stimulus aimed at forcing the yen lower, which should cause exports to rise and domestic production to increase, leading to increased domestic job production and consumption: the virtuous cycle. In the process, Japan also increased sovereign debt, which must be serviced by the government. The servicing of that debt is supposed to come from an increase in tax receipts to be made available by the increased domestic production and consumption.

But it isn't working.

The failure of Abenomics to stimulate economic activity and raise tax receipts enough to pay for the stimulus is now causing the government to double back on these programs with a counter-cyclical consumer tax increase of about 3%, which will be implemented in April. In other words, Abenomics is making the real economic and fiscal situations in Japan worse, not better. They are digging a bigger sovereign debt hole and accelerating the trajectory toward insolvency…Investors would be wise to avoid Japan altogether now, and probably permanently." (Arnold: Abenomics' Failure Is the Global Canary, The Street)
That's probably good advice, although I think Japan's implosion will take much longer than Arnold seems to believe. But that's beside the point. What matters is the that policy doesn't work. The economy isn't growing, personal consumption is weak, the trade deficit, the current account deficit and the national debt are all ballooning at the same time, and the Japanese people are growing more pessimistic. And on top of it all, a 3 percent sales tax is set to kick in at the beginning of April which is going to send the economy stumbling back into recession. (Abe pushed through the tax hike to placate his right-wing constituents even though the risks to the economy were obvious.)
So, it's all bad, unless you're high-flying stock trader or a money-grubbing corporate CEO, that is. Then things have never been better. Get a load of this in the Wall Street Journal:
"While Japan Inc. may be whistling a happy tune on the back of robust profit growth and a weaker yen thanks to the pro-business agenda of Prime Minister Shinzo Abe, a key survey released Wednesday shows that consumers aren't in a similar Abenomics-induced state of rapture.

The Cabinet Office's monthly Consumer Confidence Index contracted for the third straight month in February to 38.2. That's the worst reading since Mr. Abe entered office in January 2013 and the lowest since September 2011. Respondents were even more pessimistic than during Mr. Abe's year-long term as prime minister between September 2006 and September 2007…

Even though recent data showed the basic earnings of workers in the world's third-largest economy rose for the first time in almost two years in January, respondents in the February survey were less optimistic about their income growth, the value of their assets, and their overall livelihood than they were a month earlier.

The downbeat reading prompted the government to downgrade its assessment, saying it is "on a weak note." (Japanese Consumer Pessimism Hits New High Under Abe, WSJ)
To say the Japanese are depressed, would be an understatement. Your average Joe is "even more pessimistic" than he was when Abe stepped down in 2007 and the economy was on the brink of rigor mortis. Does that sound like the "Happy Days are here again" blabber you've been reading in the media or hearing from liberal pundits like the madcap Dr. Krugman?
Also, according to a Cabinet Office survey that appeared in the Japan Times on Saturday, only 22 percent of respondents "think the economy is headed in the right direction", while 76 percent are worried about the impact the consumption tax will have on the economy.
How's that for a ringing endorsement of Abe's Kamikazenomics? The only people who still believe in Abe's song and dance are the ivory tower set at Princeton and Yale. Everyone else has thrown in the towel.
Abenomics is a public relations scam designed to shift more payola to voracious stock speculators and their thieving corporate counterparts. It's a fraud wrapped in a lie. That's all there is to it. But there are victims, that's for dang-sure. Just check out this article in Bloomberg and you'll see what I mean:
"Japanese Prime Minister Shinzo Abe looks set to drive an indicator of economic hardship to a 33-year high by increasing taxes and prices amid stagnant wages. The misery index, which adds the jobless rate to the level of inflation, will climb to 7 percentage points in the three months starting April 1 when Japan raises its sales levy to 8 percent from 5 percent, based on the median estimates of economists in Bloomberg News surveys of unemployment and consumer prices. That would be the highest level for the measure since June 1981 when Japan was emerging out of depression after the oil shocks in the 1970s.

Bank of Japan monetary stimulus designed to spur economic growth and achieve 2 percent inflation has weakened the yen by 6.8 percent in the past 12 months, eroding the value of wages to a record low. Abe, the son of an ex-foreign minister who grew up in a house with servants, is under fire from the opposition party after the cost of living surged to a five-year high.

"Inflation is really tough," said Kiyoshi Ishigane, a senior strategist at Mitsubishi UFJ Asset Management Co., which oversees more than $77 billion. "Those who speak favorably about inflation might have been born in wealthy families and never experienced the hardship that inflation brought." (Misery Index Rising to 33-Year High on Abenomics: Japan Credit, Bloomberg)
The Misery Index is peaking and all you hear in the US is a bunch of baloney about glorious Abenomics and the miraculous effect of money printing. What a joke. People are hurting big-time in Japan, and shifty Shinzo is only adding to their pain with his monetary Hara-kiri. It's madness. Wages dropped for 19 months in a row before they got a "one-off" bump-up last month of 0.1 percent, which is a big nothingburger. The overall trend is down, down, down. On top of that, roughly 35 percent of Japan's workforce is part-time employment; no pension, no bennies, no job security, no nothing. Things slow down, and you get booted down the stairwell with not as much as a "Goodbye, Charlie!" They probably don't even bother with the perfunctory pink slip. Just grab your lunchbox, and "out you go."
So how does Abe figure he's going to generate inflation when workers are flat on their backs and don't have enough scratch to buy the widgets that Japan Inc produces?
The whole thing is a non starter, which is why I think this "fighting deflation" trope is a big freaking smokescreen to hide what's really going on, which is a massive transfer of wealth to the investor class via asset inflation. That's what's really happening, right? Abenomics is just a way to produce fat returns during extended periods of slow growth and deepening stagnation. The big boys figured out how to overcome the very conditions that they created with their unbounded avarice. I guess they figure that, just because everyone else has to suffer through a goddamn Depression, doesn't mean they have to too.
You got to hand it to these guys, they think of everything.
Reportedly, the CIA and its friends have taken a strong interest in Mick Jagger (seen above with Obama).
The CIA plan is to control the minds of the musicians and then use the musicians to control the minds of the populace.
The CIA uses drugs and Satanism when it mind-controls the stars.
The Rolling Stones and The Occult – Global Truth
In his book, The Ultimate Evil, Maury Terry wrote that between 1966 and 1967, the (CIA-linked) Satanic cult called the Process Church, "sought to recruit the Rolling Stones."
Jagger has been influenced by Kenneth Anger, a follower of Aleister Crowley.
Crowley worked for the UK spy service MI5.
(Aleister Crowley Was A British Intel Agent – Rense)
Author Tony Sanchez wrote that Mick Jagger "listened spellbound as Anger turned them on to Crowley's powers and ideas."
(Tony Sanchez, Up and Down WIth the Rolling Stones, p.155)
While in the UK, Anger worked on a film 'dedicated to Aleister Crowley', called Lucifer Rising, which was renamed "Invocation of My Demon Brother."
Invocation of My Demon Brother.
Mick Jagger had a starring role in the film and he composed the music.
The CIA-connected Satanist Anton LaVey played the part of His Satanic Majesty.
Chris Jagger, brother of Mick 'was originally to take the role of Lucifer'.
Then it was decided that Lucifer would be played played by Bobby Beausoleil, a member of the Manson Family, and Anger's homosexual lover.
Process Church follower Marianne Faithfull went to Egypt to take part in the film's depiction of a Black Mass.
In London, 'Anger recruited Anita Pallenberg to Satanism'.
The Rolling Stones and The Occult – Global Truth
She became the lover of three members of the Rolling Stones.
Anger said of Anita, said, "I believe that Anita is, for want of a better word, a witch…The occult unit within the Stones was Keith and Anita…and Brian. You see, Brian was a witch too."
Tony Sanchez wrote of Pallenberg in his book, Up and Down with the Rolling Stones, "She was obsessed with black magic."
The Rolling Stones and The Occult – Global Truth
LSD can lead to a person becoming mentally ill and dangerous.
MK-Ultra mind-control operations involve the use of drugs and Satanism.
Charles Manson is believed to have been a victim of the CIA's MK ULTRA brainwashing.
Manson supplied sex and drugs "to Hollywood actors, actresses, promoters, partners and rock stars."
Source: aangirfan.blogspot.ca

On March 6 President Obama said in Washington that the Crimean authorities' plans for a referendum "violate the Ukrainian Constitution and violate international law." "Any discussion about the future of Ukraine must include the legitimate government of Ukraine. We are well beyond the days when borders can be redrawn over the heads of democratically elected leaders," he added. "Crimea is Ukraine," Secretary of State John Kerry said in Rome on the same day.
Interesting. Six years ago the United States enthusiastically recognized the Kosovo Albanian authorities' self-proclaimed independence, which violated the Serbian constitution and violated international law. The legitimate government of Serbia was not included in any discussions which preceded the American decision. The United States initiated the redrawing of Serbia's borders with an act of armed aggression in 1999, and then formally condoned it in February 2008, over the heads of Serbia's democratically elected President Boris Tadic and Prime Minister Vojislav Koštunica. Furthermore, in September 2012 Obama's then-Secretary of State Hillary Clinton said that "the boundaries of an independent, sovereign Kosovo are clear and set." A few days earlier Obama himself claimed, incredibly, that "Kosovo has made significant progress in solidifying the gains of independence and in building the institutions of a modern, multi-ethnic, inclusive and democratic state."
A President capable of thus characterizing that KLA-run black hole of thuggery and lawlessness – the worst-ruled spot by far in all of Europe – is beyond logic or reason. It would be therefore useless to point out to Obama that the government in Kiev has no legitimacy whatsoever, having grabbed power through a sustained campaign of revolutionary brutality and having violated the Ukrainian constitution and other laws in the process. Obama's claim that the leaders of the regime in Kiev were "democratically elected" is unsurprising, however, coming as it does from a man whose hold on reality – at home and abroad – is becoming more tenuous by the day.
Lest we forget, on February 21 President Viktor Yanukovich and three Ukrainian parliamentary party leaders signed a "reconciliation agreement" co-signed by foreign ministers of France, Germany and Poland – implying that their countries and the EU guaranteed the deal – and approved by a Russian representative. The document provided for constitutional reform reducing presidential powers, the creation of a government of national unity, early presidential election, and disbandment of Maidan armed factions. Far from disbanding, within hours those same armed factions forced Yanukovich to flee Kiev and stage-managed a parliamentary "vote," worthy of the proceedings of the Supreme Soviet ca. 1937, which ushered in the putschist regime.
As Russia's President Vladimir Putin said on March 4, Yanukovich "had in fact given up his power already, and as I told him, he had no chance of being re-elected. What was the purpose of all those illegal, unconstitutional actions, why did they have to create this chaos in the country? Armed and masked militants are still roaming the streets of Kiev. This is a question to which there is no answer." Well, there is one, and he knows it. As a BBC commentator pointed out on March 5, what makes Putin mad is the feeling that he is being deceived:
We saw that with Libya in 2011. Moscow was persuaded not to block a UN Security Council resolution on a no-fly zone to protect civilians. But NATO's military action led to regime change and the death of Col Muammar Gaddafi – far beyond what Russia had expected. It helps explain why Russia has been quick to veto resolutions on Syria. On Ukraine, too, President Putin feels the West has tricked him. Last month he sent his envoy to Kiev to take part in negotiations on a compromise agreement … It remained words only. Less than 24 hours later, Mr. Yanukovych was on the run, the parliament removed him from power and appointed a new acting president from the opposition. The pace of events took Moscow completely by surprise. Russia says the February 21 agreement must be implemented. The opposition signed it, yet allows an uncontrolled militia of violent armed radicals send fear and loathing across a large swath of Ukraine. The US says the agreement no longer matters…
THE GHOST OF WARREN ZIMMERMANN – Washington saying "the agreement no longer matters" brings us to another parallel between the crisis in Ukraine and the conflict in ex-Yugoslavia in the 1990's: the role of the United States in subverting agreements that were meant to save peace. Similar U.S. subterfuges contributed to the outbreak of the war in Bosnia-Herzegovina exactly 22 years ago. In March 1992 the late Warren Zimmermann, the last U.S. ambassador to Yugoslavia before its breakup and civil war, materially contributed, more than any other single man, to the outbreak of that war. The facts of the case have been established beyond reasonable doubt, and are no longer disputed by experts.
Following the unconstitutional and illegal Muslim-Croat referendum on Bosnia's independence (February 28-29), then-Portuguese foreign minister Jose Cutileiro persuaded the leaders of the three constituent nations that Bosnia-Herzegovina should be independent, but internally based on autonomous ethnic "cantons." The breakthrough was due to the Bosnian Serbs' acceptance of an externally sovereign B-H state, provided that the Muslims give up their ambition of an internally centralized, unitary one. Alija Izetbegovic, the Muslim leader, accepted the plan. Only days after it was signed, however, Zimmermann flew from Belgrade to Sarajevo to tell Izetbegovic that the deal was a means to "a Serbian power grab" that could be annulled. State Department later admitted that the U.S. policy was to encourage Izetbegovic to break with the plan.
As early as August 29, 1993, The New York Times brought a revealing quote from the key player himself: "Immediately after Mr. Izetbegovic returned from Lisbon, Mr. Zimmermann called on him in Sarajevo… 'He said he didn't like it; I told him, if he didn't like it, why sign it?'" After that moment Izetbegovic had no motive to seek compromise. He felt authorized to renege on the tripartite accord, which inevitably ignited the Bosnian war. Cutileiro himself insisted later that, but for Izetbegovic reneging, "the Bosnian question might have been settled earlier, with less loss of life and land." He also noted that "Izetbegovic was encouraged to scupper that deal and to fight for a unitary Bosnian state by foreign mediators."
In the fullness of time we shall learn which "foreign mediators" played the role of Zimmermann in Kiev in February 2014. Whoever it was – Victoria "f… the EU" Nuland, her ambassador in situ Pyatt, or Kerry himself – the intervention was a malicious attempt to encourage one side in Ukraine's multiethnic, multi-denominational mosaic to fight for an unitary Ukrainian state. If the result turns out to be the same or similar as that in Bosnia two decades ago, those "mediators" will have blood on their hands no less than Warren Zimmermann had blood on his. He died in February 2004, having greatly contributed to the death of a hundred thousand Bosnian Serbs, Croats and Muslims in 1992-1995.
"UKRAINE" AS "BOSNIA" – A key element in the Western propagandistic misrepresentation of the situation in Ukraine is the claim that it is a coherent nation-state of "Ukrainians," which is subjected to an unprovoked foreign aggression. On March 6 the House adopted a package of "sanctions against Russia, and "lawmakers are also acting in other ways to show solidarity with Ukrainians." Two days earlier John Kerry flew to Kiev to show solidarity with Ukraine's new leaders. Everybody and his uncle, including various MEPs, Canadian MPs, etc. flew to Kiev "to show solidarity with Ukrainians."
In exactly the same manner, in 1992 it was asserted ex hypothesi by the American (and to a lesser extent West European) political elite, and parroted ad nauseam by the media machine, that if there is a "Bosnia" there must be a nation of "Bosnians." In both cases the claim was tantamount to the assertion, in 1861, that "the American nation" was resisting an illegal rebellion. In fact today's Ukraine is like Ireland in 1920: impossible to survive intact, let alone prosper in peace, on the basis of the aspirations and assumptions of one community which are inherently incompatible with those of another. The rights of the legislators in the Crimean Peninsula, Odessa, Kharkov, Donetsk, Dnepropetrovsk etc. vis-à-vis Kiev are exactly the same as those of the Stormont were vis-à-vis the Irish Free State in 1921.
COMMUNIST-DRAWN INTERNAL BOUNDARIES – The problem of internal boundaries between the constituent republics, arbitrarily drawn by communist dictators in complete disregard of the wishes and aspirations of the people thus affected, has been the key foundation of the Yugoslav conflict ever since the first shots were fired in the summer of 1991. Even someone as unsympathetic to the Serb point of view as Lord David Owen, the EU negotiator in 1992-1993, conceded that Marshal Josip Broz Tito's administrative boundaries between Yugoslavia's republics were grossly arbitrary, and that their redrawing should have been countenanced before the issue escalated into a fully-fledged war:
Incomprehensibly, the proposal to redraw the republics' boundaries had been rejected by all eleven EC countries… [T]o rule out any discussion or opportunity for compromise in order to head off war was an extraordinary decision. My view has always been that to have stuck unyieldingly to the internal boundaries of the six republics within the former Yugoslavia… as being those for independent states, was a folly far greater than that of premature recognition itself.
The manner in which Nikita Sergeyevich Khrushchev transferred Crimea to Ukraine in February 1954 is a particularly egregious example of the communist border-changing. The shoe-banger must be having a hearty laugh in his current hot abode at the readiness of the United States to risk a major confrontation with Russia – a minus-sum-game if there ever was one – for the sake of upholding the legacy of his stroke of pen 60 years ago.
REDUCTIO AD HITLERUM – And finally, just as Slobodan Milosevic was the Hitler-du-jour during the Bosnian war, Vladimir Putin is becoming one now. His current transformation could be predicted with mathematical precision. Most notably, Hillary Clinton likened Putin's actions in the Crimean peninsula to those of Hitler in the Sudetenland. On March 3 Zbigniew Brzezinski called Putin "a partially comical imitation of Mussolini and a more menacing reminder of Hitler." ("We haven't seen this kind of behavior since the Second World War," Canadian Prime Minister Stephen Harper said, not that anyone cared.) Senators Marco Rubio (R-Fla.) and John McCain (R-Ariz.) agreed with Clintonwholeheartedly. The obvious comparison, with Oleh Tyagnybok and other black-and-red Svoboda Party heirs to Bandera and the SS Division Galizien, unsurprisingly eludes them. These people are McCain's good buddies, after all – every bit as good as the warriors in the path of Allah in Syria.
As I've noted in these pages before, the final corollary of various ad-hoc Hitlerizations is that we are all potential Fuhrers, and only by vigilantly guarding against deviant thoughts ("I like Americans better than Somalis"), emotions ("I enjoy Wagner's Ring more than Porgy & Bess") and practices ("I enjoy walking my German Shepherd in the Bavarian Alps") can we protect ourselves from the lure of the inner Adolf. Having experienced the reductio myself – having been called "Hitler in full oratorical flight," to be precise – I hereby wish Vladimir Vladimirovich a hearty welcome to the club.
A few days ago, a prominent attorney asked me a question: can religious liberty and the growing demands of government and others occupy the same space?  And if not, who wins?
This is, perhaps, not quite the right question.
Dr. Hannibal Lecter, aka "Hannibal the Cannibal" in  The Silence of the Lambs asked a more fitting one:
First principles, Clarice. Simplicity. Read Marcus Aurelius. Of each particular thing ask: What is it in itself? What is its nature?
Most pundits observing what has gone on recently in Arizona and other states regarding same-sex marriage have concluded, "We are witnessing a clash between religious and civil liberties."  While many nod their heads in agreement, this analysis is wrong.
The fact is that what the left is demanding now through our courts, through legislatures, and at ballot boxes around the country does not constitute "rights" at all, or at least not in the historical sense.
This is not a "clash of religious and civil rights."  This is a clash of freedom and untenable, outrageous demands.
There is something much, much deeper going on here.
Same-sex marriage is a trial balloon of sorts, being used to test how far Americans will allow their consciences to be suppressed by the State.
"If Christians can be compelled to lend a craft to something their conscience objects to, what can't they be compelled to participate in? We're talking about precedent; and the cases before us are bellwether test cases about whether private actors can be forcibly mandated to go against their conscience" ("Of Consciences and Cakes," First Things, Feb. 20, Andrew Walker).
A couple years ago, the Health and Human Services Contraceptive and Abortifacient Mandate served the same purpose, leading the way to where we now are.  When the State can get away with abusive behavior and strong-arm tactics toward even The Little Sisters of the Poor, let alone privately owned businesses such as Hobby Lobby, then statists know that the time is ripe to take another big step.
This battle is much bigger than anybody thinks it is.  We cannot see the forest for the trees.  We are not witnessing a clash of rights; we are in the middle of a massive social experiment.  This is a test for the viability of incremental totalitarianism.  Nothing less.
In a kind of Cloward-Piven Strategy, the assault – or "test," or however you want to identify it – is occurring on many different fronts and on many different levels simultaneously.  In addition to same-sex marriage and the health care mandate(s), we have the IRS targeting of conservative groups, constant Second Amendment attacks, voter photo ID initiatives labeled as racist by the DOJ, and state initiatives to curb abortions labeled a "War on Women."
Perhaps most chilling is the way that federalism is being undermined from within the states themselves.  State judges are now routinely overturning the expressed will of the people, acting unilaterally to impose novel viewpoints on entire state populations.
The fifty states, which are supposed to be laboratories for experimentation – conducting trial runs, so to speak – are being stripped of that function.
The beauty of America is our diversity, much of which is still reflected in the personalities of each of our states.  If the reach of the national government extends too far and we become thoroughly homogenized, we inevitably start moving toward a type of tyranny.  If the rules and the standards are exactly the same in every state, where can one go either for respite or advantage?  As the force of the national government grows, this key element of our American liberty recedes, perhaps to be lost forever.
The Economist magazine once described the wonderful functioning of our local governance very nicely:
America has 50 states with 50 sets of laws. Virginia will never ban hunting, but even if it did, there are 49 other states that won't. In America, people with unusual hobbies are generally left alone. And power is so devolved that you can more or less choose which rules you want to live under.

If you like low taxes and the death penalty, try Texas. For good public schools and subsidized cycle paths, try Portland, Oregon. Even within states, the rules vary widely. Bath County, Kentucky is dry. Next-door Bourbon County, as the name implies, is not. Nearby Montgomery County is in between: a "moist" county where the sale of alcohol is banned except in one city. Liberal foreign students let it all hang out at Berkeley; those from traditional backgrounds may prefer a campus where there is no peer pressure to drink or fornicate, such as Brigham Young in Utah. (Dec. 19, 2009)
If all our laws and regulations are essentially nationalized, there will be no choices left to us other than the single choice to comply.  The very thing that makes the United States such a wonderful success – E pluribus unum, "out of many, one" – is being destroyed.  Ironically, in the name of diversity, we are squashing diversity, trampling out opinions anathema to progressive ideology.
Statists are tickled pink that they are able to make headway on this.  And for the most part, the media are willing collaborators, as pointed out by Mollie Hemingway in The Federalist:
Religious liberty is a deeply radical concept. It was at this country's founding and it hasn't become less so. Preserving it has always been a full-time battle. But it's important, because religion is at the core of people's identity. A government that tramples religious liberty is not a government that protects economic freedom. It's certainly not a government that protects conscience rights. A government that tramples religious liberty does not have expansive press freedoms. Can you think of one country with a narrow view of religious liberty but an expansive view of economic freedom, freedom of association, press freedoms or free speech rights? One?
A media less hostile to religious liberty would think less about scoring cheap political points, creating uncivil political climates, and disparaging institutions that help humans flourish.  A media with a higher regard for truth would, it turns out, have a higher regard for religious liberty.
Sadly, we seem to have left the world of reason and tolerance. Could our media climate demonstrate that any better?  And what lies ahead, if left uncorrected, is illogical and tyrannical.  Freedom of religion was the central principle in the moral case of our country.  Once that's gone, how long can the Republic stand?
Returning to Dr. Lecter's question, "what is it in itself? What is its nature?"
Its nature is this: totalitarianism.
The current visible clash of religious and asserted civil "rights" is secondary – a symptom, not an actual cause.
In fact, the logical conclusion for the trajectory we are now on is the eventual squashing of both civil and religious rights, and this will occur because we have allowed a powerful government to play us one group against another.
What can each of us do?
The only way to stop the advancement of totalitarian measures is for the grassroots of each state to bravely stand up to the bullying, silencing tactics of out-of-touch, frightened judges, legislators, corporate cronies, and media collaborators, as they lead us down a path of decreased liberty and increased totalitarianism.
Stand up for social issues that you know in your gut to be true.  Don't allow yourself to be silenced by political correctness.  Stand up for marriage.  Stand up for life.  Stand up for the right of children to be born and to have both a mom and a dad.
Stand up also for constitutionally limited government and fiscal responsibility.
You have Truth with a capital T on your side.  You are right, and they are wrong, so do not be afraid.
Don't make the mistake of remaining quiet until you are certain you have a winning argument.  That is not your responsibility, and that is what the totalitarian left is hoping you will do.  All you are responsible for is to speak truthfully and to let others know your beliefs.  We outnumber them.  We can overwhelm them with Truth, if only each of us would open our mouths and proclaim the Truth at every opportunity.
Remember: be not afraid.
Source: Doug Mainwaring | American Thinker
The stakes are high in the Ukraine: after the coup, as Crimea and Donbas asserted their right to self determination, American and Russian troops entered Ukrainian territory, both under cover.
The American soldiers are "military advisors", ostensibly members of Blackwater private army (renamed Academi); a few hundred of them patrol Kiev while others try to suppress the revolt in Donetsk. Officially, they were invited by the new West-installed regime. They are the spearhead of the US invasion attempting to prop up the regime and break down all resistance. They have already bloodied their hands in Donetsk.
Besides, the Pentagon has doubled the number of US fighter jets on a NATO air patrol mission in the Baltics; the US air carrier entered the Black Sea, some US Marines reportedly landed in Lvov "as a part of pre-planned manoeuvres".
The Russian soldiers ostensibly belong to the Russian Fleet, legally stationed in Crimea. They were in Crimea before the coup, in accordance with the Russian-Ukrainian treaty (like the US 5th fleet in Kuwait), but their presence was probably beefed up. Additional Russian troops were invited in by deposed but legitimately elected President Yanukovych (compare this with the US landing on Haiti in support of the deposed President Aristide ). They help the local pro-Russian militia maintain order, and no one gets killed in the process. In addition, Russia brought its troops on alert and returned a few warships to the Black Sea.
It is only the Russian presence which is described as an "invasion" by the Western media, while the American one is hardly mentioned. "We have a moral duty to stick our nose in your business in your backyard a world away from our homeland. It's for your own good", wrote an ironic American blogger.
Moscow woke up to trouble in Ukraine after its preoccupation, nay obsession, with the Winter Olympic games had somewhat abated, — when people began to say that "Putin won the games and lost the Ukraine". Indeed, while Putin watched sports in Sochi, the Brown Revolution succeeded in Ukraine. A great European country the size of France, the biggest republic of the former USSR (save Russia), was taken over by a coalition of Ukrainian ultra-nationalists and (mainly Jewish) oligarchs. The legitimate president was forced to flee for his very life. Members of Parliament were manhandled, and in some cases their children were taken hostage to ensure their vote, as their houses were visited by gunmen. The putsch was completed. The West recognised the new government; Russia refused to recognise it, but continued to deal with it on a day -to-day basis. However the real story is now developing in Crimea and Eastern Ukraine, a story of resistance to the pro-Western takeover.
The Putsch
The economic situation of Ukraine is dreadful. They are where Russia was in the 1990s, before Putin – in Ukraine the Nineties never ended. For years the country was ripped off by the oligarchs who siphoned off profits to Western banks, bringing it to the very edge of the abyss. To avoid default and collapse, the Ukraine was to receive a Russian loan of 15 billion euros without preconditions, but then came the coup. Now the junta's prime minister will be happy to receive a mere one billion dollars from the US via IMF. (Europeans have promised more, but in a few years' time…) He already accepted the conditions of the IMF, which will mean austerity, unemployment and debt bondage. Probably this was the raison d'être for the coup. IMF and US loans are a major source of profit for the financial community, and they are used to enslave debtor countries, asPerkins explained at length.
The oligarchs who financed the Maidan operation divided the spoils: the most generous supporter, multi-billionaire Igor "Benya" Kolomoysky, received the great Russian-speaking city of Dnepropetrovsk in fief. He was not required to give up his Israeli passport. His brethren oligarchs took other Russian-speaking industrial cities, including Kharkov and Donetsk, the Ukrainian Chicago or Liverpool. Kolomoysky is not just an 'oligarch of Jewish origin': he is an active member of the Jewish community, a supporter of Israel and a donor of many synagogues, one of them the biggest in Europe. He had no problem supporting the neo-Nazis, even those whose entry to the US had been banned because of their declared antisemitism. That is why the appeals to Jewish consciousness against the Brown putsch demonstrably failed.
Now came the nationalists' crusade against Russian-speakers (ethnic Russians and Russian-speaking Ukrainians – the distinction is moot), chiefly industrial workers of East and South of the country. The Kiev regime banned the Communist Party and the Regions' Party (the biggest party of the country, mainly supported by the Russian-speaking workers). The regime's first decree banned the Russian language from schools, radio and TV, and forbade all official use of Russian. The Minister of Culture called Russian-speakers "imbeciles" and proposed to jail them for using the banned tongue in public places. Another decree threatened every holder of dual Russian/Ukrainian nationality with a ten-years jail sentence, unless he gives up the Russian one right away.
Not empty words, these threats: The storm-troopers of the Right Sector, the leading fighting force of the New Order, went around the country terrorising officials, taking over government buildings, beating up citizens, destroying Lenin's statues, smashing memorials of the Second World War and otherwise enforcing their rule A video showed a Right Sector fighter mistreating the city attorney while police looked other way. They began to hunt down riot policemen who supported the ex-president, and they burned down a synagogue or two. They tortured a governor, and lynched some technicians they found in the former ruling party's headquarters. They started to take over the Orthodox churches of the Russian rite, intending to transfer them to their own Greek-Catholic Church.
The instructions of US State Dept.'s Victoria Nuland were followed through: the Ukraine had had the government she prescribed in the famous telephone conversation with the US Ambassador. Amazingly, while she notoriously gave "fuck" to the EU, she did not give a fuck about the Russian view of Ukraine's immediate future.
Russia was not involved in Ukrainian developments: Putin did not want to be accused of meddling in Ukrainian internal affairs, even when the US and EU envoys assisted and directed the rebels. The people of Russia would applaud him if he were to send his tanks to Kiev to regain the whole of Ukraine, as they consider it an integral part of Russia. But Putin is not a Russian nationalist, not a man of Imperial designs. Though he would like the Ukraine to be friendly to Russia, annexing it, in whole or in part, has never been his ambition. It would be too expensive even for wealthy Russia: the average income in the Ukraine is just half of the Russian one, and tits infrastructure is in a shambles. (Compare to the very costly West German takeover of the GDR.) It would not be easy, either, for every Ukrainian government in the past twenty years has drenched the people with anti-Russian sentiment. But involvement was forced upon Putin:
Hundreds of thousands of Ukrainians voted with their feet and fled to Russia, asking for asylum. Two hundred thousand refugees checked in during the weekend. The only free piece of land in the whole republic was the city of Sevastopol, the object of a French and British siege in 1852 and of a German siege in 1941, and the home base of the Russian Black Sea fleet. This heroic city did not surrender to the Kiev emissaries, though even here some local deputies were ready to submit. And at that last moment, the people began their resistance. The awful success of the putsch was the beginning of its undoing. The pendulum of Ukraine, forever swinging between East and West, began its return movement.
The Rising
The people of Crimea rose, dismissed their compromise-seeking officials and elected a new leader, Mr Sergey Aksyonov. The new leadership assumed power, took over Crimea and asked for Russian troops to save them from the impending attack by the Kiev storm troopers. It does not seem to have been necessary at this stage: there were plenty of Crimeans ready to defend their land from the Brown invaders, there were Cossack volunteers and there is the Russian Navy stationed in Crimea by treaty. Its Marines would probably be able to help the Crimeans in case of trouble. The Crimeans, with some Russian help, manned the road blocks on the narrow isthmus that connects Crimea to the mainland.
The parliament of Crimea voted to join Russia, but this vote should be confirmed by a poll on March 16 to determine Crimea's future — whether it will revert to Russia or remain an autonomous republic within the Ukraine. From my conversation with locals, it seems that they would prefer to join the Russian Federation they left on Khrushchev's orders only a half century ago. Given the Russian-language issue and the consanguinity, this makes sense: Ukraine is broke, Russia is solvent and ready to assume its protection. Ukraine can't pay salaries and pensions, Russia had promised to do so. Kiev was taking away the lion's share of income generated in Crimea by Russian tourists; now the profits will remain in the peninsula and presumably help repair the rundown infrastructure. Real estate would likely rise drastically in price, optimistic natives surmise, and this view is shared by Russian businessmen. They already say that Crimea will beat out Sochi in a few years' time, as drab old stuff will be replaced by Russian Imperial chic.
Perhaps Putin would prefer the Crimea gain independence, like Kosovo, or even remain under a token Ukrainian sovereignty, as Taiwan is still nominally part of China. It could become a showcase pro-Russian Ukraine to allow other Ukrainians to see what they're missing, as West Berlin was for the East Germans during the Cold War. Regaining Crimea would be nice, but not at the price of having a consolidated and hostile Ukraine for a neighbour. Still Putin will probably have no choice but to accept the people's decision.
There was an attempt to play the Crimean Tatars against the Russians; apparently it failed. Though the majlis, their self-appointed organisation, supports Kiev, the elders spoke up for neutrality. There are persistent rumours that the colourful Chechen leader Mr Kadyrov, a staunch supporter of Mr Putin, had sent his squads to the Tatars to strong-arm them into dropping their objections to Crimea's switch to Russia. At the beginning, the Tatars supported Kiev, and even tried to prevent the pro-Russian takeover. But these wise people are born survivors, they know when to adjust their attitudes, and there is no doubt they will manage just fine.
Russian Nazis, as anti-Putin as Ukrainian Nazis, are divided: some support a "Russian Crimea" whilst others prefer pro-European Kiev. They are bad as enemies, but even worse as friends: the supportive Nazis try to wedge between Russians and Ukrainians and Tatars, and they hate to see that Kadyrov's Chechnya actually helps Russian plans, for they are anti-Chechen and try to convince people that Russia is better off without Chechens, a warlike Muslim tribe.
As Crimea defied orders from Kiev, it became a beacon for other regions of the Ukraine. Donbas, the coal and steel region, raised Russian banners and declared its desire for self-determination, "like Crimea". They do want to join a Russian-led Customs Union; it is not clear whether they would prefer independence, autonomy or something else, but they, too, scheduled a poll – for March 30. There were big demonstrations against the Kiev regime in Odessa, Dnepropetrovsk, Kharkov and other Russian-speaking cities. Practically everywhere, the deputies seek accommodation with Kiev and look for a way to make some profit, but the people do not agree. They are furious and do not accept the junta.
The Kiev regime does not accept their quest for freedom. A popularly-elected Mayor of Donetsk was kidnapped by the Ukrainian security forces and taken to Kiev. There are now violent demonstrations in the city.
The Ukrainian navy in the Black Sea switched its allegiance from Kiev to Crimea, and they were followed by some units of the air force with dozens of fighter jets and ground troops. Troops loyal to Kiev were blocked off by the Crimeans, but there was no violence in this peaceful transfer of power.
The junta appointed an oligarch to rule Donbas, Mr Sergey Taruta, but he had difficulty assuming power as the local people did not want him, and with good reason: Taruta had bought the major Polish port of Gdansk and brought it to bankruptcy. It seems he is better at siphoning capital away than in running serious business. Ominously, Mr Taruta brought with him some unidentified, heavily armed security personnel, reportedly guns-for-hire from Blackwater (a.k.a. Academi) fresh from Iraq and Afghanistan. He will need a lot more of them if he wants to take Donbas by force.
In Kharkov, the biggest Eastern city, erstwhile capital of Soviet Ukraine, local people ejected the raiding force of the Right Sector from government offices, but police joined with the oligarchs. While the fake revolution took place in Kiev under the tutelage of US and EC envoys, the real revolution is taking place now, and its future is far from certain.
The Ukraine hasn't got much of an army, as the oligarchs stole everything ever assigned to the military. The Kiev regime does not rely on its army anyway. Their attempt to draft able-bodied men failed immediately as hardly anybody answered the call. They still intend to squash the revolution. Another three hundred Blackwater mercenaries landed Wednesday in Kiev airport. The Kiev regime applied for NATO help and expressed its readiness to allow US missiles to be stationed in the Ukraine. Missiles in the Ukraine (as now stationed in Poland, also too close for Russian comfort) would probably cross Russia's red line, just as Russian missiles in Cuba crossed America's red line in 1962. Retired Israeli intelligence chief Yaakov Kedmi, an expert on Russia, said that in his view the Russians just can't allow that, at any price, even if this means all-out war.
Putin asked the upper house of the Russian parliament for permission to deploy Russian troops if needed, and the parliament unanimously approved his request. They will probably be deployed in order to defend the workers in case of attack by a Right Sector beefed up by Blackwater mercenaries. Humanitarian catastrophe, large-scale disturbances, the flow of refugees or the arrival of NATO troops could also force Putin's hand, even against his will.
The President in exile
President Yanukovych will be historically viewed as a weak, tragic figure, and he deserves a better pen with a more leisured pace than mine. He tried his best to avoid casualties, though he faced a full-scale revolt led by very violent Brown storm-troopers. And still he was blamed for killing some eighty people, protesters and policemen.
Some of the victims were killed by the Right Sector as they stormed the ruling party offices. The politicians left the building well in advance, but the secretarial staff remained behind — many women, janitors and suchlike. An engineer named Vladimir Zakharov went to the besieging rebels and asked them to let the women out. They killed him on the spot with their bats. Another man was burned alive.
But the majority of casualties were victims of sniper fire, also blamed on Yanukovych. The Kiev regime even asked the Hague tribunal to indict the President as they had President Milosevic. But now, a telephone conversation between EC representative Catherine Ashton and Estonian Foreign Minister Urmas Paet reveals that the EC emissaries were aware that dozens of victims of sniper fire at the Maidan were killed by Maidan rebel supporters, and not by police or by President Yanukovych, as they claimed. Urmas Paet acknowledged the veracity of this conversation at a press conference, and called for an independent enquiry. It turned out that the rebel snipers shot and killed policemen and Maidan protesters alike, in order to shed blood and blame it on the President.
This appears to be a staple feature of the US-arranged revolutions. Snipers killing both protesters and police were reported in Moscow's 1991 and 1993 revolutions, as well as in many other cases. Some sources claim that famed Israeli snipers were employed on such occasions, which is plausible in view of Mr Kolomoysky's Israeli connection. A personal friend of Mr Kolomoysky, prominent member of the then-opposition, Parliamentarian and present head of administration Sergey Pashinsky was stopped by police as he removed a sniper's rifle with a silencer from the scene of murder. This discovery was briefly reported in the New York Times, but later removed. This revelation eliminates (or at least seriously undermines) the case against the President. Probably it will be disappear down the memory hole and be totally forgotten, as were the Seymour Hersh revelations about Syria's sarin attack.
Another revelation was made by President Putin at his press-conference of March 4, 2014. He said that he convinced (read: forced) President Yanukovych to sign his agreement of February 21, 2014 with the opposition, as Western ministers had demanded. By this agreement, or actually capitulation act, the Ukrainian President agreed to all the demands of the Brown rebels, including speedy elections for the Parliament and President. However, the agreement did not help: the rebels tried to kill Yanukovych that same night as he travelled to Kharkov.
Putin expressed amazement that they were not satisfied with the agreement and proceeded with the coup anyway. The reason was provided by Right Sector goons: they said that their gunmen will be stationed by every election booth and that they would count the vote. Naturally, the agreement did not allow for that, and the junta had every reason to doubt their ability to win honest elections.
It appears Yanukovych hoped to establish a new power base in Kharkov, where a large assembly of deputies from East and South of Ukraine was called in advance. The assembly, says Mr Kolomoysky, was asked to assume powers and support the President, but the deputies refused. That is why President Yanukovych, with great difficulty, escaped to Russia. His landing in Rostov made quite an impression on people as his plane was accompanied by fighter jets.
Yanukovych tried to contact President Putin, but the Russian president did not want to leave the impression that he wants to force Yanukovych on the people of Ukraine, and refused to meet or to speak with him directly. Perhaps Putin had no time to waste on such a weak figure, but he publicly recognised him anyway as the legitimate President of the Ukraine. This made sense, as President Yanukovych requested Russian troops to bring peace to his country. He still may make a comeback – as the president of a Free Ukraine, if such should ever be formed in some part of the country, – or as the protagonist of an opera.
English language editing by Ken Freeland.
The events in Ukraine since November 2013 are so astonishing as almost to defy belief.
An legitimately-elected (said by all international monitors) Ukrainian President, Viktor Yanukovich, has been driven from office, forced to flee as a war criminal after more than three months of violent protest and terrorist killings by so-called opposition.
His "crime" according to protest leaders was that he rejected an EU offer of a vaguely-defined associate EU membership that offered little to Ukraine in favor of a concrete deal with Russia that gave immediate €15 billion debt relief and a huge reduction in Russian gas import prices. Washington at that point went into high gear and the result today is catastrophe.
A secretive neo-nazi military organization reported linked to NATO played a decisive role in targeted sniper attacks and violence that led to the collapse of the elected government.
But the West is not finished with destroying Ukraine. Now comes the IMF with severe conditionalities as prerequisite to any Western financial help.
After the famous leaked phone call of US Assistant Secretary of State Victoria Nuland (photo, left) with the US Ambassador in Kiev, where she discussed the details of who she wanted in a new coalition government in Kiev, and where she rejected the EU solutions with her "Fuck the EU" comment,[1] the EU went it alone. Germany's Foreign Minister, Frank-Walter Steinmeier proposed that he and his French counterpart, Laurent Fabius, fly to Kiev and try to reach a resolution of the violence before escalation. Polish Foreign Minister, Radoslaw Sikorski was asked to join. The talks in Kiev included the EU delegation, Yanukovich, the three opposition leaders and a Russian representative. The USA was not invited.[2]
The EU intervention without Washington was extraordinary and reveals the deeping division between the two in recent months. In effect it was the EU saying to the US State Department, "F*** the US," we will end this ourselves.
After hard talks, all major parties including the majority of protesters, agreed to new presidential elections in December, return to the 2004 Constitution and release of Julia Tymoshenko from prison. The compromise appeared to end the months long chaos and give a way out for all major players.
The diplomatic compromise lasted less than twelve hours. Then all hell broke loose.
Snipers began shooting into the crowd on February 22 in Maidan or Independence Square. Panic ensued and riot police retreated in panic according to eyewitnesses. The opposition leaderVitali Klitschko withdrew from the deal, no reason given. Yanukovich fled Kiev.[3]
The question unanswered until now is who deployed the snipers? According to veteran US intelligence sources, the snipers came from an ultra-right-wing military organization known as Ukrainian National Assembly – Ukrainian People's Self-Defense (UNA-UNSO).
Strange Ukraine 'Nationalists'
The leader of UNA-UNSO, Andriy Shkil, ten years ago became an adviser to Julia Tymoshenko. UNA-UNSO, during the US-instigated 2003-2004 "Orange Revolution", backed pro-NATO candidate Viktor Yushchenko against his pro-Russian opponent, Yanukovich. UNA-UNSO members provided security for the supporters of Yushchenko and Julia Tymoshenko on Independence Square in Kiev in 2003-4.[4]
UNA-UNSO is also reported to have close ties to the German National Democratic Party (NDP).[5]
Ever since the dissolution of the Soviet Union in 1991 the crack-para-military UNA-UNSO members have been behind every revolt against Russian influence. The one connecting thread in their violent campaigns is always anti-Russia. The organization, according to veteran US intelligence sources, is part of a secret NATO "GLADIO" organization, and not a Ukraine nationalist group as portrayed in western media. [6]
According to these sources, UNA-UNSO have been involved (confirmed officially) in the Lithuanian events in the Winter of 1991, the Soviet Coup d'etat in Summer 1991, the war for the Pridnister Republic 1992, the anti-Moscow Abkhazia War 1993, the Chechen War, the US-organized Kosovo Campaign Against the Serbs, and the August 8 2008 war in Georgia. According to these reports, UNA-UNSO para-military have been involved in every NATO dirty war in the post-cold war period, always fighting on behalf of NATO. "These people are the dangerous mercenaries used all over the world to fight NATO's dirty war, and to frame Russia because this group pretends to be Russian special forces. THESE ARE THE BAD GUYS, forget about the window dressing nationalists, these are the men behind the sniper rifles," these sources insist.[7]
If true that UNA-UNSO is not "Ukrainian" opposition, but rather a highly secret NATO force using Ukraine as base, it would suggest that the EU peace compromise with the moderates was likely sabotaged by the one major player excluded from the Kiev 21 February diplomatic talks—Victoria Nuland's State Department.[8] Both Nuland and right-wing Republican US Senator John McCainhave had contact with the leader of the Ukrainian opposition Svoboda Party, whose leader is openly anti-semitic and defends the deeds of a World War II Ukrainian SS-Galicia Division head.[9] The party was registered in 1995, initially calling itself the "Social National Party of Ukraine" and using a swastika style logo. Svoboda is the electoral front for neo-nazi organizations in Ukraine such as UNA-UNSO.[10]
One further indication that Nuland's hand is shaping latest Ukraine events is the fact that the new Ukrainian Parliament is expected to nominate Nuland's choice, Arseny Yatsenyuk, from Tymoshenko's party, to be interim head of the new Cabinet.
Whatever the final truth, clear is that Washington has prepared a new economic rape of Ukraine using its control over the International Monetary Fund (IMF).
IMF plunder of Ukraine Crown Jewels
Now that the "opposition" has driven a duly-elected president into exile somewhere unknown, and dissolved the national riot police, Berkut, Washington has demanded that Ukraine submit to onerous IMF conditionalities.
In negotiations last October, the IMF demanded that Ukraine double prices for gas and electricity to industry and homes, that they lift a ban on private sale of Ukraine's rich agriculture lands, make a major overhaul of their economic holdings, devalue the currency, slash state funds for school children and the elderly to "balance the budget." In return Ukraine would get a paltry $4 billion.
Before the ouster of the Moscow-leaning Yanukovich government last week, Moscow was prepared to buy some $15 billion of Ukraine debt and to slash its gas prices by fully one-third. Now, understandably, Russia is unlikely to give that support. The economic cooperation between Ukraine and Moscow was something Washington was determined to sabotage at all costs.
This drama is far from over. The stakes involve the very future of Russia, the EU-Russian relations, and the global power of Washington, or at least that faction in Washington that sees further wars as the prime instrument of policy.
Writer F. William Engdahl is a geopolitical analyst and the author of  "Full Spectrum Dominance: Totalitarian Democracy in the New World Order".
Endnotes:
[1] F. William Engdahl, US-Außenministerium in flagranti über Regimewechsel in der Ukraine ertappt, Kopp Online.de, February 8, 2014, accessed in http://info.kopp-verlag.de/hintergruende/enthuellungen/f-william-engdahl/us-aussenministerium-in-flagranti-ueber-regimewechsel-in-der-ukraine-ertappt.html
[2] Bertrand Benoit, Laurence Norman and Stephen Fidler , European Ministers Brokered Ukraine Political Compromise: German, French, Polish Foreign Ministers Flew to Kiev, The Wall Street Journal, February 21, 2014, accessed in   http://online.wsj.com/news/articles/SB10001424052702303636404579397351862903542?mg=reno64-wsj&url=http%3A%2F%2Fonline.wsj.com%2Farticle%2FSB10001424052702303636404579397351862903542.html
[3] Jessica Best, Ukraine protests Snipers firing live rounds at demonstrators as fresh violence erupts despite truce, The Mirror UK, February 20, 2014, accessed inhttp://www.mirror.co.uk/news/world-news/ukraine-protests-snipers-firing-live-3164828
[4] Aleksandar Vasovic , Far right group flexes during Ukraine revolution, Associated Press,  January 3, 2005, Accessed in http://community.seattletimes.nwsource.com/archive/?date=20050103&slug=ukraine03
[5] Wikipedia, Ukrainian National Assembly  Ukrainian National Self Defence, Wikipedia, the free encyclopedia, accessed inhttp://en.wikipedia.org/wiki/Ukrainian_National_Assembly_%E2%80%93_Ukrainian_National_Self_Defence
[6] Source report, Who Has Ukraine Weapons, February 27, 2014, private to author.
[7] Ibid.
[8] Max Blumenthal, Is the US backing neo-Nazis in Ukraine?, AlterNet February 25, 2014, accessed in
http://www.salon.com/2014/02/25/is_the_us_backing_neo_nazis_in_ukraine_partner/
[9] Channel 4 News, Far right group at heart of Ukraine protests meet US senator, 16 December 2013, accessed in
http://www.channel4.com/news/ukraine-mccain-far-right-svoboda-anti-semitic-protests
[10] Ibid
Source: F. William Engdahl | 21st Century Wire
The big currency reset. It's not a case of 'if' – it's a case ofwhen.
Don't expect your provincial Secretary of Treasury or Chancellor Exchequer to warn you about what is coming around the corner, because they are either too stupid to know, or too busy covering their own backsides.
To understand where we are, it's very important to understand how we got here (another point which bureaucrats and backers do not want the general populace to know).
A quick history lesson then…
The Opposite of Emerging is Submerging
Lulled and distracted by the antics of developed country central banks and emerging economy central banks – to constantly "pump-up the jam" and flood the economy with paper casino chips from either Fort Knox or Mount Gox, the real tectonic shift of the global economy since 2008 has been more or less ignored by financial gurus and sages. It is taken as "normal" that deflation, ordisinflation is operating in the developed economies, but now we can see that rip-roaring inflation operating in the emerging economies.
Supposedly, this is 'Muddle Through', but since 2008 the North-South paradigm has all but dissolved – the developed OECD economies are locked in a death embrace with the Emerging economies. The developed economies are now locked into chronic globalization – exporting monetary inflation while importing cheap industrial goods, services and resources.
Since 2008 the always-promised 'world shift' of the economy from west to east, and from north to south has happened, but the net result is a shock. Pretending "we didn't know" is comforting, but ultimately stupid.
This is an unstable equilibrium, or an interregnum – even a sideshow, because the current global economic context and process is the exact opposite of sustainable. Harm to both North and South is now the main impact of the post-2008 process of overreach and intense fiat paper shuffling. Listing the consequences and causes of this overreach is not easy and always open to argument, but possibly the best summary is to suggest that since 2008, 'Ricardo's comparative advantage' paradigm has been inverted. Economic and above all monetary globalization is now the path to ruin and poverty. From win-win to lose-lose. The worse it gets, expect the architects of ruin – establishment politicians, central bankers and financial pundits, to retreat into even deeper denial.
The Production Bubble That Triggers the Collapse
Another simple way to argue the global economy has overreached is that industrial and economic production capacity in the Emerging economies (EMs), starting with the BRICs, is now massively over-sized. This means the EMs can and will saturate the post-industrial, deflating North with industrial supply at every stage and opportunity as technology, design and product development throw up a new market openings everywhere. Examples like the car and cellphone, fashion wear and off-shore call center industries are relatively "classic". All of these are already saturated with capacity – but the EMs are still adding more. Previous historical "classic examples" of this process for example included the ship building industry, but the scale paradigm has been woefully ignored.
Since 2008, the process has intensified, creating an increasingly certain outlook for a forced and fiat end to the willingness of the EMs to accept the fiat currency endlessly printed to finance the deflating, de-industrializing DMs (developed economies).
This will not necessarily be a politicized process, of the type hinted at by India's central bank governor (see http://finance.fortune.cnn.com/tag/raghuram-rajan/), due to the rapidity and scale of the crisis, but instead trigger the collapse of the current global fiat monetary orderdictated by national economic self-defence and survival in the EMs.
The economic jump start of the Ricardo model, which has run riot for the last quarter-century, and went into over-drived from 2008 – will be abandoned.
Deflation/Inflation: Two Sides of the Same Bitcoin
Ricardo's original model held sunny Portugual as a producer of cork and sherry, while rainy England could produce wine casks from its oak forests and wool from its sheep flocks. The money used in a basically resource-based exchange using then-rapidly growing maritime transport capabilities was held to be stable and gold-linked (or based). Later on, low-cost labor resources were built into Ricardo's paradigm called "comparative advantage". The EMs since the 1980s have played the role of resource providers while the DMs were the solvent market suppliers.
While there was a clear limit on cork, wine, oak casks and woolens supply and demand, this does not really apply to modern global fiat money and modern industrial technology. These are high gain positive feedback processes which only stop when they hit a brick wall.
The Ricardo comparative advantage model does not apply to post-1980′s globalization and super economies – like those of China and India, where industrial technology has raced ahead of infrastructure development. This is simply a bomb waiting to explode, alongside the industrial capacity growth, the EMs engaged massive growth of credit, mushroom growth urbanization, neglect of the agriculture and food sector, and turning a blind eye to rampant or even "structural" corruption. Inflation was the sure and certain result.
The results do not stop there. While inflation took off inside the EMs, with their economies producing more than they can consume, and exporting to the DMs which consume more than they produce, the EMs are also exported deflation to the developed market economies. At the same time, the emerging market economies mined out their capital bases to maintain their breakneck growth of industrial capacity.
On an almost daily basis now, the EMs are all shifting to current account deficit with the inevitable consequences of national currency devaluation, further inflation, and of course – higher interest rates.
Win-Win to Lose-Lose: Global Fiat Currency Crisis
The post-1980′s economic globalization paradigm can be called an initial 'Win-Win' model which eventually morphed to Lose-Lose.
The industrial nations of the DMs, which formerly benefited from the resource nations of the EMs under the previous 'Ricardo-type' model, are now mired in debt and de-industrialization, making it impossible for them to "grow their way out of crisis". The EMs on their present industrial expansion path can only grow themselves into rapidly-deepening crisis.
The "money-in-the-middle" especially concerns the US dollar and its subsidiary partner, theeuro, both of which are vastly overvalued fiat currencies – but against what? Almost inevitably, this will feature a big rebound for gold, playing the starring role of in this latest episode of "Canary in the Monetary Coal Mine". From a personal standpoint, or national (for those who have any), physical gold and silver could end up providing solid protection against the exposure of a monetary reset.
Conversely, commodities are unlikely to profit on an enduring sustained basis, due to economic restructuring, re-centering and contraction being almost certain.
Commenting on the IMF's latest report on global capital flows since 1980, Reuters on 30 January said that while the IMF estimates net capital inflows to emerging economies as $7 trillion or more only since 2005, this was a "legacy trend" hinged on the EMs running a much higher GDP growth differential above the DMs than present. The IMF report noted that for 2014, economic growth in the BRICs will go on declining, and for Russia and Brazil, they will be less even than the GDP growth of the US and Britain. While the IMF's economists do not allow themselves to project break-of-series change to the global economy, the process of what Gordon T. Long calls "Global collateral impairment" can easily default as the net result of apparently 'unrelated and complex' runaway processes.
This collateral impairment will inevitably trigger multi-national currency protection measures, a situation already clear in countries like Turkey, India, Argentina and other EMs.
For DMs in the North, plans are likely already underway. Will the reset feature a brand new reserve currency, or the introduction a fledgling single global, or virtual currency? If so, what will it be backed by (or maybe it won't). It's hard to know right now, but a shift of that magnitude could provide for the introduction of something new in the mix.
It's a case of problem, reaction, solution, and one can assume that this Hegelian equation has already been mapped out on the back of a napkin in an executive dining floor of the one of the world leading central banks, possibly written using Christine Lagarde's lip stick.
As a result, sacrificing GDP growth to protect the national money in the EMs will be inevitable. In turn, this will send a severe shock wave North to the DMs ,which have surfed on the latter-day version of the Ricardo paradigm for the last 30 years, and are now left unable to adapt.
The basic conclusion is that a global monetary reset is now overdue.
There will be shock waves, and haircuts too.
Brace yourself for impact, because it's coming.
Source: Andrew McKillop | 21st Century Wire
Want to know the dates for the Blood Moons and total lunar eclipses in 2014 and 2015? You've come to the right place…
We have been receiving a number of inquiries about some upcoming Blood Moons in the years 2014 and 2015. And we want to say, first of all, that the Blood Moons most people are asking about are not part of astronomy. Instead, their origin is religious, at least according to Christian pastor John Hagee, who wrote a 2013 book about Blood Moons. More about that below. Still, since they're moons, and since people are asking us, we wanted to reply.
Follow the links below to learn more about Blood Moons.
Dates of Harvest and Hunter's Moons in 2014 and 2015
Blood Moons in Biblical prophecy
Dates of Biblical prophecy Blood Moons in 2014 and 2015
How common is a tetrad of total lunar eclipses?
Why is the term Blood Moon being used to mean a full moon of a lunar tetrad?

Why is a Hunter's Moon linked in people's minds with a red moon? First of all, in autumn, the angle of the ecliptic – or sun and moon's path – makes a narrow angle with the horizon. Image via classicalastronomy.com.
Secondly, the narrow angle of the ecliptic means the moon rises noticeably farther north on the horizon, from one night to the next. So, every autumn, there is no long period of darkness between sunset and moonrise. Around the time of full moon, many people see the moon low in the sky, around the time of twilight. At that time, the moon often looks reddish. Image via classicalastronomy.com.
Blood Moons in astronomy. In astronomical lore, all the full moons have names. The names typically coincide with months of the year, or seasons.
One of the most famous moon names isthe Hunter's Moon. It is the the full moonimmediately following the Harvest Moon, which is the full moon occurring most closely to the autumnal equinox.
The Hunter's Moon, in skylore, is also sometimes called the Blood Moon. Why? Probably because it's a characteristic of these autumn full moons that they appear nearly full – and rise soon after sunset – for several evenings in a row. Many people see them when they are low in the sky, shortly after they've risen, at which time there's more atmosphere between you and the moon than when the moon is overhead. When you see the moon low in the sky, the extra air between you and the moon makes the moon look reddish. Voila. Blood moon.
Dates for the Northern Hemisphere's Harvest and Hunter's Moons in 2014 and 2015:
2014:
Harvest Moon: September 9
Autumn Equinox: September 23
Hunter's (Blood) Moon: October 8

2015:
Autumn Equinox: September 23
Harvest Moon: September 28
Hunter's (Blood) Moon: October 27
This book, published in 2013, is apparently what launched all the questions to our astronomy website about Blood Moons. We confess. We haven't read it.
Blood Moons in Biblical prophecy. We're not experts on prophecy of any kind. But we'll tell you what we know about the new definition for Blood Moon that has caused so many questions recently.
From what we've been able to gather, two Christian pastors, Mark Blitz and John Hagee, use the termBlood Moon to apply to the full moons of the upcoming tetrad – four successive total lunar eclipses, with no partial lunar eclipses in between, each of which is separated from the other by six lunar months (six full moons) – in 2014 and 2015. John Hagee appears to have popularized the term in his 2013 book Four Blood Moons: Something is About to Change.
Mark Blitz and John Hagee speak of a lunar tetrad as representing a fulfillment of Biblical prophecy. After all, the moon is supposed to turn blood red before the end times, isn't it? As described in Joel 2:31 (Common English Bible):
The sun will be turned to darkness, and the moon to blood before the great and dreadful day of the LORD comes.
That description, by the way, describes both a total solar eclipse and total lunar eclipse. Sun turned to darkness = moon directly between the Earth and sun in a total solar eclipse. Moon turned to blood = Earth directly between the sun and moon, Earth's shadow falling on the moon in a total lunar eclipse.
This is what a total eclipse looks like. This is the total eclipse of October 27, 2004 via Fred Espenak of NASA. Visit Fred's page here. We astronomy writers often describe a totally eclipsed moon as appearing 'blood red.' Here's why the moon turns red during a total eclipse.
We astronomy writers often describe total lunar eclipses as appearing blood red. Why red? They appear reddish because sunlight from all of Earth's sunrises and sunsets is scattered by the Earth's atmosphere and falls on the surface of the eclipsed moon. In years where volcanic activity is pronounced, however, a total lunar eclipse may appear more brownish or gray in color. Read more here: Why does the moon look red during a total lunar eclipse?
Dates of Biblical prophecy Blood Moons in 2014 and 2015. These are the dates for the upcomingtetrad – four successive total lunar eclipses – in these years.
2014:
Total lunar eclipse: April 15
Total lunar eclipse: October 8

2015:
Total lunar eclipse: April 4
Total lunar eclipse: September 28
There are a total of 8 tetrads in the 21st century (2001 to 2100). But proponents of this Biblical prophecy regard the upcoming tetrad as especially significant because it coincides with two important Jewish holidays: Passover and Tabernacles.
The April 2014 and April 2015 total lunar eclipses align with the feast of Passover. The October 2014 and September 2015 total lunar eclipses align with the feast of Tabernacles.
The Jewish calendar is a lunar calendar. In any year, it's inevitable that a full moon should fall on or near the feasts of Passover (15 Nissan) and Tabernacles (15 Tishri). Nissan and Tishri are the first and seventh months of the Jewish calendar, respectively.
It is somewhat ironic that three of these four lunar eclipses are not visible – even in part – from Israel. The only eclipse that can be seen at all from Israel is the tail end of the September 28, 2015 eclipse, which may be observable for a short while before sunrise.
How common is a tetrad of total lunar eclipses? Depending upon the century in which you live, alunar tetrad (four consecutive total lunar eclipses, spaced at six lunar months apart from one another) may happen fairly frequently – or not at all.
For instance, in our 21st century (2001-2100), there are a total 8 tetrads, but in the 17th, 18th and 19th centuries, there were none at all. If we include all the centuries from the 1st century (AD 1-100) through the 21st century (2001-2100), inclusive, there are a total of 62 tetrads. The last one occurred in 2003-2004, and the next one after the 2014-2015 tetrad will happen in 2032-2033.
However, if we want to know which tetrads specifically fell on the Jewish feasts of Passover and Tabernacles, there appear to be a total of 8 in these 21 centuries:
1. 162-163 C.E. (Common Era)
2. 795-796 C.E.
3. 842-843 C.E.
4. 860-861 C.E.
5. 1493-1494 C.E.
6. 1949-1950 C.E.
7. 1967-1968 C.E.
8. 2014-2015 C.E.
Why is the term Blood Moon being used to mean a full moon of a lunar tetrad? We can't really tell you why more and more people are using the term Blood Moon to describe the four full moons of alunar tetrad. We don't know why, exactly.
Here's the definition of a lunar tetrad, again: four successive total lunar eclipses, with no partial eclipses in between, each of which is separated from the other by six lunar months (six full moons). There's no obvious reason why Blood Moon should be associated with this term.
To the best of our knowledge, however, the use of the term Blood Moon to describe a lunar tetrad is of recent origin. It might have originated with John Hagee's 2013 book.
We're still not sure whether Blood Moon pertains to the full moon of any tetrad, or specifically to a tetrad that coincides with the feasts of Passover and Tabernacles.
Either way, I suspect the nouveau definition of Blood Moon will gain traction as we approach the tetrad, the four total lunar eclipses of 2014 and 2015.
Bottom line: The term Blood Moon in astronomy in sometimes used as another name for the Hunter's Moon. The term Blood Moon in Biblical prophecy appears to have been popularized by two Christian pastors, Mark Blitz and John Hagee. They use the term Blood Moon to apply to the full moons of the upcoming tetrad – four successive total lunar eclipses, with no partial lunar eclipses in between, each of which is separated from the other by six lunar months (six full moons) – in 2014 and 2015. Astronomers will not be using the term Blood Moon to describe these four upcoming lunar eclipses.
Source: EarthSky
I wrote previously about our cultural fantasy that forgets we are totally dependent on soil and water.  At the end of his Commentary on the Book of Numbers R. J. Rushdoony writes as follows: "For modern man land has become a commodity and an investment, not essentially a faith inheritance.  Our modern outlook thus warps our perspective.  For this reason, our federal government thinks nothing of allowing in as immigrants an increasing number of people who are religiously and racially hostile to us.  They see no relationship between faith and land.  As a result the United States and the Western world have embarked on a suicidal course.  They reject the concept of Christendom and embrace instead the humanistic "family of man" and thus immigration policies in the U.S. and Europe are based on myths and illusions of a destructive nature.  Because neither land nor inheritance is now seen from the perspective of faith, we have problems in these spheres.  The modern state sees itself as the primary owner, and hence eminent domain is basic to its life, and it therefore views itself as the primary heir with death taxes.  Both a tax on the land and death taxes are anti-Biblical."
I am not sure that linking our immigration problem to a lack of understanding of the relationship between land and faith is entirely true.  Immigration in America is Balkanizing the nation and destroying the culture.  It is satanic in nature and is being promoted by powerful forces that seek world government without national borders. The Christian religion itself is a target for destruction.
Nevertheless, human beings are land based creatures and Christianity is a land based religion. We are but sojourners in a world that God created.  We are vested with the responsibility of passing God's land to the next generation in an untainted condition.
When we hear of conversations in elite circles about the need to exterminate millions of useless eaters because the world is overpopulated we can, in part, attribute this arrogant discussion to our inattention to our earthly umbilical cord.
This separation from terra firma has been enhanced by modern farm machinery which allows planting and reaping with very little contact with the media.  Farmers with soil on their clothing and on their persons were ever aware of the element that grew their crops. Now air conditioned tractors provide comforts on a par with the offices of business executives.
Please understand, I am not advocating a return to the horse and buggy.  Mechanical inventions are a boon to mankind and we are blest to have them.  The problem is with the egomania these marvelous inventions have created, making gods of men and enhancing the humanism that is responsible for creeping despotism.
Without the absolute legal standards of the God of the Bible human beings with their diverse opinions and desires are incapable of peaceful existence.  We are more like devils than gods and when we give in to the sinful desire to be like God we inevitably create confusion and misery.  We were made to be obedient to our Maker and are unable to live in freedom without adhering to His commandments.
The terrifying dangers of men beginning to act as gods are becoming apparent in our manipulation of our soil and seeds.  We started by ignoring God's Sabbath for the land.  The practice of allowing land to lie fallow for one year in every seven was abandoned and fertilizers and chemicals were added to allow the production of continuous annual crops.  Now we are manipulating seeds creating mutations that are designed to produce beneficial protections.  We have appropriated the right to manipulate the creation as if it belonged to us.  The results of this arbitrary manipulation can be catastrophic.
Social sophisticates often view farmers with disdain.  Farming is considered an occupation of dull, dirt tainted, bumpkins that do not fit into the upper classes of our culture. This Pharisaical spirit elevates urban life and bears responsibility for the detrimental error of forgetting the source of our sustenance.
My mother was born and raised on a farm.  She walking four miles each way to attend a school that housed 8 grades. She graduated from University of Illinois in the early years of the Twentieth Century and her sister, who was educated in that same humble classroom, was a Phi Beta Kappa graduate from Northwestern University.  There were two boys in that Irish led family.  The boys remained with the land but the two girls married professional men.  The two boys were my uncles.  One died early without progeny the other had one son who with a college degree in Agriculture remained in farming.  He produced a girl and a boy.  The son remained on the farm and produced a son who has no interest in agriculture.  All of the land my Grandfather homesteaded will soon be leased out.
Mother's family was Methodist.  She dominated my father.  Methodism stressed human control of behavior rather than obedience to God and His Law.  Land was a commodity rather than an intricate part of the Christian religion.
Government has been busy acquiring land in the United States.  Estimates place the total U. S. land at about 2.25 billion acres and the total federal and states ownership at close to 45 percent; The Federal Government owns about 700 million acres and rising.  In thirteen Western states two thirds of the entire land mass is Government property; 87.5 percent of the State of Arizona and over 90 percent of the State of Nevada.  The United States Government owns a larger percentage of the nation's land than do the Communist regimes in Russia and China.
A Google search on "city is more competitive" produced over a hundred thousand results.  The elite pagans who currently control our world would like to herd people into cities where an intercity economic competition would keep everyone striving.   More and more of the land is falling under government control and hundreds of thousands of homes have been repossessed.  The intent seems to be for wealthy lords to live handsomely on the labor of the world's serfs who would exist in tiny cubicles in crowded cities.
In ancient Israel God allowed the permanent sales of urban properties but had rural lands returned to their original owners in the year of Jubilee.  Stability was vested in the families that owned and cultivated land.  Though the processing, packaging, and merchandising of food has blurred the connection it is still the same today; the cultivation of land remains the source of sustenance for the world's population..
In one of his daily messages in "A Word in Season" Rushdoony relates the early American practice of Rogation Sunday.  In the evening following Sunday prayer for the harvest "each farmer and his family walked the boundaries of their property and gave thanks for the good earth.  As they walked, the boy of the family was 'bumped' against the landmarks, the boundary stone, or against a boundary tree.  If a pond or stream marked the boundary he was ducked into it.  Then the boy who was bumped or ducked was given a small gift.  The purpose of the 'bumping' and of the gift was to make the boy remember the boundaries of the land he would someday fall heir to."
We are prone to forget that the One True God is still sovereign over His creation.  His perspective is infinite and ours is miniscule it is often difficult to see His participation. Nevertheless, He does not change and He still punishes those who presume on His authority.  Human control of His creation will ultimately fail and the ravages of Hell await the perpetrators.
Wicked, ungodly men and women have risen to positions of power in our time.  These "sons of
Belial" are attempting to turn God's creation into a vicious police state; a hell on earth designed by evil minds to accommodate deviant lusts.
Extensive, mysterious efforts to control the weather are being conducted in our skies.  Though they are visible to everyone, thousands of weather forecasters never acknowledge their existence.  Our citizens, too, are frightened and often reluctant to comment on these brazen experiments. It is frightening to see such a massive manipulation play out above us. The beautiful deep blue of space and the billowy, floating clouds that have treated our views for millenniums have been replaced by man-made lines haphazardly drawn over God's creation.
God's Word is full of promises of favorable weather in return for diligent obedience and men who attempt to control what God has claimed as His own are at war with God.
Though we common folk appear to be the victims of the new world order's Procrustean bed we too are culpable. We have failed to abide by God's law concerning His creation. Farmers willingly till their soil without giving it rest.  Local authorities levy taxes against farm land interfering with the ownership and stability God intends.  We have broken God's Law and have elected rulers that do so as well. Captivity is God's punishment for intractable sin and the solution is to return to a proper relationship with our Creator.  Repentance involves understanding that we are servants and He is our Master and our King.  It is our duty to worship and obey Him.  Attempts to manipulate God will fail.  The Bible is not an instrument for discussion but for obedience.  We are appointed to judge the world by the yardstick of God's Law.  First we ourselves obey then seek to bring our nation into obedience.
It is foolhardy to pray for a nation of sinners who disregard God's sovereignty and ignore His commandments.   God is bringing captivity on the world because His people made in His image, sin against Him by living their lives independent of His Will.  The world falls deeper into sin as each day passes. Instead of hearing and obeying every word that comes from the mouth of God, we insult Him by picking apart His Word and deciding what we will believe and what we will ignore.  We treat the Christian religion like a toy that is fun for a season but that we can put aside whenever we wish.
It is obviously clear. President Obama is a threat not only to the American people. He is destabilizing the United States every way he can. He did this paying for Treyvon protest trying to start race wars as one example. He is a threat to world peace. He has to be neutralized before he takes the world into an age of war and destruction. Now how can that be done? Congress can pass all the impeachment bills. The US Senate will not by two thirds vote him guilty removing him from office. Politically there is very little that can be done to interpose between Obama and him destroying the world.
So who will step in and take action to avert a disaster from  happening?  The usurper in the White House is the most lawless President in history that makes Nixon and Clintonlook like choir boys in comparison. President Obama does not respect the Constitution and international law. He is waging war against the American people economically and shredding our Bill of Rights daily.
He is waging war against Christianity on the domestic front attacking religious freedom by forcing people of conscience to pay for Obamacare the pays for abortions. He is attacking Christians in the military daring to say the name of Jesus forcing chaplains to marry homosexuals against the moral conviction of the clergy. At the same time erecting Pagan places of worship on military installations. For this matter I call on the Patriots to relieve officers of duty and command who attack the religious freedom of the men and women in uniform. I do not care if the commander is a Buddhist and gay. He must respect and defend all faiths and conscience. If he is willing to follow an unlawful, immoral order without question that will weaken the fighting strength. Then the commanders and officers who carry these immoral orders need to be relieved of command.
President Obama is waging war on Christians in Syria, Egypt and now in Kenya. He is waging war against Christians world wide. He is a threat to the faith. He is arming the enemies of Christianity who are murdering unarmed woman and children. His actions are bringing instability to the world. He does not regard public opinion at all when it comes to gun control when the people are buying guns in record numbers and the citizens reluctance to go to war with Iran and Syria. Obama is a dangerous loose cannon that must be stopped.
First, Obama may be a natural born US Citizen because he was born in Hawaii. But he renounced his US citizenship becoming an Indonesian citizen taking on the name Barry Soetoro. His records are sealed where we do not know his immigration and naturalization records documenting repatriation or if he is a US citizen. Therefore he might be ineligible to hold office. Obama by his actions says he is an agent of a foreign power working against the United States. He is a domestic enemy of the United States.
He is arming Al Qaeda. The same terrorist that killed and maimed soldiers and Marines in Iraq and Afghanistan. Obama's half brother is being funded by the CIA to fund the Muslim brotherhood. Obama's cousin Odinga is destabilizing Kenya. Odinga was given advice from Obama when he was a US Senator on how to cause havoc and destabilize Kenya for political gain.
Now with this massacre in Nairobi Kenya killing Christians in a Shopping mall. Now there are calls for the TSA to be in Shopping Malls that are another gun free zone. It would not surprise me if there are shootings in the malls in the states to further a police state here. Al Qaeda leader Ayman al-Zawahri was calling for small scale attacks on US soil. Al Zawahri is a CIA backed operative who was behind the assassination of Egyptian President Anwar Sadat. Obama is the head of the Muslim Brotherhood and backs AL Qaeda therefore must be taken down and brought to justice.
Treason is the only crime defined in the Constitution written in Article 3 section 3 saying:
Treason against the United States, shall consist only in levying War against them, or in adhering to their Enemies, giving them Aid and Comfort.
President Obama is commiting treason daily against the Americans people waging war every way possible to weaken our republic. He is involved in insurrection and rebellion against the laws of the Union.
Under Article 6 section 3 of the US Constitution all branches in government are bound to the oath as outlined
The Senators and Representatives before mentioned, and the members of the several state legislatures, and all executive and judicial officers, both of the United States and of the several states, shall be bound by oath or affirmation, to support this Constitution.
If we took the oath. We are all duty bound to uphold that oath against all enemies foreign and domestic.
Those who are commissioned Officers in the Armed forces take the oath below:
Commissioned officers taken this oath:
I, _____, having been appointed an officer in the Army of the United States, as indicated above in the grade of _____ do solemnly swear (or affirm) that I will support and defend the Constitution of the United States against all enemies, foreign and domestic, that I will bear true faith and allegiance to the same; that I take this obligation freely, without any mental reservations or purpose of evasion; and that I will well and faithfully discharge the duties of the office upon which I am about to enter; So help me God."
(DA Form 71, 1 August 1959, for officers.)
Enlisted personal and Non Commissioned Officers take this oath:
I, _____, do solemnly swear (or affirm) that I will support and defend the Constitution ofthe United States against all enemies, foreign and domestic; that I will bear true faith and allegiance to the same; and that I will obey the orders of the President of the UnitedStates and the orders of the officers appointed over me, according to regulations and the Uniform Code of Military Justice. So help me God."
(Title 10, US Code; Act of 5 May 1960 replacing the wording first adopted in 1789, with amendment effective 5 October 1962).
That oath does not say to defend unconstitutional laws and illegal orders. It does not say defend a political agenda or corrupt politicians. It does not say defend the dictator. If the laws contradict the USMJ and the Constitution of these United States. The people in the Armed forces are duty bound not to carry out the order.
We are very unique because our oaths are not to a person. But to the US Constitution. The people who written the Constitution and requiring an oath of affirmation to support and defend the Constitution. Not a monarchy. They knew the British Redcoats were bound to the will of the King. Not to any morals. They had to follow the decrees of the King without question.   We do not serve a monarchy. We never swore to a dictator. We serve the cause of freedom defending and preserving our Constitution. Our oath to preserve, protect and defend out Constitution is a vital check and balance against tyranny and despotism. The UCMJ requires us to follow lawful orders and not illegal edicts that goes against the law of the land
President Obama through insurrection is working hard to overthrow the government ofthe United States. Obama is trying to find an excuse to declare a national emergency to place the USA under Martial law. He can announce the President is  suspending the Constitution so continuity of government declaring the President Dictator under PD-51 President Bush singed. This makes the President a Dictator under any national emergency the chief executive decides what is and what isn't . Congress has no say to review. This is a classified document congress is not allowed to read.
Right now in Benjamin Fulford newsletter he says with much skepticism from a source inside the Pentagon. General Staff officers are making a list of 30,000 people who are New World Order thugs including the President. All to be arrested for treason and insurrection attempting to overthrow the Constitutional government. 
It has been rumored the Provost Marshal was going to arrest Obama for attempting to detonate a nuclear device in Washington DC on the 12th Anniversary of Sept 11th. The shooting in the Navy yard could be a smoke screen of the attempted arrest of Obama for treason. I can tell the Military is getting ready to act to defend this nation. When Secretary of State John Kerry signed the UN Small Arms Trade Treaty. That was an act of treason trying to repeal the Second Amendment by underhanded means using treaty law.
I do not see much of the Military going out to confiscate guns. It is not 2005 in New Orleans after Hurricane Katrina. It is a different world.
The Military is very awake now to the President's treasonous ways. It is my hope the Military stands down instead  of carrying out illegal orders where Obama is crowned King Nothing.
Source: From The Trenches World Report
A poll last year showed that trust in the mainstream media is increasing, which should worry all of us who value truth, integrity and press freedom. Why? Here are 10 disturbing things everyone needs to know about the global media giants who control our supply of information, wielding immense power over the people- and even over the government.
1. Mainstream media exists solely to make profit

What´s the purpose of the mainstream media? Saying that the press exists to inform, educate or entertain is like saying Apple corporation´s primary function is to make technology which will enrich our lives. Actually, the mass media industry is the same as any other in a capitalist society: it exists to make profit. Medialens, a British campaigning site which critiques mainstream (or corporate) journalism, quotedbusiness journalist Marjorie Kelly as saying that all corporations, including those dealing with media, exist only to maximize returns to their shareholders. This is, she said,  ´the law of the land…universally accepted as a kind of divine, unchallengeable truth´. Without pleasing shareholders and a board of directors, mass media enterprises simply would not exist. And once you understand this, you´ll never watch the news in the same way again.
2. Advertisers dictate content
So how does the pursuit of profit affect the news we consume? Media corporations make the vast majority (typically around 75%) of their profit from advertising, meaning it´s advertisers themselves that dictate content- not journalists, and certainly not consumers. Imagine you are editor of a successful newspaper or TV channel with high circulation or viewing figures. You attract revenue from big brands and multinational corporations such as BP, Monsanto and UAE airlines. How could you then tackle important topics such as climate change, GM food or disastrous oil spills in a way that is both honest to your audience and favorable to your clients? The simple answer is you can´t. This might explain why Andrew Ross Sorkin of the New York Times-  sponsored by Goldman Sachs-  is so keen todefend the crooked corporation. Andrew Marr, a political correspondent for the BBC, sums up the dilemma in his autobiography: ´The biggest question is whether advertising limits and reshapes the news agenda. It does, of course. It's hard to make the sums add up when you are kicking the people who write the cheques.´ Enough said…
3. Billionaire tycoons & media monopolies threaten real journalism


The monopolization of the press (fewer individuals or organizations controlling increasing shares of the mass media) is growingyear by year, and this is a grave danger to press ethics and diversity. Media mogul RupertMurdoch´s  neo-liberal personal politics are reflected in his 175 newspapers and endorsed by pundits (see Fox news) on the 123 TV channels he owns in the USA alone. Anyone who isn´t worried by this one man´s view of the world being consumed by millions of people across the globe- from the USA to the UK, New Zealand to Asia, Europe to Australia- isn´t thinking hard enough about the consequences. It´s a grotesquely all-encompassing monopoly, leaving no doubt that Murdoch is one of the most powerful men in the world. But as the News International phone hacking scandal  showed, he´s certainly not the most honorable or ethical. Neither is AlexanderLebedev, a former KGB spy and politician who bought British newspaper The Independent  in 2010.  With Lebedev´s fingers in so many pies (the billionaire oligarch is into everything from investment banking to airlines), can we really expect news coverage from this once well-respected publication to continue in the same vein? Obviously not: the paper had always carried a banner on its front page declaring itself  ´free from party political bias, free from proprietorial influence´, but interestingly this was dropped in September 2011.
4. Corporate press is in bed with the government

Aside from the obvious, one of the most disturbing facts to emerge from Murdoch´s News International phone hacking scandal (background information here ) was the exposure of shady connections  between top government officials and press tycoons. During the scandal, and throughout the subsequent Leveson inquiry into British press ethics (or lack of them), we learned of secret meetings, threatsby Murdoch to politicians who didn´t do as he wanted, and that Prime Minister David Cameron has a very close friendship with The Sun´s then editor-in-chief (and CEO of News International) Rebekah Brooks. How can journalists do their job of holding politicians to account when they are vacationing together or rubbing shoulders at private dinner parties? Clearly, they don´t intend to. But the support works both ways- Cameron´s government tried to help Murdoch´s son win a bid for BSkyB, while bizarrely,  warmongering ex Prime Minister Tony Blair is godfather to Murdoch´s daughter Grace. As well as ensuring an overwhelming bias in news coverage and election campaigns, flooding newspapers with cheap and easy articles from unquestioned government sources, and gagging writers from criticizing those in power, these secret connections also account for much of the corporate media´s incessant peddling of the patriotism lie-  especially in the lead-up to attacks on other countries. Here´s an interestinganalysis of The New York Times´s coverage of the current Syria situation for example, demonstrating how corporate journalists are failing to reflect public feeling on the issue of a full-scale attack on Assad by the US and its allies. 

5. Important stories are overshadowed by trivia

You could be forgiven for assuming that the most interesting part of Edward Snowden´s status as a whistleblower was his plane ride from Hong Kong to Russia, or his lengthy stint waiting in Moscow airport for someone- anyone- to offer him asylum. Because with the exception of The Guardian who published the leaks (read them in fullhere), the media has generally preferred not to focus on Snowden´s damning revelations about freedom and tyranny, but rather on banaltrivia – his personality and background, whether his girlfriend misses him, whether he is actually a Chinese spy, and ahhh, didn´t he remind us all of Where´s Waldo as he flitted across the globe as a wanted fugitive? The same could be said of Bradley Manning´s gender re-assignment, which conveniently overshadowed the enormous injustice of his sentence. And what of Julian Assange? His profile on the globally-respected BBC is dedicated almost entirely to a subtle smearing of character, rather than detailing Wikileaks´s profound impact on our view of the world. In every case, the principal stories are forgotten as our attention, lost in a sea of trivia, is expertly diverted from the real issues at hand: those which invariably, the government wants us to forget.
6. Mainstream media doesn´t ask questions

´Check your sources, check your facts´ are golden rules in journalism 101, but you wouldn´t guess that from reading the mainstream press or watching corporate TV channels. At the time of writing, Obama is beating the war drums over Syria. Following accusations by the US and Britain that Assad was responsible for a nerve gas attack on his own civilians last month, most mainstream newspapers- like the afore-mentioned New York Times- have failed to demand evidence or call for restraint on a full-scale attack. But there are several good reasons why journalists should question the official story. Firstly, British right-wing newspaper The Daily Mail actually ran a news piece back in January this year, publishing leaked emails from a British arms company showing the US was planning a false flag chemical attack on Syria´s civilians. They would then blame it on Assad to gain public support for a subsequent full-scale invasion. The article was hastily deleted but a cached version still exists. Other recent evidence lends support to the unthinkable. It has emerged that the chemicals used to make the nerve gas were indeed shipped from Britain, and German intelligenceinsists Assad was not responsible for the chemical attack. Meanwhile, a hacktivist has come forward with alleged evidence of US intelligence agencies´ involvement in the massacre (download it for yourself here ), with a growing body of evidence suggesting this vile plot was hatched by Western powers. Never overlook the corporate media´s ties to big business and big government before accepting what you are told- because if journalism is dead, you have a right and a duty to ask your own questions.
7. Corporate journalists hate real journalists

Sirota rightly points out the irony of this: ´Here we have a reporter expressing excitement at the prospect of the government executing the publisher of information that became the basis for some of the most important journalism in the last decade.´ Sirota goes on to note various examples of what he calls the ´Journalists against Journalism club´, and gives severalexamples of how The Guardian columnist Glenn Greenwald has been attacked by the corporate press for publishing Snowden´s leaks. The New York Times' Andrew Ross Sorkin called for Greenwald's arrest, while NBC's David Gregory´s declared that Greenwald has ´aided and abetted Snowden´. As for the question of whether journalists can indeed be outspoken, Sirota accurately notes that it all depends on whether their opinions serve or challenge the status quo, and goes on to list the hypocrisy of Greenwald´s critics in depth: ´Grunwald has saber-rattling opinions that proudly support the government's drone strikes and surveillance. Sorkin's opinions promote Wall Street's interests. (The Washington Post´s David) Broder had opinions that supported, among other things, the government's corporate-serving "free" trade agenda. (The Washington Post´s Bob) Woodward has opinions backing an ever-bigger Pentagon budget that enriches defense contractors. (The Atlantic´s Jeffrey) Goldberg promotes the Military-Industrial Complex's generally pro-war opinions. (The New York Times´s Thomas) Friedman is all of them combined, promoting both "free" trade and "suck on this" militarism. Because these voices loyally promote the unstated assumptions that serve the power structure and that dominate American politics, all of their particular opinions aren't even typically portrayed as opinions; they are usually portrayed as noncontroversial objectivity.´
8. Bad news sells, good news is censored, and celebrity gossip trumps important issues

It´s sad but true: bad news really does sell more newspapers. But why? Are we really so pessimistic? Do we relish the suffering of others? Are we secretly glad that something terrible happened to someone else, not us? Reading the corporate press as an alien visiting Earth you might assume so. Generally, news coverage is sensationalist and depressing as hell, with so many pages dedicated to murder, rape and pedophilia and yet none to the billions of good deeds and amazingly inspirational movements taking place every minute of every day all over the planet. But the reasons we consume bad news are perfectly logical. In times of harmony and peace, people simply don´t feel the need to educate themselves as much as they do in times of crises. That´s good news for anyone beginning to despair that humans are apathetic, hateful and dumb, and it could even be argued that this sobering and simple fact is a great incentive for the mass media industry to do something worthwhile. They could start offering the positive and hopeful angle for a change. They could use dark periods of increased public interest to convey a message of peace and justice. They could reflect humanity´s desire for solutions and our urgent concerns for the environment. They could act as the voice of a global population who has had enough of violence and lies to campaign for transparency, equality, freedom, truth, and real democracy. Would that sell newspapers? I think so. They could even hold a few politicians to account on behalf of the people, wouldn´t that be something? But for the foreseeable future, it´s likely the corporate press will just distract our attention with another picture of Rhianna´s butt, another rumor about Justin Bieber´s coke habit, or another article about Kim Kardashian (who is she again?) wearing perspex heels with swollen ankles while pregnant. Who cares about the missing$21 trillion, what was she thinking?
9. Whoever controls language controls the population

Have you read George Orwell´s classic novel1984 yet? It´s become a clichéd reference in today´s dystopia, that´s true, but with good reason. There are many- too many- parallels between Orwell´s dark imaginary future and our current reality, but one important part of his vision concerned language. Orwell coined the word ´Newspeak´  to describe a simplistic version of the English language with the aim of limiting free thought on issues that would challenge the status quo (creativity, peace, and individualism for example). The concept of Newspeak includes what Orwell called ´DoubleThink´-  how language is made ambiguous or even inverted to convey the opposite of what is true. In his book, the Ministry of War is known as the Ministry of Love, for example, while the Ministry of Truth deals with propaganda and entertainment. Sound familiar yet? Another book that delves into this topic deeper is Unspeak, a must-read for anyone interested in language and power and specifically how words are distorted for political ends. Terms such as ´peace keeping missiles´, ´extremists´ and ´no-fly zones´, weapons being referred to as ´assets´, or misleading business euphemisms such as ´downsizing´ for redundancy and ´sunset´ for termination- these, and hundreds of other examples, demonstrate how powerful language can be. In a world of growing corporate media monopolization, those who wield this power can manipulate words and therefore public reaction, to encourage compliance, uphold the status quo, or provoke fear.
10. Freedom of the press no longer exists

The only press that is currently free (at least for now) is the independent publication with no corporate advertisers, board of directors, shareholders or CEOs. Details of how the state has redefined journalism are noted here and are mentioned in #7, but the best recent example would be the government´s treatment of The Guardian over its publication of the Snowden leaks. As a side note, it´s possible this paper plays us as well as any other- The Guardian Media Group isn´t small fry, after all. But on the other hand- bearing in mind points 1 to 9- why should we find it hard to believe that after the NSA files were published, editor Alan Rusbridge wastold by the powers that be ´you´ve had your fun, now return the files´, that government officials stormed his newsroom and smashed up hard drives, or that Greenwald´s partner David Miranda wasdetained for 9 hours in a London airport under the Terrorism Act as he delivered documents related to the columnist´s story? Journalism, Alan Rusbridge lamented, ´may be facing a kind of existential threat.´ As CBS Evening News anchor Dan Rather wrote: 'We have few princes and earls today, but we surely have their modern-day equivalents in the very wealthy who seek to manage the news, make unsavory facts disappear and elect representatives who are in service to their own economic and social agenda… The "free press" is no longer a check on power. It has instead become part of the power apparatus itself.'
Sophie is a staff writer for True Activist and a freelance feature writer for various publications on society, activism and other topics. You can read more of her stuff here.
Source: True Activist
What really happened in the Ukrainian crisis?
It is freezing cold in Kiev, legendary city of golden domes on the banks of Dnieper River – cradle of ancient Russian civilisation and the most charming of East European capitals. It is a comfortable and rather prosperous place, with hundreds of small and cosy restaurants, neat streets, sundry parks and that magnificent river. The girls are pretty and the men are sturdy. Kiev is more relaxed than Moscow, and easier on the wallet. Though statistics say the Ukraine is broke and its people should be as poor as Africans, in reality they aren't doing too badly, thanks to their fiscal imprudence. The government borrowed and spent freely, heavily subsidised housing and heating, and they brazenly avoided devaluation of the national currency and the austerity program prescribed by the IMF. This living on credit can go only so far: the Ukraine was doomed to default on its debts next month or sooner, and this is one of the reasons for the present commotion.
A tug-of-war between the East and the West for the future of Ukraine lasted over a month, and has ended for all practical purposes in a resounding victory for Vladimir Putin, adding to his previous successes in Syria and Iran. The trouble began when the administration of President Yanukovich went looking for credits to reschedule its loans and avoid default. There were no offers. They turned to the EC for help; the EC, chiefly Poland and Germany, seeing that the Ukrainian administration was desperate, prepared an association agreement of unusual severity.
The EC is quite hard on its new East European members, Latvia, Romania, Bulgaria et al.: these countries had their industry and agriculture decimated, their young people working menial jobs in Western Europe, their population drop exceeded that of the WWII.
But the association agreement offered to the Ukraine was even worse. It would turn the Ukraine into an impoverished colony of the EC without giving it even the dubious advantages of membership (such as freedom of work and travel in the EC). In desperation, Yanukovich agreed to sign on the dotted line, in vain hopes of getting a large enough loan to avoid collapse. But the EC has no money to spare – it has to provide for Greece, Italy, Spain. Now Russia entered the picture. At the time, relations of the Ukraine and Russia were far from good. Russians had become snotty with their oil money, the Ukrainians blamed their troubles on Russians, but Russia was still the biggest market for Ukrainian products.
For Russia, the EC agreement meant trouble: currently the Ukraine sells its output in Russia with very little customs protection; the borders are porous; people move freely across the border, without even a passport. If the EC association agreement were signed, the EC products would flood Russia through the Ukrainian window of opportunity. So Putin spelled out the rules to Yanukovich: if you sign with the EC, Russian tariffs will rise. This would put some 400,000 Ukrainians out of work right away. Yanukovich balked and refused to sign the EC agreement at the last minute. (I predicted this in my report from Kiev full three weeks before it happened, when nobody believed it – a source of pride).
The EC, and the US standing behind it, were quite upset. Besides the loss of potential economic profit, they had another important reason: they wanted to keep Russia farther away from Europe, and they wanted to keep Russia weak. Russia is not the Soviet Union, but some of the Soviet disobedience to Western imperial designs still lingers in Moscow: be it in Syria, Egypt, Vietnam, Cuba, Angola, Venezuela or Zimbabwe, the Empire can't have its way while the Russian bear is relatively strong. Russia without the Ukraine can't be really powerful: it would be like the US with its Mid-western and Pacific states chopped away. The West does not want the Ukraine to prosper, or to become a stable and strong state either, so it cannot join Russia and make it stronger. A weak, poor and destabilised Ukraine in semi-colonial dependence to the West with some NATO bases is the best future for the country, as perceived by Washington or Brussels.
Angered by this last-moment-escape of Yanukovich, the West activated its supporters. For over a month, Kiev has been besieged by huge crowds bussed from all over the Ukraine, bearing a local strain of the Arab Spring in the far north. Less violent than Tahrir, their Maidan Square became a symbol of struggle for the European strategic future of the country. The Ukraine was turned into the latest battle ground between the US-led alliance and a rising Russia. Would it be a revanche for Obama's Syria debacle, or another heavy strike at fading American hegemony?
The simple division into "pro-East" and "pro-West" has been complicated by the heterogeneity of the Ukraine. The loosely knit country of differing regions is quite similar in its makeup to the Yugoslavia of old. It is another post-Versailles hotchpotch of a country made up after the First World War of bits and pieces, and made independent after the Soviet collapse in 1991. Some parts of this "Ukraine" were incorporated by Russia 500 years ago, the Ukraine proper (a much smaller parcel of land, bearing this name) joined Russia 350 years ago, whilst the Western Ukraine (called the "Eastern Regions") was acquired by Stalin in 1939, and the Crimea was incorporated in the Ukrainian Soviet Republic by Khrushchev in 1954.
The Ukraine is as Russian as the South-of-France is French and as Texas and California are American. Yes, some hundreds years ago, Provence was independent from Paris, – it had its own language and art; while Nice and Savoy became French rather recently. Yes, California and Texas joined the Union rather late too. Still, we understand that they are – by now – parts of those larger countries, ifs and buts notwithstanding. But if they were forced to secede, they would probably evolve a new historic narrative stressing the French ill treatment of the South in the Cathar Crusade, or dispossession of Spanish and Russian residents of California.
Accordingly, since the Ukraine's independence, the authorities have been busy nation-building, enforcing a single official language and creating a new national myth for its 45 million inhabitants. The crowds milling about the Maidan were predominantly (though not exclusively) arrivals from Galicia, a mountainous county bordering with Poland and Hungary, 500 km (300 miles) away from Kiev, and natives of the capital refer to the Maidan gathering as a "Galician occupation".
Like the fiery Bretons, the Galicians are fierce nationalists, bearers of a true Ukrainian spirit (whatever that means). Under Polish and Austrian rule for centuries, whilst the Jews were economically powerful, they are a strongly anti-Jewish and anti-Polish lot, and their modern identity centred around their support for Hitler during the WWII, accompanied by the ethnic cleansing of their Polish and Jewish neighbours. After the WWII, the remainder of pro-Hitler Galician SS fighters were adopted by US Intelligence, re-armed and turned into a guerrilla force against the Soviets. They added an anti-Russian line to their two ancient hatreds and kept fighting the "forest war" until 1956, and these ties between the Cold Warriors have survived the thaw.
After 1991, when the independent Ukraine was created, in the void of state-building traditions, the Galicians were lauded as 'true Ukrainians', as they were the only Ukrainians who ever wanted independence. Their language was used as the basis of a new national state language, their traditions became enshrined on the state level. Memorials of Galician Nazi collaborators and mass murderers Stepan Bandera and Roman Shukhevych peppered the land, often provoking the indignation of other Ukrainians. The Galicians played an important part in the 2004 Orange Revolution as well, when the results of presidential elections were declared void and the pro-Western candidate Mr Yuschenko got the upper hand in the re-run.
However, in 2004, many Kievans also supported Yuschenko, hoping for the Western alliance and a bright new future. Now, in 2013, the city's support for the Maidan was quite low, and the people of Kiev complained loudly about the mess created by the invading throngs: felled trees, burned benches, despoiled buildings and a lot of biological waste. Still, Kiev is home to many NGOs; city intellectuals receive generous help from the US and EC. The old comprador spirit is always strongest in the capitals.
For the East and Southeast of the Ukraine, the populous and heavily industrialised regions, the proposal of association with the EC is a no-go, with no ifs, ands or buts. They produce coal, steel, machinery, cars, missiles, tanks and aircraft. Western imports would erase Ukrainian industry right off the map, as the EC officials freely admit. Even the Poles, hardly a paragon of industrial development, had the audacity to say to the Ukraine: we'll do the technical stuff, you'd better invest in agriculture. This is easier to say than to do: the EC has a lot of regulations that make Ukrainian products unfit for sale and consumption in Europe. Ukrainian experts estimated their expected losses for entering into association with the EC at anything from 20 to 150 billion euros.
For Galicians, the association would work fine. Their speaker at the Maidan called on the youth to 'go where you can get money' and do not give a damn for industry. They make their income in two ways: providing bed-and breakfast rooms for Western tourists and working in Poland and Germany as maids and menials. They hoped they would get visa-free access to Europe and make a decent income for themselves. Meanwhile, nobody offered them a visa-waiver arrangement. The Brits mull over leaving the EC, because of the Poles who flooded their country; the Ukrainians would be too much for London. Only the Americans, always generous at somebody's else expense, demanded the EC drop its visa requirement for them.
While the Maidan was boiling, the West sent its emissaries, ministers and members of parliament to cheer the Maidan crowd, to call for President Yanukovich to resign and for a revolution to install pro-Western rule. Senator McCain went there and made a few firebrand speeches. The EC declared Yanukovich "illegitimate" because so many of his citizens demonstrated against him. But when millions of French citizens demonstrated against their president, when Occupy Wall Street was violently dispersed, nobody thought the government of France or the US president had lost legitimacy…
Victoria Nuland, the Assistant Secretary of State, shared her biscuits with the demonstrators, and demanded from the oligarchs support for the "European cause" or their businesses would suffer. The Ukrainian oligarchs are very wealthy, and they prefer the Ukraine as it is, sitting on the fence between the East and the West. They are afraid that the Russian companies will strip their assets should the Ukraine join the Customs Union, and they know that they are not competitive enough to compete with the EC. Pushed now by Nuland, they were close to falling on the EC side.
Yanukovich was in big trouble. The default was rapidly approaching. He annoyed the pro-Western populace, and he irritated his own supporters, the people of the East and Southeast. The Ukraine had a real chance of collapsing into anarchy. A far-right nationalist party, Svoboda (Liberty), probably the nearest thing to the Nazi party to arise in Europe since 1945, made a bid for power. The EC politicians accused Russia of pressurising the Ukraine; Russian missiles suddenly emerged in the western-most tip of Russia, a few minutes flight from Berlin. The Russian armed forces discussed the US strategy of a "disarming first strike". The tension was very high.
Edward Lucas, the Economist's international editor and author of The New Cold War, is a hawk of the Churchill and Reagan variety. For him, Russia is an enemy, whether ruled by Tsar, by Stalin or by Putin. He wrote: "It is no exaggeration to say that the [Ukraine] determines the long-term future of the entire former Soviet Union. If Ukraine adopts a Euro-Atlantic orientation, then the Putin regime and its satrapies are finished… But if Ukraine falls into Russia's grip, then the outlook is bleak and dangerous… Europe's own security will also be endangered. NATO is already struggling to protect the Baltic states and Poland from the integrated and increasingly impressive military forces of Russia and Belarus. Add Ukraine to that alliance, and a headache turns into a nightmare."
In this cliff-hanging situation, Putin made his pre-emptive strike. At a meeting in the Kremlin, he agreed to buy fifteen billion euros worth of Ukrainian Eurobonds and cut the natural gas price by a third. This meant there would be no default; no massive unemployment; no happy hunting ground for the neo-Nazi thugs of Svoboda; no cheap and plentiful Ukrainian prostitutes and menials for the Germans and Poles; and Ukrainian homes will be warm this Christmas. Better yet, the presidents agreed to reforge their industrial cooperation. When Russia and Ukraine formed a single country, they built spaceships; apart, they can hardly launch a naval ship. Though unification isn't on the map yet, it would make sense for both partners. This artificially divided country can be united, and it would do a lot of good for both of their populaces, and for all people seeking freedom from US hegemony.
There are a lot of difficulties ahead: Putin and Yanukovich are not friends, Ukrainian leaders are prone to renege, the US and the EC have a lot of resources. But meanwhile, it is a victory to celebrate this Christmas tide. Such victories keep Iran safe from US bombardment, inspire the Japanese to demand removal of Okinawa base, encourage those seeking closure of Guantanamo jail, cheer up Palestinian prisoners in Israeli prisons, frighten the NSA and CIA and allow French Catholics to march against Hollande's child-trade laws.
***
What is the secret of Putin's success? Edward Lucas said, in an interview to the pro-Western Ekho Moskvy radio: "Putin had a great year – Snowden, Syria, Ukraine. He checkmated Europe. He is a great player: he notices our weaknesses and turns them into his victories. He is good in diplomatic bluff, and in the game of Divide and Rule. He makes the Europeans think that the US is weak, and he convinced the US that Europeans are useless".
I would offer an alternative explanation. The winds and hidden currents of history respond to those who feel their way. Putin is no less likely a roguish leader of global resistance than Princess Leia or Captain Solo were in Star Wars. Just the time for such a man is ripe.
Unlike Solo, he is not an adventurer. He is a prudent man. He does not try his luck, he waits, even procrastinates. He did not try to change regime in Tbilisi in 2008, when his troops were already on the outskirts of the city. He did not try his luck in Kiev, either. He has spent many hours in many meetings with Yanukovich whom he supposedly personally dislikes.
Like Captain Solo, Putin is a man who is ready to pay his way, full price, and such politicians are rare. "Do you know what is the proudest word you will ever hear from an Englishman's mouth?", asked a James Joyce character, and answered: "His proudest boast is I paid my way." Those were Englishmen of another era, long before the likes of Blair, et al.
While McCain and Nuland, Merkel and Bildt speak of the European choice for the Ukraine, none of them is ready to pay for it. Only Russia is ready to pay her way, in the Joycean sense, whether in cash, as now, or in blood, as in WWII.
Putin is also a magnanimous man. He celebrated his Ukrainian victory and forthcoming Christmas by forgiving his personal and political enemies and setting them free: the Pussy Riot punks, Khodorkovsky the murderous oligarch, rioters… And his last press conference he carried out in Captain Solo self-deprecating mode, and this, for a man in his position, is a very good sign.
The War Is Against Paganism…
Crowns and thrones may perish.
Kingdoms rise and wane
But the Church of Jesus constant will remain
Gates of Hell can never
'Gainst the Church prevail
We have Christ's own promise
And that cannot fail
"To gain this victory, we must wage the war.  Too many want victory without the war, as though eloquence, patriotic or religious gush, ever overcame an enemy."  R. J.  Rushdoony," Numbers" Pg. 270
Patty and I spent Christmas in Destin, Florida.  Destin is an upscale resort town named from a Yankee fisherman who settled there in the mid-Nineteenth Century.  It is home to one of the nation's largest outlet malls.
In one of the shoe outlets we met a clerk from Maine.  Her story is typical of many who have been victimized by the massive changes that have been foisted on the world.  Born, raised, and married in a shoe prosperous Maine town, she and her husband had two children and were living lavishly.  He was a manager at a shoe manufacturing plant where she also worked.  Their combined income was in the high six figures providing them a luxurious lifestyle.
As the inexorable Asian labor monster invaded the shoe industry her husband lost his job. The entire industry shrunk and he was unable to find work.   She became the sole wage earner under a company promise that there would be no additional lay-offs.  The promise was broken and shortly her job was also moved offshore.   They lost everything: their home, their car, and their ability to support two children.  Without prospects of employment in Maine they moved to Florida where they are now working at dramatically lower incomes.  They have re-established their family and, though far less affluent, are again living an orderly life.  Since many employees of Maine factories are still struggling, they consider themselves fortunate.
Their story can be multiplied hundreds-of -thousands of times as industry after industry has been devastated by the planned economic reorganization of the world.
Maine is one of a number of areas that have been severely affected.  The Northeast quadrant has been hardest hit with factory closings and the accompanying disruption of the social order.  Some attempt to cite automation as a culprit but automation provides a social benefit while wholesale robbery is a devastating crime.
The current economic disaster was preceded by an earlier mini-disaster when the Japanese were given free access to our markets.  Now, Asians in several countries have entered the fray and despite efforts by the compliant media to cover it up debilitating disruption is clearly evident.
Since 1950 into the first decade of the Twenty-First Century Detroit, Michigan has lost over 61 percent of its population, Gary, Indiana 55 percent, Youngstown, Ohio over 60, Flint, Michigan over 43, Cleveland, Ohio over 56, Dayton, Ohio over 46, Canton, Ohio over 37, and Pittsburgh, Pennsylvania over 54.  Though it is growing in income Chicago has still lost over 25 percent of its population.
The kettle holding the United States population was put over very low heat in the 1950s.  The drum beat of women's liberation began and continued relentlessly until after several decades single income homes became archaic being replaced by a household income that included two working adults.  This malicious manipulation was imposed without adequate confrontation.
Then we began to hear about the competitive nature of the American work force and how they could successfully compete in the new world market.  Soon the Japanese had usurped a major percentage of the automotive industry forcing the irascibly persuasive Lee Iacocca to shame the congress into loaning Chrysler enough money to keep it afloat.
But the bloody Japanese axe that struck the auto industry was only the beginning.  The Chinese horde soon followed and suddenly every "Made in USA" product disappeared from our stores.  Faced with labor costs a fraction of U. S. standards, industry after industry moved manufacturing to Asia.
The competition was not over the ability of American workers to produce goods as efficiently as Asian labor, as it had been framed.  It was instead over the standard of living Americans had enjoyed compared to the standard of living of Chinese peasants.  As the Twenty-First Century arrived, a multitude of Americans were like the family from Maine working in retail, health-care or fast food for wages of half or less than their previous employment.
Current propaganda tells us our economy is improving and new jobs are being created.  It is all propaganda; don't believe it!   In the new world order competition will force labor costs to parity and parity is lower still.
Though they have prepared for an uprising the powers behind centralization want to maintain peace as long as they can continue extending world domination.  The media, a propaganda arm of world government, will continue to report improvement as long as people can be convinced.
Human efforts are useless in stopping this onslaught.  The battle is between Christianity and paganism.  The only effective weapon against paganism is the God of the Bible and His Law.
Rousas Rushdoony explains, "When men forsake God, they forsake all truth, because for them there is no difference between good and evil, nor between truth and lies".  "Numbers" Pg.316
The Bible, Old and New Testament, Law and Grace, comprise the full gospel.  The full gospel would have stopped tyranny in its infancy, but we have forsaken the full gospel and replaced it with the "creative word" of men.   I received an email today from my kid sister entitled "What a Church Service"; a video of Andre Rieu leading a musical worship service for a large congregation. Beautiful it is, but an appropriate church service it is not.  It is a secular multicultural extravaganza with beautiful music.
Christians who seek to be entertained with music and praise and do not have ears to hear what God requires of His people are useless in stopping the advance of Satan.  It is truth and justice and the seating of King Jesus at the throne of power that should be the objective of every Christian congregation.  Lies, fantasy, and all the manipulations of arrogant men should be confronted from our pulpits and by our congregations.  It is our Christian duty to counter the evil establishment bringing their wrath against the power of the Church of Jesus Christ.  When the Christian religion fails to create wrath in God's enemies there is a serious problem in the Christian religion.
We are being overrun by the minions of evil.  We should be fighting a war.  We need preachers whose intrepid denouncements will inspire us to enter the battle on the side of the God of the Bible.
The enemy controls our television stations, our newspapers, our government, and, sadly, most of our churches.  The voices of dissent are few.  Wake up Christians and hear the call to battle!
When a newspaper erroneously contends our economy is improving our pulpits must present Christians with the statistics that prove otherwise.  Christians are truth-tellers!  When the Media promotes homosexuality our pulpits must denounce it with God's Words from the Bible.  Christian duty requires that we confront evil.
Muslims are busy fighting for control of the Middle East.  They appear to be overcoming the secular tyrants.  Islam is a false religion and an enemy to Christianity but it is not the core danger to world freedom. In that battle Islam is an ally against the wicked forces of the new world order.
It is time to stop playing church.  It is time for every Christian minister to disregard reputation and directly confront the secular forces that threaten peace and order God intends for His creation.
Churches that concentrate on the end times, on tongues and prophecy, evangelism, or on being theologically reformed should forsake their niche religions and confront the secular minions with the full gospel.  The size of a church or its growth is of no importance; what is important is its strength against the forces of evil.  Reputations must be sacrificed; our God and King is being threatened and we are His soldiers.  It is our duty to fight for the elevation of His government– both civilians and rulers are subject to the rule of King Jesus.
As Patty and I exited a restaurant in Destin late in the afternoon on Christmas day we noticed a table of 8 young men with their heads bowed.  We thought it wonderful that all these young people were honoring the One True God.  However, on second look they were honoring the IPhone god instead.
Does anyone in authority anywhere tell the truth about Fukushima? If there is any government or non-government authority in the world that is addressing the disaster at Fukushima openly, directly, honestly, and effectively, it's not apparent to the outside observer what entity that might be.
There is instead an apparent global conspiracy of authorities of all sorts to deny to the public reliably accurate, comprehensible, independently verifiable (where possible), and comprehensive information about not only the condition of the Fukushima power plant itself and its surrounding communities, but about the unceasing, uncontrolled release of radioactive debris into the air and water, creating a constantly increasing risk of growing harm to the global community.
While the risk may still be miniscule in most places, the range of risk rises to lethal in Fukushima itself. With the radioactive waste of four nuclear reactors (three of them in meltdown) under uncertain control for almost three years now, the risk of lethal exposure is very real for plant workers, and may decrease with distance from the plant, but may be calculable for anyone on the planet. No one seems to know. No one seems to have done the calculation. No one with access to the necessary information (assuming it exists) seems to want to do the calculation.
There is no moral excuse for this international collusion. The excuses are political or economic or social, but none of them excuses any authority for withholding or lying about information that has potentially universal and destructive impact on everyone alive today and everyone to be born for some unknown generations.
Japanese authorities may be the worst current offenders against the truth, as well as the health and safety of their people. Now the Japanese government has passed a harsh state secrets law that threatens to reduce or eliminate reliable information about Fukushima. The U.S. government officially applauded this heightened secrecy, while continuing its own tight control on nuclear information. Japanese authorities are already attacking their own people in defense of nuclear power: not only under-measuring and ignoring varieties of radioactive threat, but even withholding the iodine pills in 2011 that might have mitigated the growing epidemic of thyroid issues today. Failing to confront Fukushima honestly, the Japanese are laying the basis for what could amount to a radiological sneak attack on the rest of the world.
Just because no one seems to know what to do about Fukushima is no excuse to go on lying about and/or denying the dimensions of reality, whatever they might be.
There are hundreds, probably thousands of people with little or no authority who have long struggled to create a realistic, rational perspective on nuclear threats. The fundamental barrier to knowing the scale of the Fukushima disaster is just that: the scale of the Fukushima disaster.
Chernobyl 1986 and Fukushima 2011 are Not Really Comparable
Chernobyl is the closest precedent to Fukushima, and it's not very close. Chernobyl at the time of the 1986 electric failure and explosion had four operating reactors and two more under construction. The Chernobyl accident involved one reactor meltdown. Other reactors kept operating for some time after the accident. The rector meltdown was eventually entombed, containing the meltdown and reducing the risk. Until Fukushima, Chernobyl was considered the worst nuclear power accident in history, and it is still far from over (albeit largely contained for the time being). The Chernobyl Exclusion Zone of roughly 1,000 square miles remains one of the most radioactive areas in the world and the clean-up is not even expected to be complete before 2065.
At the time of the March 11, 2011, earthquake and tsunami, the Fukushima plant had six operating reactors. Three of them went into meltdown and a fourth was left with a heavily laden fuel pool teetering a hundred feet above the ground. Two other reactors were undamaged and have been shut down. Radiation levels remain lethal in each of the melted-down reactors, where the meltdowns appear to be held in check by water that is pumped into the reactors to keep them cool. In the process, the water gets irradiated and that which is not collected on site in leaking tanks flows steadily into the Pacific Ocean. Within the first two weeks, Fukushima radiation was comparable to Chernobyl's and while the levels have gone down, they remain elevated.
The plant's corporate owner, Tokyo Electric Power Company (TEPCO), in turn effectively owned by the Japanese government after a 2012 nationalization, began removing more than 1,500 fuel rod assemblies from the teetering fuel pool in November, a delicate process expected to take a year or more. There are additional fuel pools attached to each of the melted down reactors and a much larger general fuel pool, all of which contain nuclear fuel rod assemblies that are secure only as long as TEPCO continues to cool them. The Fukushima Exclusion Zone, a 12-mile radius around the nuclear plant, is about 500 square miles (much of it ocean); little specific information about the exclusion zone is easily available, but media coverage in the form of disaster tourism is plentiful, including aGoogle Street View interactive display.
Despite their significant differences as disasters, Chernobyl and Fukushima are both rated at 7 — a "major accident" on the International Nuclear Event Scale designed in 1990 by the International Atomic Energy Agency (IAEA). That is the highest rating on the scale, a reflection of the inherent denial that colors most official nuclear thinking. Designed by nuclear "experts" after Chernobyl, the scale can't imagine a worse accident than Chernobyl which, for all its intensity, was effectively over as an accident in a relatively short period of time. At Fukushima, by contrast, the initial set of events was less acute than Chernobyl, but almost three years later they continue without any resolution likely soon. Additionally Fukushima has three reactor meltdowns and thousands of precarious fuel rod assemblies in uncertain pools, any of which could produce a new crisis that would put Fukushima clearly off the scale.
And then there's groundwater. Groundwater was not a problem at Chernobyl. Groundwater is a huge problem at the Fukushima plant that was built at the seashore, on a former riverbed, over an active aquifer. In a short video, nuclear engineer Arnie Gunderson makes clear why groundwater makes Fukushima so hard to clean up, and why radiation levels there will likely remain dangerous for another hundred years.
Fukushima Unit #3 Activity Led to Some Panic-Driven Reporting in 2013
The Japanese government and nuclear power industry have a history of not telling the truth about nuclear accidents dating back at least to 1995, as reported by New Scientistand Rachel Maddow, among others. Despite Japan's history of nuclear dishonesty, Japanese authorities remain in total control of the Fukushima site and most of the information about it, without significant objection from most of the world's governments, media, and other power brokers, whose reputation for honesty in nuclear matters is almost as bad as Japan's. In such a context of no context, the public is vulnerable to reports like this from the Turner Radio Network (TRN) on December 28:
** NEWS FLASH — URGENT ** STEAM SUDDENLY EMANATING FROM FUKUSHIMA REACTOR # 3 — WEST COAST OF NORTH AMERICA SHOULD BEGIN PREPARATIONS FOR POSSIBLE RADIATION CLOUD WITHIN 3 TO 5 DAYS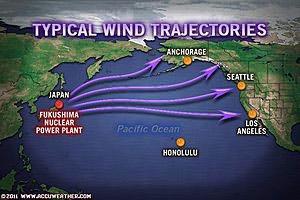 Five days after this story was posted, the "radiation cloud" had not developed despite the story's assertion that: "Experts say this could be the beginning of a spent fuel pool criticality (meltdown)'involving up to 89 TONS of nuclear fuel burning up into the atmosphere and heading to North America." The story named no "experts" and provided links only to TEPCO announcements in Japanese. The bulk of the story reads like an infomercial for "protective" gear of various sorts that TRN makes a point of saying it does NOT sell. Despite such obvious warning signs, others — such as The Ecologist and Gizmodo — reported the threat of "another meltdown" at Fukushima Unit #3 as imminent.
Clarification and reassurance quickly started chasing the "new meltdown" rumor around the Internet. ENENEWS (Energy News) promptly posted the TEPCO reports in English, demonstrating that there was nothing "sudden" about the steam releases, they've been happening more or less daily since 2011, but condensation caused by cold weather makes them visible. At FAIREWINDS (Energy Education), Arnie Gunderson posted on January 1:
"… the Internet has been flooded with conjecture claiming that Fukushima Daiichi Unit 3 is ready to explode… Our research, and discussions with other scientists, confirms that what we are seeing is a phenomenon that has been occurring at the Daiichi site since the March 2011 accident… While the plants are shutdown in nuke speak, there is no method of achieving cold shut down in any nuclear reactor. While the reactor can stop generating the actual nuclear chain reaction, the atoms left over from the original nuclear chain reaction continue to give off heat that is called the decay of the radioactive rubble (fission products)… constantly releasing moisture (steam) and radioactive products into the environment." [emphasis added]
In other words, Fukushima Unit #3 continues to leak radioactivity into both air and water, as Units #1 and #2 presumably do as well. But as Gunderson explains, the level of radioactivity has declined sharply without becoming benign:
"When Unit 3 was operating, it was producing more than 2,000 megawatts of heat from the nuclear fission process (chain reaction in the reactor). Immediately after the earthquake and tsunami, it shut down and the chain reaction stopped, but Unit 3 was still producing about 160 megawatts of decay heat. Now, 30 months later, it is still producing slightly less than 1 megawatt (one million watts) of decay heat… 1 megawatt of decay heat is a lot of heat even today, and it is creating radioactive steam, but it is not a new phenomenon."
Reassurances About Fukushima are As Misleading As Scare Stories
The reassuring aspects of the condition of Unit #3 — radioactive releases are not new, they're less intense than they once were, the nuclear waste is cooling — while true enough, provide only a false sense of comfort. Also true: radiation is released almost continuously, the releases are uncontrolled, no one seems to be measuring the releases, no one seems to be tracking the releases, no one is assessing accumulation of the releases. And while it's true that the waste is cooling and decaying, it's also true that a loss of coolant could lead to another uncontrolled chain reaction. ("Fukushima Daiichi Unit 3 is not going to explode," says Gunderson in a headline, but he can't know that with certainty.)
For the near future, what all that means, in effect, is that the world has to accept chronic radiation releases from Fukushima as the price for avoiding another catastrophic release. And even then, it's not a sure thing.
But there's another aspect of Fukushima Unit #3 that's even less reassuring. Unit #3 is the one Fukushima reactor that was running on Mixed oxide fuel, or MOX fuel, in its fuel rods.MOX fuel typically uses Plutonium mixed with one or more forms of Uranium. UsingPlutonium in fuel rods adds to their toxicity in the event of a meltdown. In part because Plutonium-239 has a half-life of 240,000 years and can be used to make nuclear weapons of "dirty bombs," its use in commercial reactors remains both limited and controversial. Because it contains Plutonium, MOX fuel is more toxic than other nuclear fuel and will burn at lower temperatures. As Natural Resources News reported in 2011:
"The mixed oxide fuel rods used in the compromised number three reactor at the Fukushima Daiichi complex contain enough plutonium to threaten public health with the possibility of inhalation of airborne plutonium particles…. Plutonium is at its most dangerous when it is inhaled and gets into the lungs. The effect on the human body is to vastly increase the chance of developing fatal cancers."
Reportedly, TEPCO plans don't call for the removal of the MOX fuel in Unit #3 for another decade or more. Fuel removal from Units #1, #2, and #3 is complicated by lethal radiation levels at all three reactors, as well as TEPCO's inability so far to locate the three melted cores with any precision.
There is ample reason to hope that Fukushima, despite the complex of uncontrollable and deteriorating factors, will not get worse, because even the Japanese don't want that. But there is little reason to expect anything but worsening conditions, slowly or suddenly, for years and years to come. And there is even less reason to expect anyone in authority anywhere to be more than minimally and belatedly truthful about an industry they continue to protect, no matter how many people it damages or kills.
The perfect paradigm of that ruthlessly cynical nuclear mentality is the current Japanese practice of recruiting homeless people to work at Fukushima in high level radiation areas where someone with something to lose might not be willing to go for minimum wage.
Source: William Boardman  |  Global Research